Instant Pot Chicken Stroganoff- Quick and Easy Stroganoff made in the instant pot! A creamy Russian inspired dish, made with Chicken, onions, mushrooms, Worcestershire sauce and Sour Cream.
Dont you just love a moping up a good stroagnoff sauce with a chunk of fresh bread? Thats heaven right there for me!
Imagine being able to come back from a hectic day and eating this!
Be sure to make a huge batch of this and freeze it for a rainy day! You will thanks me..lol...
A good Chicken stroganoff can solve so many dinner woes!You can make it into a fancy dinner side or an easy weeknight dinner.
This is my simplified instant pot recipe of the stroganoff. Simple it may be...but the flavours are right on point!
This recipe will work with lamb,pork ad beef too.You can also make it vegan easily.I have explained the swaps below.
It checks so many boxes for me! I can eat it when I want something low carb but substantial.I also make this when I have a big gathering.You can serve this single dish with rice, mashed potatoes and roasted veggies.
I love this over my garlicy mashed potatoes which can also be made in the instant pot in just 20 minutes!
You can whip up a big batch and freeze for later too.I find that dishes which have a gravy freeze better then dry chicken dishes.
Everybody has a different stroganoff recipe,some like to add soy sauce,some dont,some add a tonne of mustard and some like it spicy with lots of black pepper.
You can view this recipe more as a guide than the absolute truth and alter it according to your taste.
In fact, that's the truth for all my recipe.
Having said that, you should measure the main ingredients properly, especially the liquids.Otherwise you might end up with a burn notice or a too liquidy curry.
Ingredients for Instant Pot Stroganoff
Chicken Thighs- Skinless Chicken Thighs , diced into 1 inch pieces.We love the texture of the chicken thighs.Chicken breast would also work but the pressure cooking time should be reduced to 1 minute.
Mushrooms- Earthy Mushrooms would work here the best. You can use button or brown mushrooms.I almost always use button mushrooms but cremeni and even porcini would work well here.
Onions- White will work best but I have used red and yellow onions too.
Sour Cream- For a healthier version, substitute the sour cream with greek yogurt.
Worcestershire Sauce - in a pinch replace with soy sauce but the flavour wont be the same.This along with the dijon mustard give the gravy a gorgous umami taste.It's definately worth stocking this in your pantry.
Mustard- Use any smooth mustard you have like Dijon mustard.Dont use grainy mustard here because you want a silky strognoff sauce.
Stock - You can use broth or store bought stock or stock cubes in water. Plain water will work too.Chicken stock would work very well here.Here is a guide for you to make your own homemade stock.
How to make Chicken Stroganoff in the instant pot
In this recipe, the chicken is first browned a bit, after which it is pressure cooked with mushrooms and stock(or wine).
This will make sure that the chicken is sealed and doesnt break during the pressure cooking.It will also give it additional flavour.
Browning the Chicken
Select the Saute mode and heat the instant pot.Once the display shows the instant pot to be "HOT", add Oil.Let that heat through before adding the chicken.
The chicken will not brown as well as in a cast iron or nonstick pan and if you don't like that, you can do this step on stove top in a pan.
This step is also important if you don't like the boiled chicken texture. Also it adds extra flavor.
That said, if you are running out of time, then skip this step and increase the pressure cooking time to 5 minutes.
Sautéing the Onions and deglazing
Remove all the chicken from the inner pot.Add more oil and add the onions.At this step, make sure you scrape the bottom of the pot with a wooden or silicon spatula.
Whenever you brown or saute anything in the instant pot, it is very essential to deglaze.By doing so, you make sure that there is no BURN notice and add ooadles of flavor to the dish.
To deglaze- Once you are done with the saute and browning step, add the liquid and with a wooden or silicon(not steel or metal as that will be too harsh on the inner pot), rub the bottom of the pan so that all the brown bits come free.
Pressure Cook
Once you have deglazed, add the mushrooms, dijon mustard and Worcestershire sauce.Add back the chicken along with salt and pepper.Give it a mix.
Close the instant pot lid.Set the time to High Pressure for 3 minutes with the valve in the SEALING position.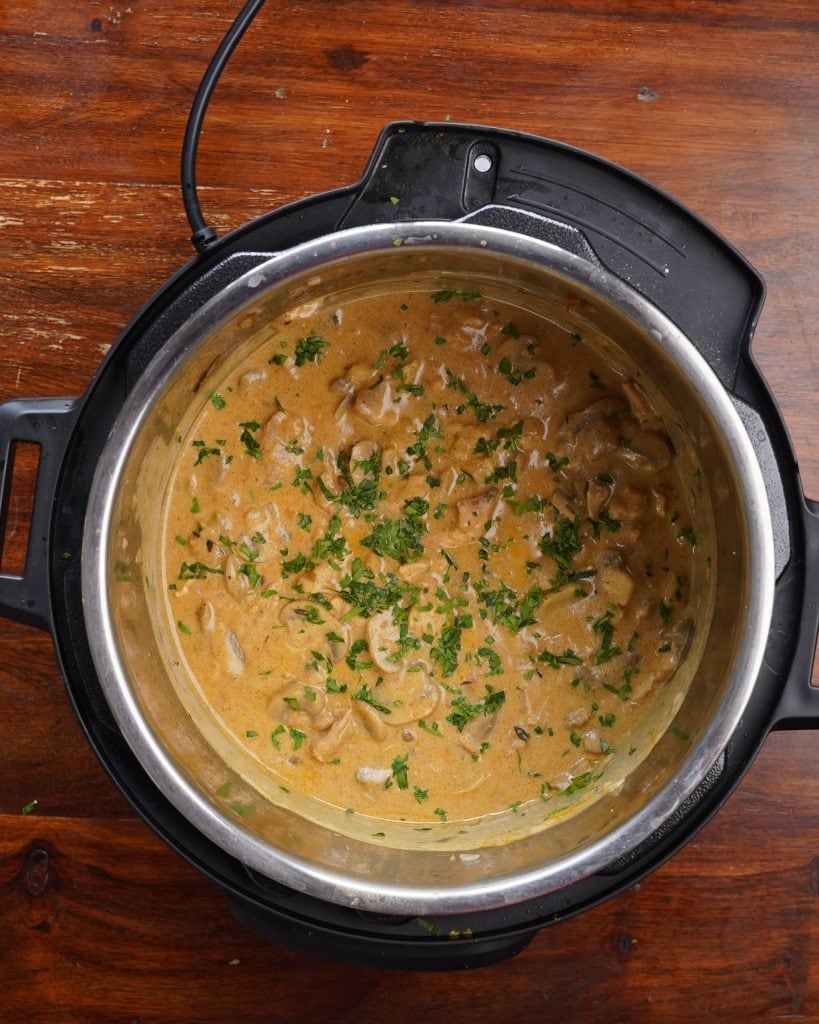 Pressure Release
As the chicken as been cooked twice already, the pressure should be released in 5 minutes.
Which means, after the cooking time is over,let the instant pot release pressure naturally for 5 minutes,after which you can quick release the pressure by turning the pressure valve from sealed position to venting.
Add Sour Cream and Finish
Once you open the instant pot,give it a mix. Next add Sour cream and parsley. Give it a good mix.
Taste check and add more salt or pepper if needed.
If you dont have sour cream, a good substitute would be cream and in a pinch (and also a healthier version) would be greek yogurt.
How to serve Chicken Stroganoff
Ideally, chicken stroganoff is served with egg noodles or spiral pasta. It can also be had over mashed potatoes.
I love to mop the gravy with some nice crusty bread too.
If you are on a low carb diet, you can serve this on a bed of steamed spinach or with a side of sauted veggies.
Healthier Chicken Stroganoff
As i said above, this dish fits many categories.You can make this paleo and whole 30 approved by substituting the sour cream with cashew or almond cream.
Also substitute corn starch with a paleo approved flour.
This is also a great Keto recipe - high in Fat and Protein and low in carb.
If you are counting your carbs, you can omit the flour used.It will change the texture a bit but it will still taste delish!
For folks looking for non dairy option, use any non dairy cream like almond/cashew or soy based cream in same quantity.
Here are some easy accompaniments to Chicken stroganoff that you can make to complete your menu
Instant Pot Mashed Potatoes
Instant Pot Rice
Instant Pot Roast Potatoes
Instant Pot Steamed Broccolli
More Instant Pot Chicken Recipes
Here are some instant pot chicken recipes for you.I make these again and again!
Instant Pot Chicken Wings
Instant Pot Chicken Curry
Instant Pot Salsa Chicken
Instant Pot Butter Chicken
Instant Pot Lemon Chicken
Find us on Instagram , Pinterest & Facebook here!
If you liked my recipe, do leave a comment!
It will help others find this amazing recipe too!
---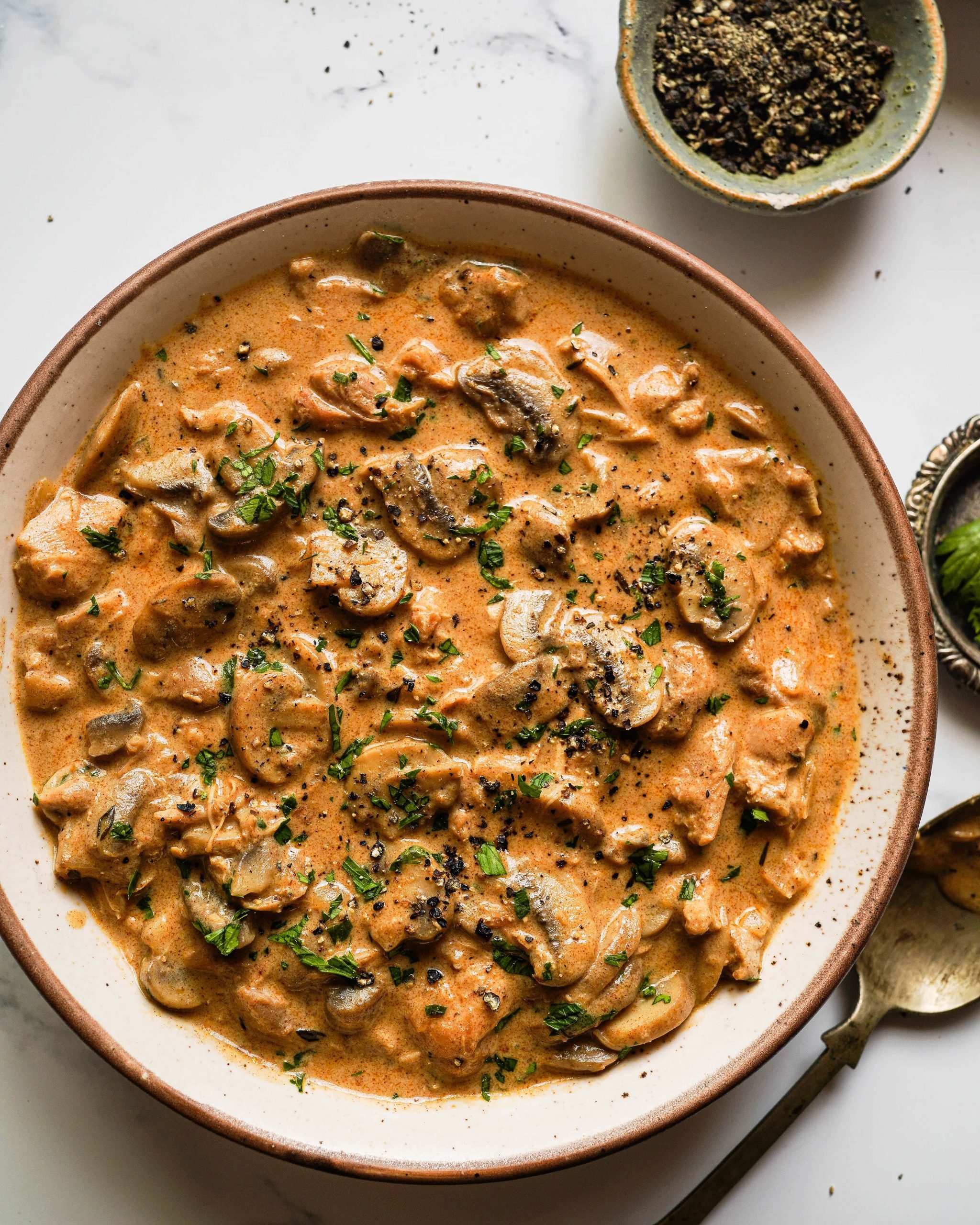 Ingredients
1

lbs

Chicken Thigh

Skinless, Boneless, cut into 1 inch pieces

2

tablespoon

Olive Oil

1

tablespoon

Butter

½

Cup

Onion

white, about 1 medium sized onion

2

Cups

Mushrooms

White or brown

1

Cup

Stock or white wine

1.5

tablespoon

Dijon Mustard

1

tablespoon

Worcestershire Sauce

1

teaspoon

Paprika

1

tablespoon

Garlic Powder

8

oz

Sour Cream

1 Cup

1

tablespoon

Corn Starch

mixed with ¼ cup water

parsley

for garnish
Instructions
Heat the instant pot in saute mode. Add olive oil and once it's heated through, add the chicken.

Sauté till it gets a bit of color .This step can be done on the stove too.Remove from the pot.

Add butter to the pan and let it melt.

To that, add onion, scrape with a wooden spoon. Add Mushrooms and saute for 1 minute.

Add Stock and deglaze well. Scrape the bottom of the instant pot and free any stuck caramelized bits.

Add the Chicken,Paprika,garlic powder,dijon mustard and Worcestershire sauce. Season with salt.Cancel Saute.

Close the lid, select HIGH PRESSURE for 2 minutes with the pressure valve in sealing position.

Once the cooking time is done, let the pressure release naturally for 5 minutes after which quick release the pressure.

Open the pot. Add Sour cream and give it a mix.

Mix the corn starch in ⅛ cup water. Add to the pot and switch to sauté till the gravy thickens slightly.
Notes
To use different types of chicken
Chicken Breast- Change the time of pressure cooking to 1 minute.
Whole Chicken Thighs- Change the time of pressure cooking to 6 minutes. After the pressure cooking, cut it into bite sized pieces and put back in the instant pot.
Deglaze
When sautéing before pressure cooking, always make sure the burnt stuck bits on the bottom of the inner pot are scrapped away with a wooden spoon or a silicon spatula. If not done, the instant pot will give the burn sign even with enough liquid.
Worcestershire Sauce
You can replace this with soy sauce but the taste will not remain exactly the same.
Nutrition
Calories:
308
kcal
|
Carbohydrates:
6.6
g
|
Protein:
24.3
g
|
Fat:
20.8
g
|
Saturated Fat:
8.5
g
|
Cholesterol:
89
mg
|
Sodium:
286
mg
|
Potassium:
354
mg
|
Fiber:
0.7
g
|
Sugar:
1.9
g
|
Iron:
2
mg
If you liked the recipe, please leave us a rating
Follow me on Instagram
My handle is @yellowthyme