How to Steam Broccoli in Instant Pot- Perfectly cooked, Tender Broccoli every time!
This method is fool proof and is great when steaming broccoli in bulk or meal prepping for the week.
TEXTURE: Tender florets, crispy stems
EASE: Super Easy!
PROS: No guessing or overcooking
Jump to:
Steaming broccoli in instant pot takes the guess work out of cooking broccoli. Its a super easy hands off way of cooking broccoli that needs no active monitoring.
I am always looking for quick ways to add more vegetables to my lunches and dinners. So it's always useful to have a batch of steamed veggies like broccoli, carrots, beans and zucchini in my fridge.
I can quickly take a carb heavy meal to healthy with just adding a tonne of veggies on the side.
Here is what we will do!
Cut the Broccoli into florets
Add them to a steamer basket
Pressure cook on HIGH for 0 minutes
Why Eat Broccoli
I know..i know..its not the most delicious of vegetables but the pros completely bury the cons!
For one, it's an excellent source of vitamins and minerals, including vitamin C, vitamin K, folate, and potassium. It's also a great source of fiber, which is important for digestion and maintaining a healthy weight.
This is important for someone like me , who is borderline(who am i kidding) diabetes.
Broccoli is also known for it's cancer-fighting properties, thanks to its high levels of antioxidants and anti-inflammatory compounds.
So add it. In whatever form you can.
How to Buy broccoli
To buy broccoli, follow these steps:
Look for broccoli that has tight, compact florets and firm stems. Avoid broccoli that has yellowing or wilting leaves or stems.
Check the broccoli stem for freshness. A fresh stem will be firm, and the cut end should look moist.
Smell the broccoli. It should have a fresh, slightly sweet smell. If it has a strong odor, it may be overripe or spoiled.
Choose broccoli with a deep green color. The florets should be a vibrant green color and the stems should be a lighter green.
Check the size of the broccoli head. Broccoli heads that are too large may be tough, while smaller heads are more tender.
Avoid broccoli that has been sitting out at room temperature for too long. Look for broccoli that has been stored in a refrigerated section of the produce aisle.
Once you have selected your broccoli, rinse it under cool running water before cooking or storing it in the refrigerator.
Frozen Broccoli
The short answer is yes, it can be pressure cooked. But..
The long answer is - Although Frozen broccoli can be just as nutritious and delicious as fresh broccoli, if overcooked, it turns mushy faster. The texture of frozen broccoli can be slightly softer due to the freezing process.
Frozen broccoli is often more convenient than fresh broccoli, as it requires less preparation time and can be cooked directly from the freezer.
So yes you can pressure cook it in the same way but the result will be softer than fresh brocolli.
Cutting up the Broccoli
Turn the broccoli upside down so that the stems face you and the floretz face down.
Then using a sharp knife, cut off the florets from the stem. This way, do don't end up with a lof of small minute pieces of broccoli that cant be cooked.
How to Clean the Brocolli
Cleaning broccoli is an important step to remove any dirt or contaminants that may be present. Follow these steps to clean broccoli:
Rinse the broccoli under cool, running water. This helps to remove any dirt or debris that may be present on the surface.
Cut off the stem of the broccoli and remove any leaves that are attached to the stem. You can also use a vegetable peeler to remove any tough outer layer of the stem.
Cut the broccoli into florets.
Soak the broccoli florets in a large bowl of cold water for a few minutes. This helps to loosen any dirt or debris that may be present in the florets.
Rinse the broccoli again under cool, running water to remove any remaining dirt or debris.
If you are concerned about any insects that may be present in the broccoli, you can soak the florets in a solution of saltwater or vinegar for a few minutes before rinsing.
Once the broccoli is clean and dry, it is ready to be cooked or stored in the refrigerator.
How to Steam Broccoli Instant Pot
The best way to steam broccoli in instant pot is using a steamer basket like this or a foldable steamer basket like this one.You can use these steamzer baskets for a lot of other things also- like steaming potatoes or carrots or boiling eggs.
If you don't want to buy a basket, you can also use the trivet that comes with the instant pot.
How long to steam brocolli in the instant pot
The first question you need to ask here is how do you like your broccoli and what do you need it for.
For example, if it's a quick side dish along side protein or maybe in a salad, then you want to make the broccoli "just" cooked. For that, choose to pressure cook the brocolli for "0" (zero) minutes.
This way the broccoli will still be crisp and not soft.
But if you want to cook the broccoli for making baby food or puree, then Pressure Cook on HIGH for 1 minute.
Here is a Super Easy Chart to help you cook your broccoli
| | | |
| --- | --- | --- |
| Texture of Broccoli | Time | Release |
| Crisp | 0 | Quick Release |
| Tender | 0 | Natural Release |
| Soft | 1 | Quick Release |
Instant Pot Broccoli Cooking Time
Instant Pot Broccoli without Steamer Basket
If you don't have a steamer basket then simple cook the broccoli using the trivet which comes with the instant pot.
It's just slightly inconvenient, especially if you are steaming a lot of broccoli but it works well enough!
You can use this technique to steam other vegetables also.As a rule of thumb, most vegetables(cut into bite size pieces) need only 0 minutes to cook.Especially veggies like Mushroom,Spinach,Bell Peppers and Baby Corn.
Larger Vegetables like a whole Cauliflower, potatoes, sweet potatoes etc take slightly longer time.
How to Steam frozen broccoli instant pot
You can also cook frozen broccoli florets straight from the freezer in a similar way.All you need to do is account for the fact that frozen broccoli will be slightly softer and more "done" than fresh brocolli.
Tips and Tricks
Double the recipe
You can easily double triple the recipe depending on the size of your instant pot.
.The pressure cooker will take a bit more time to come to pressure but otherwise the time remains the same
Cooking Broccoli along with Stem

Do not throw away the broccoli stem. You can dice it up and steam it along with the broccoli.
They will be crunchier than the stems.
Seasoning
Once you have your broccoli steamed, you can use it in many ways.All you need is some seasoning. Here are some ideas
How to Serve
My go to way is to eat it as a side or a filler with my regular indian Dal & Rice. This way I make a fairly carb heavy meal, healthier.
I also love adding it to my salads. Especially Asian salads.
We also add it to our pastas. I always have a batch of Roasted Tomato & Red Peppers Pasta Sauce in my fridge. So its just am matter of boiling pasta and tossing it in the pasta sauce and adding the already cooked brocolli to it.So simple!
Sometimes I quickly blitz the broccoli and add it to falafels and burgers like this sweet potato & Quinoa patty.
I also add make stuffed parathas for my son with this.
Really endless ideas!
More Instant Pot Recipes like this
Instant Pot Basmati Rice
Instant Pot Carrots
Air Fryer Sweet Potato Cubes
Air Fryer Banana- for quick breakfast and desserts
Air Frying Peanuts
If you use this trick to steam your broccoli, do drop me a note or a comment.I would love to hear from you!
Find us on Instagram , Pinterest & Facebook here!
If you liked my recipe, do leave a comment!
It will help others find this amazing recipe too!
---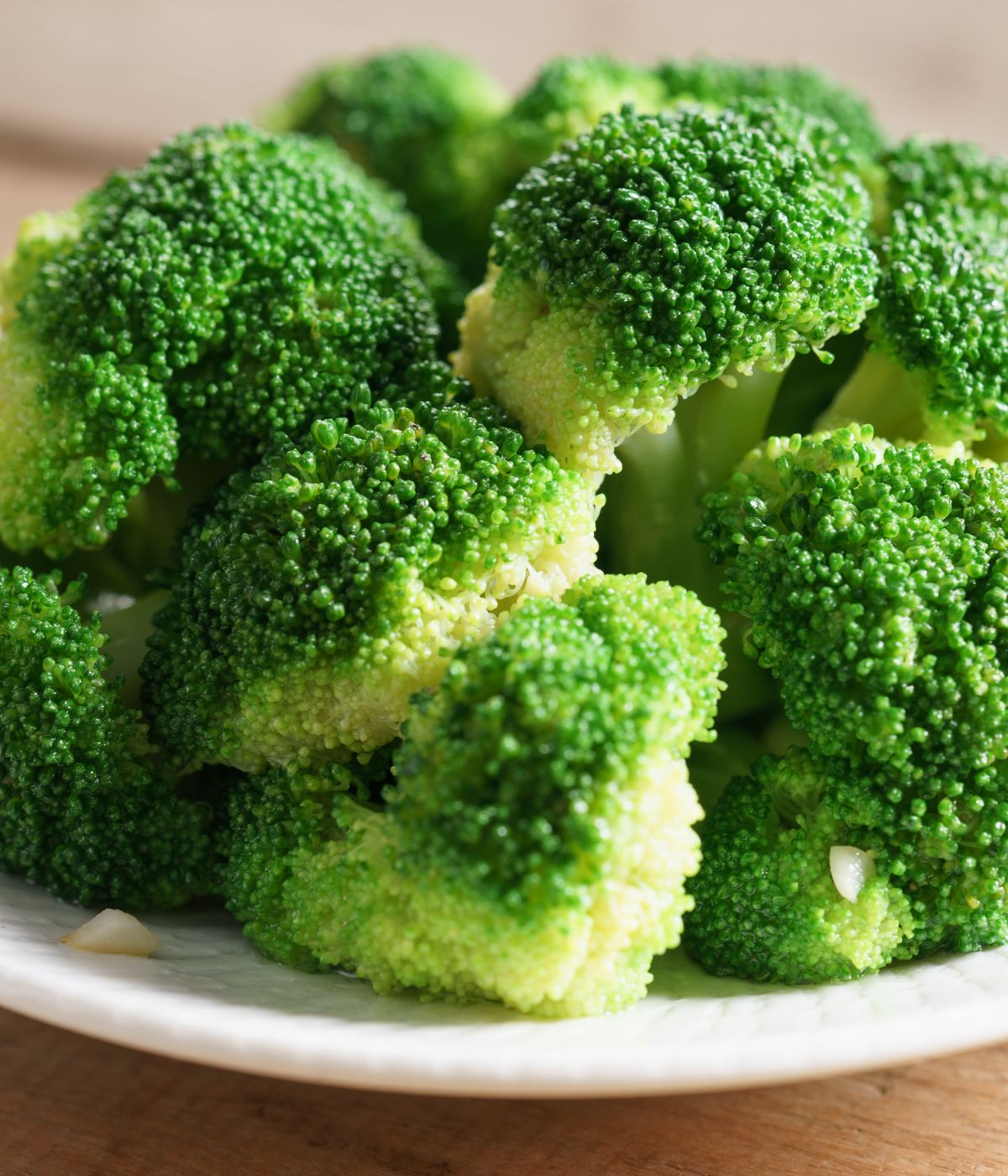 Ingredients
4

Cups

Broccoli

Cut into Florets- Fresh or Frozen

1

Cup

Water
Instructions
Add 1 Cup of water in the instant pot.

Use a steamer basket or the rack that came with the instant pot.

Place the broccoli inside the instant pot.Close the lid.

For Fresh Broccoli - Select PRESSURE COOK on HIGH for 0 minutes*(Check notes for details)

For Frozen Broccoli - Select PRESSURE COOK on HIGH for 1 minutes*(Check notes for details)

Once the Instant Pot beeps, Quick Release the steam & open the lid.Remove the steamer rack with a tong or silicon gloves.
Notes
Time Chart
0 Minutes & Quick Release - Crisp Broccoli 
0 Minutes & Natural Release - Soft Broccoli
1 Minute & Quick Release- Soft Mushy Broccoli
Nutrition
Calories:
31
kcal
|
Carbohydrates:
6
g
|
Protein:
2.6
g
|
Fat:
0.3
g
|
Sodium:
30
mg
|
Potassium:
288
mg
|
Fiber:
2.4
g
|
Sugar:
1.6
g
|
Calcium:
43
mg
|
Iron:
1
mg
If you liked the recipe, please leave us a rating
Follow me on Instagram
My handle is @yellowthyme