Air Fryer Sweet Potato Cubes - This is easiest and fastest way of making roasted sweet potato.
TASTE: Salty, slightly sweet, perfect sweet potato cubes
TEXTURE: Crispy edges, Soft and tender inside
EASE: Super Easy!
PROS: No or minimal oil!
CONS: They are addictive and you will be overmaking these!
Here is what we will do!
Cut the Sweet Potato into cubes
Toss in seasoning & Oil( or make it oil free)
Air Fry!
I use this recipe almost every other day.I love chewy sweet potato in my salad or as a quick side. It keeps me full for longer.
The texture of air fried sweet potato just goes so well in a crunchy salad.It gives it the perfect contract to all that crispiness.
I find this method easier than oven baking them.For a simple reason that the sweet potatoes cook faster and more evenly.
You could also try making sweet potato wedges in the air fryer. I have a whole post on how to cut them and get them to be super crispy!
Speaking of Roast Potatoes, You have to give my Crispy Smashed Rosemary Potatoes a try too! They are so crispy and fudgy at the same time!
You can also try making the hasselback potatoes- They are a cross between scalloped potatoes and roast potatoes - here are two of my fav versions!- Garlic butter hasselback potatoes & Parmesan Hasselback potatoes
Ingredients
All you need are 3 ingredients and just 1 if you are going oil and seasoning free
Sweet Potato
Seasoning(Optional)
Oil(Optional)
Sweet Potato
Pick smaller sweet potatoes so they are easier to cut.
The bigger sweet potatoes are a nightmare to cut! Especially when cutting into cubes.
Also! If you love sweet potato like us, Try Instant Pot Mashed Sweet Potatoes & Sweet Potato and Quinoa Burger too.
Seasoning
You can go with just salt if that's your jam.My child preferes is simply with salt.
Or you can try any one of these
Lemon Pepper Seasoning
BBQ rubs
Cajun seasoning
HOT TIP- Make these with leftover BBQ sauce. They are so so GOOD!! I always toss the cubes in the homemade BBQ sauce I make to make the BBQ chicken Wings. So so good!
Oil
You can make these without any oil but the seasoning doesn't stick very well to those.
I like to drizzle a little oil just to get a better texture and taste.
If you are on a diet or limiting your fat content, you can use an oil spray instead.
How to air fry sweet potato cubes
Just cut the sweet potatoes into similar size cubes. i confess, it's not the most easy thing to cut. A sharp knife and a lot of force makes it doable.
Do check out the video to check how i cut the sweet potato.That said, do the best you can!
The first question is to peel or not?
I don't Peel. It's way too much work.
Besides i love it with the skin.It becomes crisper with the skin on.So i leave it on!
The second question is to add oil or not.
Adding oil makes it crisper and adds to the flavor. The seasoning sticks better to a greased potato. If i am adding these to a salad with dressing, I usually don't add oil.
I find that I would rather use the oil elsewhere.Where the impact is more.So i usually leave it out in my everyday salad.
Though if I am making it for my child, I drizzle a bit of cold pressed oil- olive or groundnut or sesame.
Another amazing Sweet potato recipe is the Air Fryer Sweet Potato Wedges.It is a great party appetizer!
How long to air fry Sweet Potato Cubes
So two things factor in here- the size and the temperature of the air fryer.
I usually keep the airfryer at 180 C or 365 F. Sometimes when I am in a hurry, I jack it up to 200 degrees C and then bring it down to 180 again.
I find that anywhere between 15-20 minutes work for me.I usually set the timer to 15 minutes, check how they look.Add a couple of minutes based on how crisp i want it.
In the video,I have done 15+5 minutes of total.
Seosoning Options for Sweet Potatoes
If I am making them to add to a salad, I usually skip oil and seosoning. But if this is a quick side dish for you, you can try the following seasonings
These seasonings can be added before you air fry.

Pizza Seasoning - this one is perfect for kids!
Garlic powder,Salt and Pepper
Cumin and Salt
These seasonings need to be added after the 15 minute mark and air fried for an additional 3 minutes for the max impact!
Peri Peri Seasoning- Our favorite!
Chipotle Chili and Lime
Honey and Chili- I can just taste this while writing! So yum!
Cinnamon & Maple Syrup - For that Quick christmas dinner table side!
Sriracha!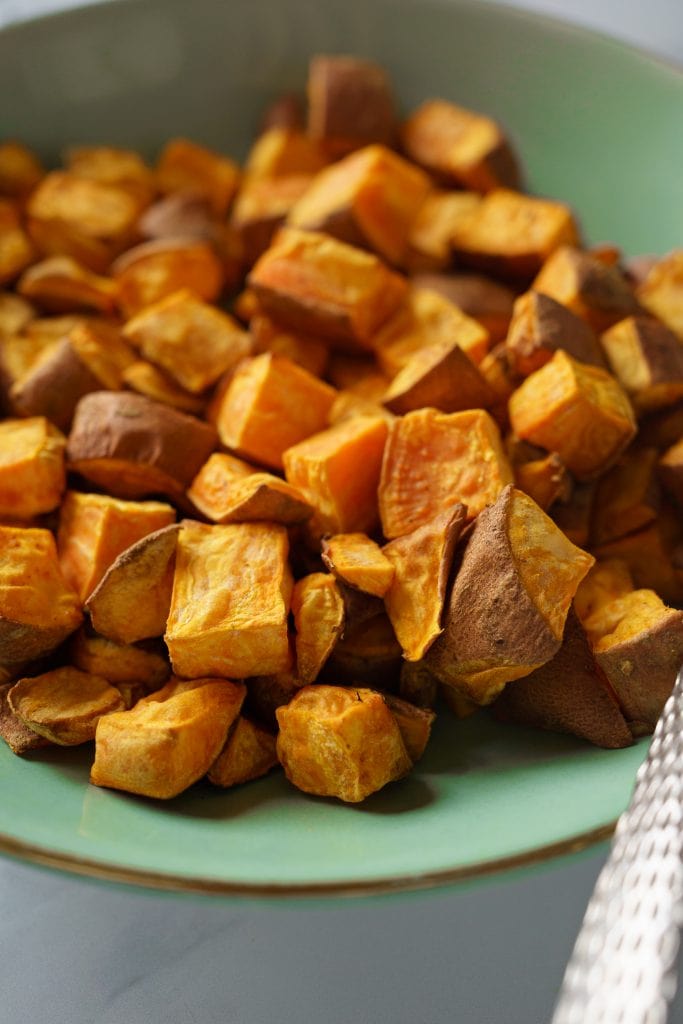 Air Fryer Sweet Potato Cubes can be eaten as a part of a salad or a as a side.I also make this when I have a bigger spread like christmas or thanksgiving dinner.It's usually a easy food for most kids.
I also make air fried Sweet potato fries very often.Especially on Sundays when everyone gets hungry at 4pm! I will write the recipe for that soon!
Air fry Frozen Sweet Potato Cubes
Sometimes whent he sweet potato is just too large for one serving, i freeze the cut cubes to make a quick side on another day.
I do this with sweet potato fries too.
Here are the tips to make that work for you!
Freeze already cut(not airfried) sweet potato cubes in a ziplock bag
To air fry- Make sure the pre heat the airfryer.Add another 5 minutes to the cooking time
Here are some more yummy Potato recipes for you!
Sweet Potato & Quinoa Burger
Mashed Sweet Potato(Instant Pot)
Instant Pot Vegan Sweet Potato chilli
Air Fryer Sweet Potato Wedges
Find us on Instagram , Pinterest & Facebook here!
If you liked my recipe, do leave a comment!
It will help others find this amazing recipe too!
---
Ingredients
1

Sweet Potato

½

teaspoon

Olive Oil

optional

¼

teaspoon

Salt
Instructions
Preheat the airfrier for 5 minutes at 180 degrees C (350 F)

Wash the sweet potato under running water.

Using a sharp knife, cut it into ½ inch cubes.

Toss the sweet potato cubes in salt and oil.(if using oil and salt )

½ teaspoon Olive Oil,

¼ teaspoon Salt

Add them to the air fryer basket.Close the airfryer.

Set the timer to 15 minutes and let the magic happen.

Set the timer to 15 minute.Shake it out at the 7 minute mark.

At the 15 minute mark, take the sweet potatoes out.If you want it crisper then add 3-5 more minutes.

To check if the sweet potato is done, pierce the thickest cube with a knife and check.
Notes
Tips and Tricks
You can switch up the potatoes with a lot of different seasoning and flavours.Try Cinnamon & maple syrup, Honey & chilli, Garlic powder & pepper.
Find more options in the writeup above.
Do not over fill the airfryer- Leave some space in it so you can toss the sweet potatoes.
Freeze the precut sweet potatoes for a quick side in just 15 minutes.I always do that when the sweet potatoes are really huge.
Nutrition
Calories:
106
kcal
|
Carbohydrates:
23
g
|
Protein:
2
g
|
Fat:
1
g
|
Saturated Fat:
1
g
|
Sodium:
353
mg
|
Potassium:
381
mg
|
Fiber:
3
g
|
Sugar:
5
g
|
Vitamin A:
16031
IU
|
Vitamin C:
3
mg
|
Calcium:
34
mg
|
Iron:
1
mg
If you liked the recipe, please leave us a rating
Follow me on Instagram
My handle is @yellowthyme