This post contains affiliate links. As an Amazon Associate I earn from qualifying purchases. Click here to read my policy.
Air fryer Caramelized Bananas - 3 ways! Top it with some honey or scoop of vanilla ice cream and call it a delicious snack..Or Breakfast!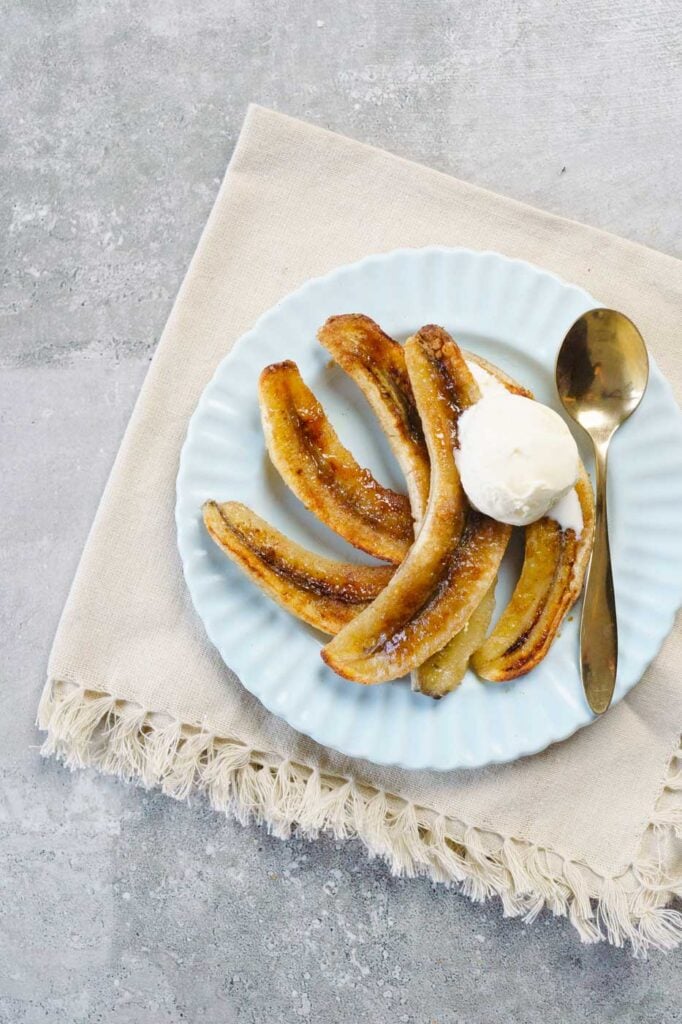 A fantastic way to use up all your ripe bananas..Yes beside making the banana bread.
It's almost pudding like..gooey..warm..with lucious nut butter and chocolate!
Sigh! We have had a air fryer banana fever lately. This is a viral recipe ,also called air fried banana spilt.
I love my airfrier. I have had it for almost ten years and I have not one complaint about it!
I was probably one of the early air frier adopters. This particular recipe stands out as both an uncomplicated, quick snack and a healthy dessert option.
Have you ever made air fryer dessert??
What's more, it's clean and healthy! Well almost!
Who would have thought that air-fried bananas would become a craze!
You could top this with a crazy amount of things! If you want a mood lifter, just caramelize the banana, add some vanilla icecream ! A perfect treat!
If you have been extra good, drizzle heated nutella! I mean can you imagine the taste?
Now if you are on a diet and don't want to shoot up the calorie count. You could just top it with some cocoa nibs or a drizzle of peanut butter! Ah that's heaven right there!
Oh another great healthy snack are this high protein chocolate bliss balls .It's so so good! Give it a try!
Did you know you can make peanut butter at home with just 1 ingredient? Just roasted peanuts? And you can roast the peanuts in the air fryer too! It's so easy and omg so delish! Do give it a try!
Ingredients to Air Fry Banana
Here is what you need
Optional ingredients
Brown Sugar
Cinnamon
Ghee
Banana
Use any bananas you wish!
It's a great recipe to use up all your overripe bananas too! Though if you are using very ripe soft bananas, use the peel method(explained later) so that its easier to handle.
You can also experiment with some native firm banana types!
Feel free to use any other kind of sugar too- cane sugar, coconut sugar or you can leave it all together and let the bananas natural sweetness do its thing.
How do you make Air Fried Banana
Let's make some air fried Bananas!
You can do this in two ways..
Method 1- With the Peel
Slice through banana from the middle using a sharp knife.This is done on top of the peel.Check the video for details.
The most important tip here would be how to slit the banana.Keep the banana on the counter and then choose the flat surface on top and slit it with a knife.
The reason to do this is so that the banana sits slit side up in the air frier.
If you want, you can stuff the banana with small marsh-mellows or chocolate chips. That way they melt into the banana and you get a delicious gooey dessert in 10 minutes flat!
Air fry the banana slices for 8-12 minutes depending on how big the banana was.
Just place it on the plate, add your toppings and use to a spoon to scoop in!
Method 2 : Sliced Peeled Bananas
The second way to do this is to peel the bananas entirely and slice it along the length into two halves.
This way you can sprinkle the banana with sugar and ground cinnamon which gets nice and golden as it cooks.
You get some soft gooey bits and some crispy caramelized edges.
If you are using this method, you will have to line the air fryer with foil. When you do that, make some holes in there so that the air can flow through.
Place is in single layer in the air fryer basket- Make sure not to over lap the bananas.
Air fry the banana for 10-15 minutes till the tops are golden caramaly, Golden brown.
Remove from the air frier and your air fryer caramelized bananas are ready to eat!
Serving
You can serve these caramelized bananas as a dessert or snack or even a sweet treat breakfast.
Here is how
Quick Dessert - Top the warm caramelized bananas with a scoop of ice cream and call it your own caramelized banana spilt.
Easy Breakfast - Top your oatmeal or your Greek yogurt with caramelized bananas and nuts!
4 o Clock Snack- Top the air fried banana with crispy muesli , peanut butter and some chocolate chips. This is my 5 year old's favorite snack!
Variations of Air fried Banana
Here are some of our favourite toppings!
Chocolate chips & Peanut butter- if the peanut butter is a little hard, melt it. Drizzle on top of the banana. Top with Chocolate chips.For me, this makes for the most perfect topping!
Almond Butter and Coconut chips- Spread almond butter and top with coconut chips and a sprinkling of chia seeds.
Yogurt and Granola- To make it a filling protein filled snack, add thick greek yogurt and granola on top!
Marsh mellows, Crushed Peanuts & peanut butter - In this one, slit the banana in the middle, scoop peanut butter inside,add marshmallows. fry the banana. Add crushed peanuts and maybe have it with yogurt! or icecream!
Nutella & flaked almonds
Chocolate Almond Butter and granola
Vanilla Ice cream & Chocolate syrup
Brown Sugar, butter & Cinnamon
For my family, these Banana boats make a wonderful snack, especially when I have way too many leftover bananas.
Speaking of fruits in air fryer, also try air fryer strawberries. They are such a great snack. Similarly, air fryer Apples and pineapples can also be prepared.
To make this in oven
An airfrier is an oven which has heat from all sides.
You can reproduce similar result in the oven too.
Follow exactly the same method to prep the banana. Place it in a baking dish.
Bake at 200C or 400F for about 12-15 minutes.
The reason I do this in the air fryer is because its faster. The air fryer heats up quickly and cooks faster too. Also I feel guilty switching on the giant oven for one measly banana.
Our Favorite Kitchen Gadgets
Storing & Leftovers
The caramelized banana should last on the counter for a day. Though it's best when eaten within an hour of cooking.
Freezing and refrigerating will compromise on the texture but it will still be delicious.
Here are some more clean dessert options for you!
Are you looking for more quick and easy dessert options? I have got you covered!
Try the below sweet treats!
Chocolate Bliss Balls
Date Snickers - Chocolate covered Stuffed Dates
Peanut Butter Chocochip Oat Bars
Raisin and Apricot Oatmeal Bars
Homemade Dark Chocolate Peanut Butter Cups
Overnight Oat Pudding
Loving your air fryer? Want to try more recipes? Here are all my air fryer recipes
Find us on Instagram , Pinterest & Facebook here!
If you liked my recipe, do leave a comment!
It will help others find this amazing recipe too!
---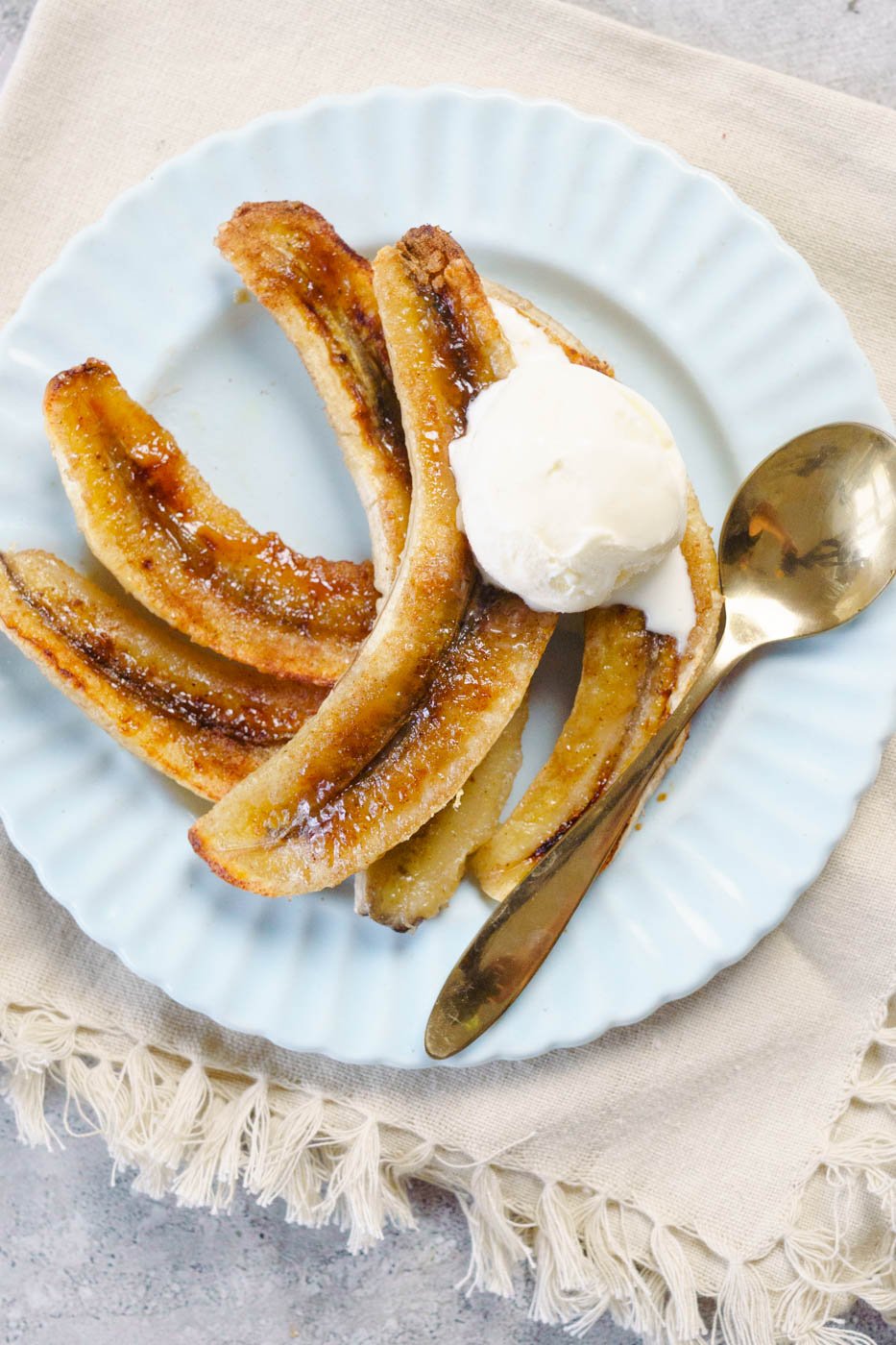 Ingredients
1

Banana

Robusta.Not Over ripe
Optional Ingredients
1

teaspoon

Cinnamon

1

teaspoon

Brown Sugar

1

teaspoon

Butter

or Ghee
Instructions
Pre heat the air fryer at 180 degrees for 3-4 minutes.
Method -1 with Peel
Slit the banana lenghtwise.See the video to understand more.

Remove the basket.Place the banana in.

Air fry for 8-10 minutes.

Remove using tongs or a flat spatula.
Method 2- Sliced Bananas
Peel and Slice the Bananas

Sprinkle cinnamon, sugar and brush with ghee

Air fry for 12-15 minutes till the banana is golden and caramelized.

Add peanut butter and granola or Ice cream and Enjoy!
Notes
Toppings
Peanut butter  & Chocolate chips
Nutella & flaked almonds
Chocolate Almond Butter and granola
Vanilla Ice cream & Chocolate syrup
Brown Sugar,butter  & Cinnamon
Nutrition
Calories:
105
kcal
|
Carbohydrates:
27
g
|
Protein:
1
g
|
Fat:
1
g
|
Saturated Fat:
1
g
|
Sodium:
1
mg
|
Potassium:
422
mg
|
Fiber:
3
g
|
Sugar:
14
g
|
Vitamin A:
76
IU
|
Vitamin C:
10
mg
|
Calcium:
6
mg
|
Iron:
1
mg
If you liked the recipe, please leave us a rating
Follow me on Instagram
My handle is @yellowthyme