Chocolate Date Protein Energy Bliss Balls - fudgy, dark chocolate balls that are out of this world! While being high in protein and Vegan.
TASTE: Sweet chocolate balls
TEXTURE: Soft, fudgy
EASE: Very Very Easy!
APPEARANCE: Round handmade balls
PROS: Plant Based, Vegan, high protein ball perfect for a quick on the go breakfast of a 4 o clock snack with coffee. Equally loved by kids and adults!
CONS: Shaping them can be messy
Diet : Paleo, Plant Based & Vegan
A quick pick me up that will instantly perk you up!
How many times have you craved for something sweet in middle of the day or perhaps night? How many times do your kids want a snack?
if you are like me then the answer is always "Too many to count!"
These bliss balls are a perfect answer to all those woes! They are high on nutrient value- full of dates, nuts and oats. It cannot get better than this!
My 5 year old loves them. Now out of the zillion snack breaks, one is sorted! Plus they are a great school snack too.
In India, these are usually called laddus. Traditional recipes for laddus or bliss balls are Chickpea flour ghee laddus and Ragi or finger millet laddus.
Speaking of healthy decadence, have you tried making Overnight Oats ?They are such a great breakfast alternative!
Oh another instant pick me up is this air fryer caramalised banana.It's so so good! Give it a try!
Why we love these Chocolate Date Protein Energy Bliss Balls
Refined Sugar Free
Full of nutrients, protein and fats
A quick snack, heck even breakfast when we are on the run!
Easily available ingredients
One batch lasts about 6-7 days on the counter & 2-3 weeks in the fridge.
Ingredients for Chocolate Bliss Balls
Do you want me to let you in on THE secret?Here are the ingredients- prepared to be shocked!
Dates
Almonds
Oats
Peanut Butter
Cocoa
Protein Powder
Salt
Dates
Ideally, use medjool dates. They are softer , larger and meatier than the rest.
But they tend to be costly.
I have made the same recipe with different dates. Sometimes, the mixture is too dry and i have had to add a little bit more peanut butter. That's frankly the only difference.
So use what you have, what you can afford.
Do remember to remove the seed from the date.Plus while buying, check if the dates are dipped in sugar syrup.Yes. That's a thing!
Protein Powder
I have used plant based protein powder to make this. Any other kind will also work.
How to make Chocolate Bliss Balls
Here is step by step description of how to make chocolate bliss balls
Step 1: Toast the nuts
You can use a cast iron pan or oven or the air fryer.
Toasting the nuts make them lasts longer plus it helps bind the balls better.
Also microwave the dates for 30 seconds to soften them up.
Step 2: Blend
Add all the ingredients in a food processer or a blender. I prefer using my blender. It frankly does a better job of blitzing everything so that I don't have to add too much peanut butter.
To make this whole process simpler, add the dates first, followed by the nuts, peanut butter, cocoa powder and the oats.
This way, the bottom bits get processed first.
Step 3- Form into balls
The Blended mixture will be a little warm from all the blitzing plus the toasted nuts.
Take 1 tablespoon worth mixture in your hand and squeeze it together into a tight mass. Now roll gently between your palms.
This mixture should give you about 20 golf sized balls.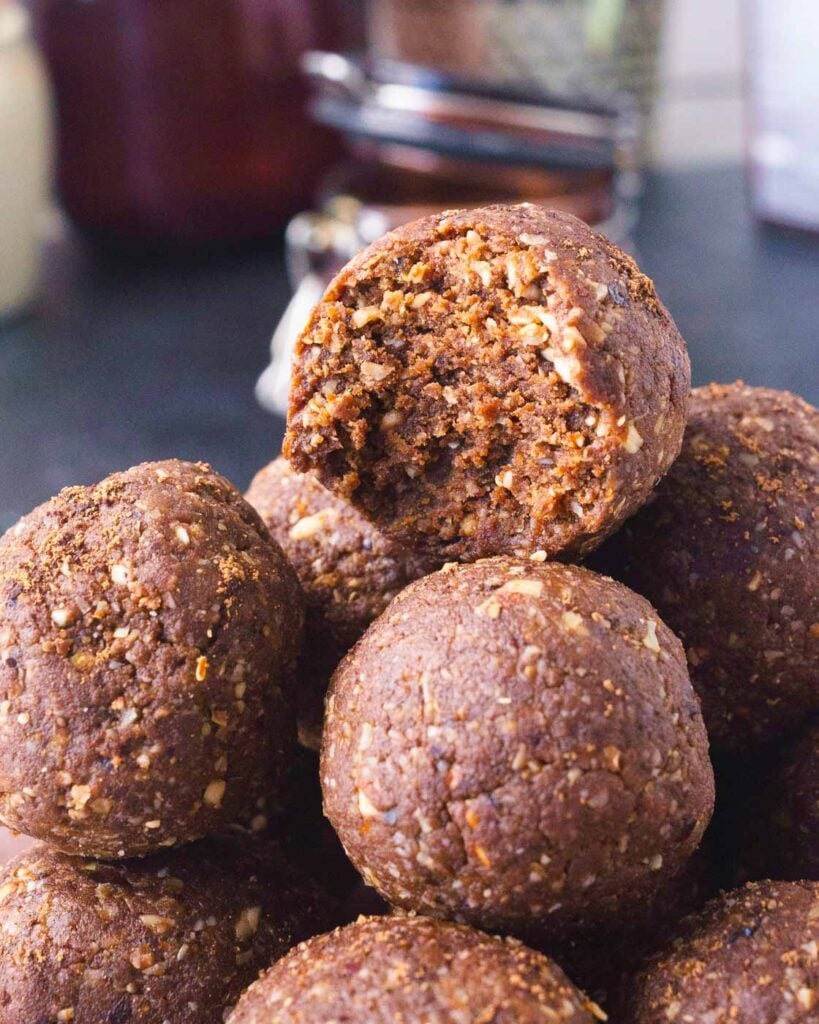 Optional Step
If you like you can roll the balls in dried coconut flakes or cocoa.
Rolling them in cocoa will make them quite intense and might not be kid friendly.
You can also dip the balls into melted chocolate for an extra special.
The best part about these Chocolate Fudge Balls are that they are easy to make, easy to store and last like forever so they make the best make and carry snack.
But the better than the best part is how decadent these taste and look! These are absolutely fudgy, decadent, sinful little fudge balls which make you feel so so so good without making you feel like a glutton.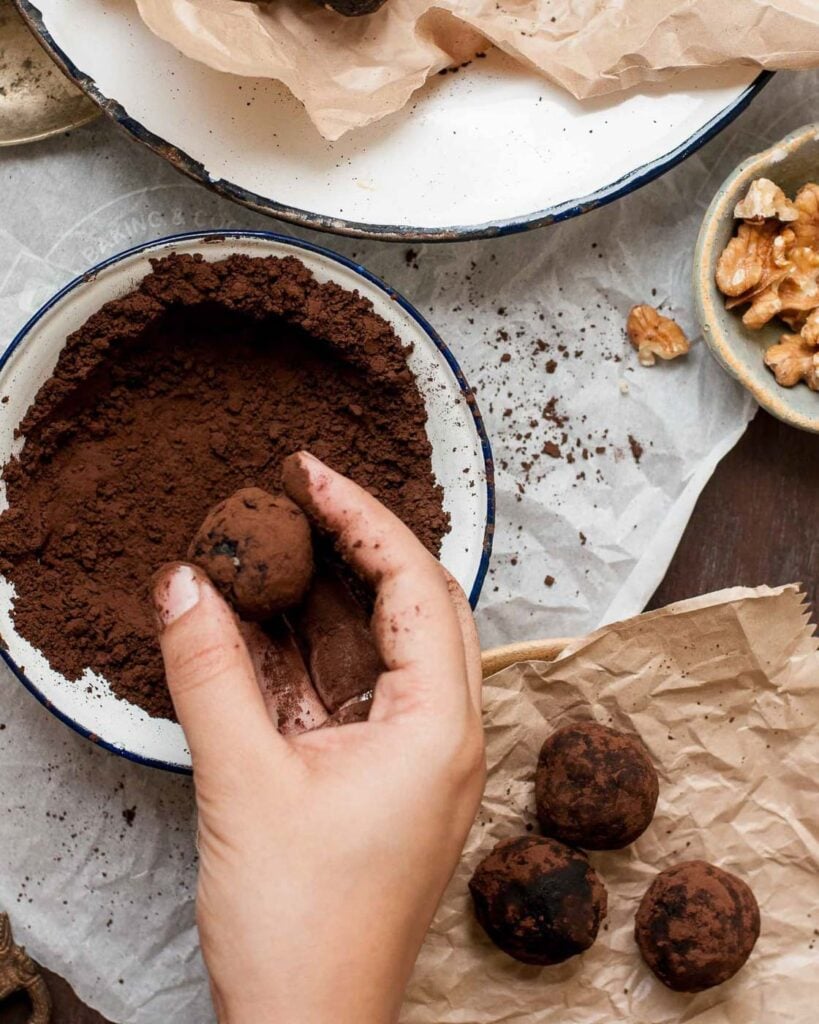 Storing & Refrigerating
I keep them in a jar on the counter. So that whenever I am reaching out to snack mindlessly, this is in front and center and I eat this instead! It lasts about 7-8 days on the counter.
In the refrigerator, you can easily keep it for 3-4 weeks. Most of the ingredients are stable at room temperature, so they stay good for a while.
If you have made extra, you can freeze them too. Just pop them in a freezer bag or a freezer friendly container. Freeze upto 3-4 months.
To eat, simply microwave one ball for 10-20 seconds.
Possible Variations
You can switch the recipe up to make different versions and variations of these bliss balls. Here are some that i have made in the past
Cranberry & Chocolate Bliss Balls - Substitute ¼ cup of almonds with dried cranberries
Chocolate Walnut Bliss Balls - Use walnuts or pecans instead of almonds
Enriched Moringa Bliss Balls - Add 1 tablespoon of moringa powder to amp up the nutrient value of these balls. No one will know! I promise!
Nut Free Seed Bliss Balls - To make these chocolate bliss balls nut-free, use seeds like sunflower or pumpkin seeds. Also switch the peanut butter with seed butter.
Here is a special recipe for Christmas and holidays- holiday truffles.

Here are more healthy recipes for you
Here are some more healthy pick me ups for you to binge on!
Chocolate Peanut Butter Cups
Seeds Brittle or Chikki
Finger Millet Laddoos
Besan Ladoo
If you made these gorgeous fudgy bliss balls, drop me a note. I would love to hear your thoughts. Also! do give us a rating. It really help me reach people.
Find us on Instagram , Pinterest & Facebook here!
If you liked my recipe, do leave a comment!
It will help others find this amazing recipe too!
---
Servings:
20
small bliss balls
Ingredients
1

Cup

Dates

180 gms ; Pitted

1

Cup

Quick Oats

115 gms

¼

Cup

Protein Powder

40 gms ; plant based or whey protein

½

Cup

Cocoa

50 gms

1

Cup

Almonds

150 gms

¼

Cup

Peanut Butter

60 gms

¼

teaspoon

Salt
Instructions
Toast the almonds for 5-10 minutes on low flame till fragrant.

Microwave the dates for 30 seconds to soften them.

Add the almonds, dates, oats, peanut butter, and cocoa to the blender.

Blitz all the ingredients together.

Add more peanut butter if the mixture looks too dry.

Scoop out and form into balls.

Optional- Roll into dry Cocoa or shredded coconut
Notes
Substitutions
Feel free to play around with the recipe.
Substitute Almonds with cashews, walnuts, pistachios,hazelnuts or go nut free with seeds like sunflower and pumpkin seeds
Substitute Peanut butter with any other nut butter.
Nut Free Seed Bliss Balls - To make these chocolate bliss balls nut free, use seeds like sunflower or pumpkin seeds. Also switch the peanut butter with seed butter.
Storage
Store these bliss balls in a jar on the counter for 7-8 days.
In the refrigerator, they can last for 3-4 weeks
In the freezer, they stay good for 3-4 months.
To eat, just microwave the ball for 5-10 seconds.
Nutrition
Serving:
1
ball
|
Calories:
113
kcal
|
Carbohydrates:
13
g
|
Protein:
4
g
|
Fat:
6
g
|
Saturated Fat:
1
g
|
Polyunsaturated Fat:
1
g
|
Monounsaturated Fat:
3
g
|
Trans Fat:
0.01
g
|
Cholesterol:
3
mg
|
Sodium:
72
mg
|
Potassium:
139
mg
|
Fiber:
2
g
|
Sugar:
7
g
|
Vitamin A:
1
IU
|
Vitamin C:
0.03
mg
|
Calcium:
36
mg
|
Iron:
1
mg
If you liked the recipe, please leave us a rating
Follow me on Instagram
My handle is @yellowthyme