Instant Pot Chicken Fajitas - Easy Instant Pot DINNER! The quickest meal you can make with amazingly tender juicy chicken + veggies.
Jump to:
TASTE: Juicy, tender & flavored with the best taco seasoning!
TEXTURE: Soft & Comforting
EASE: Very Very Easy!
APPEARANCE: Golden Caramelized wings
PROS: One Pot Chicken dinner that can be customized by each family member.
CONS: Different from regular crispy fajitas. This has a fair bit of juice from pressure cooking
Diet : Low Carb, Keto, Paleo, Low Carb & Oil free!
This recipe is perfect for someone who is bored of cooking the same old chicken..the same old way.
Also! If you are like me and want a juicy chicken breast instead of a hard, chewy version, then this recipe is for you.
The leftover gravy/ ju at the end if a perfect sauce you needed to tie the whole dish together!
The best part is that you can eat it in so many different ways! On white rice or cauli rice.
Who doesn't love a good chicken dinner! And if its something every member of the family can customize, then in my kitchen dictionary that's a sure shot win!
Here is what we will do to make Fajitas in the instant pot!
Pressure Cook the chicken
Add the veggies & seasoning in
Give it a quick mix
Pile it on a warm tortilla along with some lettuce and mashed avocados.
I will explain how to make chicken fajitas with
Chicken fajitas is my goto recipe when I want to eat a low carb meal.I eat it without rice or tortila. With a nice salad on the side.
Speaking of quick meals, do give my Instant Pot Salsa Chicken & Instant Pot Chicken Carnitas a try too! You can rustle them up on a busy weeknight in a jiffy!
Why we love making Chicken Fajitas in instant pot
We make these fajitas pretty often and here is why!
Ingredients for Instant Pot Fajita Chicken
Chicken
I have used chicken breast that's been thinly sliced here.
You can either use a sharp knife or cut it using a kitchen scissor.
Cut into 1 inch thin slices. You will need a sharp knife for this.
If you want to use chicken thighs instead, change the cooking time to 5 minutes instead.
If you want to use frozen chicken thighs or breast, you can use the cook first and shred later way of cooking.
Hot Tip
To slice a chicken breast the easy way, stick it in the freezer for 15 minutes. That way the chicken gets a little hard and makes the cutting super easy!
Fajita Seasoning
It's very easy to make fajita seasoning at home. You can also use your favorite store bought fajita seasoning if you want.
Whenever you use store-bought seasoning, check the taste- salt and heat before using it in recipes.
You can use a teaspoon or a table spoon or even a cup to make this recipe
You can adjust the amount of ground chili based on how much heat you can take. With these proportions, the heat is sort of medium. Just above what children will be comfortable with.
Produce
Bell Peppers - All kinds of colors! The more the better! These should be sliced thin.
Onion- A medium- Large onion - white or yellow. Sliced long like the peppers.
Usually fajitas has only these two veggies but if you want to make it more veggie packed, you can add celery and Shredded carrots too.
How to make Instant Pot Chicken Fajitas
There are a three ways of making chicken fajitas in the instant pot.
The first way is for crazy days when you have no time and just have to get things done!
The second way is when you have a bit more patience
The third way is when you don't want to handle raw chicken or slice it.
How to make Chicken fajitas with Sliced chicken
Step 1: Prep
Slice the chicken into thin strips. Use a sharp knife for this.
Quick Tip - place the chicken in the freezer for a bit before slicing. It makes the job so much easier!
Also slice the bell peppers and onions into thin strips.
Step 2: Pressure Cook
Add ¼ cup water first to the instant pot. Make sure you don't add chicken first and water second. You might end up with a burn sign that way!
¼ cup water is enough. The Chicken will also release a loooot of water.
Add Salt to the water and place the chicken on top.
Pressure cook on high pressure for 3 minutes.
3 minutes might seem low but sliced chicken breast will not need much time to cook. Also we will be sautéing for 3-5 minutes in the end, so 3 minutes is quite sufficient.
Once the time is up, wait for 2-3 minutes, wait for 5 minutes before you quick release the pressure valve by turning it from sealing position to venting position. Open the pot.
At this point, the chicken will look watery and THAT'S OK.
You can tip some of the water out or simply spoon some out.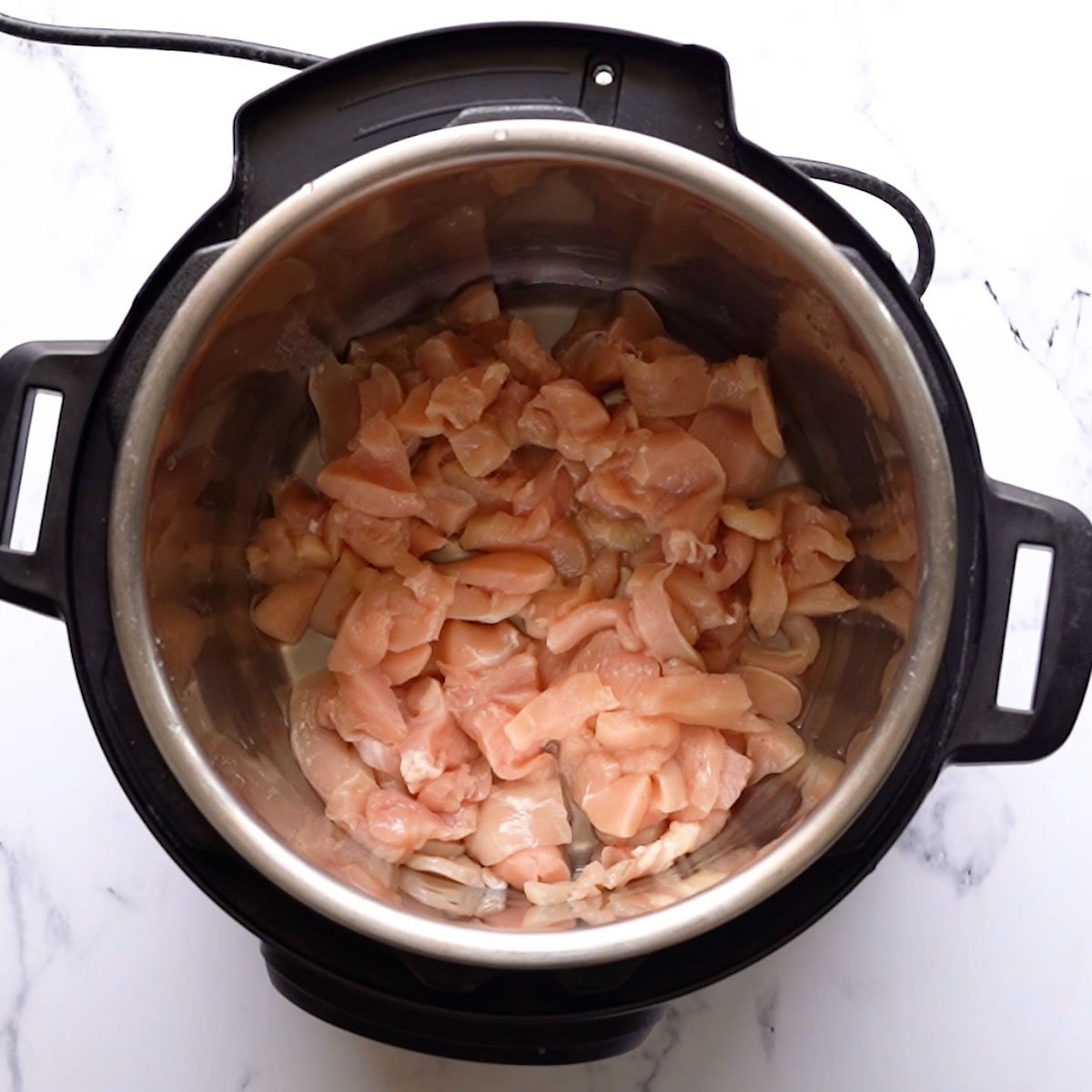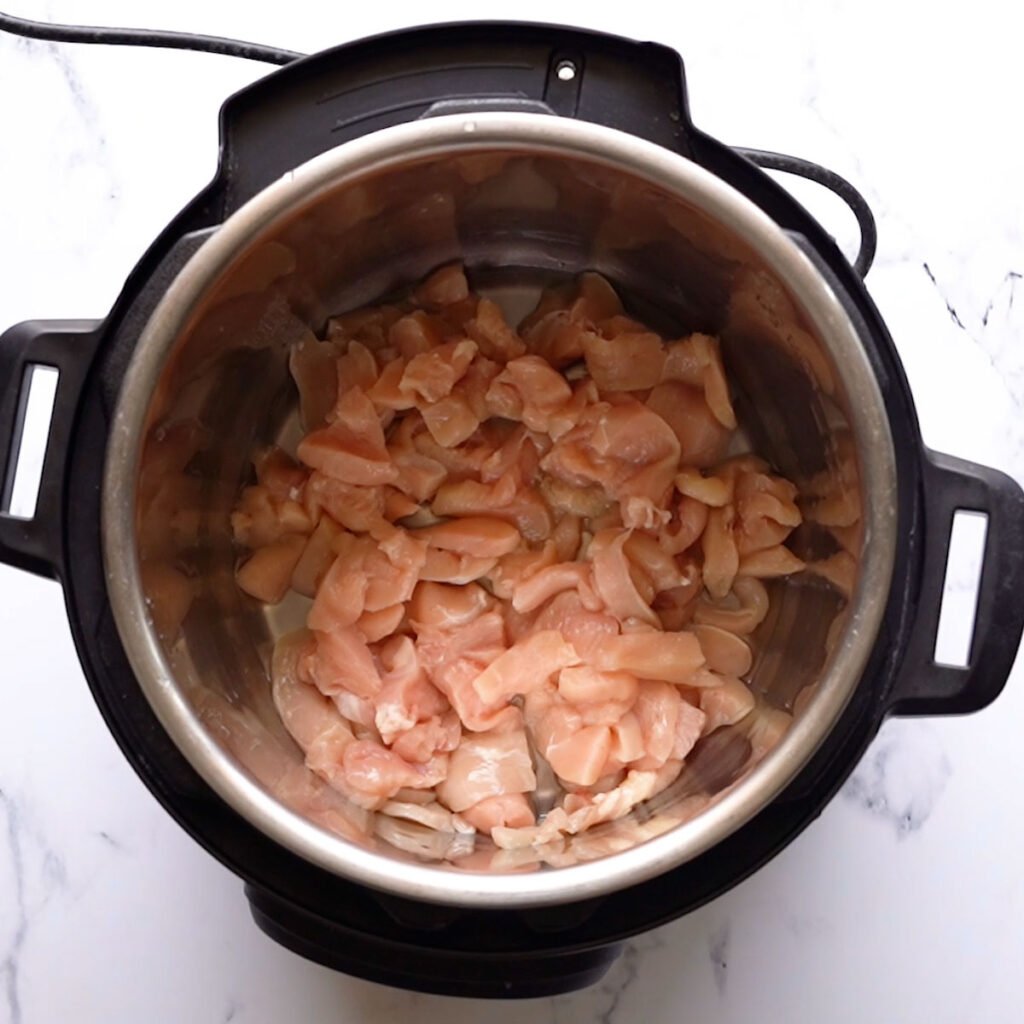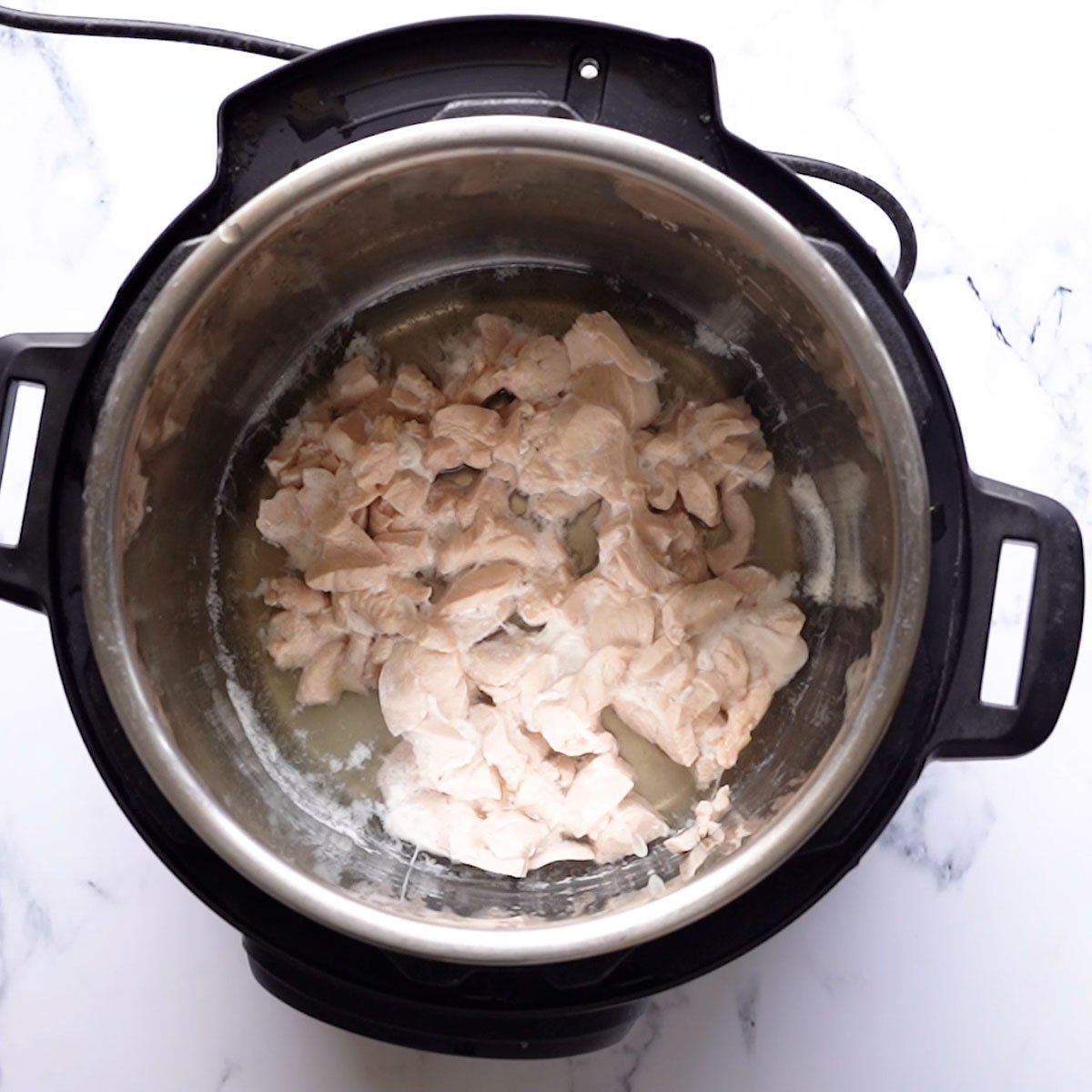 Step 3: Sauté
Cancel and switch to "Saute"
Add oil, taco seasoning, bell peppers and onions. Mix it up with a sturdy ladle/spatula.
Sauté till the vegetables are cooked as per preference. I usually do this for 2-3 minutes because i like them crunchy.
and thats it! Squeeze some lemon on top and your meal is ready!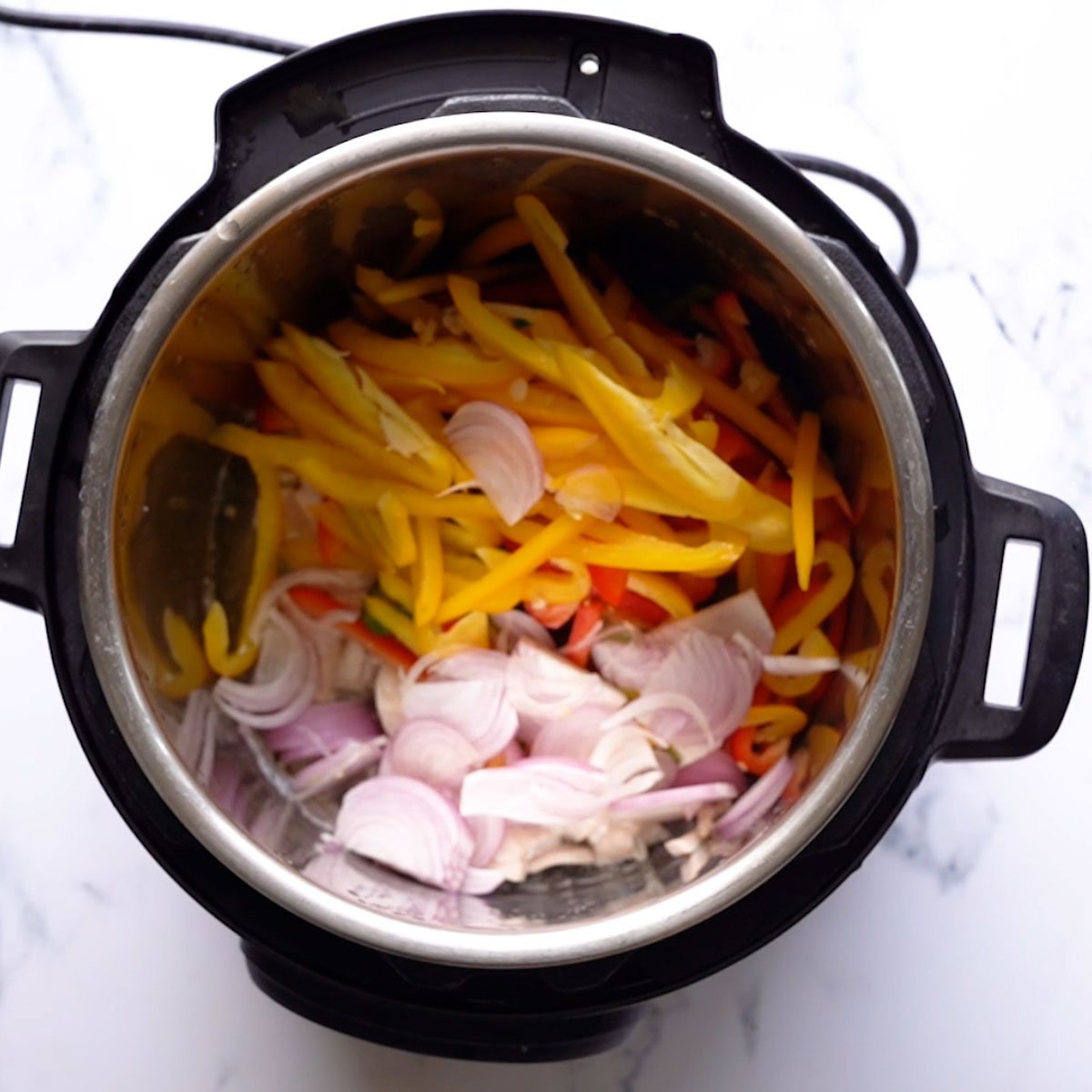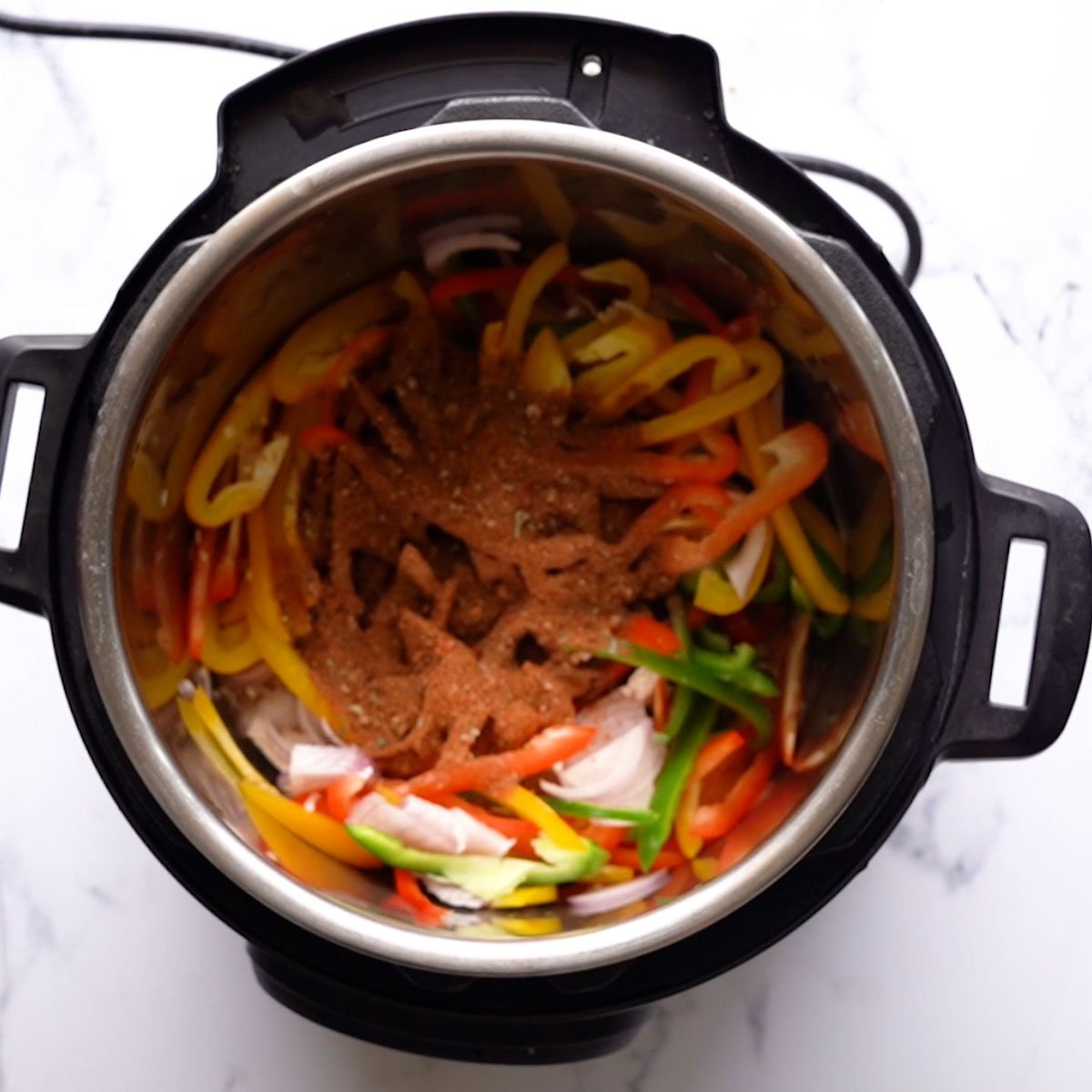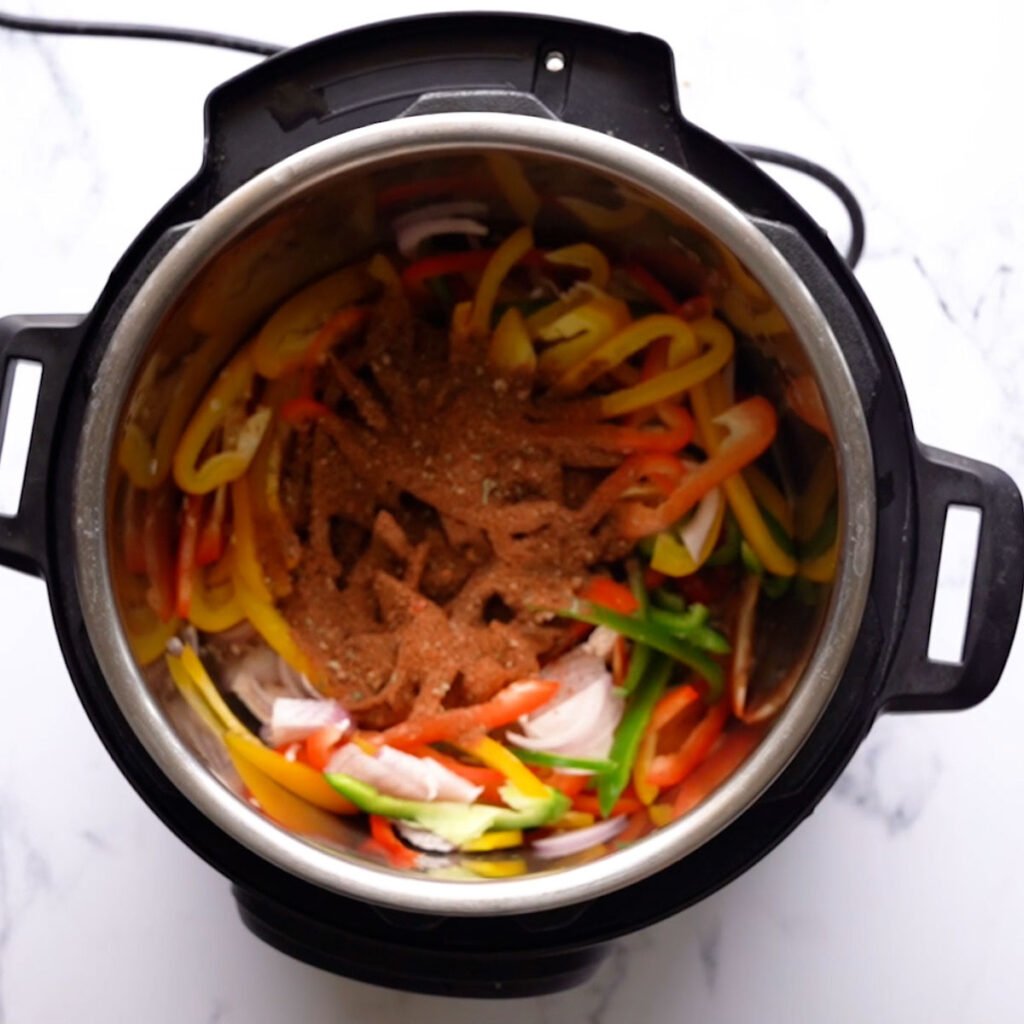 Instant Pot Fajitas vs Stove Top Fajitas
The texture of both these dishes is very different.
Instant Pot Fajita will be softer, juicier and plumper. The juices are great when you want to eat the chicken fajita with rice.
That little bit of left over ju , seasons the plain rice very well.I also like to drizzle it as a finishing "sauce" when I am eating it in a tortilla.
Where as the stove top fajita will be darker, more caramelized. The chicken will take a different texture and finish. It will be great over tortillas but with a lot of fixings. Atleast for me.
Instant Pot Shredded Chicken Fajitas
Another way to make chicken fajitas in the instant pot is to use whole chicken breast and shred it later.
Step 1: Pressure cook chicken
Keep a trivet in the instant pot.
Add water and place the chicken, seasoning and herbs in the instant pot steel insert.
Pressure cook for 10 minutes on high.
Once the cooking is done, let the pressure release naturally for 10 minutes after which turn the pressure knob from sealing to venting.
Open the pressure cooker.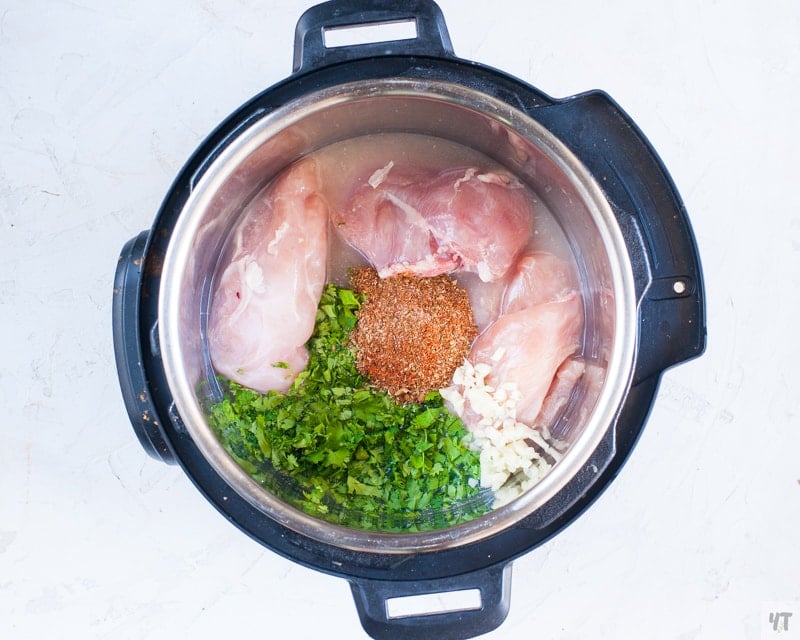 Step 2: Shred the chicken
Discard the water.
Shred the chicken using two forks or you can also use a hand whisk. It's pretty easy and non messy way to shred the chicken.
Step 3: Sauté
Switch to saute mode.
Add the veggies.
Give it a mix and saute for 1-3 minutes till the vegetables are up to your liking.
And your chicken fajitas are ready to be served!
Instant pot shredded chicken fajitas are just as good. Especially if you don't like handling raw chicken and slicing it.
How to Serve Chicken Fajita
There are endless ways to eat these fajitas.
On a Tortilla - With some Mashed Avocado, Salsa ,Sour cream.Maybe some lime.It's totally up to you! I usually lay them on the table for everyone to make their own fajita wrap.

To make a GF or Keto wrap- Simple use an almond flour tortila or a cauli tortilla.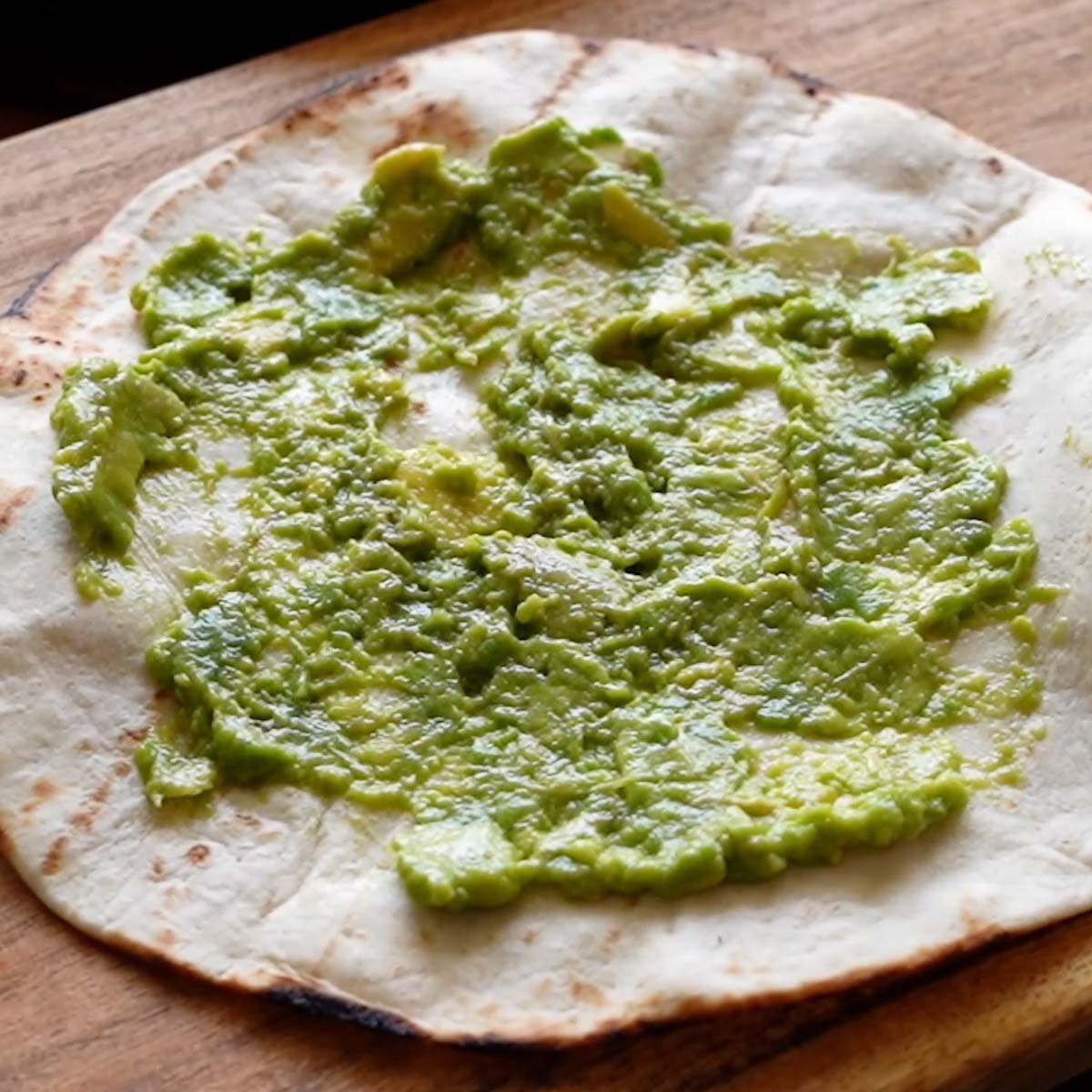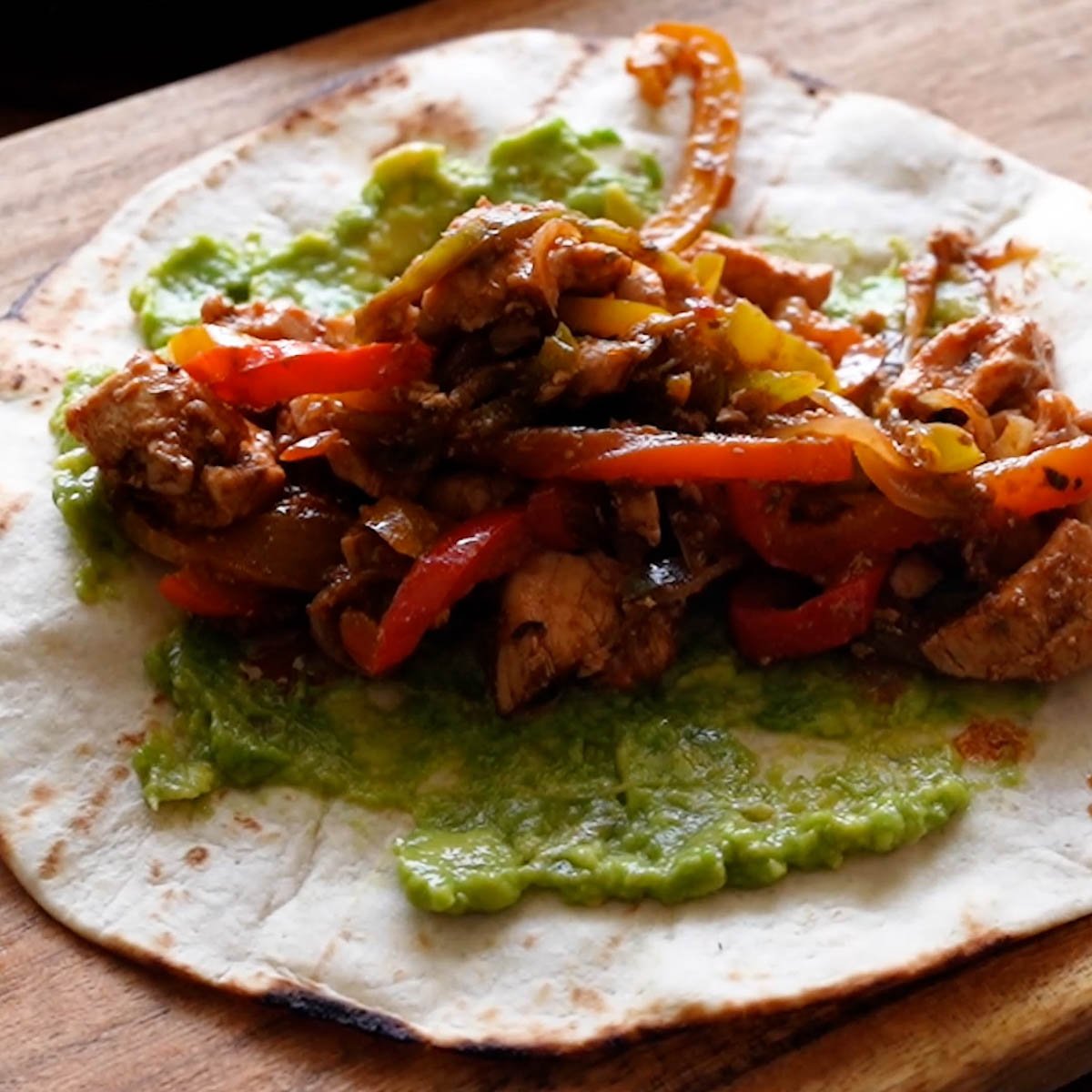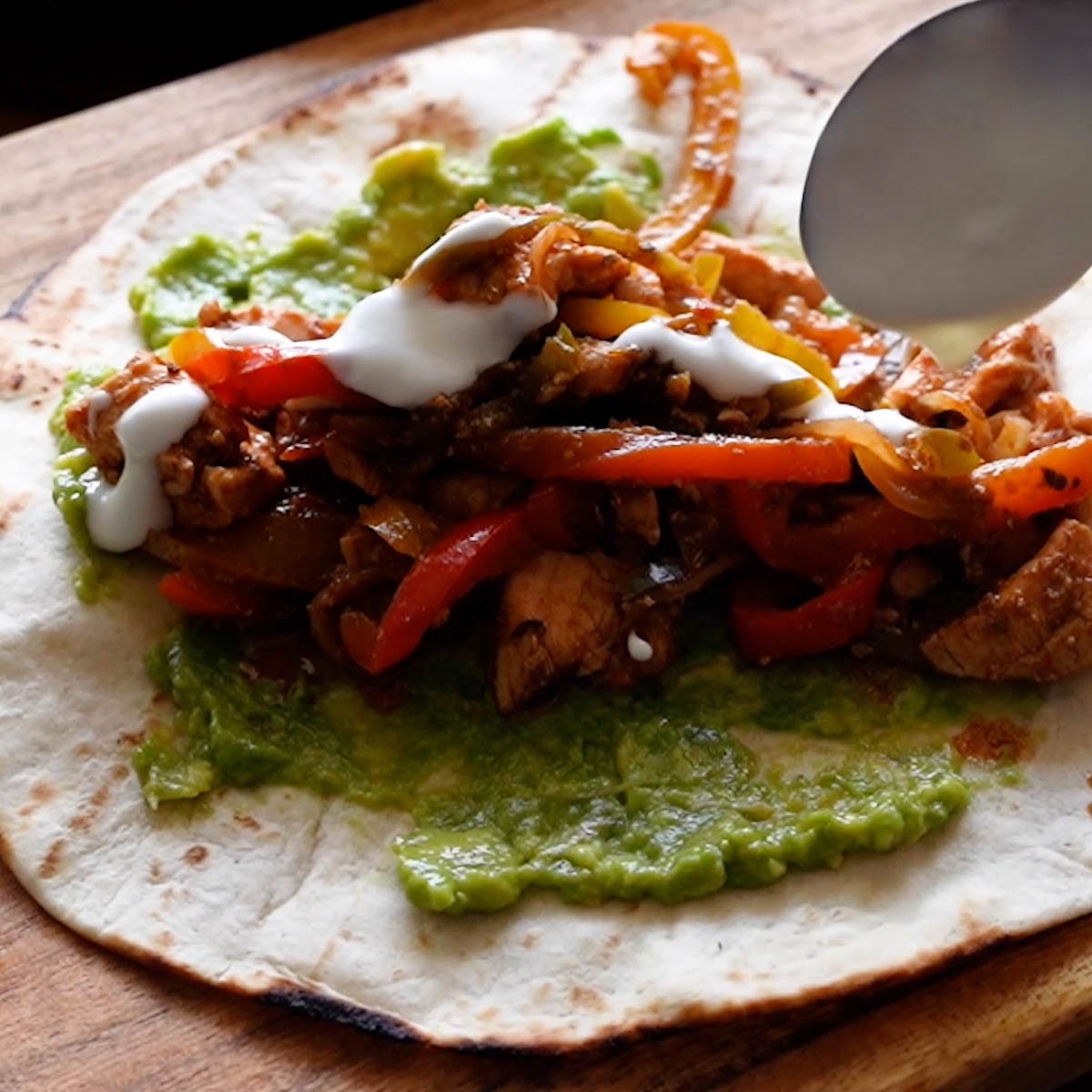 On Rice- This recipe is especially great over some white basmati or brown rice.. You can first drizzle the left over juices on the rice and then heap it up with the chicken and bell peppers.
Meal Prep - I like making the chicken fajita in the instant pot especially for meal prep.I hate dry chicken, especially if it's not crispy. I just add this along with some rice and maybe a salad made with cucumber in a few meal prep containers and call it a day!or a week..:D
Toppings for Fajita Chicken
This is the most fun part of making meals that can be put toghether as per preference
Here is the list of possible toppings
Cojito Cheese or Any Mexican blend cheese
Sour cream
Yogurt
Lime Juice
Cilantro
sliced avocado
Pico de Gallo
Crema
Hot Sauce
Crushed Nachos- this is so satisfying!
Sliced Jalapenos- Use the pickled ones.
Picked Onions
Chicken Fajitas with Frozen Chicken
So you have frozen chicken breast and want to make fajitas.
The best way is to thaw it the night before in the fridge and use it as described in the recipe.
The lazy way- if you have forgotten to thaw the chicken is to make shredded chicken fajitas instead.It's described in detail on top.
Just increase the cooking time to 7 minutes.
How to make a Chicken Fajita Bowl
Now you can make your favourite fajita bowl at home!
This is a great for a family meal! Each member can make their fajita bowl the way they like it!
Here are the fixings you should prepare to make the bowl
Guacamole
Sour Cream or Greek Yogurt- Try my garlic greek yogurt on it as a topping.
Slaw with shredded cabbage
Salsa
Rice- Brown or White- Here is how you can make brown rice and White rice in the instant pot.
You could also serve it with a salsa like this Mango Corn Pico de Galla.
Leftovers & Storing
The Fajitas will last in the fridge for up-to 4-5 days. Make sure you use fresh chicken that's been bought on the same day or frozen chicken that's been thawed in the fridge the night before.
This will make sure the shelp life of fajita chicken is long and nice.Also! USe air tight glass containers.That way you can see all you have in your fridge and not end up cooking more or ordering in!
Chicken Fajitas Freezer Meal
This is a hack that saves time & reduces wastage.Especially, if you are like me and have ordered way more produce and chicken than you need!
Here is what you do
Take a Ziplock bag(Try the reusable ones).
Add the sliced Chicken and the fajita seasoning. Mix it up.
Top it with the bell peppers and onion.
Seal and freeze flat to save space.
Once frozen, stack it up with your other freezer meals.
To use this, thaw the frozen meal in the refrigerator overnight. Put the whole thing in the instant pot and pressure cook for 4 minutes.
This way, though shorter, will make your veggies soggy! But if you are a mom or just a busy person, who wants homemade food but no fuss.This is the method for you!
More Instant Pot Chicken Recipes
Here is a link to all my instant pot chicken recipes.
If you are looking for similar quick and easy chicken recipes then here is a list for you-

Also try our quick Chicken Tinga , super addictive Crack Chicken and Instant Pot Chicken Stroganoff -with mushrooms! So so Yum!
If you make these chicken fajitas , drop me a note. I would love to hear your thoughts. Also! do give us a rating. It really help me reach people
Find us on Instagram , Pinterest & Facebook here!
If you liked my recipe, do leave a comment!
It will help others find this amazing recipe too!
---
Ingredients
1

lbs

Chicken Breast

¼

Cup

Water

1

teaspoon

Salt

or as per taste

1

Red Bell Pepper

sliced into strips

1

Green Bell Pepper

sliced into strips

1

Yellow Bell Pepper

sliced into strips

1

Onion

sliced

2

tablespoon

Fajita Seasoning

add as per your liking and spice tolerance

1

tablespoon

Olive Oil

Optional
Fajita Seosoning
1

teaspoon

ground coriander

1

teaspoon

ground cumin

1

teaspoon

Garlic Powder

½

teaspoon

Ground Chilli

Smoked Cayenne or any other smoked chilli

½

teaspoon

Paprika

Mild
Instructions
Chicken Fajitas- using sliced chicken
Place the chicken breast in the freezer for 5 minutes. This will make it easy to slice.

Slice it into thin strips.

Add ¼ cup of water in the instant pot. Add about ½ teaspoon of salt(or as per taste).

Add the chicken on top of the water.

Close the lid and pressure cook for 3 minutes on high pressure with the pressure valve closed.

After the cooking time is over, let the pressure release naturally for 2-3 minutes.Quick Release the pressure after that.

You can just tip some of the water out or use a spoon to remove some of it.

Switch to the sauté setting. Add the Fajita seasoning, bell peppers ,onions and oil if using.

Cook for 1-2 minutes till the vegetables are cooked to your liking.

Squeeze a bit of lemon and your sliced chicken fajita is ready!
Shredded Chicken Fajitas-using Whole Chicken Breast
Add ½ Cup of water to the instant pot.

Place a trivet inside. Keep the chicken breast on top of the trivet.

Close and pressure cook for 10 minutes. Let the pressure drop for 5 minutes before you quick release the pressure by turning the pressure knob from sealing to Venting.

Carefully remove the chicken, Shred it using a fork.

Switch to saute setting. Add 1 tablespoon of oil to the instant pot.

Add the chicken , salt & taco seasoning. Give it a quick mix. If you want, you can brown the chicken a bit here.

Add the vegetables - bell peppers & onion. Give it a mix.

Squeeze a bit of lemon and your shredded chicken fajita is ready!
Notes
Consistency of Fajita Chicken-There will be some juices left in the instant pot.You can drizzle this liquid gold over the chicken once you serve. 
Storing Leftovers
Store the left overs in an air tight container in the refrigerator for upto 4-5 days.You can freeze the left overs in a zip lock or a air tight container for upto 2 months.
Reheating

To reheat, Transfer the chicken fajita in a microwave safe bowl with a lid.Sprinkle some water on it. Microwave for 4-5 minutes depending on the quantity
You can also saute it in a pan.Be sure to sprinkle some water and cover it for a bit so that the insides are hot too.
Nutrition
Calories:
169
kcal
|
Carbohydrates:
9
g
|
Protein:
26
g
|
Fat:
3
g
|
Saturated Fat:
1
g
|
Trans Fat:
1
g
|
Cholesterol:
73
mg
|
Sodium:
723
mg
|
Potassium:
668
mg
|
Fiber:
2
g
|
Sugar:
3
g
|
Vitamin A:
1235
IU
|
Vitamin C:
121
mg
|
Calcium:
31
mg
|
Iron:
1
mg
If you liked the recipe, please leave us a rating
Follow me on Instagram
My handle is @yellowthyme