Instant Pot Chicken Wings - Two ingredient Chicken Wings recipe made with fresh or frozen Chicken Wings.
Juicy, Caramelised, Crispy Wings made in half the time! We first pressure cook the wings and then broil them in the oven.This method helps make the wings juicy and plump while charring them on the outside.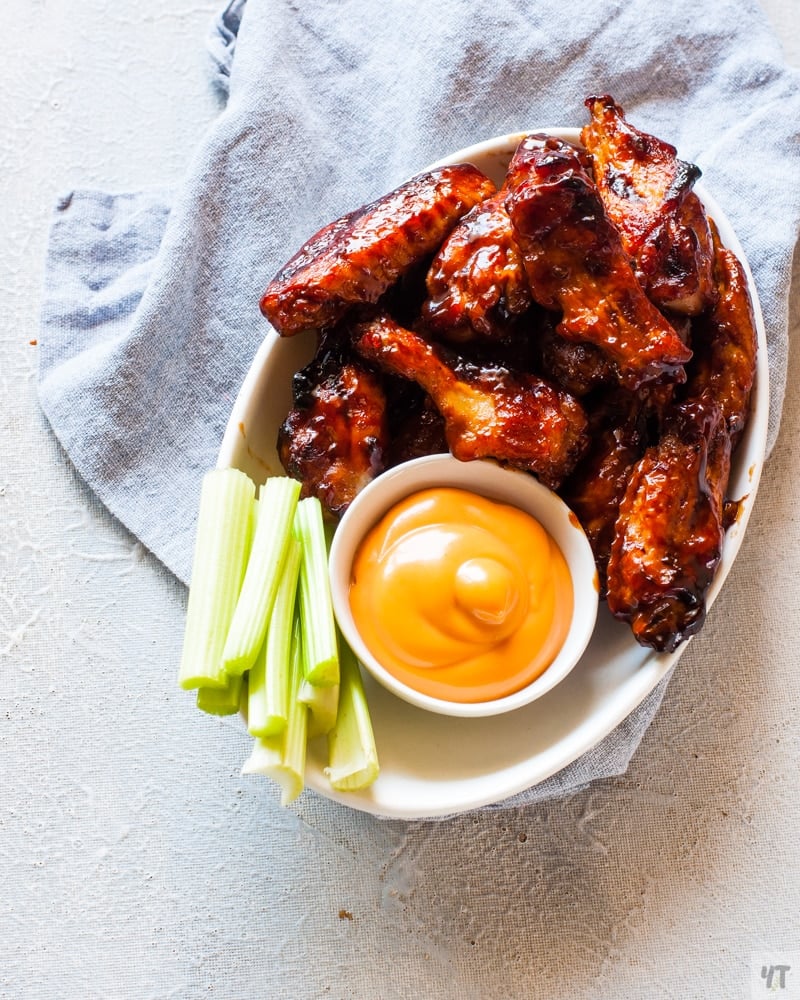 Also, these are great for parties and big gatherings because you can do most work in advance and then pop them in the oven just before serving AND because you can make a giant batch of it!
Why make Chicken Wings in Instant Pot
Let's all agree that deep fried wings are the best.Yes.I said it.They are the best BUT they are super high in calories and just too cumbersome to make.
Making Chicken Wings in the instant pot is mid way between Deep Fried Wings and Baked Chicken Wings.
They stay plump and juicy unlike the baked version.Also, they are great for parties because you can cook the chicken wings in the instant pot the day before AND just toss them with sauce and broil them in the oven just before serving.
Though the main reason is that it takes lesser time and is a whole lot healthier! I mean I haven't used any oil in this recipe!
Ingredients for Instant Pot Chicken Wings
2 ingredients.THATS IT!-
Chicken wings
Sauce- Your choice- BBQ sauce or Buffalo Sauce
You can use any sauce you like.We have used store bought barbecue sauce here.You can swap out BBQ sauce with your choice of hot sauce or any other sauce like
How to make Instant Pot Chicken Wings
Step 1: Pressure Cook
Add water to the inner pot, set the trivet,Add all the wings and Pressure Cook.
Step 2:Toss & Broil
Remove the wings from the inner pot and toss them in half the sauce.Arrange them in a tray and broil on high temperature till they are the colour you desire.
Step 3:Toss in Sauce and Serve
Toss them in the remaining sauce and serve them with your dip of choice.I usually like to serve these with my yogurt dip or just some store bought Mayonnaise.
Frozen Instant Pot Chicken Wings
You can use frozen wings, straight from the deep freezer in this recipe.
As long as the Wings are not stuck to each other.
You don't have to defrost or anything! Just put them inside the instant pot for 18-20 minutes instead based on the size of your wings.The rest of the recipe remains the same.
Make Ahead Wings for a Party
This is my FAVOURITE trick!
Here is my Amazing Two Step Method for serving piping hot wings for a party with minimal effort!
First - Pressure Cook the Wings and mix in half the sauce the day before.This also gives more flavour!
Second- Broil them in a preheated oven for 10 minutes, just before serving!
You could arrange them on the tray and cover them on the foil and refrigerate too.So all you have to do is push them in the oven at the right time!
Sauces for Instant Pot Chicken Wings
Barbeque sauce is just one option here.You can try a lot of different sauces with these wings.Some options are
Buffalo
Peri Peri
Hot Sauce
Other Instant Pot Chicken Recipes
Instant Pot Sweat and Sour Chicken
Instant Pot Lemon Chicken
Instant Pot Parmesan Chicken Pasta
Here are some more easy Appetiser recipes that you will love!
Instant Pot Spare Ribs in Sweet and Sticky Chinese Sauce
Thai Sticky Wings
Find us on Instagram , Pinterest & Facebook here!
If you liked my recipe, do leave a comment!
It will help others find this amazing recipe too!
---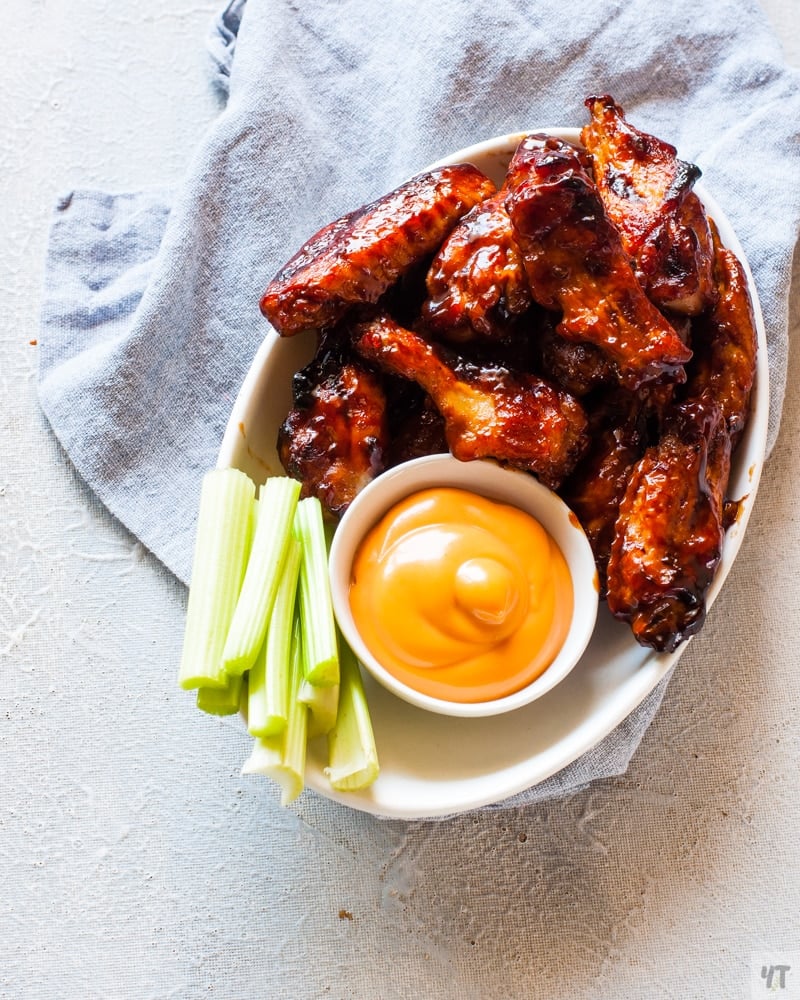 Ingredients
2

lbs

Chicken Wings - Fresh or Frozen*

cut into 2 pieces; tip discarded

½

Cup

BBQ Sauce*
Instructions
Add one Cup of water to the inner pot of the instant pot.

Place the trivet inside.Add the wings.Close the lild

for Fresh Wings - Select PRESSURE COOK on HIGH for 7 minutes.For Frozen Wings-Select PRESSURE COOK on HIGH for 18 minutes.

5NPR-Let the pressure release naturally for 5 minutes.Quick Release at the end of 5 minutes.

Open and using tongs, remove the wings and place them in a bowl.

Add Half the sauce and toss well.Place the wings in a single layer on a wire rack.

Preheat the oven at 250 degree C or 450 F.(this step can be done when you start the pressure cooking)

Broil the wings in the upper rack to 10 minutes till they start getting caramelised.

Remove, Toss in the left over sauce and serve immediately.
Notes
Chicken Wings*
Size - if using large sized wings, change the time from 7 minutes to 10 minutes.If they are frozen, change the time to 20 minutes
Frozen Wings - You can cook frozen wings in the instant pot, as long as they are not stuck together.
Sauce*
You can use any sauce you like.Some options are hot sauce,BBQ sauce, Buffalo,Sriracha.
If you liked the recipe, please leave us a rating
Follow me on Instagram
My handle is @yellowthyme