Instant Pot Indian Butter Chicken- Quick & Easy BETTER than takeout Indian classic Chicken curry Recipe also called Murg Makhani. Serve with Naan or Rice.
Jump to:
Cuisine : North Indian
TASTE: Mild, fragrant, Rich Curry. The best quickest Butter Chicken!
TEXTURE: Velvetty, Creamy, Silky
EASE: Super Easy!
APPEARANCE: Orange curry
PROS: Quick, No frills
Butter Chicken is a creamy, luscious tomato-based Chicken Curry .It's not spicy but mildly sweet and smoky. It tastes the best when mopped up with fresh Naan.
This is the closest recipe to the authentic butter chicken you get in Delhi WHILE being made with this instant pot shortcut!
This curry is also called Murg Makhani or Chicken Makhani.
Once you make it the first time, you will be making it again and again. I have made it countless times to guests, to students, for friends and family.
The recipe is pretty simple. It takes all of 15 minutes of active time. Lesser if you make it in the instant pot.
Here is what we will do!
Marinate the Chicken
Make the Gravy
Add the chicken to the gravy and pressure cook!
What is Butter Chicken
Butter Chicken or Murg Makhani with Naan is such a typical north indian take out order!
This recipe though is better than most restaurant butter chicken!For an even better, flavorful version, make butter chicken on stovetop.
This dish originated a mile away from where I was born, Delhi .Lol. Needless to say it's close to my heart. Actually ,it's close to every indian's heart. This and Dal Makhani and Butter Garlic Naan together are just pure heaven!
When made right, it should be orange in colour. Have subtle sweet and sour flavors. It should be creamy and smooth.
The main flavor comes from the use of cardamom, cloves and cinnamon. but the one thing that makes it the best butter chicken ever is the Kasoori methi or the dried Fenugreek!
It's pretty easy to make once you have the right recipe. It's one of those recipes that can be swapped easily to make it Keto, Dairy Free and Paleo. Scroll down to the tips, tricks and Alternatives to check on the swaps.
Why we love making Butter Chicken
Oh Butter Chicken is my all time favourite! But making it at home is always better than takeout.
Besides the nostalgia of it and the attached emotions, here is why we love making it!
It's a crowd pleaser!
Easy Recipe that can be made for an ARMY!
Can be eaten with Rice and any flat Breads
Easiest Indian "Gravy" which most people love eating.
Ingredients for Butter Chicken
This is all you will need to make the Best Butter Chicken Ever!
The minute you gather the ingredients, you will know you got it right because it will smell like butter chicken!
Chicken Thighs
Thick Yogurt
Butter
Whole Spices
Onions
Tomato Puree or Tomato Paste
Honey
Ginger
Cream
Dried Fenugreek Leaves(Kasoori Methi)
Chicken
I have used Skinless Chicken thighs, cut into 1 inch cubes. If you can get precut chicken then that's great or you will have to cut it using a sharp knife.
HOT TIP- To cut the chicken easily, throw it in the freezer for 15 minutes. This will make the chicken firm enough that you can slice through it easily.
You can also use skinless chicken breast cubes but the pressure cooking time will change to just 4 minutes. The texture of the chicken will also be a little different.
Yogurt
I have used thick yogurt here. You can also use greek yogurt. If you want to use homemade curd, hang it for 4-5 hours to make sure its thick and not watery.
Tomato Puree or Tomato Paste
I want to take a minute to note that tomato puree and tomato paste are two different things.
And don't confuse tomato puree with puree of fresh tomatoes. We are talking about the more concentrated ketchupy stuff.
If you can't find tomato puree where you live, use canned tomatoes or paste(passata )instead. If you are using tomato paste, add only 1 tablespoon of it.
Be sure to check the label and see what you are buying.If you add ¼ cup of tomato paste or passata instead of the puree, your butter chicken will be ruined.
So either add ¼ cup of tomato puree or 1.5 tablespoon of Tomato paste
Kasoori Methi***
This is the secret ingredient! This takes an average butter chicken to BETTER than restaurant butter chicken!
This adds a beautiful umami flavor to the butter chicken. If you can't find it, you can leave it out though I urge you to order some from amazon!
Don't worry about reusing it.You can add it to any indian food from dals to veggie stir fries to parathas!
Why make Butter Chicken in Instant Pot
This is a super fast , No Frills version of butter chicken. You can make it in a pot or a traditional pressure cooker too. Though making butter chicken in the instant pot has some distinct advantages.
Minimal active time- Once you sauté the chicken and onion, most work is done by the pressure cooker.
One pot recipe - One pot for making the gravy and browning the chicken.
Super Quick - This recipe would take a lot more time when made in a pot.
Keep Warm - This is my favorite instant pot setting. You can keep your curry warm for hours. This especially helps when you are entertaining.
How to make Instant Pot Butter Chicken
Making Butter Chicken - Step by Step - Do Check the Video to see the actual making of the instant pot butter chicken.
Step 1: Marinade the Chicken
Marinate the chicken with yogurt, salt and turmeric. Set aside for at least 15 minutes to 24 hours in the refrigerator. The longer you marinade, the better the flavors.
This is usually the first thing I do, while I prep & measure rest of the ingredients.
As you can see, I have kept it very simple with just yogurt turmeric and salt. You could add ground chili too but I have saved that for the gravy. So that I have the right color.
Step 2: Cook the Onions and Spices
Heat the instant pot in sauté mode, once hot, add butter and spices. Add the onions and cook till translucent.
You don't want to brown them, but just soften them so they thicken up in the butter chicken gravy.
Step 3: Add the Chili & Tomato Puree/Paste
Next, add the Kashmiri Chilli or paprika followed with the tomato puree. Saute the Chili in the butter before adding the tomato.
This will give the butter chicken a bright orange color. Add the honey next and cook together while stirring occasionally.
Make sure to scrape the bottom of the pot with a silicon spatula to avoid the burn notice.
Step 4: Pressure Cook
Add all the chicken along with the marinade.
Give it a mix. Add ½ Cup of water. The chicken will release some of its juices and we also added the yogurt, that's the reason ½ cup of water will work in this dish.
Pressure Cook on HIGH for 10 minutes followed by a quick release.
Step 5: Finish with Cream
Open the instant pot.Add cream and reduce the gravy if you prefer it thick.Sprinkle the kasuri methi and give it a stir.
Garnish
Garnish the butter chicken with more cream and fresh coriander leaves and serve with rotis or rice.
Important Notes & Tips
I have some more important things to say before you dive into making this recipe.
Color of Butter Chicken- The color of the chicken curry is from the tomatoes and the ground chili. When you saute the ground kashmiri chili in oil/ butter /fat, it releases a beautiful color. Keep this in mind for other indian dishes like paneer butter masala and ghee roast chicken too.
Ideally, you can increase the ground chili to upto 2 tbsp. Though I have deliberately kept this curry milder than the rest.
In restaurants, the color of the curry is usually from artificial color.
Honey- I see this every time in this recipe. Till I don't add the honey, the taste and the color is always off. No other kind of sweetener works as well.
Cream- use heavy cream and when serving, add a drizzle of it over the curry.
Butter Chicken Gravy- To make the butter chicken with more gravy, simply double all the ingredients except the chicken.
Possible Alternatives
Gluten Free Version Murg Makhani-
This recipe is naturally gluten free.
Dairy Free and Lactose Free Butter Chicken
To make this dairy Free, Use oil instead of Ghee, substitute dairy cream with cashew cream and leave out the yogurt for chicken marination.
Whole 30 Paleo Version Butter Chicken
To make this butter chicken whole 30 and paleo complaint- Use Clarified Ghee instead of butter,Skip the yogurt, use cashew cream instead of dairy cream and add pureed dates instead of honey.
Fastest Instant Pot Butter Chicken
Sometimes I just want to make a faster No Frills butter chicken. Yes you loose some flavor but when I am in a hurry, this way works for me.
There are 1 major changes in this recipe- No Sauté of onions or the chicken.
You add, onions, Marinated Chicken, Water mixed with all the spices and salt. Add Tomato puree on top. Pressure Cook for 10 minutes on High and Quick Release.
Add Cream, bring to a simmer and serve!
Serving Suggestions of Butter Chicken
Here is a whole post on what to serve with butter chicken- Sides & Menu around it.
My first choice is always Butter Naan.Making homemade Naan can be a game changer! No more Rubbery, gummy room temperature Naan which takes a zillion years to chew.
Trust me, you need this Naan recipe in your life!
You can also eat it with Cumin flavored basmati rice - Jeera Rice. This also goes wonderfully with parathas.
Here is a quick Indian Menu around butter chicken.
If you are looking for more indian recipes, do visit my more than 100 indian instant pot recipes .
Storing & Freezing
This recipe stays in the refrigerator for about 4-5 days.
It also freezes beautifully, as all things gravy do.Here is what you do
Let the butter chicken to come down to room temperature.
Transfer the butter chicken into an airtight freezer-safe container or a heavy-duty freezer bag. Be sure to leave enough space at the top of the container or bag to allow for expansion as the food freezes.
Label the container or bag with the name of the dish and the date it was frozen.
Place the container or bag in the freezer.
Butter chicken can be stored in the freezer for up to 3 months. When you're ready to eat it, simply remove it from the freezer and let it thaw overnight in the refrigerator or microwave.
More Indian Chicken Curries
Here are some very famous chicken curries that you will find in most resturants.I have been making most of these recipes for decades now!
Chicken Keema- Indian Minced Chicken Curry
Authentic Goan Chicken Vindaloo Recipe
Whole Chicken Roast Indian Style - Baked
Mangalorean Chicken Ghee Roast(with Video)
Nadan Kozhi Curry- Kerala Chicken Curry
Instant Pot Mughlai Chicken Korma Recipe
If you do make this butter chicken, do leave me a note in the comment section. I would love to hear from you!
Find us on Instagram , Pinterest & Facebook here!
If you liked my recipe, do leave a comment!
It will help others find this amazing recipe too!
---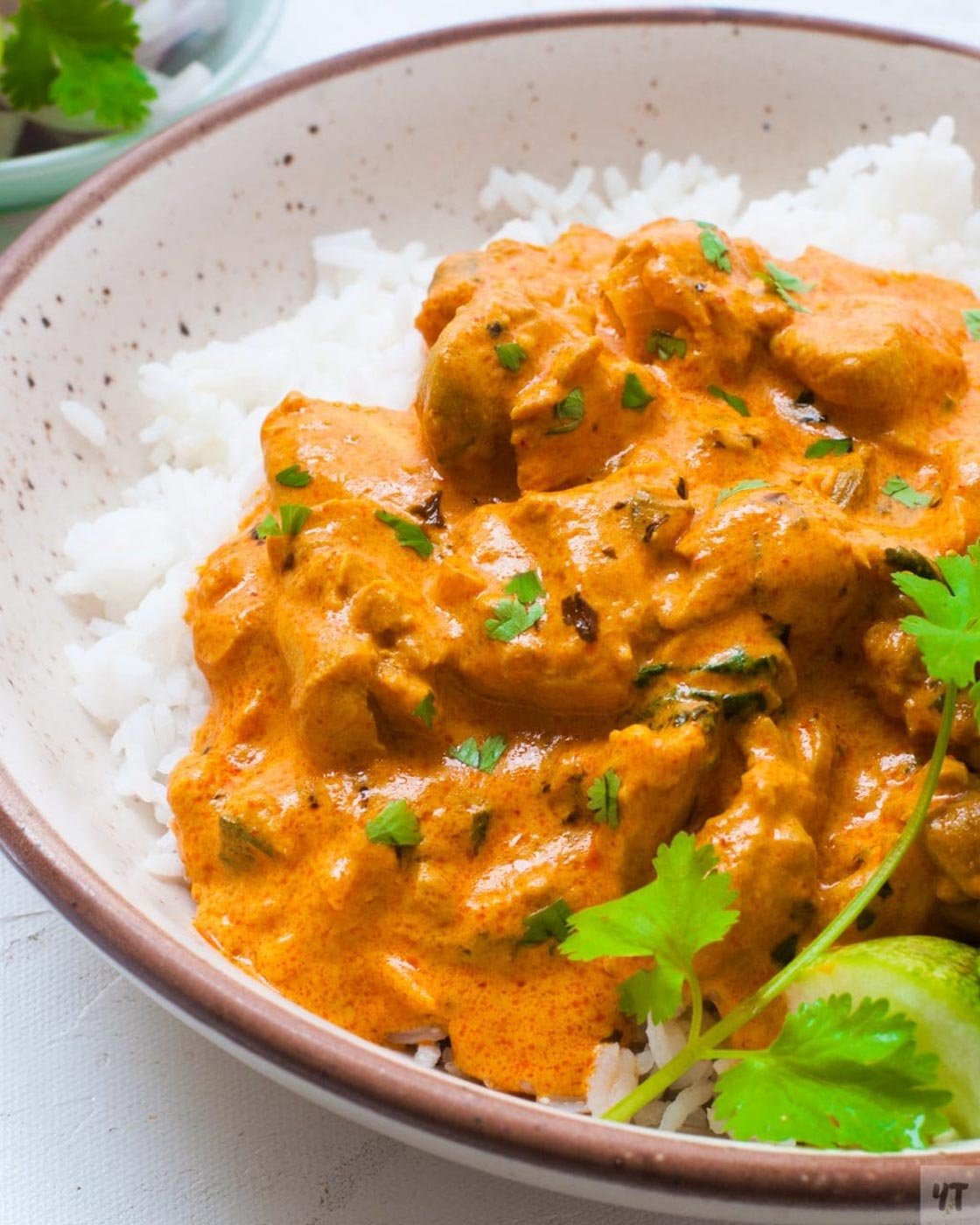 Ingredients
Chicken Marinade
½

Pound

Chicken Thighs

(half a pound)Boneless Thighs, cut into cubes

½

Cup

Yogurt

Thick or Hung curd or Greek Yogurt

1

teaspoon

Turmeric

1

teaspoon

Salt
Butter Chicken Gravy
2

Tablespoon

Butter

4

Cloves

1

inch

Cinnamon Stick

½

Cup

Chopped Onion

½

teaspoon

Ground Kashmiri Chilli

Check notes

1

Tablespoon

Ginger

optional

5

Tablespoon

Tomato Puree

or 1 tablespoon tomato paste with 4tbsp water

1

Tablespoon

Honey

½

Cup

Cream

More for garnish

1

Tablespoon

Kasuri Methi

Dried Fenugreek Leaves

1

Teaspoon

Garam Masala

Optional

Salt To Taste
Instructions
Marinate the Chicken in yogurt, turmeric and salt. Set aside for 15 minutes to 24 hours in the refrigerator.
Instant Pot Butter Chicken
Heat the instant pot in SAUTE mode.When Hot, add 2 tablespoon butter.

Add the spices- cardamom, cinnamon and cloves and saute for 10-15 seconds.

Tip in the chopped onions and saute for 3-4 minutes till it turns translucent.

Sprinkle the red kashmiri chilli powder & Ginger.Saute for 10-20 seconds.

Add the tomato puree and saute for another 3-4 minutes till you can see the butter on the sides.

Add the chicken with the marinade.Add ½ Cup water and cancel saute.

Close the lid, Select PRESSURE COOK/MANUAL at HIGH for 8 minutes. Quick Release and open the pot.

Select Saute.Add the cream slowly and keep stirring.

Check the salt.Add Kasuri Methi,Honey, Garam masala(if using) and stir it once again.Check on the salt.Add more if needed.

Garnish with Cream, Coriander and serve hot.
Notes
Ground Chili 
In india, we use Kashmiri chili or bydagi chili powder. They are mild chilies that mostly give color.
The trick to a gorgeous red/orange color is to saute the chili powder in fat for a bit.
MILDLY SPICY butter chicken -½ teaspoon ground chili powder(perfect for my 5 yo)
MEDIUM SPICY butter chicken - 2 teaspoon Ground chili powder 
SPICY butter chicken -2 tablespoon Ground chili powder
Chicken
Chicken thighs or legs are the best choice to make this pressure-cooked butter chicken curry.
You can also use already cooked chicken like tandoori chicken morsels while making the curry. Just pressure cook for 1 minute to get all the flavors mixed.
To use Skinless Chicken Breast- Reduce the pressure cooking time to 4 minutes.
Serve Chicken Makhani
Butter chicken should be served hot with indian flatbreads like naan, parathas or rotis.You can also serve it with rice or pulav.
Here is a whole post on what to serve with butter chicken- Sides & Menu around it.
Nutrition
Serving:
1
cup
|
Calories:
338
kcal
|
Carbohydrates:
13
g
|
Protein:
12
g
|
Fat:
27
g
|
Saturated Fat:
14
g
|
Polyunsaturated Fat:
3
g
|
Monounsaturated Fat:
8
g
|
Trans Fat:
0.3
g
|
Cholesterol:
108
mg
|
Sodium:
700
mg
|
Potassium:
359
mg
|
Fiber:
2
g
|
Sugar:
8
g
|
Vitamin A:
790
IU
|
Vitamin C:
5
mg
|
Calcium:
84
mg
|
Iron:
1
mg
If you liked the recipe, please leave us a rating
Follow me on Instagram
My handle is @yellowthyme
Commonly Asked Questions on Butter Chicken
Here are some commonly asked questions on butter chicken. Hope this helps you troubleshoot your curry!
What is special about butter chicken?
It's an indian curry loved by children and adults alike! It's usually not very high on spice but very high on flavour.
It's also a curry thats served at almost every resturant, every indian event and gathering- from business lunches or marriages.
Is butter chicken sweet or spicy?
Butter Chicken is not very spicy. Though it does get the orange color from the ground chili.The chili used is mainly for colour and flavour and not for the heat.
Also the addition of honey and cream cuts the spice level signifincanlty.
What is the difference between butter chicken and curry chicken?
Butter Chicken is orange and creamy. Curry Chicken or usual homemade chicken curry can be much more spicy. It's also usually not creamy.
What do you eat butter chicken with?
Naan is usually the most preferred with butter chicken. But you can also serve rice or parathas with it.
Is butter chicken healthy?
Butter Chicken is high fat curry. If you leave out the honey, its keto complaint.
Otherwise, its very high on calories.
Which is healthier butter chicken or chicken tikka?
Butter chicken is very high in calorie compared to chicken tikka.You can check the calorie details of chicken tikka here
Is butter chicken real Indian food?
yes! It was invented in Delhi. The capital of india. It's as real as Indian food can get!