Jump to Recipe
Instant Pot Indian Chicken Curry - Desi Chicken Curry made with bone in chicken, yogurt and spices , in under 30 minutes.Serve this along with steamed rice or chapatis and a little salad for an easy weeknight dinner!
This curry is perfect for beginners or people who like cooking with minimal ingredients.
Okay..The list doesn't look minimal but that's cause indian food usually calls for a loooootttt of spices and this frankly borders on bare minimum.
Though if you want to make something a little more elaborate- try my Instant Pot Chicken Korma recipe.It's to die for!Seriously! Or my Punjabi Butter Chicken recipe.It's absolutely delish!

How to make Instant Pot Indian Chicken Curry
Ingredients for Instant Pot Chicken Curry
This Instant pot Chicken Curry is super easy to make and uses only handful of easily available ingredients.
Chicken
Onions
Tomatoes
Yogurt
Spices- Turmeric,Chilli powder,Garam Masala/Curry Powder
yes, that's it!
Minimal ingredients chicken curry made quickly in an instant pot.Literally the fastest instant pot curry possible!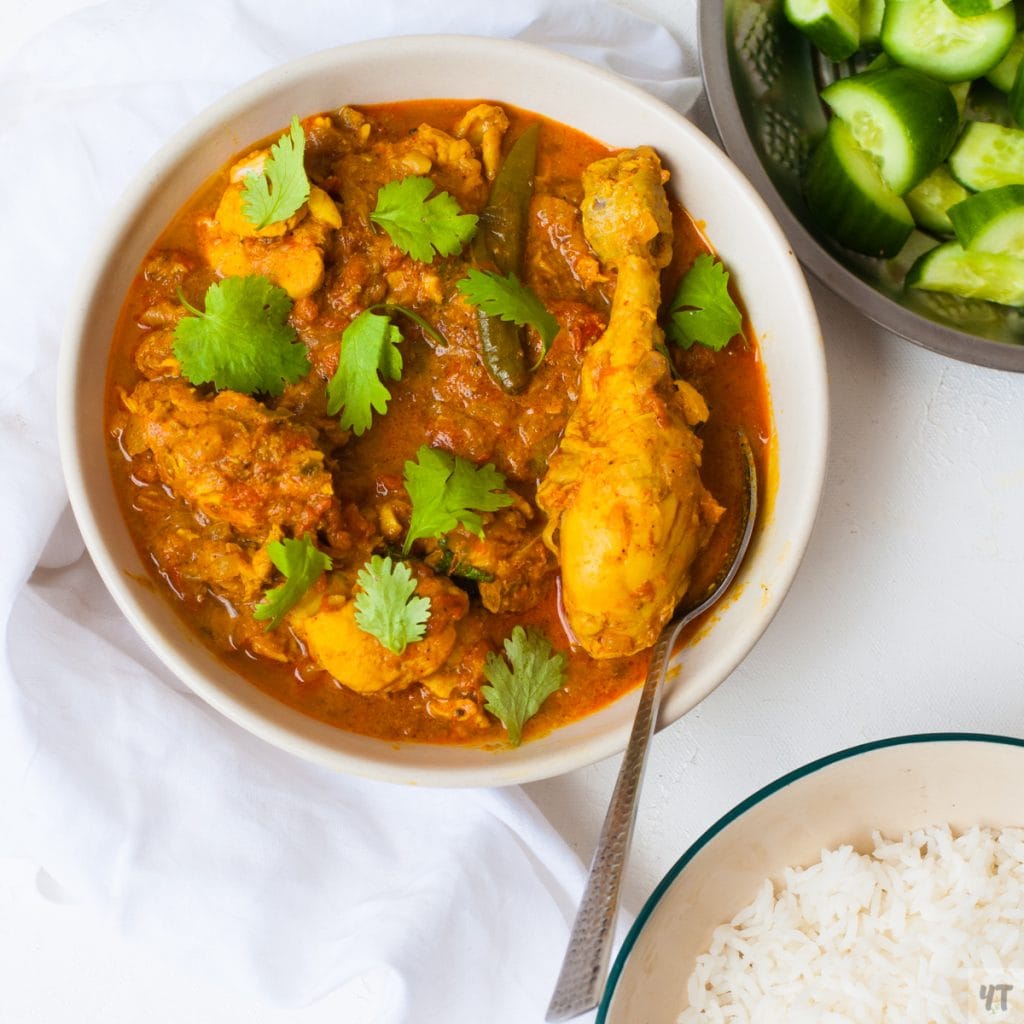 Step by Step Instructions
Step 1: Using the Saute Function on Instant Pot, brown the onions till golden brown.(1-2-3).This usually takes anywhere between 12-15 minutes.
To make it faster, press the saute function twice so it becomes HIGH.This makes the instant pot hotter and mimics stove top cooking.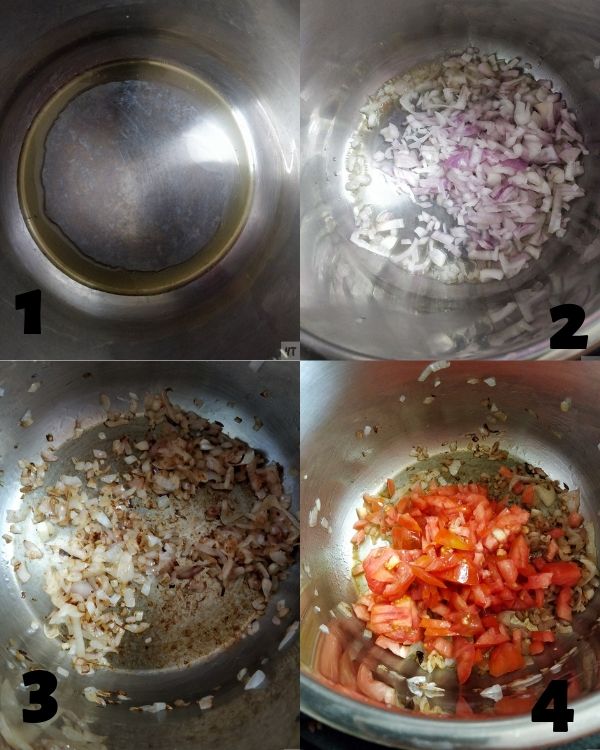 Step 2:Add tomatoes and cook till mushy(4,5)
Add a splash of water if the instant pot gets too dry.
Step 3: Add the spices, salt and give it a mix.(6)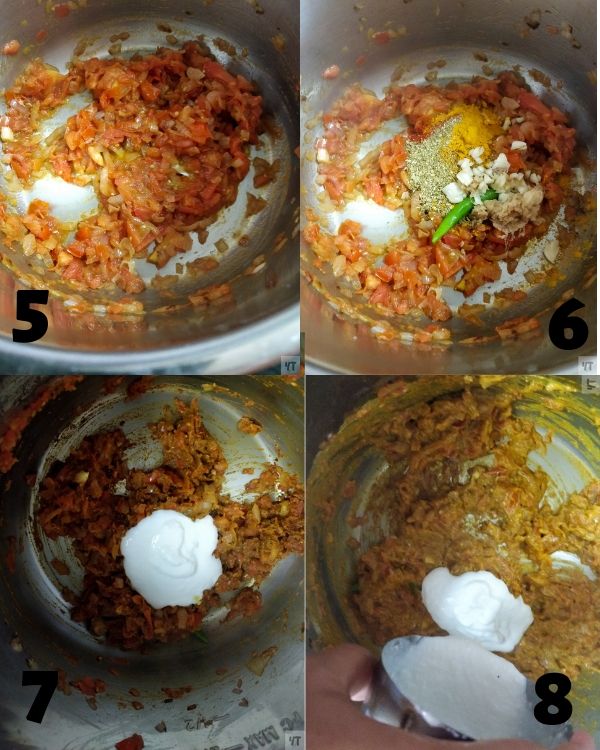 Step 4: Add half the Whisked yogurt and mix till you can't see it.Then Add rest of the yogurt.(7,8,9).Make sure to use a laddle to scrape the bottom of the pan and dislodge any caramelised onions and tomatoes. This is important and will make sure you do not get a BURN message.
Step 5:Add the Chicken and ¾ Cup of water.Close the lid.(10,11)
We use a skin on medium cut chicken, it adds more flavour but you can use skinless chicken too.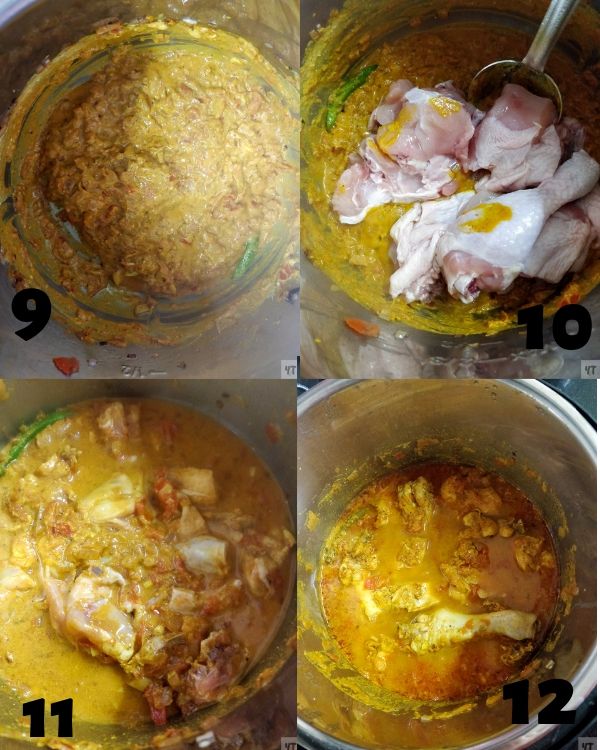 Step 6: Select the PRESSURE COOK setting, set the timer to 10 minutes on HIGH pressure.
Let the pressure release naturally for 10 minutes,Quick release the vale after that.Open the curry, give it a mix, add coriander and serve with rice or rotis.(12)
How to Serve Instant Pot Indian Chicken Curry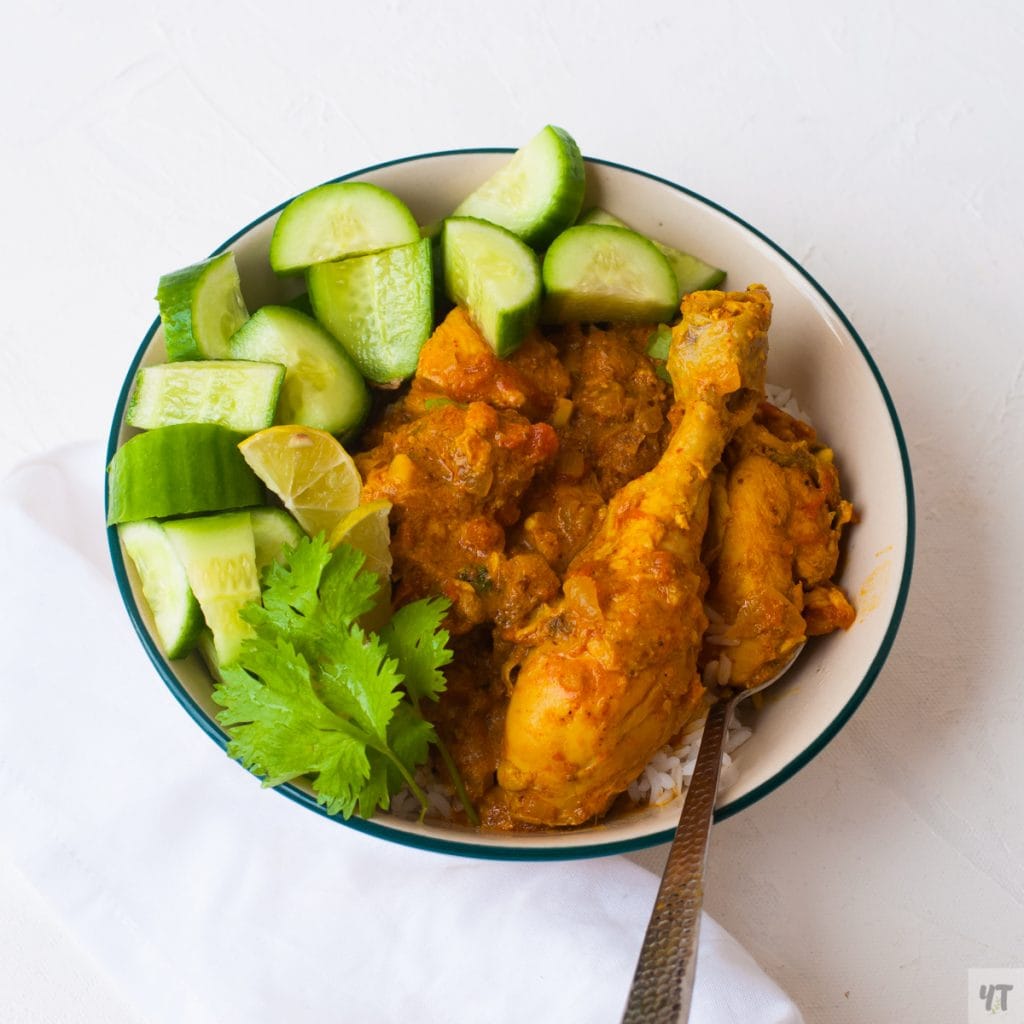 I usually eat this with steamed rice ,brown rice or jeera rice.A thicker version of this is heaven with naans and rotis.
Tips,Tricks and Alternatives
This chicken curry recipe is Gluten Free but not dairy free.To make a dairy free version, omit using the yogurt.Instead substitute it with coconut yogurt or thick coconut milk.
I use a 6 qts instant pot and I love it! If you are in India and are looking to understand how I use it here, you should read my post on instant pot in India.
Here are some more Instant Pot Chicken Curries for you
Instant Pot Butter Chicken
Instant Pot Tandoori Chicken
Instant Pot Chicken Vindaloo
Instant pot Mughlai Chicken Korma
Instant Pot Tamil Chicken
Instant Pot Chicken Biryani

More Instant Pot Indian Recipes
Instant Pot Jeera Rice
Instant Pot Ghee Rice
Instant Pot Chicken Biryani
Instant Pot Veg Biryani
Instant Pot Saag Paneer
Also, read about my experiment with making perfect Indian Sona Masoori rice in Instant Pot.
Find us on Instagram , Pinterest & Facebook here!
If you liked my recipe, do leave a comment!
It will help others find this amazing recipe too!
---
Ingredients
500

gms

Chicken

on the bone

1

Cup

Onions- Chopped

125 gms

1.5

Cup

Tomato- Chopped

½

Cup

Yogurt

whisked

1

tablespoon

Crushed Garlic

1

tablespoon

Crushed Ginger

1

Green Chilli

Omit to make less spicy

1

tsbp

Ghee

or Oil
Instructions
When the pot is hot,add oil/Ghee.

To the Ghee,add chopped onions and saute for 4-5 minutes till the edges start turning brown.

Tip in the tomatoes and saute for another 4-5 minutes till the tomatoes disintegrate.Add 1 tablespoon of water if the pot is getting too dry.

Add all the spices- Turmeric,Chilli powder/Paprika,Coriander Powder,Garam Masala/Curry Powder & Salt.Give it a mix.

To this onion-tomato Masala- Add half whisked yogurt and give it a mix.When you dont see any streaks of yogurt, add the rest of it.

Add Chicken along with ½* cup of water.Switch off the SAUTE button.

Select PRESSURE COOK/MANUAL button.Set the time to 8 minutes,HIGH pressure and close the lid.Set the pressure valve at SEALING position.

Let the pressure drop naturally for 10 minutes,then Quick Release the pressure.Give the curry a mix.

If the curry is too watery for your likeness,boil it using the SAUTE function for 10 minutes.

Garnish with coriander leaves and seve hot!
Notes
Water*
Add ½ Cup of water for thick gravy and increase to 1 cup for a thinner gravy.
Nutrition
Calories:
198
kcal
|
Carbohydrates:
7.5
g
|
Protein:
28.2
g
|
Fat:
5.3
g
|
Saturated Fat:
1.8
g
|
Cholesterol:
99
mg
|
Sodium:
135
mg
|
Potassium:
554
mg
|
Fiber:
1.4
g
|
Sugar:
5.2
g
|
Calcium:
83
mg
|
Iron:
2
mg
If you liked the recipe, please leave us a rating
Follow me on Instagram
My handle is @yellowthyme
Read about how to make indian food in Instant Pot in detail here
Part 1: Instant Pot for Indian Cooking
Part 2: Which Instant Pot Model to buy
Part 3: Making Indian Food in Instant Pot
Part 4: Instant Pot Frequently Asked Questions

Here are a few quick pointers on the instant pot.

I use the 6 qts DUO Instant Pot and all my recipes are tested on the same.
Here are a few quick need to knows while using an Instant Pot.

Saute & Pressure Cook Setting – These are the most used settings on the instant pot. Pressure Cook setting can also be called Manual on your multicooker.
Minimum liquid- There is a minimum liquid requirement for most instant pots. For a 6 qts IP - 1 cup is the minimum liquid required as per the manufacturer.
Burn Message- If the food starts burning this notice pops up on the instant pot and cuts off any further cooking. This message can also come if you have used the SAUTE setting before and not deglazed the pan.or if you use a bigger 8 qts pot.The minimum requirement of the liquid changes and hence you could potentially get it while using it. To solve this, add about ¼ cup of more water than the recipe calls for.
While using certain sauces like tomato sauce or cheese sauces, you may get burn message because they are more viscous than water and burn easily.To solve this, again add ¼ cup of water to the bottom of the pot first, then add the sauce and proceed with the rest of the recipe. You could also use pot in pot method for these recipes.
Pressure Build Up
Most recipes only mention the time setting you need to use while cooking in the instant pot.In actual, the total time taken to cook is time taken for the pressure build up+ time taken for actual cooking + time taken for the steam to release.
Quick Release(QR) ,Natural Pressure Release(NPR) & 10 minute Natural Pressure Release(10NPR)
Quick release(QR)- when you release the pressure valve, as soon as the cooking time is up.This release hot steam, so make sure you are careful while doing this.
Natural Pressure Release(NPR)- You open the pot only after the pressure in the IP is released on its own. This could vary depending on the Pressure setting, amount of food, size of the pot.
10 Natural Pressure Release(10NPR)
Let the pressure release naturally for 10 minutes after which you Quick Release the pressure.
What not to do in Instant Pot
-Use Instant Pot without any liquid in the pot.
-Open the lid without the releasing the pressure first.
-Keep the Instant pot on the stove- there have been a lot of instances where the instant pot has gotten burnt from the bottom on accident.
-Dump food in the instant pot without the inner pot.
-Fill the pressure cooker up till the brim.