Instant Pot Tandoori Chicken- Popular Indian Chicken Roast made in the instant pot!Chicken legs marinated in a yogurt and spice marinade, pressure cooked in the instant pot and grilled in the oven.
Usually, tandoori chicken is made in a traditional clay oven, which frankly, even most indian folks don't have at home.(Except some extremely enterprising folks like my grandma)
This is a version of Tandoori chicken that you can make at home with minimum fuss.The Chicken will be tender, full of flavour AND it will have a beautiful char too.
Dietary Details of Tandoori Chicken
Tandoori Chicken is Keto, Low Carb and high in protein.It is also Gluten Free.
Tandoori Chicken in it's pure form is not Paleo or Whole 30 because of the yogurt but you can make some simple swaps to make them compliant.
All you have to do is replace Dairy Yogurt with Coconut Cream or yogurt.
Ingredients for tandoori chicken
You need only siple couple of ingredients to make Tandoori Chicken
Chicken Legs*
Yogurt
Lime Juice
Ginger
Garlic
Chickpea Flour
Garam Masala
Coriander Powder
Kashmiri Chilli Powder or Paprika
Oil
You can also substitute the spices with store bought Tandoori Masala though you might not be able to control the chilli in it.They are always too hot for my taste.
Chicken Legs*- Theoretically, You could use Chicken Breast and Thighs too.
How to tandoori chicken in Instant Pot
This is a simple and Quick version of Tandoori Chicken.You can also watch the video for visual steps.
Step 1: Prep
Mix the ingredients for the marinade.The marinade should be thick and pasty.It's best to use Greek Yogurt or really thick yogurt.If you are using regular yogurt, strain it using a muslin cloth for 10-15 minutes at least.
Make Slits in the Chicken so the marinade can seep inside.
Add the chicken in the marinade and mix well.Let the chicken marinate in it for 15 minutes or overnight.Overnight will obviously be better but if you don't have the time for that then atleast keep it on the counter for 5-10 minutes before you pressure cook it.
Step 2:Pressure Cook
Add 1 cup of water to the instant pot.Lower the trivet inside and place the chicken on it.Close the lid and select PRESSURE COOK on HIGH for 8 minutes.
Step 3: Broil
This is an important step.(atleast in my opinion).This will make your tandoori chicken actually tandoori.
Broil the chicken under direct heat for atleast 10 minutes turning in the middle.This will give it the gorgeous charred look which most tandoori chicken have.
Use a roasting wire try if you have one.This will make sure the chicken is roasted well from all sides.
Traditionally Tandoori Chicken is made by marinating it twice.The first marinade is lime juice, Salt and Chilli powder, kept for 1 hour.After that the second marinade made of Thick yogurt, ginger garlic paste and spices is made.The Chicken is marinated in the second marinade for atleast 12 hours.
It is then roasted in a very high temperature Clay oven.The closest to this oven will probably be a barbecue.
How to Make tandoori chicken in Oven
You could also make the tandoori chicken in the oven.When you do that, the chicken can tend to become dry but the char on the chicken is better.
All you have to do is, Bake the Chicken in 180 C/350 F for 40 minutes, basting the chicken in the middle.
How to Serve tandoori chicken
Tandoori Chicken is usually eaten by itself as an appetiser.That said, you can serve it along some Dal and Rice or Even with some flatbread with some yogurt.
Here are some great indian instant pot dishes for you
Instant Pot Chicken Curry
Instant Pot Butter Chicken
Instant Pot Mushroom Masala
Instant Pot Dal
Instant Pot Dal Makhani
Also, if you were looking for Instant Pot chicken recipes, then take a look at the recipes below.
Instant Pot Chicken Wings
Instant Pot Lemon Chicken
Instant Pot Mexican Shredded Chicken
Find us on Instagram , Pinterest & Facebook here!
If you liked my recipe, do leave a comment!
It will help others find this amazing recipe too!
---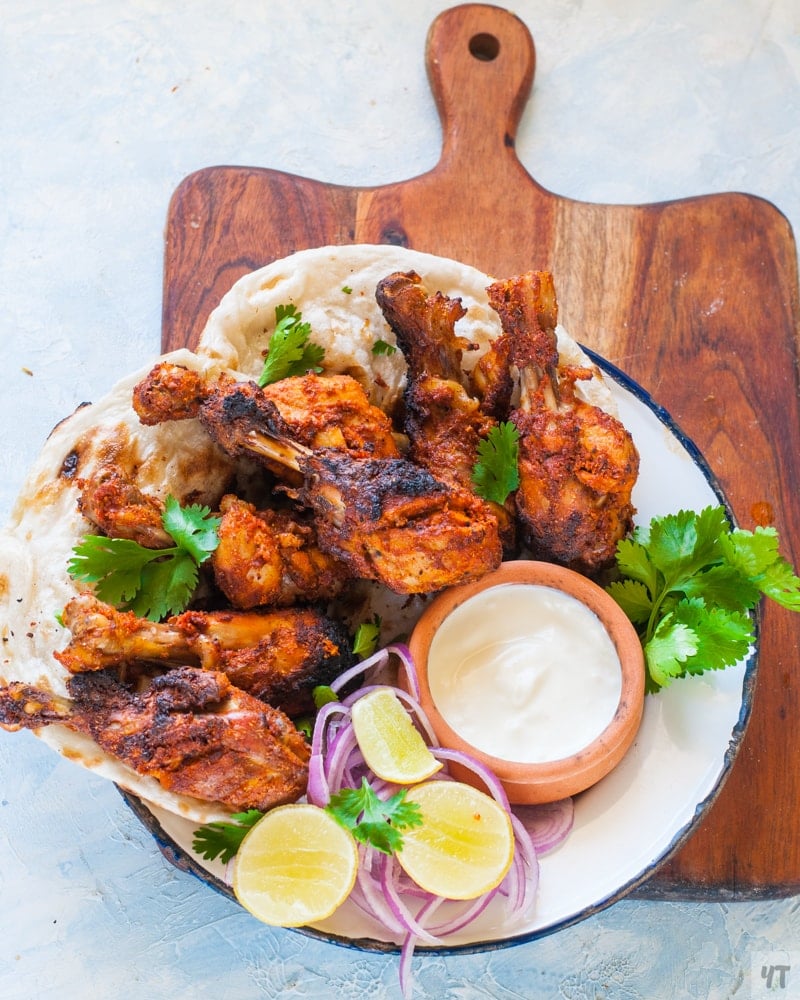 Ingredients
8

Chicken Legs or Drumsticks

Skin Removed

1

teaspoon

Oil

1

teaspoon

Chaat Masala
Instructions
Make diagonal Slits in the Chicken.

Mix together - Yogurt,Coriander Powder,Ginger Garlic Paste, Kashmiri Chilli Powder,Garam Masala, Cumin Powder, lime juice, Oil and Dried Fenugreek.

Add the Chicken to this marinade and mix it up, coating all chicken pieces.

Leave the chicken to marinate for 15 minutes if short on time or upto 8 hours, overnight in the refrigerator.You can also put everything in a freezer bag and freeze at this point.

Add 1 cup of water to the instant pot.Place the Trivet inside.

Add the Chicken pieces to the trivet.Close the lid.

Select PRESSURE COOK on HIGH for 7 minutes*.Meanwhile, preheat the oven to the 220C/450F.

Quick Release and place the chicken on a wire rack.Brush with Oil.

Broil the Chicken for 10 minutes.

Sprinkle Chat Masala and serve with onions and Lime Wedges
Notes
Kashrmiri Chilli Powder
Pressure Cooking Time** 
If you have really meaty large sized drumsticks, change the time to 12 minutes.
If you liked the recipe, please leave us a rating
Follow me on Instagram
My handle is @yellowthyme