Chicken Keema Masala - Moist, Spicy, full of indian flavors, this keema is perfect side with pavs, rotis and dosas.

Jump to:
TASTE: Spicy curry ,slightly sour from the vinegar.
TEXTURE: Smooth Rich Gravy with cooked chicken
EASE: Once you have the ingredients it's super easy!
APPEARANCE: Reddish orange curry
Serve with : Bread, dinner rolls, rice or naan. Traditionally with Sanas
This recipe is so very simple.
but the taste is just so so good! You will be left licking your fingers.
We just love mopping up the chicken keema with warm, butter toasted pavs. With a side of some freshly cut onions and a chili or two. That's the reason I cook my keema a little moist.
If you are looking to make this using lamb or mutton mince, you should visit my Lamb Keema recipe.
If you are cooking chicken keema to fill it in parathas or samosas, you will have to make a drier version of it. I have explained how to get drier texture of keema in the recipe card.
This is what we will do.You can also watch the video recipe to understand more details
Make a base of onions and tomatoes
Add yogurt(THE BIG secret!) & Spices
Simmer the Chicken for a few minutes and done!
Why we love making Chicken Keema
I have been making this recipe for more than a decade now. I first published this recipe in 2018. We continue to use the same recipe again and again and here is why!
It's easy to make!
Comes together faster than other chicken preparations
Easy to eat! Because its boneless.
A great, delicious, source of very high protein!
The whole family enjoys it.
Another Indian Chicken recipe that we are obsessed with is the Chicken 65- Indian style spicy fried chicken with curry leaves.
Ingredients
Here is what you need to make the chicken keema
Chicken Keema/ Mince Chicken or Ground Chicken
Onions
Tomatoes
Ginger
Garlic
Yogurt
Oil
Turmeric
Chili Powder
Garam Masala
Chicken
Try and get a mixed mince of chicken breast and thigh pieces.
I usually buy the frozen chicken mince packs. To defrost, just put the chicken along with its packaging in water.
Change the water a few times and it should come to room temperature within 30 minutes.
Whatever you do, don't try to make the keema at home with chicken breasts.
First, because it's an added work to clean that blender jar and second because the chicken breasts don't contain any fat which will make your keema very dry.
How to make Chicken Keema
Here is step by Step making of chicken keema
The main work here is to make a base sauce or the bhuna masala.Unlike other chicken curries, we will spend the maximum time making the bhuna masala and a lots of it.
Working on the bhuna masala is the single most important skill in the indian cuisine.
Step 1: Prep
Cut and prep all the vegetables and produce.
You will need to cut the onions and tomatoes quite fine. And because you need a lot of it, I suggest the use of a food processer.
You can grate/ chop or puree the ginger and garlic toghether.
To make sure the keema isn't too spicy but has a subtle green chili flavor, you can just pierce the chili a few times and add it to the oil.
Step 2: Saute Ginger & Garlic
Add oil to the pan.Heat it till its just short of smoking.
To that add the cumin.It will splutter like popcorn.Thats what we want. After that, add garlic, ginger and chili .
Reduce the heat if it starts to burn.
Step 3 : Saute the onion and spices
Right after the garlic and ginger, add the onions.
Sauté and cook them till they start turning brown. Once brown, reduce the heat and add the spices.
you want to toast the spice onion mix on low till the spices get warm too. If it starts to burn, add a splash(few drops) of water.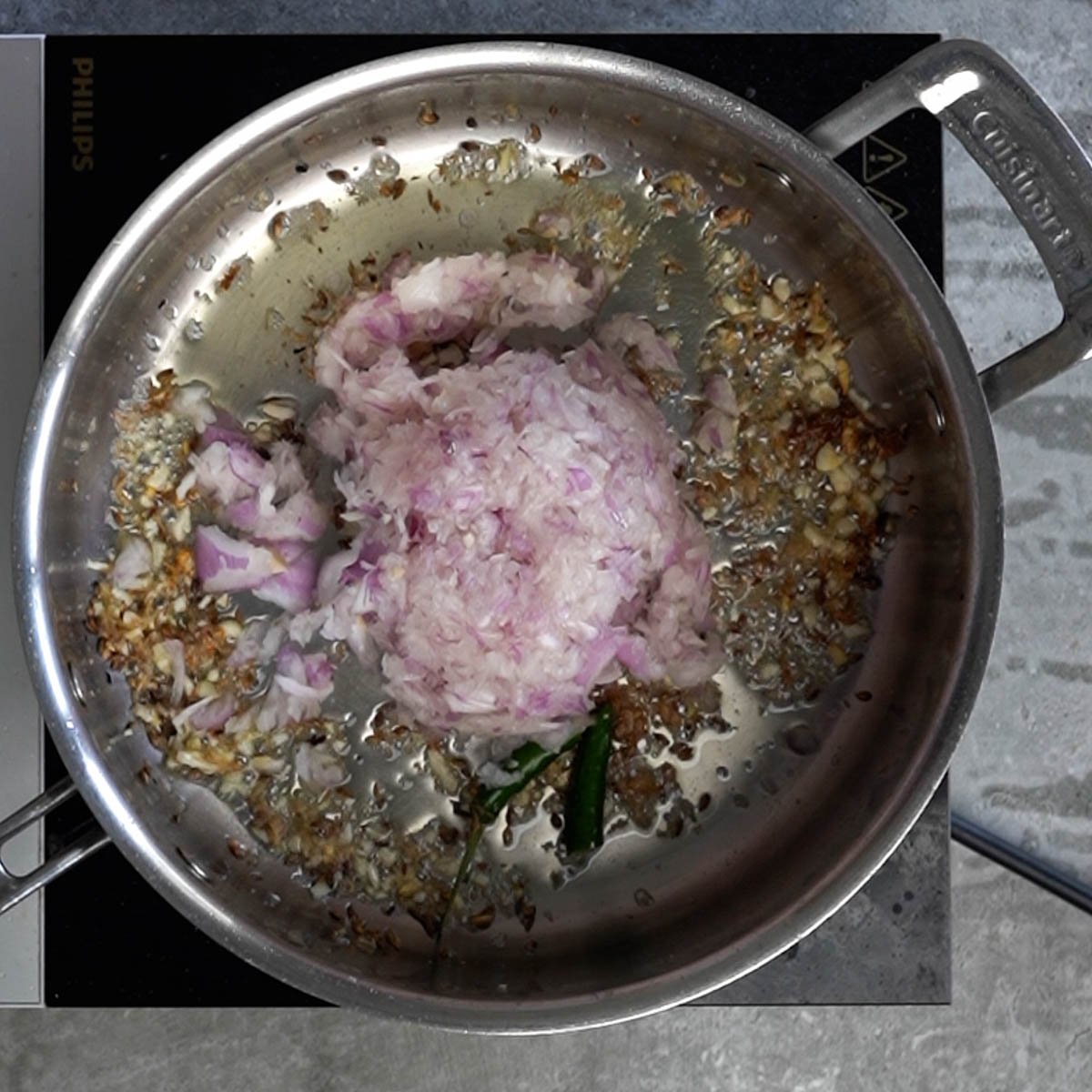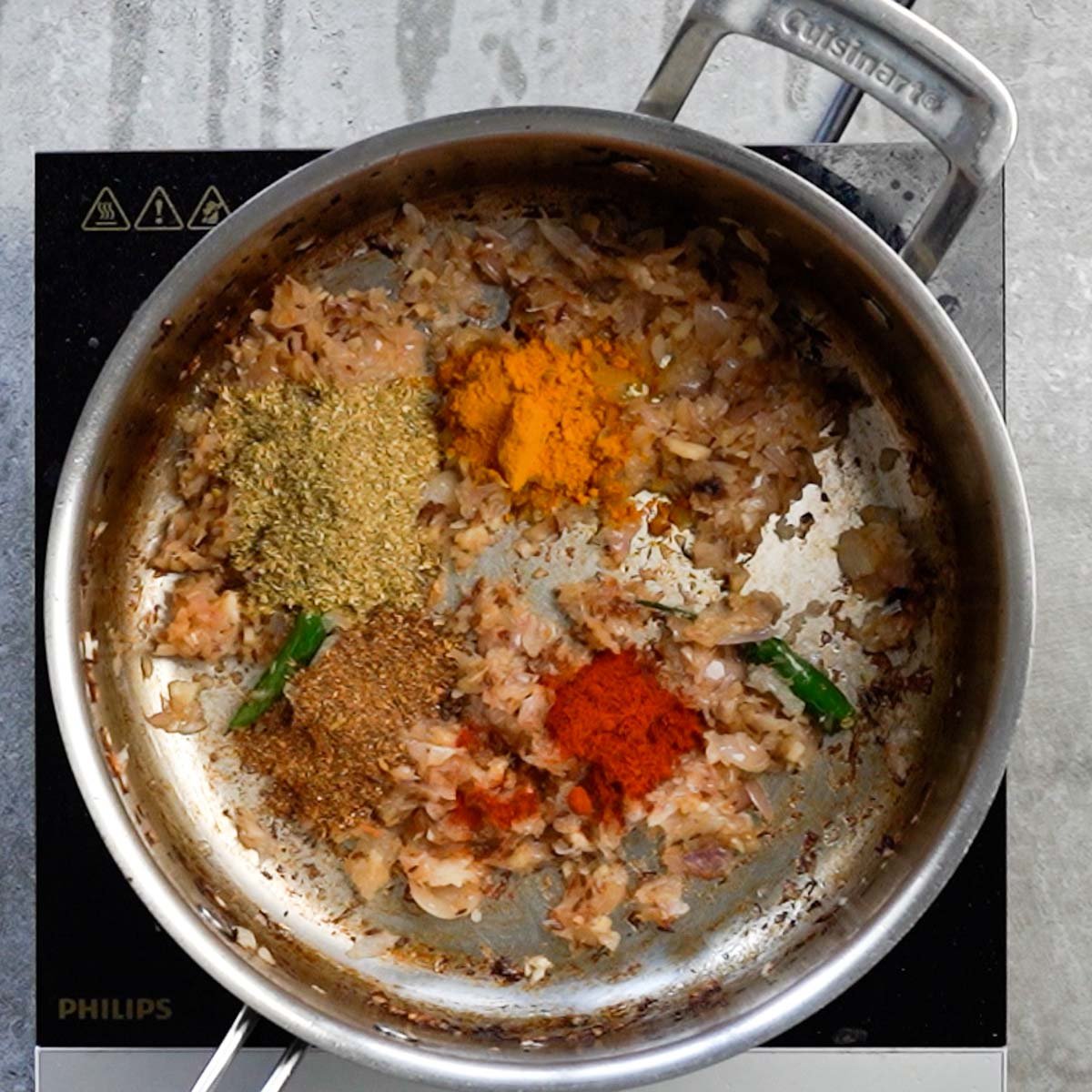 Step 4: Tomatoes & Yogurt
Now add the tomatoes and again give it 5-8 minutes to cook down. They will get mushy and softer.
To make this faster, you can crush the tomatoes with a potato masher while they are cooking.
Once the tomatoes are cooked, add the yogurt. Mix it till you don't see any specks of white anymore.
Your masala or base sauce is now done.
This same sauce can be used to make vegetables and curries.
QUICK TIP: while adding yogurt in such base sauces, always make sure you whisk it well before.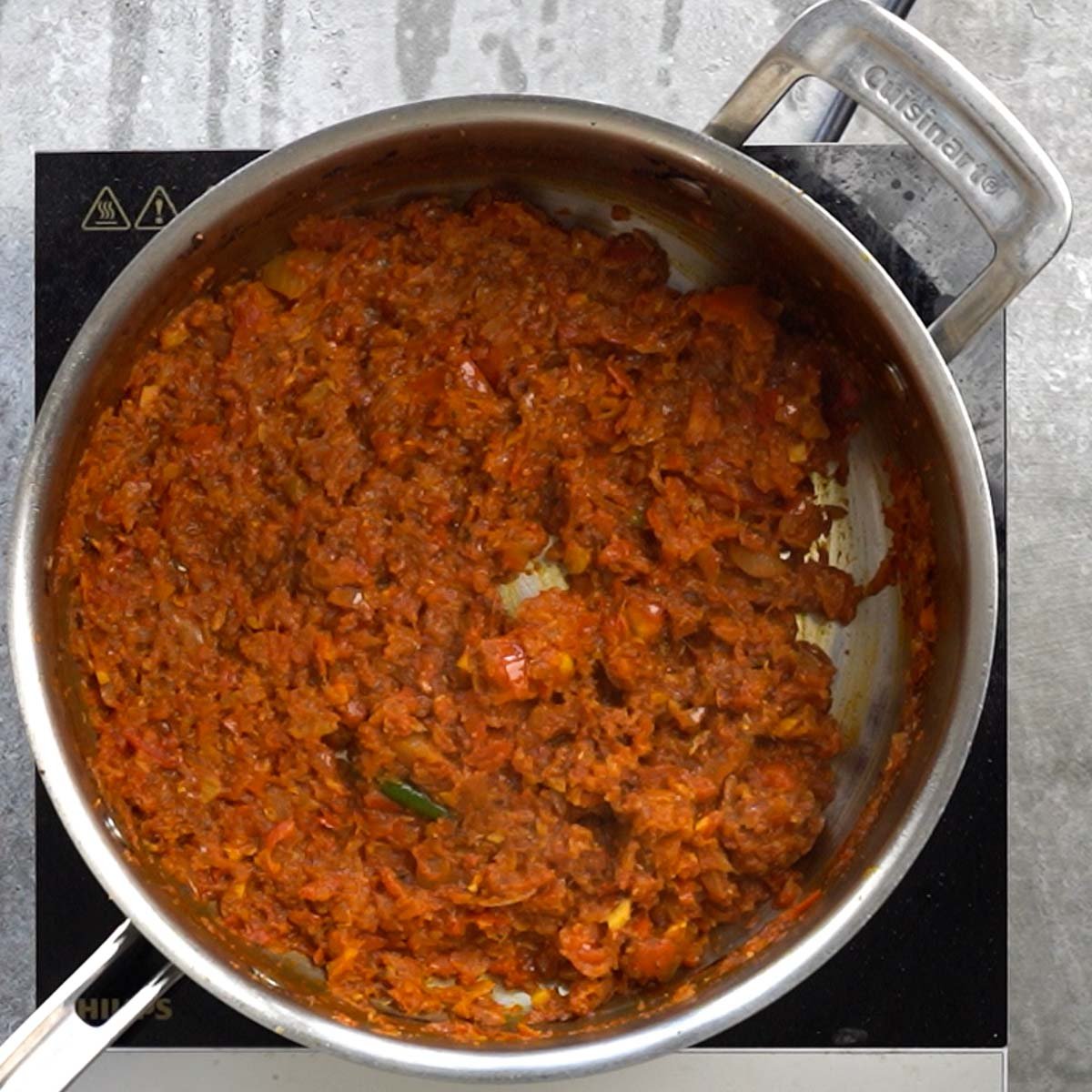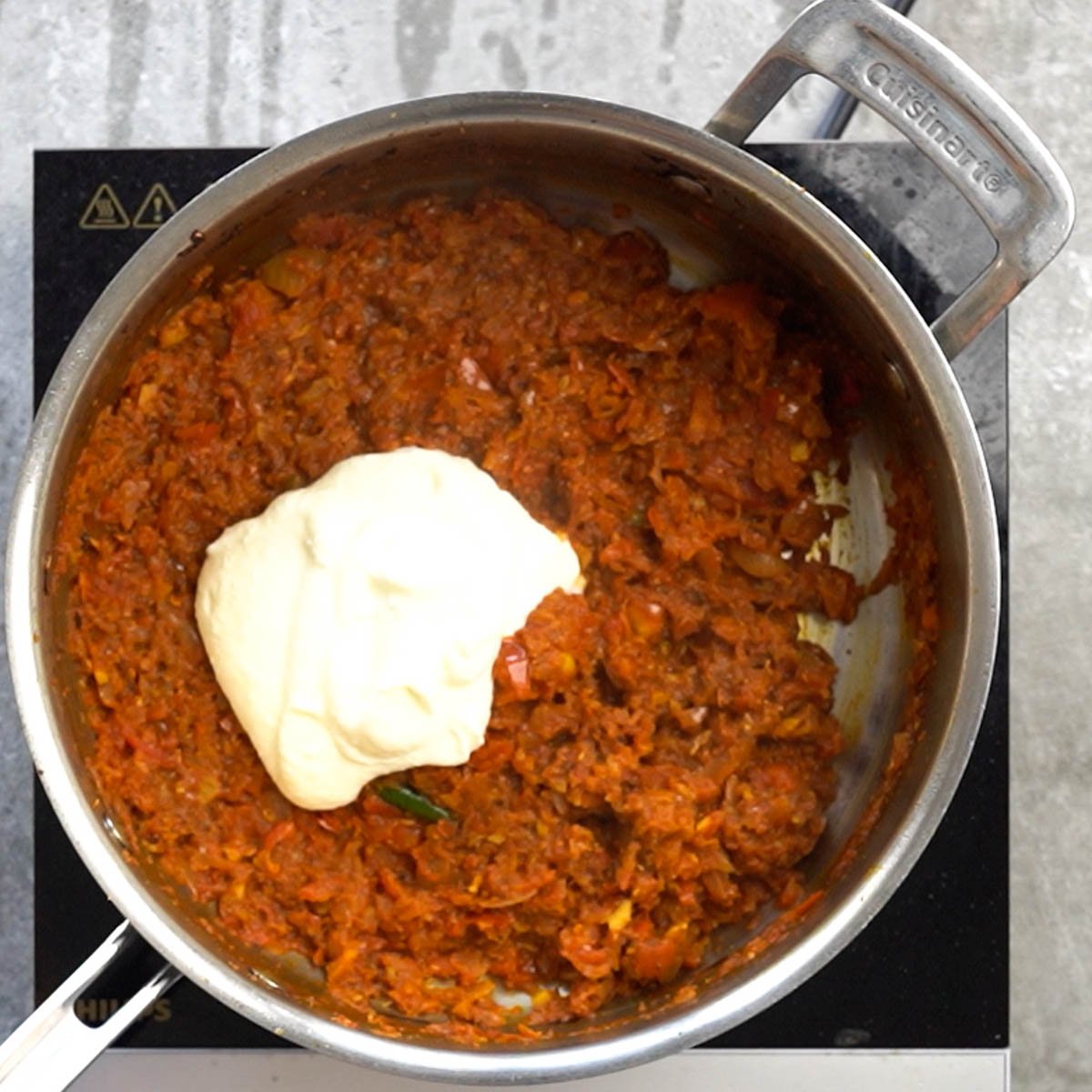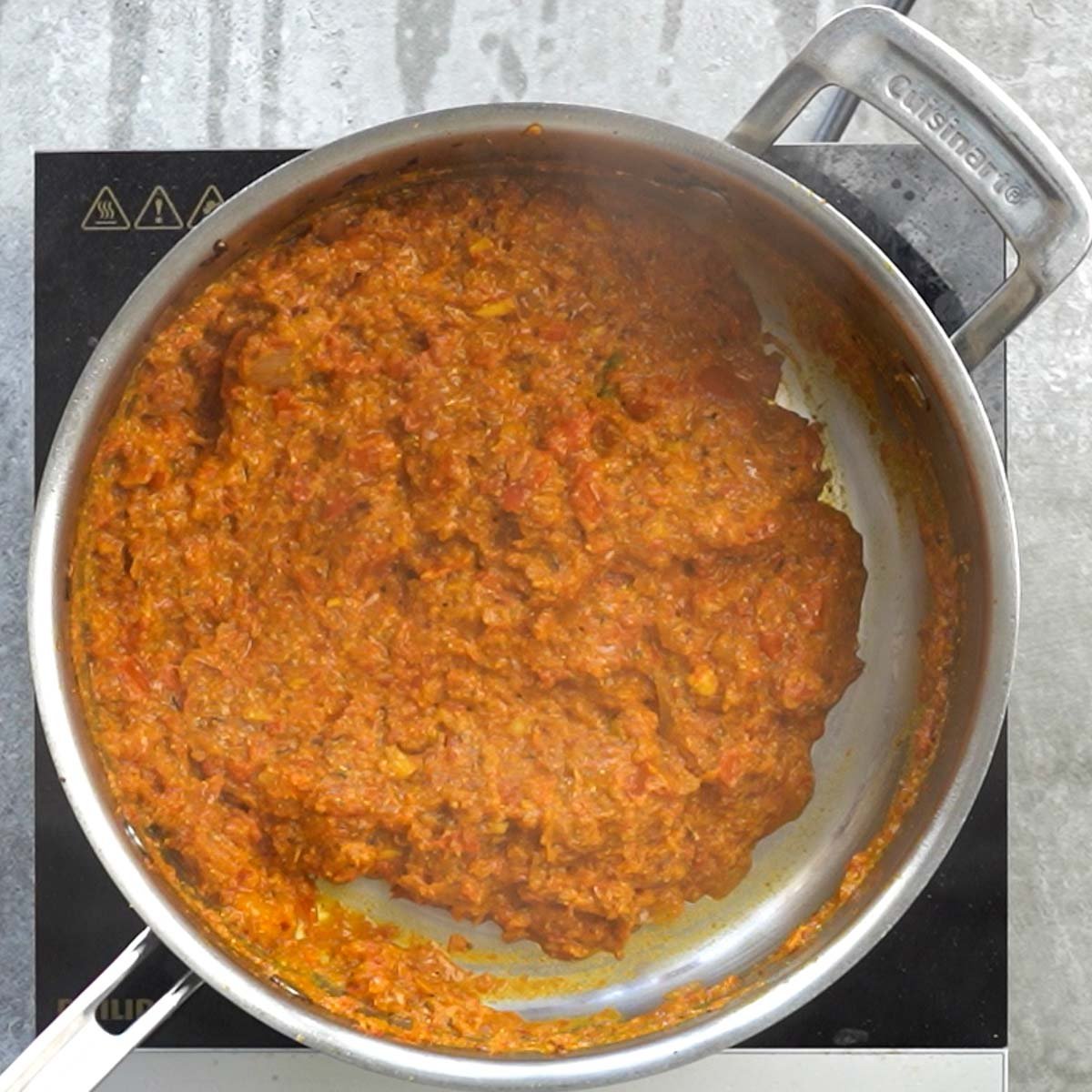 Step 4: Chicken
Add the chicken mince next. Working quickly, mash it up using a spatula so that its mixed well.
If you don't mix it quickly enough, the chicken will start getting cooked in clumps. That is not the texture we need.
If the chicken does start to clump together, use a big mallet or potato masher to break them apart.
Add water to make the gravy a little more loose.
Cover and simmer for about 8-12 minutes. The chicken will get cooked very fast.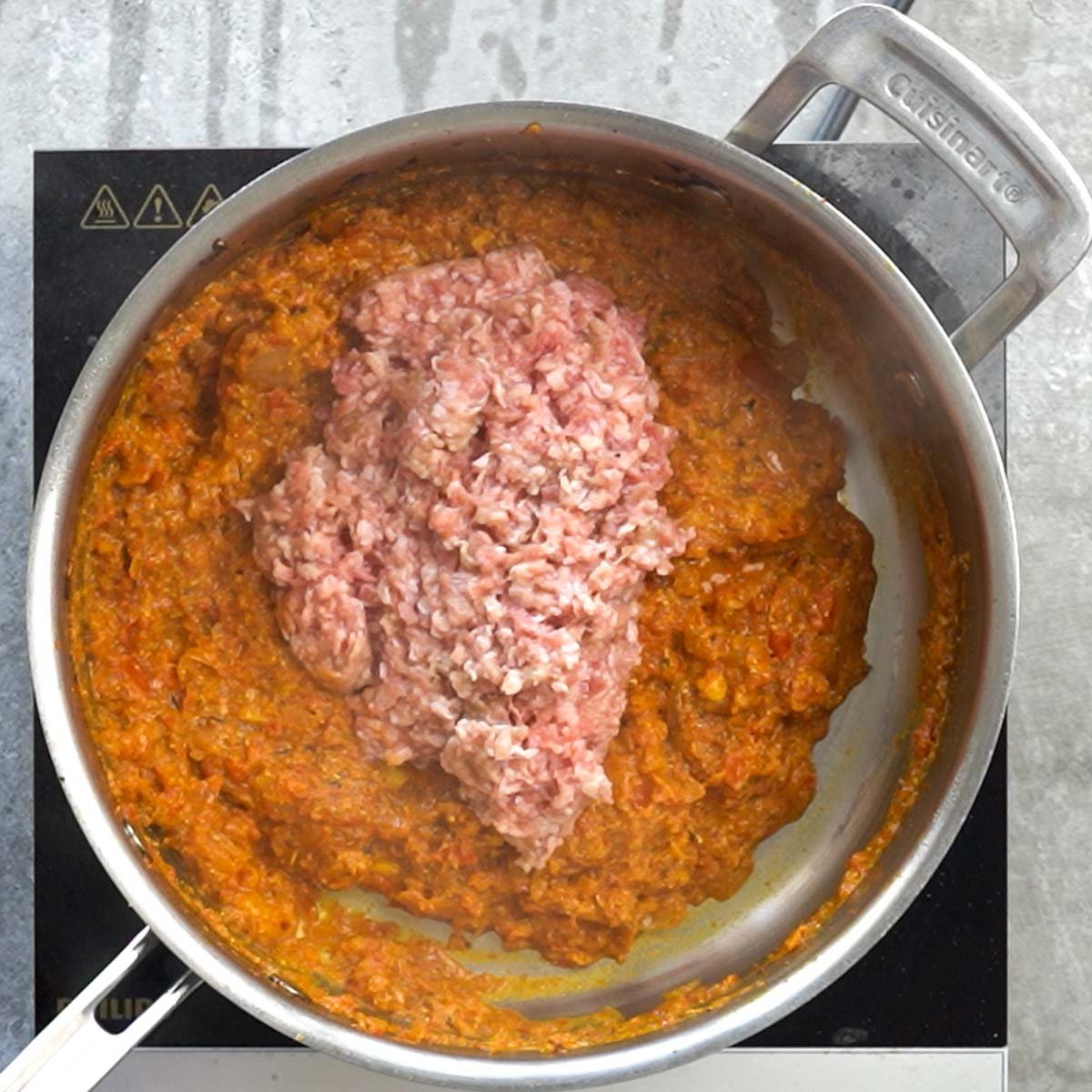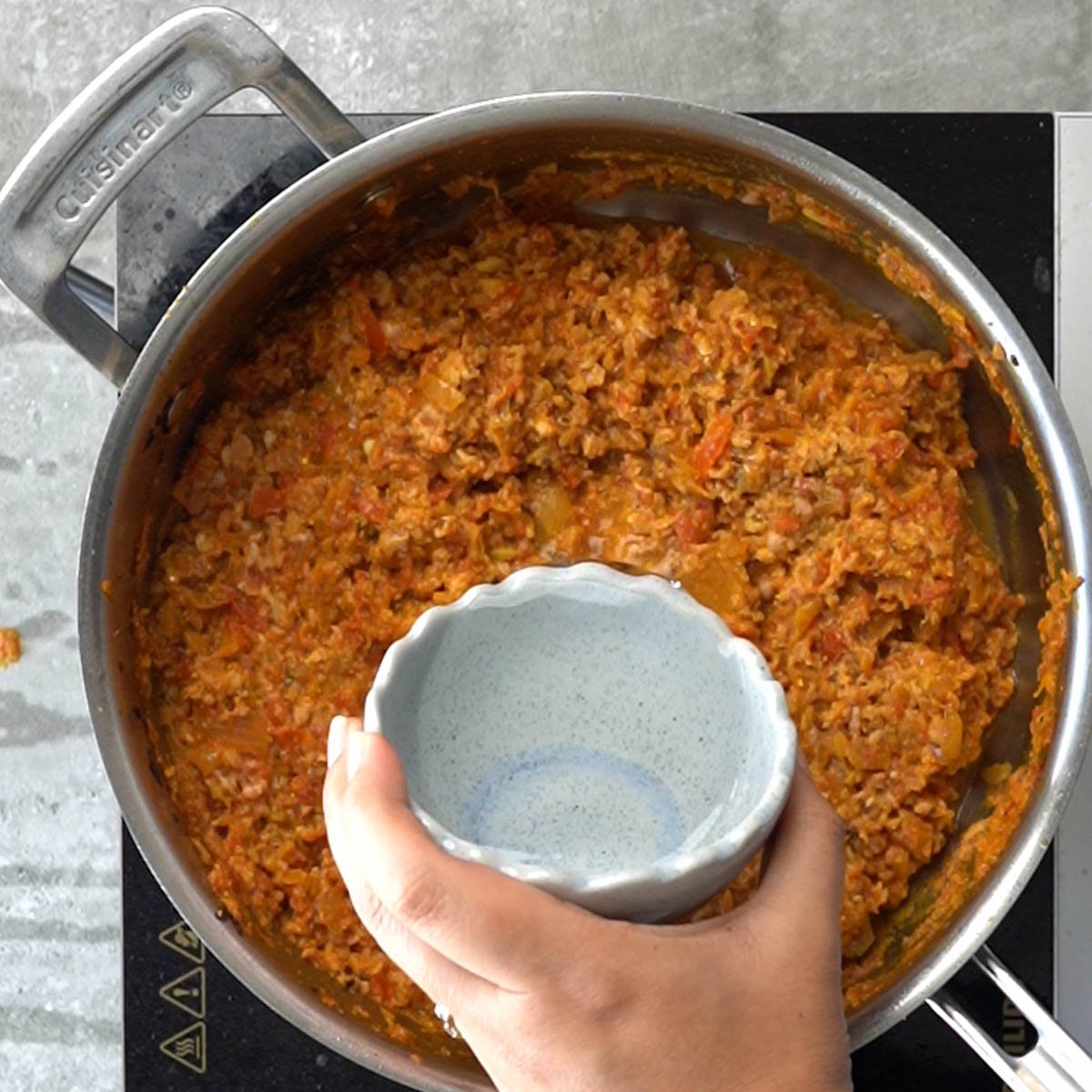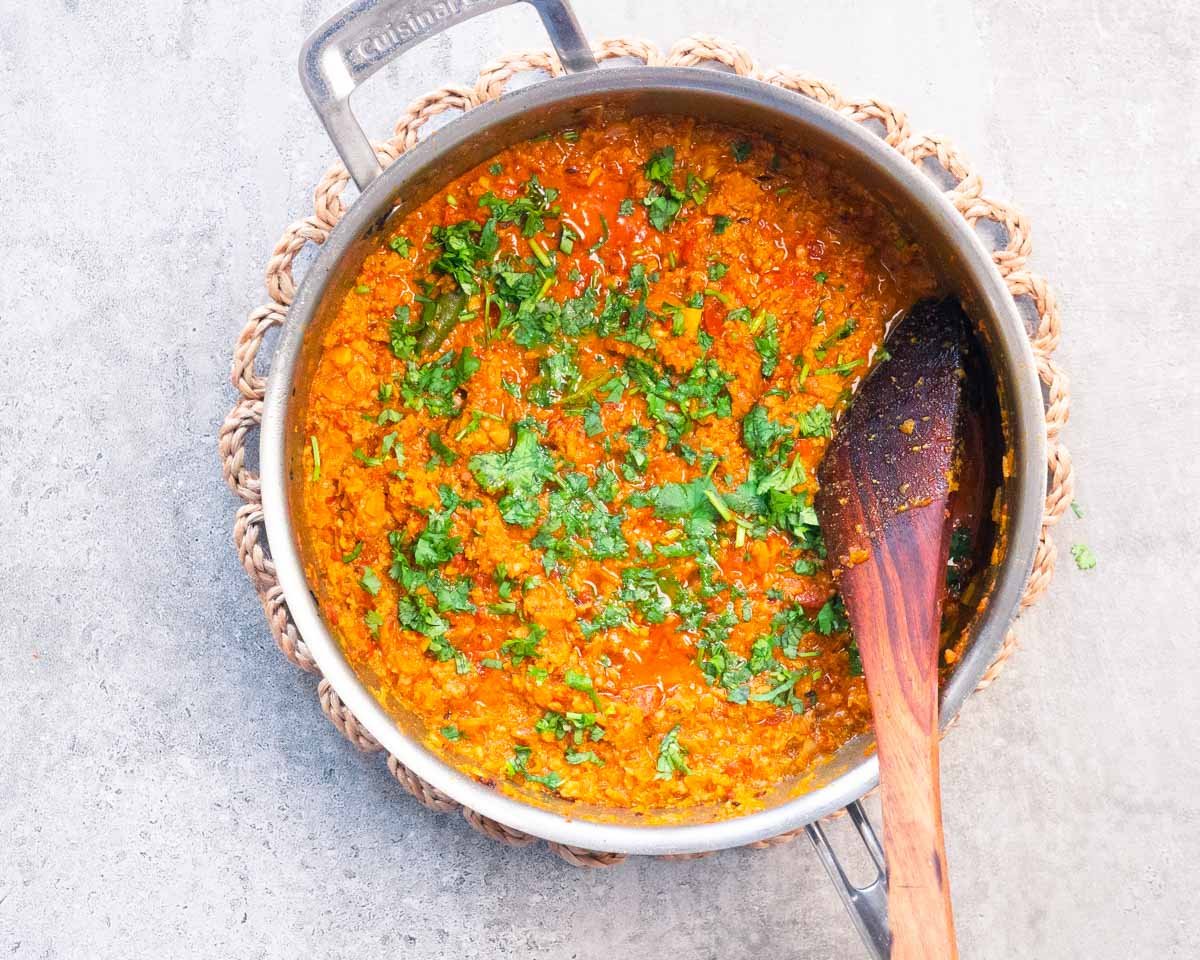 Dry Chicken Keema for fillings etc
To make the chicken keema dry, you have to do two changes
Replace the tomatoes with 1 tablespoon of tomato paste. Omit the yogurt.
Do not add any water and let the chicken cook in open till all the water has evaporated
Special tip of parathas where you need to stuff the chicken in a flatbread
Use a hand blender and blend the cooked chicken coarsely. This will make sure the chicken is not in big clumps but like a paste.
Also! Very important. Let the chicken filling cool completely before you try and work with it.
Variations
You have already seen two variations above- a moist curry type of keema and a dry version that's useful for fillings etc.
Keema Matar - Simply add 1 cup of peas along with the chicken and let it cook together.
Bengali Style Keema - use mustard oil instead of the normal oil.Use the panch phoren mix which has cumin seeds, fennel seeds, fenugreek seeds, black mustard seeds, and nigella (also known as kalonji) seeds. You can add potato cubes to it before adding the onions.
South Indian Style Keema- Use Gingely or Coconut oil. Temper the oil with mustard seeds, curry leaves before adding the onions etc. Instead of adding lemon, you can add one piece of kokum(along with the water) or 2 tablespoon Tamarind paste(after adding the chicken).
Serving
You can serve chicken keema in many ways.
Keema Pav
This is the most loved way of eating keema. With buttered, toasted pavs, onions and a wedge of lemon on the side.
It's a great lunch or even a snack if you are very hungry.
Or you can give it a modern twist by making it into sliders
Toast the buns with butter, slice them and spoon the keema just before the guests arrive so that you can be handsfree at the party.
These are especially good for a large crowd. In my opinion these Chicken Keema Sliders are the best make ahead Indian Party Appetizers.
If you are into sourdough, then give these sourdough discard dinner rolls a try. It's an amazing way to use the discard plus they go famously well with this minced chicken masala!
Keema Dosa
There is a restaurant in bangalore called Empire which does just amazing versions of keema dosa. This whole recipe was inspired by the keema they pour over the dosas.
You basically make the dosa and add the keema as a filling. It should be slightly moist so that the dosa soaks up some of the juices.It's one of the best things i have had in bangalore !
You can also serve the keema with parathas and rotis as a side dish.
I also make keema biryani by layering it with ¾ cooked basmati rice and baking for ½ hour.
Storing & Refrigerating
Chicken keema will last for about 6-7 days in the refrigerator.
You can also freeze the chicken keema for upto 2-3 months.
More Indian Chicken Curries
South Indian Style Pepper Chicken Curry (Gravy)
Authentic Goan Chicken Vindaloo Recipe
Whole Chicken Roast Indian Style - Baked
Kerala Chicken Curry
Butter Chicken
Mangalorean Chicken Ghee Roast
If you make Chicken Keema with this recipe, do drop me a note. I would love to hear what you thought about the curry!
Find us on Instagram , Pinterest & Facebook here!
If you liked my recipe, do leave a comment!
It will help others find this amazing recipe too!
---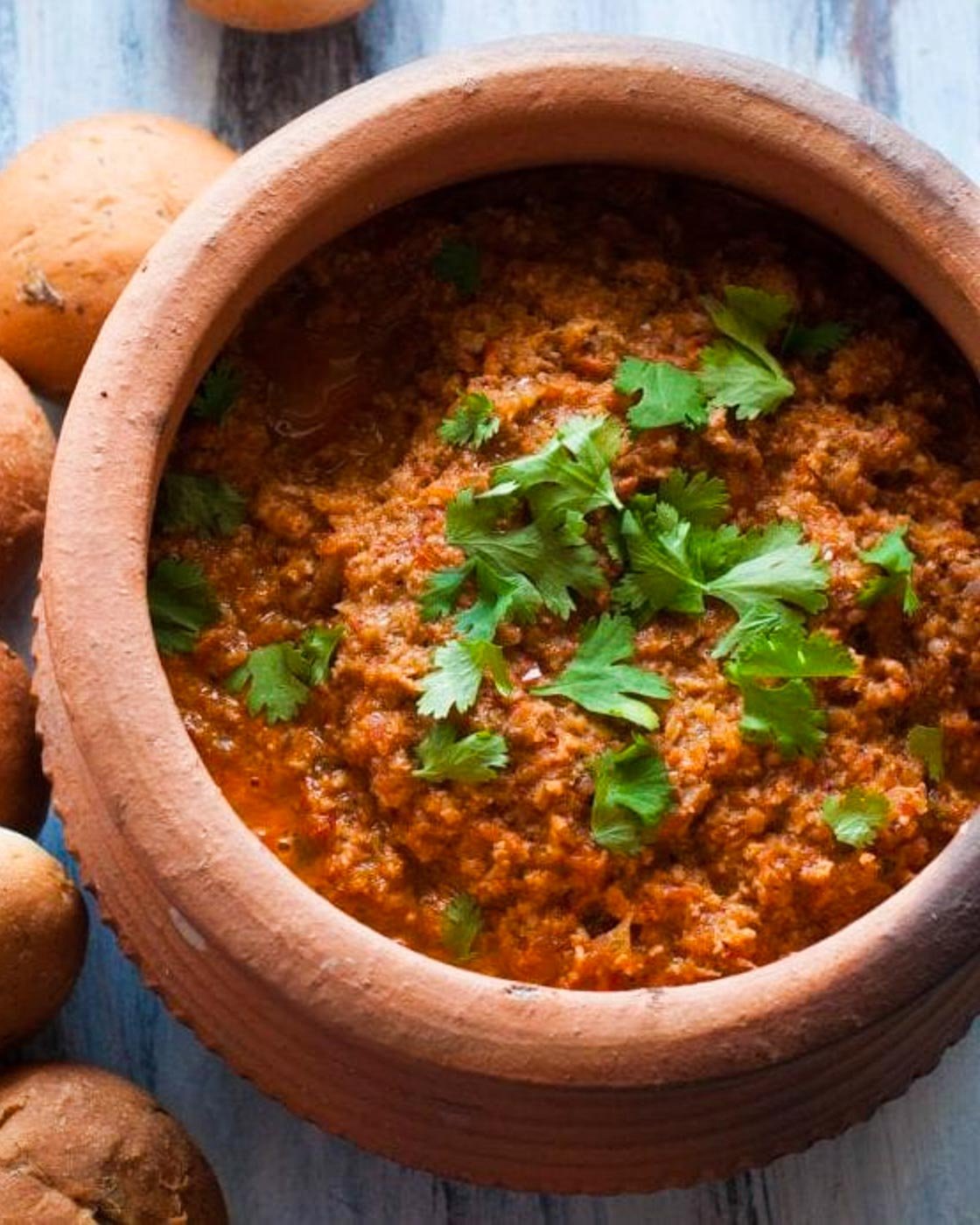 Ingredients
250

gms

Minced Chicken

½ pound

1

tablespoon

Oil

1

teaspoon

Cumin

4

Garlic Cloves

minced or grated

1

Inch

Ginger

minced or grated

1

Green Chilli

2

Onion

-Chopped ; about 250 gms

½

teaspoon

Chilli Powder

1

tablespoon

Turmeric

1

tablespoon

Garam Masala

or use the special masala in notes

1

tablespoon

Ground Coriander

3-4

Tomatos-Chopped

about 350 gms

¾

Cup

Yogurt

Salt To Taste

about 1 ½ tbsp

2-3

tablespoon

of Chopped Coriander for Garnish
Instructions
Heat the oil in a pan on medium-high flame.

Once the oil is hot and add the cumin, ginger, garlic and chili

Add the onions and sauté till lightly brown.

Reduce the flame to low, add the ground spices- turmeric, chili , garam masala. Sauté for 5-10 seconds and toast the spices along with the onion.

½ teaspoon Chilli Powder,

1 tablespoon Turmeric,

1 tablespoon Garam Masala,

1 tablespoon Ground Coriander

Add the chopped tomatoes with their water next and keep cooking till the tomatos soften and turn mushy.If the mixture is burning, add a splash of water.This should take another 10 minutes.

Whisk the yogurt and add it to the pan. Mix till you can't see white streaks.

Next add in the chicken keema and with your ladle break any clumps and mix well.Do this step quickly before the chicken starts to cook to avoid lumps.

Add water , Cook covered for about 10-15 minutes.

Garnish with Coriander Leaves.
Notes
You can use either garam masala and ground coriander or  blend the spices below.
1 teaspoon Cumin
1 inch Cinnamon
3 Clove 
¼ teaspoon Peppercorn
2 tablespoon Coriander powder
1 Star Anise
3 Kashmiri Red Chili
use only 1 -1.5 tablespoon of the spice blend.
Nutrition
Calories:
186
kcal
|
Carbohydrates:
16
g
|
Protein:
12
g
|
Fat:
9
g
|
Saturated Fat:
2
g
|
Polyunsaturated Fat:
2
g
|
Monounsaturated Fat:
4
g
|
Trans Fat:
0.04
g
|
Cholesterol:
48
mg
|
Sodium:
91
mg
|
Potassium:
729
mg
|
Fiber:
5
g
|
Sugar:
7
g
|
Vitamin A:
928
IU
|
Vitamin C:
20
mg
|
Calcium:
118
mg
|
Iron:
2
mg
If you liked the recipe, please leave us a rating
Follow me on Instagram
My handle is @yellowthyme