This post contains affiliate links. As an Amazon Associate I earn from qualifying purchases. Click here to read my policy.
Indian Chicken Roast - Perfectly cooked moist juicy Chicken with Indian spices and flavors. A perfect main dish for any dinner or family gatherings.
I also make this while meal prepping, especially when I need to amp up my protein intake. It's so full of flavors that I can eat it with anything! By itself, over some rice, even wrapped inside rotis.
It's a recipe that' s made on repeat! Besides who doesn't love a spicy chicken roast?
I sometimes make this when I am entertaining. It makes for a very attractive main dish. It's a sort of a dish that makes people believe you are a great cook. Though once you get the hang of it, it's a breeze to make!
It goes with most of our everyday food. I can have it with a simple Dal and Rice or with curd rice.
Handling a raw chicken can be a little squeamish. Especially if you are doing this for the first time. I will walk you through all the steps. I promise it will be worth all that effort.
Also! I have another amazing recipe for roast chicken - Buttermilk Roasted Chicken. This is the most juiciest chicken ever because its been brined overnight in herby buttermilk.
Ingredients
Here is what you will need
Chicken
Garlic
Ginger
Herbs
Spices
Chili
Yogurt
Lime Juice/ Vinegar
Ghee
Additional- Potatoes
Chicken
Use a whole chicken with the skin on.
The skin does two things-
Keeps the chicken moist
The skin also crisps up
That said, In india tandoori chicken is usually made without the skin so if you want to go that route then that's fine too!
If you do use a chicken without skin, you can make cuts into it which help season the chicken inside.
The size of the chicken depends on what you can get. In India, a whole chicken is usually 1.2 kgs or about 3 pounds.
Smaller chickens are better for roasting but if you cant get your hands on a small chicken, use what you have.
Off course the cooking time will vary based on the size of the chicken.
Indian Spices
I have used basic Indian spices- Turmeric, ground Chili powder and Coriander powder.
You can use curry powder or Garam Masala too. If you use curry powder often, here are some easy replacements to curry powder, for when you are suddenly out.
If you want the chicken to look like tandoori chicken- a little orange then use Kashmiri chili powder instead of all the other chilies.
How to make Indian Chicken Roast
Here is step by step description of how to make chicken roast the indian way!
Marination
To prepare the marination, simply mix everything toghether.
If you are using fresh ginger, garlic and green chili, you can either pound it into a paste or blend it up with a little water.
Now brush the chicken all over with the marinade. You can also use your hands and massage the chicken with the marinade if you prefer.
Anything marinated for a long time gets better seasoned and in this case tender. That said, I have roasted the chicken just after 15 minutes of marination too. It's a perfect shortcut for days when you don't have time to prep.
But in an ideal world, let the chicken marinate in the yogurt and spices for 6-12 hours in the refrigerator.
Roasting
Place the chicken breast side up on a baking dish or a roasting pan. Tuck the wing tips under. You can also just cut them out because no one really eats those.
You could truss the chicken. It does help the chicken cook evenly. For me it depends on how much patience I have.If you aren't trussing the chicken, you can tie the legs or just tuck the wings under.
Most days, i just tuck the wings under and call it a day.
The time the chicken cooks for can vary depending on how bit the chicken is and the oven temperature.
Start with a hot oven that's been preheated at 200C/400F.
Pop the chicken inside for about 40-60 minutes. Halfway through, rotate the baking dish. The back of the ovens tend to be hotter than the front.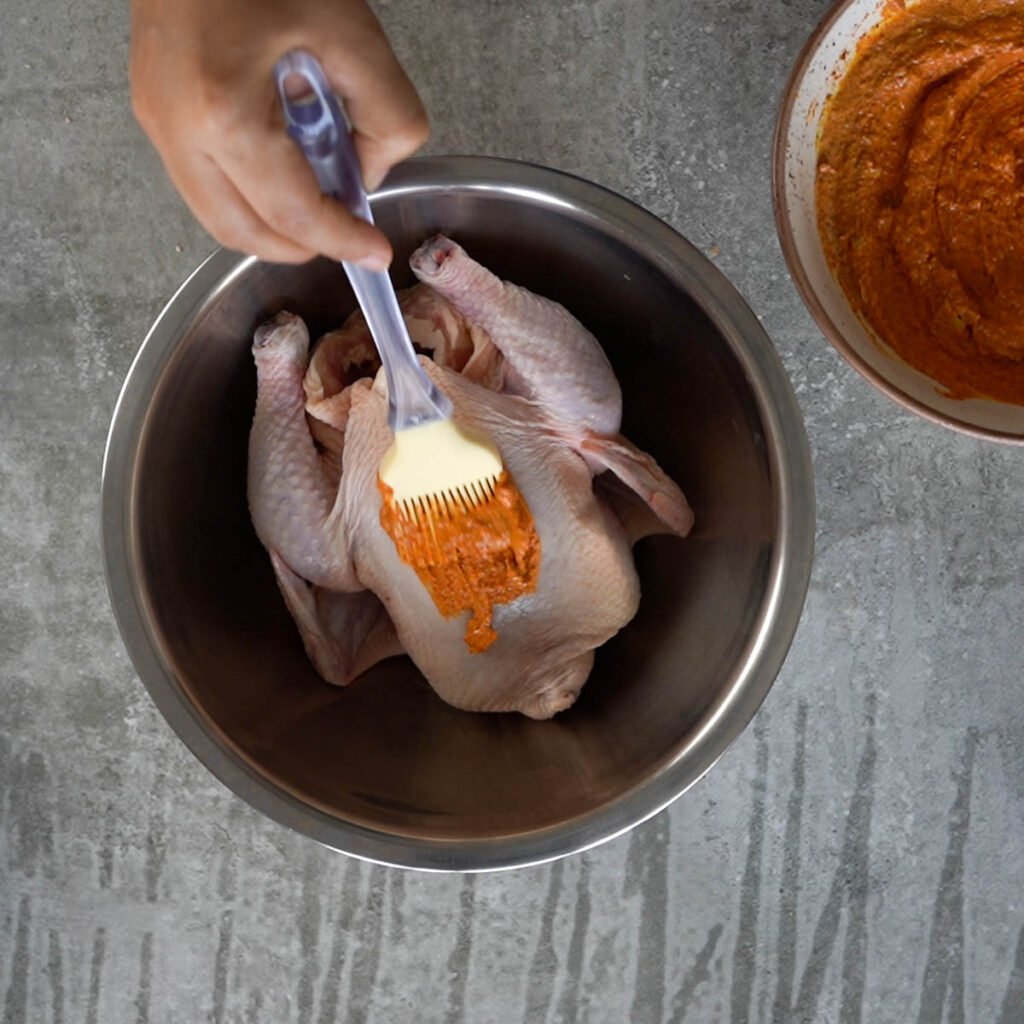 Tenting
At any point if you will see that some parts of the chicken are caramelizing more than the others. If that's the case, take the chicken out, tent it with an aluminium foil.
Remove the foil, increase the temperature to 220C/420F and continue for the last 10 minutes. If there is some portion that's browning way too much, just place a piece of foil on it.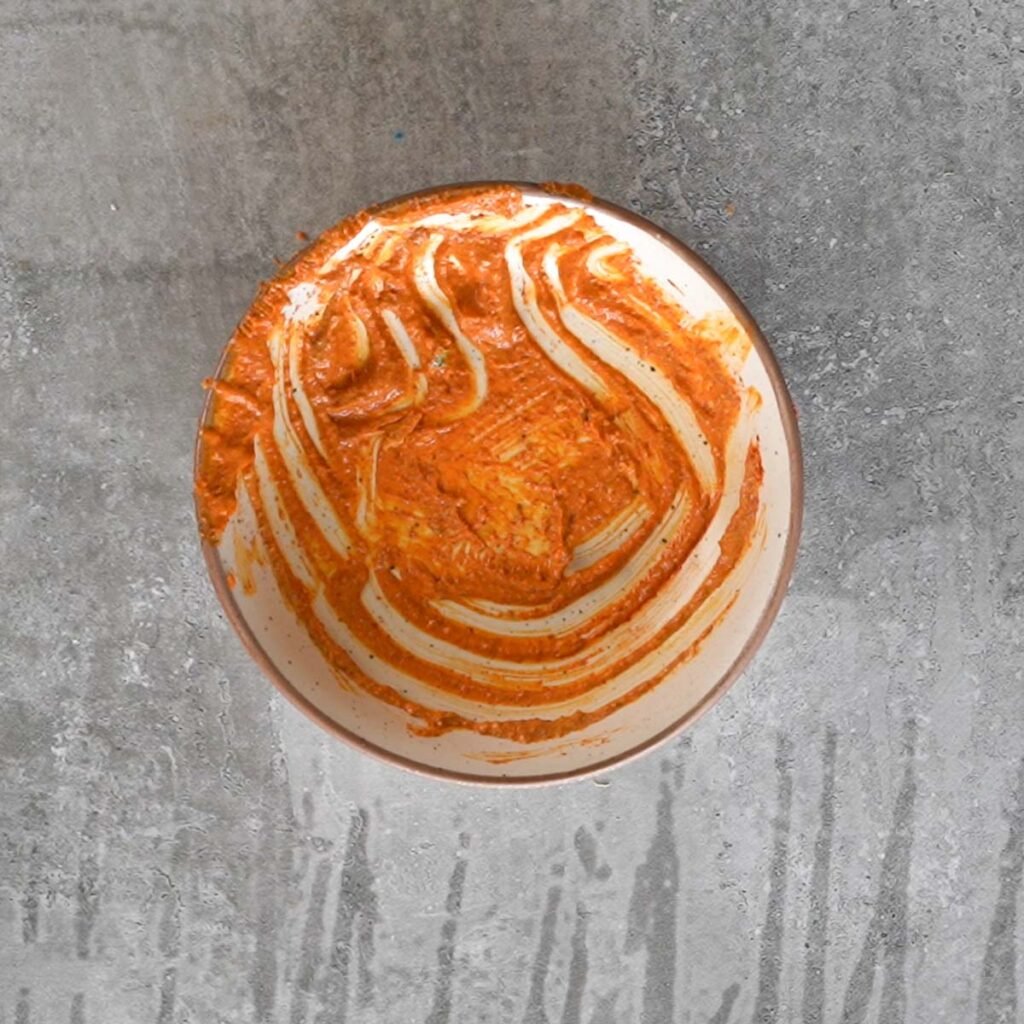 Checking
So how do we know the chicken is cooked?
If you have a internal thermo meter then that will certainly help.It should read anywhere between 165-170 degree F or 75 C.
Otherwise, just pierce the chicken between the thigh and body. Clear juices should ooze out.
Also, the last check is to cut open the leg and see if its cooked or not.In case you do that and it's not cooked, place it back in the oven and continue.
Most chickens would be cooked from 50-70 minutes.
Resting
Once you have made sure the chicken is cooked, just let it rest. The chicken is still cooking at this point.
Letting it rest makes sure the juices disperse inside the chicken instead of oozing out competely.
Roasting Vegetables
You can roast vegetables along with the chicken in the oven. Potatoes are usually my favorite.
The easiest would be to use new or small potatoes. Give them a wash and toss them in the leftover marinade from the chicken.
Once you have placed the chicken on the roasting tin, add the potatoes on the side. Let them roast along with the chicken.
Once the chicken is rested, remove the chicken from the baking pan. You should have a lot of leftover juice. Toss the potatoes in the leftover juices and pop it back in the oven to cook further.
It should take about 20-25 more minutes to start getting brown. The moisture will evaporate, leaving charred bits of the marinade with crispy potatoes. This is possibly the best by product of roasting chicken.
Have you ever cooked a chicken in the instant pot? Here is a detailed post on how to cook a whole chicken in the Instant Pot
Serving Indian Roast Chicken
You can either serve the whole chicken as is in the baking dish or plate it up on a serving dish.
The other option is to cut up the chicken before serving. This will be a whole lot easier for the guests and also avoid some unsightly cutting!
For a simple indian meal, serve the chicken with some Easy & Comforting Dal and Basmati Rice.
For a more elaborate meal, maybe when you are entertaining, you can serve this with a Indian Cucumber Peanut Salad , Kerala Shrimp or Prawn Curry , Rice and a few vegetable side dishes like - Air Fryer Curry Cauliflower
I would also serve some Raita and chutneys and pickles with this meal.
Tips & Tricks to make Indian Chicken Roast
Let's talk about technique now.
Before I start, let's demystify this Indian Style Chicken Roast.It's not difficult especially if you know a few tricks.
Marinade the chicken for 24 hours to make sure its seasoned evenly from inside.
Use Aluminium Foil - This is a great baking tip. Anytime something is browning way faster than cooking from inside, tent it with foil. I do this with cakes and bakes.
Spatchcock Chicken - If you want the chicken to be more evenly roasted, you can spatchcock it. It halves the cooking timẹ.
Freezing Roast Chicken - Here you can find out all about how to freeze cooked rotissseri chicken in the best way possible.
Leftover & Storing
Roast chicken should last in the refrigerator for upto 6-7 days. Make sure you keep it in an air tight container.
You can also freeze the chicken. My go to way is to freeze the chicken in shredded form. This way it takes very little time to thaw and heat up the chicken. Also I can put it straight away into bubbling soups and stews.
I often use the leftover roast chicken to make butter chicken. I make the gravy as per the direction in the recipe and add the chicken when the gravy is bubbling. It's so delicious with rotis!
Possible Variations
Once you have your roast chicken game down, i am sure you will be ready to experiment!
Here are some more Indian twists to your roast chicken
Fill the chicken with semi cooked rice. Imagine how delicious the rice cooked with the chicken juices will be!
Change up the marinade with other spices like garam masala, biryani masala and curry powder
Also switch up the herbs. In this roast, we have not used any herbs but you can add a puree of the herbs to the marinade for that extra delicious flavor
Instead of a marinade, use a brine. You can use the exact same ingredients but instead of using thick yogurt, use buttermilk. Immerse the chicken in it and let it get all tender and juicy with the brine. Here is my buttermilk marinated chicken that you can refer to while making this.
If you have a smoker at home, then also try this smoked whole chicken recipe.
More Indian Chicken Recipes you will love
Here is a list of chicken curry and fry recipes that i often make at home
Kerala Chicken Roast
Mangalorean Ghee Roast Chicken
Tamil Pepper Chicken
Mughlai Chicken Korma
Instant Pot Tandoori Chicken
Instant Pot Chicken Tikka Masala
Butter Chicken - Stove Top & Instant Pot
If you make this chicken, do leave me a note in the comments. I would love to hear your thoughts.
Find us on Instagram , Pinterest & Facebook here!
If you liked my recipe, do leave a comment!
It will help others find this amazing recipe too!
---
Ingredients
Whole Chicken

With skin or without as per preference

10-15

Potatoes

Baby Potatoes or Cubed Potatoes
Marinade
¼

Cup

Yogurt

Thick Yogurt or Greek Yogurt

2

tablespoon

Lime Juice

1

tablespoon

Salt

Check Notes

1

teaspoon

Ginger

Grated or Paste

6

cloves

Garlic

Grated or paste. About 1 tsp

1

tablespoon

coriander powder

1

teaspoon

Turmeric

1

tablespoon

Cumin Powder

1.5

tablespoon

Chili powder

Kashmiri Chili Powder or Paprika.For color.

1

Green Chili

Optional

1

tablespoon

Salt

adjust as per taste

1

tablespoon

Ghee/Oil
Instructions
Take all the ingredients listed under marinade and mix it to form the marinade

Rub the marinade generously on the chicken. Keep it refrigerated for 1 hour (upto 24 hours.)

Mix the left over marinade with the potatoes.

Preheat the oven to 200 degrees C.

Place the chicken breast side up on the baking tray.Keep the potatoes around the chicken.Bake in a preheated oven at 200 C or 400 F for 40 minutes.

Rotate the chicken at 20 minute mark. If its browning too much, tent with foil.

After 40 minutes, increase the temperature to 220C or 420F.Broil for 10 minutes.If any part of the chicken is too brown, cover it with foil.

To check the doneness of the chicken- pierce the chicken at the body-thigh joint.If clear juices ooze out then the chicken is cooked.

Let the chicken rest for 15-20 minutes before you serve it. This will make sure the chicken is moist.

Remove the chicken from the baking pan. Mix the potatoes with the leftover juice. Return to the oven for 20 minutes at 220C or 420 F till they are crispy.
Notes
Potatoes & Other Vegetables
This step can be skipped if you need to.But the crispy potatoes cooked in the chicken fat and the leftover marinade are delicious!
Trussing the Chicken
If you want, you can truss the chicken. It will help in the chicken getting cooked evenly. You can also tie the legs together to help with even cooking.
Or if you love the charred bits, roast the chicken as it is.
Do tuck the wings under the body otherwise they will burn. You can also discard the chicken wing tips if you want.
Cooking time
Cooking time of the chicken will vary depending on
How big the chicken is
Oven size and temperature
A 3 pound chicken takes about 50 minutes start to finish.A bigger chicken will take a few more minutes.
Checking
If you have a internal thermo meter then that will certainly help.It should read anywhere between 165-170 degree F or 75 C.
Otherwise, just pierce the chicken between the thigh and body. Clear juices should ooze out.
Also, the last check is to cut open the leg and see if its cooked or not.In case you do that and it's not cooked, place it back in the oven and continue.
Nutrition
Calories:
484
kcal
|
Carbohydrates:
100
g
|
Protein:
12
g
|
Fat:
6
g
|
Saturated Fat:
3
g
|
Cholesterol:
12
mg
|
Sodium:
3618
mg
|
Potassium:
2409
mg
|
Fiber:
14
g
|
Sugar:
6
g
|
Vitamin A:
939
IU
|
Vitamin C:
111
mg
|
Calcium:
128
mg
|
Iron:
6
mg
If you liked the recipe, please leave us a rating
Follow me on Instagram
My handle is @yellowthyme
Our Favorite Kitchen Gadgets