Don't have Curry Powder , or realized you're all out while you're in the middle of cooking? Here are 12 substitutes for Curry Powder in recipes.
Do you know the feeling of being out of the main ingredient knee deep into the recipe?
We will look at some replacements for curry powder that are already in your pantry.
Lets Start with What's Curry Powder
Curry Powder is a blend of Indian spices that can be mild to hot to super hot. It can can vastly vary as per brand and region.
It's known for the yellow color it gives food, which primarily comes from turmeric. It is knowns as an Indian Spice powder though its something that was put together in Britain.
The most basic form of curry powder has a combination of
Turmeric
Ground Chili
Ground Coriander Seeds
Ground Cumin
Beyond these basic ingredients in curry powder, some also have pepper, cinnamon, five spice, Dry Ginger, dried Fenugreek , Bay leaves.
In India, we keep all these ground spices separate and mix it as and when we go. For someone who is just starting to cook indian food, curry powder is a good starting point.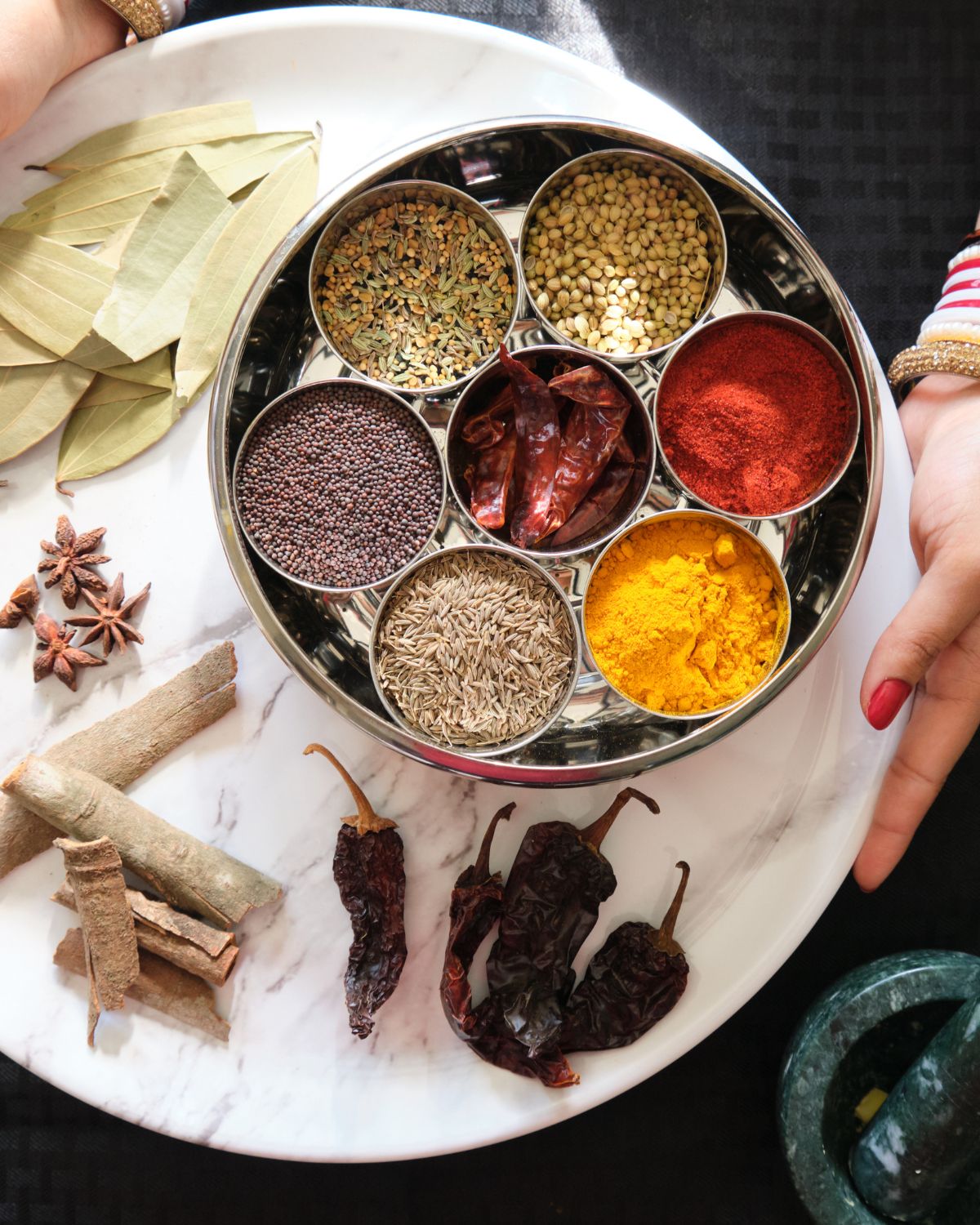 How is Curry Powder Used
Curry powder is used how Italian seasoning is used.
If you want to give an Indian twist to anything, from your eggs to your bagel to your ramen, adding curry powder is a great short cut.
It also goes in Indian dishes like Dal and Chicken curries.It can be added to curries, soups, dals, pulavs and stir fry. Curry Powder is also great for fusion dishes, quick breakfast eggs and stir fries.
Substitutes for Curry Powder
1. Make your own Curry Powder
Homemade curry powder is very simple to make. You can make a mild or spicy version of it depending on your needs.
Blend toghether
1 tablespoon ground Cumin
1 tablespoon ground Coriander
1 tablespoon ground Turmeric
1 tea spoon Ground Chili - Paprika or Cayenne
If you have seeds instead of the ground form, just blend or pound it in same quantity.
The above is a simplistic curry powder. It works as a quick fix in a pinch.
Now if you want to go all out and make your own ultimate curry powder, here is the recipe
1 tablespoons ground coriander
1 tablespoons ground cumin
¾ tablespoon ground turmeric
¼ teaspoon dried Fenugreek leaves
1 teaspoons ground dry ginger
½ teaspoon ground cinnamon
½ teaspoon ground black pepper
A pinch ground cardamom
¼ teaspoon paprika or cayenne pepper or ground chili
2. Turmeric and Ground Chili
If you don't have so many spices lying around and want to make things simple, use a combination of turmeric and ground chili.
If you want to keep the curry mild, use paprika or you can go with Cayene if you like your curries spicy.
3. Ground Cumin
YYes !! You can use plain old cumin instead of curry powder too. In a pinch, use cumin seeds or ground cumin along with ground chili of choice.
Though this will not mimic the complexity of curry powder, it will definitely add great indian flavor to the curry.
4. Ground Coriander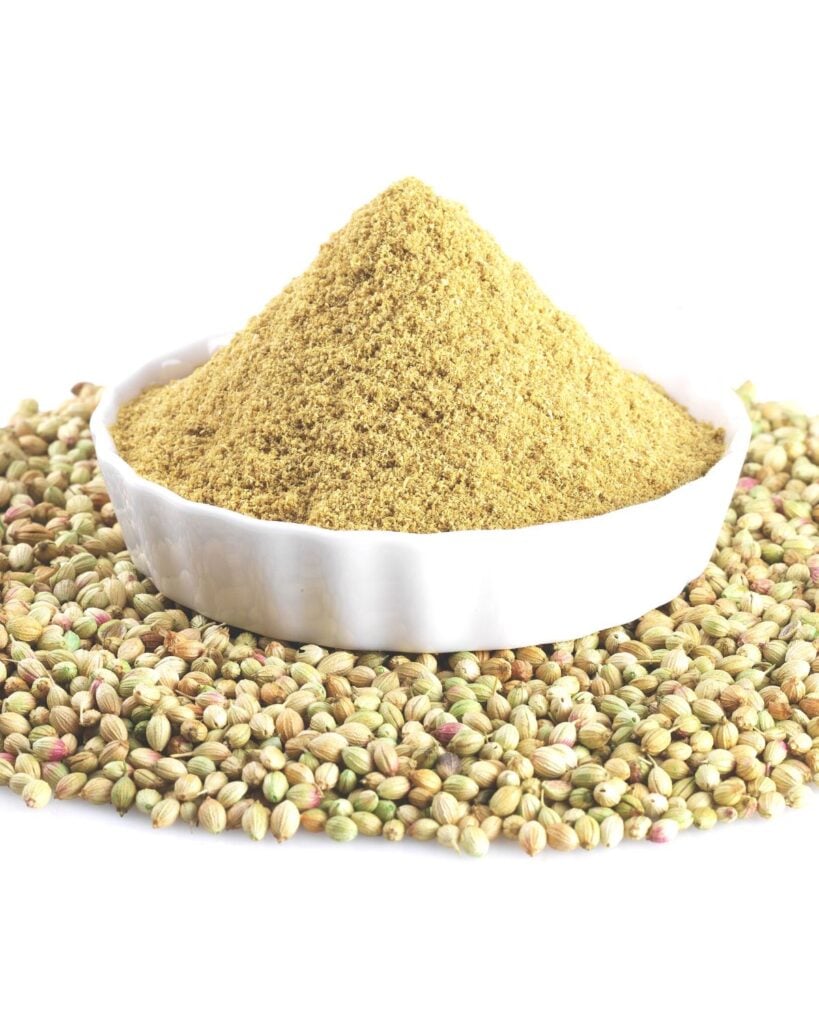 Just plain old ground coriander seeds with a dash of chili will work great too!
Ground coriander in fact is the base of most indian spice blends. So in a pinch, this is a great replacement for curry powder.
5. Garam Masala
Garam Masala is the blend of whole spices like black cardamom, green cardamom, cinnamon, cumin, coriander, mace and pepper. Garam Masala and Curry powder are not the same.
Most Garam Masala are more complex than curry powder and do not contain turmeric. They are usually dark brown in color.
Garam Masala is a good substitute when you want to add a touch of Indianness to the curry.
6. Chai Spice Mix or Masala
What? Surprised?
If your chai spice mix doesn't have sugar or actual tea in it, it's just a blend of Indian spices. Usually, cardamom, cinnamon, cloves and nutmeg.
I mean I believe in multi tasking! There is absolutely no need for you to use these specialty blends in only one form.
Add them to your curries!
7. Pumpkin Spice with Turmeric
Pumpkin spice already has cinnamon, clove, ginger, nutmeg, and allspice. You can add a teaspoon of turmeric, ground cumin and coriander to it to make it into your own specialty curry powder.
Who would have thought!
8. Raselhanout
Did you go to middle east and buy a bunch of ras el hanout? Well...that literally translates into "choice mix of spices"
Raselhanout has cardamom, cumin, clove, cinnamon, nutmeg, mace, allspice, dry ginger, chili peppers, coriander seed, peppercorn, sweet and hot paprika, fenugreek, and dry turmeric.
9. Madras Curry Powder
We all buy a specialty spice blend for than one dish we make, once a year. Well. You can use these specialty blends to make your every day curry flavoured dishes too.
You can use not only madras curry powder but tandoori powder, biryani masala, chole masala ..All as a substitute for Curry Powder.
Keep in mind, most store-bought spice blends can have questionable amount of chili in it. So it's always best to taste a tiny bit before adding a whole lot of spice blend to your costly rib eye or Salmon.
10. Chat Masala
This should probably be in number 1 spot. This spice blend is usually sprinkled over chaats but...its so much more than just that.
Most Indians eat their boiled eggs with a generous sprinkling of chaat masala. It is a delicious, very lickable premix which can be used straight from the bottle. It is salty, tangy, slightly sweet..its one of the Indian sprinkler spice mixes which can go over anything from flatbreads to yogurts to Sandwiches.
This is one blend that you will find in every 20 something indians kitchen pantry.I have been eating this exact same brand of chaat masala since i was a littl girl!
11. Indian Curry Paste
Indian curry pastes are also a good replacement to curry powders. These are a great shortcut to make curries without making the base sauce with onions, tomatoes and spices.
Curry pastes usually have cooked onion, tomatoes, garlic and ginger in there. They also have lots of oil ,preservatives and stabilizers. So when substituting in curries, keep that in mind.
How to Choose a Substitute for Curry Powder
Here are the best substitutes for turmeric in:
Simple Stir Fries & Curries
Here are the best substitutes for curry powder to use while making everyday curries like Vegetable stir fries and curries
Turmeric, Cumin, Coriander together or separate, Curry Paste , Chai Spice or Pumpkin Spice. Or you can use just Turmeric and chili or Coriander and chili or Cumin.
This is especially true when making Everyday curries like Split Pigeon Pea Curry , Saag Paneer, Air Fryer Curry Cauliflower
Complex Slow Cooked Curries
Here are the best substitutes for curry powder to use while making Meat/ Chicken or Slow Cooked Curries
Garam Masala, Curry Powder, Specialty Blends like Madras Curry Powder or make your own with ground or whole spices.
This is especially true when making curries like Butter Chicken , Pepper Chicken Curry and Rajma Masala
Curry Powder as a Sprinkler
Here are the best substitutes for curry powder to use when you just want to sprinkle it over a salad or eggs
Chaat Masala, A blend of Turmeric, Chili and Salt
Here are some more Easily available substitutes for Indian ingredients
- Tamarind
- Curry Powder
Frequently asked Questions
Is curry powder and paprika the same?
No. Curry powder has a lot more ingredients in it. One of it is ground chili powder which could be paprika.
Curry powder can range from mild to very hot depending on the type of chili used in making it.
If you want to substitute curry powder, you can choose to do so with a combination of turmeric and paprika.
Can I substitute turmeric for curry powder
Yes turmeric can be substituted for curry powder in a pinch.
For a better substitute, add Ground cumin, coriander and ground chili to it to make a good curry powder substitute
How do I make curry powder milder
If you bought a bottle of curry powder that's too hot for you, you can tone it down by diluting it with ground cumin and coriander.
What do Indians use instead of curry powder?
Indians use separate spices to make their everyday food instead of curry powder. They usually have a box which has smaller containers for cumin, coriander, turmeric, ground chili and salt.
Often times, they use ground spice powders specific to the dishes. For example, chana masala to make Chickpeas, Sambhar Masala to make sambhar, biryani masala to make biryani.
Is garam masala just curry powder?
No.Garam Masala is a complex mix of more than 12-15 whole spices. It does not contain turmeric and is usually dark brown to black in color.
Curry powder is typically yellowish in color and is made up of 4 core ingredients- Turmeric, Cumin, Coriander, Chili.
In a pinch, Garam Mssala is a great replacement for Curry powder to make indian food.
What spice replaces curry powder?
You can mix Turmeric, Cumin, Coriander, Chili to make your own curry powder.
To make your own Curry powder, Blend toghether
1 tablespoon ground Cumin
1 tablespoon ground Coriander
1 tablespoon ground Turmeric
1 tea spoon Ground Chili - Paprika or Cayenne
---
Find us on Instagram , Pinterest & Facebook here!
If you liked my recipe, do leave a comment!
It will help others find this amazing recipe too!
---