Don't have Paneer , or realized you're all out while you're in the middle of cooking? Here are 11 substitutes for Paneer in recipes.
LET'S START WITH WHAT IS PANEER
Paneer is an Indian cheese that's made with curdling the milk, removing the whey from it and pressing it to form a block.
It is a fresh cheese that has a shelf life of 1-2 days on room temperature and about 4-7 days in refrigerator. It's called Indian Paneer cheese outside india.
It is very popular in India and there are more than a 1000 dishes made with it. Palak Paneer, Paneer Butter Masala & Tandoori Paneer being the most famous.
It is also used as a filling in parathas, sandwiches. You can also eat paneer raw.
Taste & Texture of Paneer
Paneer is
Firm and Soft
Does not Melt
Has no Salt
Is Not cultured or Fermented
Holds its shape in heat.
Can be cut into cubes with a butter knife
Not Aged
It keeps for 5-6 days in the refrigerator. You can also freeze paneer for later use.
SUBSTITUTIONS FOR PANEER
Here are 12 Substitutes for Paneer Cheese. Some of them are very easily available across the world. And some you can find in your refrigerator already!
1. Tofu
For me, Firm Tofu is the ideal substitute for paneer. The taste and texture mimic each other almost exactly.
Tofu is the BEST vegan substitute for paneer. It is made with Soy beans and is very high on protein.
Be sure not to use silken tofu. That wont work in most recipes that call for paneer.
2. Homemade Paneer
If you have milk and lemon or vinegar with you, plus some time, then this is a next best alternative to store bought paneer.
Making paneer at home is very simple.All you have to do is
Boil Milk and Add 1 teaspoon of vinegar or Lemon
Let the mixture curdle. They whey and milk solids will separate.
Strain the milk solids using a cloth and a strainer.
Squeeze all the liquid out and you have soft crumbly paneer.
To make it hard, keep a solid weight on the paneer and let the liquid ooze out over 2-3 hours. This way, you will get paneer that will hold its shape well.
3. Strained Cottage Cheese
Cottage Cheese is fresh cheese made with low fat milk and vinegar. It is essentially paneer which hasn't been drained well.The only thing that makes cottage cheese different from paneer is the texture which can be fixed quite easily.
This makes cottage cheese a great replacement for paneer. All you need to do is strain the whey using a cloth and a strainer. Press is for a few hours to get it to the exact texture of paneer.(Steps 3,4,5 in the homemade paneer section)
4. Queso Panela
Also knowns as queso canasta or queso de la canasta and Basket cheese.This is a mexican fresh cheese made with skimmed cows milk.
Unlike paneer, where the milk is curdled using vinegar or lemon juice, panela is made using rennet.
Queso Panela and paneer are almost identical and can be used interchangebly. Panela is usually lightly salted, sometimes covered with a paste of garlic and chili.
5. Halloumi Cheese
Haloumi cheese is semi hard, un ripened, brined cheese made from sheep's or goat milk. It is made by adding rennet to milk.
It's usually tangy and salty. Unlike paneer, which is very bland and hence a gret carrier of flavour , halloumi cheese has a very characteristic taste.
You can replace paneer with halloumi but keep in mind the salt in halloumi while seasoning the dish you are making.
Also unlike paneer which hold firm, halloumi tends to melt a bit on the inside when grilled.
6. Farmers Cheese
Farmers cheese is almost identical to paneer and cottage cheese except for the whey content. Sometimes, farmers cheese is rolled in herbs and garlic.
Paneer is a pressed, lesser whey content form of farmers cheese. So if you are making a curry or tandoori paneer, all you need to do is follow the below process
Tie the farmers cheese in a cheese cloth
Keep it on top of a strainer on a bowl.
Add some weight on top to force the whey out and make the cheese firm.
and you have your paneer! Cut it into cubes or larger pieces and enjoy!
7. Ricotta Cheese
Ricotta cheese is typically made from cow milk whey. It has a fine, moist, grainy texture.
While ricotta cheese is not firm, it can be used to make indian sweets where typically crumbled fresh paneer that's not been pressed(also called chena) is used.
It is not an alternative for paneer in curries and grills.
8. Feta Cheese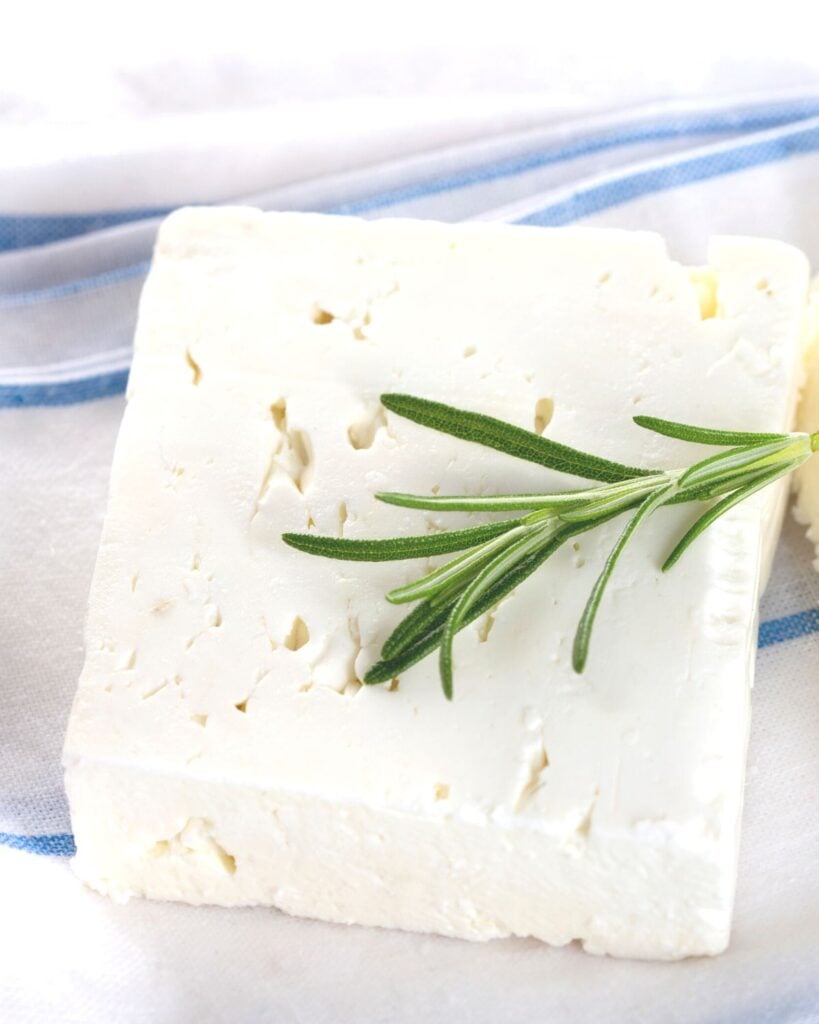 Feta is usually salty & Crumbly. It softens and melts a bit with heat. Though it is definitely not a direct replacement in my mind.
Feta version of Palak paneer is very famous in the united states. I haven't made it myself but I can imagine soft melty feta in a Palak gravy.
9. Mozzarella Cheese
Fresh Mozzarella and paneer can have comparable tastes when not heated. You can use fresh mozzarella in recipes that call for raw paneer like salads, sandwiches and toppings.
It is not a suitable substitute for paneer in curries and grills.
Though, melty mozzarella in a small batch Palak paneer would be great. But an entirely different dish.
10. Queso Fresco
Queso Fresco means "fresh cheese." It is a firm, cow's milk cheese from Mexico, made in almost the same way as paneer.
This fresh cheese is crumbled over dishes or fried. It softens a bit when heated. It's an almost exact replacement for paneer.
11. Processed Cheese, Manchego Cheese, Gouda, Camembert, Brie
All these cheese melt where as paneer doesn't. They aren't a great substitute for paneer especially in grilling and curry recipes.
Though you can use them in recipes that call for paneer as a filling like paneer parathas and paneer stuffed turnovers. All these cheese have a low melting point.
Paneer Buying Guide
If you are in India or UK, you can find paneer quite easily in the cheese section. It's often right next to yogurt and processed cheese.
You can also find frozen paneer cubes in the freezer section. That's a great alternative especially if you cook for one.
In USA and Canada - You can find is in all Indian stores. In larger stores like Walmart and Whole Foods, you can find paneer in the cheese aisle. Usually with halloumi and feta.
You can also get it online on amazon and other grocery services.
To make sure your paneer is good, always check the date of manufacture and the date it expires.
Two Hot Paneer Tips
These two tips are so so useful that i do this every single time I buy paneer
To make Old paneer soft
This will make even your low quality paneer soft and fresh
Cut it like you want.
Soak it in hot water with a few drops of vinegar for 15-20 minutes
Use as per your recipe
How to Store Paneer to increase the shelf life
This trick will not only increase the shelf life of paneer but also make sure its soft. Your paneer will taste as fresh and soft as the day one
Fill a container with water. Add 1 teaspoon of vinegar to it.
Immerse the whole paneer in it.
Store it closed in the refrigerator for upto 7-10 days!
The amount of time paneer lasts in the refrigerator will depend on the expiry date of your packaged paneer.
How to choose substitute for Paneer
Here are the best substitutes for Paneer in:
Curries
While making curries like paneer butter masala or Stir fries like Capsicum paneer here is your best alternative
Tofu, Queso Panela , Strained & pressed cottage cheese or Homemade paneer
Grilled Dishes
While making Grilled paneer dishes like tandoori paneer, here are your best alternatives
Tofu & Halloumi .Strained & Pressed Cottage cheese, farmers cheese and home made paneer.
Koftas & Crumbled Paneer Dishes
While making dishes that need crumbled or grated paneer, you have a lot of alternatives.
Tofu, Processed Cheese, Halloumi, Feta, farmers cheese, Ricotta, Panela queso and even mozzarella.
Sandwiches & Fillings
When replacing paneer in sandwiches and fillings for turnovers or parathas, you can use all the options listed above
Tofu, Processed Cheese, Halloumi, Feta, farmers cheese, Ricotta, Panela queso and even Mozzarella, Manchego Cheese, Gouda, Camembert, Brie
Vegan
If you are a vegan and looking for a suitable substitute for paneer then tofu is your best option.
It mimics the taste, texture and firmness almost exactly. Look for firm spongy tofu to make paneer dishes vegan
Here are some more Easily available substitutes for Indian ingredients
- Tamarind
- Curry Powder
Frequently Asked Questions
Is cottage cheese & paneer same?
No.Paneer is firm cheese made by curdling whole milk with lime or vinegar. It is then strained and pressed to remove most of the whey. The texture is firm. It can be sliced and cubed.
Cottage cheese does not have the same texture. It is prepared in the same way but not strained and pressed. The texture of cottage cheese is lumpy and liquidy.
What is paneer called in USA?
Paneer is sometimes called Indian Paneer Cheese or Just paneer Cheese in US and UK.
In india, sometimes it's called cottage cheese though outside of india, cottage cheese has a very different texture.
What is the difference between Paneer and Cheese
Paneer is a type of fresh, non aged , firm cheese from India. Unlike popular cheese like cheddar cheese and processed cheese, it does not melt.
Is Paneer Same as Halloumi
No. Paneer and Halloumi are different types of cheese. Halloumi cheese is usually made with sheep's or goat's milk.
On application of heat, halloumi cheese can crisp up from the outside but have gooey soft center. Heating or Grilling paneer will not change the texture inside. Paneer will not soften like halloumi.
Also Halloumi is a brined cheese which means its salty to taste. Paneer however is usually bland.
Can you eat paneer raw?
Yes. You can have fresh paneer without any cooking or processing. It tastes great with just a sprinkle of salt and herbs.