The best Palak Paneer Recipe - Dhaba Style - Easy to make recipe of the Famous Indian dish made with Spinach and Cottage Cheese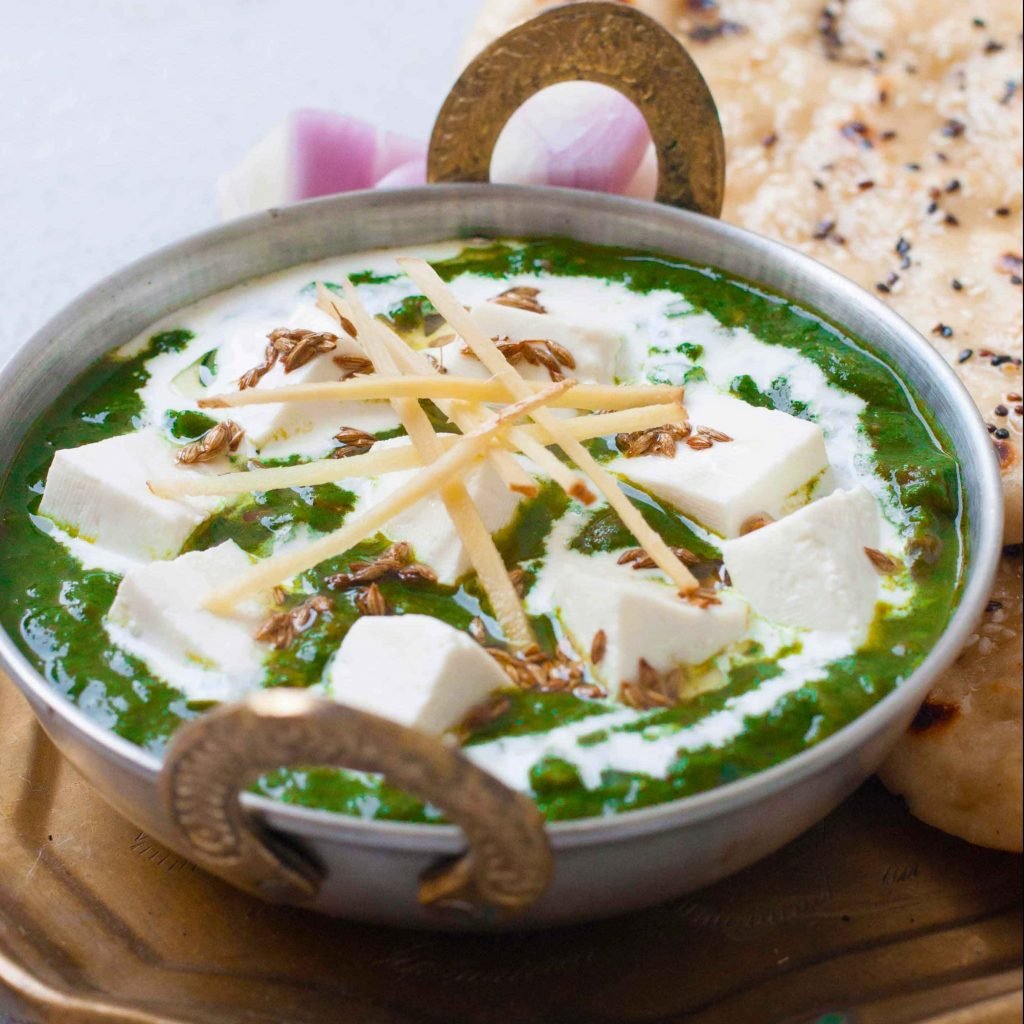 It's the best Palak Paneer recipe you will ever make! I promise!
When you grow up eating something everyday, you tend to automatically assume you know how to make it.At least I did.For the longest time I made Palak Paneer without thinking.It used to be dark, have an irony taste to it.I only made it when I felt my body needed extra nutrients or when I remember Popoye.
Then, as I started diving deeper into the culinary world I found some tricks of the trade.Especially when working with Spinach. Unlike me, you don't have to re invent the wheel because I am going to tell you all the secrets of the best Palak Paneer Ever!
How to make the best Palak Paneer Recipe Ever!
The first thing- there is nothing more off-putting than sandy gritty texture in food.So always always wash your spinach till you can't see anymore mud in the water.I usually do this in batches.This step is very very very important.I can't tell you how many times I have skipped or skimmed on it and felt sorry!So Wash Wash Wash your Spinach!
The second thing- Which no one tells you.Blanch your Spinach- Which means- dunk your spinach leaves in boiling water for 30 seconds before taking them out and submerging it fully in cold water.This is the secret- the only secret of bright green Palak Paneer(or Palak anything!)
Oh and the Third thing- Prepare your paneer.Most often the paneer we get in the market is hard or not as fresh as we would like it to be.But this is rectifyable. Cut and submerge the paneer in warm water till you prepare the palak gravy- This would make sure its soft and supple.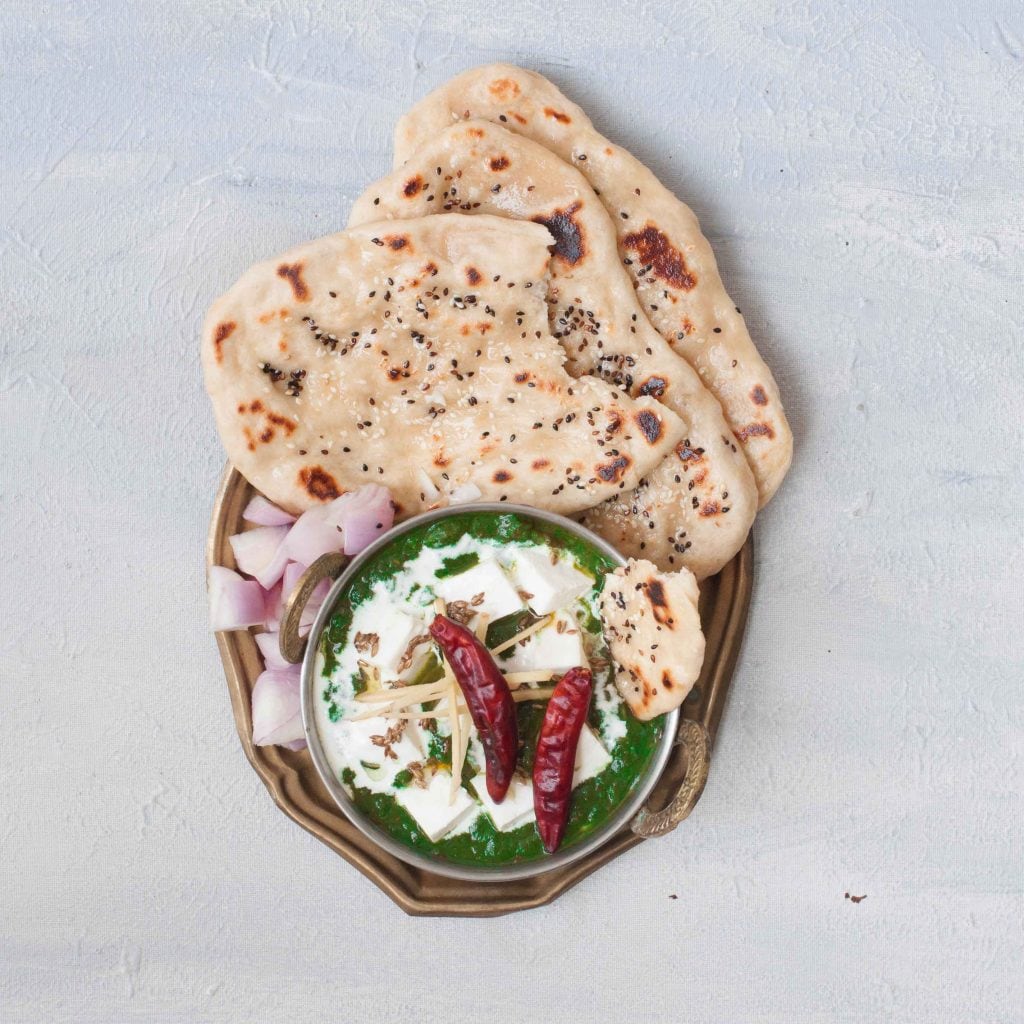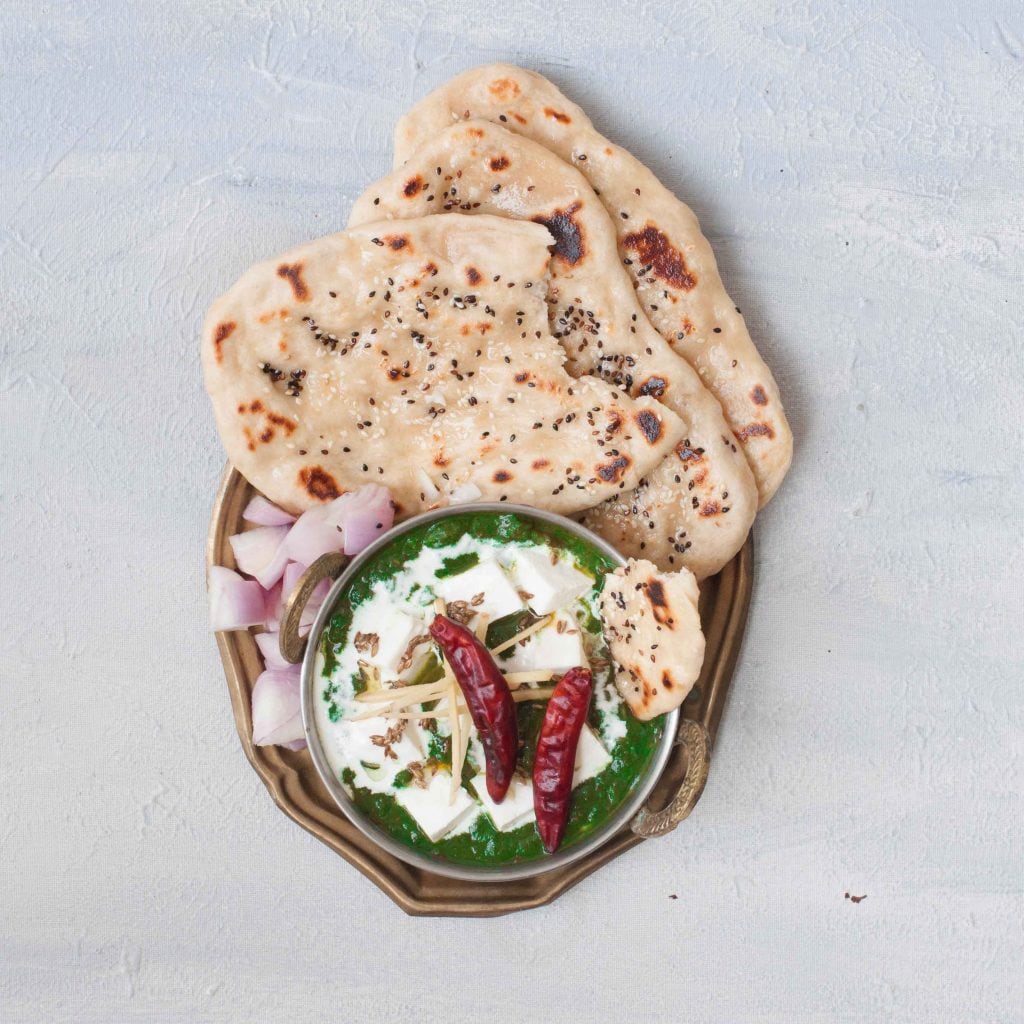 The Best Palak Paneer | Dhaba Style
Now the other thing - I like my palak paneer with some body and texture and hence I use chopped onions and tomatoes to make the gravy but if you like silky smooth palak paneer -then Puree your masala before adding the palak puree.
Can Palak Paneer be made- Healthy,Vegan & Paleo
Absolutely!
To make the Palak Paneer Vegan- Swap tofu for paneer and to make it vegan- Use either cashew cheese or mushrooms,peas or any other vegetable instead of the Cottage Cheese.
Skip the addition of Fresh Cream from top to save some extra calories.
Here are some Indian curries that you will love
Dal Palak
Pindi Channa
Paneer Butter Masala
Methi Matar Malai Paneer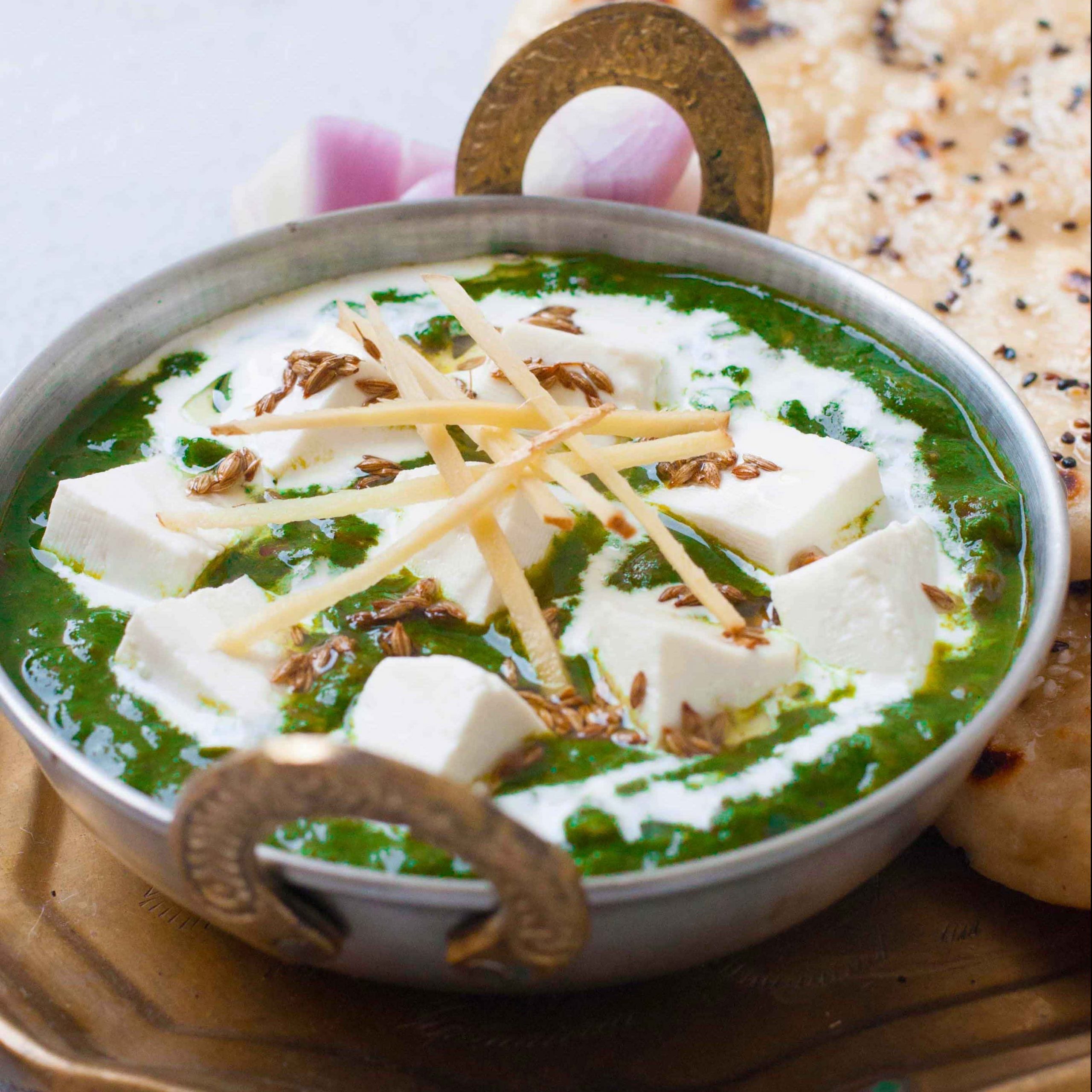 Ingredients
500

gms Spinach

Palak

250

gms Paneer

Firm Cottage Cheese Cubed

1

Onion Chopped

1

Tomato Chopped

2

Cloves

Garlic- Minced

1

inch

Ginger-Minced

2

Dried Red Chillies

1

Green Chilli- Chopped

3

tablespoon

Oil

Juice of ½ lime

Salt to taste

1

tablespoon

Fresh Cream for Garnish
Instructions
Prepare the Paneer
Cut the paneer into cubes and submerge in warm water.
Blanch & Puree the Palak
Boil water in a large pot.Also prepare a bowl of ice cold water.

Using Tongs(Chimta) submerge ¼ spinach in boiling water.Wait for 30 seconds.Take it out and submerge it in a bowl of iced water.Repeat with the rest of it.

Squeeze the water out of the spinach(as best as you can).

Puree it and set aside.
The Gravy
Heat the oil in a pot.Once hot, add the Cumin.As it starts to splutter- add the asafoetida,Green Chillies and the red chillies.

Add the Ginger & Garlic next- Sauté for 20-30 seconds.Follow this with chopped onions.

When the onions start to brown ,Sprinkle in the garam masala, coriander powder &red chilli powder. Mix everything together and cook for barely 10-20 seconds before adding in the chopped tomato.

Cook this till the tomatoes are mushy and the oil starts to separate.Read notes for a silky gravy*

Add the spinach puree, Salt & lime juice.Cook only till the spinach gravy starts to boil.

Add the cubed Paneer and drizzle over the fresh cream to serve.
Notes
To make the palak paneer gravy silky smooth- Grind the onion tomato masala before adding the spinach puree.
Nutrition
Calories:
168
kcal
|
Carbohydrates:
12.3
g
|
Protein:
7.2
g
|
Fat:
10.9
g
|
Saturated Fat:
1.5
g
|
Cholesterol:
2
mg
|
Sodium:
152
mg
|
Potassium:
945
mg
|
Fiber:
3.6
g
|
Sugar:
7.2
g
|
Calcium:
247
mg
|
Iron:
4
mg
If you liked the recipe, please leave us a rating
Follow me on Instagram
My handle is @yellowthyme
SaveSave
FAQs for making Palak Paneer
How to serve Palak Paneer
Palak Paneer goes very well with Butter Garlic Naans and Jeera Rice.
You can also serve this with simple chappatis.
Why does my palak turn dark green.
This happens when palak is over cooked.Do not over boil the gravy.Alternatively, you could also add a pinch of baking soda to the water while blanching the palak though I usually skip this part.
Why does the palak paneer taste metallic
This happens when the stalk and the hard bits of palak are used.So the solution is to avoid using the stalk.
SaveSave
SaveSave
SaveSave
SaveSave