This post contains affiliate links. As an Amazon Associate I earn from qualifying purchases. Click here to read my policy.
Can you freeze rotisserie chicken? What do you do with leftover rotisserie chicken? Freeze it! Not only do you always have a good source of protein always on hand, you also reduce food waste!
A little bit of work and you can have a meal on the table in less than 10 minutes! Let's Learn ALL about it!
Jump to:
Here is the short Version
Best way to Freeze a chicken- Shred the chicken, pack it up in a freezer bag or saran wrap individual packs and Freeze it!
Best way to Defrost Chicken- Overnight in the refrigerator
Rotisserie Chicken
Whether you get it from the super market or make it at home, Rotisserie chicken is one of the most versatile things to have in your fridge. I make my Buttermilk brined moist roast chicken almost every week. My son loves chicken!
You can make sandwiches, Wraps, add it to stir fries & curries, to soups or eat it as it is. There are endless ways to eat it.
And if you are on a high protein diet or watching your carb intake or just improving your over all health, Cooked chicken is the perfect thing to have on hand.
It can last for a couple of days in the fridge but you can increase it's shelf life a lot more by simply freezing it. Yes there are some challenges but I have a few tricks up my sleeve that will definitely help through it all!
So now let's get to freezing the rotisserie chicken. The Whys, Hows and Whats.
Why Freeze Rotisserie Chicken
So you bought a whole chicken thinking you will give paleo or whole 30 a try? Or amp up your protein intake..OR your guests cancelled..Or you are travelling..There can be so many reasons really.
But the chicken is here and you can't eat the whole thing. How do we make sure that it lasts beyond 5-6 days? And reduce waste?
The simple solution- Use your freezer!
Like the refrigeration, you can store the chicken in the freezer in 3-4 ways. Depending on how much time you have on hand.
How to Freeze Rotisserie Chicken
It sounds simple. Just chuck the chicken inside the freezer and job done right?
Well technically yes but that's the worst way to freeze the chicken.
To freeze the chicken, let the rotisserie chicken cool completely. Once it's cooled you can proceed to freeze in as a whole or portion and store it.
Here 3 ways you can freeze the chicken
Freeze the Chicken Whole- in a zip lock bag
Freeze shredded Chicken - in portioned containers
Freeze chicken in pieces
Freezing Rotisserie Chicken Whole
The simplest method, is to freeze the chicken whole.
If you have made it at home, make sure you let the chicken come to room temperature before you freeze. Hot chicken , will not only not freeze well, it will also get spoilt faster.
If you have bought the chicken from a supermarket and it's already wrapped or frozen, then its a simple task of opening the freezer and Putting it inside.
If it's not wrapped well, you can place the chicken in a a large zip-lock bag. Remove the air before you close the bag.
The other option is to double wrap it with cling film(plastic wrap) and then with aluminum foil once.
Pros
Least amount of work
Can serve the whole chicken as a dish once you thaw and heat it
Cons
Will take forever to thaw
It will take longer for you to heat and serve this chicken.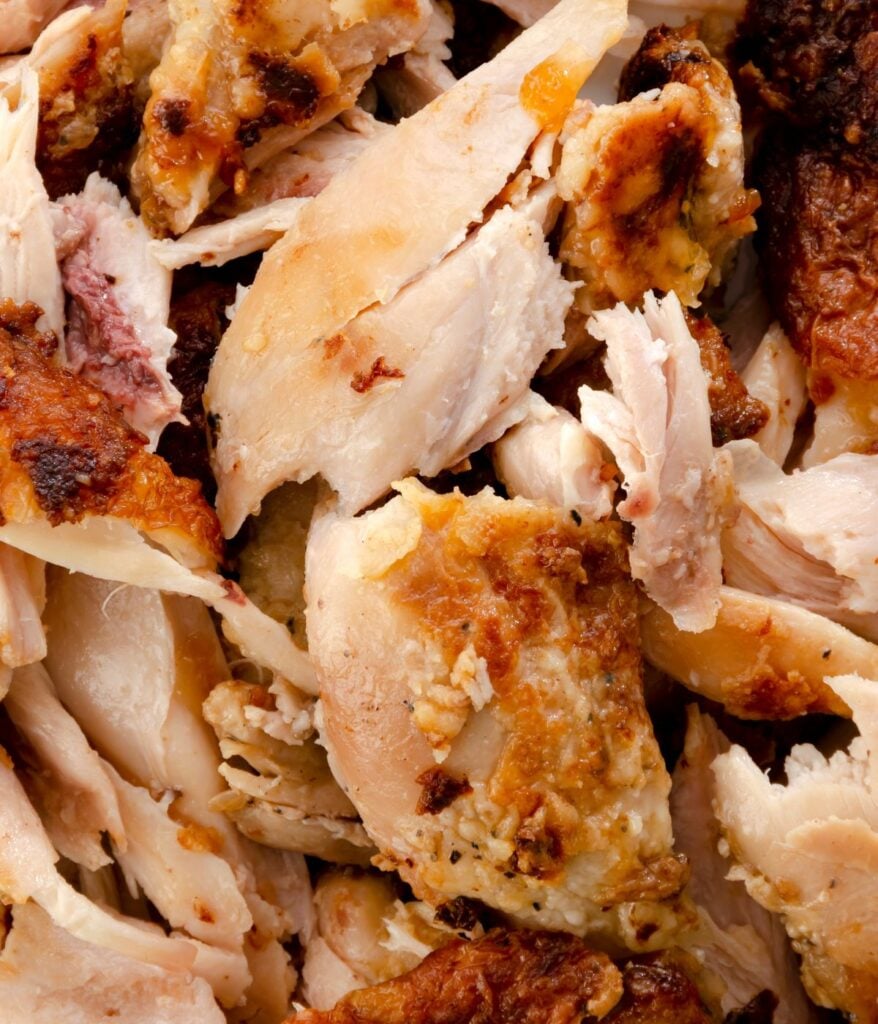 Freezing Shredded Rotisserie Chicken
This method, though needs a little more work on your part, it's the best. Especially if you are into quick meals.
I love using portioned freezer trays for this purpose. It makes getting food on the table very quick.
Imagine, you are hungry and want a chicken sandwich very bad.
All you have to do is, take out that portioned cube of shredded chicken, microwave it so its warm. Add mayonnaise and mustard. Fill it in between two bread slices and call it a day! ALL IN LESS THAN 10 MINUTES!
The initial work of shredding and portioning pays back so well!
Another easy way of freezing shredded rotisseri chicken is to make single portion of it. Then either use smaller ziplock bags or plastic wrap to wrap it a few times and chuck it in the freezer.
This makes it so much more usable then a whole frozen chicken!
The easiest way to shred a chicken is to take it off the bone in big chunks and then using a handheld or countertop machine, shred it using the whisk attachment. For lesser cleanup ,you can also go old school by using two forks.
Pros
Portioned shredded chicken that can be taken out as and when needed
Thaws & Warms fast
Can change it up by simply changing the condiment
Can be used in wraps, sandwiches , dips, curries and so much more!
Use every bit of the chicken, lesser wastage
Cons
Time consuming
Messy and more Clean up
Freezing Carved Rotisserie Chicken
This method is somewhere in the middle. It's not as much work as shredding but it's a little more work than sticking the whole chicken in the freezer bag.
You can just cut the chicken into leg, thigh, breast using a sharp knife or kitchen sheers. Store it in an air tight container and freeze it.
Once you carve it, there will still be some meat left on it which can be shredded and put away. You can discard the bones but a better thing would be to freeze it along with kitchen scraps and make a nutritious chicken broth.
Pros
Lesser work.
Easy to thaw and heat
Easy to track calories
Less wastage because you take out only what you need
Cons
Carving can be challenging for first few times.
Takes up more space in the freezer
Does not use the chicken bones to make a broth
How to Thaw Frozen Rotisserie Chicken
To use the chicken that you have frozen, you will need to bring it to room temperature.
If you cook it directly, you will have lots of frozen bits and overcooked bits. That's an absolute nightmare! In most cases, you cannot directly use the frozen chicken.
There are several ways to thaw the chicken
Overnight Slow Thaw in the Refrigerator
Thaw on the counter
Microwave
Water
Overnight Slow Thaw
All you have to do is shift the location of the chicken from the freezer into the fridge.
If you have a whole rotisserie chicken, it could potentially take 14-20 hours to completely thaw.
Shredded , Portioned chicken will take about 8-12 hours. Depending on how big the block of frozen chicken it.
Pieces of chicken will also take 8-12 hours.
Pros
Handsfree method
Safe Method
You can re freeze the chicken using this method
Cons
Thaw on the Counter
You can let the frozen chicken sit on the counter, in it's package.It will thaw and come to room temperature in 3-8 hours.
A whole frozen chicken will possibly take 5-8 hours to thaw on the counter.
The shredded chicken and sliced chicken pieces, will take 2-3 hours depending on the size of the peice.
Though this is also a handsfree method, it is not a method suggested by USDA.
Pros
Hands Free & Easy to do
Quicker than slow thaw in the refrigerator
Cons
Un safe. Bacteria may develop.
Cannot re freeze
Takes longer than other safer methods.
Microwave
If you own a microwave with a thaw option, this is the fastest method. It's also a method recommended by USDA and considered safer than thawing on countertop.
You have to unwrap the chicken, place it in a microwave safe bowl. Microwave using the thaw setting for 8-10 minutes.
You do have to keep an eye on the chicken through this
Pros
Cons
Not handsfree
More clean up
If you don't have a microwave or thaw setting, then its not a usable method.
Water Bath
The oldest method is to immerse the chicken in a water bath.
To do this, let the frozen chicken be in the plastic or ziplock bag still. Submerge it completely in a bowl or tap water. Let the water do its thing for 30 minutes.
Change the water after 30 minutes. A regular sized chicken should be thawed by 1 hour.
Pros
Safe
Easy to do
Partially handsfree
Do not need any special equipment
Takes lesser time than overnight thaw or the counter thaw
Cons
Have to change the water at least once.
Equipment needed to Freeze Chicken
I have a large freezer. And I found new found respect for it during pandemic. My freezer is always full.
I freeze curries, fruits, raw protein- chicken shrimp etc and quick air fryer snacks like french fries etc.
My go to containers are glass containers with air tight lids. I use them for heating, storing in refrigerator and in the freezer. They are very versatile and frankly the best investment in kitchen!
The other very easy and sustainable way is to use silicon bags. They can go into the dishwasher and can be re used. They take very little space and can be stacked as well.
That said, they do take a bit of color. Especially of Indian curries so if you don't like that, then this is not the option for you.
Another great option is this great portioned freezer tray. You can freeze individual portions. It's very convenient especially for curries and broth.
Though zip lock bags are the easiest option, they do make me very guilty. Even if you re use them, they cant be used beyond 4-5 times.
So I leave this option for only when I have no other way.
Can you refreeze thawed chicken
You are not the only one who forgets to cook the thawed chicken! I do it on a regular basis!
So what happens after? Can we refreeze the chicken?
Simple answer is Yes..but hold your horses..Read on to find out exactly how
You can re freeze chicken that's been slowly thawed in the refrigerator. The change in texture is minimal and it is safe to consume.
Freezing food changes the bonds inside the food. So every time you freeze, the texture changes slightly. When you re freeze chicken that's been thawed, it undergoes that cycle twice.
It's by no means bad or a huge change. So in my kitchen, I do it all the time.
Now what to do if you thawed the chicken on the counter or water? Do not freeze it again. Simply because on the counter top at a temperature of 40° F or above, bacteria have been introduced to it. So if you freeze it again, there is no way to determine how long it will stay good int he freezer.
You can read more about it on USDA website here.
How to Store Rotisserie Chicken in the Fridge
A rotisserie chicken has about 6 adult servings, when eaten as a main dish. So chances are ,there are always leftovers!
The best apart about rotisserie chicken is that you can use almost all of it! My usual approach is to serve it as a whole meal with a salad first.
Then whatever is leftover goes in a sandwich and then the carcass is used to make chicken broth.
I do this over 3-4 days meanwhile the chicken sits happily in the fridge.
If the chicken is hot, let it cool down completely before putting it in the fridge
If the rotisserie chicken is store-bought, and you know that you will eat it within 4-5 days, put it in the fridge within 1-2 hours of buying.
So what's the best way to store the chicken in the fridge?
There are three ways
Whole Chicken
When you are short on time or you want to serve the whole roast chicken in a couple of hours or tomorrow, you can store it straight from the super market into the fridge.
When you keep the cooked chicken in the fridge as a whole, it will loose it's crispy texture. It will get a tad bit soggy.
So what do you do if you have to serve this whole chicken after refrigeration?
Refresh a cold Chicken by first microwaving it for a quick 5 minutes.This way the insides will get warm.After that ,put it in a preheated oven at 200C for 10 minutes.
Serve the chicken in a fancy dish and I swear No one will ever know!
Shredded Chicken
The BEST WAY to put away the rotisserie chicken is to take it off the bone, shred it and store it in an air tight container in the fridge.
This way, you have ready to use chicken that can be directly added to your plate, or as a filling for sandwiches or to stir fries. The chicken also stays moist for longer when stored this way.
The bones can be used to make a nutrient rich chicken broth which you can add to everything from pastas to your savory oats in the morning.
The easiest way to shred a chicken is to take it off the bone in big chunks and then using a handheld or countertop machine, shred it using the whisk attachment. For lesser cleanup ,you can also go old school by using two forks.

Carved Chicken
This method is somewhere in the middle. It's not as much work as shredding but it's a little more work than sticking the whole chicken in the fridge.
This method is great because your chicken is already portioned into pieces which can be heated in a jiffy. It is also super easy to track calories etc.
You can just carve the chicken into leg, thigh, breast using a sharp knife or kitchen sheers. A well cooked chicken will come right off the bone.Store it in an air tight container.
Once you carve it, there will still be some meat left on it which can be shredded and put away. You can discard the bones but a better thing would be to use it to make your own chicken broth.
Refresh cold chicken pieces by heating it in a preheated oven at 200C for 10 minutes. For a crispier finish, you can also air fry it.
How long can Rotisserie Chicken Sit on the counter
The store bought rotisserie chicken can probably sit out for up to 2 hours. More if the ambient temperature is less than 20C or 50F.
Beyond this, the chicken will probably be unfit for eating.
Though, homemade roast chicken which has just been baked, can sit out for 3-4 hours.
Here are some Quick Recipe ideas for your Chicken
Sandwich - Mix the shredded chicken with mayonnaise, mustard and chopped cilantro. Your filling is ready!
Wrap - Almost like a souvlaki- Heat a tortilla or flatbread. Spread hung yogurt, tzatziki or Hummus. Add the chicken. Top it with some pickled onions and tonne of shredded lettuce.Enjoy!
Buffalo Chicken Dip - Mix shredded chicken with some Cream cheese, hot sauce, shredded cheddar and ranch seasoning. Mix and bake it till its bubbling! You have one hot chicken dip!
Chicken Clean Soup - My child calls this soup chicken. This is my instant soup! Just add a few veggies, a touch of soy sauce and the chicken in water. Let it come to boil. And you have a great 10 minute chicken soup for dinner!
Butter Chicken - I love using roast chicken to make butter chicken at home. The gravy is simple enough, especially if you use a whole lot of tomato puree and cream. All you have to do is add chunks of chicken to it! It's so so good!
Here are some of my Chicken Recipes that we make again and again!
Whole Chicken Roast Indian Style - Baked - add the leftover to curries! So so good!
Instant Pot Salsa Chicken - Made with beans, store-bought salsa and chicken breast
Butter Chicken - Stove Top & Instant Pot - Better than any restaurant butter chicken!