This post contains affiliate links. As an Amazon Associate I earn from qualifying purchases. Click here to read my policy.
PERFECT roasted chicken! All you need is 7 ingredients. Brine is overnight in herby buttermilk and roast it the next day!
Roast chicken cant get better than this! The first time I made this on Christmas and there wasn't a morsel left for me to taste!
So make sure you carve it and keep some aside for yourself first!
Moist buttermilk Brined Chicken Roast with Garlic & Herbs.
Did you think you can only fry brined chicken? Well you can do that too but this is lesser work! Plus making the whole bird makes me feel like I have accomplished something big!
Making Roast chicken that's been brined overnight in buttermilk is probably the best kept secret of the century! maybe centuries really!
It's so simple yet so so delicious!! I swear with this recipe, you can say goodbye to hard, chewy tasteless roast chicken.
Why Brine Chicken in Buttermilk
Have you ever roasted chicken that was dry, chewy and tasteless? Now think of the exact opposite - Succulent, moist, amazingly seasoned from the inside.
This Buttermilk chicken in just FANTASTIC!
It's the most magical Roast chicken which is tender, juicy ,Simply PERFETC !
This has really become a weakly(sometimes twice weekly!) affair cause my son loves roast chicken.
Also don't throw away those bones! Bone broth or a chicken stock made with the leftovers is so so so good and nutritious!
Using the stock instead of water in curries makes it even more flavoursome.It's liquid gold really!
Science behind using Buttermilk
The buttermilk- which is basically acid , will break down the bonds and tenderise the chicken from within making it moist and delicious.
In fact, yogurt or buttermilk is a very well known tenderiser.
Most Indian chicken and mutton curries are marinated in a yogurt and spice mix, which makes them easier to cook, tenderizes and seasons them from within.
The buttermilk also infuses the chicken with salt and seasoning. So you will never end up with bland roast chicken.
Ingredients
Here are the ingredients needed to make this gorgeous buttermilk brined chicken
Whole Chicken
Buttermilk
Garlic Powder
Onions Powder
Paprika
Herbs
Lemon
Salt
Additional- Small potatoes or any other root vegetable
Chicken
I have used a 2.5 pound chicken that has the skin still on.
Also! Find a small chicken if you can. They roast better and are generally more tender.
Baking a chicken with skin on retains its moisture and adds more flavor.If you don't want to eat the skin, that's perfectly all right. You can just discard it while eating.
Though I have to say it packs a lot of flavor..So as I tell my 5 year old to do..Taste it..and if you don't like it, you can choose to not eat it.
This recipe will work for other cuts of chicken too. You can use the same technique to cook a chicken breast or a leg.
You can also spatchcock the chicken and make it faster.
Buttermilk
You can use store bought buttermilk or make it at home.
Buttermilk is simply watered down yogurt. To make it at home, whisk the yogurt till its smooth. Add about 3 times the water and mix. Your buttermilk is ready.
For this recipe we need to submerge the entire chicken in the buttermilk brine. So you might need about 2 to 4 liter or quats of buttermilk.
If you are short on it by a cup or two you can just add more water.
Herbs
The buttermilk will carry the flavor inside the chicken. I like to add all kinds of herbs here. Any of the following herbs alone or in combination will work well
Parsley
Cilantro or coriander
Rosemary
Thyme
Oregano
Chives
Sage
You can use fresh or dried. For this recipe fresh would work better.
Here is a simple equation to substitute fresh herbs with dried herbs or vice versa
1 part of dried herbs = 3 parts of fresh herbs
Keep this in mind while substituting.
Garlic
You can use fresh or dried powdered garlic. Dried garlic powder is most convenient and easy to use.
If using fresh garlic, chop it up so that it can release the oils in the buttermilk.
Salt
You want the buttermilk to be salted like the ocean. Yes it will feel like a lot but remember it has to salt the 2-4 pound of chicken. Plus we discard all the buttermilk after.
Lemon
I like to pierce a lemon couple of times and stuff it inside the chicken. It cooks from inside and releases both aroma and the juice into the chicken.
Plus it smells heavenly!
You can also use lime here.
Additional Fat
I have left out any additional fat here except a drizzle of oil for the potatoes.
The chicken skin and buttermilk have enough fat to make this chicken fantastic. It really doesn't need anything else.
Roasting Root Vegetables
I love this by product of making roast chicken. You can use small potatoes or carrots.
I love adding halved new potatoes to the sides of the roast. They soak up the juices and the fat that the chicken releases.
Once the chicken is done, I roast the potatoes for an additional 20 minutes so that they get extra crispy.
I am not kidding but I and my husband literally fight over these potatoes! So make them! They are so rewarding!
Equipment Needed
Naturally ,you will need an oven ,big enough to bake the chicken. In addition to this, you will need a zip lock bag and a tall container. I have used the inner pot of my small 3 Qts instant pot.
The chicken has to be submerged in the brine completely. Plus it should be sealed so that it doesn't transfer the smell and germs to other stuff in the refrigerator.
Plus you will also need a roasting pan/cast iron pan / Baking dish.
How to Buttermilk Brine Chicken
Add everything to the zip lock bag. The chicken, buttermilk, salt, garlic powder, torn herbs.
Or you can mix everything except the chicken and pour the herby buttermilk on top of the chicken.
Seal the chicken and put it inside a tallish container so that the chicken is fully submerged in the buttermilk brine.
Let the chicken sit in the brine for at least 6 hours. Ideal is overnight or 24-30 hours.
You have to give buttermilk time to work its magic. That's literally the only catch of this recipe. Time!
Do you Rinse Chicken After Brining in Buttermilk?
No. That is not neccessary.
You do have to make sure that all the buttermilk has been wringed out of the chicken. I just hold it over the sink for a few minutes, so that all the buttermilk drips out of it.
After that, I also dry and pat the chicken so that the skin roasts to a crisp.
Can you Freeze Buttermilk Brined Chicken?
Yes. You can freeze the chicken with the brine in the ziplock bag for future use.
It should last for 3-4 months in the freezer.
To cook the chicken, let it thaw overnight in the refrigerator. Make sure that the brine and chicken is completely un frozen before proceeding with the recipe as it is.
How to make Buttermilk Brined Roast Chicken
Step 2: Prepare to Bake the Chicken
Remove the chicken from the brine. Use your hands instead of tongs beacause they can tear the skin.
Try and get all the buttermilk out.
Place it on the baking tin or in my case my trusty cast iron pan.
Pat the chicken dry. This will help make the skin crispy. So dab it out.
Leave it on the counter for a few minutes and you will see there is more buttermilk pooling below the chicken. Lift the chicken and drain that buttermilk as well.
Now you can truss the chicken if you want.Or you can tie the legs up so it cooks more evenly.
I usually don't do either. Though I usually cook with smaller chickens and its not an absolute necessity.
Step 3: Add Potatoes - Optional
This step is completely optional but like i said on top, i just love the chickeny crispy roast potatoes. I confess...almost more than the chicken itself.
All you have to do is halve them, toss them with olive oil and salt. Tuck them around the chicken.
I also use them to cover the wings so that they don't burn or overcook.
Step 3: Bake the Chicken
Preheat the oven for 10-15 minutes at 200C/400F.Let it be nice and hot.
Place the chicken inside. I usually set the timer for 20 minutes then rotate the chicken and repeat for another 20 minutes.
Aft the 40 minute mark, if my chicken is smaller than 3 pounds, it just needs another 10-20 minutes. If it's getting too brown, I use aluminum foil to tent the chicken.
Step 4: CHECKING
So how do we know the chicken is cooked?
If you have a internal thermo meter then that will certainly help.It should read anywhere between 165-170 degree F or 75 C.
Otherwise, just pierce the chicken between the thigh and body. Clear juices should ooze out.
Also, the last check is to cut open the leg and see if its cooked or not.In case you do that and it's not cooked, place it back in the oven and continue.
Most chickens would be cooked from 50-70 minutes.
TIPS & TRICKS TO MAKE ROAST CHICKEN
Let's talk about technique now.
Marinade the chicken for 24 hours to make sure its seasoned evenly from inside.
Use Aluminum Foil - This is a great baking tip. Anytime something is browning way faster than cooking from inside, tent it with foil. I do this with cakes and bakes as well.
Spatchcock Chicken - If you want the chicken to be more evenly roasted, you can spatchcock it. It halves the cooking timẹ.
Freezing Roast Chicken - Here you can find out all about how to freeze cooked rotisserie chicken in the best way possible.
Step 4: Rest
Once you have made sure the chicken is cooked, just let it rest. The chicken is still cooking at this point.
Letting it rest makes sure the juices disperse inside the chicken instead of oozing out completely.
LEFTOVER & STORING
Roast chicken should last in the refrigerator for upto 6-7 days. Make sure you keep it in an air tight container.
You can also freeze the chicken. My go to way is to freeze the chicken in shredded form. This way it takes very little time to thaw and heat up the chicken. Also I can put it straight away into bubbling soups and stews.
POSSIBLE VARIATIONS
Once you have your roast chicken game down, I am sure you will be ready to experiment!
Here are some more twists to your roast chicken
Fill the chicken with semi cooked rice. Imagine how delicious the rice cooked with the chicken juices will be!
Remove the Brine and season the chicken with a BBQ rub.
Change up the marinade with other spices like garam masala, peppercorns, nutmeg, cinnamon.
Also switch up the herbs.
My Favorite Kitchen Tools
Serving Roast Chicken
This chicken looks so gorgeous that it can be your center piece for any family dinner or gathering.
Your guests will literally sing your songs.
You should serve these with crispy potatoes made along with the roast or you can whip up a quick mashed potato to go with it.
The chicken can be served whole in the pan it was baked in or you can cut it up into individual portions.
Here are some Chicken Recipes for you
Indian Style Roast Chicken- Whole chicken roasted with indian spices and yogurt
Herb & Paprika Roast Chicken - herby spicy chicken
Kerala Style Roast Chicken - Chicken Roast with Malabar spices
Instant Pot Tandoori Chicken - Indian Roast Chicken made in the instant pot and grilled in oven
Instant Pot Salsa Chicken - Easiest most delicious shredded chicken made with beans and storebought salsa.
If you tried making this delicious buttermilk brined chicken, do leave me a note in the comments. I would love to hear your thoughts!
Find us on Instagram , Pinterest & Facebook here!
If you liked my recipe, do leave a comment!
It will help others find this amazing recipe too!
---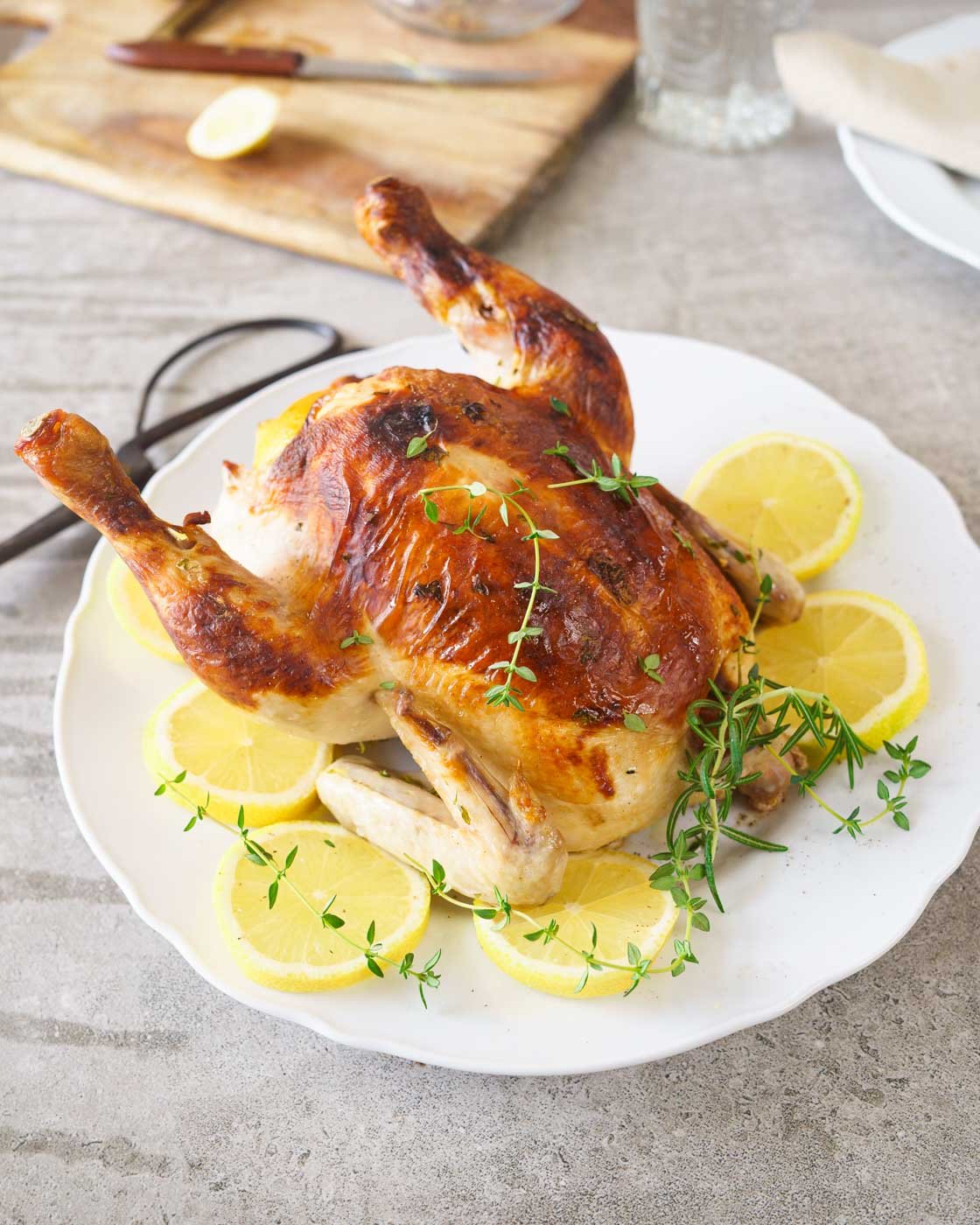 Equipment Needed
Oven

Zip Lock Bag

Baking Dish
Ingredients
1

Whole Chicken

preferably with Skin*

2

quarts

Buttermilk

about 2-4 liters-Check notes*

1

Cup

Fresh Herbs

Check notes

1

teaspoon

Garlic Powder

1

teaspoon

Onion Powder

1

teaspoon

Paprika

2

tablespoon

Salt

seems a lot but only a fraction of this will get absorbed
Instructions
Mix together the garlic, pepper,salt and buttermilk.Add the Salt.The marinade should be very salty- as salty as sea water.

Put the chicken inside a freezer bag. Pour the marinade over it.

Marinate in the fridge for at least 2 hours to 48 hours.24 hours being ideal.

Take the Chicken out of the fridge. Discard all the buttermilk.

Dry the chicken with a kitchen towel. Make sure to remove all the buttermilk from inside.

Pre Heat the oven to 200 degree C or 400 F.

Prepare a roasting pan or a tray.

Place the chicken on the tray- breast side down.Tuck the wings under.

Bake is in the oven for 60-70 minutes rotating the pan midway.

Tent the chicken with aluminum foil if any part is browning too much.

To check the doneness of the chicken- pierce the chicken at the body-thigh joint.If clear juices ooze out then the chicken is cooked.

Let the chicken rest for 15-20 minutes before you serve it. This will make sure the chicken is moist.
Additional Step for Roast Potatoes
Remove the chicken from the baking pan. Mix the potatoes with the leftover juice. Return to the oven for 20 minutes at 220C or 420 F till they are crispy.
Notes
Potatoes & Other Vegetables
This step can be skipped if you need to.But the crispy potatoes cooked in the chicken fat and the leftover marinade are delicious!
Herbs
You can use any of the below herbs by itself or in combination
Parsley
Cilantro or coriander
Rosemary
Thyme
Oregano
Chives
Sage
You can use fresh or dried. For this recipe fresh would work better.
Here is a simple equation to substitute fresh herbs with dried herbs or vice versa
1 part of dried herbs = 3 parts of fresh herbs
To add more zing to the chicken, you can either add a spicier  chili like Cayenne or green chilies in the brine.
Buttermilk
You can use store bought buttermilk or make it at home.
Buttermilk is simply watered down yogurt. To make it at home, whisk the yogurt till it's smooth. Add about 3 times the water and mix. Your buttermilk is ready.
For this recipe we need to submerge the entire chicken in the buttermilk brine. So you might need about 2 to 4 liter or quats of buttermilk.
Nutrition
Calories:
420
kcal
|
Carbohydrates:
2
g
|
Protein:
36
g
|
Fat:
29
g
|
Saturated Fat:
8
g
|
Trans Fat:
1
g
|
Cholesterol:
143
mg
|
Sodium:
3631
mg
|
Potassium:
469
mg
|
Fiber:
1
g
|
Sugar:
1
g
|
Vitamin A:
1776
IU
|
Vitamin C:
23
mg
|
Calcium:
47
mg
|
Iron:
3
mg
If you liked the recipe, please leave us a rating
Follow me on Instagram
My handle is @yellowthyme