Homemade Vegan Natural Protein Powder- How to make protein powder at home with easily available natural ingredients. Dairy Free, Gluten Free & Soy Free!
We will use just 6 ingredients - Hemp Seeds, Almonds, Flax Seeds, Pumpkin Seeds, Chia Seeds & Sunflower Seeds
Jump to:
TASTE: Nutty, With the taste of almond
TEXTURE: Powdered
EASE: Super Easy!
APPEARANCE: Specks of brown, grey and green
Serve with : Smoothie, yogurt, Oatmeal
Pros : Protein packed powder made with Almond and seeds
Cons : Can be high in calorie
This is a Vegan Dairy Free protein powder recipe that you can make in your own kitchen!
You can add it to smoothies, pancakes, oatmeal, yogurt. Really anything and everything!
This is what we will do.
Measure & Toast all the seeds
Let it cool
Blend it to a coarse powder
My husband wanted me to create a natural protein powder that was free of artificial sweeteners , un pronounceable names , with Whole ingredients.
Something that he could throw in a mixer, along with a banana and some milk and call it a day. He wanted a catch all nutritional shortcut.
This was my gift to him.We have been using this for past 6-7 years.I have made several versions of this.
I have gifted this protein powder to a lot of my family and friends. It continues to be a staple in our diets.
I add it to random things- Pancakes, Cookies, Shakes...Sometimes make a savory version of it to sprinkle on my eggs.
Why we love this DYI Protein Powder
We have been making this protein powder for about 8-9 years now and here is why we love it!
All Natural, easily available ingredients
Plant Based
No Soy, dairy, artificial ingredients
Whole, no extraction etc
Easy to make
Easy to use!
Ingredients
All natural ingredients protein powder has just a handful of easily available ingredients. It has no lentils or no milk powder.
Chia Seeds
Sunflower Seeds
Hemp Seeds
Pumpkin Seeds
Flax Seeds
Almonds
If you already know all about these ingredients, skip ahead to how to make the protein powder section.
Chia Seeds
I love Chia seeds..in fact I loved them even before they became the "Superfood" that they are known to be now.
Some real ,quantifiable reason I added chia seeds is because,they are
-Very High in Anti oxidants
-High in Vitamins and Minerals like Calcium,Potassium & Mangnesium
-20% of it's nutrient content is protein
-20 % is made up of Omega 3s
-37% Fibre.
Other than this it is also good for people with diabetes ,heart & digestive health. You can read this article for more in depth nutrient analysis of Chia Seeds
Sunflower Seeds
These green seeds are a power source of some hard to get nutrients like Copper,Vitamin E,Selenium & Vitamin B.In addition to these, Sunflower seeds are high on essential fatty acids,a great source of healthy fats,protien & fibre.
Hemp Seeds
Hemp Seeds or Hemp hearts are the seeds of hemp plant.Hemp seeds are the best plant based protein available naturally.
The reason I added hemp seeds is because,
-100 gms of Hemp Seeds have 32 gms of protein!
-High amounts of Omega 3s and Omega 6s
Pumpkin Seeds
These seeds are again a high source of protein & antioxidents.Theya re also very good for heart health & Blood sugar control.

- 100 gms of pumpkin seeds have 30 gms of protein!
Read more about their health benefit here
Almonds
I dont think I need to say anything about Almonds. I think I have had them soaked for at-least half my days on this planet earth. We Indians take them very seriously!
Obviously they are loaded with massive truckload of nutrients and it was in fact the first ingredient that I chose for this Vegan Homemade Protein Powder.
Flax Seeds
I think you understand now.The reason I have chosen these specific seeds and nuts is because they are very good, balanced source of nutrients.
Flax Seeds are
-the number 1 source of Lignans which may reduce the risk of cancer and heart diseases.
-Great source of Omega 3s
-Fibre
-They promote healthy hormonal balance
-A great source of high quality protein.
Why make Protein Powder at Home
I understand this question. When there is so much easily readily stuff available in the market, why make protein powder at home?I have a few reasons
1 gms of protein per pound of body-This is the recommended intake of protein for people. And quite frankly it is pretty difficult to achieve. Especially for vegans and vegetarians. So we need to more than just 1 source of protein. This powder can be viewed as a supplement to all other protein sources that you are already taking.
Whole Nuts & Seeds-This protein powder has nuts and seeds that are power sources of nutrients. They aren't a single dimensional source of protein or fat but multi dimensional sources of various nutrients. There are so many studies out there talking about benefits of seeds and nuts.
Most store bought protein powders have isolated proteins which helps you gain muscle mass and complete your daily protein requirement. But have you ever wondered how are these powders so high on protein but extremely low on the other macros?
A little research will tell you that these protein powders are highly processed to remove the other ingredients such as fats, fibre and carbs so that a small amount of powder provides large amount of protein.That's one of the reasons I decided to make my own Vegan Homemade Protein Powder.
Do you remember the whole wheat movement?There are so many documentaries made on how whole of America was suffering from lack of nutrients and basic macros which were removed while processing the wheat to make it into all purpose flour(maida).
If removing the bran and germ from wheat to make all purpose flour , removes all its nutrients and makes it empty, I can't imagine what removing fat, fibre and carbs from naturally available nuts and whey to make concentrated protein would be doing to these ingredients.
And what about addition of unpronounceable ingredients in those powders to stabilise,texturize and flavour them?
I decided to ditch the store-bought protein powders and make one on my own Vegan Homemade Protein Powder.
This Vegan Homemade Protein Powder, though work in progress is a small step towards making a healthy nutrient rich protein supplement which is unprocessed, natural and totally free of crazy ingredients.
How to make protein powder at home
Step 1: Measure
If you are particular about the protein, carb , fat ratio, please measure the ingredients by weight.
This way you will know exactly how much you are consuming. Plus it will make it easy to track too.
Step 2: Toast
Toasting helps in removing extra moisture from the nuts.
On a good day, I toast the almonds, flax seeds, pumpkin seeds & sunflower seeds separately.
though when I am in a hurry, I just dump everything in a pan and lightly toast till everything is warmed up.
Step 3: Cool & Blend
Once you have toasted the nuts and seeds, let them cool completely before you blend them
If you blend them warm, they can turn into nut- seed butter instead.
Blend the seeds in batches so that you can get a fairly fine powder.
Storing
Since there are no artificial stabilisers and preservatives, this powder will not last long on the counter.
I store the powder in the freezer section, inside a air tight container.It stays in it's powder form. This way I can easily use the powder for 4-6 months.
A lot of times, I buy the the ingredients on sale, roast and mix the ingredients and store it in a ziplock bag in the freezer. Not grinding them makes them last even longer.
How to use this Protein Powder
This is simple.Just add it to any smoothie you make.
The easiest is- Milk of choice, Banana, Strawberries, 2 tablespoon Protein powder. That's all.
It has everything- Protein,fat,Carbs.The sugar from banana is enough to make the protein shake delicios.
I also add it to cakes,cookies and pancakes.
Disclaimer
Before you run off to make the Vegan Homemade Protein Powder, let me say a few things upfront.
Disclaimer
Please consult your doctor before consuming this if you have diabetes,heart disease, allergies or are pregnant.
I don't promise crazy a lean, muscled body.
This is not a meal replacement powder
Find us on Instagram , Pinterest & Facebook here!
If you liked my recipe, do leave a comment!
It will help others find this amazing recipe too!
---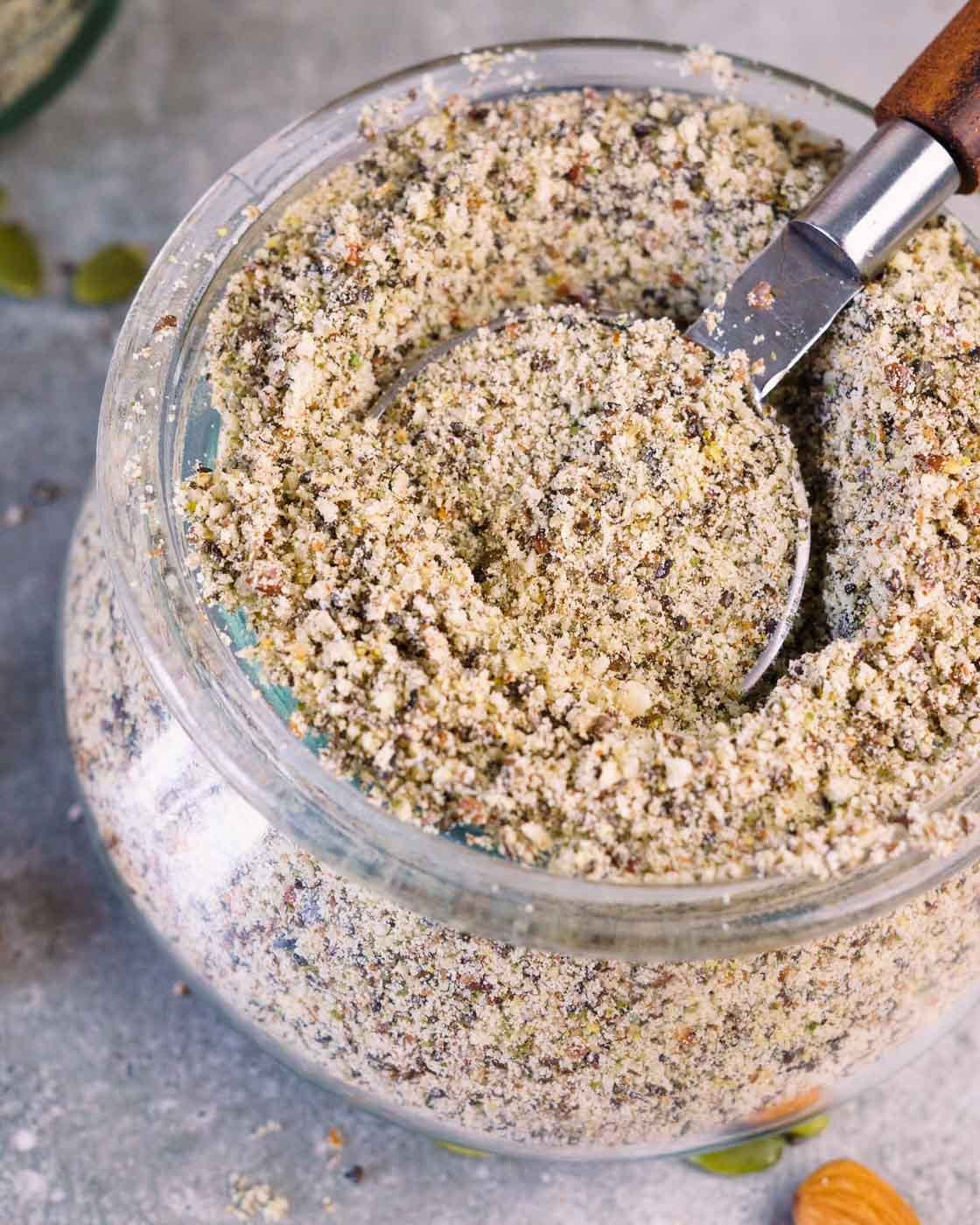 Ingredients
100

gms

Hemp Seeds

100

gms

Pumpkin Seeds

200

gms

Almonds

100

gms

Chia Seeds

50

gms

Flax Seeds

50

gms

Sunflower Seeds
Instructions
Lightly toast all the ingredients in oven or in a flat bottomed pan.

Let the mixture cool completely.This step is important otherwise while grinding these the mixture will become into a butter instead of a powder.

Pulse the mixture in your food processor.Remember not to over grind it otherwise the nuts and seeds will release their natural oils and become a nut butter instead.

Store in an air tight jar.
Nutrition
Serving:
20
g
|
Calories:
167
kcal
|
Carbohydrates:
6
g
|
Protein:
7
g
|
Fat:
14
g
|
Saturated Fat:
1
g
|
Polyunsaturated Fat:
7
g
|
Monounsaturated Fat:
5
g
|
Trans Fat:
0.01
g
|
Sodium:
2
mg
|
Potassium:
171
mg
|
Fiber:
4
g
|
Sugar:
1
g
|
Vitamin A:
31
IU
|
Vitamin C:
0.2
mg
|
Calcium:
76
mg
|
Iron:
2
mg
If you liked the recipe, please leave us a rating
Follow me on Instagram
My handle is @yellowthyme
SaveSave
SaveSave
SaveSave
SaveSave
SaveSave
SaveSave
SaveSave
SaveSave
SaveSave
SaveSave
SaveSave
SaveSave
SaveSave
SaveSave
SaveSave