Instant Pot Rajma- One Pot Punjabi Rajma Chawal made using Dried or Canned Kidney Beans in Pressure Cooker. Easy & Low Effort Indian Curry recipe.
I never thought making Rajma will get so easy. There is no soaking and no lengthy sauteing to make the masala.
There are obvious virtues in making a proper Rajma Masala but making Instant Pot Rajma without Soaking with the least effort possible has been my goal for as long as I can remember!
This is a shortcut method.
There are times when nothing but Rajma Chawal(Rajma and Rice) will do.And if you haven't prepped last night or don't have as much brain space to give it the time, then this is the recipe for you.
Everyone needs 1-2 recipes of your favorite foods right? One for when you want to go all out, that's the Restaurant Style Punjabi Rajma Masala and one for when you just want to eat your favorite food without making much effort. This is that recipe.
Why make Rajma In Instant Pot
Here is why we love making this No Soak Instant Pot Rajma
No Baby Sitting. This recipe has very little active time. Instant Pot does all the work!
No Soaking required.
No Making the bhuna MAsala
One pot recipe
No Chopping and Cutting
"Keep Warm" setting allows you to have hot meals anytime.
This method is sort of OPOS- One Pot One Shot Instant Pot recipe.
You put the dried kidney beans along with a puree of tomatoes and onions and pressure cook it all together for 65 minutes on HIGH.
At the end of 65 minutes, you add the Spices and chickpea flour( Besan )mix to make the gravy thick & bring it to boil. That's it.
It's a 95 % hands free recipe. 60 minutes out of the total 72 minutes is inactive time .
Meaning you don't have to do anything and can spend that time doing to laundry or watching Netflix!
Oh also! no chopping onions or tomatoes! You just give them a quick whiz in the blender and use pureed version. What a win!
Ingredients for Rajma
Dried Kidney Beans/Rajma
Vegetables - Onions, tomato, ginger & Garlic
Indian Spices -Black Cardamom, Bay Leaf, Chilli powder, dried Mango powder, Garam Masala and Kasoori Methi
Besan- Chickpea flour
Dried Kidney Beans- I use the chitra or Pinto beans. I love how they become buttery when cooked under pressure. Also they have a thinner outer covering and digest easily. You can also use the small Kashmiri variety or the red rajma.
Based on the type of rajma you use, the time might vary.
Besan or Chickpea Flour- This will give this rajma the body it needs.It will make the gravy silky.
Onions- Red or white onions work well.In Rajma, as a rule, you use double the amount of tomatoes to onions.
Tomatoes- Use the ripe red ones. You can also use canned crushed versions.
A note on the Spices- If you can't find all the spices, simply omit and make the curry without them.
How long does it take to cook kidney beans in Instant Pot?
It depends on a lot of factors. But in short here it is
Soaked Rajma- 20 -30 Minutes
Dried Rajma without Soaking- 60-70 minutes
Canned Rajma - 5 minutes
If you are using old rajma that's been lying in the back of your cupboard for months. Well that stuff would take longer than freshly bought Rajma.
How can I soften rajma quickly?
Here is what you can do.
Soak the Rajma in boiling water for 60 minutes and proceed as if you soaked them overnight
Pressure cook for longer. As in this recipe.
Do I need to soak beans before pressure cooking?
How to make Kidney Beans without soaking in the instant pot
Step 1: Give the dried Kidney beans a quick rinse under running water.This is to get rid of any dust or husks etc.
Step 2:Puree the onions, tomatoes, ginger and garlic into a smooth paste.(1,2)
Step 3: Using the SAUTE mode, heat the oil.Add the bay leaf, cumin and black cardamom.(3)
Step 4: Add the puree and saute for 3-4 minutes till the puree turns reddish orange.(4,5).
Step 5:Add the washed Rajma along with salt and 3 cups of water(6,7)
Step 6: Cancel Saute and Select PRESSURE COOK/MANUAL HIGH option, Close the lid
Pressure cook on HIGH pressure for 65 minutes with the steam valve at SEALED position followed by Quick Release.
You can also wait for the pressure to reduce a bit, maybe 5-10 minutes and then release the pressure.
Step 5: Add the spice mix, give it a mix and let it boil once in sauté setting.
Squeeze a whole lime and check the salt etc.(8)
Garnish with Coriander and serve hot.
A Faster Rajma in instant pot
You can make a faster version of this curry but simply soaking the rajma overnight. Soaking will do two things
Make the Rajma cook evenly.
Halve the pressure cooking time.
It also helps when you have older kidney beans. They tend to be a little more difficult to cook.
Dietary Details of Rajma
This curry is
Vegan(if you use oil instead of ghee)
Gluten Free and very healthy.
Instant Pot Rajma using Canned Beans
If there was ever a faster way to make Rajma chawal! Oh yes there is!
Use canned Pinto beans to make this curry in a jiffy. Here is how.
For this recipe, you will need to use 2 cans of Rajma.
Step 1: Drain and Rinse the canned Rajma.
Step 2: Puree the tomatoes, onions, ginger garlic. Sauté with oil/Ghee in the instant pot.
Step 3: Add the Rajma with 2 cups of water.
Step 4: Pressure cook for 5 minutes.
Step 5: Open and shift to sauté setting. Add the spice mix. Let it come to boil. That's it!
Garnish and enjoy!
Tips and Tricks
This curry can be made a whole lot faster by soaking the kidney beans overnight. Follow the same steps except set the pressure cooking time to 20 minutes instead.
If you can't find a certain spice- simply omit it.
Make sure you puree the onions, tomatoes, ginger and garlic well.This will ensure a smooth and silky gravy.
Type of Kidney Beans- I have used light brown colour kidney beans but feel free to use the dark brown/maroon beans for the same recipe.
Chickpea Flour - This ingredient thickens the gravy.If you can't find it, replace it with cornstarch instead.Mix cornstarch in 2 tablespoon of water before adding.
Make sure the kidney beans are not too old.If they are old- they will take longer to cook.
Leftovers & Storing
You can pop cooled Rajma in the a air tight container and refrigerate it for up to 3-4 days.
Rajma freezes pretty well. Anything which has a little bit of a gravy freezes pretty well. I always put any leftover rajma in a zip lock bag, add a date and then freeze it flat. After which i stack it in the freezer.
This is my quick trick to always have my favorite meal in touching distance..Lol.
It will last for about 2-3 months in the freezer. Make sure that you let the curry come to room temperature before freezing.
How to serve Instant Pot Rajma
Serve the Rajma with Chappatis or Steamed Rice.I usually love it with simple Jeera Rice.
A perfect plate of Sunday Rajma Chawal will usually have the following
Steamed Rice or Jeera Rice
Rajma
Sliced onions, maybe cucumbers
Dry Sabzi- like Bhindi(Okra) or Masala Aloo (Potatoes)
Rajma Rice(Rajma Chawal) is a very famous indian combination. It's a dish thats made almost weekly in most north indian households.
I remember, I used to love Rajma chawal and my brother used to love Chole chawal. It used to be made every Saturday and Sundays!You can find my go to instant pot punjabi Chole recipe here.
I use a 6 qts instant pot and I love it! If you are in India and are looking to understand how I use it here, you should read my post on instant pot in India.
More Instant Pot Indian Recipes
Instant Pot Chana
Instant Pot Kali Dal aka Dal Makhani
Instant Pot Langarwali Dal
Instant Pot Toor Dal
Instant Pot Dal Palak
Please let me know how your Rajma turns out in the comments! I love hearing from you.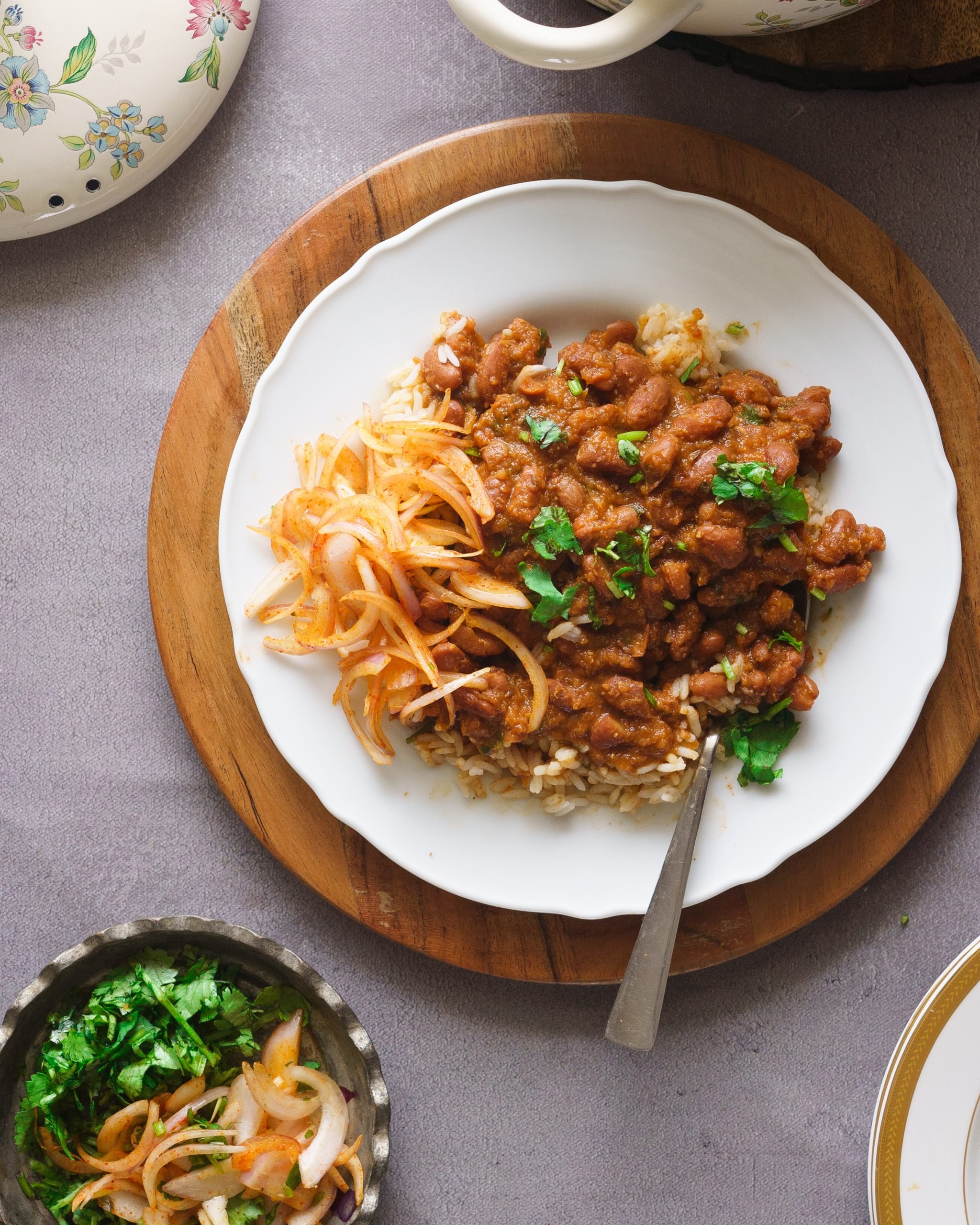 Ingredients
1

Cup

Dried Kidney Beans

Rajma ; or Use 2 cans of Kidney Beans/Pinto Beans

3

Cups

Water

1

Cup

Onion- roughly chopped

About 150 gms

1.5

Cup

Tomato- roughy chopped

abut 200 gms

1

cm

Ginger

peeled

3-4

Garlic Cloves

peeled

1

tablespoon

Ghee

or oil

1

teaspoon

Cumin

Jeera

1

Black Cardamoam

kali elaichi

1

Bay Leaf

Tej Patta

2

Cloves

Salt as per taste

1 tsp+
Instructions
Mix everything listed under the spice mix in a bowl with ¼ cup of water. Set Aside.

Puree the Onions,Tomatoes,Ginger and Garlic.

Switch on the SAUTE setting in the instant pot.

Once the pot it hot, add oil. Let it become hot.

Add Cumin(Jeera),Bay leaf and Black Cardamom. Saute for 20-30 seconds.

Add the Puree and saute for 4-5 minutes till it changes colour from pink to orange(ish red).
Using Dried Rajma or Kidney Beans
To this, add the washed kidney beans, salt and 3 cups of water.

Switch off the SAUTE setting,Close the lid, Select PRESSURE COOK/MANUAL on HIGH,Set the timer for 65 minutes,Pressure Valve at SEALING.

Once the cooking time is done, wait for 5 minutes, Quick release the pressure after.

Open the lid. Change to SAUTE setting.

Add the spice mix, bring it to boil once.Garnish with Coriander leaves and serve with rice.
Using Canned Pinto Beans/ Kidney Beans
Drain and rinse the canned kidney beans.

Add it to the instant pot.(After the puree has turned Orange)

Select PRESSURE COOK/MANUAL on HIGH, Set the timer for 5 minutes, Pressure Valve at SEALING.

Once the cooking time is done, wait for 5 minutes, Quick release the pressure after.

Open the lid. Change to SAUTE setting.

Add the spice mix, bring it to boil once. Garnish with Coriander leaves and serve with rice.
Notes
A note on the Spices- If you can't find all the spices, simply omit and make the curry without them.
Chickpea Flour is used to thicken the gravy. You can use other flours like corn flour or arrowroot flour too.
Storing and Leftovers
Let it cool completely before refrigerating or Freezing. It can last up to 4-5 days in the refrigerator.
You can freeze it up to 3 months.
Serving Suggestions
Serve with Parathas or Jeera Rice.
Add a Vegetable stir fry like Bhindi(Okra) or Potatoes as a side.
Nutrition
Calories:
209
kcal
|
Carbohydrates:
33.7
g
|
Protein:
11.4
g
|
Fat:
4
g
|
Saturated Fat:
2.1
g
|
Cholesterol:
8
mg
|
Sodium:
16
mg
|
Potassium:
839
mg
|
Fiber:
8.5
g
|
Sugar:
4
g
|
Calcium:
62
mg
|
Iron:
4
mg
If you liked the recipe, please leave us a rating
Follow me on Instagram
My handle is @yellowthyme
Read about how to make indian food in Instant Pot in detail here
Part 1: Instant Pot for Indian Cooking
Part 2: Which Instant Pot Model to buy
Part 3: Making Indian Food in Instant Pot