Instant Pot Spanish Rice-Better than Restaurant Mexican Rice , made with onion, bell pepper and Tomatoes.
Every table needs this rice! It's has oodles of flavour and it's very easy to make.Have you made rice in your instant pot yet? It is life changing! No overcooked rice, no guess work and no hovering over the pot !!which also means no burnt rice! Lol..I have been there a lot of times...
This rice recipe is very versatile because it is Gluten Free,Vegan rice dish.You can make it into a one pot meal by adding some beans at the time of cooking.Check out my Instant Pot Burrito Bowl for a one pot Mexican rice recipe.
Fluffy Red Rice Rice or arroz Rojo, is perfect for any meal.The ingredients are easily available and it goes with almost everything! It's high on flavour but so so low on effort so its perfect for meal prep.Especially in an instant pot!
I can eat it with just greek yogurt on the side.Though it would be wonderfull with some Chicken or some beans with a side of creamy avocadoes.This is also a good recipe to make burriotos wraps or bowls.
This instant pot mexican rice is perfect for meal prep too.You can add different types of protein to make it interesting!
Ingredients for Instant Pot Spanish Rice
Here is the ingredient list for the Mexican Red rice.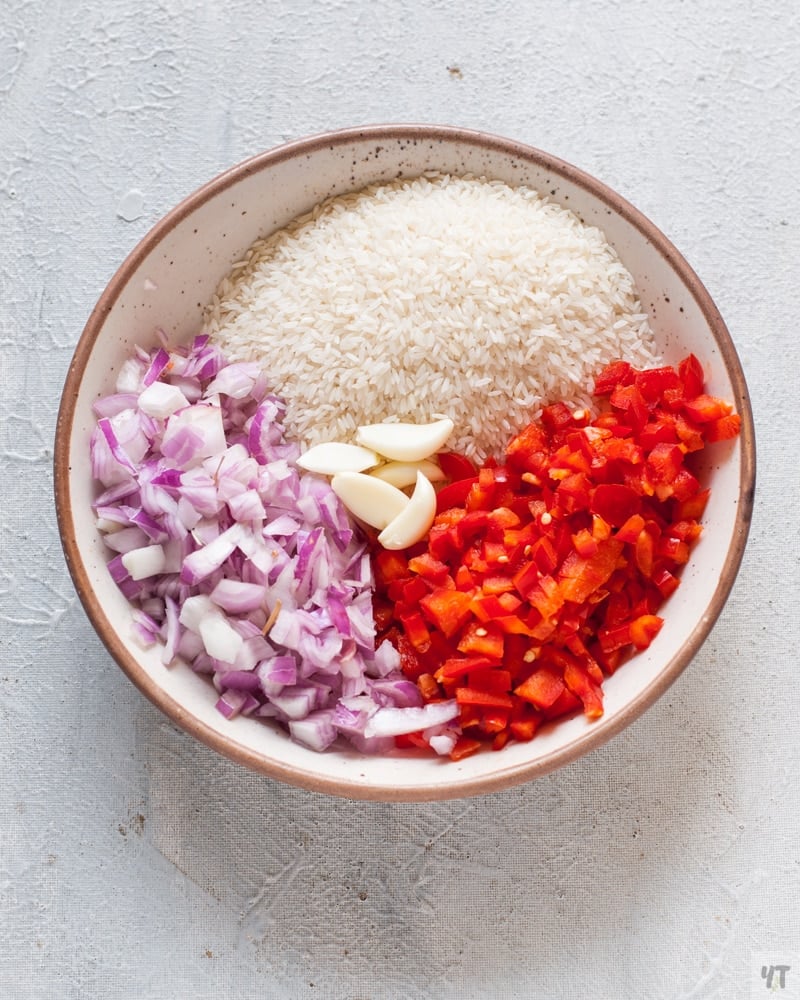 Rice - Long grain White rice is preferred here- like basmati rice.You can also use Brown rice but change the pressure cooking time to 20 minutes.
Onion- Red,Yellow or White
Red Bell Pepper
Tomato Puree or paste- You can use 2 tablespoon of tomato paste instead.In a pinch, tomato sauce will also work.
Cumin- Ground Cumin
Paprika- Or any other mild chilli
Garlic- Fresh or powder
Jalapeno- This is optional.I added ¼ of 1 jalapeno.
Water-Using Chicken Broth is a quick way to add more nutrients without adding more work!
You can also add diced peas and carrots to this rice.To make it even more interesting and a complete meal, i would suggest adding some sausage or cooked chicken to it.You could also add some beans and corn kernels to make it into a one pot meal.
I usually keep frozen veggies handy to add in a jiffy without chopping and cutting.
This recipe would also work with quinoa or other millets.Reduce the amount of water to suit the grain you are using.Quinoa usually needs 1 to 1.5 times the water in the instant pot.Also try my Instant Pot Burrito Bowl.This is a one pot meal, so nutrient dense and so full of flavour !It's absolutely delicious.
How to make Spanish Rice in Instant Pot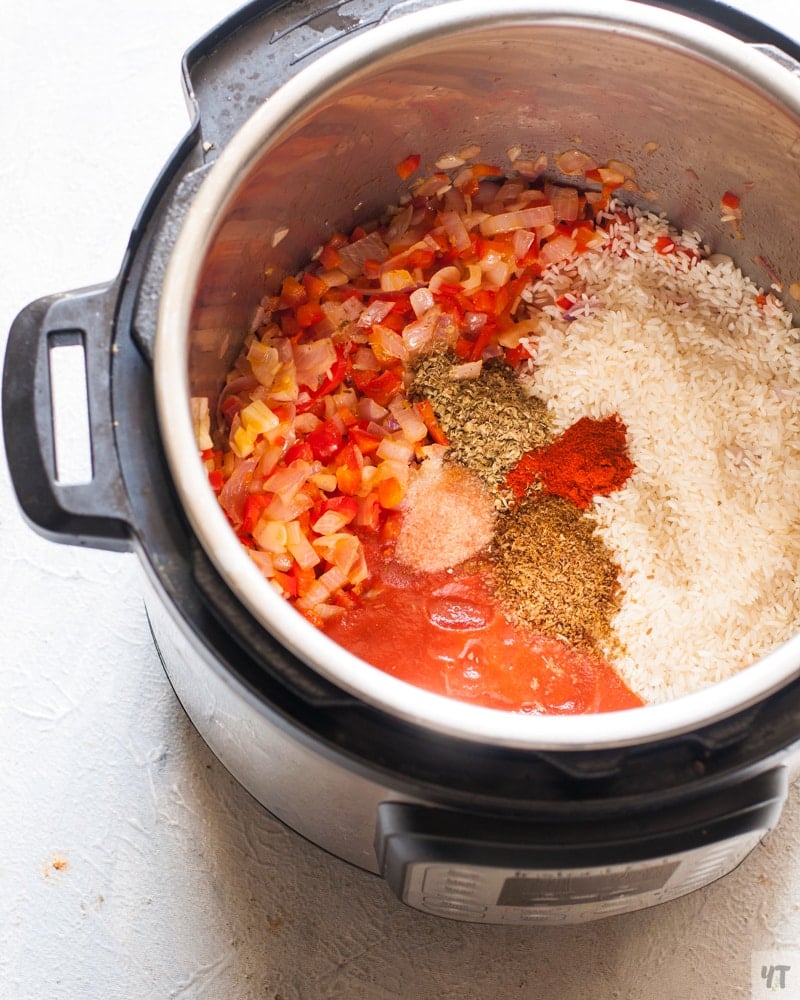 Step 1: Saute
Select the saute function and heat the instant pot.Once the pot is "Hot", add oil and saute the onion and bell pepper till translucent. Just about 3-4 minutes.
Step 2: Pressure Cook
Rinse the rice under running water to get rid of any unwanted dirt and particles.
Add the tomato puree, rice, garlic & spices- cumin, oregano, salt, paprika.Add 1 +¼ Cup of water.Give it a mix.
Close the lid and pressure cook for 6 minutes on HIGH with the valve closed.
After the time is over, let the pressure release naturally for 10 minutes before quick releasing the pressure.
Open the pot, fluff the rice with a fork.
Garnish with cilantro and serve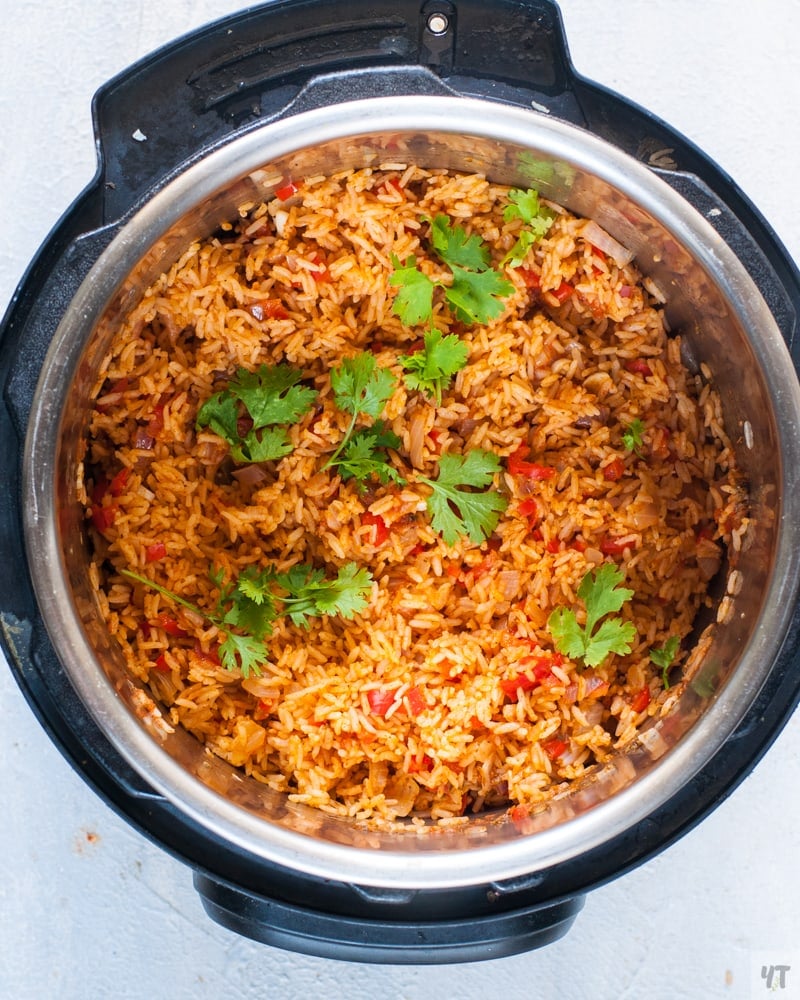 Other Instant Pot Mexican Recipes
Here are some more Mexican instant pot recipes that you would love!I would highly suggest making the chicken tinga and chicken carnitas as an accompaniment to the spanish rice.Especially if you are into meal prepping!
Instant Pot Burrito Bowl- A must try!
Instant Pot Salsa Chicken
Instant Pot Chicken Tinga
Instant Pot Vegan Chili
Instant Pot Chicken Carnitas
More Instant Pot Rice Recipes
If you cant get enough of rice like us, here are some more easy instant pot rice recipes.These are easy to put toghether on a busy weeknight and highly nutrious too!
Instant Pot Mushroom Parmesan Rice
Instant Pot Chicken and Brown Rice
Instant Pot Chicken and Yellow Rice
Instant Pot Egg Fried Rice
Instant Pot Vegetable Biryani
Instant Pot Shrimp Pulav
---
Find us on Instagram , Pinterest & Facebook here!
If you liked my recipe, do leave a comment!
t will help others find this amazing recipe too!
---
Ingredients
Instructions
Select Saute Mode.Add Oil once it's hot.

Add onions and bell peppers and saute till translucent. About 2-3 minutes.Cancel Saute.

Add tomato pasata(or puree or paste),garlic,salt,spices- cumin,oregano,paprika and jalapeno. Add 1.25 cups of Water(check notes) & Rice and mix.

Close the lid.Select PRESSURE COOK for 6 minutes on HIGH with the pressure valve CLOSED.

After the cooking time is over, let the pressure release naturally for 10 minutes before releasing the pressure manually(Quick Release)

Fluff the rice with a fork,garnish with cilantro and serve
Notes
Rice
If using long grain basmati rice- use 1:1.25 water.
If using short grain rice/regular rice-use 1:1.5 water for eldente rice & 1:2 water for soft rice
If using brown rice- use 1:1.5 water for 20 minutes.
Nutrition
Calories:
208
kcal
|
Carbohydrates:
43.1
g
|
Protein:
4.4
g
|
Fat:
1.9
g
|
Saturated Fat:
0.3
g
|
Fiber:
2.2
g
|
Sugar:
3
g
|
Calcium:
43
mg
|
Iron:
2
mg
If you liked the recipe, please leave us a rating
Follow me on Instagram
My handle is @yellowthyme