Instant Pot Spanish Rice or arroz rojo made in the pressure cooked. This classic side dish is perfect for your taco Tuesday. It's Vegetarian, Vegan, and full of veggies!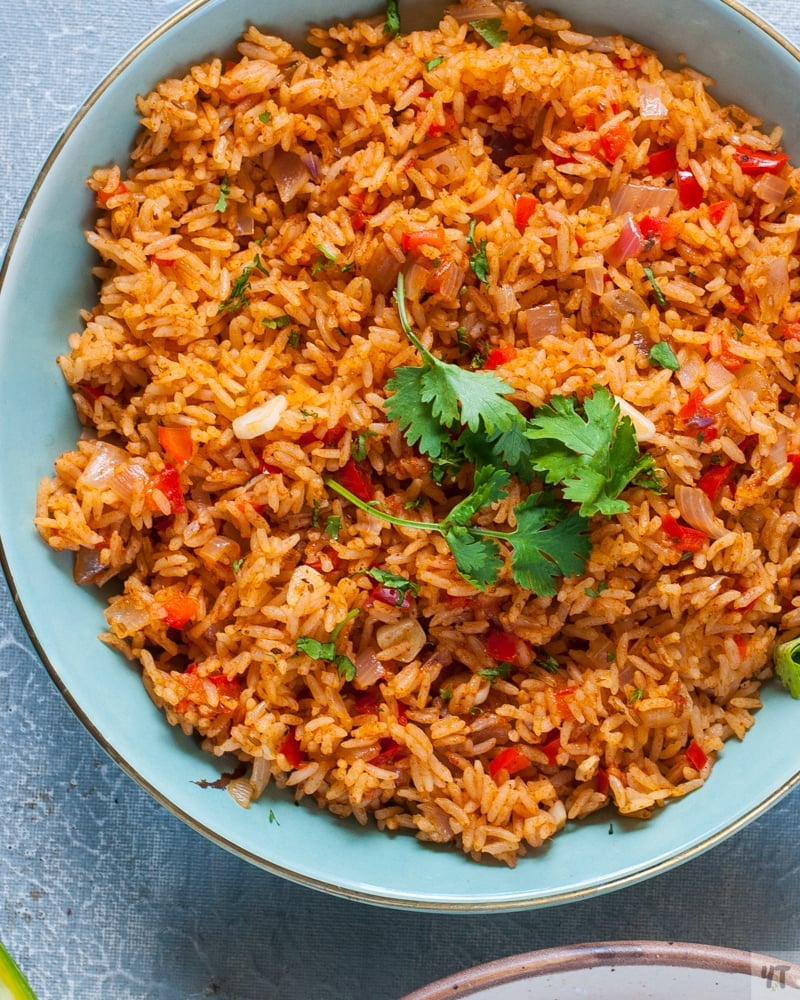 Jump to:
This perfect side dish has oodles of flavor, and it's effortless to make.
Have you made rice in your Instant Pot yet? It is life-changing! No overcooked rice, no guesswork, and no hovering over the pot !! Which also means no burnt rice!
This rice recipe is very versatile because it will go with all your Mexican-inspired meals.
The ingredients are readily available; you can use them to make chicken enchiladas, tacos, and burritos.
If you love burrito bowls, you must see my instant pot burrito bowl recipe. It is everything in one pot, one shot. It's a great recipe if you love Mexican food but are short on time!
Here is what we are going to do
Saute the aromatics
Pressure Cook everything
Ingredients for Instant Pot Spanish Rice
Here is the ingredient list for the Mexican Red rice.
Rice
Tomato Puree or passata
Produce- Onion, Bell peppers, and garlic.
Chicken stock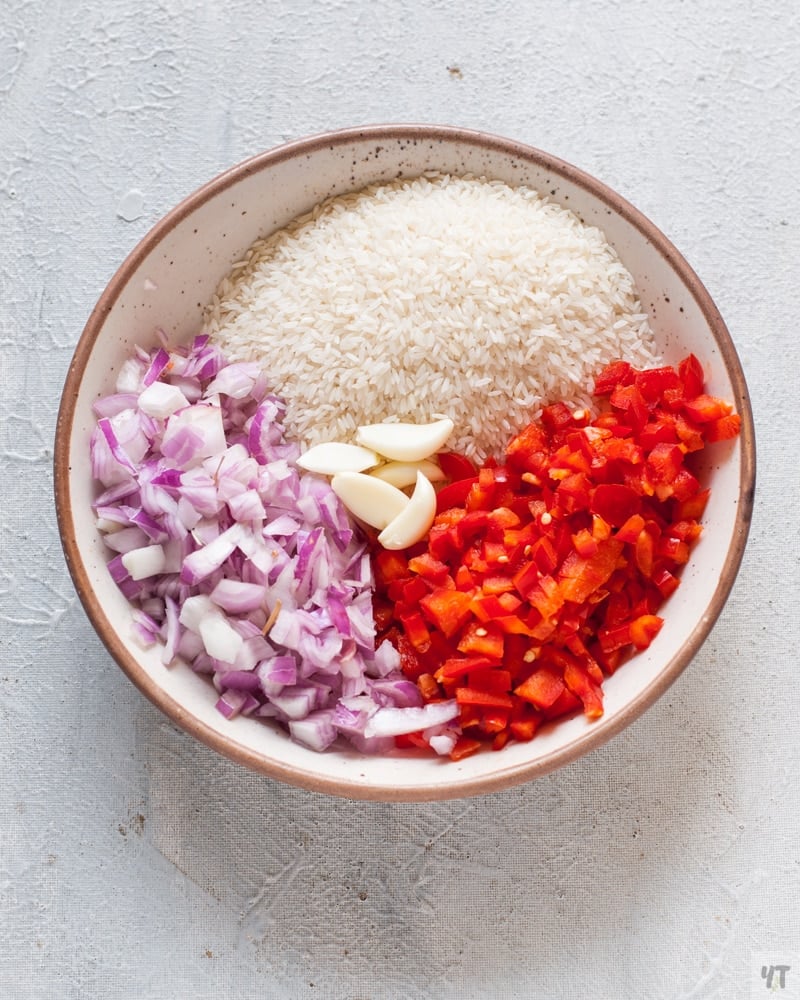 Rice
I prefer using white rice to make this dish. You can either use long grain white rice like basmati rice. If you want to use any other kind of rice, like short-grain rice like jasmine rice, wild rice or brown rice, the cook time and amount of water needed will change.
Tomato Sauce
This is the ingredient that gives it the red color and its name.
Tomato Puree, also called tomato passata, is what we need here. Though in a pinch you can also use 2 tablespoon of tomato paste instead.
Vegetables
You will need onions, red bell pepper, and garlic.
Use whatever onions you have on hand- white onion or yellow onions work the best.
Instead of fresh garlic, you can also use garlic powder. This one ingredient saves a tonne of time while adding a flavor bomb!
I like to chop everything finely. This way, it takes less time to saute and ensures you get all the flavors in a single bite.
I also like to amp up the veggies by adding frozen peas and diced carrots to this rice. To make it even more exciting and a complete meal, I would suggest adding some sausage or cooked chicken to it. You could add some black beans and corn kernels into a one-pot meal.
Spices
The usual suspects- are ground cumin, dried oregano, chili powder, or mild paprika.
If you want to make it particularly spicy, you can use chipotle chili instead.
Chopped-up fresh or canned jalapenos also add great flavor to the dish.
Broth
Another way to amp up the nutrients of this dish is to use chicken broth or vegetable broth instead of water. Here is a great way to use scraps and make your own Vegetable Stock in the instant pot.
Ingredients Substitutions
This recipe would also work with quinoa or other millets.
Reduce the amount of water to suit the grain you are using. Quinoa usually needs 1 to 1.5 times the water in the instant pot.
Also, try my Instant Pot Burrito Bowl. This is a one-pot meal, so nutrient-dense and so full of flavor! It's delicious.
How to make Spanish Rice in Instant Pot
Step 1: Preheat and Prep
The first step is to prepare the vegetables. Measure out the rice and the water.
As I have explained above, I like to chop up the onion and bell pepper fine. This makes the cooking and the texture of the final dish better.
Next, switch on the instant pot and select the sauté function.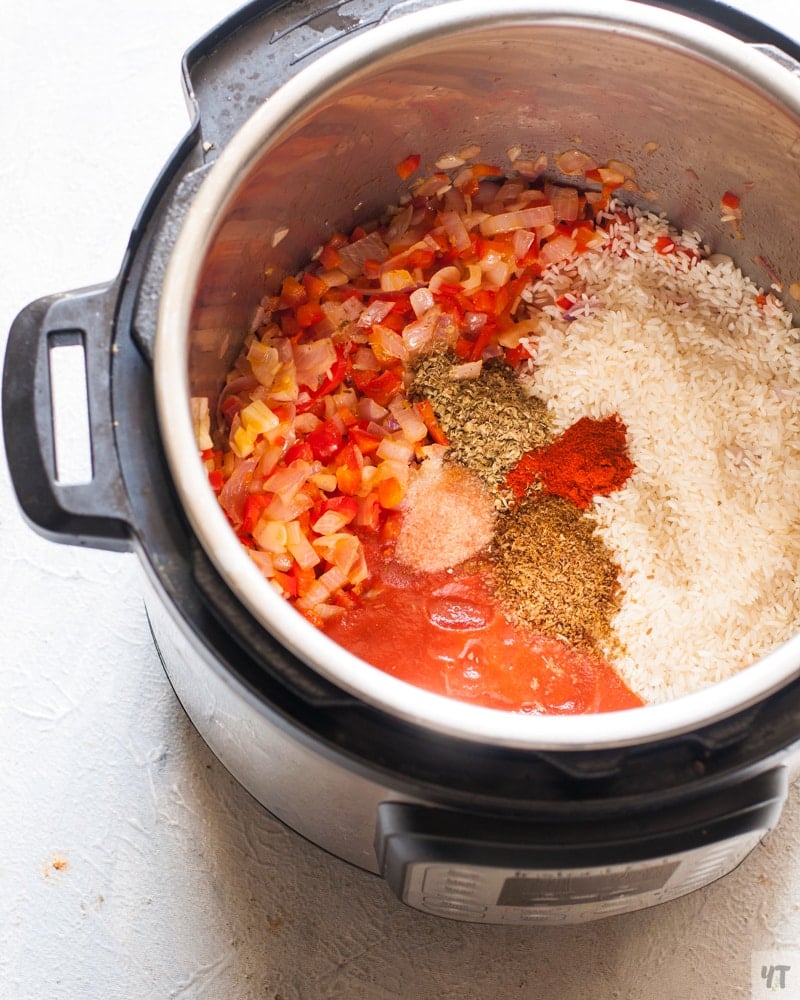 Step 2: Saute
Once the pot is hot, add oil and saute the onion and bell pepper till translucent.
Just about 3-4 minutes.
Step 3: Pressure Cook
Rinse the rice under running water to eliminate any unwanted dirt and particles.
Add the tomato puree(passata), rice, garlic & spices- ground cumin, oregano, salt, paprika.
Add 1 +¼ Cup of water. Give it a mix.Make sure to scrape the bottom of the pot with a silicon or wooden spoon so that any caramelized or burnt bits are not stuck to the pot.Always do this to avoid the burn notice.
Close the lid and pressure cook for 6 minutes on HIGH(high pressure) with the valve closed.
Step 4: Pressure Release
After the time is over, let the pressure release naturally(natural release) for 10 minutes before "Quick Releasing" the pressure.
Open the pot, and fluff the rice with a fork.
Garnish with cilantro and serve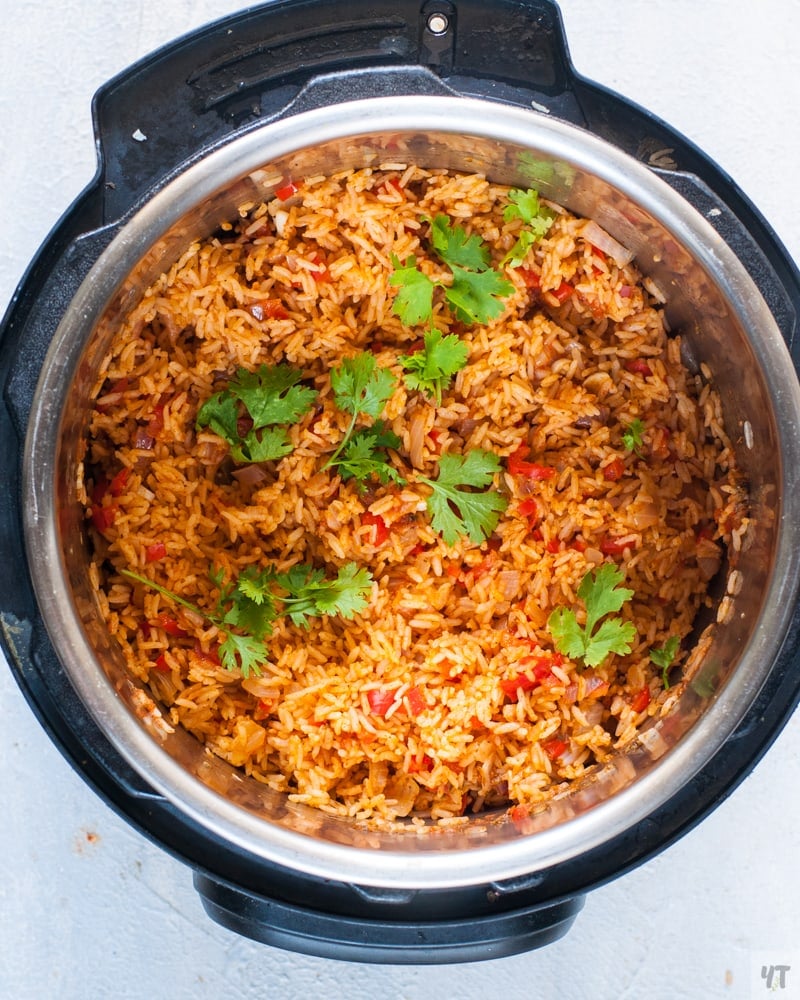 Variations
There are many versions of Spanish rice. Here are a few variations of it.
Vegetable Loaded Spanish Rice
Saffron spiced Spanish rice
Black beans and corn Spanish rice
Storage
You can store the cooked rice in an airtight container for about a week.
If you are not eating the rice in a couple of hours, leftover Spanish rice can be stored in an airtight container in the refrigerator for 5-7 days.
Freezing the rice for later use is also a great option.
It can be heated in the microwave for 5-6 minutes to thaw and refresh.
Serving Spanish Rice
Here are a few serving options
Side Dish- Spanish rice is a great side dish in any Mexican-inspired menu
Filling in tacos and burritos
DIY Burrito bowl- with a dollop of sour cream, a few slices of avocado and shredded lettuce on the side.
Pairing
These are my favorite dishes to serve with :
More like this
Here are some more Mexican inspired dishes
Find us on Instagram , Pinterest & Facebook here!
If you liked my recipe, do leave a comment!
It will help others find this amazing recipe too!
---
Ingredients
Instructions
Select Saute Mode. Add Oil once it's hot.

Add onions and bell peppers and saute till translucent. About 2-3 minutes. Press the cancel button to stop the saute mode.

Add tomato pasata(or puree or paste),garlic,salt,spices- cumin,oregano,paprika and jalapeno. Add 1.25 cups of Water(check notes) & Rice and mix.

Close the lid.Select PRESSURE COOK for 6 minutes on HIGH with the pressure valve CLOSED.

After the cooking time is over, let the pressure release naturally for 10 minutes before releasing the pressure manually(Quick Release)

Fluff the rice with a fork,garnish with cilantro and serve
Notes
Rice
If using long grain basmati rice- use 1:1.25 water.
If using short grain rice/regular rice-use 1:1.5 water for eldente rice & 1:2 water for soft rice
If using brown rice- use 1:1.5 water and cooking time will be 20 minutes.
Serving
Here are some serving options for you
Serve the rice as a side dish for a Mexican-inspired menu
Make burritos or tacos with it as one of the filings
Use it to make DIY burrito bowl
Nutrition
Calories:
208
kcal
|
Carbohydrates:
43.1
g
|
Protein:
4.4
g
|
Fat:
1.9
g
|
Saturated Fat:
0.3
g
|
Fiber:
2.2
g
|
Sugar:
3
g
|
Calcium:
43
mg
|
Iron:
2
mg
If you liked the recipe, please leave us a rating
Follow me on Instagram
My handle is @yellowthyme