Coconut ladoo with Condensed Milk -Just 3 ingredients and 10 minutes- Desiccated Coconut, Sweetened Condensed Milk & Cardamom.
So delicious! So good!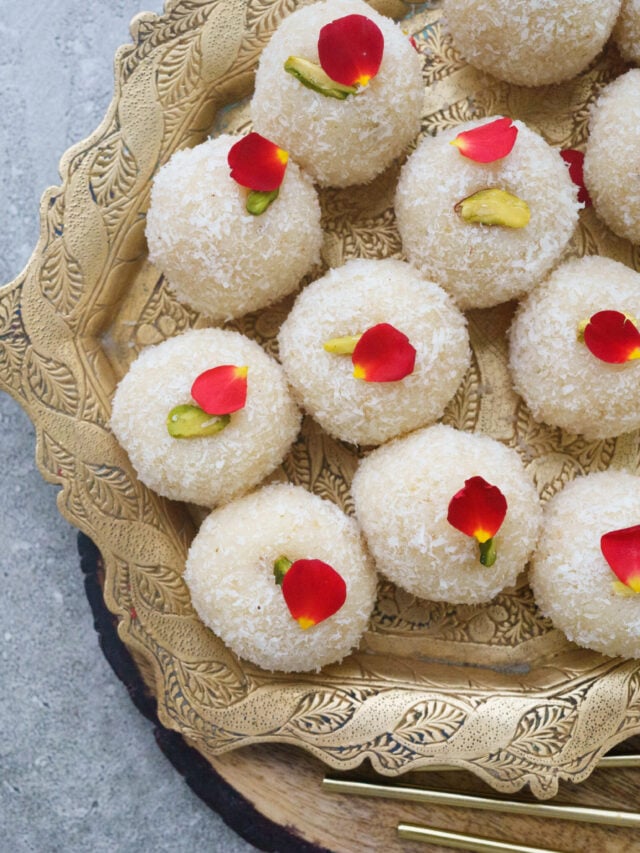 Coconut Ladoo are called Nayrial Laddu in hindi. This is one dessert that's made across indian in many ways.
In simpler words, it is a coconut fudge ball made with indian flavors. It is a festive dessert, usually made during Diwali, Holi and Navratri.
I still remember, about 20 years back, my roommate in collage used to bring huge jars of these handmade Ladoos , or as she called it, Nadu. We have spent quite a few semesters, stress eating these Ladoo before exams!
These Ladoos are absolutely divine. Soft and melty. Perfect little bombs when you need a quick reminder of home!
Once we all went our ways, this was one thing that I missed a lot! Her mom used to add edible camphor to the Ladoos My mouth still waters 20 years after! My dear Sayantani, if you are reading this, do tell your mom that i am big big fan!
Back to how to make coconut ladoos at home!
This recipe is the easiest version of coconut Ladoos. You need very little ingredients , skill and patience. So it's the perfect first dessert for sone one new in the kitchen.
Though if you are up for something more challenging, try making my Besan Ladoos. They are made with Chikpea flour.
This is by far the easiest Indian dessert you will make. All you need are 3 ingredients - finely shredded coconut, condensed milk and a flavoring.
Not only that, they look so so good! Especially if you roll them in some dried coconut. Like fuzzy little white fudges.
Do also try my easy but so nutritious Ragi Laddus. They are chockfull of calcium and Iron!
Why we love making Coconut Laddus with Condensed Milk
Here are all the reasons why this is my favorite indian sweet!
It's made with just 3 ingredients
I love love coconut! Coconut Barfi is my choice of Indian sweet since I was little and this is a close second!
It's easy to make at home
You can make it for any occasion, change up the flavors and it looks absolutely smashing!
You can make it in about 5 minutes in the microwave!
Ingredients for Nariyal Laddu
Here is what you will need to make these coconut Ladoos
Dessicated Coconut
Sweetened Condensed Milk
Cardamom
Desiccated Coconut
This is dried , finely shredded coconut. You could make this Ladoo with fresh coconut but that's a lot more work. Using desiccated dried coconut not only increases the shelf life but makes the process of making the Ladoo extremely easy!
Most of the work is already done.Plus shredded coconut is very easy to find.
The desiccated coconut we are looking should look like white husk. In case your desiccated coconut is thicker or has larger shreds, you just have to blend it into a coarse powder.
Condensed Milk
The best thing that happened to indian desserts. Condensed milk is also easy to find. This one ingredient not only gives a super rich taste but also cuts down the cooking time to a fraction of what it will be if you use fresh milk.
Plus if you use fresh milk, you need to have a lot of patience and time.
Cardamom
This is my flavor of choice. Especially for Indian desserts. You can use powdered cardamom or flavor drops.
The other way to use cardamom is to break open the pod and pound the black seeds from inside.
No points for guessing what I do. I chuck the whole pod inside my heavy duty blender and make a powder. I store the powder for future use and i kid you not, it lasts me years.
How to make Coconut Ladoo with Condensed Milk
The idea is to heat up everything toghether and make balls of it.Really its that simple.
Here is a more detailed description
Step 1 : Toast the coconut
I like to lightly toast the dried coconut. It's really not necessary but i will be frank, i love the smell of toasted coconut. The house just smells so nice that i love doing this extra step.
That said, you need to keep a keen eye on the coconut. It burns in literally 2 seconds. So if you are doing this step, make sure you stri often and constantly check in the coconut.
Step 2: Make the Nariyal Ladoo Mixture
Switch off the heat.
Add the condensed milk and cardamom powder to the pan of toasted desiccated coconut. Use a spatula to mix it all up. Watch the video to understand exactly how.
Make sure to mix it well. All of the coconut should be incorporated in the condensed milk.
Step 3: Shape the Coconut Ladoos
Add about a cup of dried laddu on a plate.
Start this step when the mixture is warm but cool enough to handle.
Use a tablespoon or a small ice cream scoop to portion out equal sized laddus. I learnt this the hard way when I had 5 different sizes of Ladoos because I didn't measure while dividing the laddu mixture.
Cup your palm and gently roll the coconut mixture into a Ladoo.
Roll the ball into the dried coconut. I know it seems like an extra step but it does two things
It makes the laddu easier to handle. Especially in warm weather. The coconut mixture doesn't stick to the surface or your hands.
It looks so good! The fuzzy effect this step gives makes the Ladoo look amazing! Add a few slivers of nuts and you have a crowd pleaser at your hands!
Step 4: Decorate
Once you have rolled the Ladoos in the dried coconut, its time to make them look extra spectacular.
Here are some ideas that i love
Add a sliver of almond on top.
Press a piece of green pistachio on top
Add fresh or dried Rose petals. This is my favorite way.
Top the Ladoos with some crushed chikki.
Silver film or vark - This is the traditional way of decorating Indian sweets.
How to make Coconut Laddu in the Microwave
Want an even more easier way of making these laddus?
Making these Coconut laddus with condensed milk in the microwave is so easy! I have got you!
Step 1: Heat
Add the dried coconut, Cardamom powder and condensed milk in a microwave safe bowl. Give it a mix together.
Microwave for 30 seconds, remove and stir the Ladoo mixture. Repeat till the mixture is evenly heated. About 2-3 minutes.
Caution: Do not heat the mixture in one go. It will burn in the bottom.
Step 2: Roll
Remove the mixture from the microwave. Let it cool down enough to handle.
Shape it into into equal sized balls.
Roll it in dried coconut. Top with your favorite nut and that's it!
Your 5 minute easy Indian laddu with dried coconut and condensed milk is ready!
Important Notes
Here are somethings about laddus that I think it's important to know
These condensed milk laddus will harden as they cool down. They will still be soft and bitable but the shape will solidify once they sit for a bit
Rolling them in dry coconut helps them keep their shape and not be sticky. So don't skip this step. This also makes the laddus look gorgeous fuzzy little balls!
You can keep the laddus in a small cupcake liner. It not only looks great but it also makes it easy to serve and eat.
More Flavors of Coconut Laddu
Once you master the basic laddu recipe, you can do so much with this recipe. Here are some quick flavor options of the top of my head
Rose Coconut Ladoo- Add a dash of rose syrup or rose extract or gulkand. Use the recipe as it is. Decorate with dried rose petals.
Paan - Add paan flavor extract. Top the Ladoos with crushed Chikki
Nutty - Add a mixture of crushed nuts in the Ladoo mixture.
Coconut Til Ladoo
Coconut Rava Ladoo
Add edible Camphor
Caramel
Chocolate
Nuts - like toasted hazelnut stuffed inside the laddu
Storing Condensed Milk Coconut Ladoo
Coconut Ladoos made with condensed milk will last for 1-2 days outside on the counter. Though in a warm and humid place, it would be just a few hours. They will last longer in a cooler place.
These laddus can last upto a week in the refrigerator. Though cooling them makes them hard.To serve, let the Ladoos come to room temperature.
More Indian Desserts
Want to try making more indian desserts? Here are some that I suggest
Aate Ka Halwa|Kada Prashad - A special prasad made with wheat flour for indian festivals.
Kesar Phirni - Saffron Rice Pudding - Easy pudding made with rice and milk
Ragi Laddu | Nachni Ladoo Recipe - A great super nutrient dense option for kids & Adults containing Finger millet.
Besan Ladoo|Diwali Sweet Recipe- The most made indian sweet with chickpea flour, sugar and ghee
Saffron Cardamom Cake with White Chocolate Ganache - My Indian cake
Mango Pannacotta- Easy No Bake Dessert- With Mango puree
Find us on Instagram , Pinterest & Facebook here!
If you liked my recipe, do leave a comment!
It will help others find this amazing recipe too!
---
Ingredients
3

Cups

Desiccated Coconut

plus ¼ cup for rolling

350

grams

Condensed Milk

1 can ; 8 ounces or about 1.5 cup

1

teaspoon

Cardamom Powder
Instructions
In a heavy pan, on low heat, roast the dried coconut till it's warmed through. About 3-4 minutes.

Once the dried coconut has heated through, add the cardamom powder and the condensed milk.

Mix with a spatula to combine.

Check if the mixture is cool enough to handle.

Scoop out 1 tablespoon of the laddu mixture. Shape it into a ball.

Roll the laddu on dried coconut.

Add a piece of pistachio or a rose petal on top.Serve.
Notes
Desiccated Coconut 
Desiccated coconut is dried, finely shredded coconut. 
If you have larger shredded coconut or coconut flakes, you can roughly powder them in the blender. It should be the texture of husk.
Cardamom Powder
You can use store-bought cardamom powder or essence.
Or you can powder cardamom pods in the blender.
Or you can pound the black seeds found inside the cardamom pods in a mortar and pestle
Storing
These laddus last 6-7 days in the refrigerator. They will not last longer than 1-2 days at room temperature. Especially in hot & Humid areas.
Keep it in an air-tight container like Tupperware.
Serving
Serve the laddus at room temperature. The laddus tend to get hard in the refrigerator.
Nutrition
Calories:
156
kcal
|
Carbohydrates:
14
g
|
Protein:
3
g
|
Fat:
11
g
|
Saturated Fat:
9
g
|
Cholesterol:
7
mg
|
Sodium:
30
mg
|
Potassium:
150
mg
|
Fiber:
2
g
|
Sugar:
12
g
|
Vitamin A:
52
IU
|
Vitamin C:
1
mg
|
Calcium:
59
mg
|
Iron:
1
mg
If you liked the recipe, please leave us a rating
Follow me on Instagram
My handle is @yellowthyme
Here are some Common doubts and Faqs people have while making these coconut ladoos with milkmaid
Can I use Fresh Coconut to make coconut laddus
Yes. You can use freshly shredded coconut to make these laddus. You will have to slow roast the fresh coconut to 15 -20 minutes till its dry.This will help with both the texture and shelflife of the coconut laddus
Can I use milk to make coconut laddus
Yes you can. Add full fat milk and sugar to the dessicated coconut. Cook the mixture on low flame till the mixture resembles a halwa or fudge.
Is coconut Laddu good for health?
That's relative. But coconut has a lot of fiber and fat which helps making its nutritional profile an all rounder.
It is really good for kids.
How many calories are there in coconut ladoo?
As per my estimation, a coconut laddu made with 1 tablespoon of laddu mixture is about
Can you eat desiccated coconut raw?
Yes. You can add it to smoothies, oatmeal and porridges.
The Laddus not shaping
Wait for the mixture to cool and then start making the laddus. If the mixture is too soft, add a few tablespoon of dried coconut to the mixture.
If the laddu mixture is too hard , add a few teaspoon of condensed milk or milkmaid to make the mixture easies to handle.
Shaping coconut laddus is relatively easier than the ragi and besan laddus.