Saffron Cake infused with Cardamom and Kesar, with a gorgeous white chocolate ganache on top.This is an Indian fusion Saffron Cardamom Cake.
Coconut Cake with Banana Curd is my another go to indian fusion cake.It's inspired by all things kerala.
I am overwhelmed with the kind comments and encouragements I have received for this Saffron Cardamom Cake on my Instagram account in a matter of few minutes.You guys are the best!
If you have been following me ,then you know that I have been celebrating my son's monthly milestones by baking a special cake, every month.I spend countless hours every month researching for the perfect recipe to make a special cake for him.(which he can't really eat but you get the drift!)
This month's two shortlisted cakes were a Chocolate spice cake and an Indian fusion Saffron Cardamom Cake.Though I did make the chocolate spice cake for our Diwali party, I couldn't click any pictures.It was very decadently dark ,rich ,chocolatey cake with nutmeg, cloves,star anise and cinnamon.I should definitely remake the recipe soon.
This is the cake which I created to mark the 8th month milestone for my son!I know I sound repetitive (but I know all moms would understand) but he has become so big! Honestly life has become so much more amazing after him!
What is Saffron Cake
The sponge is a basic hot milk cake - my goto cake for the moment! I have infused it with lots of green cardamom and saffron.I have made an eggless version because of the festivals but you can add 2 eggs instead of the yogurt.The cake in itself is also great but it you want to take it up a few thousand levels please do the white chocolate ganache.
The ganache is my own recipe and it's the easiest thing you could do to this cake.It literally takes a minute of your time and it's ready.You need only condensed milk, white chocolate and flavouring.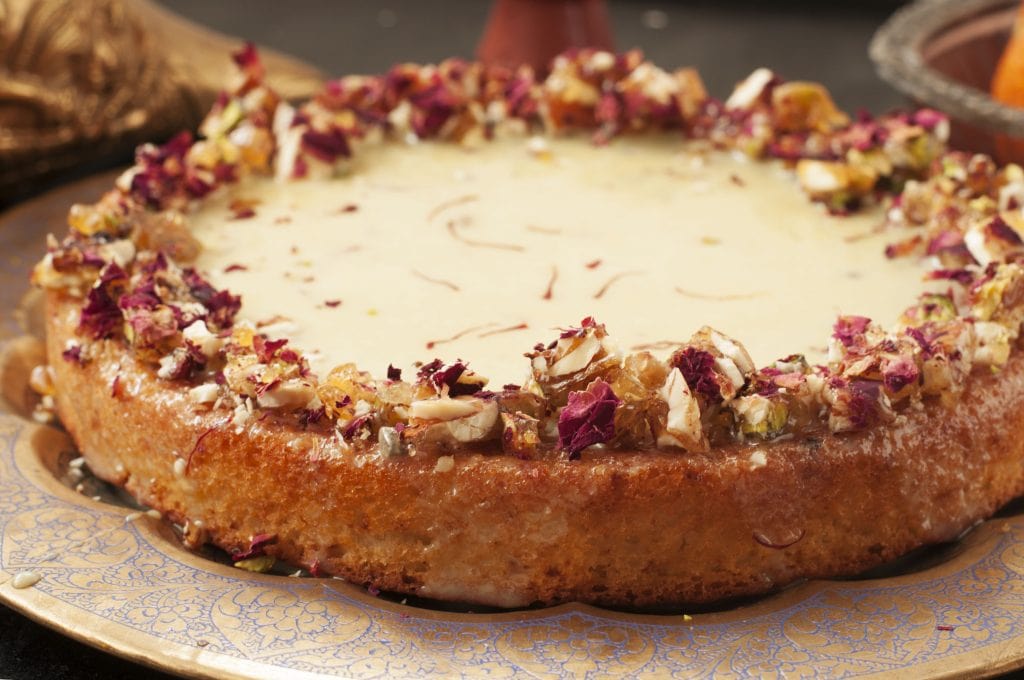 Why we love this Saffron Cake
This cake is sort of like a love child of Rabri and Rasmalai.:D It celebrates Indian desserts with a new modern twist.A perfect Indian fusion Saffron Cardamom Cake.
This Saffron Cake is perfect for both cake and Kheer lovers.I have a few more celebrated Fusion indian cake recipes on my blog.
Here are some more awesome cake recipes for you
Coconut Cake with Banana Curd
Chocolate Cake
Mango Cake
Classic Butter Cream Cake
Lemon Chia Seeds Cake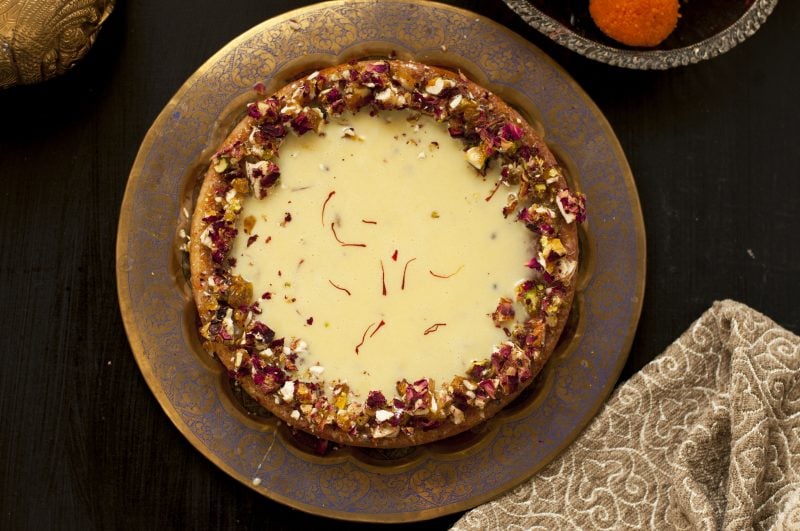 Ingredients
1 ½

cup

purpose Flour /Maida

1½

teaspoon

Baking Powder

Pinch

Baking Soda

2

Eggs or ¼ cup Yogurt

1

Cup

Caster Sugar

¾

Cup

Milk

¼

Cup

Butter

1

teaspoon

Vanilla Essence

½

teaspoon

Almond Essence

1

teaspoon

Saffron strands

2

Pods Green Cardamom
White Chocolate Glaze
200

grams

or ½ Tin Condensed Milk/Evaporated Milk/Mithai Mate

100

grams

of white Chocolate

2-3

pods of cardomom

few strands of Saffron

2

Drops of yellow color
Garnish
5

tablespoon

crushed Rose Chikki

Few Strands of Saffron
Instructions
Mix the Flour,baking soda and powder and set aside

Heat the milk and butter till the temperature is just above what you would be comfortable touching.

Let the butter melt.Add the Saffron strands,Cardamom & vanilla.

In a Bowl beat or whisk together the eggs/Yogurt and sugar till the mixture turns pale and sugar is well incorporated.

Add the hot milk mixture to the egg mixture slowly(trickle it in).Make sure the milk is not too hot or boiling as it would curdle the eggs.Mix well.

Add in the flour mixture next and combine well.

Pour the batter in a prepared tin.

Bake for 30 minutes at 180 degrees C or 465 F or till the skewer comes out clean.If the cake seems to be browning too much but is uncooked from inside cover it with aluminium foil and continue baking for another 5-10 minutes.
White Chocolate Ganache
Heat the condensed milk in a sauce pan along with cardamom and saffron on medium low heat.Keep stirring or the condensed milk will start burning.

Once you see bubbles forming switch the gas off and add chopped white chocolate.

Add 1-2 drops of yellow color to give it a glow.(Can be skipped).

Stir the hot mixture till the chocolate is fully incorporated.Let it cool and come to room temperature before pouring on the cake.

Garnish the cake with crushed chikki and saffron strands.
If you liked the recipe, please leave us a rating
Follow me on Instagram
My handle is @yellowthyme
SaveSave
SaveSave
SaveSave
SaveSave
SaveSaveSaveSave
SaveSave