Looking for the best but easiest Eggless Chocolate cake recipe? I have you covered! Dark, Decadent, Moist..The ultimate cake that you will be making for years!
I have been using this same chocolate cake recipe for about 12 years now. Even I can't believe it's been that long.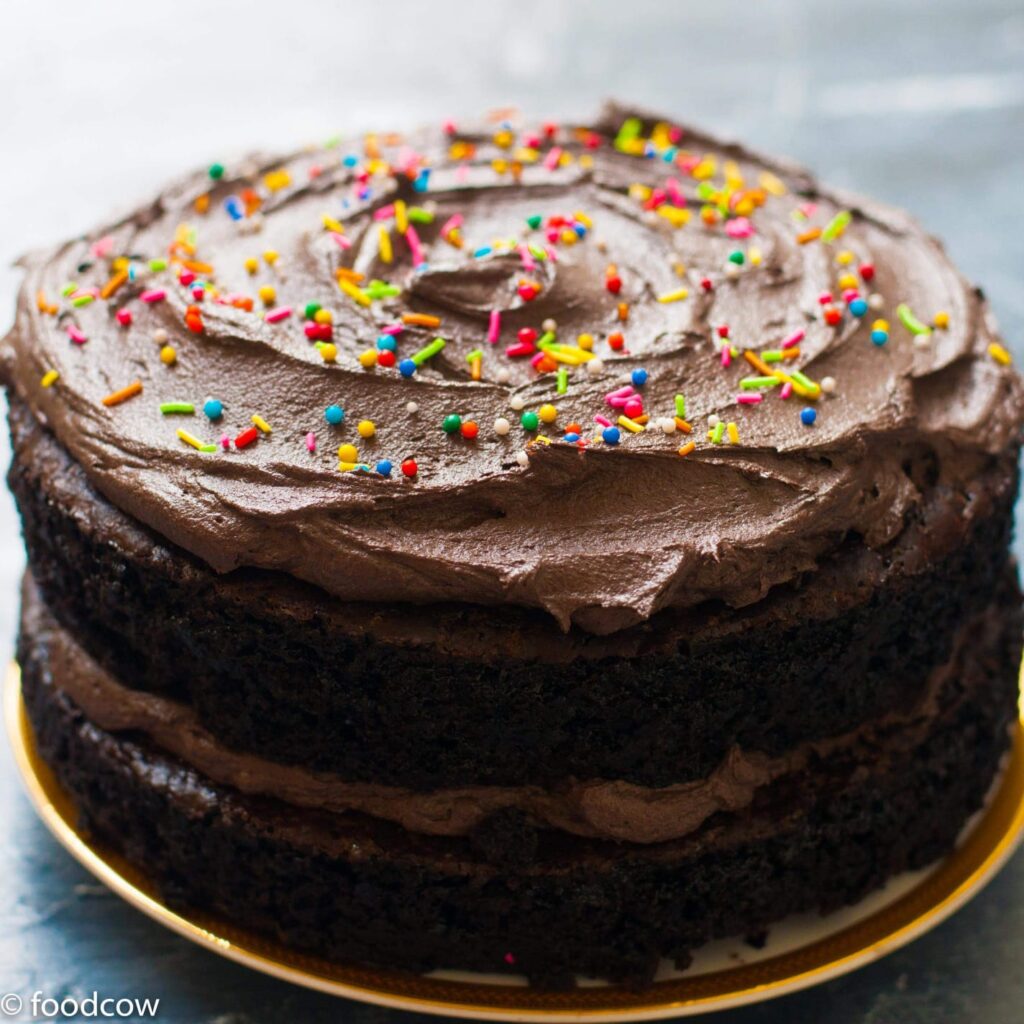 This cake was one of the first cakes I ever baked and it holds a special cozy little place very close to my heart.
I have made it on countless occasions, when I am feeling sad, when I am feeling extra happy, when I am celebrating a special day and also when I don't have the time and patience for elaborate recipes but I want something AAAMmmazing!
It's my fall back recipe for when nothing works.
It's also the cake I made when my Son turned 1 month old,and then at 1 year and then again at his 3rd birthday!
The recipe is extremely forgiving -under cook it or over cook it it will taste amazing as long as you don't burn the thing.
What this Chocolate Cake Promises to be- Gooey, Dark, Decadent, Rich, Melt in your mouth and take you to chocolate heaven.
If you love chocolate as much as i do, do give this off the charts Chocolate Babka a try! It's delish!
Also! try my eggless chocolate chip cookie.I make it every christmas !
Just for fun, here are some pictures of the exact same recipe from over the years. As you can see my photography skills have evolved a bit.
Though there are recipes which can give similar heart melty chocolate goodness , this recipe is my goto cause its eggless.
Why Make this Chocolate Cake
Here are my reasons for making this cake again and again for over 10 years!
This cake uses everyday pantry ingredients. It doesn't need a special shopping trip
It's a super easy recipe. It is also very forgiving especially for a new baker.
It's decadent and soft and stays so for long in the fridge
It is a great base for layer cakes and birthday cakes.
I Love Chocolate and this cake does justice to good chocolate!
If you are looking for more cake recipes, do give my Eggless Cinnamon Cake , Eggless Lemon Chia Seed Cake , Eggless Mango Cake a try too!
Ingredients to make Egg free Chocolate Cake
Here is what you need to make our Favourite Chocolate cake.
For any baking it is very important to measure each and every ingredient. It is a chemical reaction and you adding more or less of something will change the texture and taste considerably. Here are some of the baking essentials I recommend if you are just starting out
Ingredients
All Purpose Flour
Cocoa Powder
Oil
Milk
Vinegar or Lemon Juice
Baking Powder
Sugar
Hot Water
All Purpose Flour
This is regular white flour or Maida. Do not use self raising flour or whole wheat here. It will alter the taste of the cake a lot.If you are looking for a healthier option see my Whole Wheat Banana Bread or Healthy Ragi Banana Chocolate Cake recipe.
Cocoa Powder
I have used regular to fancy cocoa powders to Dutch processed cocoa powder to Cacao powder while making this cake.
All of these options will work but using dutch processed cocoa or raw cacao will give a more intense chocolate flavor and a darker color.
If you are making it for a dark chocolate lover, use dutch processed cocoa powder otherwise for all other gatherings and birthday parties, use regular cocoa powder.
Oil
I have used coconut oil, groundnut oil and regular vegetable oil to make this cake in the past.
Both coconut oil and groundnut oil are not tasteless and will add their own flavor to the cake.
My suggestion is to go for regular vegetable or a neutral oil to make the cake.
Because this cake has oil and not butter, it will remain soft for longer, even in the refrigerator.
Milk & Vinegar
Use Regular or full fat milk. You can also use buttermilk here.
We add vinegar to slightly warm milk to curdle it. When you start measuring ingredients, do this step first.
Use regular white vinegar. If you don't have it on you, you can also use lemon or lime juice.
Sugar
I have always used regular granulated sugar to make this cake.Works like a charm every time.
Do not use any other kind of sugar for this recipe.If you are looking for processed sugar free cake recipes, try Healthy Ragi Banana Chocolate Cake or Healthy Whole Wheat Tea Cake Recipe
Baking Powder
Use fresh, no more than a couple of months old open packet of baking powder.
Do not substitute with baking soda. They are two different chemicals and it will not work the same way.
Hot Water
I usually measure and microwave the water till it's very hot. The temperature of the water is almost boiling.
This is also added at the end.When the hot water is added, the baking powder starts to do its work. So once you have added the hot water, make sure you put the cake in oven quickly.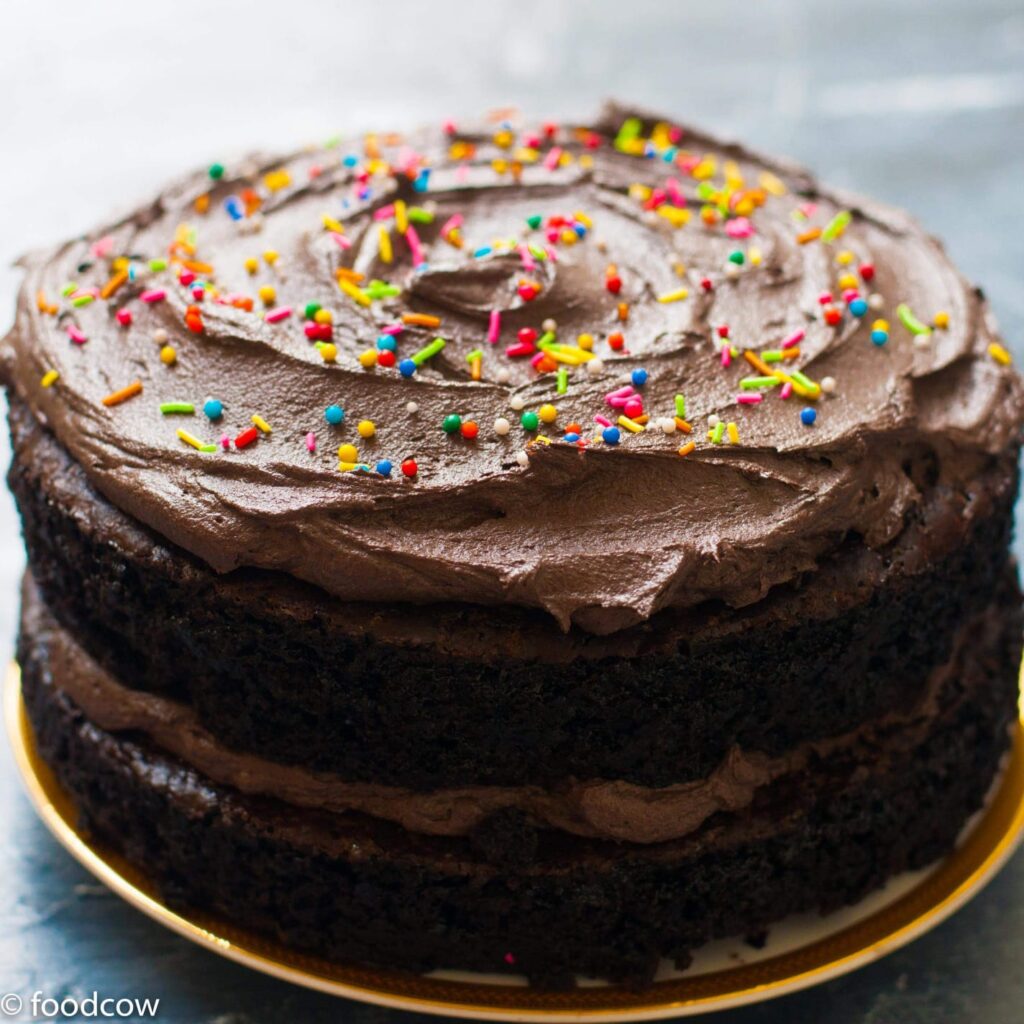 How to make Eggless Chocolate Cake
Step 1: Prep
This is an important step, especially if you are a new baker.
First, measure all the ingredients.
When measuring the ingredients using cups, do not pack the flour and cocoa in.
Just scoop it in the measuring cup and using a knife or a spoon, remove excess ingredient so that the cup is full to the brim.
Use the same technique to measure with the measuring spoons.
Second, Preheat the oven
This just means you heat the empty oven at 180 C or 365 F for 10 minutes.
Third, Prepare the baking pans
You can use three methods here.
Butter or Oil the pans generously. Go into the corners and walls too.
Butter or oil the pans then sprinkle cocoa powder everywhere. Remove the excess cocoa powder by shaking the pan upside down.
Add butter paper to the bottom and sides. This is my favored method.
You can use any of the below baking pans
Two 6 inch round pans
One 9 inch round pan
A 9*9 inch square pan
Step 2: Mix the dry Ingredients
Mix the flour, baking powder and cocoa powder in a large bowl.(Note we didnt add sugar)
If any of your ingredients are lumpy, sieve it through a strainer. This is especially important for your baking powder.
I speak from experience when I say you do not want a lump of baking soda in your mouth while eating the cake.
Step 3: Mix the Wet ingredients
Add the wet ingredients- Oil, Milk and sugar to a bowl.(yes sugar is dry but it is always added to the wet ingredients in baking).
Also, heat the water to boiling temperature at this point.
Step 4: Make the Chocolate Cake batter
Add the wet ingredients to the dry ingredients. Once its somewhat mixed, add the hot water.
Give everything a good mix using a hand whisk. Do scrape the sides of the bowl using a silicon spatula.
I wont lie, I have added the wet ingredients straight to the dry ingredients in the past and it has worked for me.BUT... there are many things that can go wrong so if you are a new baker or making this cake for the first time, do not take this shortcut.
Step 5: Bake
Pour the batter into the baking pan.
Put it in the oven and bake at 180 C or 365 F till the center is just cooked and a toothpick inserted in the cake comes out with crumbs or clean.
if the toothpick comes out with liquid, then the cake needs at least 5-10 minutes more.
The baking time will vary based on the size of the baking pan used.
Tips & Tricks
If you are using a smaller oven, chances are your cake will start browning from the top before it cooks inside. In that case, cover the cake with foil and let it bake. This will cook the inside without browning the top.
To make sure your cake has a level flat top without a center dome, cut strips of fluffy towel, dip it in water. Wrap the cake pan with the wet strips and stick it in the oven to bake. This will keep the temperature of the cake even and you will get a flat cake. I do this when i have to make layered birthday cakes.
Let the cake cool completely before icing it. Ideally the cake should be iced the next day.
If you want to cut the cake, especially into layers, do it the next day. Plus let the cake freeze for about 30 minutes to 1 hour so that its firm when you cut it with a knife.
To Make a more decadent Chocolate cake - Use Dutch Cocoa Powder and undercook the cake so that the center is just set. You will get a very gooey Chocolate cake.
Storing & Freezing Cake
The cake it best after it has completely cooled down.
You can store the cake in the refrigerator for upto 7-8 days. Make sure its wrapped and sealed.
The cake can be frozen for upto 2-3 months. I do this when I am making a large cake like my son's first birthday cake. Just wrap the cooled cake in cling film twice and once with aluminum foil.
Frosting & Fillings
The cake is delicious by itself. Once you have the base cake in place, you can change it up with the frosting and fillings you use.
I prefer a chocolate ganache frosting. I like to use about 50-60 % dark chocolate to make it. This makes the cake extremely decadent.
Chocolate Ganache Frosting for Eggless Chocolate Cake
All you need is
Cream
Good quality chocolate
Just heat the cream, add the chocolate, mix it up. Let it cool in the fridge before you add it to the cake.
Do not use compound chocolate or cooking chocolate to make the ganache. It simply does not taste good.
Yes it's that simple! In most of the photos you see , I have used Chocolate Ganache.
Chocolate Butter Cream
If you are a buttercream person, then here is a simple recipe for chocolate butter cream that will go very well with this eggless chocolate cake.
Buttercream is the right frosting for your cake if you want to add fancy frosting decorations like roses using the piping bag nozzles.
It is also the right frosting for you if you want to cover it up with fondant like i did for the first birthday cake.
Decoration
Sometimes I just stick a candle in the chocolate cake and call it a day. Here are some simple decoration ideas
Ganache and Grated Chocolate
Chocolate Frosting & Sprinkles
Two tier naked cake with only a filling, Like the 6th photo in the gallery below.
Butter Cream and Butter cream roses.

SaveSave
Why I love Eggless Chocolate Cake Recipe
Here are some reasons why i have made this cake again and again a zillion times
Only Pantry ingredients- I almost always have most of the ingredients with me
You can use the same recipe to make cake and cup cakes.
It layers well.
Its soft and lasts in the fridge for a long time
It's super easy to make.
More Chocolate Desserts
If you are a choco- holic like me, you will also enjoy making these delicious chocolate desserts!
Eggless Cinnamon Cake
Ragi Chocolate Chip Cookies - Eggless
Eggless Brown Butter Chocolate Chip Cookies
Chocolate Babka - Rich yeasty Brioche bread with chocolate filling
No Bake Oreo Chocolate Tart| 4 Ingredient Dessert
Extremely Decadent Flourless Chocolate Cake
Homemade Dark Chocolate Peanut Butter Cups
Dark Chocolate Salted Caramel Pots
If you made our favorite chocolate cake recipe, do leave me a note! I would love to hear from you.
Find us on Instagram , Pinterest & Facebook here!
If you liked my recipe, do leave a comment!
It will help others find this amazing recipe too!
---
Ingredients
Chocolate Cake
2

cups

All Purpose Flour

White Flour/Maida

¾

cups

Cocoa Powder

for dark intense flavour, use Dutch processed Cocoa Powder

1 ½

teaspoon

Baking Powder.

1

cup

Oil

Neutral oil- Vegetable, Coconut or Ground nut oil

1 ½

cups

White Sugar

Granulated

1

cup

Whole Milk

Warm

1

teaspoon

Vinegar

1

cup

Water

Hot, almost boiling
Chocolate Ganache
¾

Cup

Heavy cream

½

Cup

Chocolate

Good Quality

1

tablespoon

Black coffee

Optional
Instructions
Prep
Preheat the oven to 180 C or 365 F for 10 minutes(Let it run empty)

Prepare a baking Pan by either buttering/oiling it or using parchment or butter paper.

Measure all the ingredients.

Add the vinegar to moderately hot milk, give it a mix and set aside. Let it curdle.

Mix the dry ingredients in a large bowl -flour, baking powder and Cocoa Powder

In another bowl, add the oil and the milk with vinegar and Sugar. Using a whisk, give it a good mix.

Add the dry ingredients to the wet ingredients. Scrap the bottom of the bowl to make sure there are no unmixed bits.

Add the hot water to the batter. Mix well.

The batter is a little more fluid than normal cake batter but don't worry about it.

Bake in a preheated oven at 180 degrees for 30-40 minutes.

Check if its done by inserting a toothpick in the cooked cake. If it comes out with liquid, it needs 5-10 mire minutes of baking. If it comes out clean or with crumbs, it's done.

Let it rest on the counter for 5 minutes. After which, take the cake out and cool it on a cooling rack.

Serve as it is or let it cool completely and frost it with Chocolate Ganache.
Chocolate Ganache
Chop the chocolate into small pieces.They should be smaller or around than 1 cm each

Heat the cream in a sauce pan or microwave till bubbling.

Add the chocolate and let it stand for 2 minutes.Add in the black coffee.

Mix till the chocolate has fully dissolved. Refrigerate for 2 hours before spreading on the cake,
Notes
# The timing depends on the type of pan you are using- its depth, material, and color, so keep an eye on the cake after the 30 minutes mark and keep checking it every 5 minutes or so.
If you use two pans, bake for 20-25  minutes.
#Usually this cake is done if the middle looks cooked and is not liquid looking.
This cake gets done almost a few minutes before the skewer can actually come out clean. It should be slightly "undercooked" as compared to the other cakes.
#If you don't want to use coffee in Ganache you can use milk.
#While mixing the ganache if you see chocolate pieces that haven't melted just microwave the mix for 15-20 seconds in the microwave and it should do the trick
#The Nutrition Values are for just the cake alone without any frosting.
Nutrition
Calories:
217
kcal
|
Carbohydrates:
27
g
|
Protein:
2
g
|
Fat:
12
g
|
Saturated Fat:
1
g
|
Trans Fat:
1
g
|
Cholesterol:
1
mg
|
Sodium:
38
mg
|
Potassium:
81
mg
|
Fiber:
2
g
|
Sugar:
16
g
|
Vitamin A:
20
IU
|
Calcium:
39
mg
|
Iron:
1
mg
If you liked the recipe, please leave us a rating
Follow me on Instagram
My handle is @yellowthyme
SaveSave
SaveSave
SaveSave