Ragi Chocolate Chip Cookies - made with Finger Millet flour, Wheat Flour and Raw Sugar. These Cookies are eggless and great for kids!
These Ragi Chocolate cookies are crisp from the outside and slightly soft inside. They are a 100 % refined flour and refined sugar Free!
So if you are looking for a Ragi biscuit recipe that your kids and you can have everyday, then this is it!
I always have a batch on hand. I usually make them in bulk and save a whole batch in the freezer. That way I usually never run out of these!
I also have a great Ragi Sugar Cookie recipe that's great for cut outs! These are great for occasions like Christmas and birthdays! You can make cute snowflake or number cookies.
These cookies can be made crisp or soft depending on how you shape them and how long they bake.
To make Plain Ragi cookies, check out my eggless ragi cookie recipe. Also! if you are in the mood for decadence, then try my Eggless Brown Butter Chocolate Chip Cookies. They are completely worth it!
Why Eat Ragi?
Ragi is an Indian Super Food. It is a Millet that's packed with nutrients. It has more than 80 times calcium than wheat and rice!
You can read more about it in my post on how to add Millets in your diet.
Ragi is especially great for kids. In fact, in the south India, it is one of the first foods given to the kids.
Ragi is also called Nachni in north India and finger millet in English.
Ingredients
Here is what you will need to make these delicious Ragi Chocolate Chip Cookies.
Ragi Flour
Whole Wheat flour
Cold Milk
Cold Butter
Baking Powder
Sugar or Jaggery
Vanilla Essense
You can also leave out the chocolate chips to make plain Ragi Cookies.If you are already familiar with the ingredients and baking, you can skip ahead to the recipe card.
Otherwise I suggest you read all the details below.
Ragi Flour
Any Millet flour should be fresh and no more than a couple of months old. Anything more and be sure your flour is rancid.
The Ragi cookies will taste bitter if you use old rancid flour.
I usually buy small quantities of Ragi flour every month instead in bulk.
Ragi is also called Nachni in north india.It is called Finger millet in English.
If you can get your hands on Sprouted Ragi flour or Malted Ragi flour, use that instead. Both these Ragi flour variants have higher nutritional value.
Cold Butter
Cold butter will melt and make the cookies crispy.
I have used both salted and unsalted butter without much change in the final result.
Cut the butter into ½ inch cubes.
Sugar or Jaggery
These Ragi cookies are made with Jaggery. I love the taste and the color jaggery or gur gives. Jaggery is also healthier and less processed than sugar.
You can use coconut sugar, palm sugar or white sugar if you please.
I use organic Jaggery powder but you can use a block too.You will need to powder it before using though.
How to make Ragi Cookies
If you are new to baking, do read the detailed description of how to make these ragi chocolate chip cookies. I also suggest you watch the video to understand how to make the Ragi Cookie dough. If not, then skip ahead to the recipe card.
Step 1: Measure all the Dry Ingredients.
Unlike cooking Baking needs precise measurement.
You will either need a weighing scale or baking cups to measure. You can get a set of baking cups and spoons. They go a long way!
Cut the butter into small cubes. Make sure it's still cold and firm.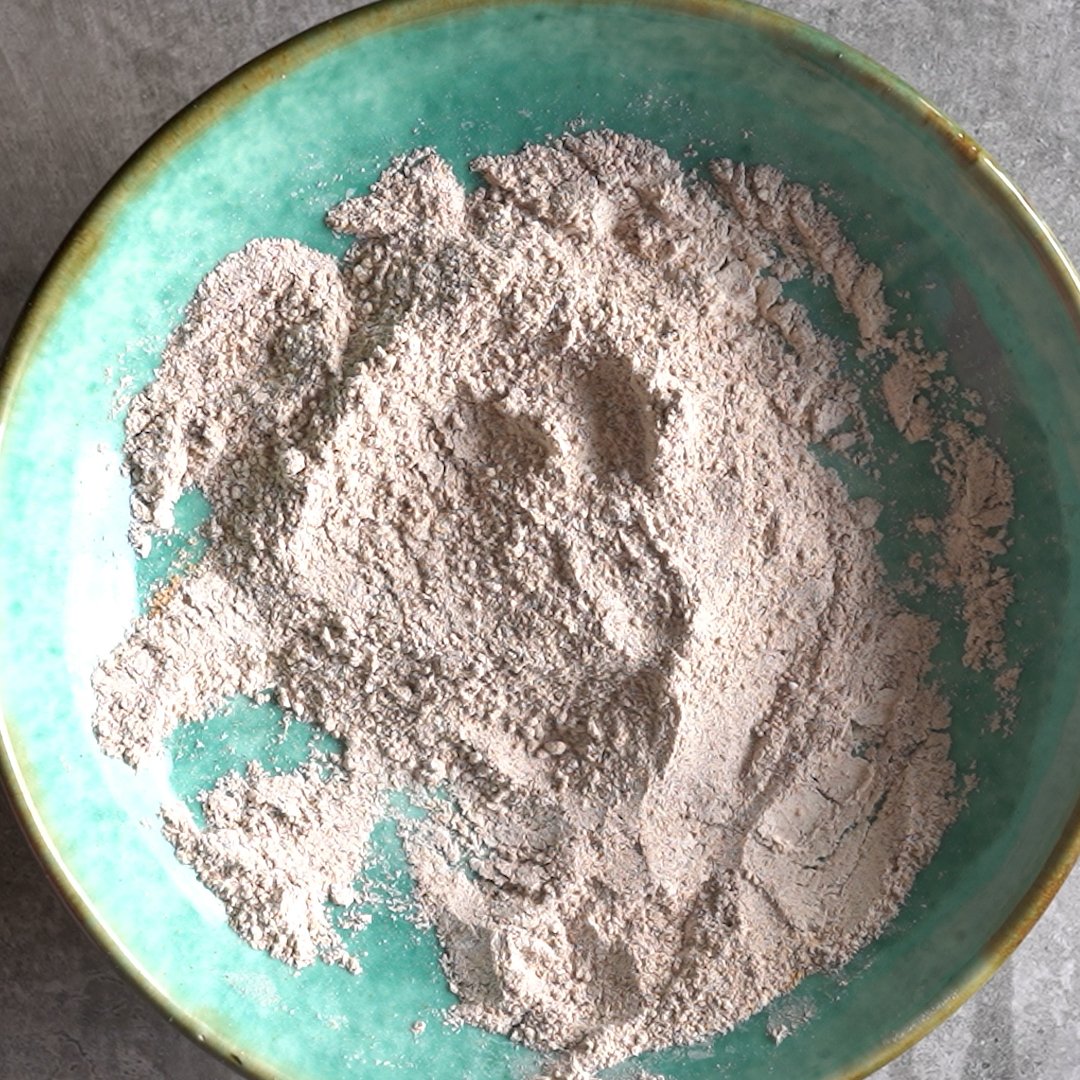 Step 2 : Rub the Butter in Millet Flour
This is a critical step.This step will make your cookies crunchy.
Add the Millet Flour, Wheat Flour, Baking powder and Sugar into a bowl.
Mix it together. Make sure the baking powder is not lumpy. Baking powder is a chemical that helps in making the cookies light. You do not want clumps of it in your mouth while tasting.
Once the dry ingredients are mixed, add the cubed butter into the bowl.
Rub the butter into the flour. Check the video to get a better understanding.
You should see a clumpy, half wet half dry sort of a flour mix.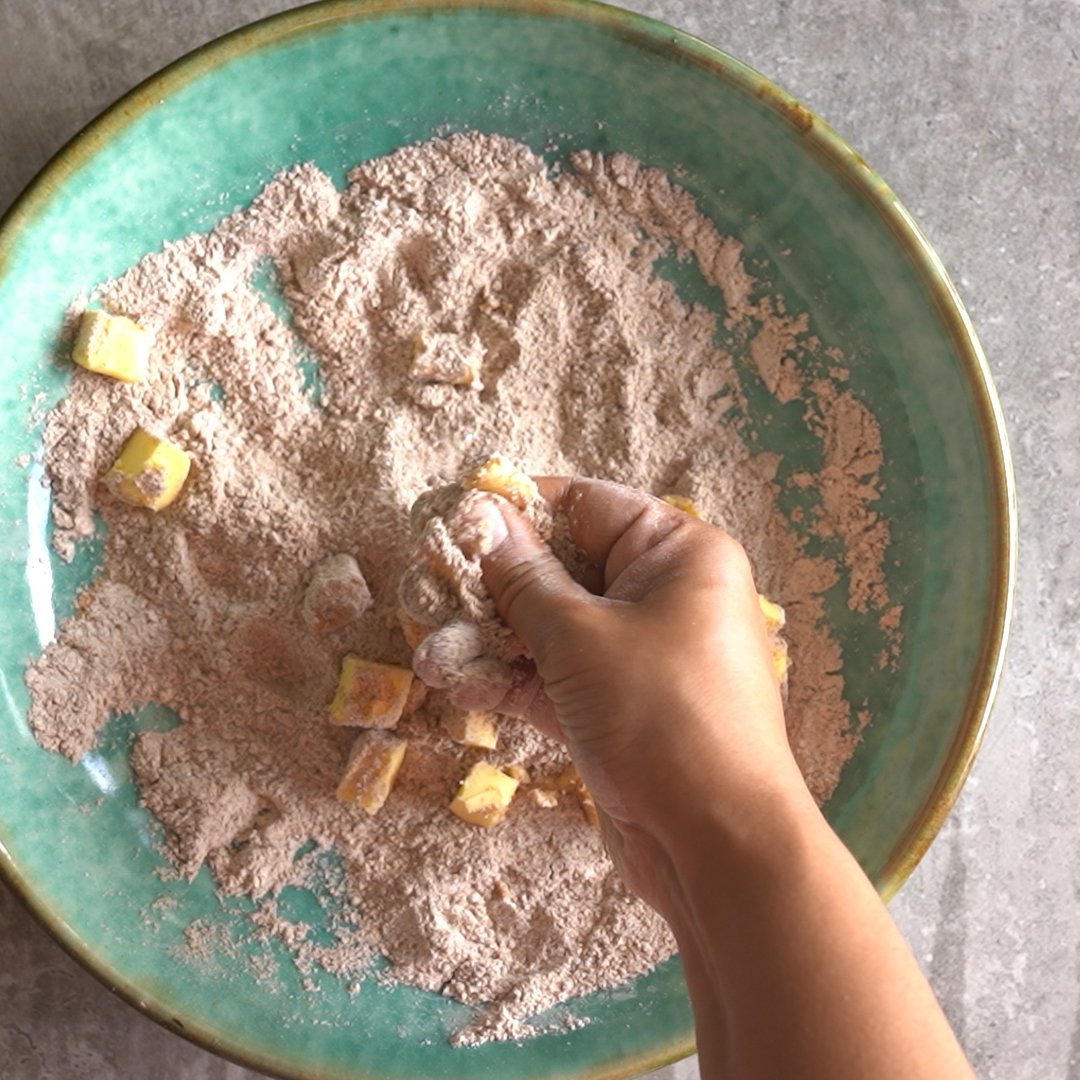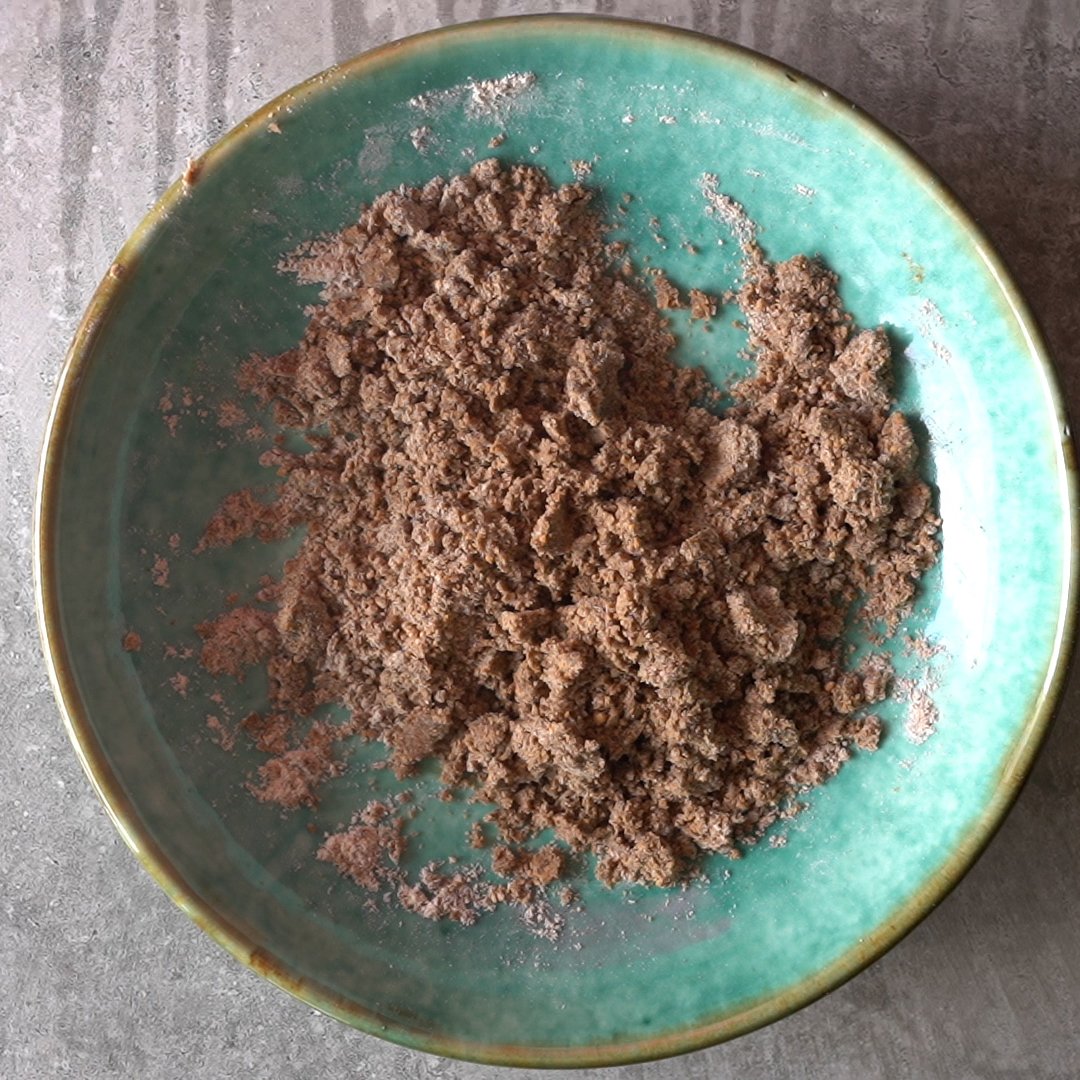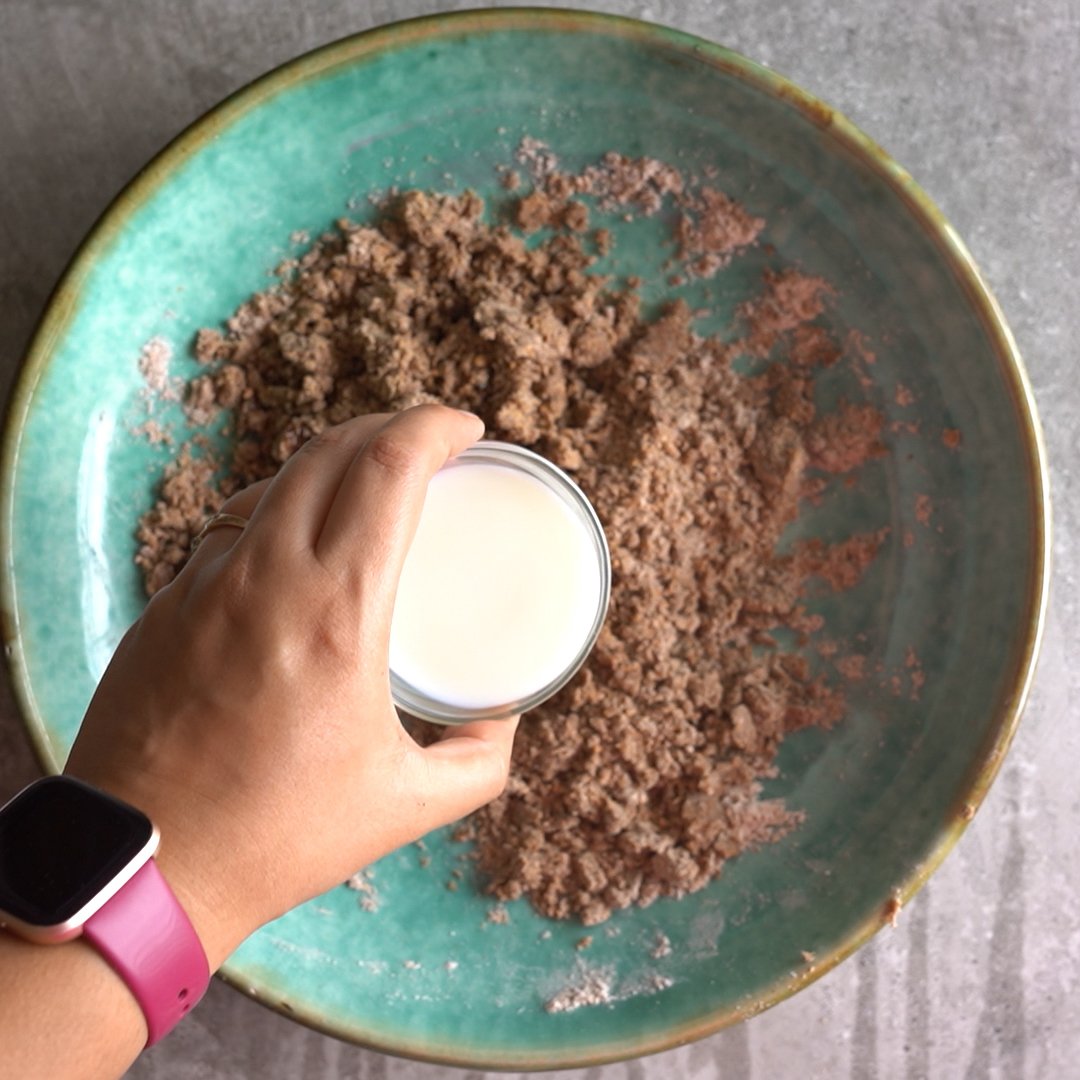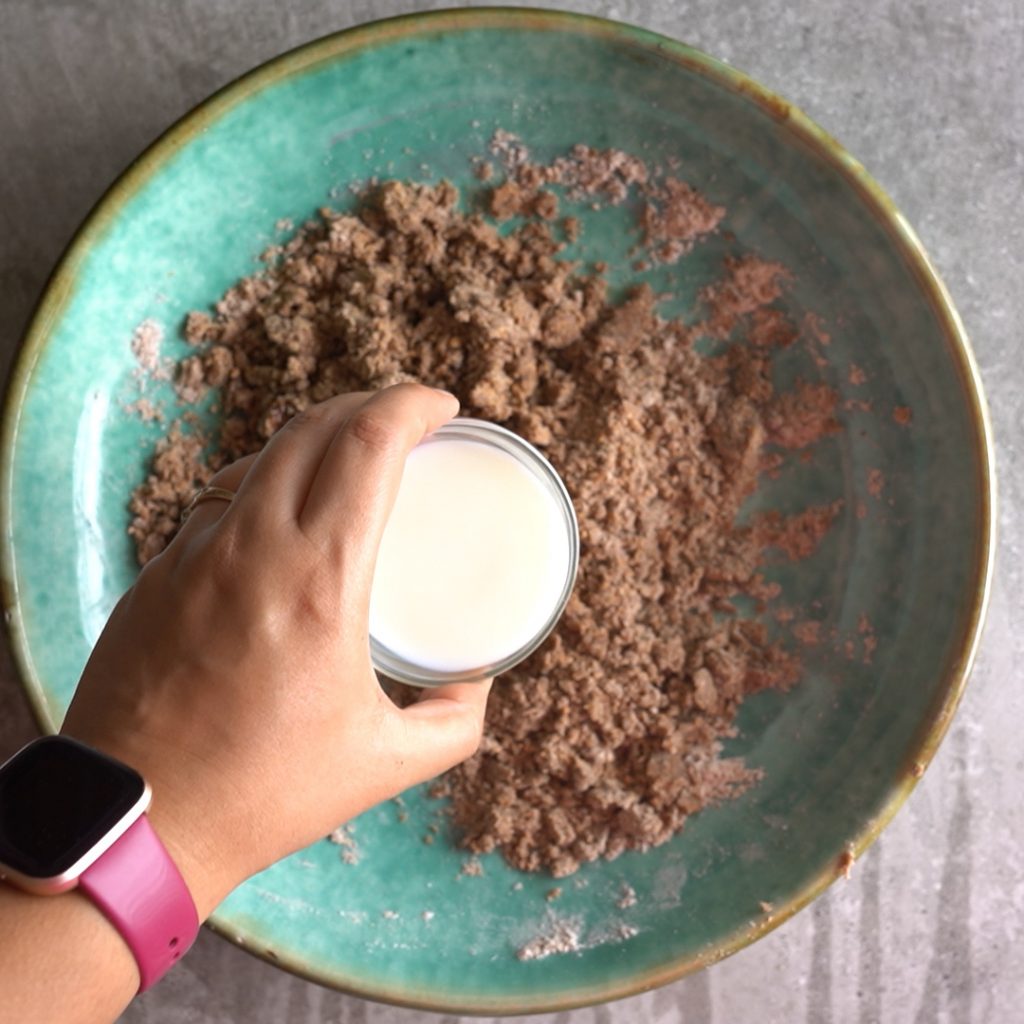 Step 3: Make the Ragi Cookie Dough
Once all the butter pieces have been rubbed into the flour, add the milk and vanilla essence.
At this stage, you are just bringing all the flour into one soft dough ball. Do not Knead it. Do the minimal possible work to get all the dry flour into the dough.
Add the chocolate chips to the dough and incorporate it in the dough.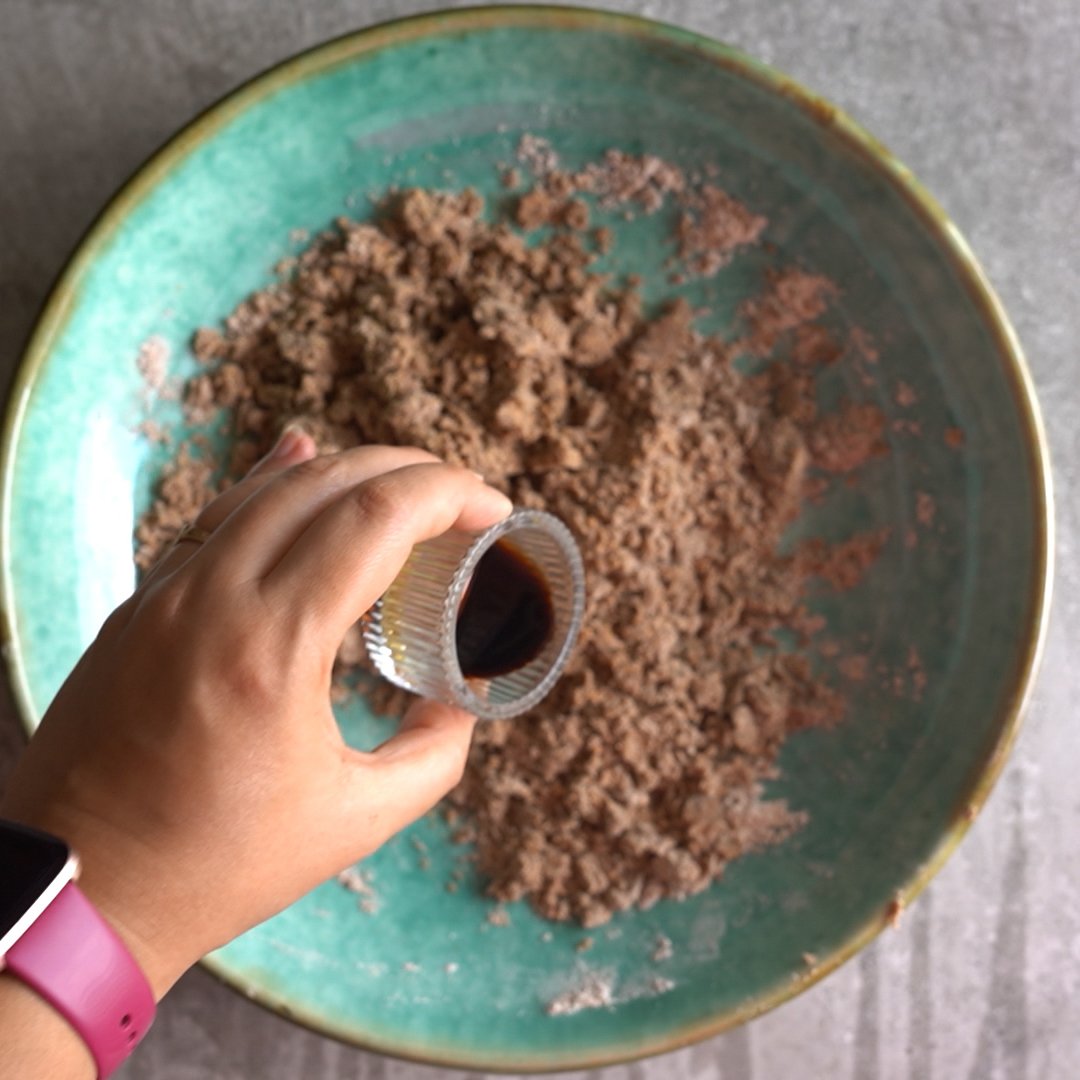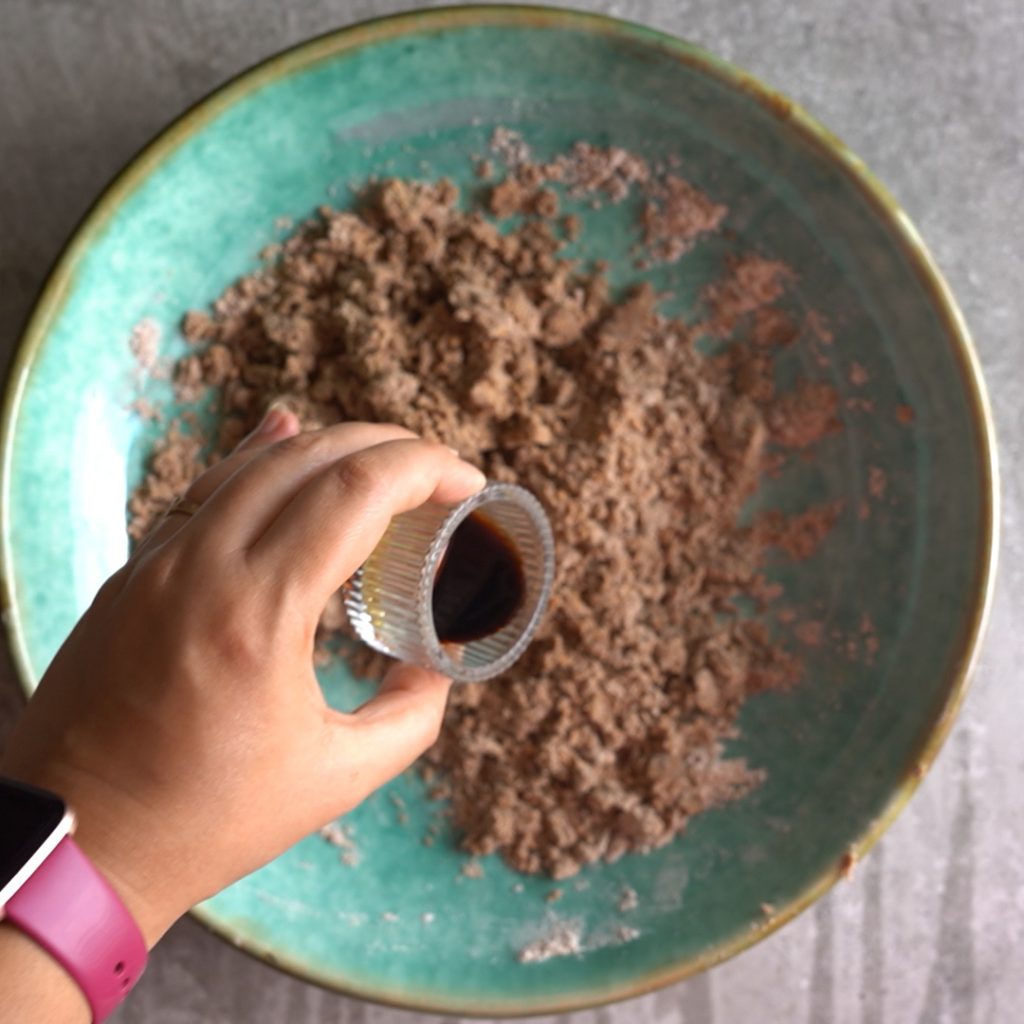 Step 4: Refrigerate
This step will help make the butter solid again. When the cold butter melts during the baking process, it makes the cookies crisp.
I would go for anywhere between 5 minutes in the freezer to overnight in the refrigerator.
Step 5: Shape
There are several ways to shape these cookies
Perfect Circles- You can make the dough into a cylinder before refrigerating. This way, you can cut out perfect circles of the cookie using a knife.
Cut Out Cookies- You can make these into cute shapes using a cookie cutter.I will explain this in detail below.
Ball and Press- This is my favorite fuss free method. I use a tablespoon to scoop out equal amount of cookie dough. Make it into a ball and then press to make a flattish circle.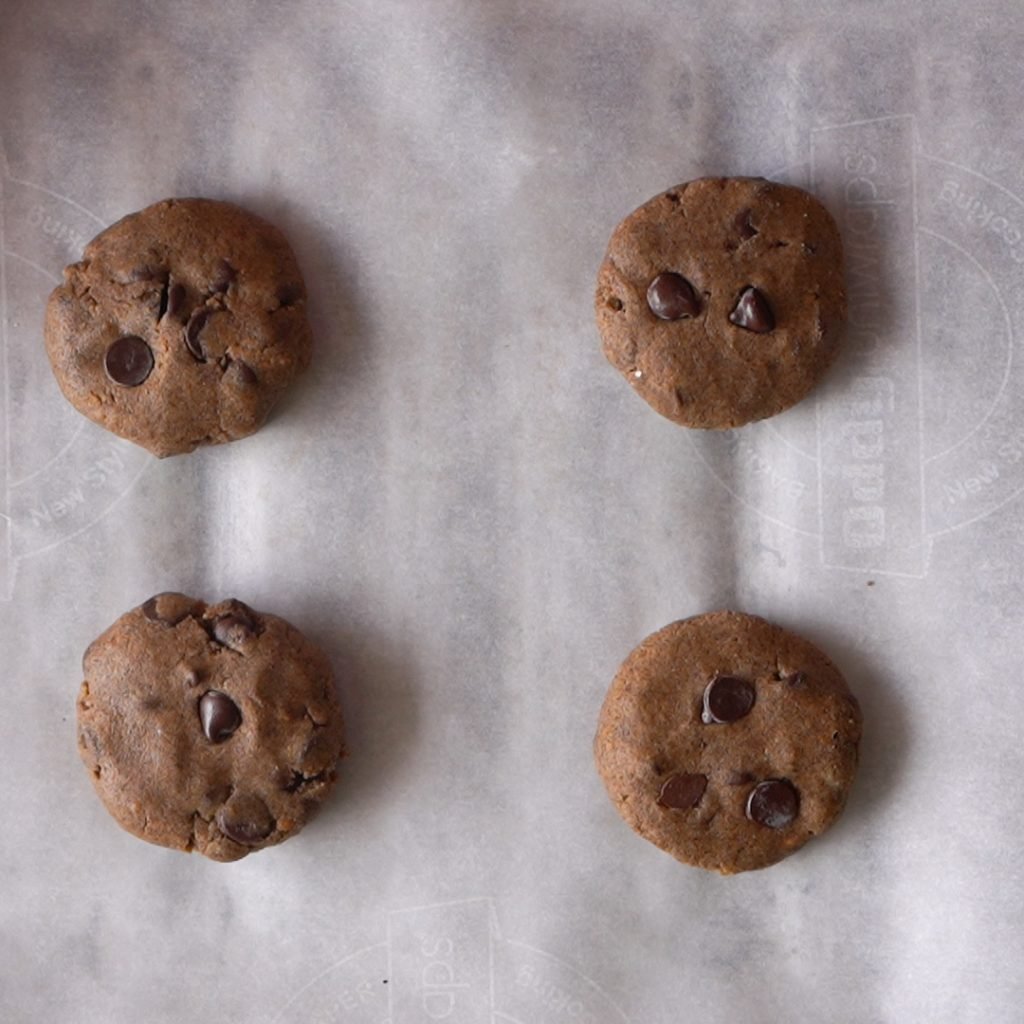 You can refrigerate the cookies again at this stage. Do this if you are not immediately sticking them in the oven.
A quick Tip- Press a few chocolate chips on top of the cookie at this stage. This will make your chocolate chip cookie look extra chocolatey!
Step 6: Bake
Preheat the oven at 180 C or 365F.You want to do this before sticking the cookies in the oven. Otherwise the cookies will not cook evenly.
To preheat, just let the oven run for 10 minutes empty.
Place the cookies inside. Make sure you put them in the middle rack. Not too much on top or bottom so all sides will cook evenly.
The time it takes to bake can vary. I keep an eye on the cookies post the 10 minute mark.
Step 7: Cool
The cookies will still be slightly soft. They will harden once they cool.
Place them on a wired rack so that the cookies can cool evenly from all sides.
The cookies will be lifted slightly at the center and will have cracks in the middle. You want that
Tips to make Ragi Chocolate Cookie
First- do refrigerate the cookie dough for at-least 30 minutes in the fridge.
Second- They do not spread as much, but rise quite a bit.So its important to shape the cookies accordingly.Make these cookies small and flat.Do not scoop them using a scooper like a traditional cookie but make small balls and flatten them on the baking sheet.
Third- These are soft cookies. If you want the cookies to be crisp, reduce the temperature to 160C /320 F and increase the time to 15 minutes.
Flavours of this Ragi Cookie
This recipe can be used as a basic Ragi cookie Recipe.You can add nuts(powdered nuts when giving to babies or toddlers), raisins or some spices- like cinnamon and Fennel.
I also have a Double Chocolate Chip Ragi Cookie on the blog.They are a tad bit more decadent cause of a double dose of chocolate but as healthy as these Ragi Cookies.
Storing & Leftovers
Once the cookies have cooled, you can keep them in an air tight jar. They will last for 2-3 days at room temperature.
You can increase their life by refrigerating them. They should last about 5-6 days in the refrigerator.
You can also freeze the cookie dough for making cookies later.I usually make balls of the cookies, stick them in a zip lock bag and freeze for when I want to bake them.
Find us on Instagram , Pinterest & Facebook here!
If you liked my recipe, do leave a comment!
It will help others find this amazing recipe too!
---
Ingredients
½

cup

Ragi Flour

/Finger Millet

½

cup

Whole wheat flour

I used multigrain flour

1

teaspoon

Baking Powder

½

cup

Chilled Butter cup into cubes

½

cup

Jaggery

brown sugar/Coconut Sugar

½

cup

Chocolate Chips

½

teaspoon

Vanilla essence

Chilled Milk as required.

about 6 tbsp; Add in 1 tablespoon increments
Instructions
Combine the Ragi and Whole wheat flours, baking powder and sugar.

Add vanilla essence to this mixture.

Rub & pinch the butter into the flour mixture.Use your fingers and thumb and rub the butter and flour in between your fingers so that the butter and flour starts to clump toghether.

Continue doing so till the butter is almost incorporated coarsely into the flour.It should look clumpy.

Add milk and chocolate chips knead(just barely) the butter-flour mixture.Do not over knead but just combine everything together.

Cover in cling wrap or in a bowl with a lid.Keep in the fridge for at least 30 minutes.

Take golf ball sized dough into your hands, form a ball, flatten with your palm and place on the baking tray.

Bake at preheated oven for 12 minutes* at 180 degrees C.
Notes
if the dough isn't coming together, which can happen because Ragi is gluten free and non sticky, add a little more whole wheat flour and a few drops more of milk so that the dough comes together better.
For a normal amount of sweetness- Add ½ Cup Jaggery ; if you like it a little less sweet- try ¼ cup of jaggery.
Baking time is for small sized flat cookies.
These are soft cookies. If you want the cookies to be crisp, reduce the temperature to 160C or 365 F and increase the time to 15 minutes.
Nutrition
Serving:
1
cookie
|
Calories:
155
kcal
|
Carbohydrates:
19
g
|
Protein:
2
g
|
Fat:
8
g
|
Saturated Fat:
5
g
|
Trans Fat:
1
g
|
Cholesterol:
18
mg
|
Sodium:
83
mg
|
Potassium:
66
mg
|
Fiber:
1
g
|
Sugar:
10
g
|
Vitamin A:
191
IU
|
Vitamin C:
1
mg
|
Calcium:
60
mg
|
Iron:
1
mg
If you liked the recipe, please leave us a rating
Follow me on Instagram
My handle is @yellowthyme
Read more about millets and how they compare with wheat and rice on my how to introduce Millets in our diets.