This post contains affiliate links. As an Amazon Associate I earn from qualifying purchases. Click here to read my policy.
Eggless Brown Butter Chocolate Chip Cookies - Egg Free Chocolate cookies with Crispy edges, soft ooey and gooey center, this is the only cookie recipe you will ever need!
These cookies are
Easy to make, need no Chilling
No special ingredients, equipment, or skills needed!
Have two sources of Chocolate
Egg Free and hence vegetarian
The cookies are slightly soft and cakey on the inside but just enough crunch on the outside. The most perfect Cookie !
If you are looking for healthier chocolate chip cookies, give my Eggless Finger Millet(Ragi) Chocolate Cookies a try.
These are quite possibly the best chocolate chip cookies that you will ever taste. It is loosely based on the chocolate chip recipe by boy who bakes. That recipe has egg and i wanted to make something which everyone could eat.
That's how this recipe was sort of invented.
I make a several batches of these along with these pistachio biscotti every year for Christmas. These along with my Eggless Chocolate Cake are 2 recipes that never fail!
They are not your regular chocolate chip cookies. These are the BEST version of cookies.
There are 2 reasons why- First it's the browned butter.
Browned butter adds a distinct rich nutty flavor to these cookies. I can't really explain it till you eat it.
The second reason is the chocolate. Let me explain. We use two types of chocolate here. Dark Chocolate that's been finely chopped. With the dust and all. This is the bit that goes and mixes with the dough. It gives you flecks of chocolate mixed up in every bite.
Then there are the chocolate chips. These give you that burst of chocolate with each bite. Get the best possible chocolate chips you can afford. If you are in the USA- use Hersheys or Ghirardelli .If in India, use Cadburys or Urban Platter Chocolate Chips.
You can also use a mix of Dark Chocolate and Milk Chocolate to give you a contrast in a single bite.
Why we love these Vegetarian Chocolate Chip Cookies
Here is why we love these cookies.
They have crispy edges and soft center. The textural contrast is just WINNING!
Made only from pantry ingredients- nothing that you have to go out and buy.
No Chilling required- So if the urge hits you, you can make and eat these cookies in 20 minutes flat!
Vegetarian- So my whole family can eat it!
Ingredients
Here is what you will need to make the best eggless Chocolate Chip cookie ever.
Flour
Baking Powder
Butter
Salt
Brown Sugar
White Sugar
Milk - Dairy or Non Dairy
Vanilla Essence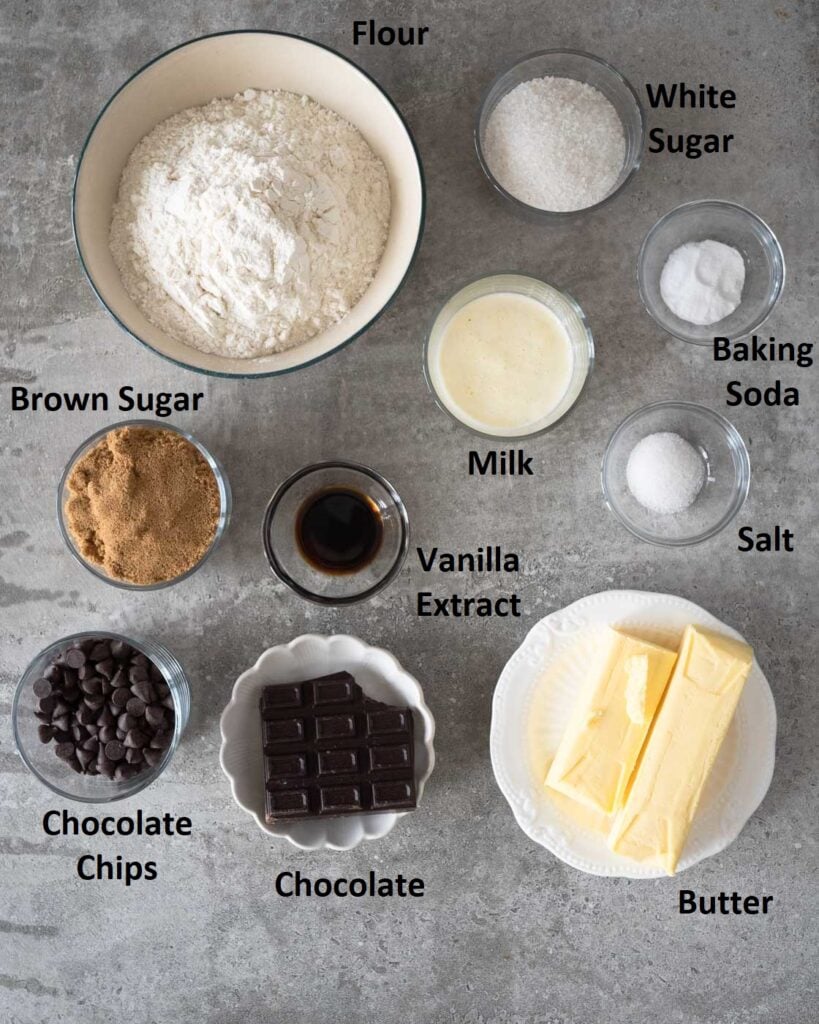 Flour
Use regular APF- all purpose flour or white bleached flour to make these cookies. Before you ask, I have not experimented with other flours so i can't comment on it.
Chocolate
If you see the ingredients picture, we have used two chocolate sources- the chocolate chips and the chocolate bar.
The kind of chocolate you use, will be decide how the cookie tastes. So make sure you get the best quality you can afford.
For the Chocolate chips - You can use dark Chocolate chips, milk chocolate chips or semi sweet chocolate chips too.If you are in the USA- use Hersheys or Ghirardelli .If in India, use Cadburys or Urban Platter Chocolate Chips.
I sometimes like the contrast of milk chocolate chips and dark chocolate bar.
For the Chocolate- I have used a dark chocolate bar. Again, you can choose to make this with a milk chocolate bar instead.
The reason to use two different chocolate sources is to have the best of all worlds. You get the bite from the chocolate chips and you get these little specks of dark chocolate in the dough.
I also leave some bigger chunks that I strategically place in the center of the cookie so I can get a gooey warm dark chocolate when I bite into it.
Butter
I have used both salted and unsalted butter with equal success here. The rule to use salted butter is to just reduce the additional salt you have to otherwise add.
And here is the kicker
We brown the butter.Its very similar to the ghee making process but we use all of the brown bits plus the liquid gold that's left.
You can skip browning the butter and make the cookies with regular melted butter. I mean, sure, I get it, that's definitely an added step. I would probably skip this if I had a heavy craving to eat homemade chocolate chip cookies. It will reduce your time from 20 to just about 12 minutes.
Brown Sugar
Soft brown sugar is important in this recipe. It does a few things
It makes the cookies chewy in the center
It gives the cookies the signature light brown hue
It also gives this caramelized taste which is present in every great cookie.
Using white sugar will not give you all of these. So yes.if you can, go out and buy a box of brown sugar.
To measure this sugar, you have to press the sugar firmly into the measuring cup. The better way, always, is to weigh the ingredients instead.
Milk
Milk acts as the final wet ingredient which replaces eggs in a traditional cookie recipe. I always use full fat milk for this.
Baking Soda
Don't use baking soda that's older than a year. Really..that stuff on the back of your pantry has expired even if the box doesn't say the same.
Vanilla Essence
Here is the thing. Buy the best vanilla essence you can buy without breaking the bank. Especially if you bake more than a few cookies and a cake every year.
Makes a HUUUGGGE difference.
How to make Egg Free Chocolate Chip Cookies
Step 1: Brown the Butter
The first step is to brown the butter. It's basically heating the butter to a bubbling point where the milk solids from the butter start to brown.
This adds a deep flavor to the butter.
Here are the detailed steps to brown the butter
Add the butter to a heavy bottomed pan at low- medium heat.
Let the butter melt and start bubbling.
You should see a white foam on top. That's when the butter starts to separate into fat and milk solids
The milk solids will settle to the bottom of the pan and start browning.This is when the butter starts smelling nutty.(Exactly like the ghee making process)
Keep mixing the butter with a spoon. You should be able to see the brown bits under the white foam.
Switch off the heat as it becomes golden. This is important so as to not burn the butter.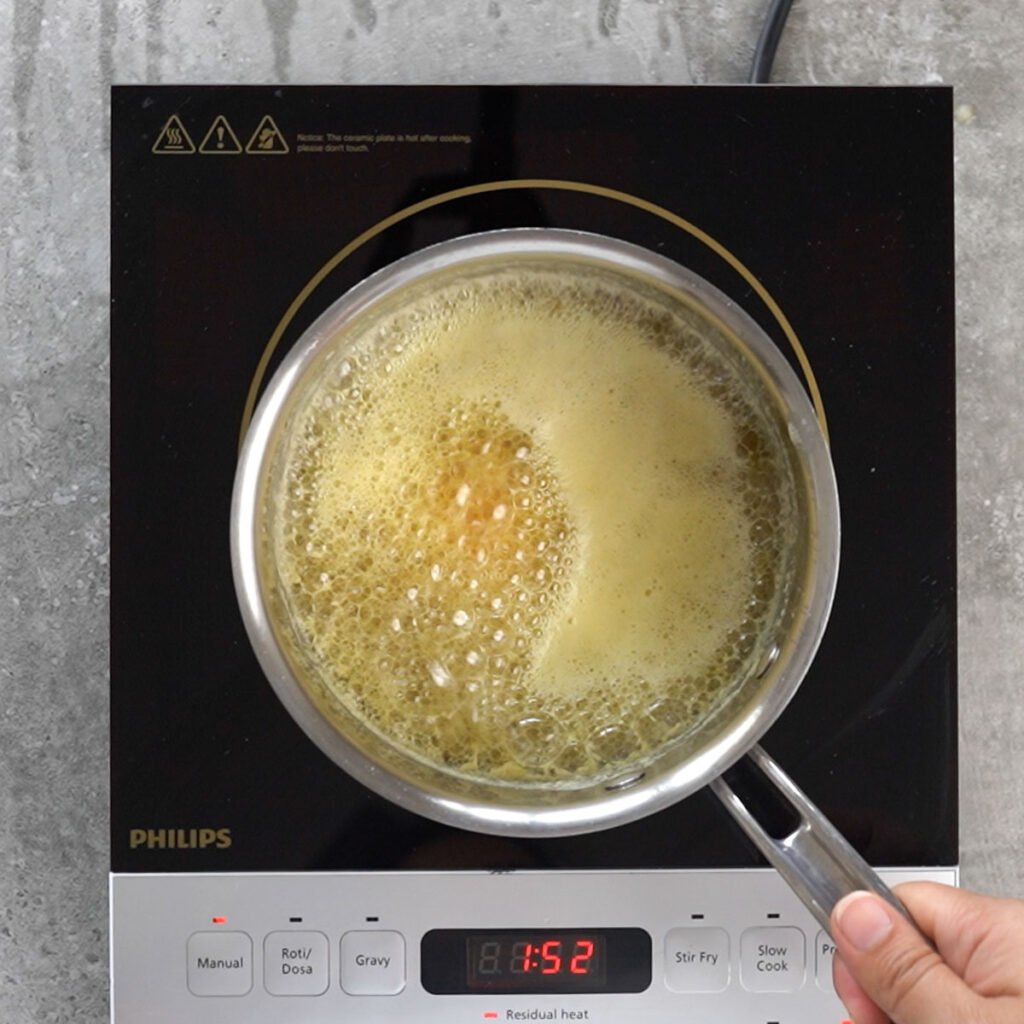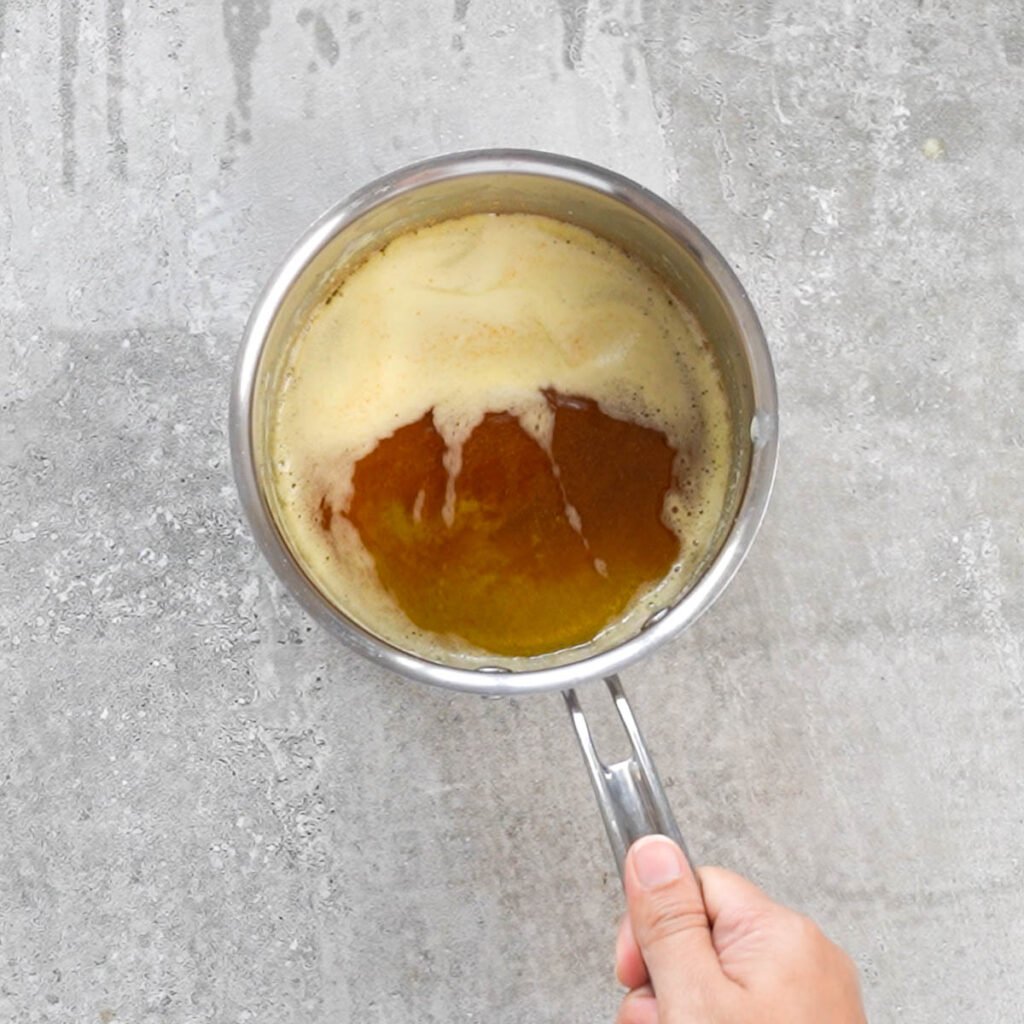 Step 2: Mix the Sugars
Transfer the butter into a large bowl. Add both the sugars- brown and white.
This step is called creaming the sugar. Whisk everything together for about 3-5 minutes. You can use a regular whisk or a handheld whisk.
After this, add the milk and vanilla essence. Mix it up together.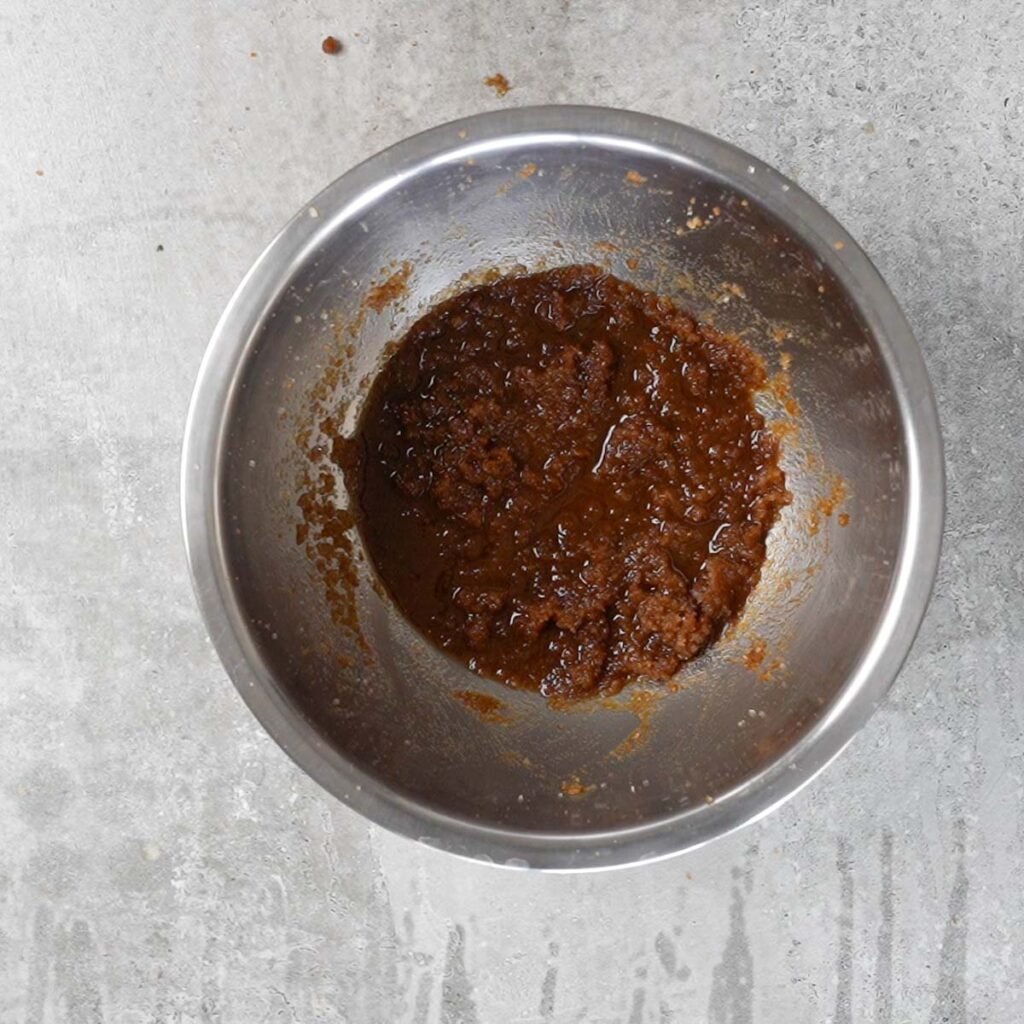 Step 3: Add the flour
To your creamed sugars, add the flour, baking soda and salt.
If you are using salted butter, reduce the salt to half the tsp.
Using a spatula, mix the dough lightly till you don't see specks of flour anymore.
Add the Chocolate Chips and the chopped up chocolate bar.
Chop up the chocolate. Chop some bits into fine slices and some into chunks. You want to use all the different chocolate textures here- the dust, chunks, slices. All of it.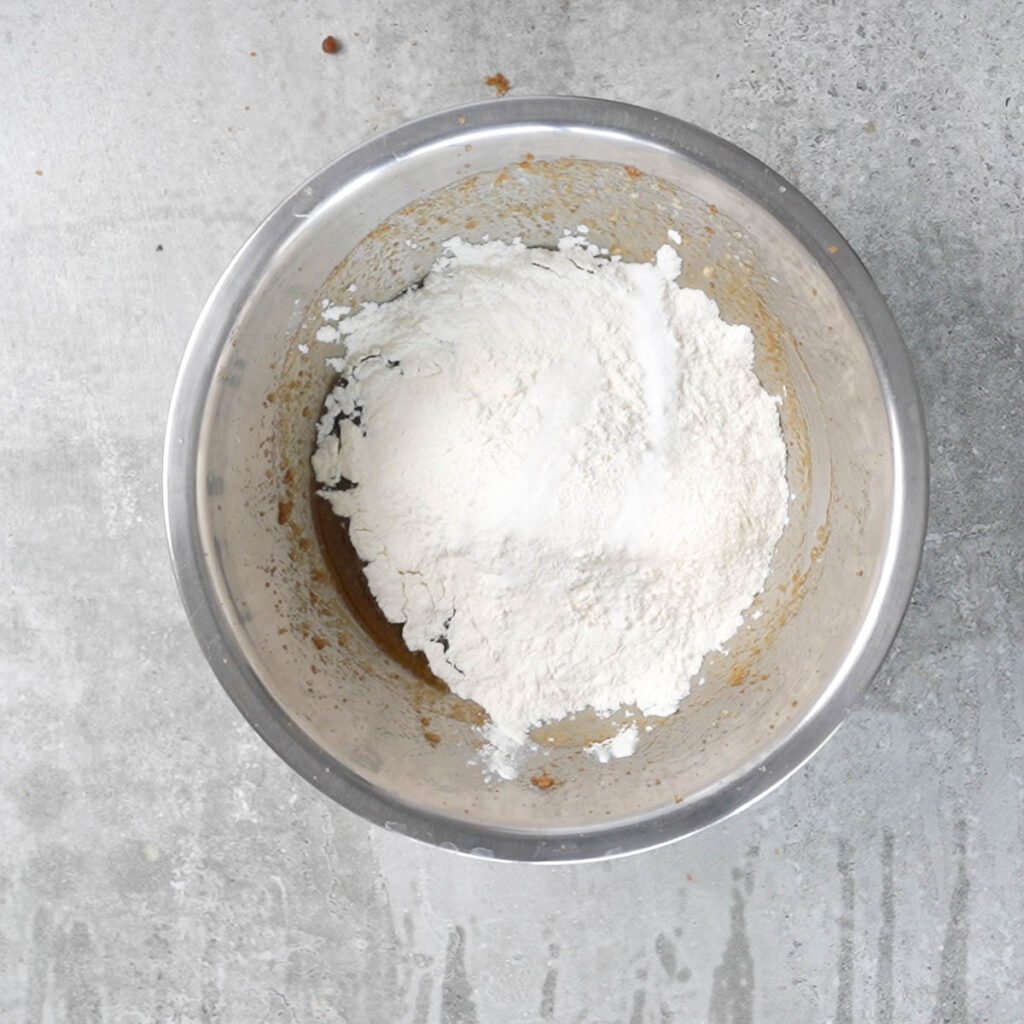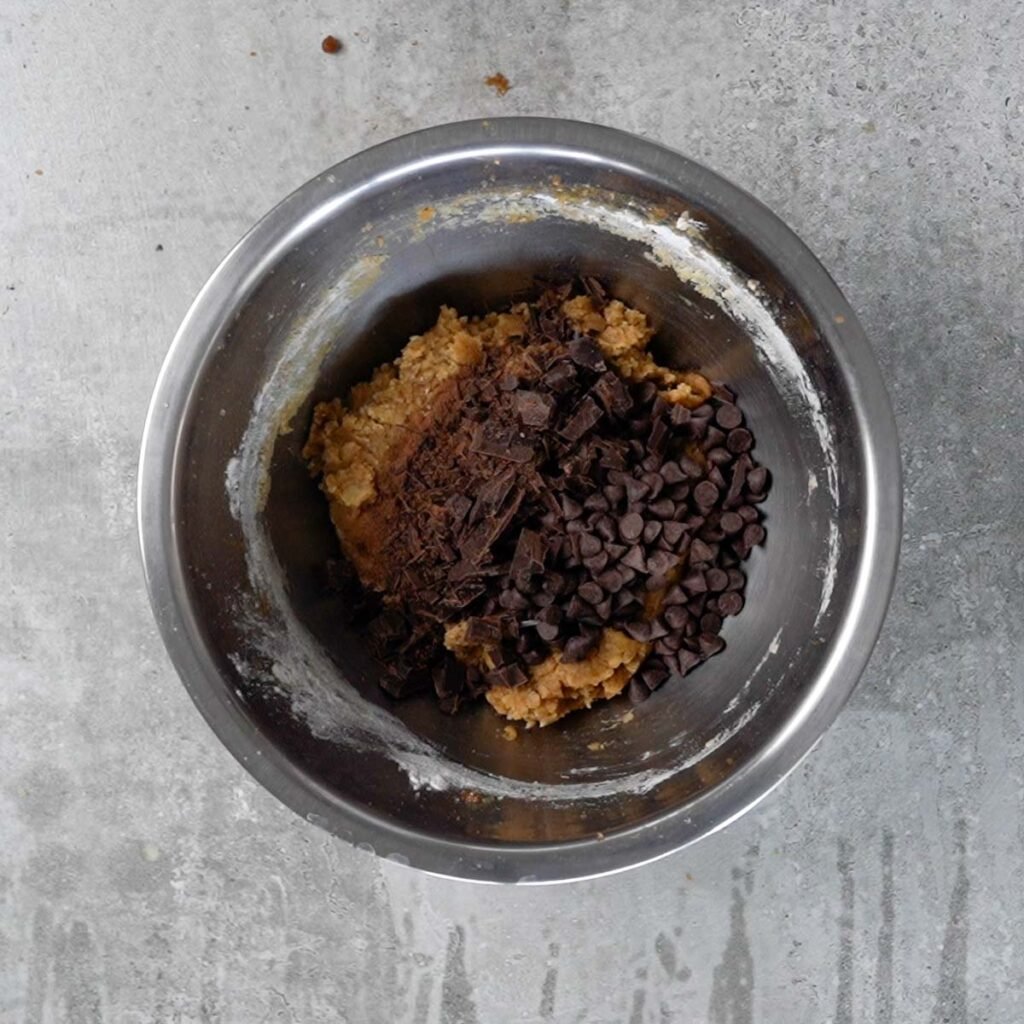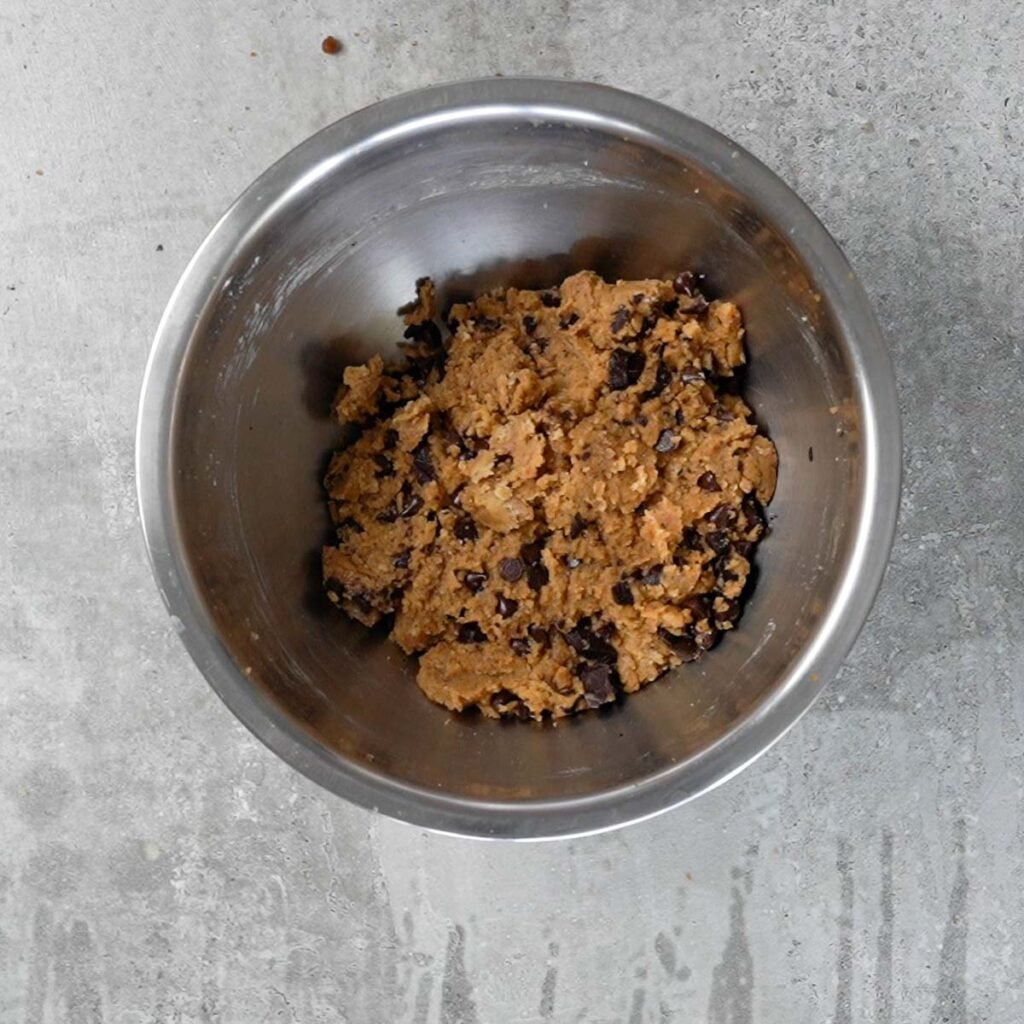 Step 4: Shaping the Cookies
You don't need to chill this cookie dough. Use a ice cream scooper to scoop out equal portions of the cookie dough.
This is the ideal way to get same sized cookies. Press them lightly to make them a little flatter.
Add a few chocolate chips from the top so that the cookie looks like a cookie from a high end bakery.
Place it on a baking tray.
Step 5: Baking
Preheat the oven to 180/356F for about 10 minutes.
Line the baking sheet with baking or parchment paper.
Place the cookies in the middle rack and bake for 10 minutes.
At the 5 minutes interval, remove from the oven and switch sides.
The back of the oven is usually warmer than the front, so if you want the browning to be even, you should rotate the pan midway.
Remove at 10 minutes from the oven.
The cookies should be slightly domed in the center and light brown on top.
Step 6: Cool Down
As soon as you remove the cookies from the oven, using a flat spatula, place them on the wire rack to cool down.
Let them cool down slightly before you start dunking them in milk.Enjoy!
Freezing The Dough
You can freeze the cookie but i like my cookie fresh and slightly warm.There is just some other joy in eating fresh out of the oven cookie.
So instead, Freeze the cookie dough after your shape it into scoops. And I speak from experience, its extremally frustrating to shape cold dough.
Freeze it in a tray and later transfer it into a a zip lock bag. To bake the cookie, let the cookie dough thaw for about 20 minutes on the counter before baking it.
Storing
The cookies can sit out on the counter for 4-5 days. Though, it's best to keep them in an air tight container to maintain the freshness.
Be sure to let the cookies cool completely before you store them.
I like my cookies slightly warm. That way some of the bigger chunks of chopped chocolate melt a bit and I love that!
Also it refreshes the cookie. All you need to do is microwave is for about 10 seconds and the cookie will be ready to be dipped in milk!
Have you ever tried making cookie dough? Here is a recipe for edible sugar cookie dough that you will love!Or if you want to go GF, try this gluten free cookie dough
Freezing the Cookies
You could also freeze baked cookies. You can just microwave them and bring them to room temperature or slightly warm.
Though a better way is to freeze portioned out cookie dough. This way you can have fresh cookie anytime you want!
How to Keep the Cookie Soft
The trick to make the cookies soft is to underbake them.
If you like your chocolate chip cookies soft then all you have to do is take them out of the oven 1 minute before the cooking time is done.
They should still look a little unbaked in the center. The cookies will be soft when you take them out of the oven but they will set once they are cooled.
Here is another recipe for soft chocolate chip cookies
Tips & Tricks
Preheat Oven - Always preheat the oven for 10 minutes at 180 C before baking. This is essential- it can make or break your recipe.
Baking Temperature - Baking temperature of ovens can vary a lot. Especially the smaller on the counter baking ovens. If you are repeatedly getting burnt cakes or cookies, try using an oven thermometer to see what's the real temperature of the oven.
Baking Powder - Do not use old baking powder or Soda. To check if the baking soda or powder still works, add a it to hot water. If it bubbles, its working fine
Recipe - In baking, measurements are important. So please follow the recipe to the T.
Use an Ice Cream scoop to measure, portion and shape the cookies.This will make sure all cookies look similar and cook at the same time.
Final Tip for gorgeous looking cookies- Add some Chocolate chips from the top just before baking
Possible Variations
There are a few ways you can tailor the cookie to your specifications
Stuff a piece of dark chocolate inside
Okay this is my favorite trick. When I am shaping the cookie, i take slightly less cookie dough in the scoop. I add a piece of chocolate and then cover it up with more cookie dough.
That way when it bakes, i get some ooey gooey melty dark chocolate in the center. It's just HEAVEN!
Mix of Chocolate & Nuts
Instead of using all chocolate, I sometimes add toasted chopped up pecans in the cookie too.
You can also add walnuts, orange peel, hazelnuts instead.
Love cookies as much as us? Here are a few more Eggless Cookies for you
Ragi Chocolate Chip Cookies
Healthy Millet Cookies - Eggless

If you make these cookies, do leave me a note in the comments.I would love to hear your thought on it.
Find us on Instagram , Pinterest & Facebook here!
If you liked my recipe, do leave a comment!
It will help others find this amazing recipe too!
---
Ingredients
½

Cup

Sugar

White, Granulated (100 gm)

¾

Cup

Brown Sugar

Packed, 150 gm

¾

Cup

Butter

Unsalted ; 170gms

1

teaspoon

Salt

¼

Cup

Milk

4 oz

1

teaspoon

Vanilla Extract

1.5

Cups

All Purpose Flour

250 gms

½

teaspoon

Baking Soda

½

Cup

Chocolate chips

4 ounces ; Milk or Dark

¼

Cup

Chocolate

2 ounces ; To chop
Instructions
Measure all the ingredients using a weighing scale or cups. Make sure the brown sugar is pressed into the cup when measuring.

Chop the chocolate bar up roughly- you should have some chunks, some slivers and a lot of chocolate dust.
Brown the Butter
Heat a heavy-bottomed pan. Add the butter to it. Keep the heat low- medium

The butter will melt completely and start foaming. In about 5 minutes you will see that below the foam, the milk solids have separated and are browning.

Switch off the heat when you see light brown- golden brown specks. The butter will brown further so its important to remove it from the heat before it's really brown.
Creaming the butter & Sugar
Add the butter to a large bowl. To that add the sugars.

Whisk it together for 2-3 minutes using a hand or electric whisk.

To this, add the milk & Vanilla Essence. Mix it up.

In another bowl, Add the flour, salt and baking soda. Mix it together

Add the flour mixture to the butter & sugar mix. Using a spatula, mix it together.

Add the chocolate - chips & Chopped chocolate and fold them together
Scooping
Using an ice cream scoop, scoop out portions of cookie dough onto a baking tray.
Baking
Preheat the oven to 180/365F for 10 minutes.

Bake the cookies in batches.

Place the cookie sheet in the middle rack. Bake for 9-10 minutes till it's slightly brown from top.
Cooling
Cool the cookies on a cooling rack before eating.
Notes
Chocolate
Use the best quality chocolate you can get. You can use a combination of dark, semi sweet and milk chocolate chips. 
For the bar, do not use compound chocolate. Instead, use your favorite chocolate bar, I like to use 70%  Lindt bar.
Brown butter
If you want, you can skip browning the butter and use melted butter instead. The cookie will spread a bit more with melted butter.
Also, When making brown butter, always remove the heat before you see that caramelly dark golden color. The butter will keep on browning even without heat.
Storing 
Cool the cookies completely before storing them in an air-tight container. They will last for 5-7 days on the counter.
Though they are best eaten by 2-3 days. 
Serving
These cookies taste the BEST when slightly warm. This way the chocolate is melty, ooey, and gooey!
Also the cookie itself becomes softer and completely refreshed when heated.
Freezing
You can freeze the cooked cookies & shaped cookie dough.
To bake frozen cookie dough, Bake them at 170C/340F for 12 minutes.
Nutrition
Serving:
1
Cookie
|
Calories:
198
kcal
|
Carbohydrates:
25
g
|
Protein:
2
g
|
Fat:
10
g
|
Saturated Fat:
6
g
|
Trans Fat:
1
g
|
Cholesterol:
19
mg
|
Sodium:
205
mg
|
Potassium:
62
mg
|
Fiber:
1
g
|
Sugar:
17
g
|
Vitamin A:
228
IU
|
Vitamin C:
1
mg
|
Calcium:
24
mg
|
Iron:
1
mg
If you liked the recipe, please leave us a rating
Follow me on Instagram
My handle is @yellowthyme
Frequently Asked Questions
Do I need to Chill the Cookie Dough?
For this recipe, you do not need to chill the dough.
If you are not making the cookies immediately, you can put it away in the refrigerator for 3-5 days.
To bake, simply portion and shape the cookies. Place them on the parchment paper. Bake them at 170C for 12 minutes instead.
My Cookie is burning from the bottom. How do I fix it.
There are three reasons for this
1. The temperature is too high. A separate oven thermometer helps double check the temperature.
2. You are cooking the cookie for longer than necessary. The 10 minutes cooking time is for a cookie that's almost 2 ½ tablespoon in size.
Anything smaller or bigger will have a different baking time.
3. You are baking the cookies in the lower rack of the oven with direct heat under them
How to shape the cookie without a scoop
If you do not have a scoop, you can measure out the cookie dough with a tablespoon.
Use your hands to make it into a ball. Flatten it a bit before putting it in the oven.
Is this Chocolate Chip Cookie Vegetarian
Yes. This chocolate chip recipe is vegetarian as there is no egg in the recipe
Can I make this Cookie without chocolate chips
Yes!
Instead of chocolate chips, you can use - Chopped up chocolate - Dark, Milk and semi sweet , White chocolate, Dark Chocolate, Raisins & Nuts

Can the Chocolate Chip Cookie Dough be Frozen
Yes.
You can freeze the cookie dough in a freezer bag or freezer friendly box.
The best way to freeze the cookies is to first portion them out and shape them. Freeze them flat on the cookie tray and then put them in a bag.
That way, you can make cookies whenever the fancy hits you.
Can I use regular butter instead of brown butter
Yes, absolutely.
Just melt the butter so that it's liquid before making your cookie dough.