Edamame Chaat - Lipsmaking Indian Snack made with cooked edamame, onions, tomaotes and chutney!
It is crunchy, squishy, sweet, savory , sour and tangy all at the same time! oh and its also vegan and high in protein!
This Recipe is a modern twist on classic Bhel Puri.It is a perfect 5 pm snack or an appetiser.
I am always searching for healthish recipes.Usually they dont quite hit the spot.But Edamame Chaat has been quite a surprise!
It's addictive but....Check out the nutritional details in the recipe.100 gms of this chaat has a whooping gms of protein.
You could say it's a salad but to most indians chaat is way more than salad.It's usually a crazy mix of indulgence and nostalgia.
Thats why this is a great snack.You dont feel cheated after eating this.Like you are on a diet.
Another wonderful way to serve Indian snacks and dips is on a charcuterie board.
What is Edamame
If you were wondering about this strange sounding "Edamame" then here is the gist of it.
It is fresh , young soy bean.Right out of the pod.It's very high in protein.In fact it is a great source of vegan protein.
I have written a whole post on whats edamame, where to get it and how to cook with it.Do check it out.
What is Chaat
Chaat is an indian snack.The word "Chaat" means something so delicious that you lick( hindi word for it is chaat) the plate and your fingers!
It should have something crunchy,soft,tangy,spicy and sweet.If you have never had chaat then i urge you to go to an indian mithai shop or resturant near you and try it ASAP!
Chaat can be made in have many forms.Here are some famous Chaats of india
Bhel Puri
Pani Puri
Dahi Vada
Aloo Tikki Chaat
Samosa Chaat
Papdi Chaat
Channa Chaat
The list is long!
Ingredients for Edamame Chaat
Edamame Chaat is a simple form of chaat.It's almost like a salad with indian elements.
Here is what you need for it
Steamed or Boiled Edamame Beans
Onion
Tomato
Cilantro
Lime Juice
Pomegranate ( or any other sweet fruit)
Chaat Masala- available in indian groceries
The list above is a starter list.These are the ingredients you must have.Here are the add ons that make a huge difference in this recipe.
Boiled Potatoes
Tamarind Chutney-Imli Chutney
Sev-The thin sev
Substitutions and Swaps
Chaats are usually forgiving and un forgiving at the same time.So if you want a quick snack ..then feel free to omit or substitute certain things.
But if you are serving guests, then you want to have all the ingredients on hand.They will make a perfectly lip smacking, lickable appetiser for any dinner party.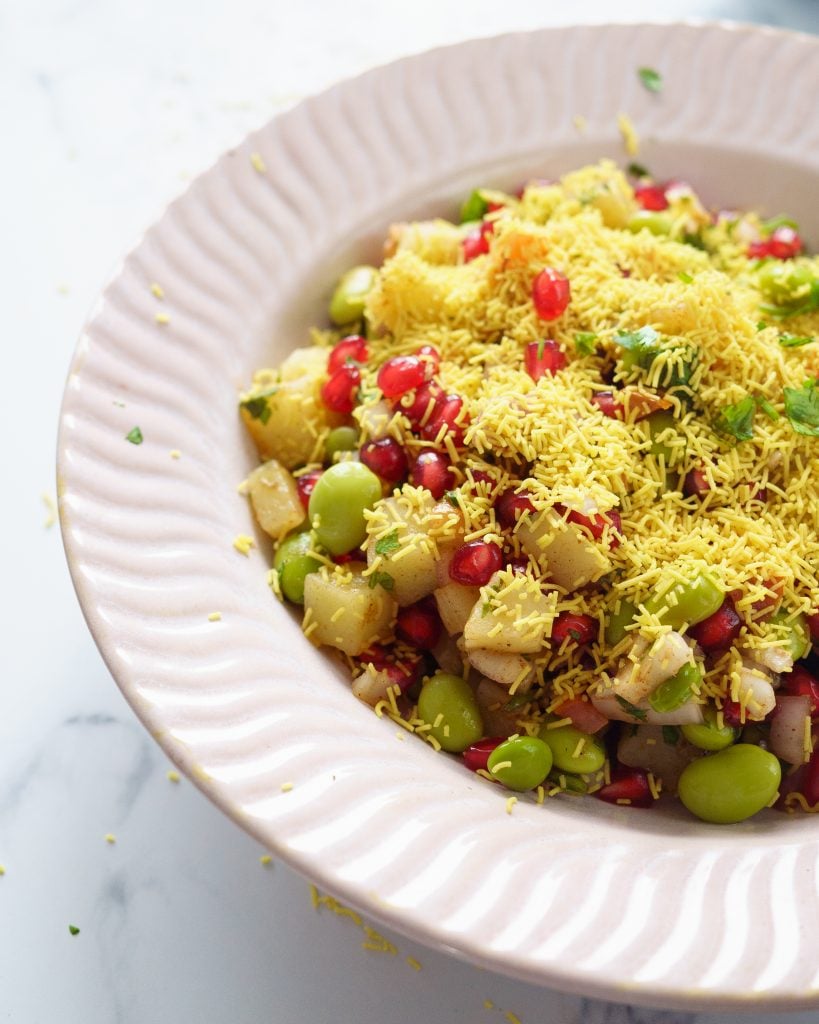 Here are some swaps
Edamame- Substitute edamame with boiled Chickpeas,Black eyed peas,beans.You can also use steamed corn or peas.
Onion- If the onion you have is very pungent, soak it in equal parks of sugar,vinegar,salt and water.It will get lightly pickeled in 5-10 minutes.
Potatoes- You can use sweet potatoes instead.Or you can leave it out completely.
Pomegranate - swap this with apples, pear or Mangoes.
Chaat Masala- This is essential to the chaat.Here is an easy homemade version of it.
Sev- The thin sev works the best.Sometimes it is difficult to get so you can swap it with crushed potato chips, aloo sev, crushed papad.
Tamarind Chutney- i usually make a big batch of this at home.My recipe is similar to this recipe. I also use storebought chutney.It usually doesnt dissapoint! If you are on a diet and controlling your sugar intake, you can omit this or make it with a sugar substitute.
How to Make Edamame Chaat
Step 1: Prep
Start with preparing all the elements.
Edamame- if edamame is fresh, blanch it.If you get frozen edamame, thaw it.
Chop the onions,tomatoes,potatoes and coriander.Peel the pomegranate and get the kernels.
This step is the most time consuming one.After that its just mixing and beautifying the chaat.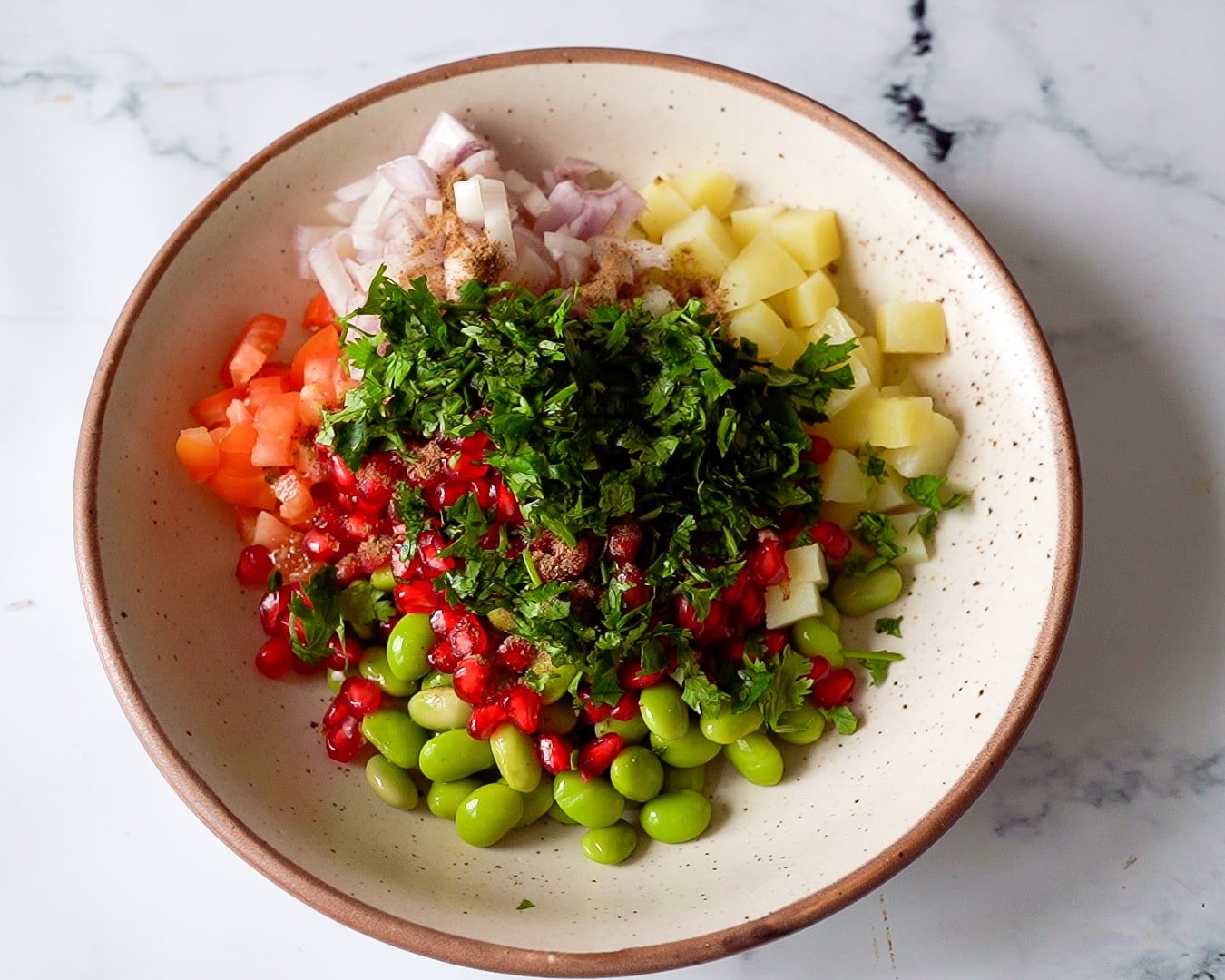 Step 2: Mixing
Choose a large bowl.Add the ingredients one by one.Start with edamame,onion,tomaotes,pomegranate and coriander.
Add the chaat masala, tamarind chuteny and sev.
Give it a mix and serve fresh!
Leftovers & Storage
The only way to store a chaat is do keep all elements separate.Once the chaat is mixed, it will remain crisp for about 30 minutes at max.After which things get soggy.
If you are serving to guests , you can mix everything other than the onions and the sev.Add the sev and onions when your guests arrive on the table to eat.
More Edamame Recipes
You can tell that i have been overdoing on Edamame Lately.Here are some Edamame recipes i have been making
Quinoa Edamame Salad
Airfryer Honey Chilli Edamame
Boiled Edamame

Also check out my Pav Bhaji recipe.Its a great crowd pleaser!
Find us on Instagram , Pinterest & Facebook here!
If you liked my recipe, do leave a comment!
It will help others find this amazing recipe too!
---
Ingredients
1

Cup

Edamame Beans

Steamed or blanched

¼

Cup

Boiled Potatoes

¼

Cup

Onion

Chopped

¼

Cup

Tomato

½

Cup

Pomegranate

2

tablespoon

Coriander

Chopped

1

tablespoon

Chaat Masala

adjust as per taste

½

Lime

1 tablespoon Lime Juice

2

tablespoon

Sev
Instructions
Chop the onion, tomatoes, and coriander. Remove the pomegranate kernels from the fruit.

Blanch the Edamame (if using fresh) or thaw it if using frozen

Add them to a large bowl.

When you are ready to serve, add the tamarind chutney,chaat masala and mix.

Top it with sev and serve rightaway
Notes
Edamame 
Use cooked edamame beans here. If using fresh, blanch and cool them before using.
If using frozen- thaw it in water till it's not frozen.
Sev
These are thin crisps made of chickpea flour.If you cant find them, substitute them with crushed potato chips or papad.
Nutrition
Calories:
286
kcal
|
Carbohydrates:
41
g
|
Protein:
12
g
|
Fat:
11
g
|
Saturated Fat:
2
g
|
Trans Fat:
1
g
|
Sodium:
359
mg
|
Potassium:
855
mg
|
Fiber:
9
g
|
Sugar:
15
g
|
Vitamin A:
190
IU
|
Vitamin C:
25
mg
|
Calcium:
74
mg
|
Iron:
3
mg
If you liked the recipe, please leave us a rating
Follow me on Instagram
My handle is @yellowthyme