This is a complete guide on Edamame- You will find all you need to know about this little legume - From how to eat Edamame to Why it's good for you!
Pronounced eh-dah-mah-meh.It's gained quite a fandome, especially from people intrested in plant based protein.A bright green color bean that can be eaten as a snack,added in salads and bowls and made into dips!
If like me, you have wondered what in the world is Edamame?Here are all the answers!
So let's dive in!
If you are looking for specific information, use the jump to links below!
Jump to:
What is Edamame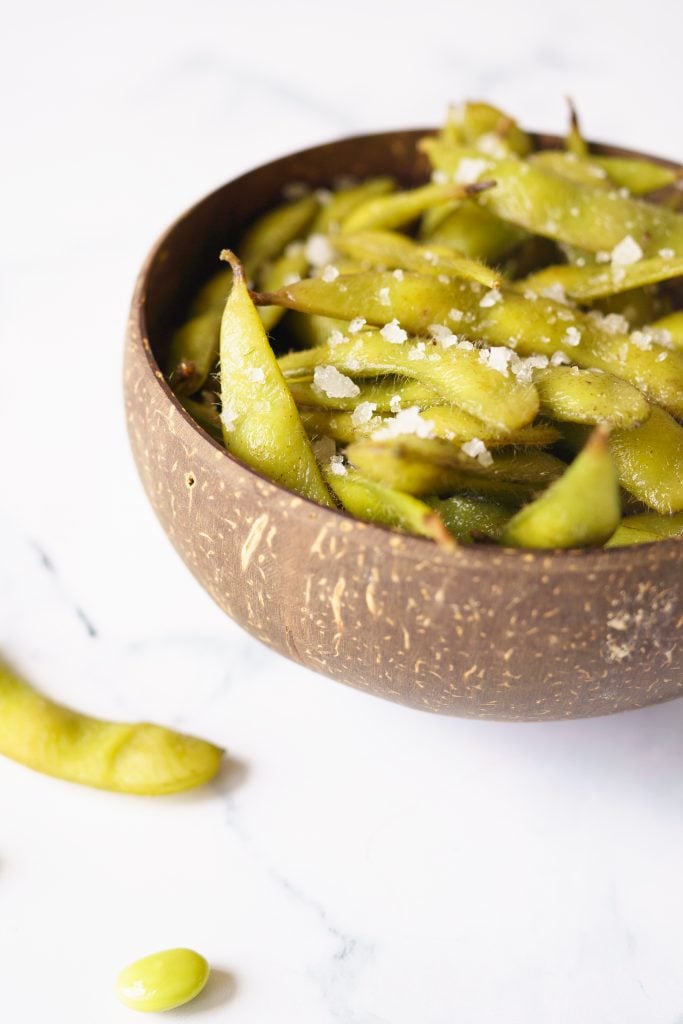 Edamame is immature or unripe soybean.It's essentially fresh baby soy bean which grows up to be the soy bean used to make tofu and tempeh.
So it is a legume.Usually there are 2-3 edamame beans in one fibrous green pod that's covered in green fur.
It's a staple in Asian contries.Most probably, you would have first eaten it at a japanese resturant as an appetiser.In China , it's called maodou which translates to "Fur Peas".
In the market, its usually available Whole, still in the pods or shelled form.
Instagram is full of edamame salad and poke bowls.Thats how it's become a very widely eaten plant protein.
If you like trying out new veggies, do take a look at this post on how to make white asparagus.
Calories and Nutrition in Edamame
Lets see the composition of Edamame.You can find the complete Nutritional data and comparison tables below.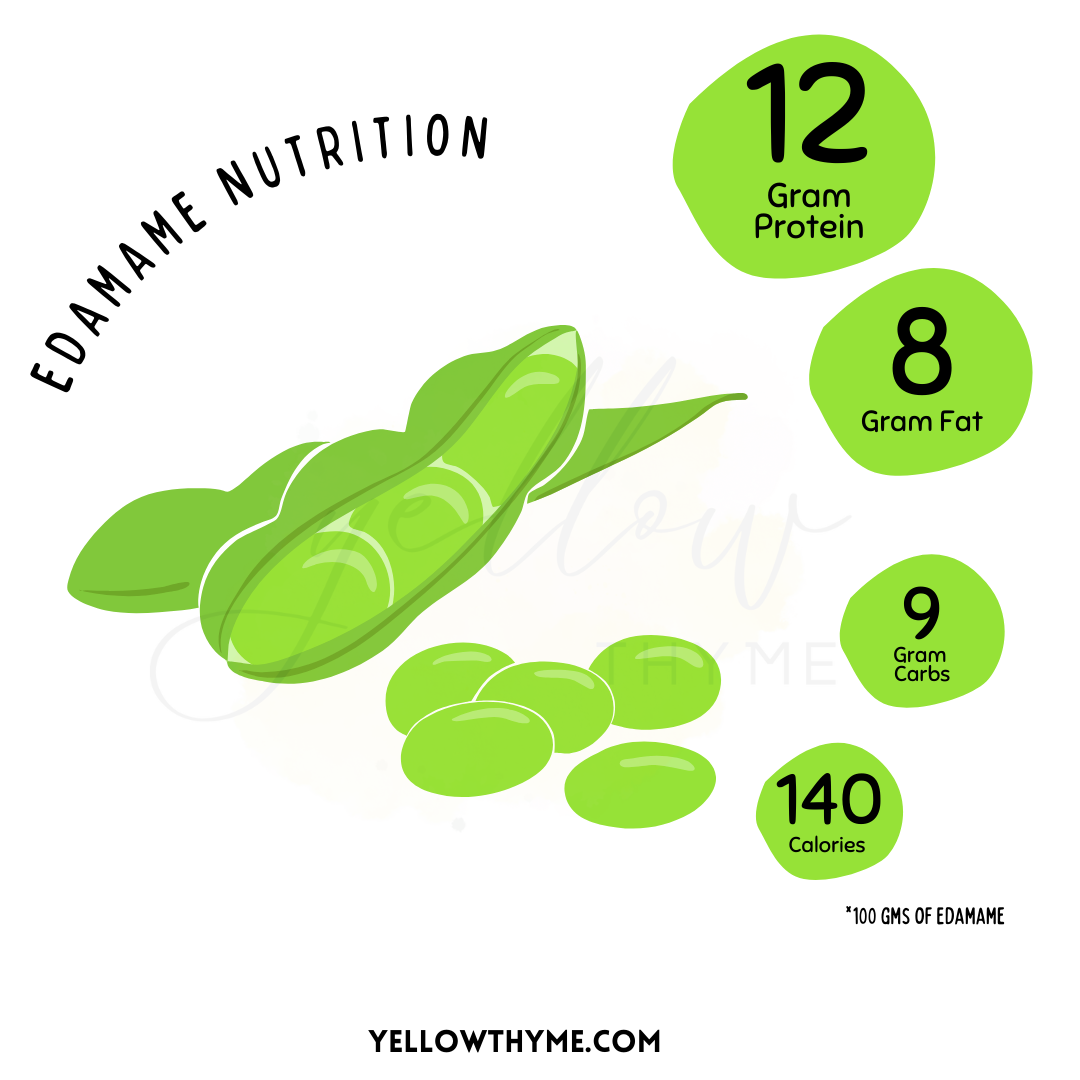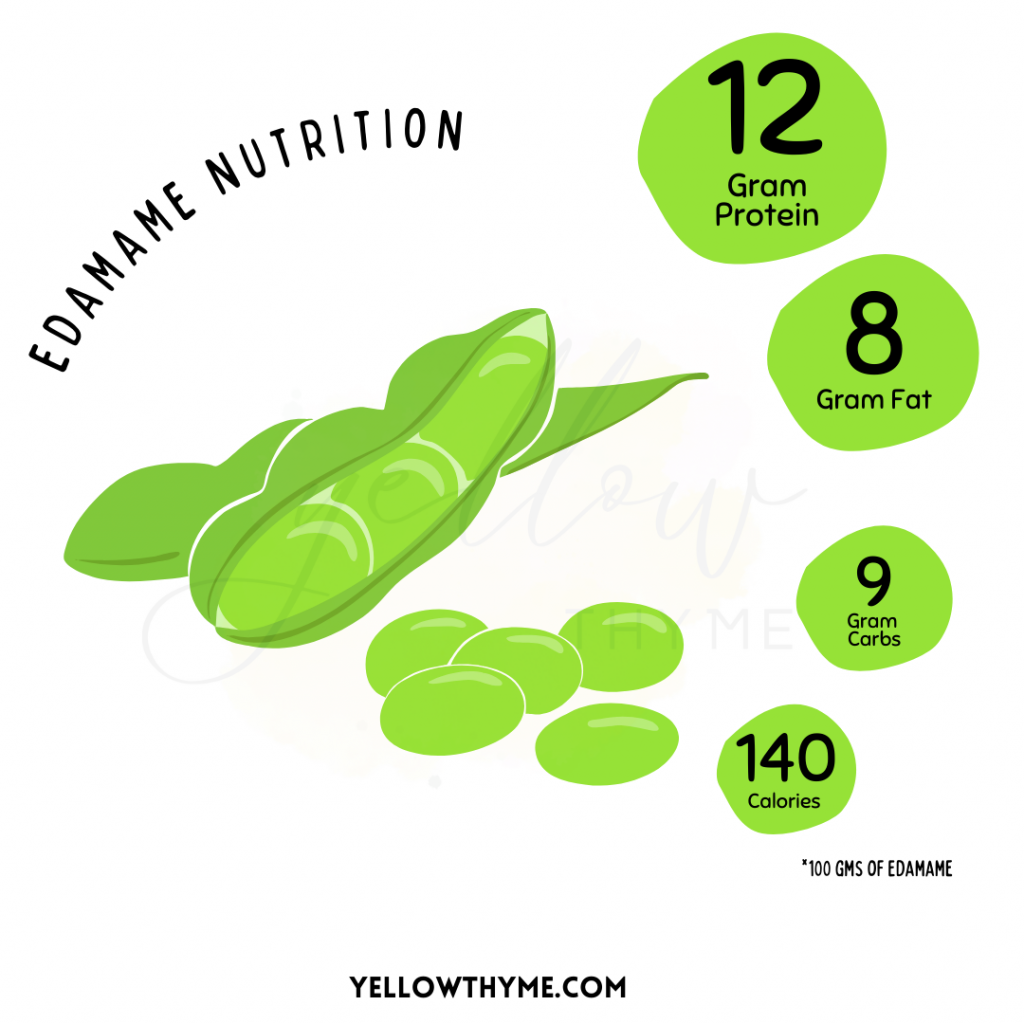 It has very high protein- with just 100 gms of shelled edamame you get 12 gms of protein.Edamame is also very high on fiber.
It has very low glycemic index like all other beans.
But wait, it get's better.One serving of Edamame has 117% of total daily requirement of folate.
It's also great substitute for chickpeas,green peas and beans.You don't have to spend a tonne of effort and time in boiling it.And you don't have to open a whole can of beans for a salad for one.
Here is the kicker, Edamame has double the protein of green peas!
Where 100 gms of chickpeas and black beans have about 9 gms of protein ,Edamame has almont 12 gms of protein! If you look at the nutritional data, you can see it's complete protein.
Let's talk about the Carbs now. Edamame has one third the carbs of chicpeas and black beans!
It also has good fats- mostly mono saturated.A 100 gms of Edamame has 8 gms of fat.It has both Omega 3 & 6.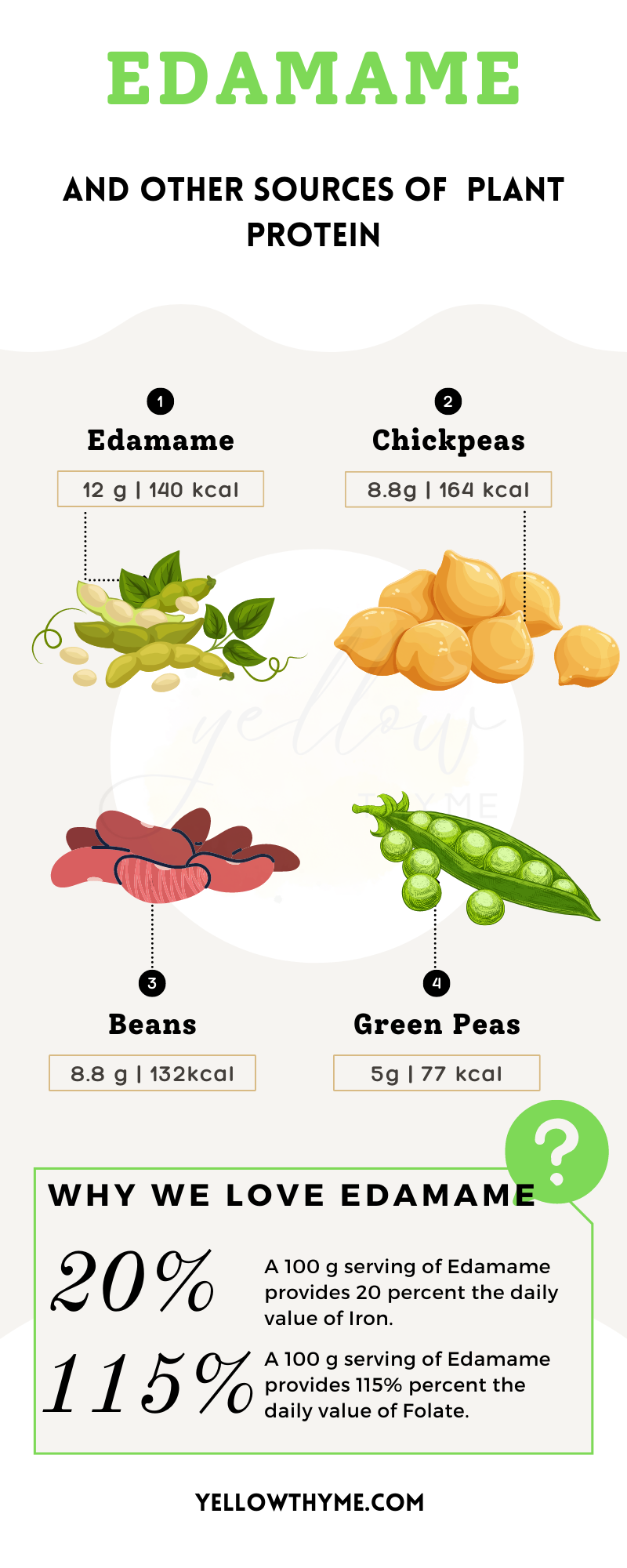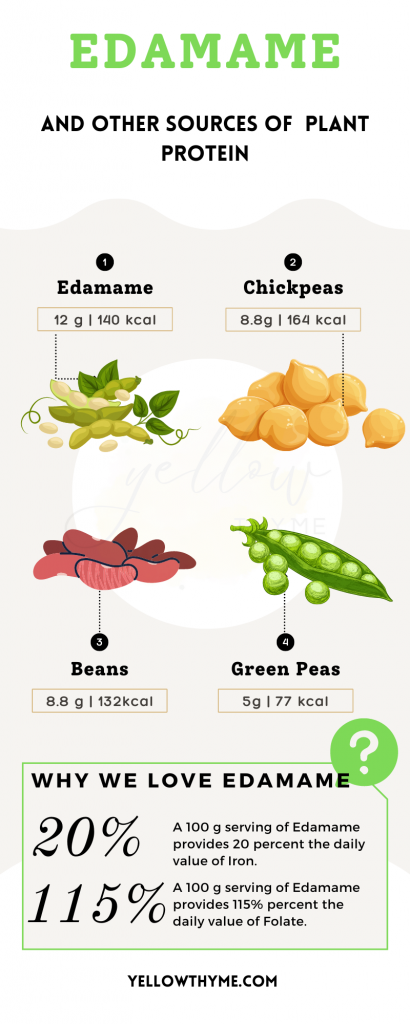 Edamame is a great protein source.Especially a plant based one.I always keep some frozen in my freezer so that I can quickly add it to my salad bowls.
There is some reasearch on Soy beans vs edamame.Edamame has lesser flav() than mature soy beans.
Benefits of Edamame
There is a giant amount of quantitative and qualitative data on the benefits on Edamame.There are several articles that go into the specific benefits for consuming Soy protein.Here are some great resources
I have come across during my edamame reseach.

To summarise what's in these articles, Edamame is a great source of plant protein, Folate, Vitamins and minerals and fiber.
It helps in reducing cholestrol, stablising blood sugarsa and regularise blood pressure.
There is definately a lot of mixed reseach on effect of Soy on Cancer,Thyroid and fertility.I didnt read anything with a definative answer or conclusion.So in my opinion, do not over do any kind of food but it's worthwhile to include edamame in your meals a few times a week.
Esepcially because it's easier to prepare and store than most other cooked beans and it's plant based.
Where to Buy Edamame
You can easily find fresh and frozen edamame in the Asian stores or Speciality Vegan Stores.
It's also available round the year in the frozen section.You can buy shelled edamame or still in the pods.Frozen Edameme is usually blanced and flash frozen just like peas.
I like to buy already shelled, blanced edamame because i usually add it to my salads.All i have to do then is thaw the frozen beans in a little water.
How to eat Edamame
So you got a bag of edamame home and dont know what to do with it? Well that happened to me the first time too.lol.
If you got shelled edamame, then it's simple, you eat the pods, after cooking.
But if you got fresh whole edamame - The beans are still in the green pods.Usually , 2-3 beans in one pod .That is the part of the edamame bean that can be eaten.
Do not shell raw edamame at home.First it's tedious.Second and most importantly, the "fur" on edamame can hurt hands.
This top is definalty after I have bruised my hands multiple times.
Blanch the Edamame in boiling water, stop the heating by adding it in ice water.Then go ahead and remove the edamame shells!
Those green furry outer pods cannot be eaten but they are great flavour carriers.It's very very tough to eat and is indigestable.
Though there are a lot of similarities between edamame and peas.You cannot eat the edamame raw, like you could eat raw tender peas.
If you find blached frozen edamame- shelled or whole, you can eat the beans right after thawing them.
Let's look at what's the best way to cook Edamame.
How to Cook Edamame
The simplest way of eating these is boiling the whole pods in salt water.You can also stir fry them on high heat with a little oil.
Air frying them is also a great, fuss free option.
Frozen steamed edamame just needs to be tossed in the sauce of your liking.The simplest way of eating it is in salads.Just thaw some in a bowl of water and it's ready to be eaten.
Raw Whole Edamame Beans - Start with blanching the pods in boiling water for 7-8 minutes.Stop the cooking by adding them to cold ice water.This will make sure the bright green color stays the same and the beans have a bite to them.But if you like softer edamame, go ahead and boil them in water for 10-12 minutes.
The beans need to be cooked enough to soften the outer pod.If you squeeze the pod, the beans should just pop out.
Another way to make whole edamame is to quick blanch and flash fry in sesame oil.Just a little soy and chilli paste and you have an amazing, high protein appetiser on your table!
Shelled Edamame- These are obviously easier to work with.You moslty get these in the blanched and flash frozen form.As shelled edamame is usually already cooked, you dont have to do much.You can thaw and use as is in poke bowls and salads.
If uncooked, add them to the boiling water for 4-5 minutes or you could microwave them too.
You can also shallow fry,bake,broil,air fry them so make quick snack!
How to Freeze Edamame
What do you do when you get fresh Edamame?
If it's cheap, i buy a lot of it and freeze it.
I will be frank here.I cant be bothered with blacnhing it before freezing.After grocery shopping, hauling everything to my kitchen, i just want to shove things inside and move on.
So I take the packet of edamame and just like that, put it inside the freezer.It stays there till I am ready to deal with it.
Usually I steam or blanch it before using it in Salads or Air frying it.
How is Edamame Served
Usually the first introduction to edamame is at a japanese resturant.Whole Edamame beans , steamed, with a generous sprinkling of flaky sea salt is served as an appetiser.Like you would serve cocktail nuts or roasted peanuts.
You put it staight in your mouth and suck out the beans and discard the pods.
There are spicy versions of the same appetiser- with Soy and Chilli flakes, sometimes flash fried and tossed in chilli oil.
Edamame can also be pickled in vinegar.It's great in poke bowls and salads.Here is my favorite Quinoa Edamame Salad Recipe that you will love!
Edamame Recipes
Here are some recent Edamame Recipes that i have made and loved!
Airfryer Honey Chilli Edamame
Quinoa Edamame Salad
Asian Edamame Salad
Cucumber Edamame Salad
Some Common FAQs on Edamame
Can you eat Edamame Pods
No.Edamame pods are extremely fibrous and tough.They are indegestible.
How many calories in edamame
100 gms of shelled edamame has 140 calories.Check this Nutrional Data on Edamame to get more details.
How much protein in edamame
100 gms of shelled edamame has 12 gms of protein.
Is edamame good for losing weight?
Edamame is very high on protein and fiber.It has a very low GI.This makes it a great food for people trying to loose weight.
How to season edamame
How is edamame pronounced
It's pronounced eh-dah-mah-meh. Other names for Edamame are
How long is edamame good for
Fresh Edamame is good for 2-3 days in the refrigerator.
How long to boil edamame
Fresh Edamame needs to be boiled for 8-12 minutes.Depending on how soft you want the edamame to be.
How to freeze edamame
I freeze fresh edamame in the packet that it comes in.You can freeze whole or shelled Edamame easily for upto 2-3 months.
Is edamame a vegetable
No Edamame is a legume.
Is edamame healthy
Yes.Edamame is very healthy.It has high protein,fiber and it's full of omega 3& 6.Its also high in folate.
Is edamame keto
Edamame can fit into your keto diet.It has high protein,moderate fat and low carb.Depending on your overall keto goals and macros, it can easily fit into a keto lifestyle
can dogs have edamame
Is edamame gluten free
Yes.Edamame is naturally gluten free.