Quinoa Edamame Salad- An action packed hearty salad made with Edamame, Quinoa and rainbow veggies .It's a great option for potlucks and a side salad for dinners. Or a Large Dinner!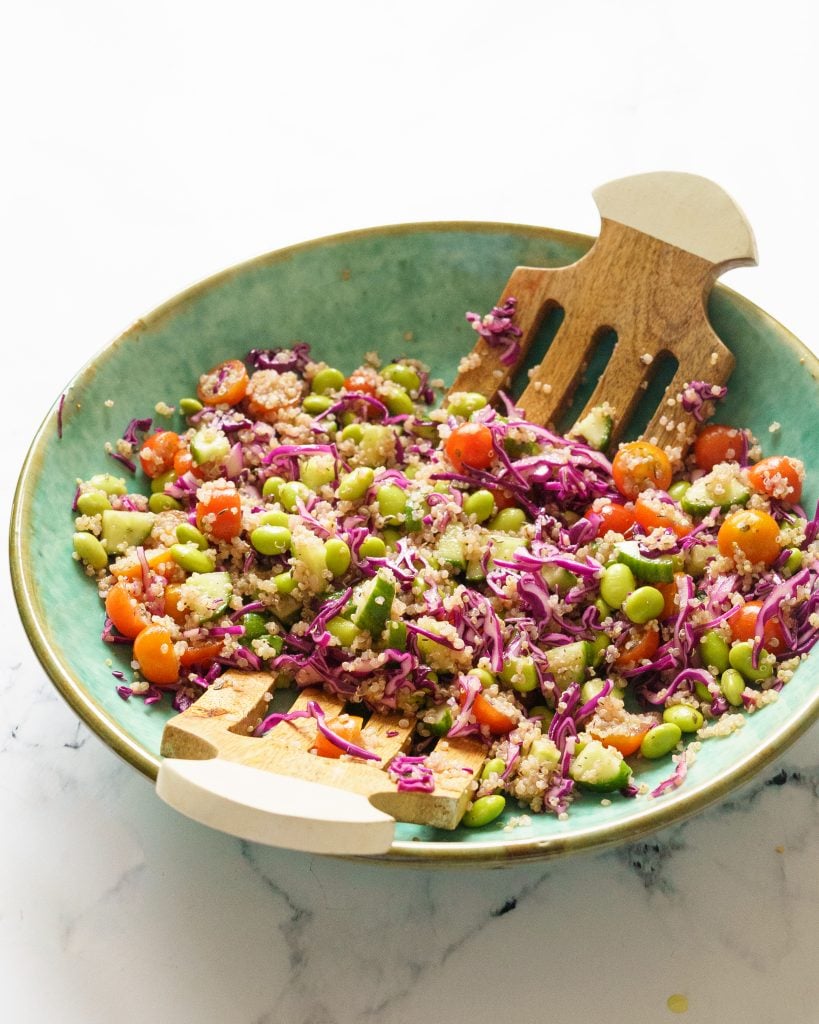 Super simple, filling Vegan salad that's gluten free, dairy free and nut free.
In my mind, a salad recipe is a hit if it tastes better than all the other stuff on the table.This is one of those salads.
This is a great way to switch up your quinoa and edamame game.It's a flexi salad.You can add any other veggies you like.Peppers,carrots and steamed beans- all of this will work with it.
The quinoa soaks up the dressing which makes the salad is delicious! There is nothing worse than a salad where the dressing doesnt stick.Well this aint that!
Ingredients for this Super Salad
The great part about this salad is that most of the ingredients are easily available.Some like Edamame can be bought frozen and used over a couple of months.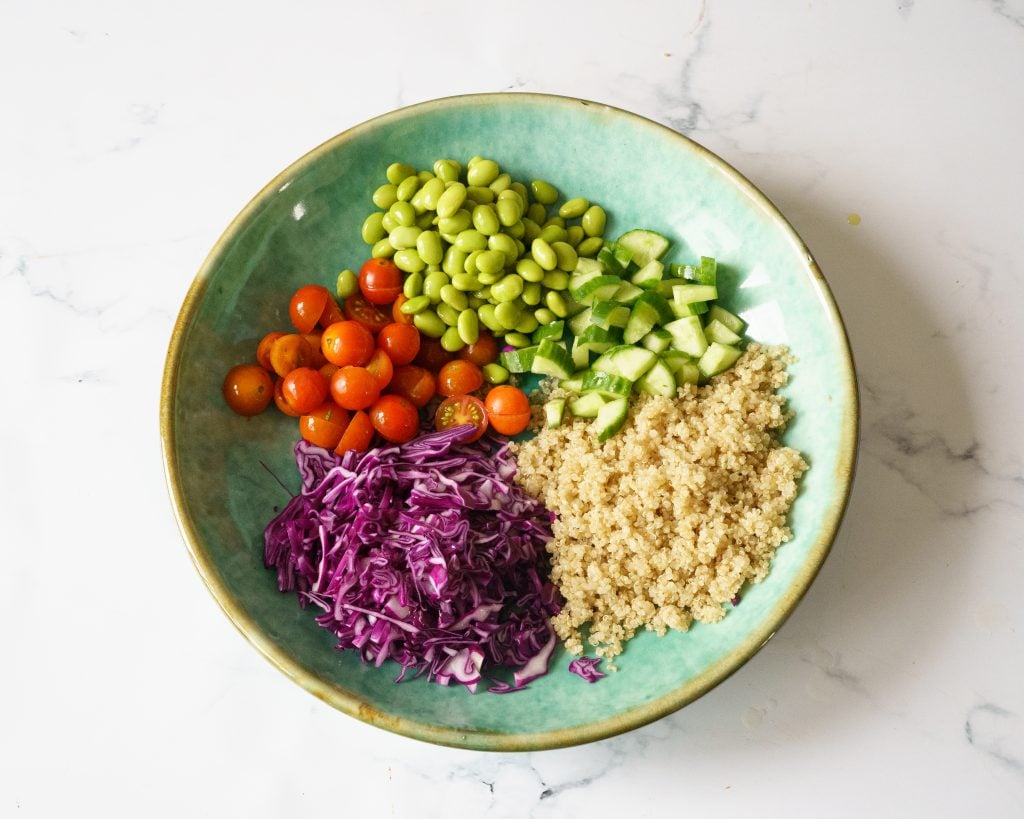 Here is the list
Edamame - Pre Cooked.I use the frozen blanched kinds.All i have to do is, throw it in water for 10 minutes to thaw it.If you have fresh Edamame- Click here to find out how to cook Fresh Edamame here.
Quinoa- Pre Cooked Quinoa.Here is how to cook Quinoa.
Cabbage - Cabbage gives a good crunch to this salad.Purple Cabbage gives a nice color.If you cant get your hands on the purple one, you can use the green one too.
Cherry Tomatoes- You can use regular tomatoes too.
Cucumber- This is the most versatile volume ingredient.It gives a great crunch and freshness to the salad.I use them with the skin.
Feel free to add colorfull peppers,steamed peas,brocolli or any other veggie you fancy!
Salad Dressing
You can use virtually any dressing with this salad.My usual go to salad dressing is a simple lemon honey/Maple syrup vinaigrette.
It's very simple to put toghether.It gives this fresh quinoa salad a lift that it requires.
That said, feel free to use any storebought salad dressing.
Here are the dressing ingredients
Olive Oil - Use the best you can.Ideally cold pressed extra virging oil.You can also substitute it with Avocado oil.
Lemon- Juice of half a lemon.About 2 tablespoon of juice.Reduce if you dont like your dressing to be sour.
Honey or Maple Syrup Best you can afford.
Thyme- Dry thyme.It will pack in a lot more action than fresh.
Salt
Pepper
If you like the crunch of nuts, add a handfull of slivered almonds or pistachios on top.
A Note on Edamame
You can buy frozen edamame or fresh.It's usually available in the frozen section.Sometimes you can get fresh edamame in the Vegan or Asian Stores.
If you are new to Edamame, you can read my detailed guide on Edamame here.
It cannot be eaten raw.You have to boil, blanch or microwave it for a bit.
Edamame is a great Vegan High protein source which makes this salad score very high protein points.
Also! if you havent tried Air fried Edamame then you must! It's such a delicious additive high protein snack!
A Note on Quinoa
Use any type of quinoa here- Black,Tricolor or white. I usually make mine in bulk in the instant pot and store in an air tight container.
This makes sure i always have some on hand so i can try to eat healthier food.
If you are into quinoa, here are some of my favourite quinoa recipes for you
Sweet Potato and Quinoa Burger ,Instant Pot Quinoa Chicken Bowl ,Instant Pot Vegan Chili
How to make Quinoa Salad with Edamame
Oh this step is simple.Do watch the video if you are a visual person.It really helps to see the texture and colours you want to achive.
One important tip- Whenever you make a salad- Use the biggest bowl you have.This way your salad doesn spill all over hte table.Yes it sounds basic. but I cant tell you how many times i have used a small bowl first, only to switch to a larger bowl to mix the salad.
Storing & Leftovers
Unlike lot of other salads, this salad stores pertty well.All of the ingredients can sit in the dressing and not wilt.This makes this dish a great make ahead salad.
Youc an easily carry the salad to office without worrying about it becoming soggy.
If you have loads left, store it in an air tight container in the refrigerator for upto 1-2 days.Thats usualy my limit for uncooked produce.
More Salad recipes
Are you as into Salads as me? Here are some of my viral Edamame recipes for you
Instant Pot Warm Potato Salad
Thai Sweet and Spicy Cucumber Salad
Indianised Lebanese Tabouleh Salad
Summer Melon Salad with Ricotta Cheese
Find us on Instagram , Pinterest & Facebook here!
If you liked my recipe, do leave a comment!
It will help others find this amazing recipe too!
---
If you liked this Salad recipe, do take some time to leave a comment.I really appreciate it!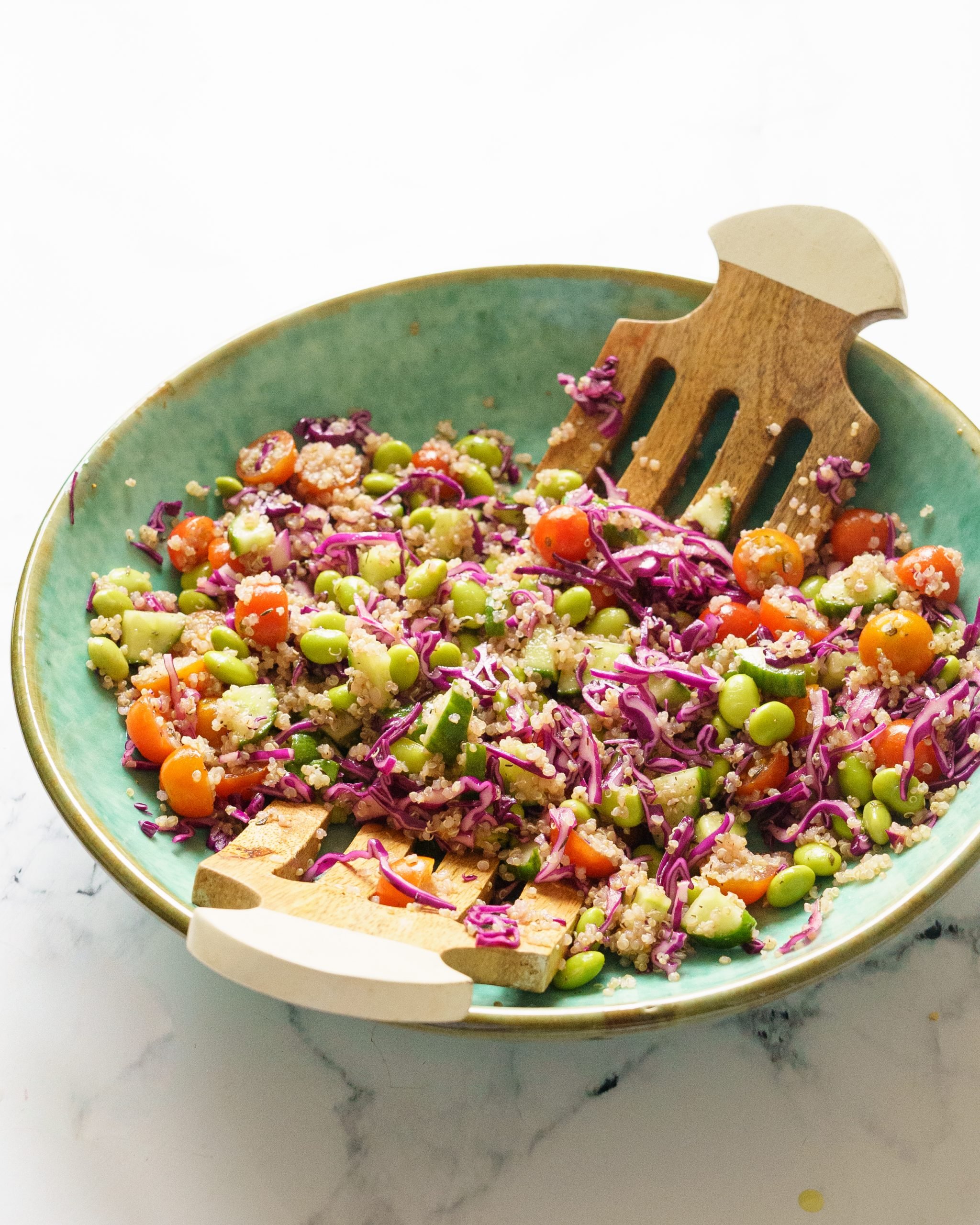 Ingredients
¾

Cup

Edamame

Cooked

1

Cup

Cooked Quinoa

Cooked & Cooled

½

Cup

Cherry Tomatoes

halved

½

Cup

Cucumber

cubed

1

Cup

Purple Cabbage

Shredded
Salad Dressing
1

tablespoon

Olive Oil

1

tablespoon

Lemon Juice

1

teaspoon

Thyme

1

teaspoon

Garlic Powder

1

tablespoon

Maple syrup

Or Honey

1

teaspoon

Salt

or as per taste

¼

teaspoon

pepper
Instructions
Cut the Cherry tomatoes into half.

Shred the cabbage and Cut the cucumber into ½ inch cubes.

Add the Edamame, Quinoa, Cherry Tomatoes, Cabbage and Cucumber to a big bowl

¾ Cup Edamame,

1 Cup Cooked Quinoa,

½ Cup Cherry Tomatoes,

1 Cup Purple Cabbage,

½ Cup Cucumber

Add all the dressing ingredients into a bowl or a jar.Mix it well.

1 tablespoon Olive Oil,

1 tablespoon Lemon Juice,

1 teaspoon Thyme,

1 tablespoon Maple syrup,

1 teaspoon Salt,

¼ teaspoon pepper,

1 teaspoon Garlic Powder

Add to the salad.Give it a mix and serve.
Notes
For Addtional Crunch
Top the salad with some toasted ,sliced almonds or walnuts.
Nutrition
Calories:
303
kcal
|
Carbohydrates:
40
g
|
Protein:
12
g
|
Fat:
12
g
|
Saturated Fat:
2
g
|
Trans Fat:
1
g
|
Sodium:
1190
mg
|
Potassium:
668
mg
|
Fiber:
7
g
|
Sugar:
14
g
|
Vitamin A:
758
IU
|
Vitamin C:
44
mg
|
Calcium:
87
mg
|
Iron:
4
mg
If you liked the recipe, please leave us a rating
Follow me on Instagram
My handle is @yellowthyme