Quinoa Arugula Avocado Salad with Zesty Balsamic Dressing - Vegan , vibrant quinoa salad with avocado and a zesty balsamic vinegar & shallot dressing! A super Fun, healthy Plant based salad!
This quinoa salad is a simple and flavorful dish that is perfect for a light lunch or as a side for a barbecue.
It is also a great dish to bring to potlucks or gatherings, as it is sure to be a hit with everyone. If you haven't tried quinoa salad yet, I highly recommend giving it a try – you won't be disappointed!
You can customize the recipe by adding your own favorite vegetables or by trying different dressings.
Quinoa is a grain that has a slightly nutty and earthy flavor. When used in a salad, it can add a heartiness and depth of flavor to the dish. It's a great source of vegan protein. I often use swap rice with quinoa in my everyday lunches.
In this particular recipe, the quinoa is paired with avocado, cherry tomatoes, cucumber, salad greens like arugula , and a zesty balsamic dressing.
The shallot in the dressing adds a umami and slightly sweet flavor to the salad, while the avocado add richness and a soft contrast
Why we love this Zesty Quinoa Salad
It's a filling salad that can be an easy lunch or dinner
The dressing is amazing!
It's completely plant based, Grain Free & Gluten Free
Ingredients
For the salad you will need
Quinoa
Cucumbers
Cherry Tomatoes
Salad Greens
Avocado
For the dressing you will need
Shallot
Balsamic Vinegar
Red wine Vinegar
Olive Oil
Salt
Quinoa
Use regular white quinoa.
1 cup of dry quinoa will make 3 cups of cooked quinoa.
When I am very hungry, I usually double the amount of quinoa in this recipe. It keeps me full for longer. If you can, make the quinoa and refrigerate for a bit before assembling the salad.
I often cook quinoa in bulk to last me 4-5 meals. So I always have some in my refrigerator.
Quinoa is a great replacement for Wheat and rice and including variation in your diet. It is also a complete protein-has an excellent amino acids profile. It is also the least allergy causing "grain" making is a great alternative for people suffering from Gluten Allergies.
Avocado
Wait till the end to open the avocado. It discolors with time.
I leave it for the last and drizzle the dressing all over it before mixing the salad. This helps in keeping the avocado fresh and bright green for longer.
Arugula
You can use any kind of salad greens you have on hand. Anything from kale to lettuce will work.
I have used rocket or arugula here. It's a nice contrast to otherwise sweeter ingredients.
How to Cook Quinoa
If you eat quinoa often enough, you can skip this section.
I usually make quinoa once or twice in a week in my instant pot. The instant pot pressure cooked quinoa not only saves time and effort, it's also a hassle and handsfree method of cooking the quinoa.
If you don't have an instant pot, soak the quinoa overnight (ideally) or upto 20 minutes.
Rinse the quinoa in a fine mesh strainer and add it to a medium saucepan with the water. Bring to a boil, reduce the heat to low, and simmer covered for 15 minutes or until the water is absorbed.
Quinoa is cooked when it has doubled in size and it has un-furled. If there is excess water, you can strain it out.
Fluff the quinoa with a fork and Let the quinoa cool completely before making the salad.
Make the Balsamic Vinegar Dressing
Make the dressing first. The raw shallot needs to sweat a bit in the vinegars and ooze it's oniony oils out.
You seriously wont believe this dressing! It's just so so good!
This dressing is by far my favorite dressing. It has simple ingredients but a highly complex taste. Each and every ingredient adds a dimension to this dressing and is essential to it. That said, if you don't find shallots use normal onions instead.
Make sure you mince the shallots roughly. Add the rest of the ingredients and give it a shake. Taste and let it sit till you finish rest of the prep.
How to make Quinoa Avocado Arugula Salad
Once the dressing is ready, it's all about assembly.
Use a large bowl so that you can mix and serve in the same bowl.
Add the leaves first. I have used rocket or arugula leaves here but you can use anything you have on hand.
If you don't have a salad spinner, then get one. You can use it to wash all kinds of veggies and greens. It's very versatile.
Wash the greens and spin them so there is no water on the leaves. We do this so that the dressing sticks to the leaves evenly.
For cherry tomatoes- I have quartered mine because they were quite big.
Follow this up with cooked, cooled quinoa.For salads, it's best to use quinoa thats been in the refrigerator for a while.
Next add the cucumbers. I have just chopped it up.
Last thing we add is the avocado. Not only because it is soft and delicate but also because it discolors with time.
But when you add the dressing on top, The olive oil lightly coats the avocado , making it last a little longer than normal.
Notes on Avocado and Quinoa Balsamic salad
Soak the Salad leaves in cold water- Salad looks and tastes amazing only if the ingredients used are fresh. Though we may prefer and want to use beautiful ingredients, it's not always possible. The time in the refrigerator wilts most salad leaves. You can make these sad leaves vibrant again by soaking the salad greens in ice water for a few minutes.
Avocados- The other nifty tip is how to use avocados in salads. Usually, avocado tends to darken and look unappetizing when exposed to air. To help this situation and make sure the avocados stay pretty till its eaten, make sure you add them towards the last and sprinkle generous amount of lime juice on them to keep them looking fresh.
Quinoa-To cook quinoa, always wash it in running water to remove the bitter coating from it. Boil it in water for about 15 minutes till the quinoa curls loosen and but there is still a bite to it. Or pressure cook the quinoa in the instant pot.
Once mixed, the salad will last for 1-2 hours before it starts to wilt. If you are carrying this salad for lunch, keep the dressing and the rest of the ingredients separate.
If you love salads with avocado, do give this Avocado Tuna Salad a try too!
Serving
Serve this salad as soon as you toss it.
Both the avocado and salad greens will wilt rapidly once the salad has been mixed.
To make this vegan quinoa salad more hearty, double the amount of quinoa.
Storing and Refrigerating
Once the salad has been mixed, you can pop it in an air tight container in the refrigerator. It will last for 1-2 days. Though it will look wilted and a little sad but the taste will still be on point.
The better solution will be to store the cooked, prepped ingredients in separate boxes. That way you can put the salad together quite fast without the prep.
Here are more quinoa recipes that are great if you are looking for filling but healthy recipes
Quinoa Edamame Salad - Vegan , Super salad loaded with protein. A sumptuous salad that can be eaten later also.
Spicy Asian Cucumber Salad- Thai inspired salad with spicy dressing & peanuts
Sweet Potato and Quinoa Burger - So so good! and so filling! These vegan burgers is my go to vegan meal!
Instant Pot Quinoa Bowl - One pot quinoa bowl with beans, corn and my secret- enchilada sauce!
If you make this delicious quinoa salad with balsamic dressing, do leave me a rating and a note on what you thought!
Find us on Instagram , Pinterest & Facebook here!
If you liked my recipe, do leave a comment!
It will help others find this amazing recipe too!
---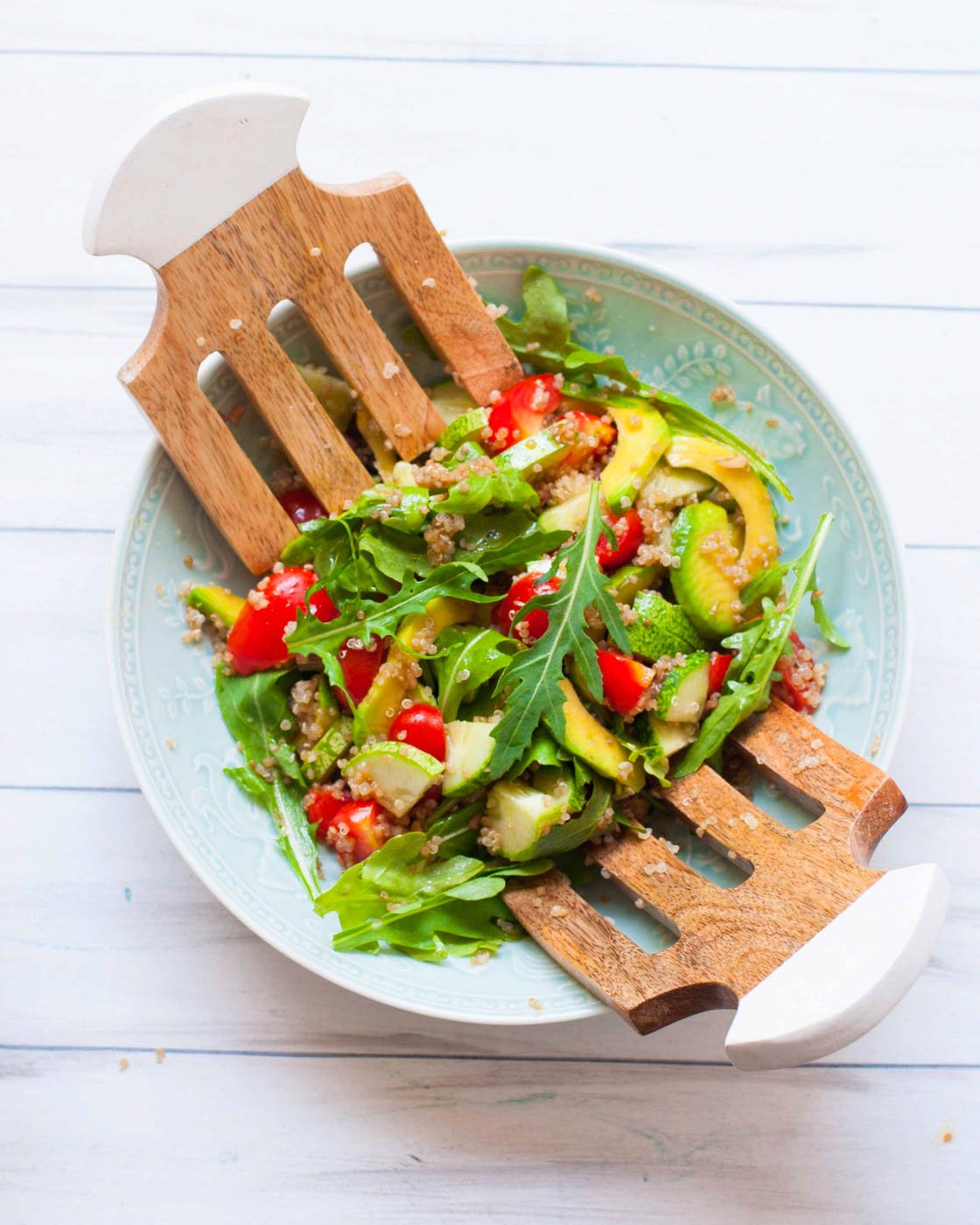 Ingredients
1

Cup

Cooked Quinoa

1

cup

Cucumbers

sliced

8-9

Cherry Tomatoes

-halved

1

Cup

Arugula

or kale or lettuce

1

Avocado

less if you want to reduce calories

3

tablespoon

Balsamic Dressing
Balsamic Dressing
1

tablespoon

Shallot

Minced

1

tablespoon

Balsamic Vinegar

1

tablespoon

Red Wine Vinegar

1

tablespoon

Olive Oil

Salt
Instructions
Dressing
Start with making the dressing first.

Mix everything toghether. Let it sit till you get rest of the ingredients together
Salad
Quinoa can be cooked in salted water for 20 minutes the tail unfurls.Drain cool and use.

Add the salad greens, quinoa,cucumber and tomatoes in a bowl.Mix.

Cut and Place the avocados just before serving.Drizzle with Balsamic dressing.
Notes
Use cooked, cooled quinoa to make this salad.
Once mixed, the salad will last 30 min-1 hour before it starts to wilt.
To carry this salad for lunch
Mix all the ingredients except the avocado and dressing.
Squeeze some lime on the avocado and add it on the top.
Keep the dressing separate
Nutrition
Calories:
452
kcal
|
Carbohydrates:
37
g
|
Protein:
8
g
|
Fat:
32
g
|
Saturated Fat:
4
g
|
Polyunsaturated Fat:
4
g
|
Monounsaturated Fat:
15
g
|
Sodium:
233
mg
|
Potassium:
948
mg
|
Fiber:
10
g
|
Sugar:
6
g
|
Vitamin A:
759
IU
|
Vitamin C:
33
mg
|
Calcium:
54
mg
|
Iron:
3
mg
If you liked the recipe, please leave us a rating
Follow me on Instagram
My handle is @yellowthyme
SaveSave
SaveSave
SaveSaveSaveSave
SaveSave
SaveSaveSaveSave
SaveSave
SaveSave
SaveSaveSaveSaveSaveSave
SaveSave
SaveSave
SaveS