Murg Makhani -Skip the takeout! This will be your go-to Butter Chicken Recipe! Easiest and most flavorful homemade Authentic Butter Chicken recipe that you can make in any part of the world!
Jump to:
CUISINE: North Indian/Punjabi
TEXTURE: Creamy luscious gravy with tender morsels of chicken
EASE: Easy
APPEARANCE: Orange
Serve with : Naan or Basmati Rice
Besides the fact that a whole country of 2 Billion( plus everyone else!) is obsessed with it, there are a tonne of reasons why we love Murg Makhani! It's one dish that's almost always ordered when we go to an Indian restaurant.
I mean, Butter Chicken , Butter Garlic Naan with the side of Chilled Mango Lassi is probably the standard order of all indians everywhere!
And this is my most treasured recipe! This is the recipe I teach and serve my students who want to learn indian food, it's the dish I make on every indian party, heck it's the dish i make when I am sad or down.
It's my sons most requested recipe and that for me is the highest validation ever! Better than any restaurant(At least outside of North India!)
If you are looking for a shortcut instant pot recipe, then visit my Instant Pot Butter Chicken pot.
What is Murg Makhani or Butter Chicken
Murg Makhani is the hindi name for the classic Indian chicken curry called Butter Chicken. It's served in all Indian restaurants worldwide.
If you have ever tasted Indian food, chances are you ate a version of this too.
It's bright orange in color, tangy, earthy , smooky , smooth curry with morsels of chicken in it. Unlike a lot of other famous indian chicken dishes like Chicken Vindaloo and Chicken 65, butter chicken is usually boneless ,mild and creamy.
It Dairy in the form of cream and yogurt, basic Indian spices and tomatoes.
Here is what we will do in short
Marinade the chicken
Cook the Chicken
Make the Butter Chicken Sauce
Simmer cooked Chicken in gravy
Why we love making Murg Makhani at home
Better than Takeout- Because home made butter chicken using this specific recipe is better than any restaurant butter chicken you have had!(At least outside of North India!)
SUUUUUPPPPER easy to make- No kidding! This is the first recipe I teach my beginner cooking class students!
Family , Crowd Friendly & Kid Friendly- Everyone including the most picky eaters( that would be my son AND my husband) love it! It's very kid friendly!
Taste- It is one of the most famous indian recipes that isn't very spicy! It is slightly sweet, tangy and creamy curry.
Goes with Any Sides- It goes with virtually any side dishes but the most favorite way to eat it is with Garlic Naan. And I have the most kick ass, soft Naan recipe that stays soft even after 6 hours of making it! You wont be able to get enough of this!
Besides Naan, butter chicken goes very well with Rice and parathas too.
Pantry Ingredients available all year, in every part of the world - The ingredients are super simple. You can make the exactly same curry every single time , any time of the year , sitting anywhere in the world.
📋Ingredients
Here is what you will need
Chicken
Butter
Yogurt
Honey
Cream
Tomato Puree or Paste
Turmeric
Chili powder
Kasoori Methi
Whole Spices
🐓Chicken
To make Murg Makhani or Butter chicken, i prefer
Boneless Chicken - Butter Chicken is usually made with boneless chicken pieces.
Thigh or Breast - Chicken Thighs take a couple of minutes longer to cook than chicken breast.You can also use chicken tenders. Both chicken tenders and breast will have a chewer texture than chicken thighs.
I personally prefer chicken thighs because the chicken is a lot more moist. Chicken breast and tenders can get chewy if overcooked. Which is a big issue especially because we will be cooking the chicken twice.
Size of the chicken pieces - Keep the size of the chicken pieces same so everything cooks to more or less same finish. Smaller pieces cook faster than bigger pieces.
Cutting Chicken- More often than not, the chicken thigh or breast will need to be cut into 2 inch long, about 1 inch thick long pieces. I prefer using kitchen sheers to cut instead of knife.
Spices
Chili Powder - The orangish- red color of Butter Chicken comes from Kashmiri chili powder and Tomato puree. Most restaurants also add red or orange food coloring to help with the look.
Mild heat: 1 teaspoon of Kashmiri Chili powder

Moderate heat: 1 tablespoon of Kashmiri chili powder

Very spicy heat: 2 tablespoon of Kashmiri chili powder

Tip: Kashmiri chili powder gives the best color when its saluted for a few seconds in the oil or fat.

Ground Cumin, Ground Coriander and Turmeric are basic Indian pantry spices.
Yogurt
For the love of all things delicious, do not use runny curd. Use either thick set yogurt or greek yogurt.
To use homemade curd, either use whole milk and a little cream to make it or strain is over the sink for 1 hour.
The yogurt will go into the chicken marinade and will be used to not only tenderize the chicken but also to carry the spices in it.
Cream
This is the main ingredient in butter chicken. It's what takes the butter chicken that creamy, luscious feel.
Use full fat cream which is at least 15% fat. Milk or even Evaporated milk wont work.
Tomato Puree
By tomato puree, I mean canned / boxed tomato puree.
Tomato puree is thick and maroonish red in color.
This is not pureed Tomatoes. Pureed tomatoes will not give you the same taste, color and texture. It will be quite watery and have milk tomato flavor. While I am all for using fresh ingredients, this is one dish that calls for boxed/canned puree or paste.
That's also the reason butter chicken can be made in any season, in any country , with most easily available ingredeints.
Tomato Puree is not the same thing as tomato paste. Tomato paste is a concentrated form of tomato paste that's been reduced.
½ Cup of Tomato puree = 1 Tablespoon of Tomato Paste
📖Substitutions & Variations
Chicken - You can make the exact same curry with Paneer, Tofu, Cooked Mushrooms and vegetables too.
Cream - Substitute dairy cream with Cashew cream. The flavor is pretty similar.I do not suggest using Coconut cream or milk or even yogurt while making butter Chicken. It just doesn't work and the flavor of coconut interfers with the integrity of Butter Chicken
Butter- Though the dish is named after butter, it is not the ingredient that its talking about but the taste and texture of the gravy. Butter Chicken gravy is very luscious and creamy. It's called Makhmali or Makhani in hindi, which translates to buttery in english. But you can use Ghee or oil too. Use a neutral oil like vegetable or soy.
Yogurt - If you don't want to add yogurt, you can leave it out and use just lemon juice instead. When I am making Dairy Free Butter Chicken, I simply omit the yogurt in the marinade.
Dairy Free Butter Chicken
Even though butter chicken is named after something VERY dairy(BUTTER!) , you can make this dish dairy free with some substitutions.
First, lets talk about what not to add.Coconut or derivatives of coconut such as coconut oil, coconut milk and cream will not work here. All of that has way too much coconut flavor which will interfere with the taste of butter chicken.
What will work great is cashew cream. Cashew cream is extensively used in north indian cooking and is easily the BEST substitute to cream while making Butter Chicken.
In summary,
Butter - Use any Neutral Oil
Yogurt - Simply omit
Cream- Use Cashew Cream instead
How to make Butter Chicken (Murg Makhani)
Step 1: Marination
Most authentic recipes call for 2 marinades- Lime Juice marination & Yogurt Marination.
The first marination is just lime juice, salt and turmeric. This helps in changing the bonds of chicken, making it softer and also helps the second marination get inside.
The second marinade is the regular tandoori marination but I have omitted using chili here. Simply because I want to use the chili in the gravy to get the correct color and manageable heat instead.
The first marination is for 5-10 minutes only. You can do this first and then prep everything else.
Second marination is for at least 15 minutes. But the best is to do this overnight for 12 hours.
If you want a smoky taste in the butter chicken, you can add a few drops of liquid smoke or you can give the traditional Dhungar.
For Dhungar, you fire up a piece of coal, add a few drops of ghee to it. Place it on top of the chicken and cover it with a Steel/Glass Plate.It's basically smoking the chicken.
You can also give dhugar or smoke the finished curry if you wish.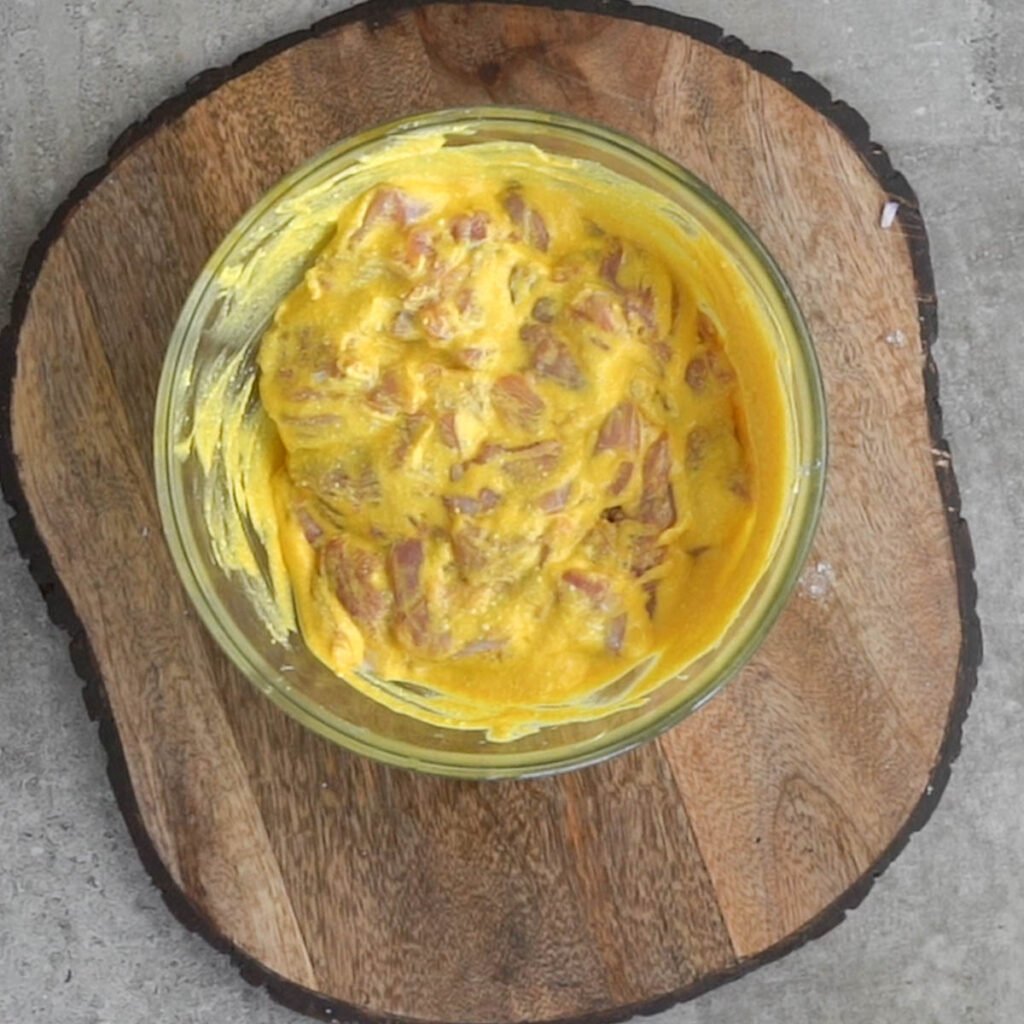 Step 2: Cook the Chicken
Use a heavy bottomed pan. Add a mix of oil and butter. Adding a little bit of oil to the butter will make sure the butter doesn't burn.
One by one, using a fork or tongs, place the chicken on the hot pan. Make sure to wring some of the marinade out so that the chicken chars well.
Flip the chicken and set it aside. You don't have to cook the chicken but just char it at high heat. This step can also be done in the air fryer but then you loose out on the charred bits that are left on the pan.
Repeat with rest of the chicken.
You can totally omit this step if you want to make a faster version of Butter Chicken.
The aim is to get some color on the chicken and also get some of those smoky charred bits.
Step 3: Make Murg Makhani Gravy
This gravy is so good that once you learn how to make it, you will be making it all the time!
Start with adding more butter to the Pan you used to char the chicken.(Do not wash the pan. We want those brown bits).
Add Onions and sauté till they turn translucent. Translucent onions will melt into the curry. You do not want to brown them.
Next add the Kashmiri chili and saute it in for about 10 seconds till the chili gets mixed up in the fat aka butter for us. When you add chili to hot fat, it gives the maximum flavor and color.
Make sure the flame is on medium low.
Now add the tomato puree. Mix it up, using the spatula to get any of the brown bits that are stuck to the pan.
Add the Cream and give it a nice mix.Once it starts to bubble, add honey and salt.The color will instantly change to the very known orange color of butter chicken.
Add Kasoori Methi. This is dried Fenugreek leaves and is the Umami in the North Indian food. If you ever wondered why your food doesn't taste like restaurant food, it's because you didn't add Kasoori Methi to it.
Step 4: Combine Chicken & Gravy
Now all you have to do now is marry the chicken and the gravy toghether.
Add the chicken that you sautéed, along with all the juices to the gravy. Simmer it for 4-5 minutes.
Taste the salt and sugar. Cut into a piece of chicken to see if its cooked. If not then simmer for a few more minutes.
Switch off.
Garnish with Cream and serve hot.
Serving
Here is a whole post on what to serve with butter chicken- Sides & Menu around it.
Butter Chicken & Garlic Naan are a match made in food coma heaven. Serve it with a chilled glass of Mango Lassi or try my new favorite- Rose Lassi and sliced onions. That's all!
It should be served hot with a generous drizzle of cream on top.
Besides Naan, Butter chicken goes well with simple parathas, rotis and Basmati Rice too.
Now if you are throwing an Indian party, here is my go to menu.You can choose one or two each
This menu will take you through all your Diwali, holi, indian parties!
Storing Leftovers & Freezing
This recipe stays in the refrigerator for about 4-5 days.
Like all curries, gravy based dishes, butter chicken freeze pretty well..Here is what you do
Let the butter chicken to come down to room temperature.
Transfer the butter chicken into an airtight freezer-safe container or a heavy-duty freezer bag. Be sure to leave enough space at the top of the container or bag to allow for expansion as the food freezes.
Label the container or bag with the name of the dish and the date it was frozen.
Place the container or bag in the freezer.
Butter chicken can be stored in the freezer for up to 3 months. When you're ready to eat it, simply remove it from the freezer and let it thaw overnight in the refrigerator or microwave.
Pairing
These are my favorite dishes to serve with Butter Chicken.
More Famous Indian Recipes
Authentic Goan Chicken Vindaloo Recipe
Mangalorean Chicken Ghee Roast
Nadan Kozhi Curry- Kerala Chicken Curry
if you make this gorgeous butter chicken curry, do drop me a note or give me a rating!
Find us on Instagram , Pinterest & Facebook here!
If you liked my recipe, do leave a comment!
It will help others find this amazing recipe too!
---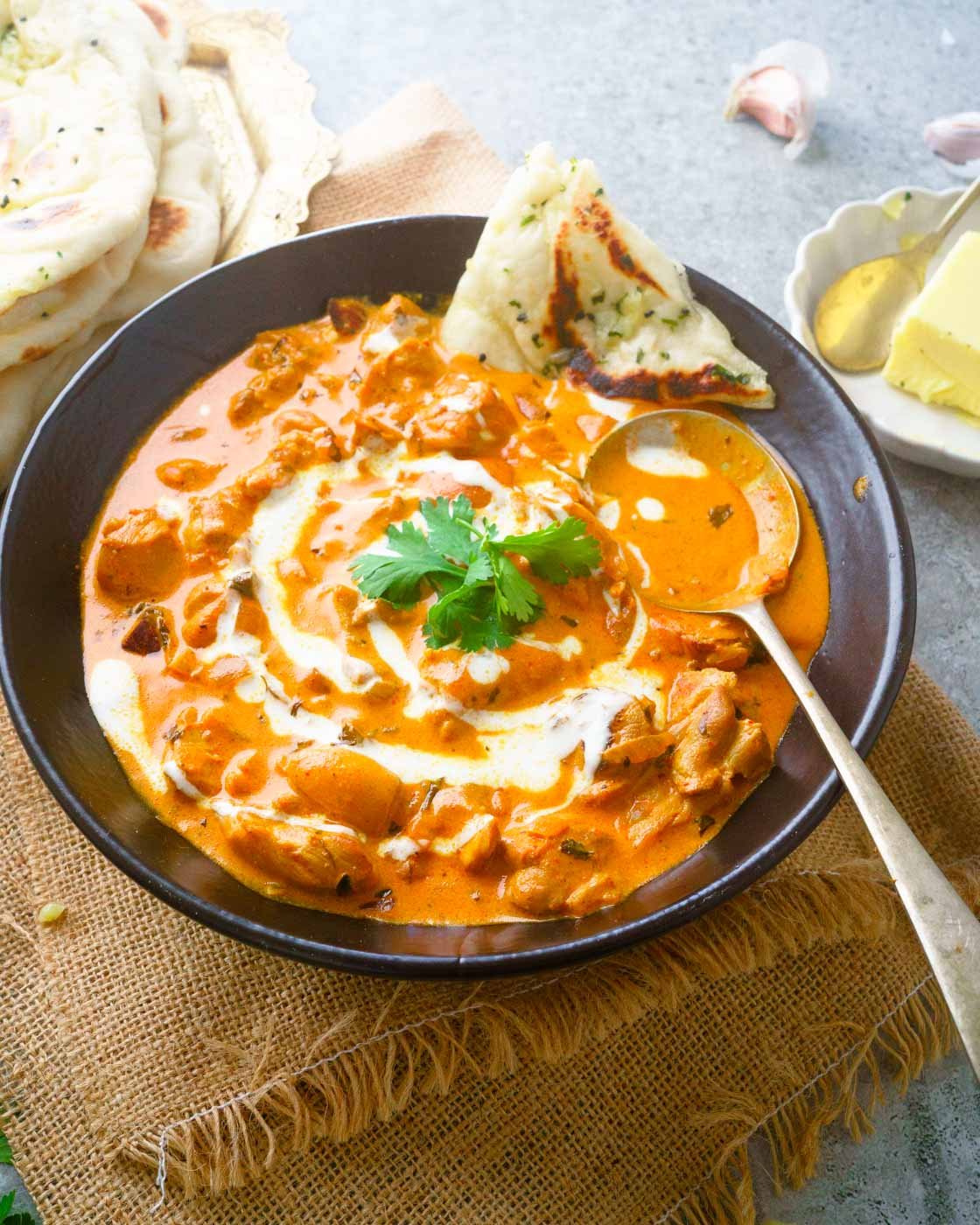 Ingredients
Chicken Marinade
½

Pound

Chicken Thighs

(half a pound)Boneless Thighs, cut into cubes

½

Cup

Yogurt

Thick or Hung curd or Greek Yogurt

1

teaspoon

Turmeric

1

teaspoon

Salt
Butter Chicken Gravy
2

Tablespoon

Butter

4

Cloves

1

inch

Cinnamon Stick

½

Cup

Chopped Onion

½

teaspoon

Ground Kashmiri Chilli

Check notes

1

Tablespoon

Ginger

optional

5

Tablespoon

Tomato Puree

or 1 tablespoon tomato paste with 4tbsp water

1

Tablespoon

Honey

½

Cup

Cream

More for garnish

1

Tablespoon

Kasuri Methi

Dried Fenugreek Leaves

1

Teaspoon

Garam Masala

Optional

Salt To Taste
Instructions
Marinate the Chicken in yogurt, turmeric and salt. Set aside for 15 minutes to 24 hours in the refrigerator.

Heat a heavy-bottomed pan. Add Oil or a combination of oil and butter.

Once it's smoking, add the Chicken one by one. Make sure to wring the excess marinade.

Cook on one side till it gets a little color.Flip.Repeat and set the chicken aside in a bowl.

Repeat the process for the rest of the chicken.Add more oil and butter if needed.

Do not wash the Pan! We need the charred bits.

Heat the pan on low heat.Add butter to the pan.

To that, add the chopped onions, Cinnamon Stick and Crushed Cardamom. Saute till the onions turn translucent. Barely 1-2 minutes.

Add -Ground Kashmiri Chilli and toast it along with the onions for 20-30 seconds till its mixed well.

Add the tomato puree. If using tomato paste, add it along with ¼ cup of water.

Cook this for 1 minute till the sauce is bubbling and you can see fat on top.

Add the cream and honey. Mix it up.

Add the cooked chicken along with all the juices in the plate. Simmer till the chicken is cooked. About 3-5 minutes.

Check the salt.Add Kasuri Methi,Honey, Garam masala(if using) and stir it once again.Check on the salt.Add more if needed.

Garnish with Cream, Coriander and serve hot.
Notes
Ground Chili 
In india, we use Kashmiri chili or bydagi chili powder. They are mild chilies that mostly give color.
The trick to a gorgeous red/orange color is to saute the chili powder in fat for a bit.
MILDLY SPICY butter chicken -½ teaspoon ground chili powder(perfect for my 5 yo)
MEDIUM SPICY butter chicken - 2 teaspoon Ground chili powder 
SPICY butter chicken -2 tablespoon Ground chili powder
Chicken
Chicken thighs or legs are the best choice to make this pressure-cooked butter chicken curry.
You can also use already cooked chicken like tandoori chicken morsels while making the curry. Just pressure cook for 1 minute to get all the flavors mixed.
To use Skinless Chicken Breast- Reduce the pressure cooking time to 4 minutes.
Serve Chicken Makhani
Butter chicken should be served hot with indian flatbreads like naan, parathas or rotis.You can also serve it with rice or pulav.
Here is a whole post on what to serve with butter chicken- Sides & Menu around it.
Nutrition
Serving:
1
cup
|
Calories:
338
kcal
|
Carbohydrates:
13
g
|
Protein:
12
g
|
Fat:
27
g
|
Saturated Fat:
14
g
|
Polyunsaturated Fat:
3
g
|
Monounsaturated Fat:
8
g
|
Trans Fat:
0.3
g
|
Cholesterol:
108
mg
|
Sodium:
700
mg
|
Potassium:
359
mg
|
Fiber:
2
g
|
Sugar:
8
g
|
Vitamin A:
790
IU
|
Vitamin C:
5
mg
|
Calcium:
84
mg
|
Iron:
1
mg
If you liked the recipe, please leave us a rating
Follow me on Instagram
My handle is @yellowthyme