Garlic Labneh - A Lebanese dip made with strained thick yogurt, garlic and herbs.
This is one of those uber delicious dips that everyone will love!
This Lebanese dip is everything! OOO so garlicky, fresh and luscious! You can dip chips and fries or pita in it and the leftover can be used as a spread for your sandwich.
Frankly I would be surprised if there was any leftover!
If you are making this dip from scratch, you need to plan it at least 3- 6 hours in advance. You will need time to drain the whey from the yogurt.
Or you could buy store-bought labneh and add your magic garlicky touch to it. Then you can make this dip in 5 minutes flat. We will get into more details of this in the ingredients section.
If you want to really take this to the next level, then use confit or roasted garlic to make the dip. Especially if you have an issue with raw garlic.
Also try my Greek Yogurt Chip Dip.I have been making it for 10 years now!
What is labneh
Labneh is a middle eastern dish, originating from Lebanon.
Labneh is a soft cheese, made from yogurt. It is often served as balls rolled over herbs and seasoning , as dips and sometimes also used as a spread.
It has a savory tart taste. It's creamier and thicker than yogurt.
Unlike other cheese, this can be made at home with minimal effort.
Ingredients for Garlic Labneh
Here is what you need. Literally just 5 ingredients!
Yogurt
Salt
Herbs
Garlic
Olive Oil
Yogurt - Try and get thick set yogurt instead of homemade runny yogurt. If you use runny yogurt, the amount of labneh you get will be very little. Or you can use Greek yogurt too.
Salt- The salt will do two things in this dish. First it will help separating the whey and second, the taste. So make sure to add it when you drain/hang the yogurt.
Garlic - I like a lot of garlic in my labneh. But you can go with what you are comfortable. Smaller garlic is more pungent and stronger than the large mature garlic.
Herbs - I have used coriander or cilantro , Dill and Mint. You can use any combination you prefer.
Rosemary, thyme, Oregano, Parsley are also great options.
You can also use dried herbs.
How to make Garlic Labneh
Step 1: Strain The Yogurt
This is the first step in making plain labneh. You strain the whey off the yogurt, leaving only thick milk solids.
My way of doing this is to use a cloth and a larger strainer. You can use flour sifter for this purpose too.
Take a large bowl. Place the strainer on top. Add the cloth.
Now add the yogurt mixed with salt to this. Take the ends of the cloth together and twist. Gently squeeze some liquid out. Do this 3-4 times.
Don't squeeze too hard. You don't want the yogurt to ooze out of the cloth.
Now you can either hang it over the sink for 5-6 hours or you can let it happen over the strainer in the refrigerator overnight.
If you are going for the overnight method, place a heavy bowl on top of the straining yogurt. This will speed up the process.
Step 2: Whisk the Yogurt
After hanging, the labneh should be thick, almost solid. Once you have thick labneh ready, we go to the next step.
Using a wire whisk or a hand held whisk, mix the labneh well. You have to incorporate air and also smoothen the texture of the labneh.
This takes 10-15 minutes.
Step 3: Add the Seasonings
Once you have thick, smooth labneh you can add the flavours.
But first, taste the salt. You need to know how much of the salt is left from the straining process.
Add finely chopped garlic, herbs and salt. Mix it up.
Step 4: Plate & Serve
Scoop the labneh on a shallow plate or a bowl.
Drizzle olive oil on top. You can also sprinkle some Zaatar or smoky ground chili on top for a hint of heat.
Labneh Topping ideas
This is literally my favorite part!
I recently made a labneh board, like a butter board. Go find that on my Instagram account. It was so fun! It had honey and pistachio
Okay here are a bunch of ideas
Add Roasted Olives & Garlic (Like my roasted olive hummus)
Add roasted veggies like cherry tomatoes, aubergine and courjette
Zaatar & Pomegranate
Lemon Or Orange
Rose and Pistachios
Sweet Labneh with cardamom and sugar
Storing Leftovers
You can store labneh for as long as the yogurt's expiry. Usually 3-4 days in an air tight container.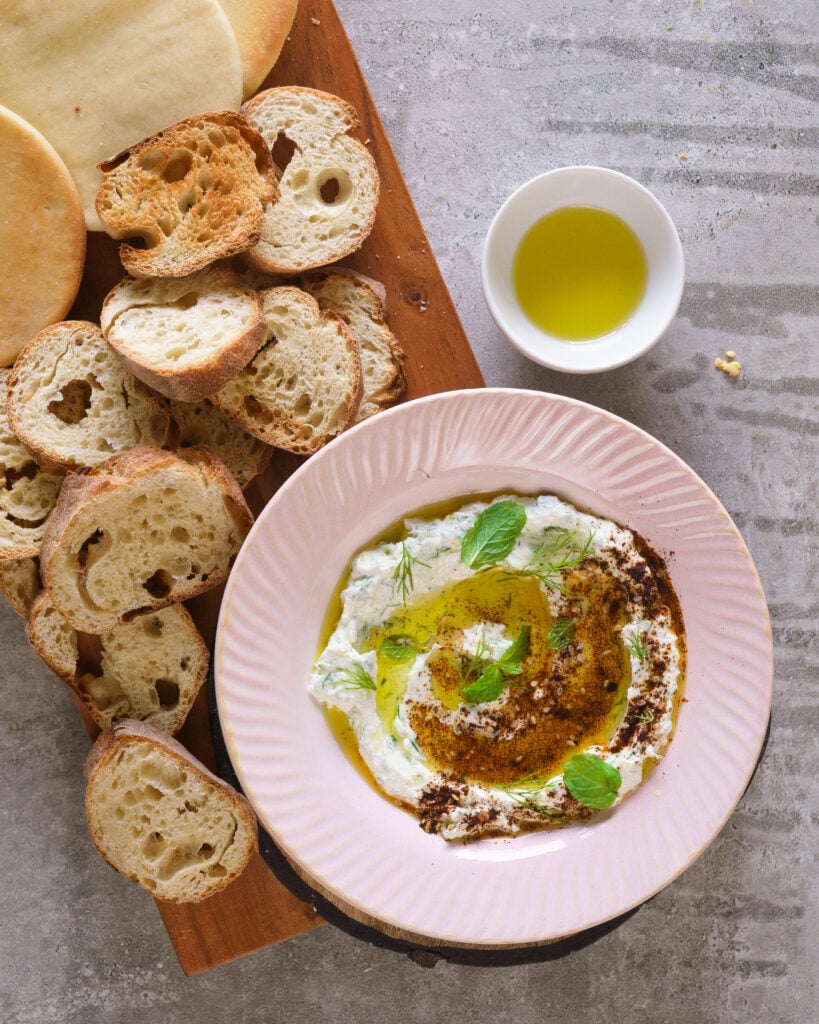 How to Serve Labneh
The dip should be served at room temperature or cold. The contrast of spicy chips and cold dip is the best!
By itself, you can serve this Garlic Labneh with chips, pita, veggies or crackers or homemade Garlic Bread.
If you are throwing a party, you can serve this with several dips.
Assembling a dip platter with crisps and veggies is easier than cooking appetizers. It's also great finger food to munch on with drinks. This is what I usually have on my party table
Dips- Hummus, Roasted Red Pepper Dip , cheese Ball
Veggies- Sticks of carrots, cucumber, celery
Fruit- This is optional. Kids usually love this part of my platter.
Crisps- My Homemade Pita Chips, Potato chips and other crisps.
Crackers & Cheese
Olives
More Party Dips
Entertaining is my jam! We have friends and family over at our house almost fortnightly!
Here are some of my favorite dips
Roasted Red Pepper Feta Dip - made with red peppers and feta.
Hummus with Roasted Olives - A loaded Hummus!
Black Bean Corn Feta Dip - Getting your veggies in but with chips..Lol
Chaat Dip - Indian Party Dip - A great way to serve chaat at parties
And if you are up for it, make these Air fryer Pita Bread chips. They are ULTIMATE! if you ever have leftover pita bread, make this. I cant recommend it enough!
Find us on Instagram , Pinterest & Facebook here!
If you liked my recipe, do leave a comment!
It will help others find this amazing recipe too!
---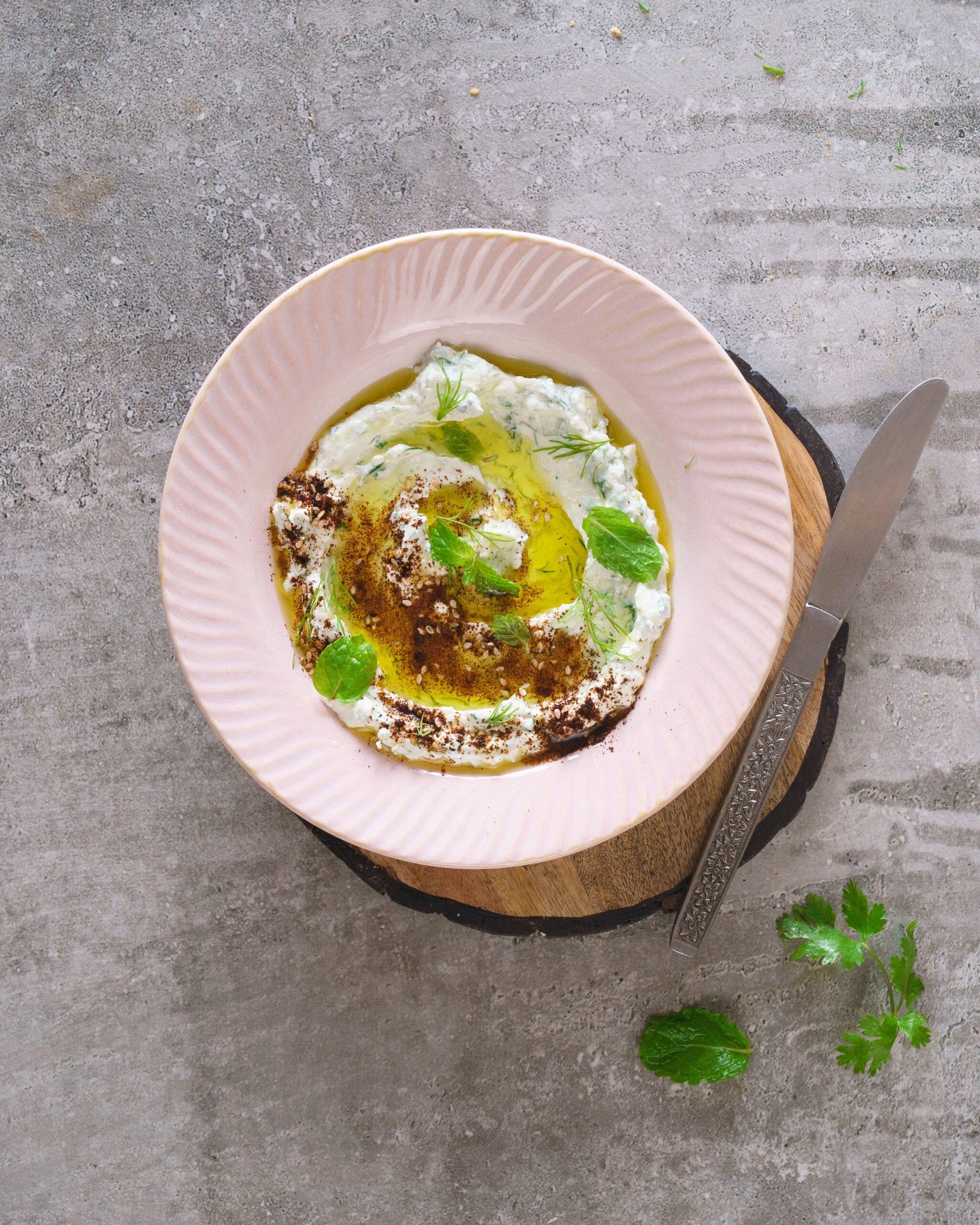 Ingredients
2

Cups

Yogurt

¼

teaspoon

Salt

2-3

Garlic Cloves

1

Cup

Herbs

Cilantro, dill, Mint

1

tablespoon

Olive Oil

To drizzle

¼

teaspoon

Ground Smoked Chili

Optional or Chili Flakes
Instructions
Add a fine sieve strainer on top of a large bowl.

Line it with cloth or a thin tea towel

Add it to the cloth lined strainer. Squeeze the whey out gently.

Refrigerate this whole set up for 6-10 hours. Making sure the drained whey doesn't touch the yogurt. Add a small heavy object or bowl to speed up the process.

Or you can tie the cloth into a bundle and hang it over the sink for 6-7 hours.

Once you have thick yogurt which is almost solid, its called labneh.

Whisk the labneh till it's smooth and spreadable like whipped cream.

Add finely chopped garlic and herbs. Mix it up. Taste the labneh, add more salt if needed.

Scoop it in a shallow bowl. Drizzle oil over it.

Garnish with more herbs. If you like, sprinkle some smoked ground chili powder or chili flakes over it.
Nutrition
Calories:
73
kcal
|
Carbohydrates:
4
g
|
Protein:
3
g
|
Fat:
5
g
|
Saturated Fat:
2
g
|
Cholesterol:
11
mg
|
Sodium:
426
mg
|
Potassium:
142
mg
|
Fiber:
1
g
|
Sugar:
4
g
|
Vitamin A:
292
IU
|
Vitamin C:
1
mg
|
Calcium:
108
mg
|
Iron:
1
mg
If you liked the recipe, please leave us a rating
Follow me on Instagram
My handle is @yellowthyme
Here are some Commonly asked questions. I thought I will answer them for you here.
Labneh Vs Greek Yogurt
Labneh is strained thick, almost solid cheese made with straining Full Fat cows milk Yogurt. It has almost no whey in it and is of spreadable consistency.
Greek Yogurt, tradionally, is made with goats milk. But in most countries like USA , Canada and India, Greek yogurt is made with cows milk. You can use cow milk greek yogurt instead of regular yogurt to make labneh.Here is a great artical from Food 52 on different Yogurt types.
Labneh Vs Sour Cream
Sour cream is basically cultured Cream. The whey is still very much in the sour cream.
Whereas Labneh, is full fat yogurt from which whey has been removed by straining it over a long time. It is spreadable and like cheese.
Labneh Vs Cream Cheese
Cream Cheese is basically strained and blended curdled milk. It usually doesn't have culture.
Labneh is a tad more thicker than cream cheese and has a tangy undertone from the culture added to the yogurt.