Homemade Apple Turnovers- A Quick and Easy Air fryer dessert made with apples and store-bought puff pastry. It's soft and warming inside and crispy & flaky on the outside.
Have you ever had too many apples at hand? I mean I love apples..but I love apple desserts more!
There wasn't ever an apple cake or a pie I couldn't finish. But those things take time and effort. (Though if you would rather make a cake- here is a french apple cake recipe for you! )
I had some bruised apples and puff pastry that I bought last christmas..Just hanging out in the back of my fridge..And then they met..Okay i will quit being cheesy.
But look at the photos! They are a 10 in taste and a 2 in effort!
A perfect answer to sweet tooth hunger pangs.These are especially a big hit with kids!
It's also a great recipe for holidays.Instead of making a whole pie, try making individual apple turnovers instead.
Ingredients
I like my ingredient list short! So here it goes
Apples
Puff Pastry
Butter
Cinnamon
Brown Sugar
Salt
Egg -optional- check details to see a vegetarian option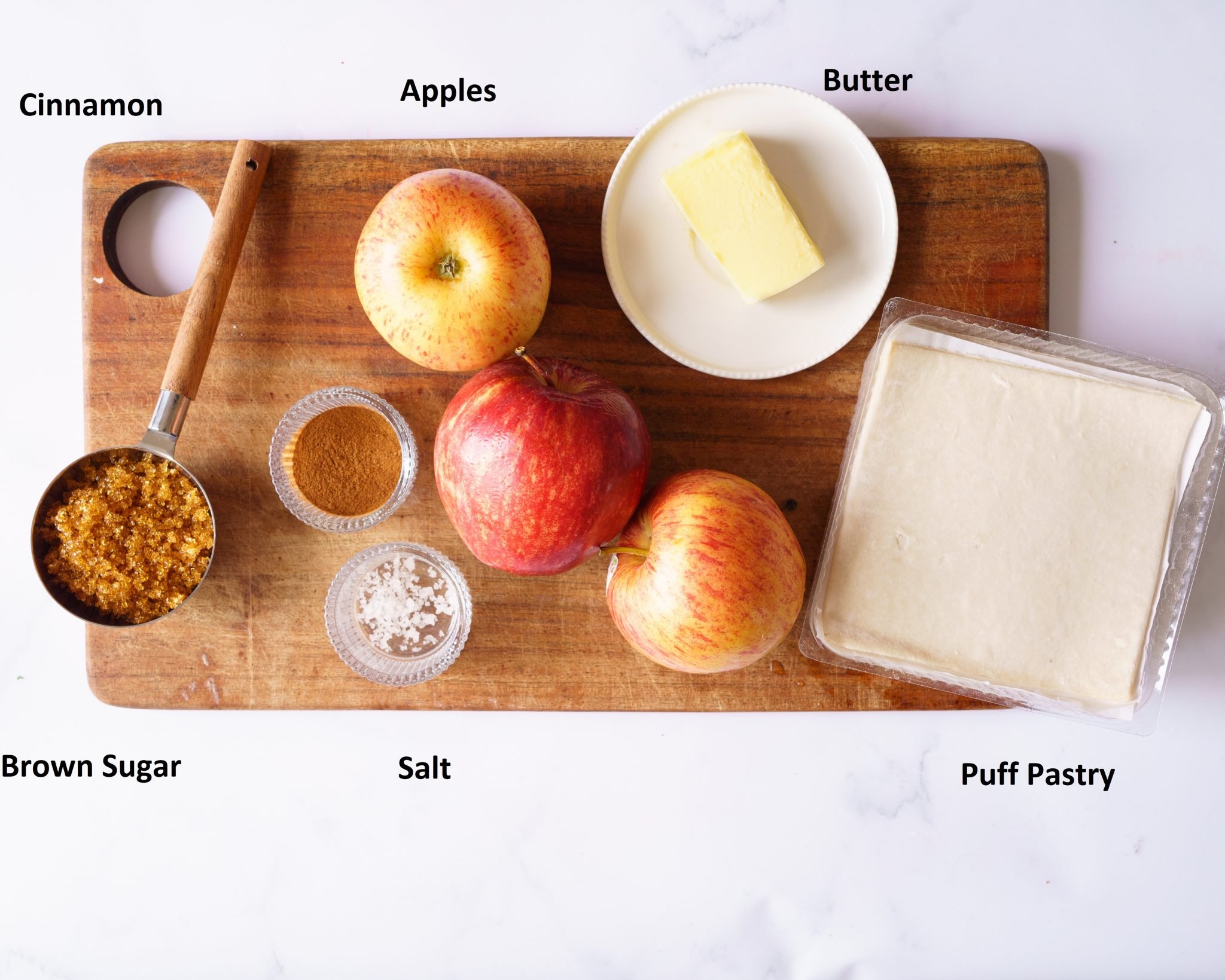 Apples
I frankly use any kind I have at hand.but if you want to really impress people, use the tart kinds.Granny smith would work great here.
Puff Pastry
Buy the precut ones people! Lesser work and it takes lesser freezer space.
You need to let the puff pastry thaw before using it.Ideally, leave it in the fridge overnight but if not, leave it on the counter till it's not brittle.
You can also use storebought pie dough.
Butter
Butter makes everything yummy. Especially in this dish.Though if you are trying to make this dish vegan- you can use coconut oil or margarine.
Cinnamon
Apple and cinnamon. I mean it has to be there right? for me at least!
If you love apple cinnamon as much as i do, give this Warm Apple Cinnamon Cake with Caramel Glaze a try! It's perfect for a cold evening outside.
You can also use pumpkin spice instead.
Brown Sugar
Brown sugar gives the apples a nice colour.But you can also use white sugar or coconut sugar.
If your apples are sweet enough, skip the sugar if you prefer.
Egg
A beaten egg is brushed over the pastry to give it its gorgeous golden glow.
Instead of Egg wash, you can use milk or melted butter or coconut oil too.
I only glaze these turnovers when i am serving them to guests.I have two reasons- 1. I like lazy cooking 2. I can't be eating that much sugar regularly.
So in my mind these are optional ingredients
Icing Sugar
Milk
Vanilla Essence
If you are making this just for yourself, then make it without the icing.
How to make Apple Turnovers in Air Fryer
Prep
Keep the puff pastry on the counter to thaw.
Peel and cut the apples into ¼ inch pieces.You do not need to be perfect here.
Cooking Apples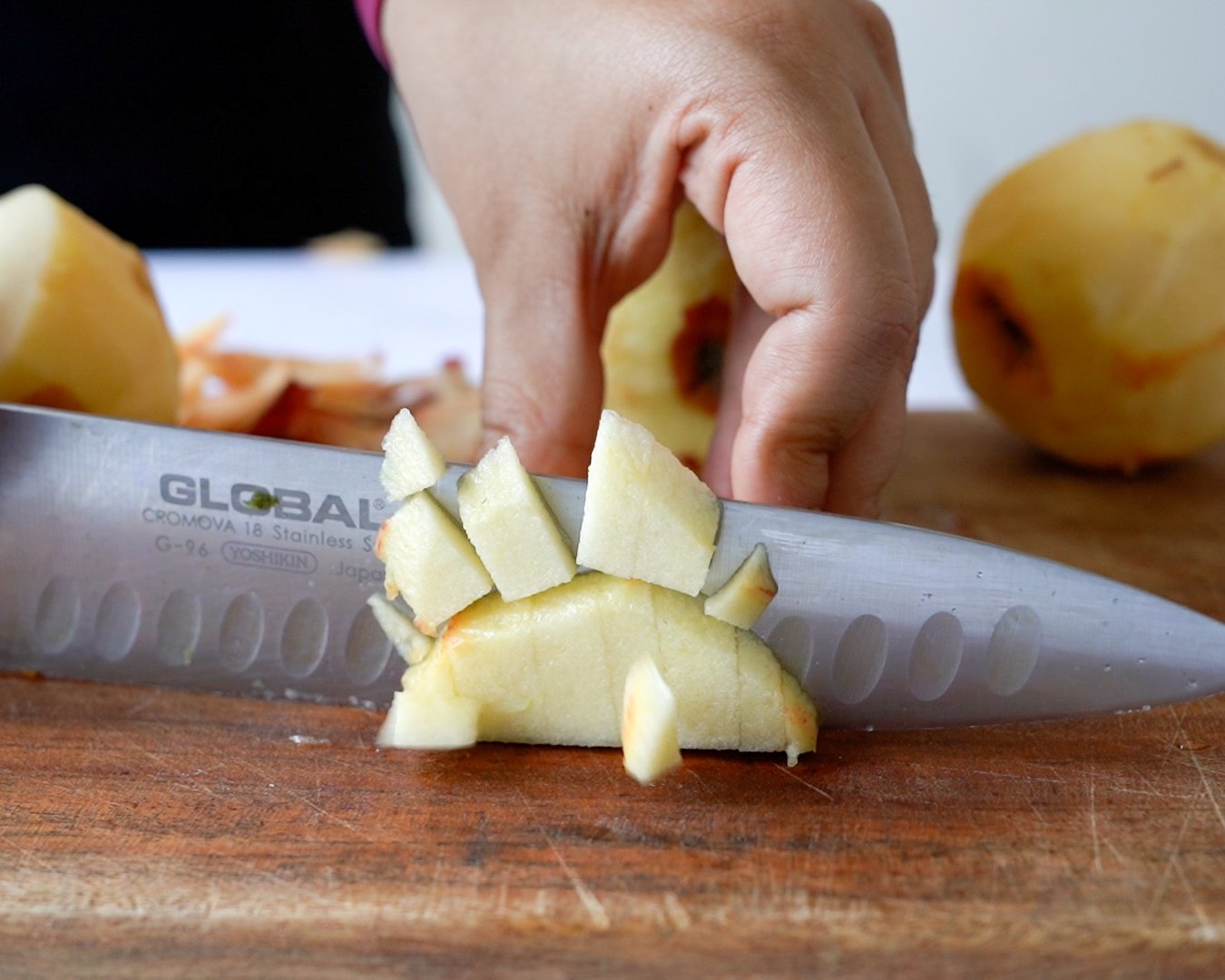 Peel the apple and Cut it into small pieces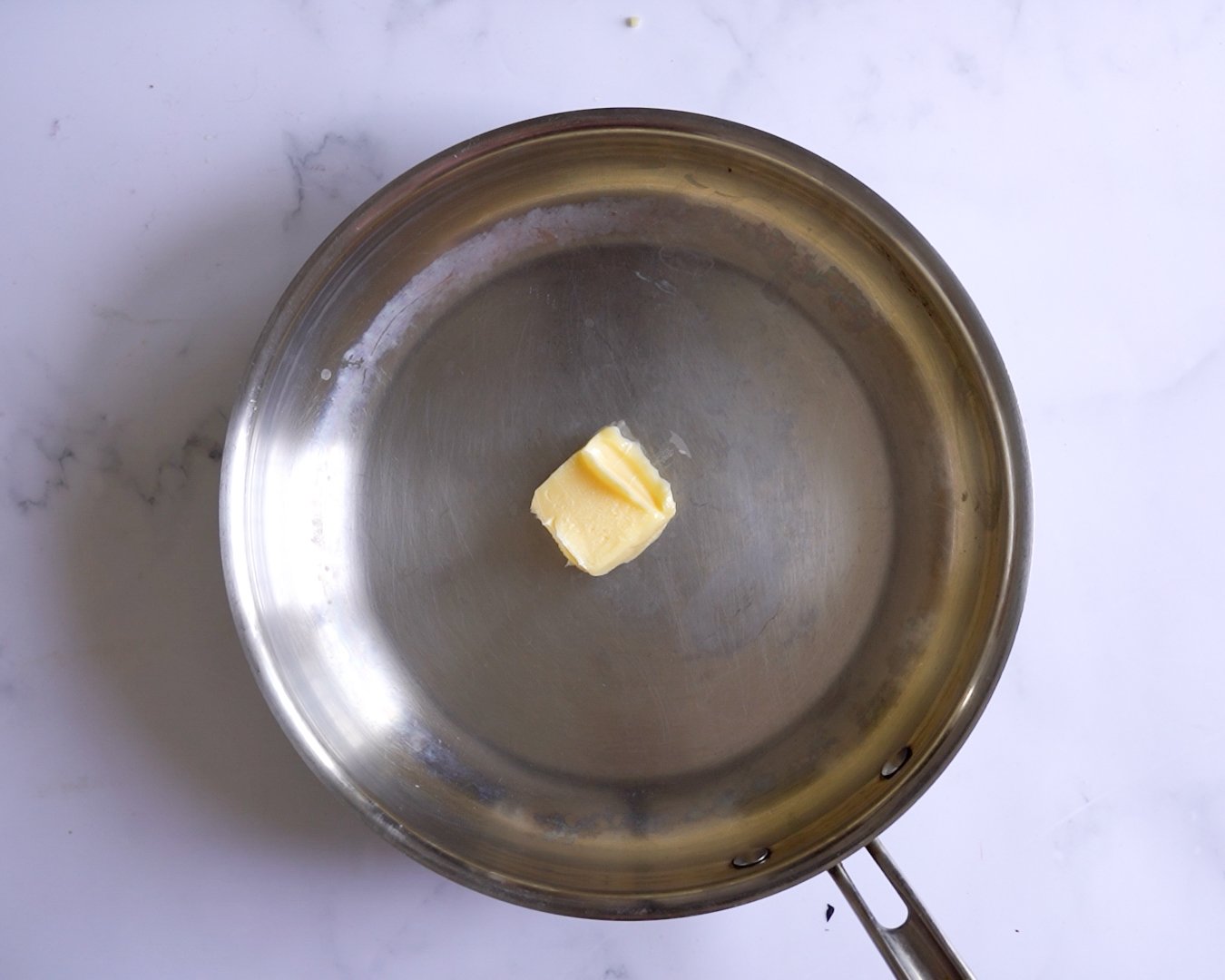 Heat a pan and add butter to it.
Add the diced apples
Cinnamon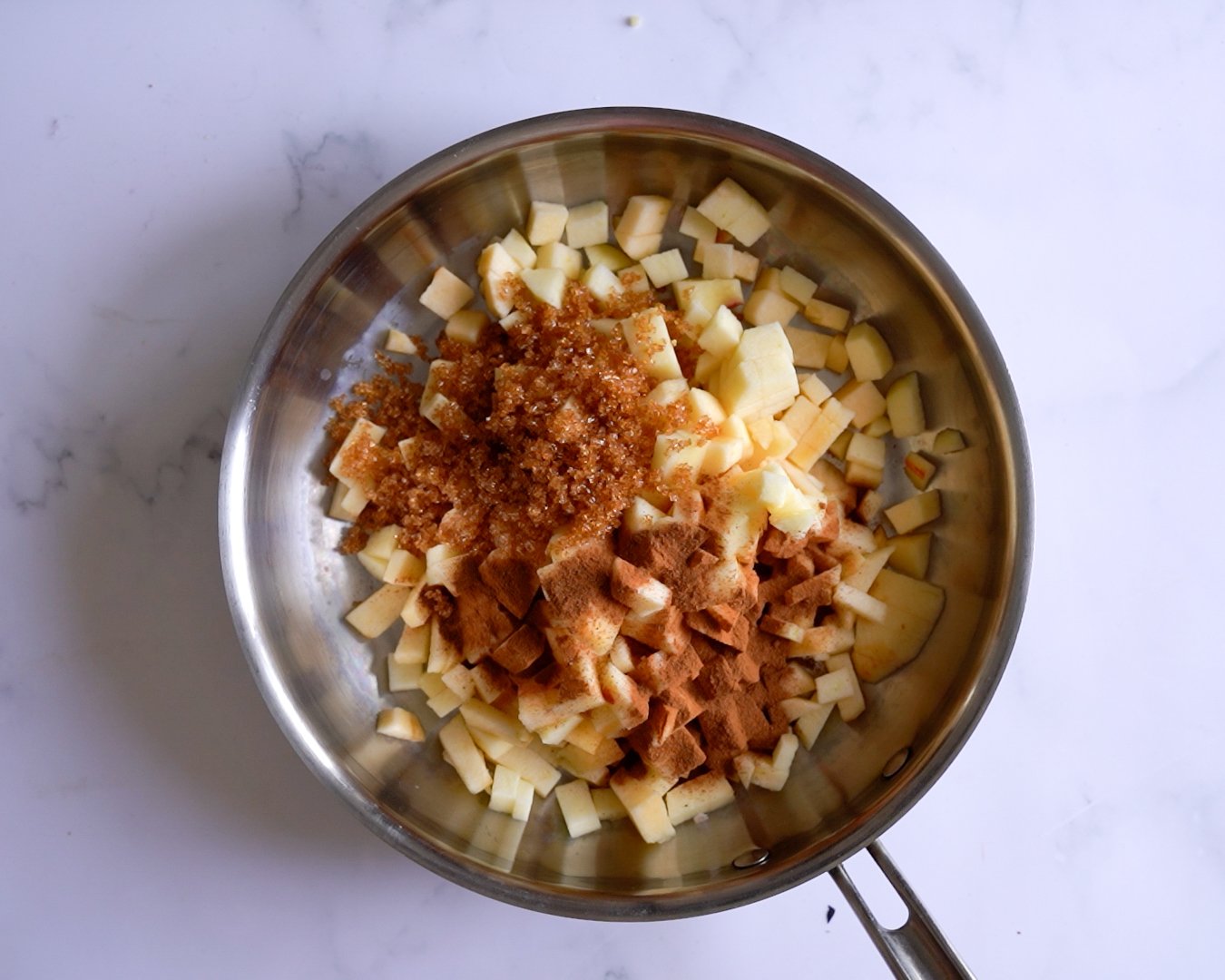 Brown Sugar and 2 tablespoon of water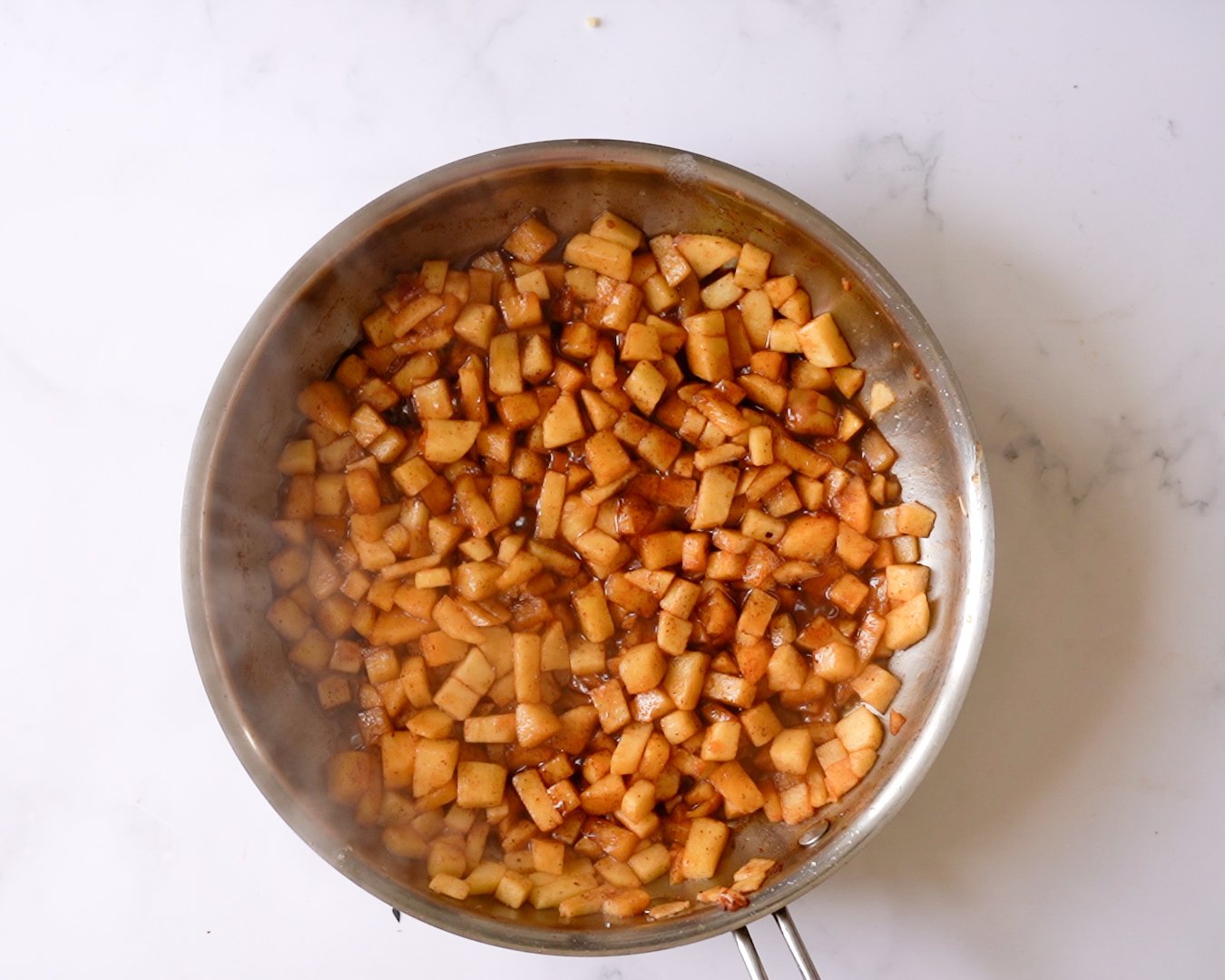 Cook till the apples have softened and the liquid has thickned.
Filling the puff pastry
Cut the puff pastry into a square piece.This way, you waste very little.
Add about a tablespoon and a half of the filling.Turn the side diagonally.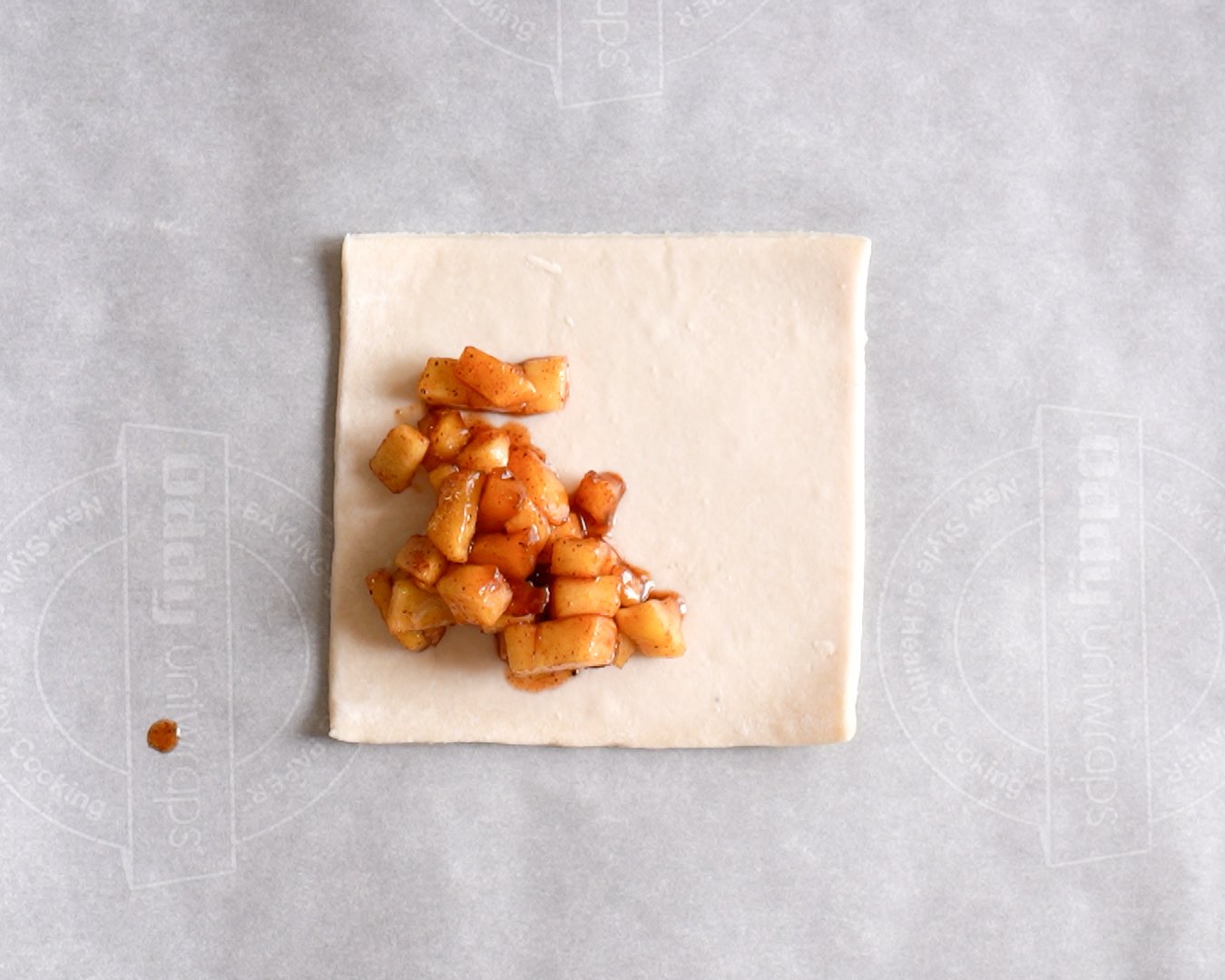 Add the filling to one side.
Turn it over diagonally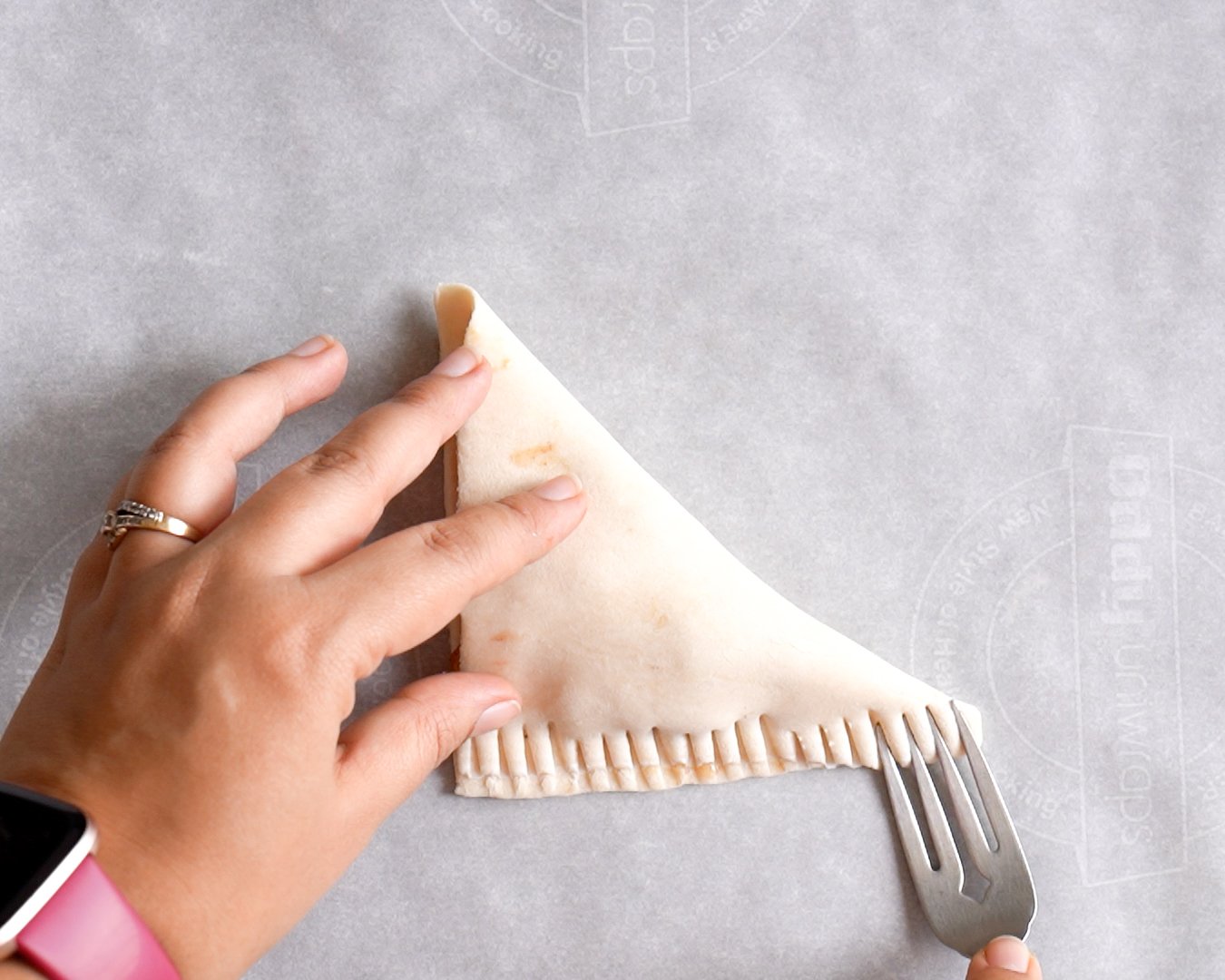 Using a fork, close the edges
Make a few slits
You can make any shapes you like.Make sure to cut out a few slits or vents for the hot steam to escape from inside the turnovers.
Repeat the process to make more.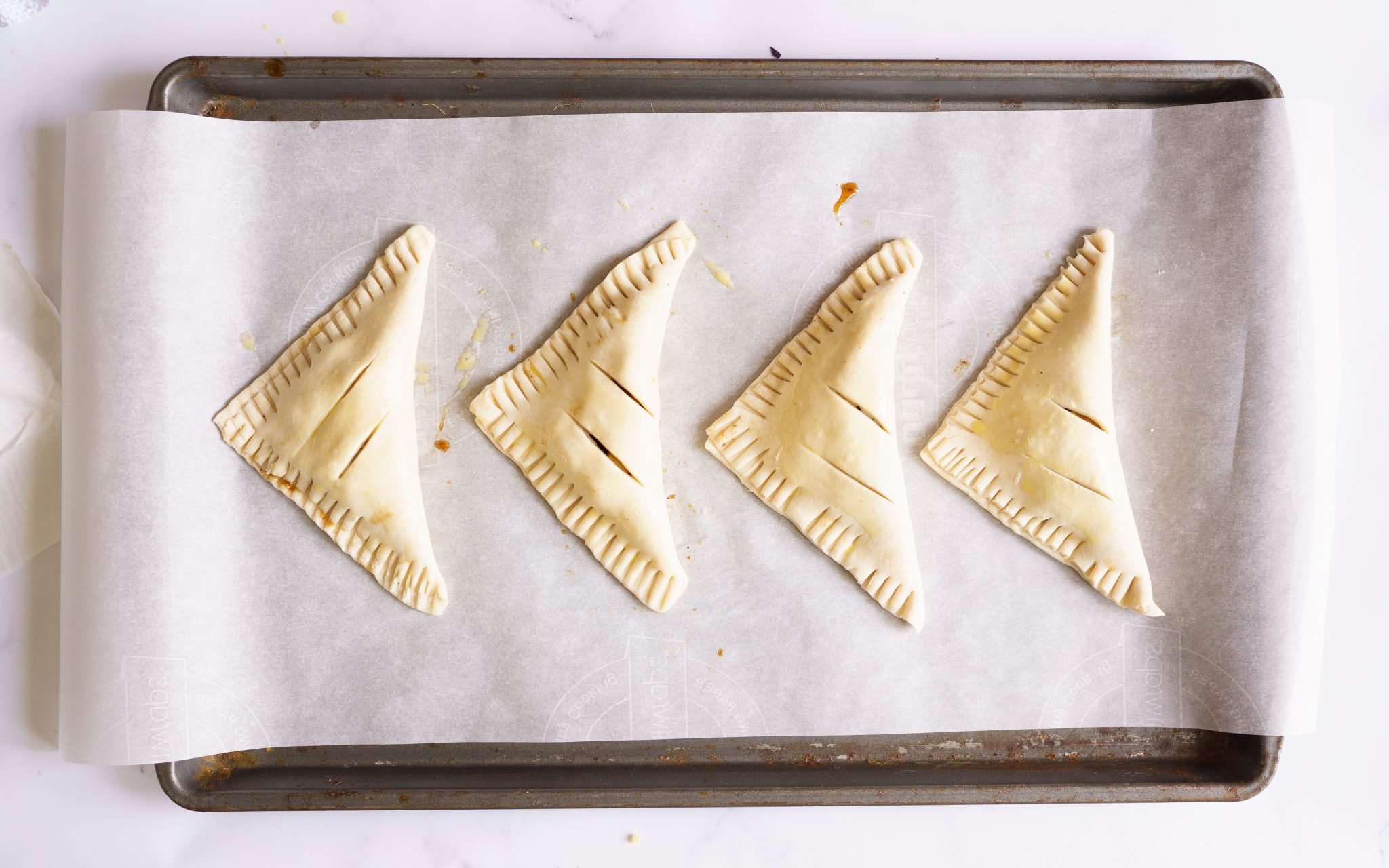 Air frying
As these turnovers are big, you can make two at a time.
In case you are feeding a crowd, make them smaller.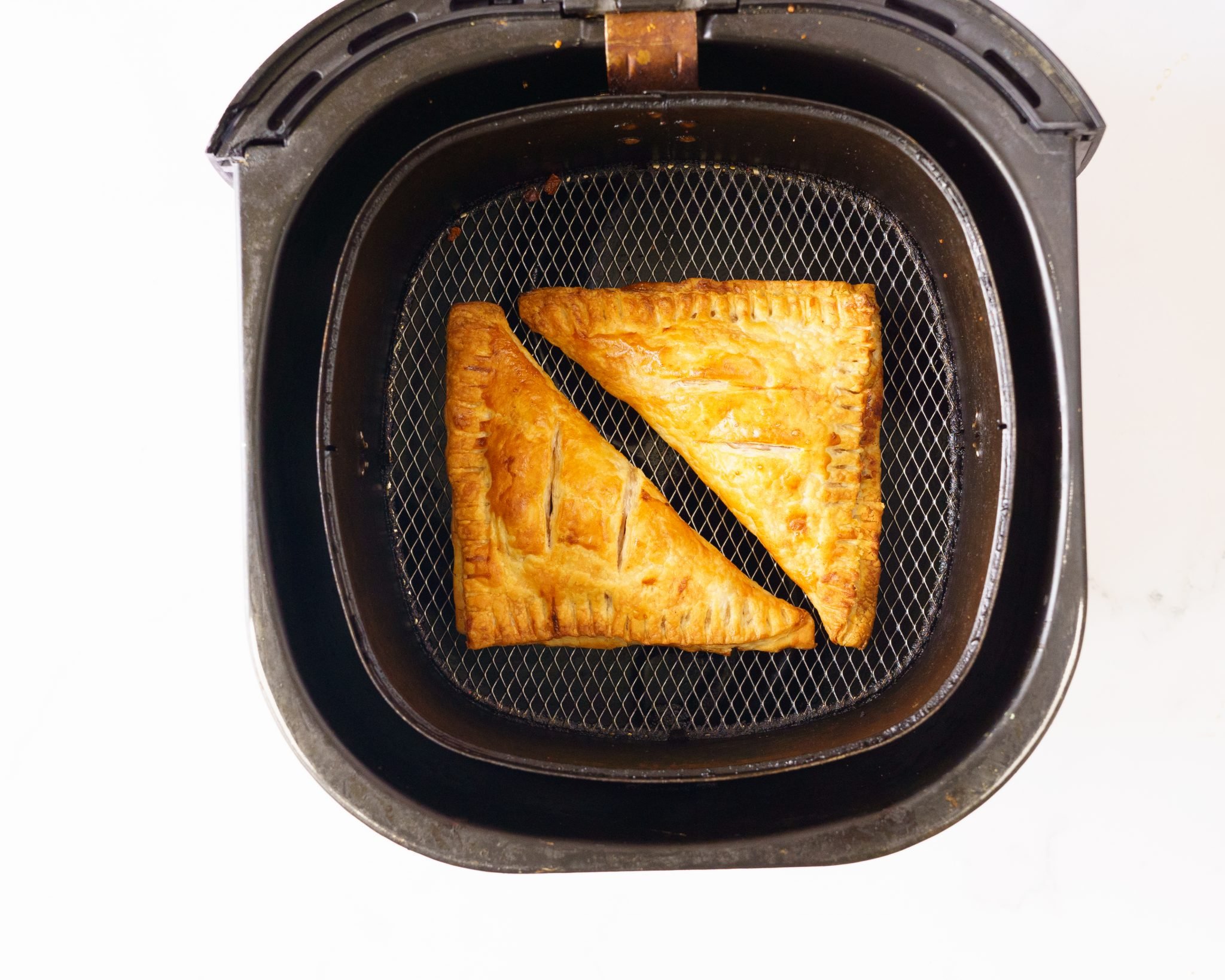 Glaze or not to Glaze?
Glaze though pretty is an extra step.
You mix together the sugar, milk and vanilla extract into a pourable consistency. Make sure to whisk it well to avoid lumps.
If you want a bright white icing, omit the vanilla essence.
Drizzle it over the air fried apple turnovers using a fork.
Substitutions
Here are some quick ways to adjust this recipe to your special diet.
Vegetarian- To make this dish vegetarian, replace the egg wash with a vegetarian option.You can brush the pastry with milk or butter instead.
Vegan- To make this dish vegan, you will need vegan pastry.Most puff pastries are made with margarine anyways.Instead of the egg wash- you can brush the pastry with margarine or a vegan milk substitute.
Sugar Free - It's easy to make this sugar-free! Just omit the sugar. Cooked apples have their inherent sweetness and you can leave out the sugar altogether. If that doesn't appeal to you, add a few raisins once your apples are cooked.
Variations
Here are some ideas to switch this Air Fryer Apple Turnovers recipe up a bit!
Use a storebought cherry filling instead.
Use pineapples or peaches instead of apples.Follow the same recipe.
Here are some tips if you are making them for entertaining a crowd.
If you are making this for your dinner guests or for entertaining or even a kids birthday party , I would suggest you make them smaller.
Place one puff pastry on the counter, add bits of apple filling.Place another pastry on top and using a pizza cutter, cut it into smaller square or rectangular pies.
Leftovers & Storage
Once you have air fried the apple turnovers, they would last for 1 day, outside the fridge.
After that, the puff pastry will start deflating.Though it will still be edible.
Prepped apple turnovers can be frozen quite easily.Freeze it on a tray first and once frozen, you can pop them in a zip lock bag.
That way you have a delicious snack ready at any time! All you have to do is, pop it in the air fryer!
A Quick Note on Air Fryer
I have been using Phillips Air fryer for the past 10 years! Yes...I was one of the early converts!
It has served me very well. But this the Air fryer my brother uses and he loves it. It has 3 levels and you can use it to dehydrate and make a whole chicken!
More Air fryer recipes for you
Are you looking for more easy desserts?
Try making this delicious Air Fried Banana or Air Fryer Peanut Butter and Jelly in your air fryer.
And here are some easy desserts that come toghether within minutes

No Bake Oreo Chocolate Tart
Dark Chocolate Salted Caramel Pots
Mango Pannacotta- Easy No Bake Dessert
Chocolate Oatmeal Pudding
Palmiers
Air fryer pain au Chocolat
Please let me know how your apple turnovers turns out in the comments! I love hearing from you.
Find us on Instagram , Pinterest & Facebook here!
If you liked my recipe, do leave a comment!
It will help others find this amazing recipe too!
---
Ingredients
3

Apples

Peeled and Chopped up small

1

teaspoon

Cinnamon

⅓

Cup

Brown Sugar

pinch

Salt

2

tablespoon

Butter

1

Puff Pastry

Thawed
Glaze
1

Cup

Icing Sugar

1

tablespoon

Water or milk

¼

teaspoon

Vanilla Extract
Instructions
Start with thawing the puff pastry till it's soft but still cold.

Heat a pan over medium heat.

Add the butter,apples, brown sugar and a splash of water.About 2 tbsp.

Cook the apples till they are soft.(Check the video and photos)

Cut the puff pastry into equal squares.(or use precut ones)

Add a spoonfull of apple in the middle and fold the pastry diagonally.

Using a fork, seal the sides.Using a brush, brush the apple trunovers with beaten egg.

Preheat the Air fryer for 2 minutes at 180C or 365F

Place the turnovers in a single layer.

Set the temperature at 180 C or 465F for 6 minutes.
Glaze (Optional)
Mix the ingredients of the glaze toghether.Adjust the consistency to your liking.

Drizzle it over the top before serving
Notes
Notes
Frozen Puff Pastry - make sure to thaw the puff pastry.Frozen puff pastry is very brittle.
You can use precut package or cut it into squares using a pizza cutter.
With one pack of the puff pastry, you should be able to make 6-8 apple turnovers.
Though it will depend on how much filling you add.
Nutrition
Serving:
1
peice
|
Calories:
353
kcal
|
Carbohydrates:
43
g
|
Protein:
3
g
|
Fat:
20
g
|
Saturated Fat:
6
g
|
Trans Fat:
1
g
|
Cholesterol:
10
mg
|
Sodium:
136
mg
|
Potassium:
141
mg
|
Fiber:
3
g
|
Sugar:
22
g
|
Vitamin A:
167
IU
|
Vitamin C:
4
mg
|
Calcium:
24
mg
|
Iron:
1
mg
If you liked the recipe, please leave us a rating
Follow me on Instagram
My handle is @yellowthyme