"A party without Cake is just a meeting" said the famous Julia Child and this cake is made to be served at a party!And I mean party party..not a little girls tea party!Though this French Apple Cake would be great for that too I recon.
What makes this apple cake so special is the healthy splash of Old Monk.I keep a bottle of old monk stashed away for such recipes.Before you get all judgemental on me,the alcohol evaporates when you bake it so you have nothing to worry about. In fact,I have never appreciated alcohol much and since we welcomed our baby, I haven't had any except in the Christmas cakes and now this.There is an old worldly charm about adding rum into cakes,don't you think?.Makes you feel a little whimsically,a little fancy.
The first time I experimented with rum in a cake was when I was 15 years old…from my dad's non existent,old and dusty alcohol cabinet (just a drawer really)which was only stocked if someone gifted him some alcohol.I am from a staunch teetotaller family which made this experiment slightly blasphemous but you know how it is with teenagers and their rebellious streak.Let me just summarise the story and tell you that it was a huge failure..My mom feigned a migraine and refused to taste the cake..and well we were under age so we could not really have any ourselves too.
Since then I have come a long way.For starters,we have a big bar cabinet which is stocked diligently by my husband.I made a very elaborate Rum cake last christmas after soaking the dry fruits for about 2 months good old Rum.Even though the cake had way too much rum we still enjoyed it at our Christmas party, we were literally high on spirits.
Though, this French Apple Cake is very different from a Christmas Rum Cake.This cake has only a few tablespoons of rum which promptly evaporates during the baking leaving only a hint of the rum flavour. If you are wary of using rum in the cake you can always omit it or use a bit of rum flavor.
It's more of a tart and less of a cake.I told myself it was more of a baked apple salad really with a little butter and rum.It has more apples than cake batter and while making it you might be a slightly confused, stumped even, because the batter barely covers the apples.But wait for it.
The cake batter will hug the apples and once baked this turns into an absolutely Party Crasher!It's gorgeous gorgeous cake..The apple slices make a beautiful edgy cake top and once you sprinkle sugar on it, it looks like a ethereal,just snowed white field.
Tips for making this delicious French Apple Cake
Make sure you preheat the oven at 180 degrees for at-least 10 minutes before putting this in the oven.If the oven is not hot enough the cake will not bake properly. I used a 7 inch pan for this.If you are using any other kind of baking pan keep an eye on the cake from the 30th minute onwards.
Its recommended that you use different varieties of apples for this cake to give it a more multi dimensional taste though I used the normal Indian red variety.
Prepare the baking pan by buttering all the corners and crevices well.You can also use baking spray which really is immensely simpler.I also like to line the pan bottom with parchment paper for extra insurance.
Can this French Apple Cake be made without Rum?
Yes this can be made without rum.You can substitute this with Malibu or White rum.If you don't want to add alcohol to the cake, just omit the rum.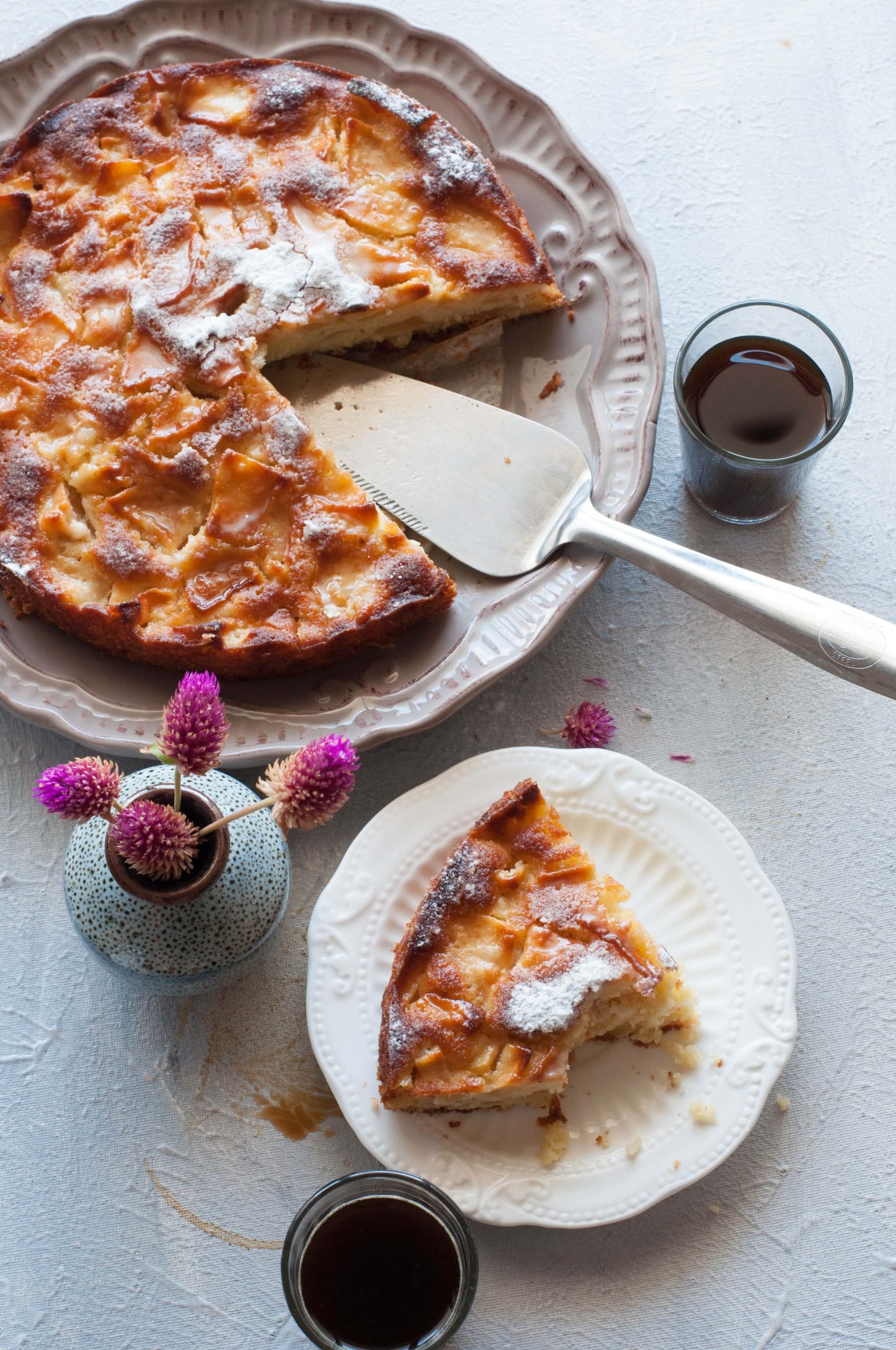 Ingredients
¾

cup

110g flour

¾

teaspoon

baking powder

pinch

of salt

4

large apples cut into thin slices

2

large eggs

at room temperature

¾

cup

150g sugar

3

tablespoons

dark rum

½

teaspoon

vanilla extract

8

tablespoons

115g butter-Melted
Instructions
Preheat the oven at 180 degrees.

Prepare a 7 inch cake pan for baking-brush the sides with oil/butter and line with parchment paper.

Mix the baking powder, flour and salt in a small bowl.

Cut the apples into one inch thin slices.

Melt the butter and set aside to cool.

Whisk the eggs in a bowl, once they are frothy add the sugar.

Cream both together until they are pale.Add the vanilla extract and the rum.

Trickle the liquid butter in the egg mixture incorporating all the while with a spatula.

Mix the flour mixture with the liquids in two batches.Add all the apples in the batter.The batter will look more of apples than a cake batter but thats alright.

Spoon it in the prepared pan and bake in preheated oven at 180 degrees Celsius for 40 minutes.

Test with a skewer or a knife,if it comes out clean the cake is cooked, if not bake for another 5 minutes.

Let it cool for 10 minutes before transferring on a wire rack.
If you liked the recipe, I would appreciate a comment.
Keep in Touch
Follow and like my facebook page yellowthyme!
Pin Me!!
Some more amazing Cakes from the blog which you will absolutely love!!
Moist Quinoa Chocolate Cake
SaveSave
SaveSaveSaveSave
SaveSave
SaveSave
SaveSave
SaveSave
SaveSaveSaveSaveSaveSave
SaveSave
SaveSave
SaveSaveSaveSaveSaveSaveSaveSaveSaveSaveSaveSaveSaveSave
SaveSaveSaveSaveSaveSaveSaveSaveSaveSave
SaveSaveSaveSaveSaveSave