French Apple Cake- A delicious rustic french apple cake with slices of apples that will melt in your mouth! It's a literal hug in your mouth. Warming, Comforting, buttery goodness!
It's the perfect cake recipe for this fall season. This recipe celebrates apples of all kinds. And if you love apples? Especially warm gooey apples, make this delicious apple cake!
When you serve it on a plate with a dusting of sugar on it, it will definitely make you feel a little whimsical ,a little fancy.
You can make this apple cake without Rum too. If you don't want to use rum in the cake you can always replace it with equal amount of apple juice/ Honey or 1 teaspoon of Rum flavor. Here is another Apple cake with caramel sauce recipe that's off the charts!
This cake has only a few tablespoons of rum which promptly evaporates during the baking leaving only a hint of the rum flavour.
It's more of a tart and less of a cake. I told myself it was more of a baked apple salad really with a little butter and rum.lol.
It has more apples than cake batter and while making it you might be a slightly confused, stumped even, because the batter barely covers the apples.
But wait for it.
The cake batter will hug the apples and once baked this turns into an absolutely Party Crasher! It's gorgeous gorgeous cake
The apple slices make a beautiful edgy cake top and once you sprinkle sugar on it, it looks like a ethereal, just snowed white field.
Ingredients for French Apple Cake
Here is what you will need to make this delicious Apple cake
White Flour / All Purpose Flour / Maida
Baking powder
Apples
Eggs
Sugar
Rum or Apple Juice
Vanilla extract
Butter
Caster Sugar to dust
Flour
Use regular all purpose flour here.
I have been wanting to give this cake a try with this genius gluten free all purpose flour blend! Will come back soon with a proper recipe with this!
Baking Powder
This will make the cake rise and fluffy. Make sure it isn't too old and definitely not expired.
Apples
You can use any apples you have on hand.
Tart apples like Granny Smith will be a good contrast to the sugar and butter. That said, you can use any kind of apples you get.
For this recipe, we will be peeling the apples.
As this recipe is loaded with apples, I like to cut them thin and an inch long. This not only make them melty but also gives a gorgeous crumb on top.
If you like a bigger apple bite, you can cut the apples into larger chunks. This will leave the apples a little more firm as opposed to melt in your mouth with the thinly sliced apples.
Rum
Usually this cake has some rum in it. You can use Dark or light. I prefer dark rum for baking.
If you are making this cake for children or just don't want alcohol in it, you can replace the rum with honey/ maple Syrup or a Fruit juice.
Can this French Apple Cake be made without Rum?
Yes Absolutely! This cake celebrates apples. So it's perfectly fine without any rum.
Feel free to use Apple juice, apple sauce or even rum flavor drops.
How to make Apple Cake
As with any cake making, we will be following the 2 bowl method of mixing the wet and dry ingredients separately.
So here we go
Step 1: Prep
Measure all the ingredients. This step is important in baking.
You can either use a weighing scale to get the exact measurements in grams. Or you can use standard sized measuring cups and spoons to measure all the ingredients.
If using cups, add the flour to the cup loosely and use a knife to level it off.
Cut the apples into slices or ½ inch chunks. I prefer slices because of the gorgeous top of the cake.
Preheat the oven to 180 C or 365 F.
Prepare the baking pan by
Lining it with parchment paper. I usually line the bottom and the sides.
or Buttering the sides with butter or oil.
I have used a 9 inch cake pan. If you have a springform pan on you, then use that.
Step 2: Mix Wet Ingredients
Melt the Butter.
In a large bowl, add the eggs. Beat them till they are foamy and pale.
Add the Sugar, Melted Butter, Rum & Vanilla essence.
Mix it up using a whisk till the sugar has dissolved a bit.
Step 3: Mix Dry ingredients
Add & Mix the dry ingredients - Flour and baking powder.
Some baking powders can be lumpy. If that's the case, sieve the whole dry mixture over the wet mixture.
Step 4:Make the Batter
Add the dry ingredients to the wet ingredients bowl. Mix it till you don't see any dry flour.
To that, add the sliced apples. The apples might seem like a lot but that's the charm of this cake.
Make sure all apples are coated with the batter.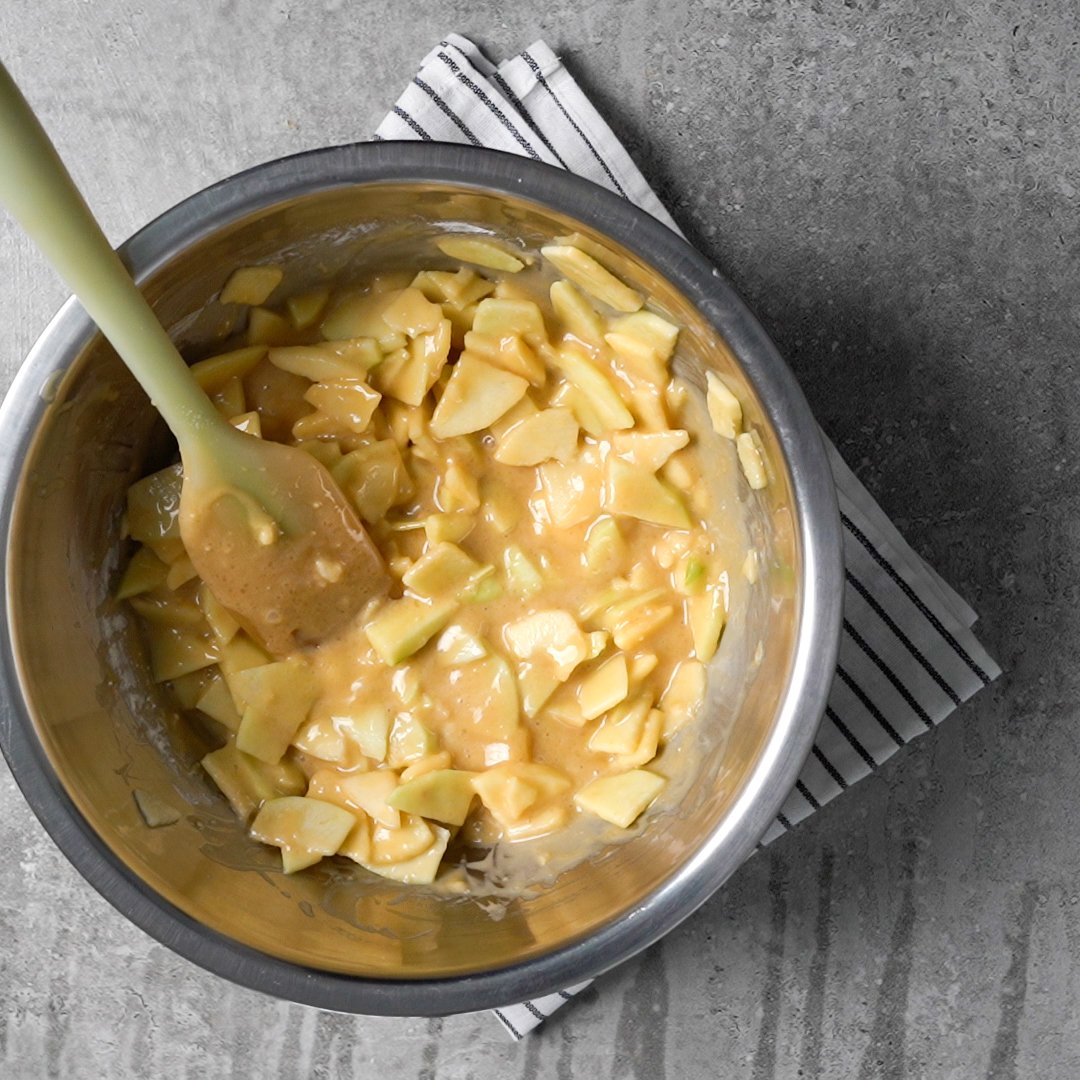 Step 5: Bake
Add the batter to the prepared baking pan.
Bake in the preheated oven for 30-35 minutes till the top is golden brown and a toothpick inserted in the cake comes out clean or with crumbs.
Step 6: Cool
Remove the cake from the oven. Let it cool for 3-5 minutes before you place it upside down on a cooling rack.
Remove the parchment paper.
If you want to sprinkle sugar on it, let it cool completely before you do that. Otherwise the sugar will melt and not give you that gorgeous look you are after.
Serve when slightly warm.
Tips and Tricks
Preheating - Always..Always preheat the oven before cooking. Exactly like you heat the skillet before frying an egg.
Different Apples - Use different apples to give this delicious french apple cake a multi dimensional taste.
Cut the Apples - Cut the apples into thin slices so that you get a melt in your mouth experience while eating the cake.Also, you get a gorgeous, one of a kind looking cake!
Add Spices - Rum and Cinnamon, what could be better! Add a teaspoon of Cinnamon to give a warm twist to this cake.
Serving the French Apple Cake
You can eat this cake warm or cold.
I prefer it warm with a side of vanilla ice cream. Just cut a wedge of the cake, add a scoop of ice cream and that's it!
Leftovers and Freezing
This cake freezes very well. You can freeze is whole or in wedges.You can wrap it up in cling film and once in aluminum foil and freeze it for 3-4 months.
It will last for 6-7 days in the refrigerator.
More Cake & Bread Recipes
Here are some of my tried and tested Dessert Recipes that you will love!
Some Apple Recipes first
Air Fryer Apple Turnovers
Instant Pot Apple Cider
Warm Apple Cinnamon Cake with Caramel Glaze
More Dessert Recipes
The Best Chocolate Cake
Cranberry Lemon Bundt Pound Cake
Chocolate Babka Recipe
Light & Fluffy Japanese CheeseCake
If you make this delicious apple cake, do leave me a note! I would love to hear your thoughts!
Find us on Instagram , Pinterest & Facebook here!
If you liked my recipe, do leave a comment!
It will help others find this amazing recipe too!
---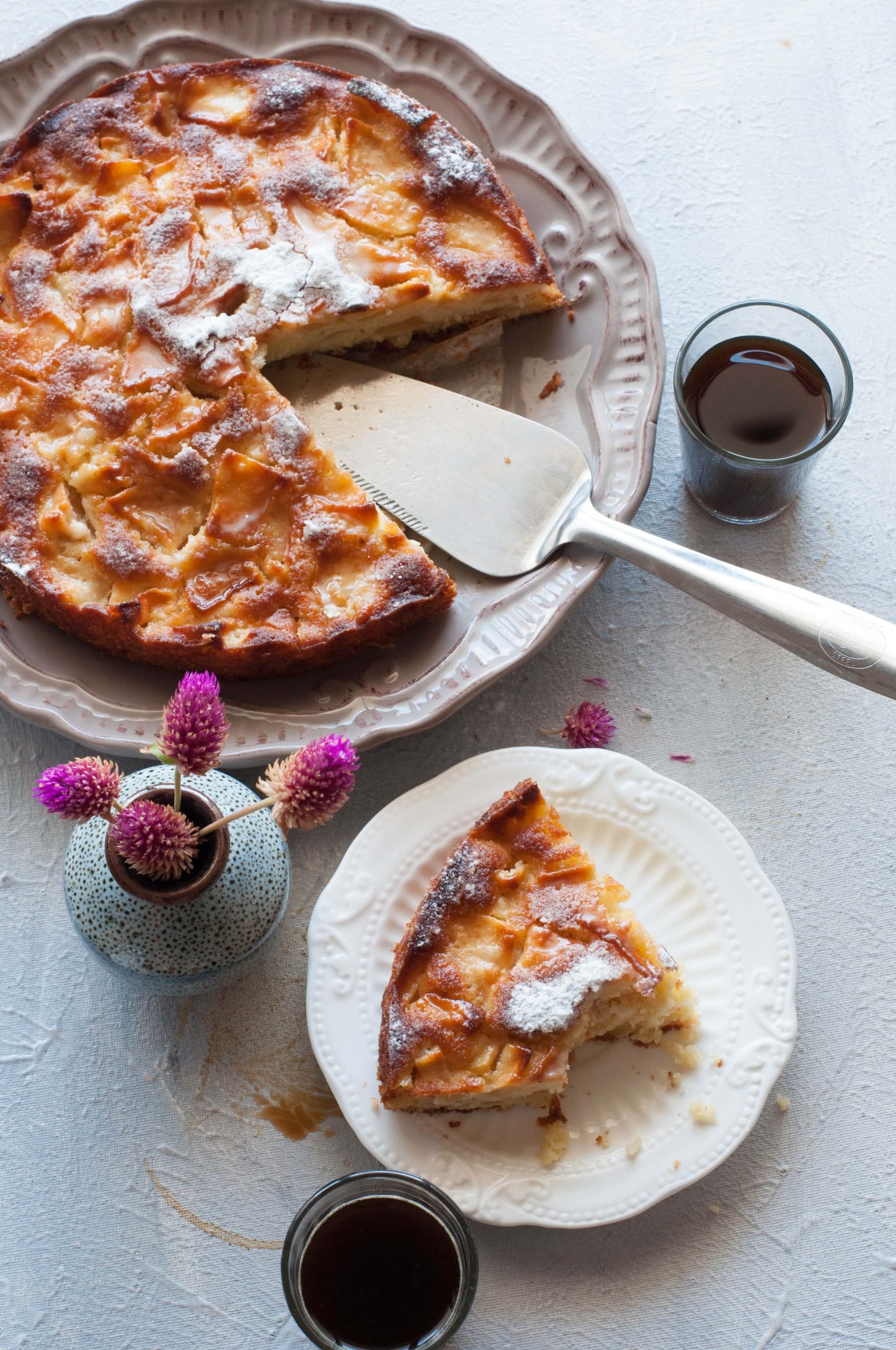 Ingredients
1

Cup

All Purpose Flour/Maida

About 120 g

1

Teaspoon

baking powder

Pinch

of salt

2

large eggs

at room temperature

¾

Cup

Sugar

150 gms

½

Cup

Butter

100 gms

4

Tablespoon

Rum

Dark or Light or Honey/ Juice

½

Teaspoon

vanilla extract

4

large apples cut into thin slices

About 1 pound ; Do not immerse in water
Instructions
Preheat the oven at 180 degrees C or 365 F.

Prepare a 9-inch cake pan for baking-Brush the sides with oil/butter and line with parchment paper.

Mix the baking powder, flour and salt in a small bowl.

Cut the apples into one inch thin slices.Do not immerse in water

Whisk the eggs in a bowl, once they are frothy add the sugar , melted butter, vanilla extract and rum.

Whisk it together till the sugar has dissolved a bit.

Add the flour mix to the liquid mixture to make a batter.

Add all the apples in the batter. The batter will look more of apples than a cake batter but that's alright.

Pour it into the prepared pan and bake in preheated oven at 180 degrees C or 365 F for 40 minutes.

Test with a skewer or a knife,if it comes out clean the cake is cooked, if not bake for another 5 minutes.

Let it cool for 10 minutes before transferring on a wire rack.
Notes
Apples- Use a mix of tart and sweet apples- Like granny smith and Honey Crips. This will give you a delicious sweet and sour taste.
Do not immerse them in water to avoid oxidation. It will soak up the water and make the cake batter too loose.
Rum - You can make this cake with or without the rum. If not using Rum, use honey or Maple syrup. You can also use Rum flavor instead.
Nutrition
Calories:
250
kcal
|
Carbohydrates:
35
g
|
Protein:
3
g
|
Fat:
10
g
|
Saturated Fat:
6
g
|
Trans Fat:
1
g
|
Cholesterol:
57
mg
|
Sodium:
129
mg
|
Potassium:
107
mg
|
Fiber:
2
g
|
Sugar:
23
g
|
Vitamin A:
370
IU
|
Vitamin C:
3
mg
|
Calcium:
38
mg
|
Iron:
1
mg
If you liked the recipe, please leave us a rating
Follow me on Instagram
My handle is @yellowthyme
SaveSave
SaveSaveSaveSave
SaveSave
SaveSave
SaveSave
SaveSave
SaveSaveSaveSaveSaveSave
SaveSave
SaveSave
SaveSaveSaveSaveSaveSaveSaveSaveSaveSaveSaveSaveSaveSave
SaveSaveSaveSaveSaveSaveSaveSaveSaveSave
SaveSaveSaveSaveSaveSave