Instant Pot Apple Cider- Pressure Cooker Apple Cider made with whole spices, fresh apples and Oranges. A perfect drink for fall & Holidays. It's also unbelievably easy to whip up!
Apple Cider is the greatest thing about the fall! The cold weather just calls for hot(sometimes Spiked) Apple Cider!
Did you think it was complicated to make a cider? I am about to bust your myth.
There are only 3 steps
Simmer Roughly Chopped fruit in water.
Strain it
Drink it! Yes that's all.
The best thing about making the apple cider at home is that you can use your favorite kinds of sweetener. Whether that's Sugar, Coconut Sugar, Stevia or Erithytol. Whatever floats your boat!
Oh and the smell!! I make a batch of this every time i have people over. There is no candle that can rival the smell of a simmering pot of cider. My guests are bowled over before they even taste a thing!
Fall is here and we are so ready to sip apple cider snuggled in our coziest blanket. I am not kidding, but warm cider and hot cocoa are literally on tap during winter.
And any family dinner is incomplete without apple cider and maybe some mulled wine? No?
Oh! and don't be intimidated with dish. It's almost as simple as boiling an egg. Really! Its just a bit of simmering, mashing and straining. That simple! Really!
What is Apple Cider
Apple Cider, also called Sweet Cider or Soft Cider. It is a Non alcoholic Fall drink made with mulled apples.
It's traditionally served during holidays- Thanksgiving,Christmas & New Years- Hot or Cold, as per your liking.
This is a winter drink. You can make this delicious Fall Drink in the Instant Pot or Stove Top.
Is Apple Cider Alcoholic?
"Apple Cider" by itself, is not alcoholic.Though it is very often spiked with alcohol.
When I am serving it for a party or dinner, I always keep some brandy or bourbon along with it.
Spiked Mulled Apple Cider is a very common drink especially during the winter months. I would take all the help you can get with the cold!
You can Spike the cider with Brandy or Dark Rum.Another fun drink is to mix Equal parts of Apple Cider and Sparkling Wine.
Ingredients for Instant Pot Apple Cider
Here is what you will need to make the Mulled Apple Cider.
Mix of Apples-
Oranges
Warm Spices-
Ginger-Optional
Sweetner of Choice- White or Brown Sugar or Honey orAgave Nector or Maple Syrup or Sugarfree Substitute.
Water
Apples- Use any kinds of apples you have. The tart apples will give a more Sour taste to the cider and the sweeter ones will make the cider sweeter. Though this can be controlled with the additional sugar too.
If you are crazy about apples or just have too many of them, then you have to try my French Apple Cake and make these super easy Air Fryer Apple Turnovers!
They are just what you need to get extra cozy!
Whole Spices- I recommend a mix of cinnamon, nutmeg and cloves.Do not use the ground versions of the spices.You just want a hint of the spices..Not a spicy juice.

Variations of Instant Pot Mulled Apple Cider
You could tweek the recipe to your liking
Love Cranberries? - Add them to the instant pot along with the apples, oranges and spices. They not only give a lovely tart flavor but also a gorgeous red hue.
Serving Kids? - Mix up some warm apple cider with orange juice. Sometimes to try new foods, kids need an anchor of a familiar food.In this case orange juice.
Orange Juice instead of Oranges? - Yes definitely. Add it after the pressure cooking and straining step.
How to make Apple Cider in Instant Pot
There are some definite pros and cons of making the apple cider in an instant pot.
Pros
You can make a large batch
Pressure cooking eaks out all the flavors in no time
You can keep the cider warm all day long using the Keep Warm Setting
Step 1: Prep & Deodorise the instant pot
Clean the instant pot with water. Add 1 Cup of water and 1 Cup of White Vinegar- Set it to Pressure Cook for 1 minute. Open after the cycle, discard the liquid and rinse again.
Cut the Apples and Oranges. A rough Chop is enough. They will anyways get mashed and strained at the end. Dont remove the skins and the peels.
Step 2: Pressure Cook
Add all the ingredients to the instant pot. Close the lid and Pressure Cook on High for 15 minutes.
Let the pressure drop naturally. Let it cool.
Step 3: Strain
Remove the spices(and reserve for garnish).Using a cheese cloth and a strainer, mash and strain the cider through a cheesecloth.
Store it in a air tight jar or bottles.Or drink it right then and there!
You can also put the strained cider back into the pot and keep it warm all day long. This really helps, especially if you have your folks over or a big party.
How to Make Homemade Apple Cider on Stove Top
Step 1: Prep
Cut the Apples and Oranges. Just give them a rough chop. Don't bother removing the skin and the seeds. Rinse and Clean a large pot.
Step 2: Stove Top Cooking
Add all the ingredients to the pot and bring to boil.Cover and let it simmer for 20 minutes.Pierce a piece of apple with a knife to check doneness.If soft, turn off the heat,Let it cool.
Step 3: Strain
Remove the spices(and reserve for garnish).Using a cheese cloth and a strainer, mash and strain the cider through a cheesecloth.
Tips & Tricks
Apples- Keep the skin on and don't worry about the seeds. We will mull and strain the apples after its done cooking. The apple skin has a lot of flavor and anti oxidants! So don't skip on it.
Oranges- Again, don't remove the skin. The skin of an orange has so so much flavor!
A presentation tip- Serve the cider with a cinnamon stick and a wedge or slice of fresh orange or apple. If you guests weren't already bowled over with the delicious smell, they would not stand a chance with this presentation!
Instant Pot Warm Function- Keep your cider warm throughout the party using the "KEEP WARM" setting. There is no reason your house should smell any other way right?
Refrigeration- You can keep the apple cider in the refrigerator for upto 6-7 days. For anything beyond that, I recommend freezing.
Freezing- Any leftover apple cider can be frozen for 2-3 months. I usually freeze it in a double zip lock bag. Just to be double sure.
Wacky ideas- If you love fall like me, you might as well go full throttle!! Ha ha. These might sound crazy but believe me...You will love them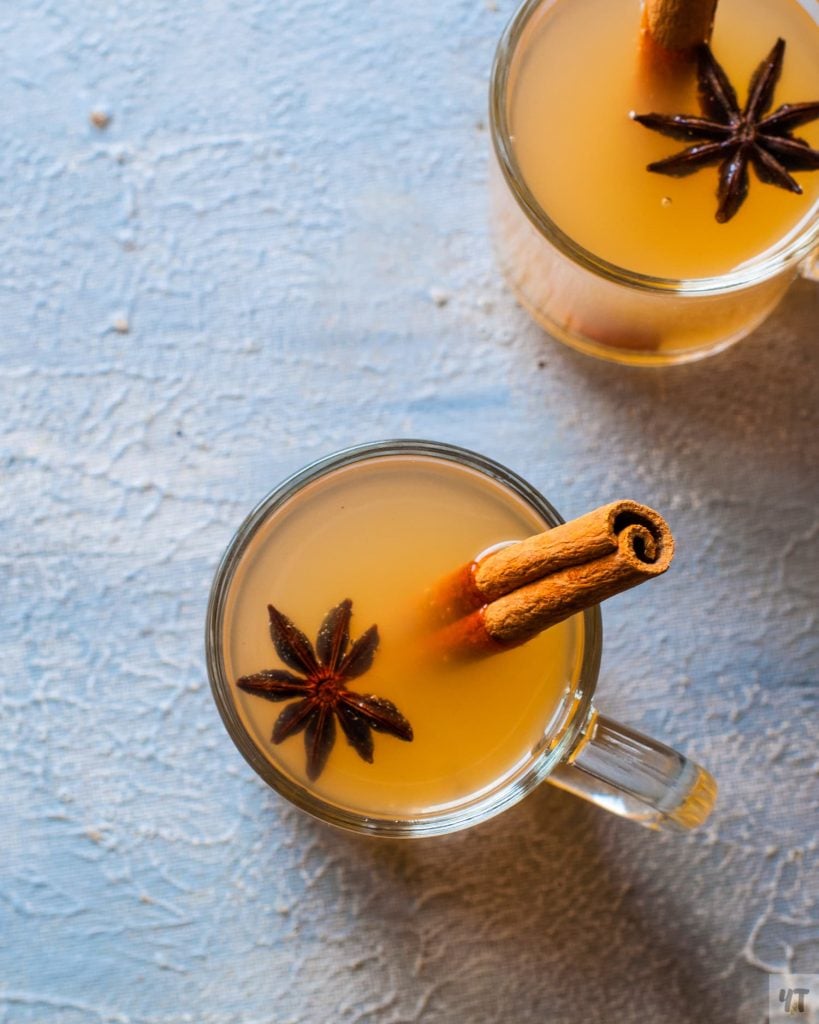 How to Serve spiced apple cider
Hot or Cold?
I love a WARM mug of cider, especially on cold winter nights! Though sometimes, it's makes for a great refreshing cold drink!
Spiked or Not?
Amm..Your wish really but a brandy spiked hot apple cider is known to do away with any kind of Cold!
Garnishes
There are endless garnishes! Here are some of my favourites!
Sprig Rosemary for that extra Christmassy feel
Curled Orange Peel
Spices especially Cinnamon and Star Anise
Cranberries
Sliced Apples or Oranges
Commonly asked Questions
What is mulled cider made of?What's the difference between apple cider and mulled cider?Does mulled cider contain alcohol?What does mulled cider taste like?Can I just heat up apple cider?Is hot apple cider good for your health?Is cider good for health?What goes well with hot apple cider?

Apple pie. ...
Cinnamon sugar doughnuts. ...
Pancakes. ...
Squash soup. ...
Blue cheese (or any dish where blue cheese is a prominent ingredient) ...
Turkey dinner. ...
Gingerbread. ...
Creamy pasta dishes.
Favorite Family Recipes for the Holidays
Looking for more festive recipes that you can serve your family for the holidays? I love having the family over for dinners and brunches throughout the fall season. There are so many occasions! Thanksgiving, Halloween, Christmas & New years!
I don't do formal dinners. It's mostly a table of a lottt of food and people eat, drink and mingle around the house.
If your holiday plans are similar to mine, You can read here all about what I serve on my table.
Meanwhile here is a curated list of Fall recipes that we love!

Warm Apple Cinnamon Cake with Caramel Glaze
Air Fryer Apple Turnovers
Instant Pot Mulled Wine
Chocolate Babka

If you make this Instant Pot Mulled Apple Cider, do leave me a note with your thoughts! I would love to hear from you!
Find us on Instagram , Pinterest & Facebook here!
If you liked my recipe, do leave a comment!
It will help others find this amazing recipe too!
---
Ingredients
6-7

Apples

Mix of Granny Smith,Gala,Honey Crisp

2

Oranges

6

Cups

Water

¼

Cup

Honey

or Maple Syrup or Agave Nectar or Skip this altoghether
Instructions
Instant Pot Method
Roughly chop up the fruits.

Add 6 cups of water to the inner pot.

Dump all the fruits & Spices in - Apples,Oranges and Spices.

Close the lid,Select PRESSURE COOK for 15 minutes on HIGH.Let the pressure release naturally before opening the lid.

Remove the spices.Add the sweetener of choice.If using granular white or brown sugar- simmer on SAUTE mode for 2-3 minutes before removing from the pot.

Wait for it to cool.Take a large bowl, a cheese cloth and a strainer.

Working in batches, Add half the contents.Mash with the back of the ladle.Repeat with the other half.
Stove Top Method
Add 6 cups of water to the deep pot.

Dump all the fruits & Spices in - Apples,Oranges and Spices.

Let it come to a boil, then cover and simmer for 20-30 minutes till the apples are done.

Add the Sweetener. If using granular white or brown sugar- simmer for 2-3 minutes after adding the sugar.

Remove the spices.Wait for it to cool.Take a large bowl, a cheese cloth and a strainer.

Working in batches, Add half the contents.Mash with the back of the ladle.Repeat with the other half.
Notes
This will last for 5 days in the refrigerator and longer in the freezer.
Sweetener- Apple cider will be naturally sweet from the apples and the oranges.So add the sweetner accordingly.If you like your drinks less sweet, you can skip the sweeter altogether.
You can add anything from white sugar to stevia to coconut sugar.
Nutrition
If you liked the recipe, please leave us a rating
Follow me on Instagram
My handle is @yellowthyme