Eggless Healthy Ragi Banana Cake with No flour or refined sugar! This cake has all things GOOD in it- Ragi flour,Oats flour and Jaggery.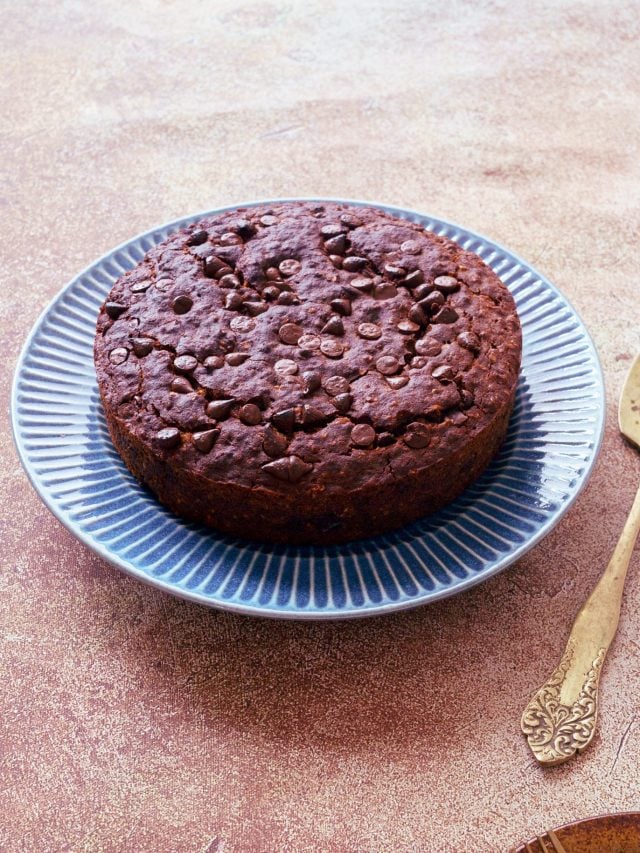 We love it so much that we make it weekly now! My 5 year old has grown up eating this!
This is a Gluten Free Ragi cake without Wheat or any binding agent. Make sure to use Oats that are processed in a gluten free facility. It's also a great cake for kids. You can make it completely processed sugar free by omitting the jaggery.

Because it's a gluten free cake, it's a crumbly cake.
My son suddenly loves cakes and I couldn't be happier.
Though I love making a decadent cake(and eating!) as a mother, my first instinct is always to give him nutrient heavy food- not diet food but high in nutrients and less empty calories.
That's the reason I created this Ragi cake recipe.It has bananas,Ragi and Oats.
Before you dive deap into this recipe, here are two recipes for Ragi cookies that I have made month after month! Year after year!- Ragi Cookies & Ragi Chocolate Cookies.
Ingredients for Ragi Cake
Here are the ingredients to make this incredible Ragi Cake.Nothing special, no binding agent, just actual food.
Ragi Flour - Regular Ragi flour.Make sure its not older than a couple of months.Ragi flour becomes rancid very fast.So you should always buy it in small quantities and use it within a few months.
Oats- I have used Quick Oats here.Do not use any other kind.This ingredient acts as a binding agent here.
Bananas- Use Ripe bananas.I use the regular Robusta or the normal yellow bananas.3 medium sized bananas roughly come up to 1 cup of mashed bananas.
If you are using really ripe bananas, you can reduce the sugar by ¾ cup.
Sugar- You can use Jaggery or Palm or Coconut Sugar- These are less refined versions of the white sugar and hence contain more nutrients.
You can definately use regular sugar or brown sugar too.
If your bananas are ripe enough and you want to reduce the added sugar, use only ½ cup of jaggery.
Coconut Oil- Use any oil of your liking.Avocado oil will also work well here.You can also use ghee here but melt it before using.Also..before you ask, I use Extra virgin coconut oil.
There is absolutely no smell or taste from the coconut oil.
Yogurt-Use thick curd or greek yogurt.To make this cake dairy free and vegan, use coconut yogurt instead.
Toppings- The first time I made this, I added some Chocolate chips and walnuts but I think you can skip on chocolate chips if you want to control the amount of sugar that goes in the cake.
You can also add some flaked almonds or raisins here too.
This is a perfectly healthy cake which both adults and children will LOVE!!
Why Eat Ragi/Finger millet?
Okay be ready to get totally BAMBOOZELED!Finger Millet, also called as Ragi down south and Nachani in North india is a wonder Millet!
#Ragi has 30 times more Calcium than rice or wheat!
#It's has natural Iron that becomes bio available by sprouting the Ragi hence its the IRON that actually gets absorbed by the body!
#It has 3 times more FIBER than rice or Wheat.Also it's Gluten Free and sustainable!
Read more about millets and how they compare with wheat and rice on my how to introduce Millets in our diets post.
How to make Healthy Ragi Banana Cake
Step 1: Measure all your ingredients.Make sure you use standard cup sizes.This is extremely important as baking is not an art but a science.
Step 2: Prepare the baking tin.Brush it with oil and line it with parchment or butter paper.
Preheat the oven to 180C or 365F for atleast 5 minutes.(10 if you have a large oven).

Step 3:Take a large bowl.Add the dry ingredients(except the sugar).Add Ragi flour,Quick Oats,Jaggery,Baking soda, Baking powder & Salt.
Mix it well.
Step 4: Mash the bananas using a fork in a big bowl.Add Yogurt and Oil.Mix it up.It's okay if there are small clumps of banana.


Step 5: Add the dry mixed ingredients to the banana mixture.Give it a nice mix.Make sure to scrape the sides and the bottom.


Step 6: Add the vanilla extract.Add any toppings like chocolate chips,walnuts.Anything you fancy! OR omit the toppings to make a simple Ragi cake.


Step 7:Pour the batter in the prepared cake pan.Bake at 180 C or 365F 30 minutes.Check with a skwere at this point.If it comes clean, take the cake out.
If not, Bake for another 10 minutes.
Step 8: Remove from the oven.Let it cool for a bit.Run a kinfe along the edges before transferring it to a cooling rack.
Pro Tips to make the BEST Ragi Cake
A few pointers on how to totally ACE this Healthy Finger Millet Banana Cake!
Always and Always Preheat your oven!!
Always and Always line your pan with butter paper AND oil/butter is generously!

Make sure the Jaggery has no lumps.Use fresh ingredients.Ragi flour gets spoilt very fast so keep that in mind!

if the inside is raw and outside is getting burnt, Cover the cake with a foil.
More Ragi Recipes
I have tonnes of Ragi and other Millet recipes on the blog.We love making Double Chocolate chip Ragi cookies that are Eggless(Vegan) and refined sugar free.Do check it out.Also look at my super simple Instant Ragi dosa recipe- I am sure you will love it!

Ragi Laddu|Nachni Ladoo Recipe
Fudgy Ragi Chocolate Pancake|Finger Millet Recipe
Ragi Cookies- Healthy Millet Cookies
Instant Ragi Dosa Recipe
Baked Ragi Namak Pare | Healthy Baked Savory Snack
If you like the recipe, do leave a comment below or share your pictures with me on Instagram!
Find us on Instagram , Pinterest & Facebook here!
If you liked my recipe, do leave a comment!
It will help others find this amazing recipe too!
---
Ingredients
1.5

Cup

Ragi Flour

1

Cup

Quick Oats

1

teaspoon

Baking Soda

1

teaspoon

Baking Powder

½

teaspoon

Salt

3

Ripe Bananas

about 1 cup or 360 gms

1 ¼

Cup

Jaggery

Coconut Sugar/ Palm Sugar/White Sugar- Powdered.Reduce this to 1 cup if using chocolate chips too.

½

Cup

Coconut Oil

½

Cup

Yogurt

Use dairy Free Yogurt for Vegan version

1

teaspoon

Vanilla Extract

¼

Cup

Walnuts

Optional

¼

Cup

Chocolate Chips

Optional
Instructions
Preheat the oven to 180 degrees C or 360 degree F.Prepare the loaf Pan by lining it with butter paper and oiling it on all sides.

In a large bowl,Mix the Ragi flour,Quick Oats,Baking Powder,Baking soda & Salt together.

1.5 Cup Ragi Flour,

1 Cup Quick Oats,

1 teaspoon Baking Soda,

1 teaspoon Baking Powder,

½ teaspoon Salt

Take another bowl and Mash the Bananas.Add the Powdered Jaggery, Oil and Yogurt and whisk.Add the vanilla Extract

3 Ripe Bananas,

1 ¼ Cup Jaggery,

½ Cup Coconut Oil,

1 teaspoon Vanilla Extract,

½ Cup Yogurt

Pour the liquid banana mix into the Flour mixture.Mix it all well together.

Mix the chocolate chip and Walnuts using a spatula.

¼ Cup Chocolate Chips,

¼ Cup Walnuts

Pour into a loaf Pan and bake for 30-40 minutes till the toothpick inserted comes out clean.
Notes
Notes
Ragi Flour- Do not use old Ragi flour.It can become rancid within a few months
Sugar- Use 1 cup sugar/Jaggery if using very ripe bananas and chocolate chips.You can use Coconut Sugar or brown sugar or white sugar too
Yogurt- Do not use runny yogurt.Use thick curd.
Banana- Use regular Ripe Bananas.3 bananas will roughly be 1 cup mashed or 360 gms.
Storing- Store it in a air tight container in the refrigerator for upto 4 days.You can also freeze this cake for upto 2 months.
Serving- Serve this warm with a drizzle of honey.
Nutrition
Calories:
390
kcal
|
Carbohydrates:
59
g
|
Protein:
4
g
|
Fat:
15
g
|
Saturated Fat:
10
g
|
Cholesterol:
3
mg
|
Sodium:
280
mg
|
Potassium:
291
mg
|
Fiber:
2
g
|
Sugar:
33
g
|
Vitamin A:
37
IU
|
Vitamin C:
3
mg
|
Calcium:
147
mg
|
Iron:
2
mg
If you liked the recipe, please leave us a rating
Follow me on Instagram
My handle is @yellowthyme
Read more about millets and how they compare with wheat and rice on my how to introduce Millets in our diets.
For more everyday Millet recipe inspirations- follow my millet board on PINTREST