Instant Pot Fried Rice - Quick and easy Fried Rice made in the pressure cooker within 30 minutes! Gluten Free and Vegan Friendly!
This instant pot fried rice recipe is one of my go to quick meals!My 5 year old loves it.
It's easy to put together.Quite frankly there are a lot of shortcuts that can help you cut the prep time!
This is a perfect recipe when you dont have a lot of time.Using precut frozen vegetables is quite frankly a game changer!
You can have a nutrious veggie loaded meal on the table in no time!
This is my shortcut recipe of making Egg Fried Rice.By no means is this the authentic or even the right way of making fried rice BUT it is the fastest and most efficient!
Ingredients for Instant Pot Fried Rice
A fried rice is a very personal dish.This is just a starter sort of a recipe.You can add and remove things based on your choice.
I sometimes like it topped with some fried peanuts.Sometimes crispy tofu.Sometimes some nicely fried bacon.
Here are the thing you may need for this starter recipe.
Rice - I used Basmati rice because it's quick to cook.Brown rice takes a lot more time to cook because of which you will end up overcooking the vegetables.
Vegetables - Feel free to use frozen mixed vegetables.If you want to use green leafy vegetables like Bok coy or Cabbage , you can add them at the end and steam them using the keep warm setting for just 5 minutes .You could also stir fry them on stove top and add to the rice at the end.
Eggs-I used 3 eggs but i think this recipe will work fine with upto 5-6 eggs.If you are looking for a vegetarian or vegan option- feel free to leave egg out or swap it with Tofu or Edamame.
Oil- Toasted sesame oil adds a tonne of flavour to this dish though you can also use olive oil or avocado oil.
Condiments- I have kept this simple- just soy sauce and sriracha.I use a combination of light and dark soy sauce but you can use any kind.
You can also use coconut aminos or tamari for a gluten free version.
Chilli- Though i haven't added any because we make one meal for everyone in the family, feel free to add some chilli paste if you like!
I love drizzling some chilli oil or sriracha on top for that extra kick!
How to make Instant Pot Egg Fried Rice
Step 1: Wash and prep the vegetables and rice.Rinse the rice under running water, till its clear.
Step 2: Press the saute button till the light it on "high".That means the instant pot will be in the highest heat saute mode.
In the Saute mode, cook the onions till they are translucent.Make sure all your ingredients are prepped before hand for this step.
Step 3: Pressure cook- Add rice,sauces and water.Mix well.
Add the vegetables- Frozen peas, carrots and cauliflower. on the top.Do not mix.Pressure cook for 5 minutes on LOW.
When you do not mix the vegetables. They remain crunchy and dont get mushy.This also makes sure the rice is cooked el dente.
Step 4: While the rice is cooking , scramble the eggs in a pan.Open the pot, Add the scrambled eggs and scallions or green onions to the cooked rice.Mix and serve!
I also like to top my rice with some toasted sesame and cruched peanuts for some extra crunch!
So what do you think? Will you be making this delish pressure cooker fried rice? Do drop me a note on how yours turns out!
Diet Details of Egg Fried Rice
Instant Pot Egg Fried rice is Meatless.You can make is Gluten Free by using tamari or Coconut aminos.
To make a vegan version- simply omit the egg or replace with tofu.
Here are some recipes that work very well with this fried rice!
Instant pot Honey garlic potatoes

Other Instant Pot Rice Recipes
Here are some more instant pot Rice recipes for you!
Instant Pot Mexican Rice .
Instant Pot Mushroom Parmesan Rice .
Instant Pot Chicken Biryani .
Instant Pot Vegetable Biryani .
Find us on Instagram , Pinterest & Facebook here!
If you liked my recipe, do leave a comment!
It will help others find this amazing recipe too!
---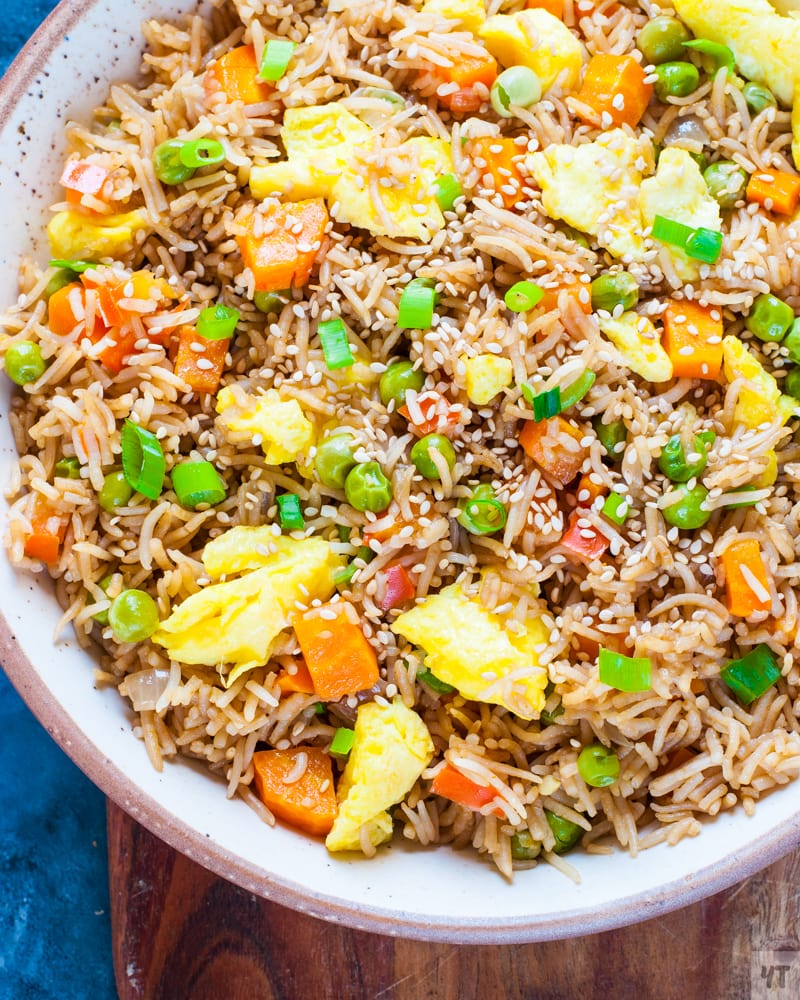 Ingredients
1

tablespoon

Sesame Oil

or Oil

1

Cup

Basmati Rice

1

Cup

Water

1

tablespoon

Soy Sauce

Gluten Free- Tamari or coconut aminos

1

tablespoon

Sriracha

1.5

tablespoon

Garlic

1

teaspoon

Ground Ginger

1

tablespoon

Vinegar

1

bunch

Scallions or Spring Onions

½

Cup

Onion
Vegetables*
½

Cup

Carrots

½

Cup

Peas

½

Cup

Red Pepper
Instructions
Instant Pot Method
Choose the SAUTE setting and Once the pot says "HOT" Add Ghee/Oil to the inner pot of instant pot.

To the hot oil, add the onions,Ginger and garlic.

Add the sliced onions and brown them for 3-4 minutes till they are caramelised and look brown.(Not Black but like a goldenish to chocolate brown colour).

Mix together- Water,Soy Sauce,Vinegar & Sriracha .Add to the inner pot.

Add Rice,Give it all a mix.

Add frozen vegetables on top.Do not mix.

Cancel the SAUTE function. Select PRESSURE COOK at LOW for 5 minutes with the Pressure valve at SEALED position.****
Scrambled Eggs
Heat 1 tablespoon oil in a pan.

Break the eggs.Whisk them.

Add to the pan and gently fold them inside and scramble.Keep them soft.
Assembly
Open the instant pot after the pressure has subsided.

Add the scrambled eggs and give a mix.

Garnish with Scallions and serve hot.
Notes
Vegetables**
Feel Free to use frozen vegetables for this recipe.
You can use sweet corn and beans too
If you want to use green veggies like boy choy or spinach; you can either saute them on stove top and add in the end or you can steam them using the keep warm setting after the rice has been cooked.
Nutrition
Calories:
297
kcal
|
Carbohydrates:
41.7
g
|
Protein:
8.3
g
|
Fat:
10.5
g
|
Saturated Fat:
2.1
g
|
Cholesterol:
123
mg
|
Sodium:
61
mg
|
Potassium:
199
mg
|
Fiber:
1.9
g
|
Sugar:
2.2
g
|
Calcium:
45
mg
|
Iron:
1
mg
If you liked the recipe, please leave us a rating
Follow me on Instagram
My handle is @yellowthyme