Making Indian Food in Instant Pot- In this post I will show you how you can use this amazing device to make your Indian food.
This is part 3 of Indian IP series
Part 1: Instant Pot for Indian Cooking
Part 2: Which Instant Pot Model to buy
Part 3: Making Indian Food in Instant Pot
Part 4: Instant Pot Frequently Asked Questions

Also, if you are in India and are wondering about it's usage here- do read my post on it.
So let's get to actual Making Indian Food in Instant Pot.
Essentials of Indian Cooking
The great news about instant pot is that its easy to use and almost all traditional pressure cooker recipes can be made in an instant pot.Here are some of my most used Instant pot Indian Recipes.
Lentils & Dal
Dals or lentils are a mainstay of indian cooking.Every household makes a version of this everyday, sometimes twice a day.It's very easy to make dal in Instant pot.
Here are some easy Instant pot Indian Dal Recipes for you.
Instant Pot Toor Dal
Instant Pot Langarwali Dal
Instant Pot Dal Palak
Instant Pot Dal Makhani
Instant Pot Hyderabadi Khatti Dal
Rice
Along with rotis and parathas, Rice plays a pivotal role in indian cuisine.It is included, atleast once a day, in indian everyday meals.
Our favourite Instant pot Indian Rice Recipes
Instant Pot Jeera Rice
Instant Pot Dal Khichadi
Instant Pot Chicken Biryani
Instant Pot Vegetarian Biryani
Instant Pot Prawn Pulav

Beans- Rajma and Channa
Both Rajma and Channa- aka Kidney beans and Garbanzo(chickpeas) beans hold a very special place in indian cooking.They are made on holidays and festivals, especially in vegetarian household.
Here are Instant pot Indian Bean Recipes
Instant Pot Rajma Masala
Instant Pot Channa Masala
Non Vegetarian Indian Recipes
Ah, was this what you were waiting for? Making Chicken & Mutton Curries in the instant pot?Well it just got so much simpler with this one device! Check out the list below the picture.
Instant Pot Instant pot Indian Chicken & Mutton Recipes
Instant Pot Butter Chicken
Instant Pot Chicken Curry
Instant Pot Chicken Korma
Instant Pot Chicken Vindaloo
Instant Pot Tamil Pepper Chicken
Instant Pot Rajasthani Laal Maans
Vegetarian Curries
Instant pot Indian Vegetarian Recipes
Instant Pot Mushroom Masala
Instant Pot Saag
Instant Pot Pav Bhaji

Instant Pot Indian Desserts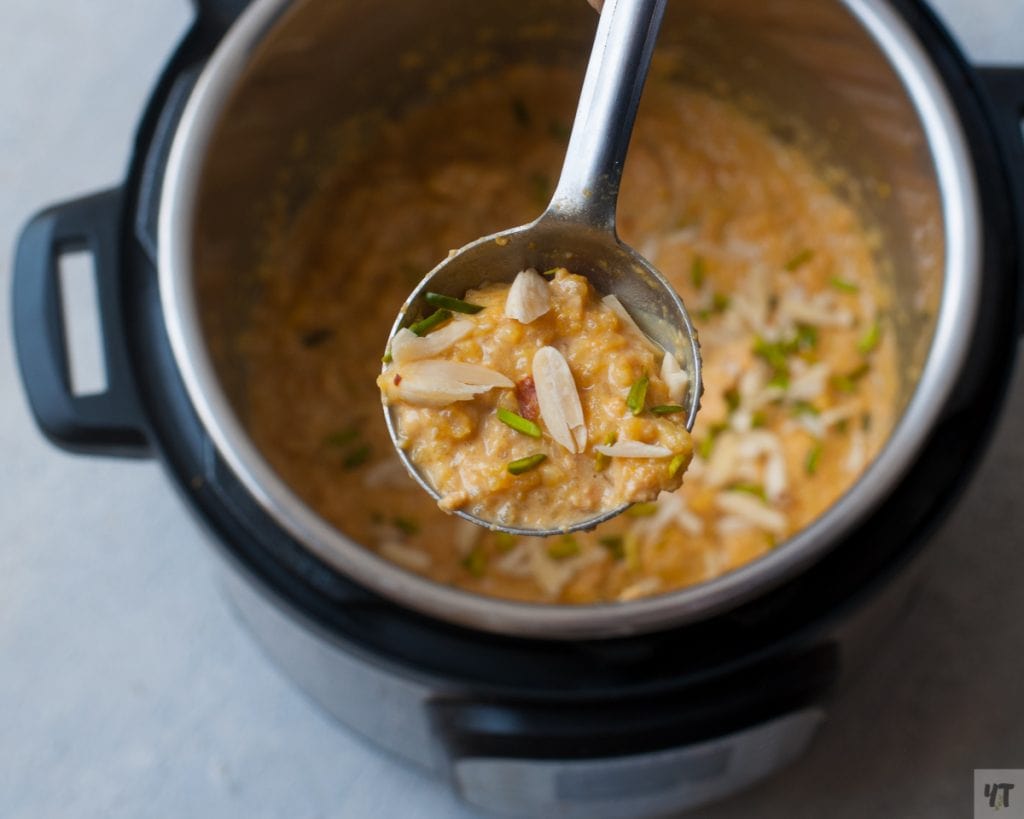 Instant pot Indian Dessert Recipes
Instant Pot Kheer
Instant Pot Gajar Ka Halwa
Instant Pot Dal Payasam
Others
Okay, this is the most important bit.The crazy things you can do with instant pot!
Instant Pot Boiled Eggs
Instant Pot Chai
Instant Pot Idly Dosa Batter
Instant Pot Yogurt
Its way more than just a pressure cooker.It's can be used as a milk cooker- to boil milk without spilling.It can be used to make yogurt- which is especially helpful in winters.It can be used to ferment dosa batters to perfection.
Part 1: Instant Pot for Indian Cooking
Part 2: Which Instant Pot Model to buy
Part 3: Making Indian Food in Instant Pot