Sarson Ka Saag -Winter Special North Indian dish made with Mustard Greens. Creamy, comforting, nostalgic dish that will remind you of those foggy days of North India.
Served with a rather large dollop of butter along with a generous tempering of garlic and ginger in piping hot ghee. Oh and off course, hot crispy makki rotis or flatbreads made with maize flour and grated radish.
Uff..This dish is a whole institution by itself!
What is Sarson Ka Saag?
Sarson ka Saag is winter dish, made in the Northern part of India. It is a very seasonal dish usually made at the peak of winter.
The star ingredient are the Sarson or Mustard Leaves. They are the star of winter produce in north india.
Though the name is Sarson ka Saag- loosely translated to creamed Mustard Greens, it usually has a few more green leaves to balance out the bitterness from the mustard leaves.
It is served hot with fresh makki ki rotis.It's no joke to make those though! Makki ki rotis are made almost entirely with maize flour and are difficult to roll.
Only the veterans and older ladies in the house are comfortable in making these and that's why you will often here people talking about their grandmas along with sarson ka saag.
Oh and the cherry on the top, the piece de resistance is the small piece of gur or raw sugar that's served along with this.
It's really a sensorial stimulation at it's peak!
Why we love Sarson ka Saag
Besides it being a nostalgic dish, here are some top reasons why we love it.
It's seasonal & Local
Sarson ka saag is full of nutrients and good fats
It freezes well
It's a dish you would serve guests, especially in winter.
The accompaniments are to die for- The homemade white butter, the makki ki roti and winter pickles!
Except for the cleaning process, its a fairly simple recipe.
It is Gluten free
Easily Vegan by omitting the use of butter or ghee.
The challenge in making Saag is that it needs a lot of different greens. Cutting and cleaning them is arduous.
Last, making the makki roti can be challenging.
Authentic Sarson Ka Saag
The absolute authentic way of making Saag is to use atleast 3-4 kinds of seasonal green leaves- Sarson aka Mustard Greens being the center. Greens like-
Sarson Leaves also called Mustard Greens
Bathua leaves also called Pigweed leaves
Radish leaves
Spinach leaves
Fenugreek Leaves aka Methi leaves
In addition to the leaves, Radish , maize flour, a tempering of ghee with ginger, garlic and chili is also used to make this dish.
Ingredients
Here is what you will need to make my beginner friendly sarsaon ka saag.
I have kept the recipe simple with only 2 essential green leaves.
But if you can find the others- you should use them too!Here are the ingredients.
Usually the ratio is 1:1 of Mustard leaves and rest of the green leaves.
Mustard Greens/Sarson Leaves
Spinach/Palak
Onion
Tomato
Ginger
Garlic
Ghee
Mustard Oil
Green Chilli(optional)
Salt
Maize Flour/Makki ka aata
Mustard Leaves
Sarson leaves aka mustard greens are the leaves from the mustard plants.
Yes the leaves from those yellow flowers you see in the popular hindi movie Dilwale Dulhania Le Jayenge and all other movies trying to depict Punjab.
These leaves are pungent and have quite a characteristic taste.
They are usually large, spiky and lightish green in color. When you take a bite of the sarson leaves it will remind you of mustard and will be bitter.
That's how you know for sure what leaves are sarson leaves.
For this dish, we use the whole sarson, along with the stems. You can remove the fibrous woody ends of the mustard greens but keep the tender stems.
The mustard leaves are cut into large chunks and the stems are chopped finely. This will help them cook within the similar time.
You can use fresh, frozen or canned mustard greens to make this dish.
Other Greens
Apart from mustard greens, a mix of other seasonal greens like Palak(Spinach), Methi(Fenugreek ),Bathua and Radish leaves are added.
You can use a mix of all or some as per what you can find.
Maize Flour
Flour is added to make the saag creamier and give it some body. The same flour is also used to make makki ki rotis or flatbreads made with maize.
It is the same as masa harina that's used to make to tortillas. In fact, you can even use the tortilla press to make these.
Prepping the Green Leaves
Here are the steps to prep the greens to make the Saag
Step 1: Discard the roots and woody fibrous ends of the leaves. Cut the leaves into rough chunks. Finely Chop the tender stems.
Step 2: Wash the leaves using a large bowl and a mesh or a colander.Immerse the greens in the water. Give it a good shake. Remove from the water. Discard the water. Now repeat this process at least 3 more times.
This will make or break your dish. These leaves are grown directly on the ground. That is why you will have a lot of mud and particles on them. They need to be washed well so that you get a creamy dish which doesn't have any muddy bits in it.
Sarson Ka Saag Recipe
Once your greens are washed and cleaned, Now comes the part of pressure cooking them.
Traditionally this step is done in a closed pot and takes about an hour to cook.We have shortened the cooking time by almost half by pressure cooking the leaves instead.
Traditional Pressure Cook
Add the Mixed Greens, Ginger, Garlic, Radish and Tomatoes to the pressure cooker.
Add about ½ cup of water.
Pressure cook for 3-4 whistles or about 10 minutes on medium flame.
Instant Pot
The pressure cooking can also be done in an instant pot instead.
Add the leaves, chopped up tomato, ginger & garlic and ½ Cup of water to the inner pot.
Select PRESSURE COOK or MANUAL for 5 minutes HIGH pressure.At the end of 5 minutes, quick release, open the instant pot.
Blending the Leaves
Once the pressure drops, open the pressure cooker or instant pot. Drain the excess water in a bowl and reserve for use later.
Now blend the leaves either using an immersion blender or the traditional wooden mallet called Rai.
If you like, you can blend it to a smooth paste but I like to stop blending it just a touch before its absolutely smooth.
Step 4:Cook
In a large pot, add ghee or mustard oil.
Once hot, add cumin, red chili powder, hing, green chili, ginger slivers and garlic. Saute till the garlic is golden brown. Add the chopped onions and cook till they are golden brown.
Add the cooked pureed greens to the tempering and mix it up.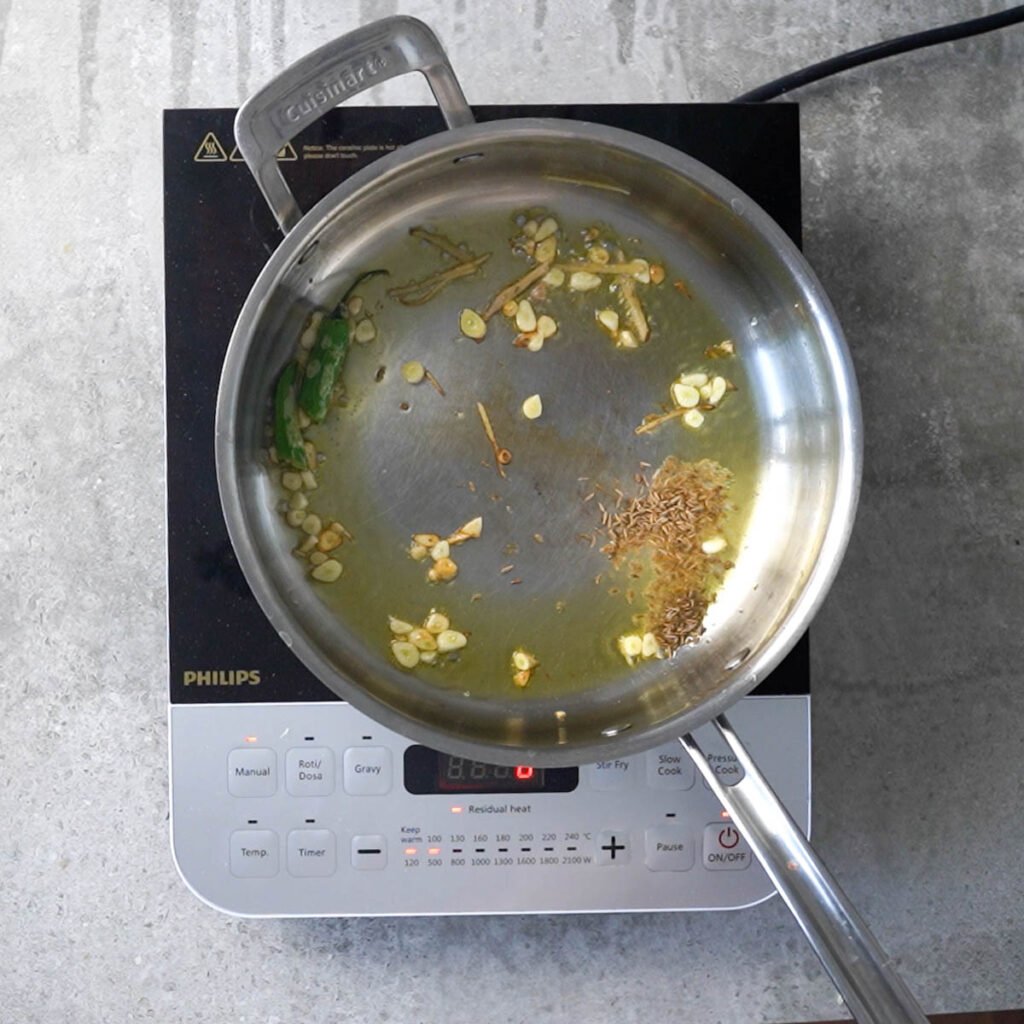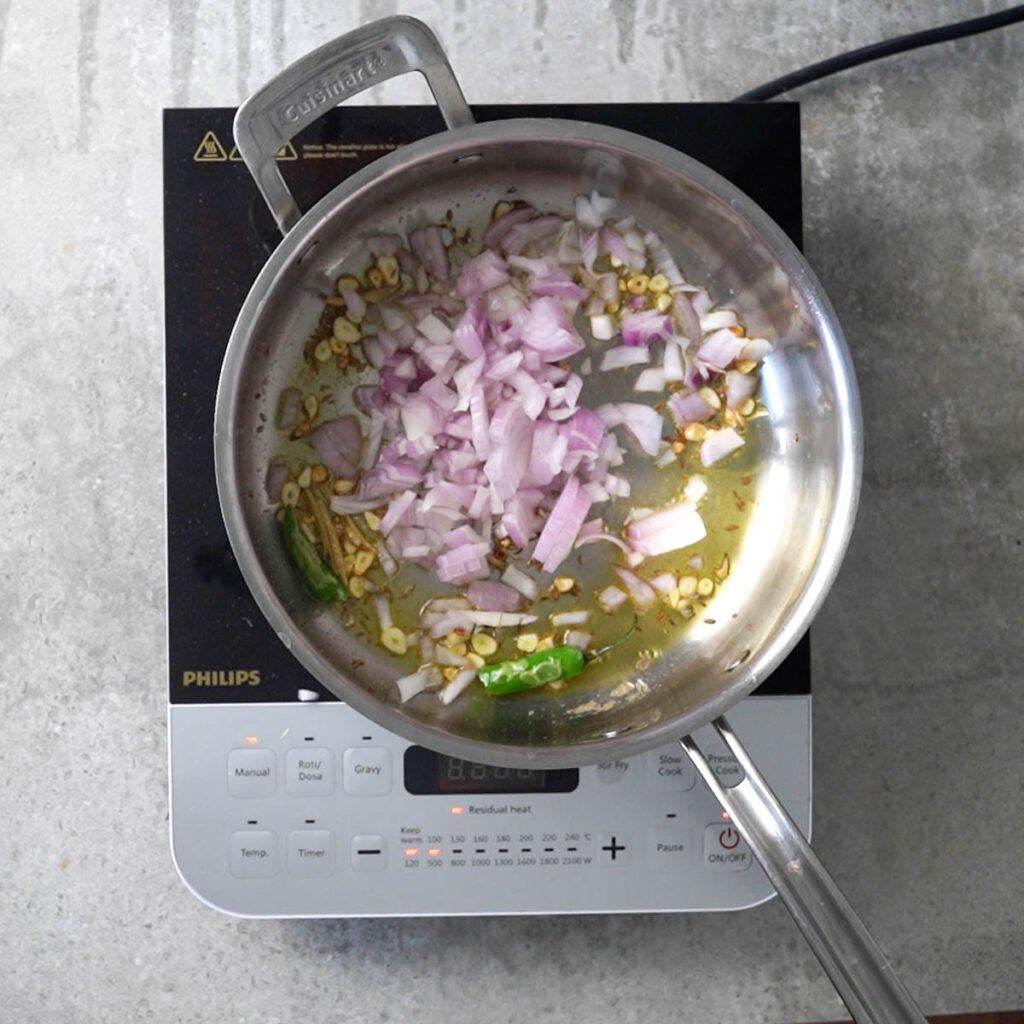 Step 5: Maize Flour
Whisk the maize flour in yogurt or water. Make sure there are no lumps
Add it to the cooking greens. Keep stirring till you don't see the dish bubbling and the maize flour cooks.
The saag will splutter a lot.It could be potentially dangerous. Make sure you either use a splatter guard or a deep pot with a cover.
When you keep stirring the saag, it will not splutter.
This should take 8-10 minutes.
Step 6: Tempering
This step can be skipped but it does add a lot of flavor and richness to this dish.
Heat the ghee to smoking point and switch off the heat.
Add the cumin, a pinch of asafetida & coriander and chili powders. Give it a mix.
Pour it over the prepared Saag.
Serving Sarson ka Saag
Saag is always served piping hot with a dollop of white butter on it. Along with this, freshly made makki or maize rotis smeared with ghee are served.
Of course, this being a nostalgic, seasonal dish, it is also served with an assortment of winter pickles, jaggery and a simple salad of onion and cucumbers.
Is Sarson Ka Saag Healthy?
If there was one dish in the whole wide world which was amazingly delicious and super healthy it is this!!
First, you use seasonal produce, second it's spinach and other green leaves!!
It's Vegan& Dairy Free - if you skip on the butter and ghee
It's naturally gluten free because of the maize flour.
So go for it!!! just hold on to the extra butter and Jaggery if you are super concerned.
Important Notes
Once the saag cools down, it thickens considerably. So keep that in mind.
Add lime juice at the end to round the flavor and enhance calcium absorption.
The Seasonal greens can be blanched and frozen for use during summer months.
When simmering the saag, it will splutter, especially if you use a flat pan like i have used. The solution is to use a pot with high sides or keep a splatter gaurd on it.
Storing & Freezing
In cold weather, Saag can easily sit out for 8-10 hours.
Let the saag cool completely before storing it in an air tight container in the refrigerator. It should last 4-5 days easily.
Because the cleaning and cutting process is long and the greens are seasonal, I often make this in bulk and freeze it.
There are several ways of freezing the greens
Finished Sarson ka saag, after all the tempering etc can be frozen for upto 2 months. Make sure you let the saag cool completely before you freeze it.
Pureed Greens- The other way to freeze it for longer is to just freeze the roughly pureed greens. That way , the leaves will keep for longer and can be used for many other recipes too.
More Indian Recipes
Palak Paneer | Dhaba Style
Instant Pot Matar Paneer
Aloo Tamatar Sabzi (Indian Potato Curry) - North indian potato curry made during festivals and puja.
Here is a twist to normal indian appetisers - Indian Party Dip- Chaat Dip and a Desi Charcuterie Snack Board .Serve this for fusion style Indian parties! I promise your guests will drool all over it! Okay..that didn't sound exactly right..But you get my point right?
Also! try my Butter Chicken .It's really better than any restaurant butter chicken and you can make it quite easily, sitting at home!

If you make this Sarson ka saag, do leave me a note! I would love to hear from you!
Find us on Instagram , Pinterest & Facebook here!
If you liked my recipe, do leave a comment!
It will help others find this amazing recipe too!
---
Ingredients
3

Cups

Mustard Greens/Sarson Leaves

300 gms

1 ½

Cups

Spinach/Palak

1500 gms

1 ½

Cups

Bathua

150 gms

2

Radishes

Mooli, medium sized

2

Tomato

Chopped

4

inch

Ginger

about 2 tbsp

1-10

cloves

Garlic Cloves

5

tablespoon

Maize Flour/Makki ka aata

Salt to Taste

1

Cup

Water

divided into ½ cup each

2

tablespoon

Lime Juice

Juice of 1 lime
First Tempering
4

tablespoon

Mustard Oil

or Clarified Ghee

1

teaspoon

Cumin

1

Dried Red Chilli

Whole or powdered

3-4

Garlic Cloves

cut into thin slices

1

inch

ginger

cut into slivers

2

Cup

Onion

Chopped
Instructions
Chop the leaves up roughly. Discard the woody ends, and muddy roots of the leaves and cut the stems up finely.

Wash them in a large pot/Bowl under running water, moving them often at least 3-4 times till you get clear water.
Instant Pot way
In the inner pot of the Instant Pot -Add the chopped leaves, Radish, Tomato, Ginger & Garlic

Set the Pressure cooker timer for 5 minutes with the valve in Sealing position. Quick Release.
Pressure Cooker Way
In a pressure cooker. Add the chopped leaves, radish,Tomato,Ginger & Garlic. Add ½ cup of water.

Pressure Cook for 3-4 whistles or 10 minutes .Let it cool.
Pureeing Saag
After the pressure cooking, Drain the excess water in a cup. Reserve for later.

Using a hand blender or a grinder, coarsely blend everything. Alternatively, use a Indian wooden mallet called rai to make a coarse paste of it.
First Tempering
In a large, preferably high wall pot , heat the mustard oil.

Once hot, add the Asafetida, cumin, chili, ginger & garlic.

To this, add the onions. Cook until they are golden brown.

Add red chili powder and saute for 5-10 seconds.

Mix 4 tablespoon of maize flour in ¼ cup of water. Add it to the pot of saag.

Stir it till you can't see the yellow maize flour.

The saag will splutter if you do not stir it. So keep stirring for about 5 minutes after which cover the pot and let it cook for another 5 minutes
Second Tempering
In a small tempering pan, add ghee, cumin, coriander and chili.

Add the second tempering to the saag. Also squeeze one whole lime on it.

Saag is ready!Serve with White butter,Maize/Makki ki roti and jaggery.
Nutrition
Calories:
170
kcal
|
Carbohydrates:
15
g
|
Protein:
4
g
|
Fat:
12
g
|
Saturated Fat:
3
g
|
Cholesterol:
10
mg
|
Sodium:
40
mg
|
Potassium:
436
mg
|
Fiber:
4
g
|
Sugar:
2
g
|
Vitamin A:
6410
IU
|
Vitamin C:
57
mg
|
Calcium:
197
mg
|
Iron:
2
mg
If you liked the recipe, please leave us a rating
Follow me on Instagram
My handle is @yellowthyme