Everyone's favorite summer soup - Super Quick, Veggie packed Instant Pot Zucchini soup that's budget-friendly & low carb. Use fresh or frozen Zucchini.
Texture : Creamy, Light
Served : Hot or Cold
Season : Summer
Course: Main Coarse
Served with : Crusty Bread or Garlic Bread
Pros: Whole meal in one pot, perfect for lunch or dinner
Jump to:
This soup was created to use up a not so good looking summer squash, which had been lying in the back of the fridge for just too long!
It's sort of clean your fridge and end up with a delicious dinner kind of a soup. With just 3 main ingredients- Zucchini, Herbs and Onion, it is possibly the easiest instant pot soup ever!
This Soup is also Vegan though you can add any kind of toppings you prefer. A little drizzle of fresh cream or whisked yogurt will take it to the next level!
This Soup will taste great cold or hot. It's one of my favorite ways to use zucchini during the summer month.
IT makes for a great weeknight dinner. Just serve this along with a nice crusty bread or a quick air fryer garlic bread and you are good to go!
Here is what we will do
Chop up everything
Pressure Cook
Blend & Serve
Why make Soups in Instant Pot
We make a lot of soups and stews in the instant pot. For us, soups are an easy way to get a lot of veggies and fiber in.
It cooks even the hardiest of ingredients quicker than stove top
You can blend the soup in the instant pot using an immersion blender.
You can schedule it
You can keep the soup warm till you serve.
Other easy soups that we make quite often are Instant Pot Carrot Soup ,Instant Pot White Bean Soup and Instant Pot Mushroom Soup.
Ingredients for Summer Zucchini Soup
Here are the handful of ingredients you need to make this summer squash soup.
Zucchini - green
Herbs- Dill or Cilantro or Parsley
Scallions or Spring Onion or Chives or yellow onion
Garlic Cloves
Olive Oil
Zucchini
This is such a great way to use up all the fresh zucchini you get in summer. Look for dark green, blemish free zucchini when buying.
Though frankly, this recipe is quite forgiving. You can use your old forgotten zucchini in the back of the fridge too. You can also use frozen zucchini instead.
Herbs
Zucchini goes famously with basil and dill. That's usually my first choice but you can use any fresh herb you can find - including cilantro, mint and parsley
Thickener
If I am making this as a side and not a low carb meal, I usually skip using a thickener or just drizzle a bit of dairy or cashew cream on top.
But if I want this to be a hearty meal, I add cashews to the mix. This will give me a creamier soup plus it will keep me full for longer.
How to make Zucchini Soup in Instant Pot
Instant-Pot is a brand of Electric pressure cooker. I use a I use 6-quart instant pot model. This recipe will work in other brands and models too. You can also use traditional pressure cooker or make it on stover top.
To make it on stove top, increase the cooking time to 20 minutes and keep an eye on the water level.
Prep
Wash and Cut the zucchini into 1 inch pieces. It doesn't have to be uniform or pretty. Remember that we will be blending the whole thing into a soup. Roughly chop the fresh herbs and scallions too.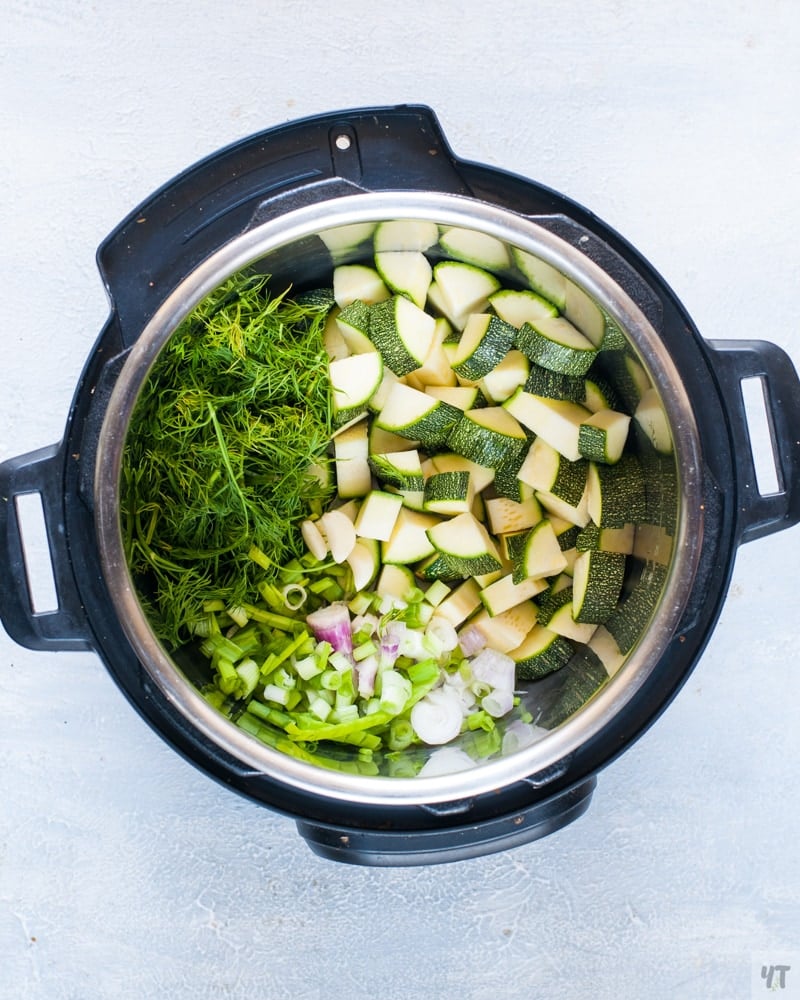 Pressure Cook
Add everything- zucchini, herbs, scallions, cashew(if using) and garlic to the instant pot along with 1 cup of water. Season with salt.
Select Pressure Cook on HIGH Pressure for 5 minutes
Puree
Once the 5 minutes of cook time is over and the instant pot beeps. Press cancel, you can Quick Release and open the pot.
Blend it to a smooth puree using the immersion blender.
IF you aren't able to get the smooth texture using an immersion blender, use a regular blender. If using regular blender, remember to cool the contents before pureeing.
Top with olive oil and creamy yogurt or cream.
Serving
I love a hot soup. In the colder months there is nothing more cozy and comforting than that. But sometimes, especially in peak summer, a cold soup just hits the right spots. And this summer soup can also be served cold like a zuppa.
When serving soup, you can add your favorite toppings for a visual treat and also textural balance.
Also here are some topping ideas
Fresh Herb
Greek Yogurt or Sour cream
Heavy Cream
Crispy Bacon
Toasted Seeds & Nuts
Grated Parmesan Cheese
Smoked Paprika or cayenne pepper or red pepper flakes
Hot Tip
On busy weeknights, you could turn this soup into a main course by adding some cooked pasta to it.
Storing & Leftovers
Storing leftover zucchini soup in an airtight container is a great idea to enjoy it later. You should refrigerate the soup if you plan to consume it in the next 4-6 days.
For longer storage, place the containers in the freezer where is can be kept for up to 3 months.
Divide the soup into smaller portions based on your serving needs. This way, you can thaw and reheat only the amount you want to eat, reducing food waste.
When you're ready to enjoy the soup, thaw it in the refrigerator overnight if frozen. Then, gently reheat it on the stovetop or in the microwave until it reaches a safe and enjoyable temperature.
More Pressure Cooker Soup Recipes
Here are some more low-carb soups, Vegetable soups and a really comforting Chicken barley soup recipe.
If you make this easy soup recipe, do leave a rating and a review.We would love to hear more from you. Also, here is a link to all my instant pot recipes.
Find us on Instagram , Pinterest & Facebook here!
If you liked my recipe, do leave a comment!
It will help others find this amazing recipe too!
---
Ingredients
3

Cups

Zucchini

Green, Diced

1

Cup

Fresh Herbs

like Dill,Basil,Cilantro or Parsley

1

Cup

Scallions

Chives or Green Onion

2-3

Garlic

or 1 teaspoon Garlic Powder

¼

Cup

Cashews

Optional.If you want to thicken the soup

1

tablespoon

Extra Virgin Olive Oil

1

Cup

Water

or Vegetable Broth

1

Pinch

Black Pepper

freshly cracked

Salt to Taste
Instructions
Chop the zucchini into 1 inch rough chunks.

Add the chopped Zucchini, Herbs, Scallions, Garlic, Cashew(if using) Salt and Water to the instant pot.

Close the lid,Select PRESSURE COOK/MANUAL for 5 minutes with the pressure valve SEALED.

Once the cooking time is over, press cancel, Quick Release after 5 minutes are over.Open the pot.

Blend into a puree with hand blender or in a blender.Check and season with salt and black pepper.

Serve hot with a drizzle of olive oil
Notes
Ingredients
Zucchini - Try to use fresh, dark green , blemish free zucchini. You can use frozen too.
Cashew- This is an optional ingredient and can be added if you want to make your soup thick. Though make sure to blend all the cashew pieces well.
Herbs - Basil , Cilantro & Parsley are preferred
Blending
If using an immersion blender, make sure to take your time. Especially if you are using cashews. You do not want bits and pieces of cashew in an otherwise smooth soup.
If using a traditional blender, make sure to cool the soup contents before blending. Hot food can build up steam and explode while blending. You can heat up the soup again once its pureed.
Nutrition
Serving:
1
Cup
|
Calories:
143
kcal
|
Carbohydrates:
12
g
|
Protein:
5
g
|
Fat:
10
g
|
Saturated Fat:
2
g
|
Polyunsaturated Fat:
1
g
|
Monounsaturated Fat:
6
g
|
Sodium:
32
mg
|
Potassium:
606
mg
|
Fiber:
3
g
|
Sugar:
5
g
|
Vitamin A:
2265
IU
|
Vitamin C:
56
mg
|
Calcium:
82
mg
|
Iron:
3
mg
If you liked the recipe, please leave us a rating
Follow me on Instagram
My handle is @yellowthyme