This post contains affiliate links. As an Amazon Associate I earn from qualifying purchases. Click here to read my policy.
Instant Pot Pancake Bites- Fluffy bite sized mini pancakes made in the pressure cooker using Silicone Egg Bites Molds. A great breakfast recipe that can be made in a jiffy.
Who doesn't love pancakes, right? Just not the slaving over the hot stove! Also the cook gets to eat with the family and that's the biggest win of this recipe!
Okay I am being dramatic but these are a great fun alternative to a regular pancake. Especially when you have to cook for more than a couple people.
These are so so delicious and spongy that they will soon become your child's favourite breakfast.or yours!
Sometimes you need breakfast that can be put together without too much fuss and at one shot. And I am all about such quick breakfasts, especially if you can make them for a crowd. One such favorite is our Baked French Toast with Brioche bread. It's our usual Christmas morning breakfast.
There is not much joy in making more than 20 pancakes when the whole family is over. You want to be included in the festivities too.
That's when its nice to be able to whip up a couple of these in one shot in the pressure cooker.
You do need a special mold to make these pancakes but they are so worth it! Especially if you have kids!
If you are buying these molds, buy a couple of them together so you can make 15-20 of them toghether.
Ingredients for Pancake Bites
Here are the ingredients for plain pancake bites.You can add your toppings like blueberries or chocolate chips as per your preference.
Flour- All purpose flour.
Baking Powder
Salt
Sugar - the amount mentioned in the recipe will give you very subtle sweetness which pairs well with the sweet chocolate bits(if using) or if using syrup.
Milk- Whole is better but 2% is also ok
Egg
Butter
Oil to grease the molds so that they come out easily. You can use a spray or use generous amount of coconut oil.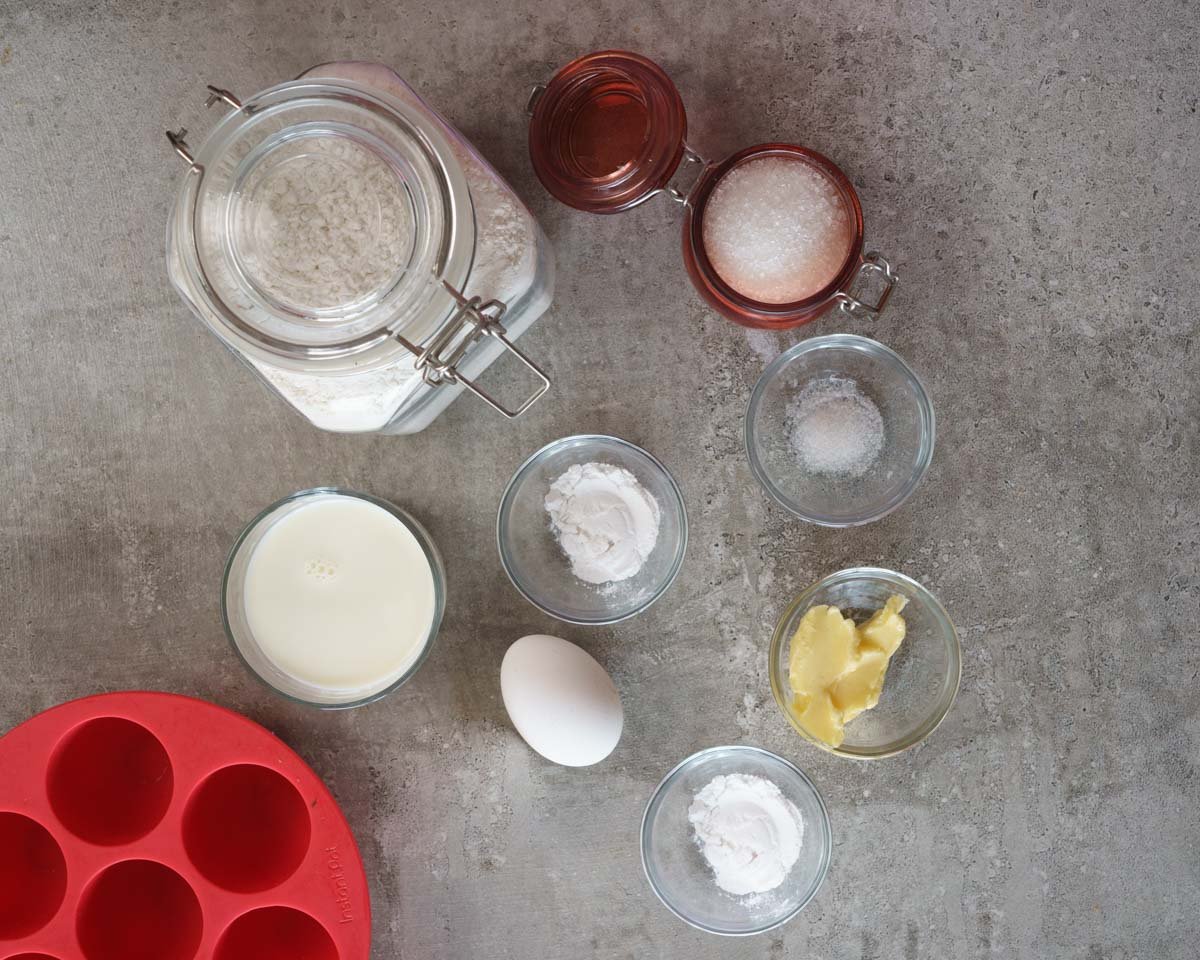 How to make Pancake Bites in the Instant Pot
You can make this using 1 mold or 2 molds. This recipe is for 2 mold, you can easily halve it to make it in just 1 mold.
Step 1: Measure and Prep
Measure out the dry ingredients- flour ,baking powder, Salt and sugar. Melt the butter till it's liquid.
Step 2: Mix the Batter
Break the Egg into a bowl.Add sugar and whisk it toghether.
After this, add the dry ingredients - Flour, Baking Powder and Baking Soda. Give it a rough mix.
Now add the milk and melted butter.Do not over mix.
You should'nt see any dry bits but its okay if it's lumpy.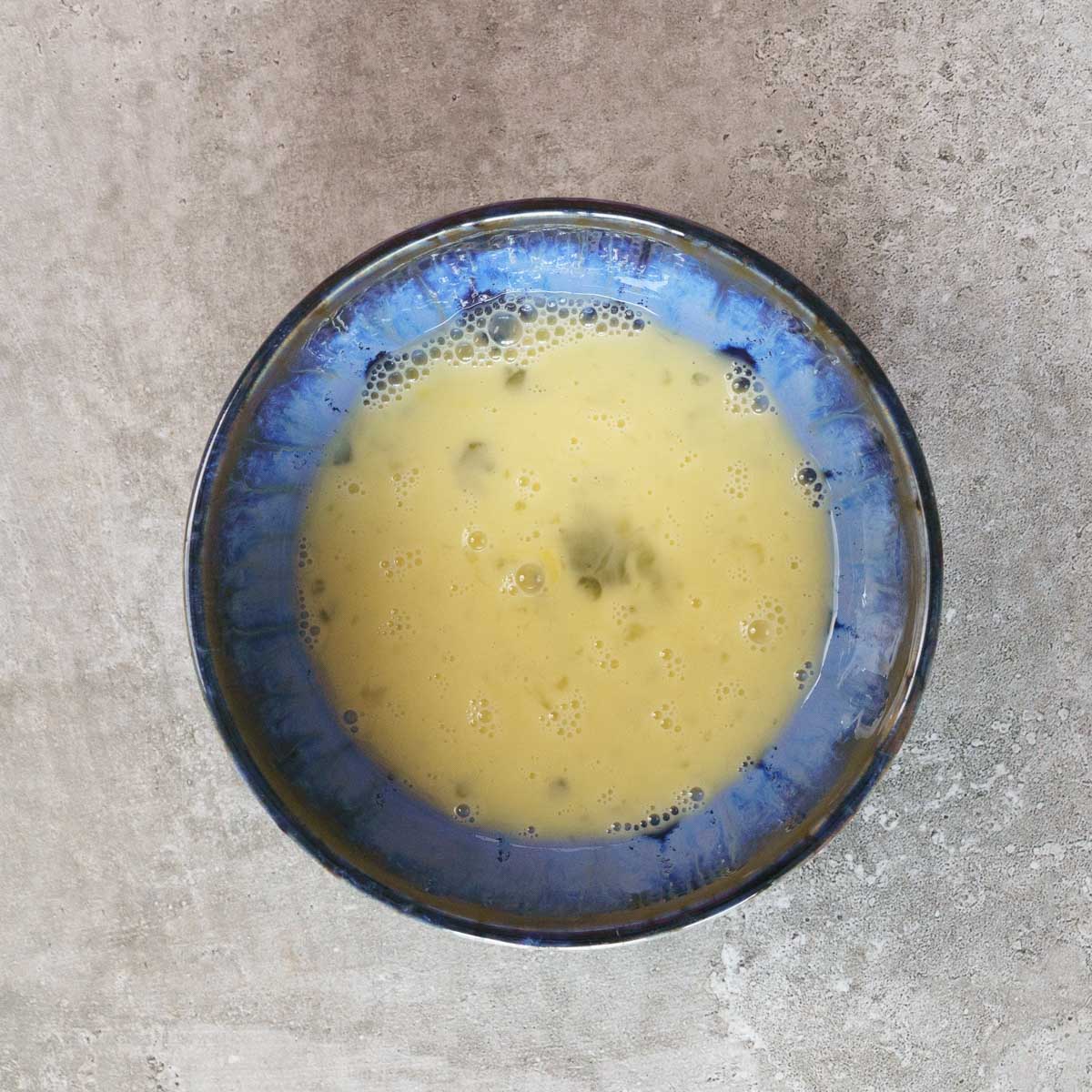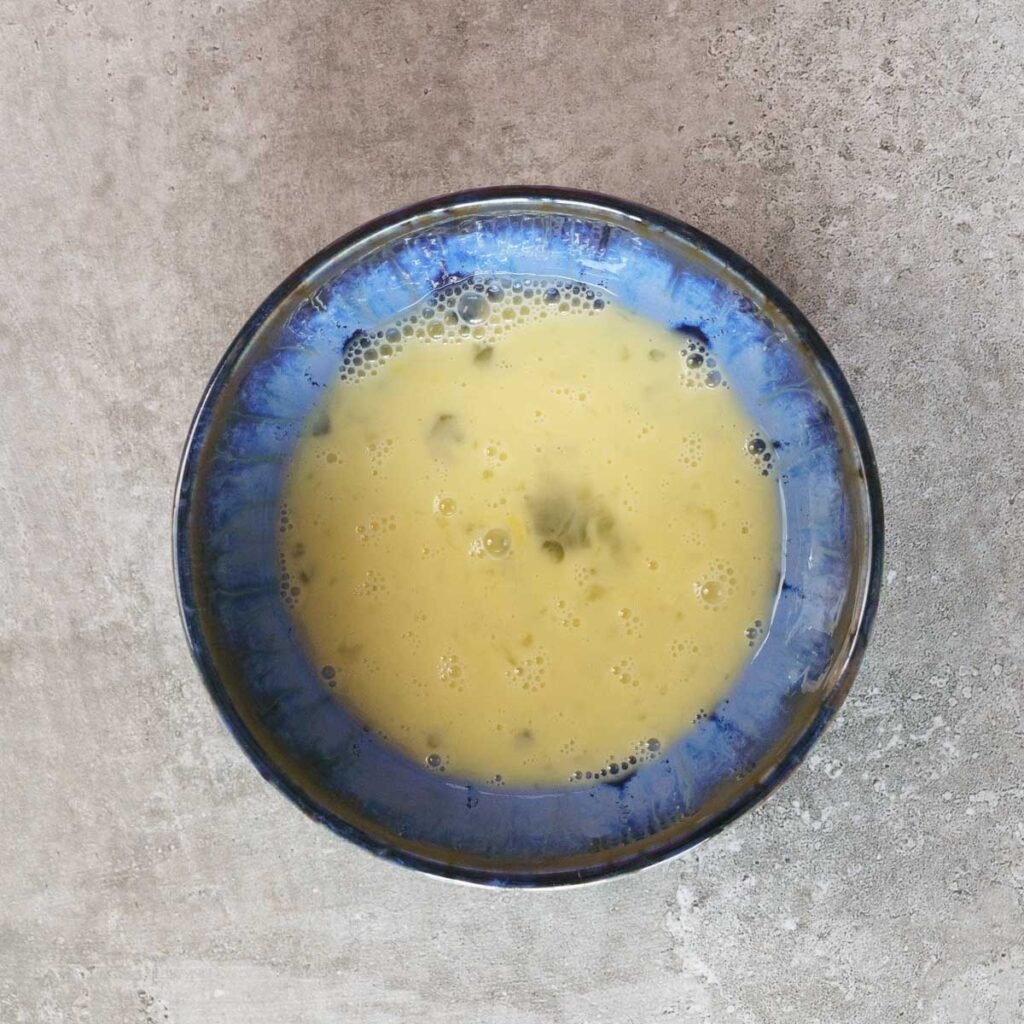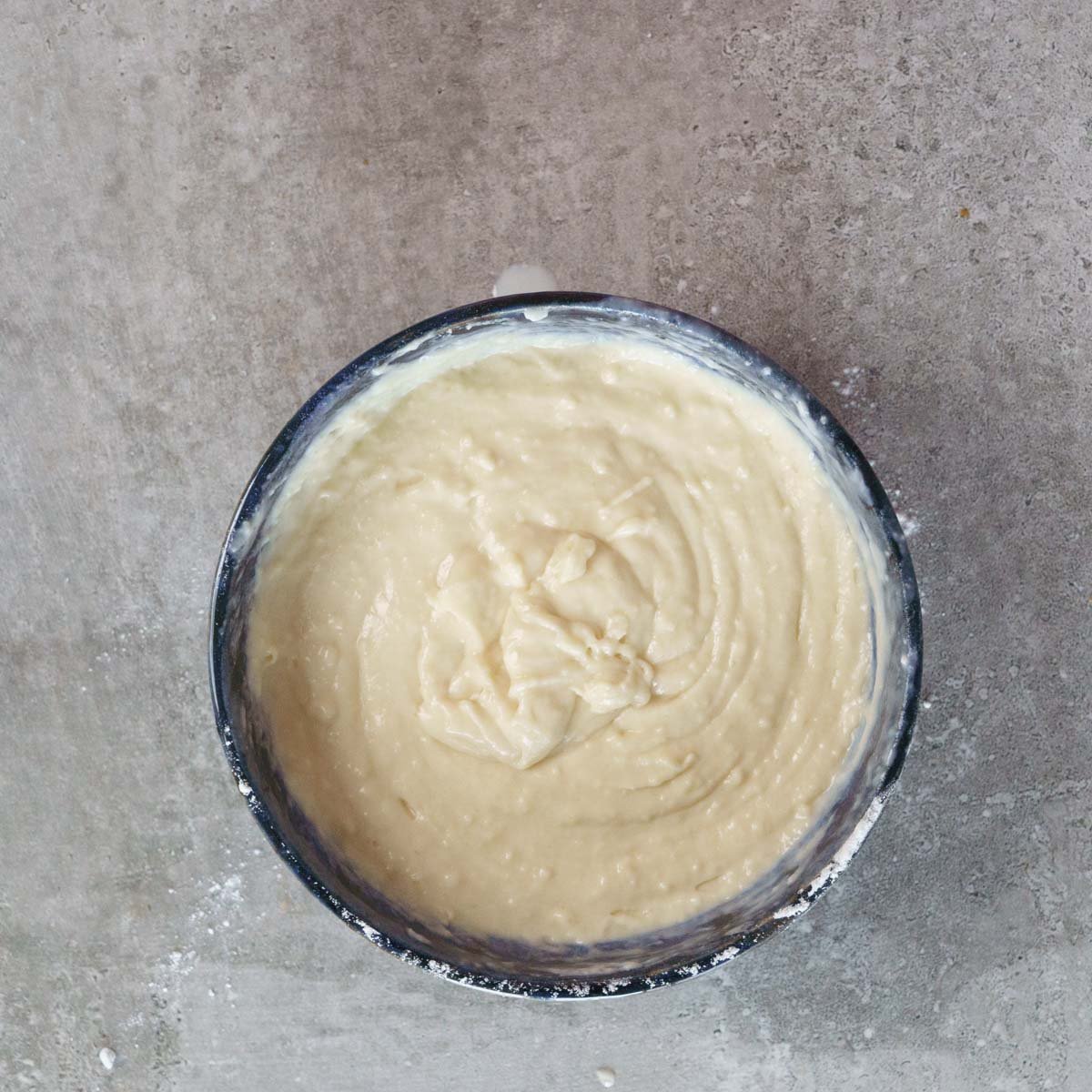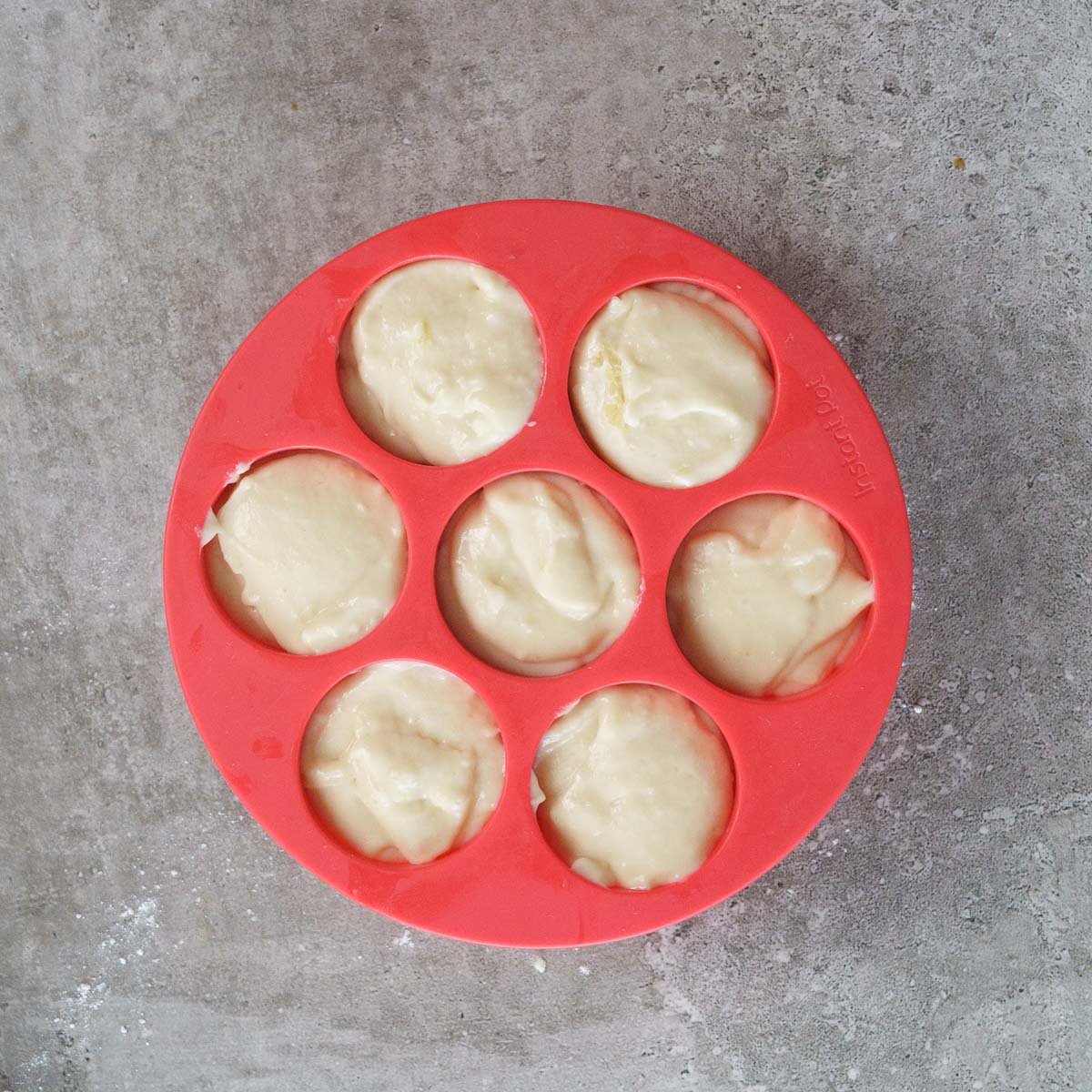 Step 3: Add Batter to the mold
Wash, dry and Grease the mold. I use the leftover melted butter to do this. You can also use a baking spray to butter the molds.
Make sure you do this step well so the bites come out whole after cooking.I find thicker oils like coconut oil work better than thinner vegetable oil.
Add batter to the Instant-Pot egg bites mold. This recipe should yield about 10-12 bites. If you have only 1 mold, you can halve the recipe or make it twice.
Fill it only till it's ½ to ¾ way full as it will rise while pressure cooking.
You can add your blueberries, nuts or breakfast sausage to the mix directly into the mold if you want.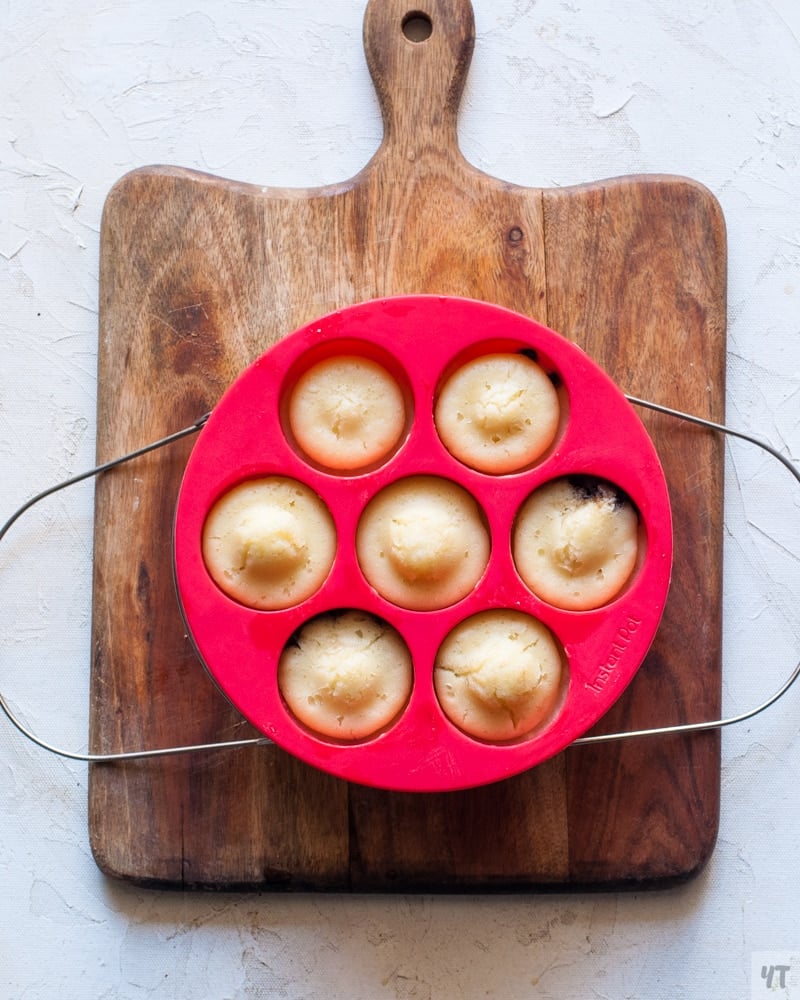 Step 4:Pressure Cook
Add 1 cup of water to the inner pot if the Instant-Pot.
Place the mold on the instant pot trivet. You should have got this with your instant pot. Cover it with the lid or aluminum foil. Lower it inside the instant pot.
Close the lid and select PRESSURE COOK for 10 minute on HIGH pressure with the valve in SEALING position.
After the time is up, wait for 10 minutes before quick releasing the pressure and opening the instant pot lid.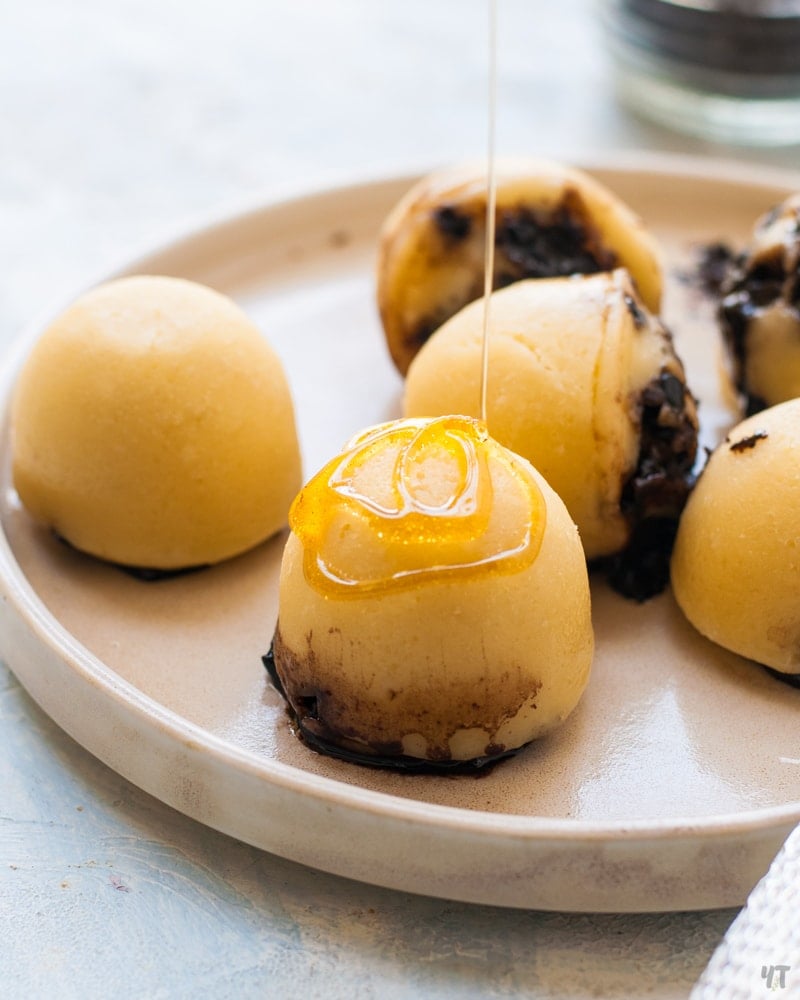 Other Flavour ideas for the Pancake Bites
You can make so many different types of pancake bites.
Blueberry Pancake Bites
Who doesn't love blueberries pancakes right? All you need to do is pop the blueberries whole into the batter and follow the recipe as it is.
The blueberries tend to sink to the bottom and burst. When you flip them to serve the pancake bites, you should see popped cooked berries.
Just top the blueberry pancake bites with honey or maple syrup and breakfast is served.
You can follow the same method to make straweberry pancake bites too.
Chocolate Chip Pancake Bites
This one is an easy variation. Instead of adding all the chocolate chips to the batter, add half of it to the batter. And the other half after you have filled the silicon molds.
The chocolate tends to sink to the bottom, which would be the top when you serve it. To avoid all of the chocolate chips clumping together, divide it up.
Breakfast Sausages / Ham
Kids love this option!
Just cut the breakfast sausages into 1 cm bites. Pan fry them till they get some color.
Pop one or two in the pancake bites batter. Follow the recipe as it is.
These are so great for kids school lunches and picnics.
You can do the same thing with ham and bacon too.
Box Pancake Mixes
You could also skip making the pancake batter from scratch and use a box pancake mix like Bisquick Pancake Mix. It works like a charm.
That said, it might or might not work with other types of mixes especially the gluten free and whole wheat ones. If you give it a try, do leave a note. I would love to hear from your experience.
You can also vary the flavors in each pancake. Make some Blueberry pancakes, some chocolate ones, some with a swirl of peanut butter.
FAQs
Why are my Pancake Bites Dense
This can happen if you have used a boxed pancake mix, changed the recipe or not covered the pancake mold with aluminium foil or silicon cover while cooking in the instant pot.
The other reasons can be old baking soda or baking powder
Can I use Boxed Pancake Mix to make Pancake Bites
Yes. I have had success with Bisquick pancake mix. As a general rule, pancake mixes with white flour will work well in the Instant-Pot.
Serving
I usually make the basic version and keep a lot of fruit, chocolate, syrup and dry fruit options on the table so people can make their own combination.
In the pictures, I have drizzled some maple syrup on top of the bites and served with a side of fruits.
Here are some Topping ideas
Chocolate Syrup, shaved Chocolate
Whipped Cream
Honey and fruits like banana, blueberries and strawberries
Biscoff
Fruit jams, preserves and compotes
Here are some more Breakfast Recipes
Looking for more shortcut breakfast recipes? Here are some of our favourites
Instant Pot Steel Cut Oats
Easy Overnight Oats 4 ways
Air Fryer Peanut Butter and Jelly
Brioche French Toast Casserole (Overnight)
Find us on Instagram , Pinterest & Facebook here!
If you liked my recipe, do leave a comment!
It will help others find this amazing recipe too!
---
Ingredients
1

Cups

Flour

2

teaspoon

Baking Powder

½

teaspoon

Baking Soda

¼

teaspoon

Salt

1

Egg

¼

Cup

Sugar

1

Cup

Milk

¼

Cup

Melted Butter

1

teaspoon

Vanilla Essence
Instructions
Mix together the measured flour, Baking powder, sugar and Salt. (Do watch the video for more help)

Whisk the Egg, Sugar , Milk, Vanilla Essence and melted butter.

Add the flour mix to the wet mix. Do not over mix. Whisk only till you don't see any dry bits. Scrap the bottom and sides for dry flour.

Prepare the 2* instant pot egg bite silicon molds by greasing the insides.You can also use oil spray.

Pour the batter till its ½ full. Add the topping like chocolate chips, blueberries or sausage.

Cover with the silicon cover or aluminum foil. Place them on the trivet which you get with the instant pot.

Pour 1 cup of water in the instant pot. Place the silicon mold with the trivet, inside.

Close the lid and PRESSURE COOK for 14 min on HIGH pressure.

Let the pressure release naturally for 5 minutes before opening the pot.

Using a butter knife, scrape the sides of the mold and take the pancake bites out.
Notes
This recipe is enough for 2 egg molds. You should get about 12 pancake bites if you half fill the molds.
If however, you have only 1 egg bite mold, you can either halve the recipe, keeping the cooking time same or you can do the cooking twice.
Nutrition
Serving:
1
Egg Bite
|
Calories:
67
kcal
|
Carbohydrates:
13
g
|
Protein:
2
g
|
Fat:
1
g
|
Saturated Fat:
1
g
|
Cholesterol:
2
mg
|
Sodium:
173
mg
|
Potassium:
42
mg
|
Fiber:
1
g
|
Sugar:
5
g
|
Vitamin A:
33
IU
|
Vitamin C:
1
mg
|
Calcium:
66
mg
|
Iron:
1
mg
If you liked the recipe, please leave us a rating
Follow me on Instagram
My handle is @yellowthyme
Our Favorite Instant Pot Tools