This Overnight French Toast Casserole made with Brioche Bread, Eggs, Cream and Milk is a super easy, crowd pleasing breakfast.
The ultimate shortcut recipe that will take your ten minutes to put together. The best part? No standing over the skillet in the morning. Pop this in the oven and enjoy together with the whole family.
I love breakfast casseroles!
I often have my whole family plus a few friends over on holidays. Things can get pretty hectic. Especially if you have to cook every single meal.
This is a easy breakfast option that doesn't take too much active time but the results are just epic!
I usually make the basic version and keep a lot of fruit, chocolate, syrup and dry fruit options on the table so people can make their own combination.
We love french toast at home! I have been eating french toast for breakfast since i can remember things! My son loves it too.
Off-course on an everyday basis I don't need to make a whole casserole but just a couple toasts. So if there was one breakfast that i know my family will scarf down then it is french toast!
Jump to:
Ingredients
Here is what you will need to make this casserole.
Eggs
Milk
Cream
Bread
Cinnamon
Nutmeg
Sugar
Vanilla
For the topping
Bread
We love using brioche bread to make french toast. The bread is so rich and cakey. I love any kind of french toast but with brioche bread, its just another level of indulgence.
It sets the holiday mood perfectly!
You can also use other breads like french bread & regular bread. I personally am not a big fan of sour dough bread in the french toast but if that's all you have then that will work too.
If you can, get un cut bread so you can cut thick cubes or even triangles of bread. Thicker the bread, the more fudgy it will be in the middle after all that soaking!
Eggs
I like to use free range organic eggs. It has its healthy benefits but beyond that, i just love the yellow color of the yolk!
It feels extra luxurious especially in custardy desserts.
Topping for the French Toast
Now this is not an absolute must but if you are going the indulgent route then a little butter, sugar and cinnamon will just take things up a notch!
The reason I do this is because I love the caramelized effect butter and sugar give together.
I do this even when I am just making a single serving of french toast on an everyday basis. The process is a little different and probably faster when you are making french toast for just one person.
Instructions to make Brioche French Toast Casserole
Here are step by step instructions on how to make a perfect french toast casserole.
Step 1: Cut the Bread
I usually just dice the bread. This saves me time and effort.
If you want, you can cut it into triangles and arrange it in a nice way. But that will take more time.
Though, this could be one of the things you involve your kinds in!
Step 2: Make the Custard
By custard I mean, make the soaking liquid. Do this in a separate bowl instead of the baking dish. Only because you want to pour the liquid over the bread so that the top bread pieces are also saturated.
Break the eggs and whisk them together. To that add all the other ingredients- milk, cream, nutmeg, cinnamon and sugar.
Whisk whisk whisk.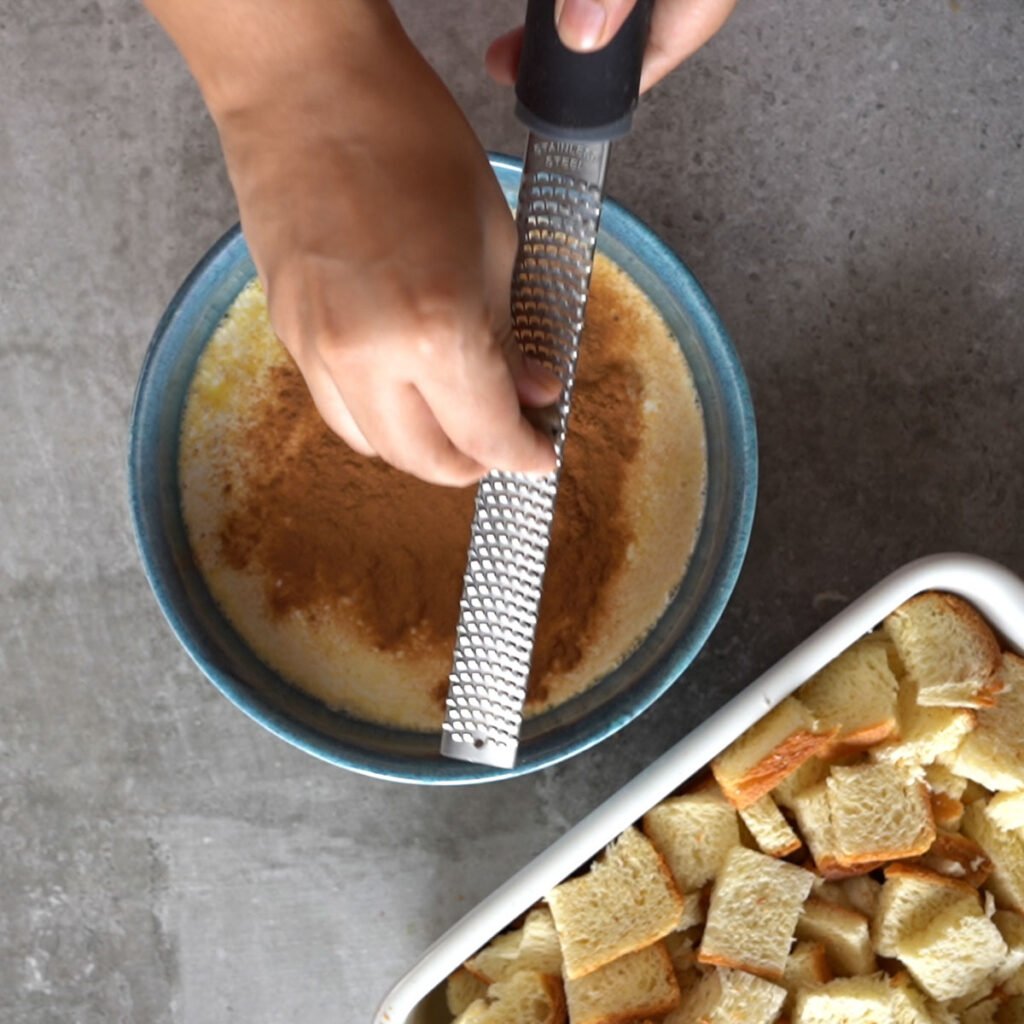 Step 3: Pour over the Bread
Don't just dump the liquid in but use a ladle or a measuring cup to pour the liquid all over the french toast. You want it to go to all the corners and nooks and crannies.
The liquid should come upto ¼ the height of the baking dish.
Step 4: Soak
You have three options here depending on your needs
Overnight Soak
This is the best option. Especially if your bread is thick. The overnight soak will saturate the bread to all the way inside.
30 minute Soak or Quick Soak
Let the casserole sit in the refrigerator for 30 minutes. This is the best of both worlds.
Immediate Baking or The fastest Soak!
If you need to bake this immediately then i suggest you do two things
Use thinner slices of bread
Once you have soaked the bread with the custard, press it lightly with a spatula.
Step 5: Bake
Preheat the oven at 360F or 180 C for about 10 minutes
Bake the casserole for 30 minutes.
Step 6: Topping
Crank up the heat of the oven or set it to broil mode.
Frist brush melted butter on top. Sprinkle a mixture of cinnamon and sugar.
Broil again for 10 minutes till the sugar looks caramelized.
Serving Brioche French Toast
To serve the french toast, cut a piece of the toast like you would cut lasagna and place it on individual serving plates.
Add toasted nuts like pecans and walnuts
Fruits like banana, strawberry and blueberries
Chocolate syrup
Maple syrup or honey
Ice cream or whipped cream
Icing sugar
Making Breakfast for a Crowd
This casserole will serve about 9-10 people. if you are making this for a larger group, you can double/triple the recipe.
I suggest you use disposable baking containers in which you can soak and bake and serve the french toast.
The other option is to add more breakfast dishes.Here are some options
Quiche- with or without the crust
Savory french toast bake
Scrambled eggs & Bacon
Bread and nice Garlic Butter
Baked Oatmeal
Variations
Depending on the look / taste you want, you can add these to the french toast
Christmas - Cranberries/Strawberries and Nutella. Gingerbread spices in the custard.
Skinny Everyday French Toast - Skip the cream and substitute it with milk instead. You can also skip the topping
Equipment
You need an oven and a baking dish to make this.
I have used a 9* 13 inches Baking dish to make this. It fits perfectly , almost to the brim. You can adjust the recipe as per your baking dish.
You can also make this in the air fryer. You will have to halve the recipe based on the size of your air fryer.
Refrigerating & Freezing
Refrigeration - The uncooked french toast can last in the fridge for up to 1-2 days. Cooked French toast will last for about 5-6 days. Just make sure you keep it in an air tight container.
Freezing - You can freeze the prepped uncooked french toast for upto 2 months. Remember to place it in a freezer friendly container that is covered twice with plastic wrap and foil.
To bake it, take it out of the freezer and let it thaw overnight in the refrigerator. Bring it to room temperature and bake it as per the recipe.
My suggestion is to use the disposable foil containers. You can bake the french toast in the same dish.
You can also freeze the cooked french toast. Again, wrap it up multiple times and freeze it in in freezer safe containers. I like to make individual portions of this and freeze. That way it takes less time to thaw and I can eat it for breakfast whenever i want!
For the Ultimate Holiday Lazy Breakfast
Assemble this a day or two in advance. Let it soak and come holiday morning, Bake this to perfection!
Here are some more Ultimate breakfast options for you
Instant Pot Steel Cut Oats
Easy Overnight Oats 4 ways
Chocolate Oatmeal Pudding
Turkish Eggs
Cherry & Blueberry Clafoutis
If you make this easy Brioche French Toast Casserole, do leave me a comment and a rating. I would love to hear from you.
---
Find us on Instagram , Pinterest & Facebook here!
If you liked my recipe, do leave a comment!
It will help others find this amazing recipe too!
---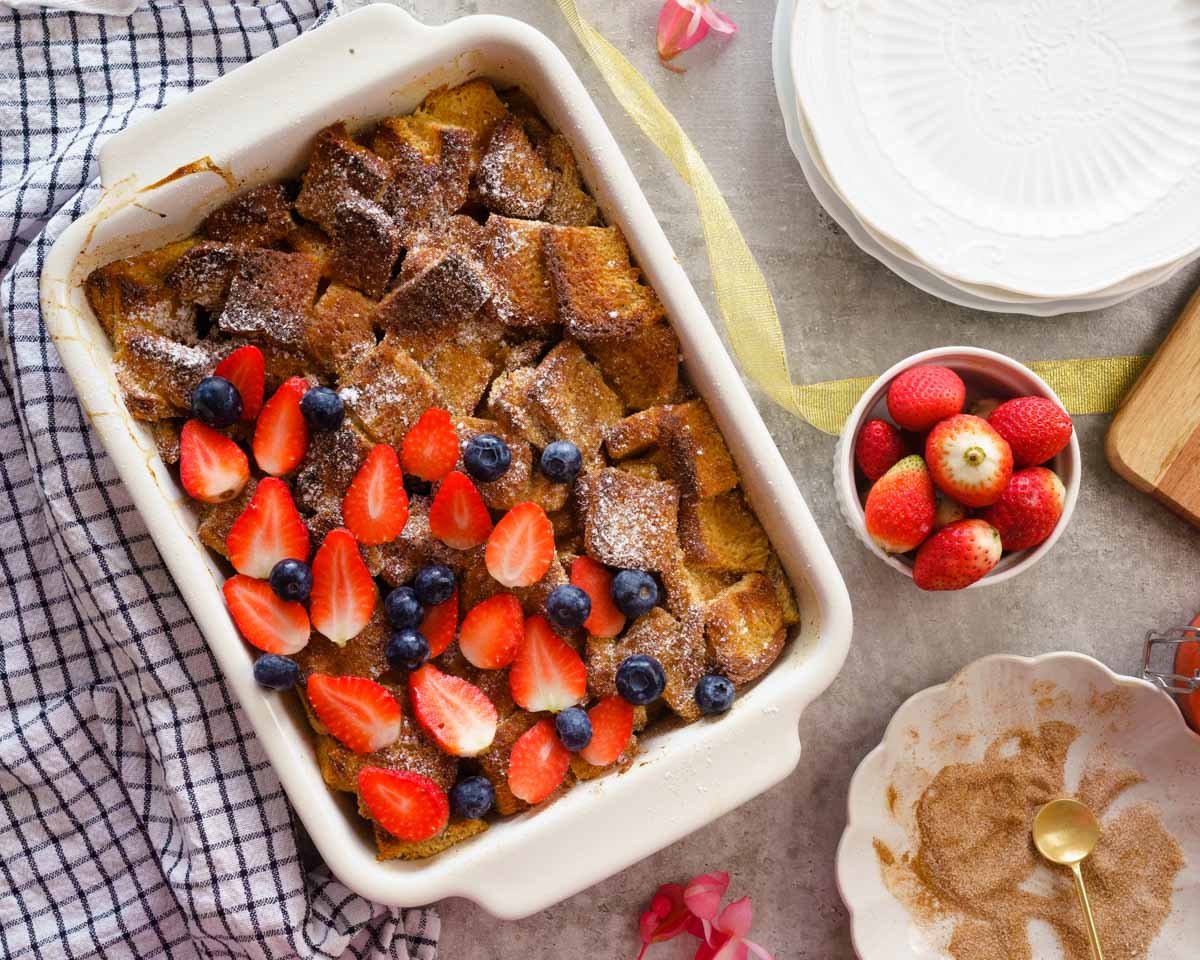 Ingredients
1

Loaf

Brioche

About 500 gms or 10 cups in cubes

8

Eggs

1

Cup

Cream

1

Cups

Milk

1

Cup

Sugar

1

teaspoon

Cinnamon

⅛

teaspoon

Nutmeg

1

tablespoon

Vanilla Extract
Topping(Optional)
2

tablespoon

Cinnamon

¼

Cup

Sugar

2

tablespoon

Butter
Instructions
Cut the Bread into thick cubes. Add it to a baking dish.

In a big bowl, break the eggs. Whisk them together.

Add Milk, Sugar, Cinnamon, Cream and Vanilla Extract. Grate about ⅛th teaspoon of Nutmeg on top.

Whisk it up till you get a homogenous mixture

Using a ladle, add the liquid over the cut bread in the baking dish.Wrap up the dish with plastic wrap or foil.

Let it soak Overnight or for 30 minutes in the refrigerator.(Check the notes to bake it immediately.)

Take it out of the refrigerator. Remove the wrap.

Bake in preheated oven for 25-30 minutes at 180 C or 365 F, till the tops look crispy and brown.

Once the time is over, remove from the oven.

Brush the tops with melted butter. Sprinkle a mix of cinnamon and sugar.

Broil or Bake at 220C or 430 F for 5 minutes to caramelize the sugar on top.

Remove from the oven. Let it cool a bit before serving.
Notes
To Serve
Serve a slice of warm french toast with any of the following toppings
Honey , Maple Syrup , Nutella , biscoff spread
Dusting of icing Sugar
Vanilla Ice Cream
Fruits- Strawberries, Blueberries and banana slices
Nuts - flaked almonds, toasted pecans or walnuts
Dried Berries- Cranberries, raisins
To Bake Without Resting Overnight or even 30 minutes
All you need to do it help the bread soak the custard by pressing it a little. Exactly what you do with a sponge.
Do this step carefully and gently. The bread cubes can break.
Storing & Freezing
You can store the prepped uncooked French toast, wrapped in a plastic wrap, int eh refrigerator for upto 2 days. It can be also frozen at this stage for upto 2 months.
Though make sure you wrap it multiple times and store it in a freezer and baking friendly container like the disposable foil containers.
After Baking, you can store the french toast in the refrigerator for up to 4-5 days. To eat, reheat it in the oven at 180C/365F for 10 minutes till its warm through the the tops are crisp.
Nutrition
Calories:
416
kcal
|
Carbohydrates:
44
g
|
Protein:
10
g
|
Fat:
23
g
|
Saturated Fat:
13
g
|
Trans Fat:
1
g
|
Cholesterol:
225
mg
|
Sodium:
240
mg
|
Potassium:
119
mg
|
Fiber:
1
g
|
Sugar:
27
g
|
Vitamin A:
946
IU
|
Vitamin C:
1
mg
|
Calcium:
104
mg
|
Iron:
1
mg
If you liked the recipe, please leave us a rating
Follow me on Instagram
My handle is @yellowthyme
Why is my French Toast Casserole Soggy?

There are two reasons for this
1. Too high Oven Temperature- when this happens only the tops cook to a crispy brown perfection but the insides are still not fully cooked. If that's your problem, cover the french toast with foil and let it bake for another 10 minutes.
2. Too much liquid - This could happen when your liquid is way too much for the amount of bread. When you are finished with the soaking, you should not see too much liquid at the bottom of the pan. Use a spoon to investigate. If it looks too much, drain some of the liquid.
How do you keep French Toast Warm for a Crowd
You can do two things
1. Pop it in a preheated but shut oven. This should keep the french toast warm for 1-2 hours.
2. Crank the oven heat to the lowest setting. Leave the door slightly open. Pop the french toast inside. You should be able to keep it warm for 3-4 hours.
How to Reheat the French Toast
if you are reheating the whole casserole, just cover it with foil, heat it in the oven for 10-15 minutes(depending on the temperature of the french toast)
If you are heating only a slice of it, you can microwave it and then broil it to make the top crispy.
You can also air fry it.