Ragi Laddu made with Finger millet flour, Jaggery, Nuts and sesame seeds. Healthy Diwali Sweet with all the indulgence and none of the guilt.
I have been making these laddus for 4-5 years now.We love them!We usually have these Ragi laddus or homemade Besan(Chickpea Flour) Laddus on hand. At all times!
They are a great mithai for Indian festivals and also double up as a nutrient heavy snack for kids.
And kids love these because they are so easy to eat. I usually pack one laddu for my 5 year old sons school lunch.
We love everything Ragi at home. Ragi Pancakes are my child's everyday breakfast. He calls them chocolate pancakes because they look deep brown. You can read my secret here.
Ragi is full of iron and calcium. We eat Rotis, Ragi cookies and thaalipeeths made of ragi too! Here is my post on how and why you should be eating Millets.
It's also a great healthy diwali sweet recipe.It's so much better than store bought questionnable desserts.While you are at it, you should also try my Ragi Namak Paare this diwali - they are baked not fried!
Why make Ragi laddus at home?
Ladies! and the 5 gentlemen who read my blog.Lol..Here is why!
You use all good quality ingredients- Ghee and nuts.
They are super easy to make
You don't get Ragi laddus to buy easily.
They are great for your kids! Especially growing kids who need a lot of calcium and iron.
Also! your must try making coconut laddus with condensed milk at home!
Finger Millet Ladoo Ingredients
This ladoos has everything good. Here is what you will need to make them.
You can choose the nuts and seeds you put in the laddus. Don't let the list intimidate you. These are super easy to make!
Ragi also called Finger Millet or Nachni Flour
Desiccated Coconut - Dry Unsweetened Coconut
Jaggery or Palm Sugar or White Sugar
Clarified Butter or Ghee
Nuts- Peanuts or Almonds
Seeds - Pumpkin Seeds or Melon Seeds
Cardamom Powder
Also, there are swaps to make it Dairy Free, Gluten Free and Nut Free.
Ragi Flour - You can get this at any local indian grocery store.This 24 Mantra Ragi flour is what we almost always use. It's organic too.
If you can get your hands on sprouted ragi flour then that's even better. Keep in mind as Ragi flour is a whole grain flour, it will not last beyond 2-3 months. Do not use anything that's older than that. It will definitely taste bitter.
If you can get Ragi Malt or Malted Ragi flour, then that also works beautifully!
Jaggery or Palm Sugar - We use jaggery powder at home. Again 24 mantra is a brand we trust. Plus its organic. You can get it on amazon or in local Indian grocery stores.
If you don't have jaggery, you can use regular white sugar or brown sugar or coconut sugar too.
Ghee or Clarified Butter- Use the best brand you can afford. Especially if you are making it for children.
To make these laddus vegan, you can substitute ghee in the laddus with coconut oil.
Nuts- Use what you have. Peanuts, Almonds , pistachios, Chirongi or cashews all work.
Sesame Seeds- These add a lot of flavor and crunch. But these are not an absolute necessity.
Other Seeds - I find these laddus a great way to add seeds in my families diets.You can choose your favorite. Anything from pumpkin seeds to sunflower seeds will work.
I also make Seeds and Nuts Chikki at home which is loaded with all kinds of good seeds and stuff. Do check it out.
Cardamom Powder- The secret ingredient that makes these laddus amazing! If you don't have cardamom powder you can just pound the cardamom seeds inside the green cardamom pods and use them.
How to make Ragi Laddu
Here is a step by step way to make Homemade Ragi laddus.
Step 1 : Roast all the Nuts and Seeds
This is an important step. We roast everything to bring out the nuttyness of the flour plus remove any moisture there is. This will increase the shelf life of the laddus.
Roast all the Nuts and Seeds separately on low flame.
This can take 12-15 minutes each, so I recommend doing this on 2-3 pans together to save time.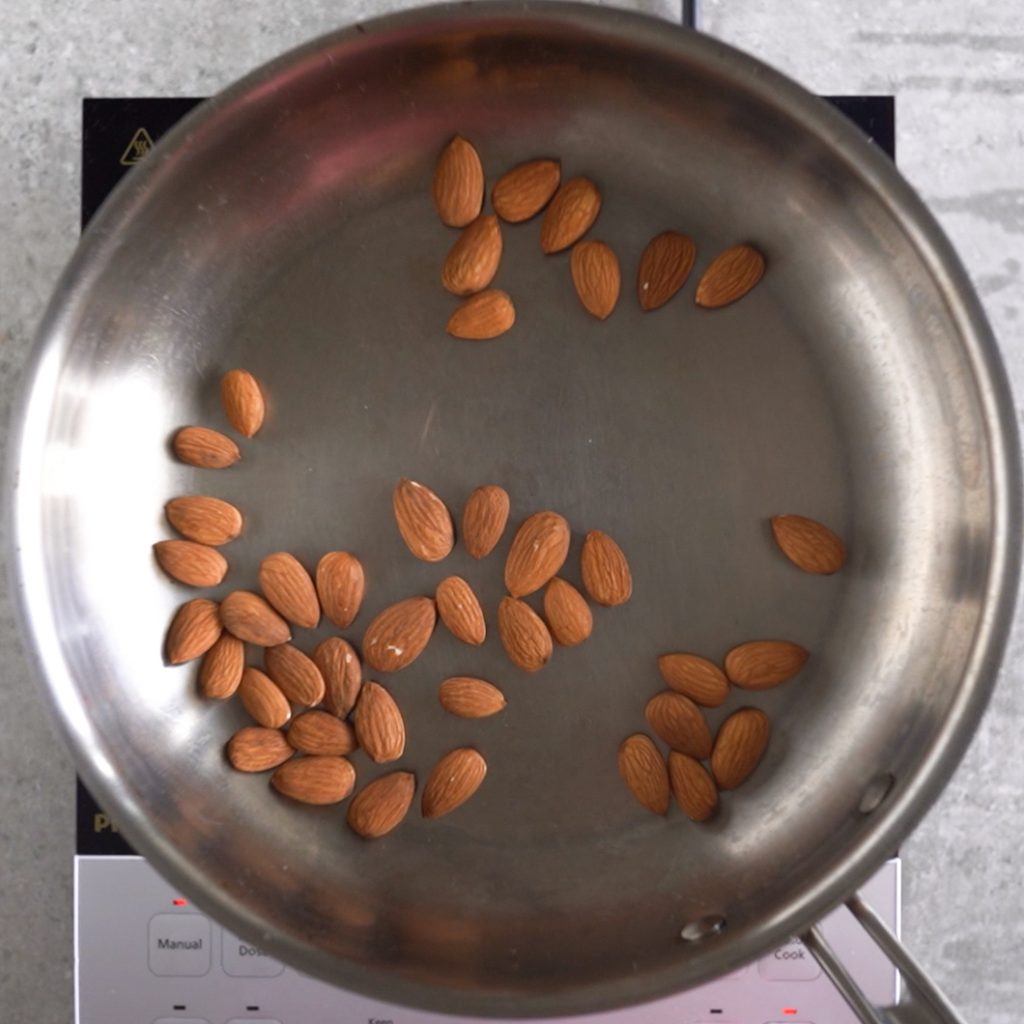 Step 2: Roast the Ragi Flour
Toast the Ragi flour, while stirring occasionally, till it smells nutty and fragrant. Should take 15-20 minutes. This step is important- it will cook the Ragi flour.If not done well, the laddus will taste raw.
Step 3: Blend the Nuts & Jaggery
Blend the Nuts,Coconut and Jaggery to make a coarse powder.
If your blender is big enough, add the toasted ragi flour and ghee to it too, and blend it more.
If not, Mix the Ragi flour, nuts mixture and Ghee in a large bowl.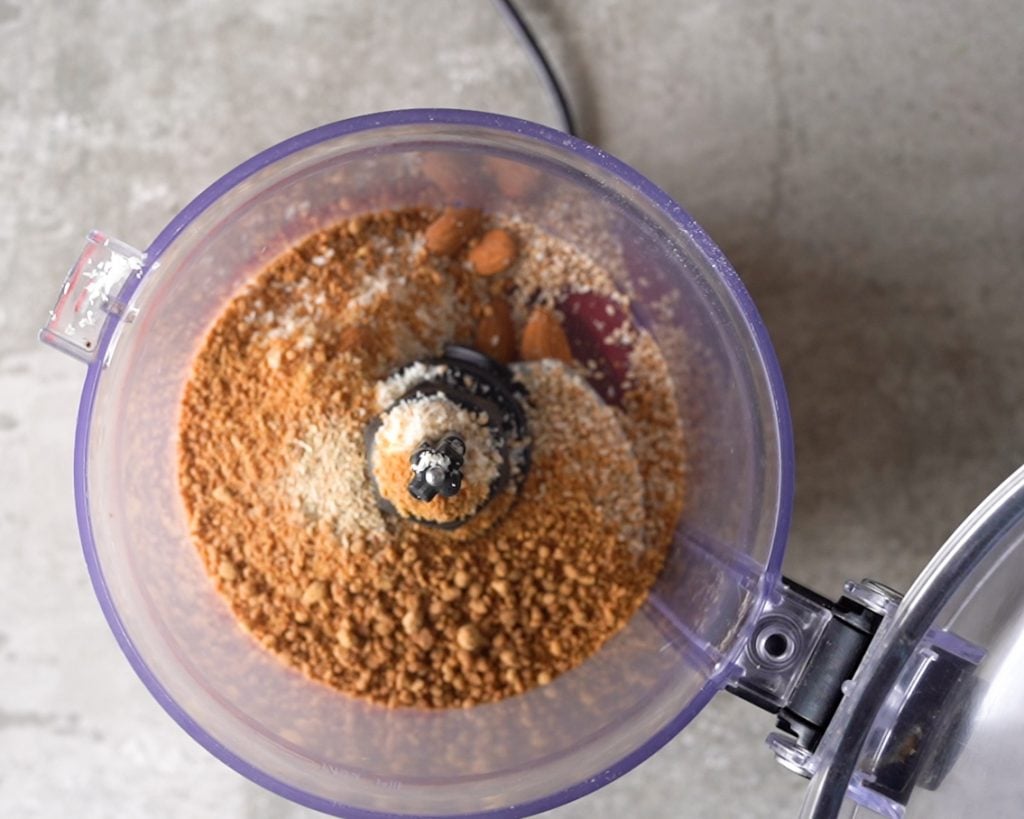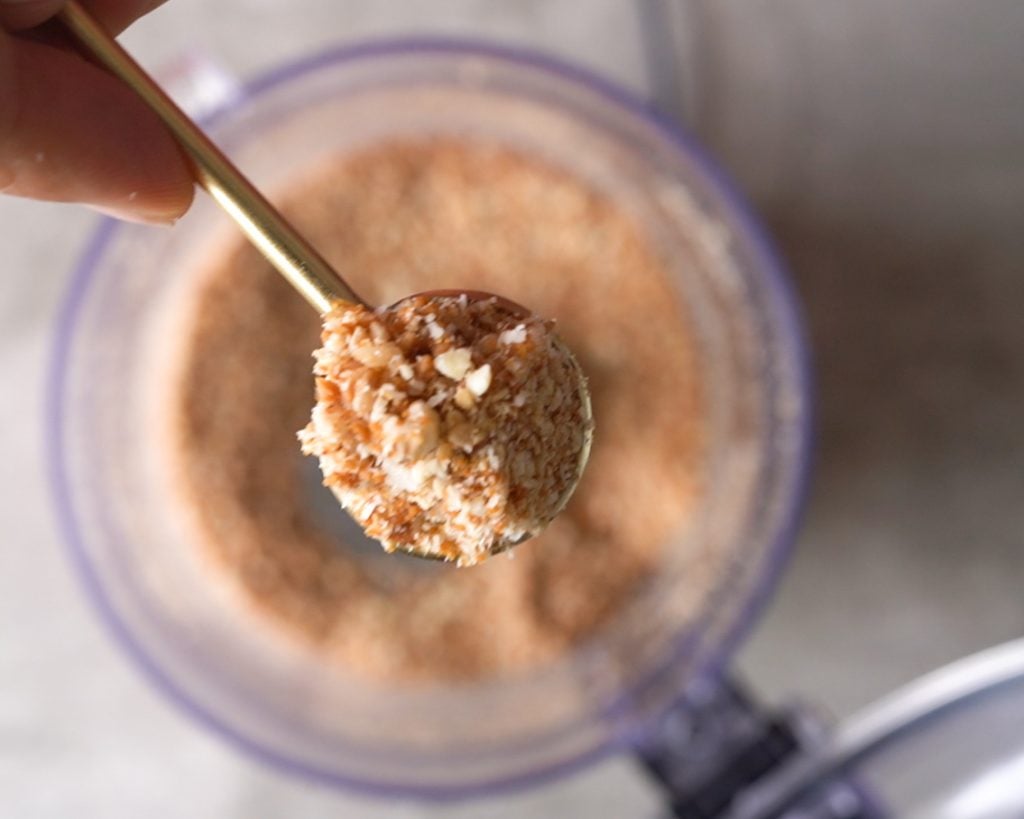 Step 4: Roll into Balls
Spread the ragi laddu mix in a big plate or parat. Let it cool enough that you can touch it.
This step has to be done when the Ragi laddu mix is still warm.
Coat your hands with ghee, roll the mixture into lime sized balls. Garnish with sliced almonds.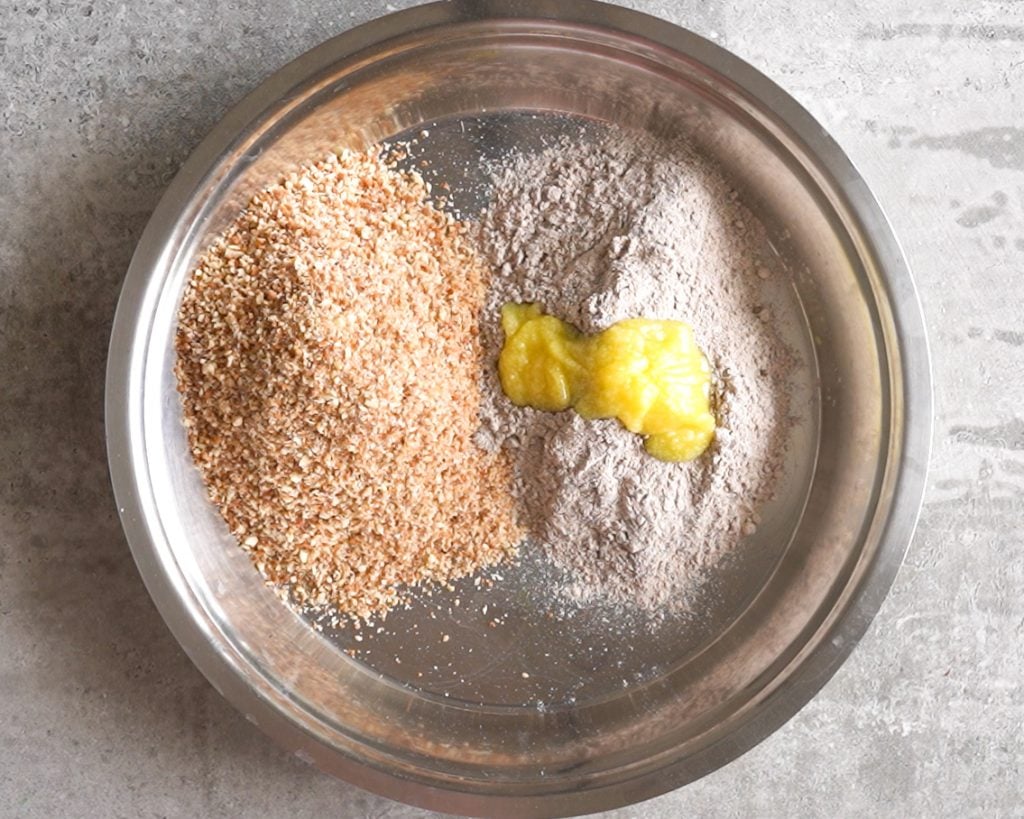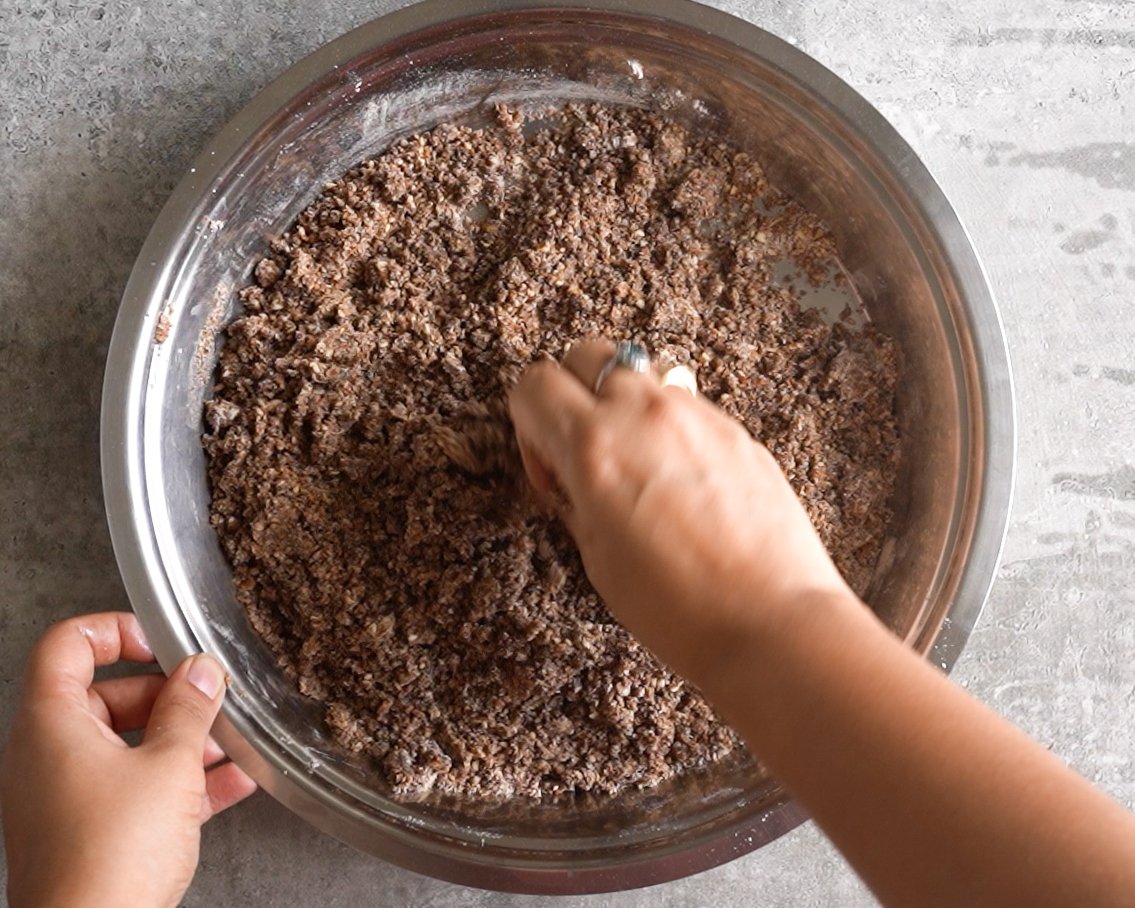 Storing & Leftovers
These Ragi laddus with Jaggery stay good for around 1 week at room temperature and 2 weeks refrigerated.
They are a great make ahead snack which can be popped into the tiffin box without any thought.
Here are some more Ragi Recipes for you
Love Ragi like we do? Here are some more Ragi recipes that you need to try now!
Ragi Namak Paare
Instant Ragi Dosa
Ragi Chocolate Cookies
Ragi Pancakes
Ragi Banana Cake
Expert Tips ,Tricks and Alternatives
Same Sized Laddus- Use a table spoon to scoop out the laddu mixture before rolling it in a ball. You can also use a melon scooper.
Round Shaped laddus- I have a trick. I roll the laddus twice. Once when the laddu mixture is warm. Then I let it cool in the refrigerator for 15 minutes.
Once that's done, I roll it again. If the laddu becomes too hard, i microwave it for 10s before making it into perfect round laddus.
Roasting the Finger Millet Flour- The slower and longer you roast the ragi flour , better the taste.This step cooks the flour and also makes the shelf life of the ladoos longer.
Gluten Free Ragi Ladoos- Ragi flour is gluten free.This ladoo is Gluten Free naturally.
Vegan Nachni Ladoo- You can make this recipe dairy Free by replacing Ghee with coconut oil.
Nut Free Ragi Ladoo- To make this nut free, substitute the peanuts in the recipe with Seeds.
FAQs
Is Ragi ladoo good for health?
Yes. Ragi is a wonder Grain. Full of calcium and iron. You can read more about it here
Is Ragi Ladoo good for pregnancy?
Homemade Ragi Laddus are great for everyone. They are high in nutrient and full of ghee, nuts and seeds.
What can be made from ragi?
Ragi Roti, Ragi Dosa, Laddus, Pancakes, cakes and so much more!
Is ragi gluten free?
Yes.Ragi is naturally gluten free. That is why you might find that it doesnt stick together very easily.
My Laddu is not staying in Shape?
If you have trouble shaping your laddu.Here is what you can do
Add more roasted ragi flour or roasted ground nuts and seeds to it. Reshape the laddus
Place the shaped laddus in the refrigerator for 15-20 minutes
Shape twice- once when the ragi laddu mixture is warm.And again after 15 minutes once the ragi mixture has cooled down.
Here are some more Diwali Recipes for you
Seeds Chikki
Kesar Phirni
Aate Ka Halwa
Besan Ladoo|Diwali Sweet Recipe
If you make these Ragi Laddus, do leave me a comment. I would love to hear from you.
Find us on Instagram , Pinterest & Facebook here!
If you liked my recipe, do leave a comment!
It will help others find this amazing recipe too!
---
Ingredients
1

Cup

Ragi Flour

½

Cup

Jaggery

Coconut Sugar or Sugar

4

tablespoon

Ghee

Clarified Butter

1

teaspoon

Cardamom powder

or Pound black seeds inside the green cardamom

¼

Cup

Almonds

or Peanuts, Cashews, Pistachios

¼

Cup

Sesame Seeds

½

Cup

Desiccated Coconut
Instructions
Toast the Ragi Flour till it smells nutty- 15-20 minutes on a low heat.

In another pan, toast the desiccated coconut- takes about 5-8 minutes.

Toast the peanuts.Remove the husk once they cool down.

Also toast the sesame seeds lightly.

Add the desiccated coconut, jaggery, sesame seeds and peanuts in the blender.Make a course powder.

Add the Ragi flour along with Ghee and Cardamom to the blender.Whizz is all together.

Coat your hands with little ghee and roll the mixture into lime sized balls.
Notes
If the laddu mixture is too dry and crumbly, add 1 more teaspoon of ghee.Do not add too much ghee at the same time.Add 1 teaspoon at a time,
If the laddu mixture is too wet, add more roasted Ragi flour.
The nutritional value is for 1 laddu which is approximately 1 tablespoon or 1 golf ball size.
Nutrition
Calories:
162
kcal
|
Carbohydrates:
20
g
|
Protein:
2
g
|
Fat:
8
g
|
Saturated Fat:
4
g
|
Trans Fat:
1
g
|
Cholesterol:
10
mg
|
Sodium:
3
mg
|
Potassium:
110
mg
|
Fiber:
1
g
|
Sugar:
7
g
|
Vitamin A:
1
IU
|
Vitamin C:
1
mg
|
Calcium:
89
mg
|
Iron:
1
mg
If you liked the recipe, please leave us a rating
Follow me on Instagram
My handle is @yellowthyme