Nutella Babka- The best Chocolate Brioche bread ever! Tried and Tested recipe of Melt in your mouth, Rich , soft sweet Bread made with Brioche dough filled with Nutella.
Who doesn't love a Brioche? And if it's soft, has Nutella then there is really no other comparison! Is there?
This is a soft, rich, melt in your mouth brioche bread filled with Nutella.
Don't take my word for it..it cures EVERTHING! from a hangover to a broken heart! Really!
Nutella is sweet and has hazelnuts in it. It has a milk chocolate taste to it.
If you are looking to make a babka with chocolate of your choice instead, try my Chocolate Babka recipe. It is one of the oldest and most loved recipes on the site.
Though this recipe is easier than the chocolate babka with chopped chocolate. The filling is right out of a jar plus the whole rolling and cutting process is much easier!
Ingredients Chocolate Brioche Bread
Here is what you will need to make this Delicious Nutella Babka
For the dough
All Purpose Flour or APF or Maida
Eggs
Butter
Milk
Yeast
Sugar
Salt
For the Filling
For the Syrup
Flour
I have used all kinds of All purpose flour or white flour and this recipe has given amazing results.
If you can find it, use high gluten flour or bread flour.The Babka will be even more soft.
Eggs
I use cage free organic eggs.They have the most gorgeous yellow yolks which make the dough slightly golden yellow.
I love them!
That said, use any eggs on hand.
Butter
You can use both salted and unsalted butter.
I like little salt in my babka. It makes the filling shine even more.
The one thing to note is that your butter should be cold. Cut it into small ¼ or ½ inch cubes.
There is a specific purpose in using cold cubed butter. It will make the babka bread crispy on the top.
Milk
Use room temperature or cold milk. Please use whole or high fat milk.
Add the milk slowly. Do not just dump the whole thing in.
Every flour has different liquid absorption capability. So you need to add half at first and then add little by little as you bring the dough together.
Yeast
Use fresh dry active yeast.
I have used fast acting active yeast and the regular active dry yeast with equal success.
Dont use that old sachet of yeast lying behind your pantry .Old yeast is notorious for ruining breads!
Sugar
Regular granulated white sugar will work fine. Caster sugar will well as well.
For the syrup and for the dough.
Nutella
The regular Nutella right out of the jar.
Make sure you have enough though! The quantities in the recipe are for 2 loaves. So you need almost half a bottle of it!
Feel free to use any other kind of chocolate spread instead of nutella too.
How to make Nutella Babka
Let me take you through the steps to make a Nutella Babka
In addition to all the ingredients , you will need
A huge bowl or stand mixer
Cling Film
Sharp Knife or a Pizza slicer
Extra Flour
Baking Pans or a Baking Sheet
Parchment Paper
Step 1: Prep
Gather all the ingredients and measure them.Cut the cold butter into cubes.
Cold butter is essential to this recipe. Don't skip on this!
Either clean up some space on the counter to knead the dough or get your stand mixer ready to go or use a huge bowl like I do.
Line the baking pan with parchment paper or brush it with butter.
Step 2:Make the Dough
You can do this the easy way- in a stand mixer or by hand.Both ways, you will get same result.
Stand Mixer Method
Add the Flour, Yeast, Salt & Sugar to the bowl of the stand mixer.Using the hook attachment, Give it a whizz to mix it up.To this add cold butter and mix it for another 30 seconds.Add Eggs, one at a time.Add the milk.
Let the hook attachement do its work for 5-6 minutes.You need to do this to develop gluten.This will make yur bread soft.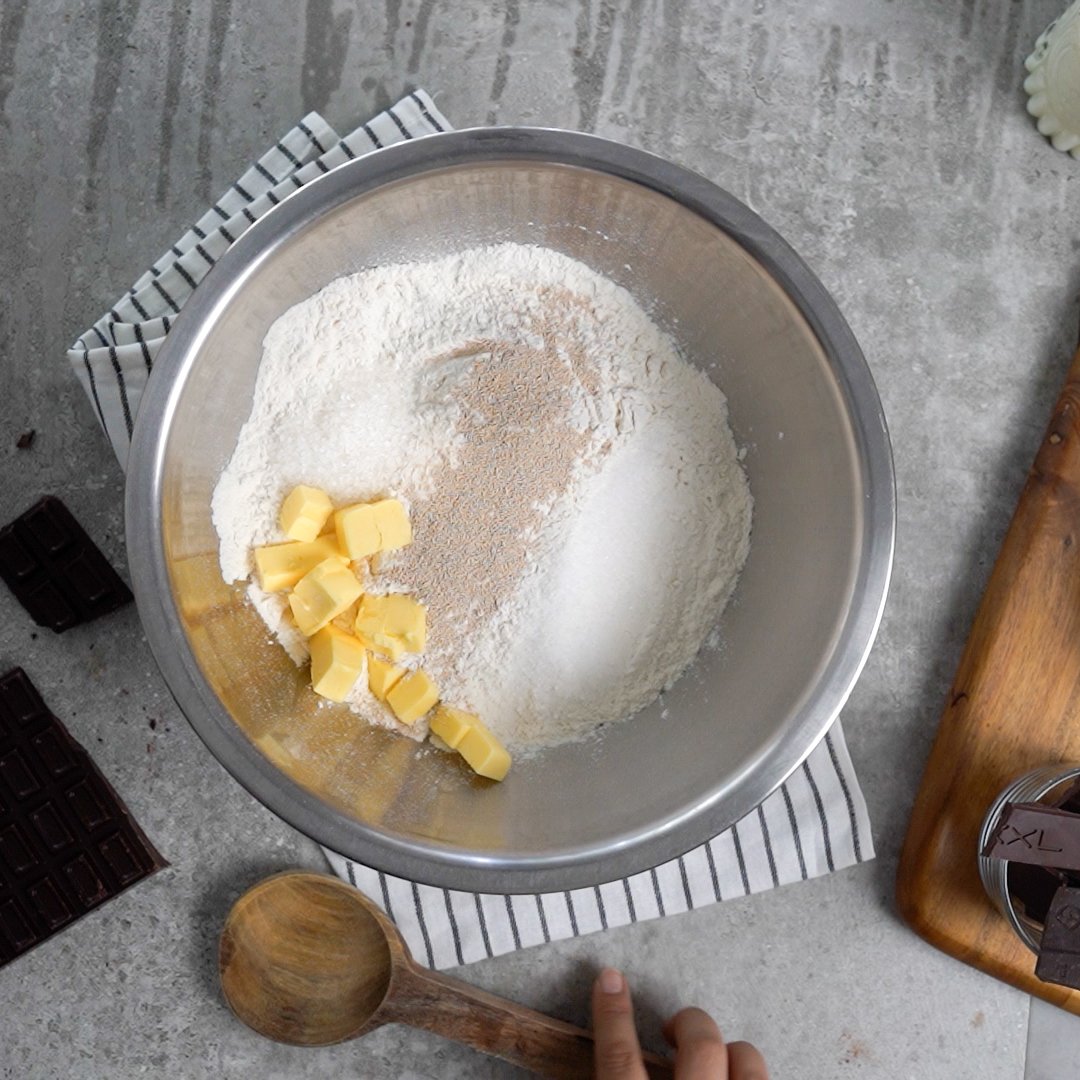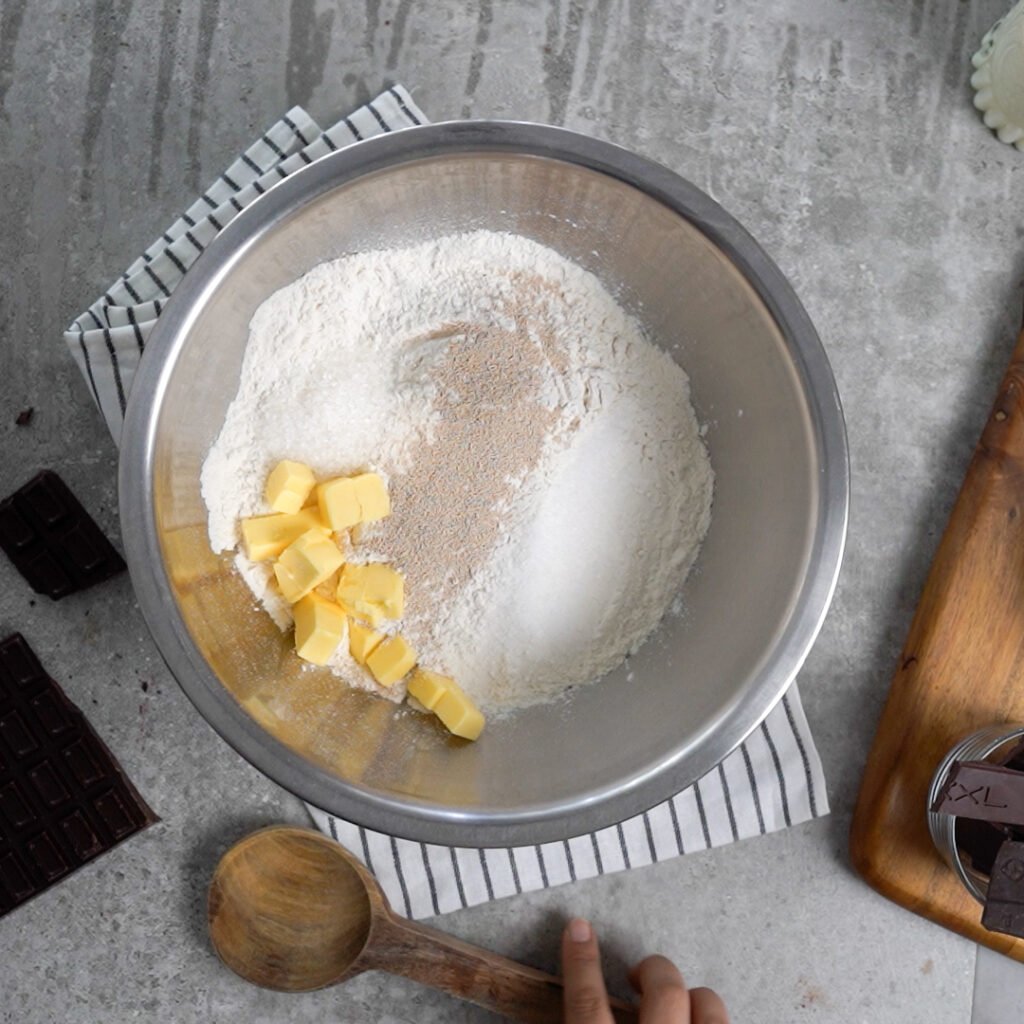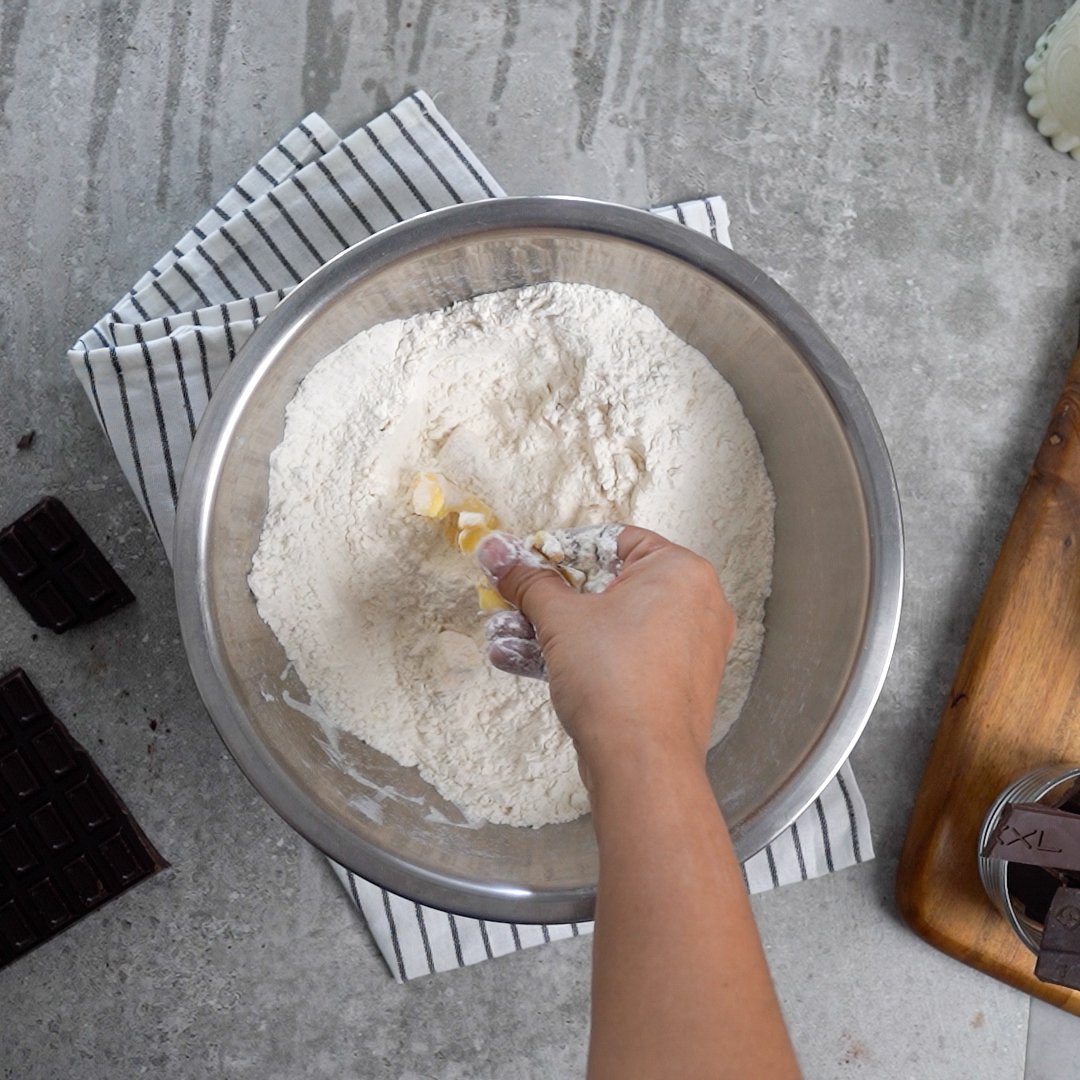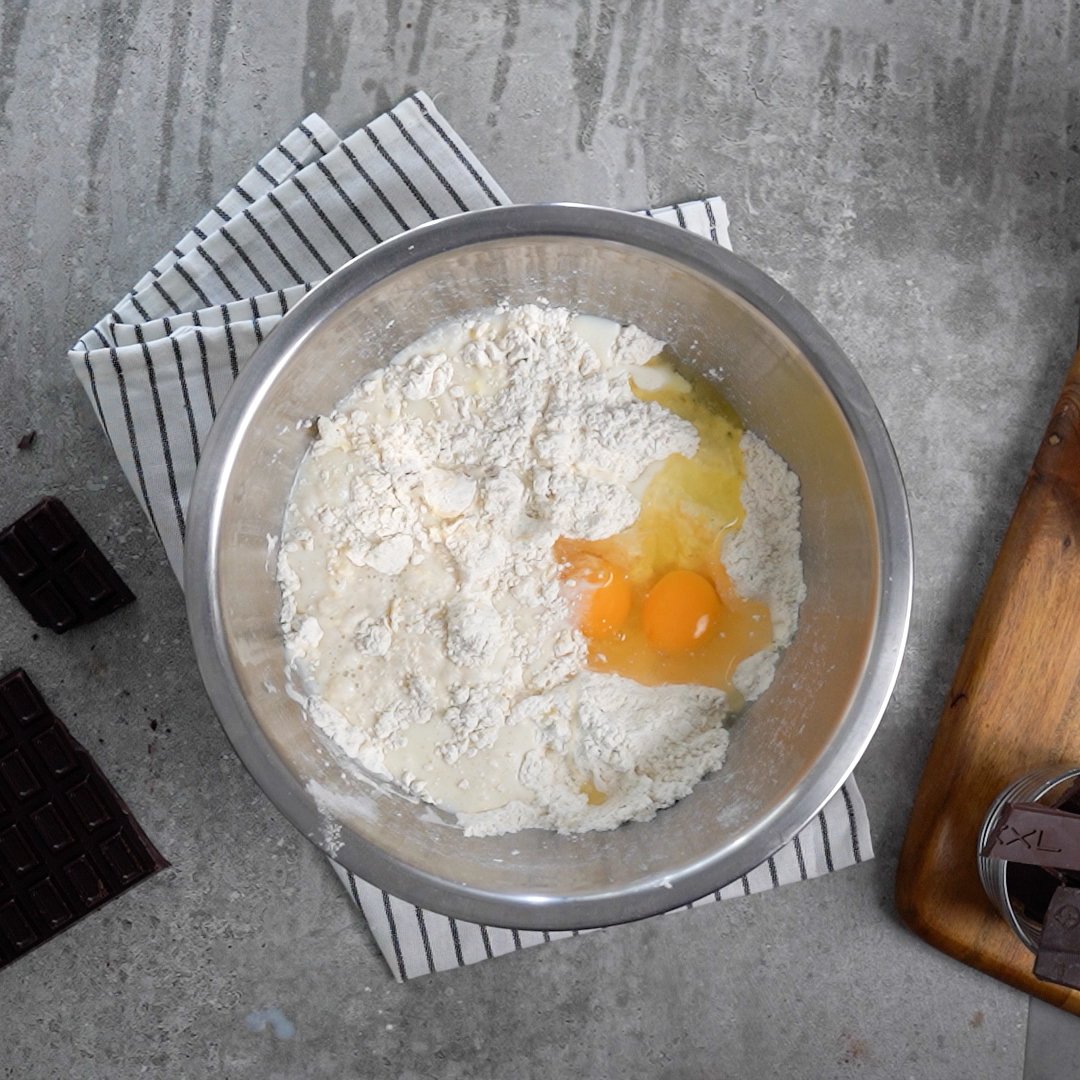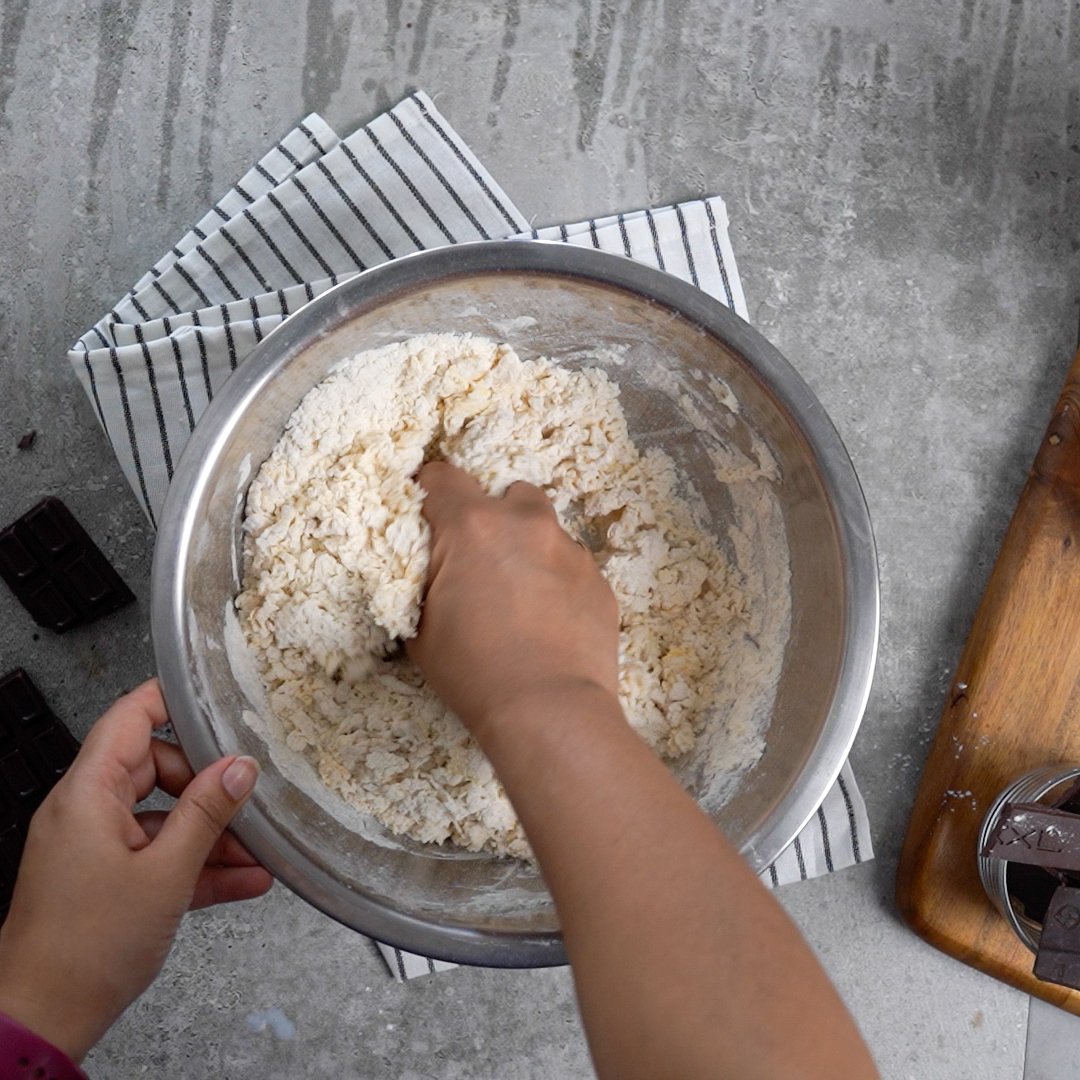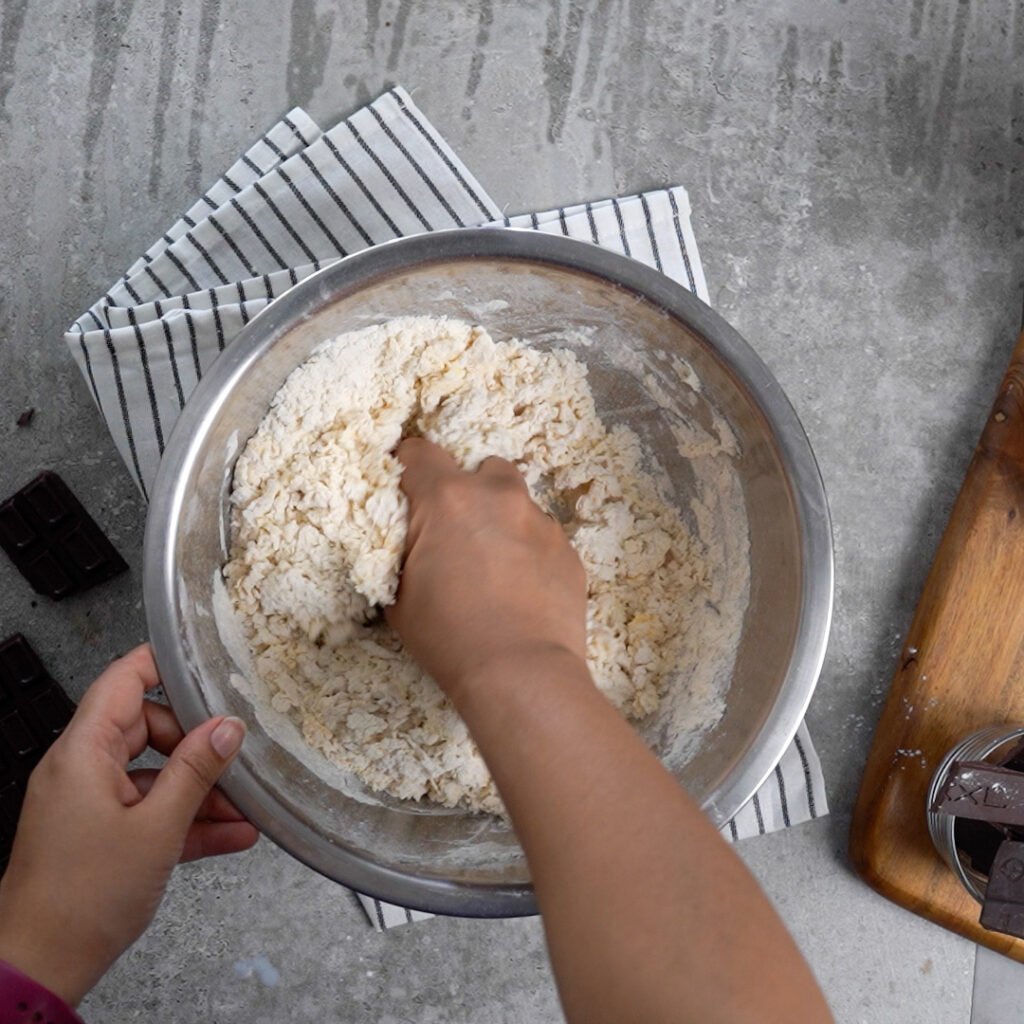 By hand
In a large bowl, add flour, yeast, salt and sugar.Mix it up with your hand.
Add cold butter cubes and pinch and rub the flour and butter to get a course clumpy consistency.This should take 1-2 minutes.
Add the eggs and half of the milk and mix it up together to get the dough. Add more milk little by little if the dough is dry.
If the dough is too sticky, add flour and if its too tough, add more milk.
The dough might feel sticky at first. It will become smoother the more you knead it.
Knead the dough for about 10-15 minutes, stretching and folding it again and again to develop Gluten.
When kneading by hand, you need to do it for longer because kneading by hands is a slower process.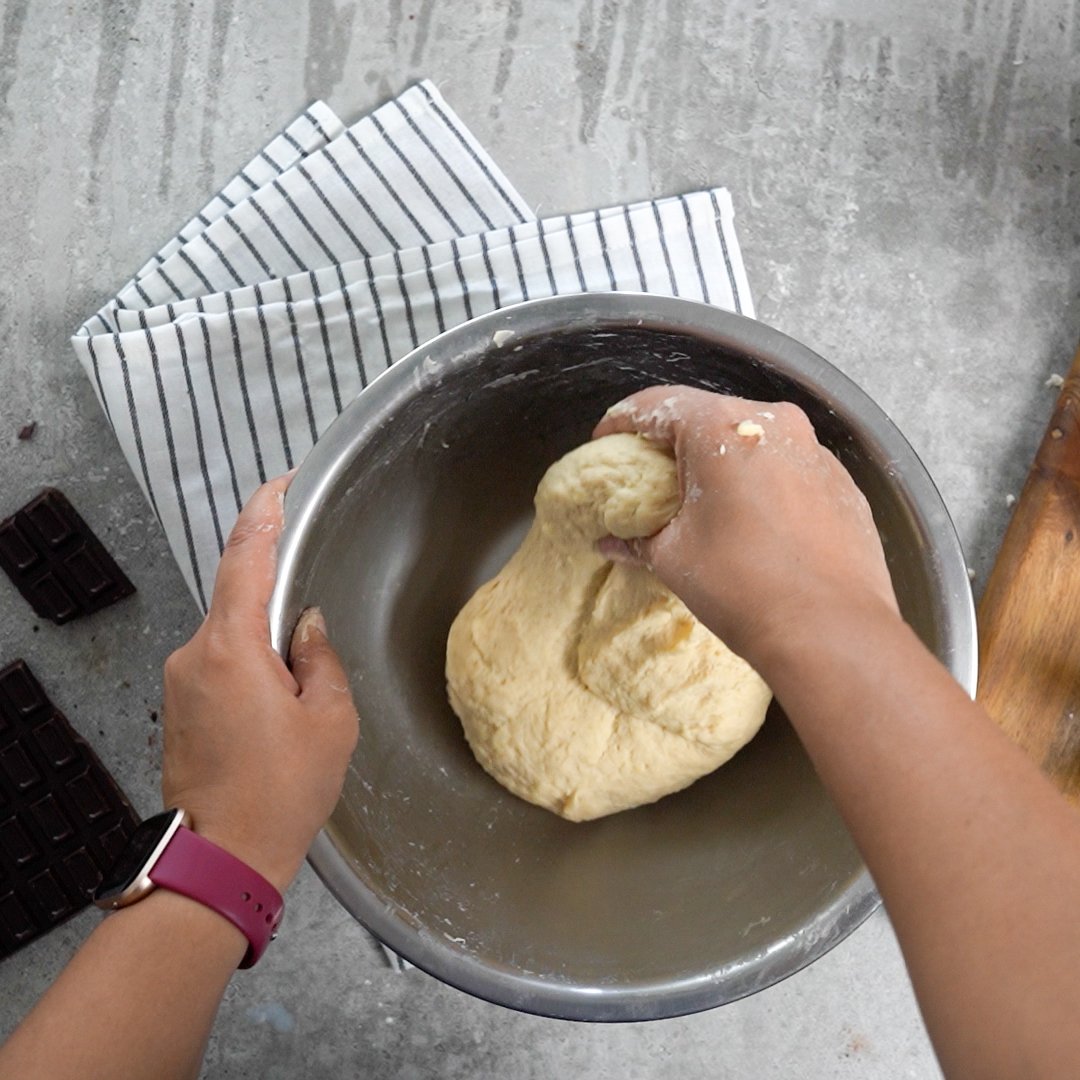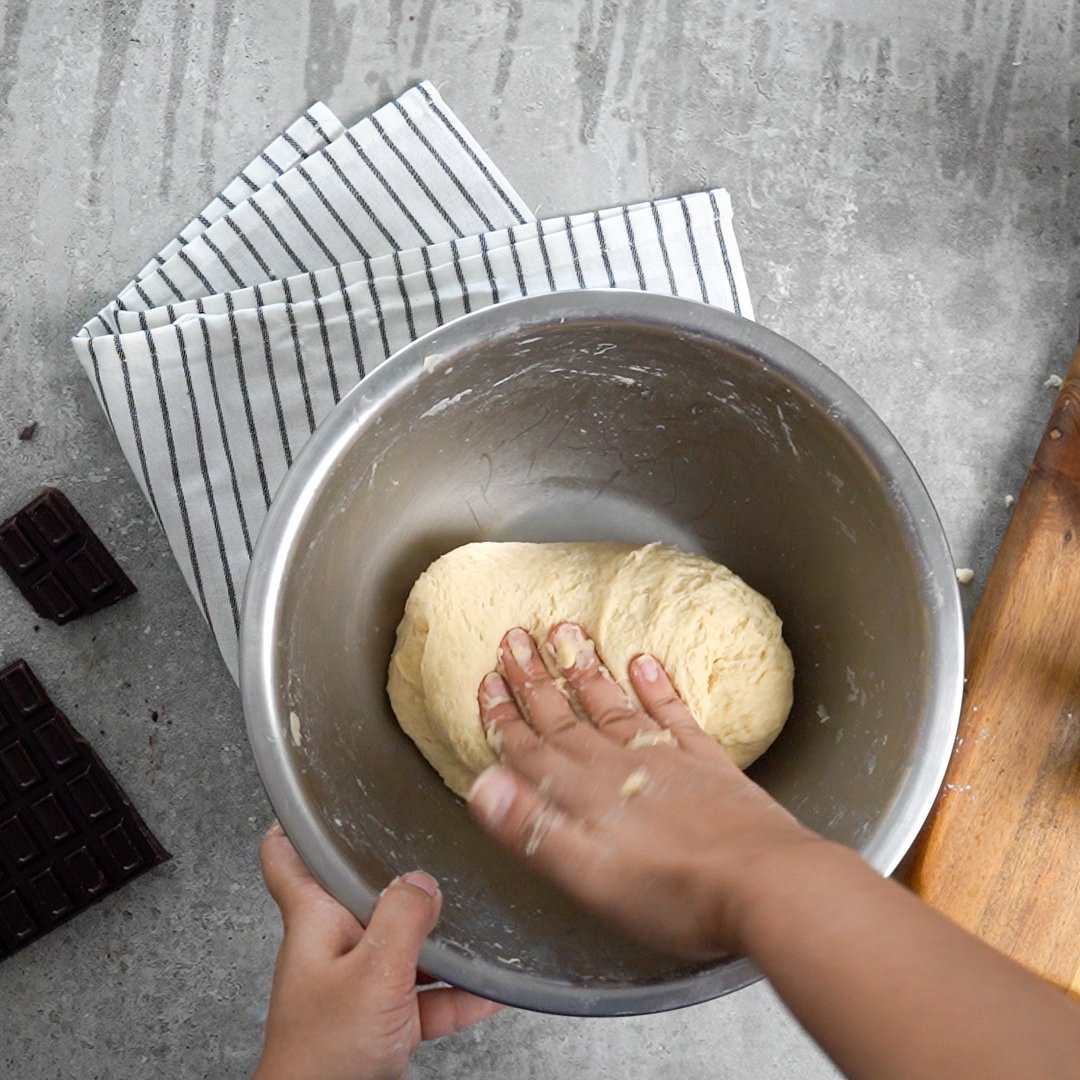 Step 2:Proofing the Dough or the first rise
Cover the dough with a damp cloth or cling film and keep it on the counter for 1-2 hours.Let the yeast do it's business, till it rises and doubles in size.
On a hot day this could take 1 hour or less.On a cold day, it could take upto 4 hours.To speed up the process, you can stick the covered dough in the instant pot in the "yogurt" setting.
Or you could just keep the dough in a warm water bath.
Make sure the dough is well covered, otherwise you will end up with some not to nice bits of dry dough.
If you aren't confident of kneading or just don't like it, then get the dough together and stick it in the refrigerator overnight. This will automatically develop gluten without a lot of kneading.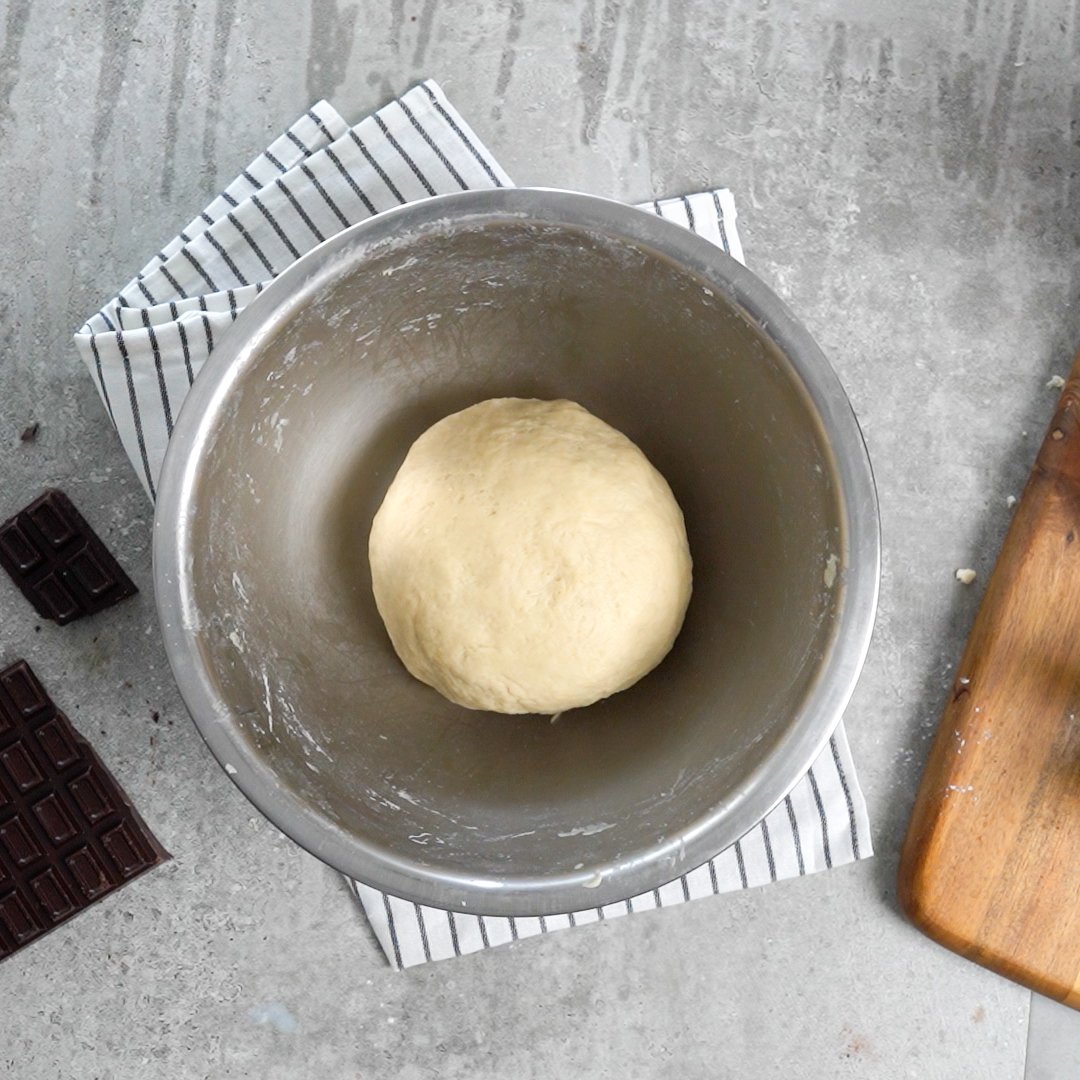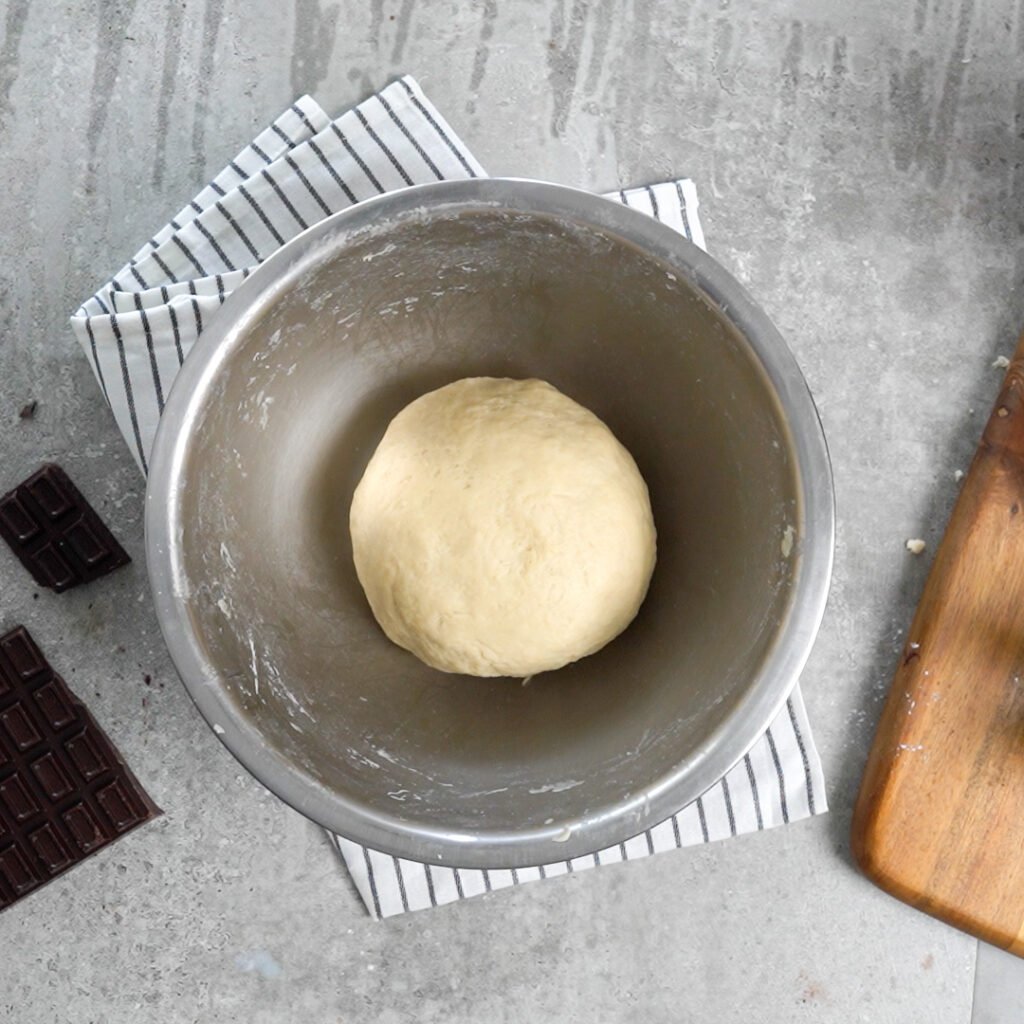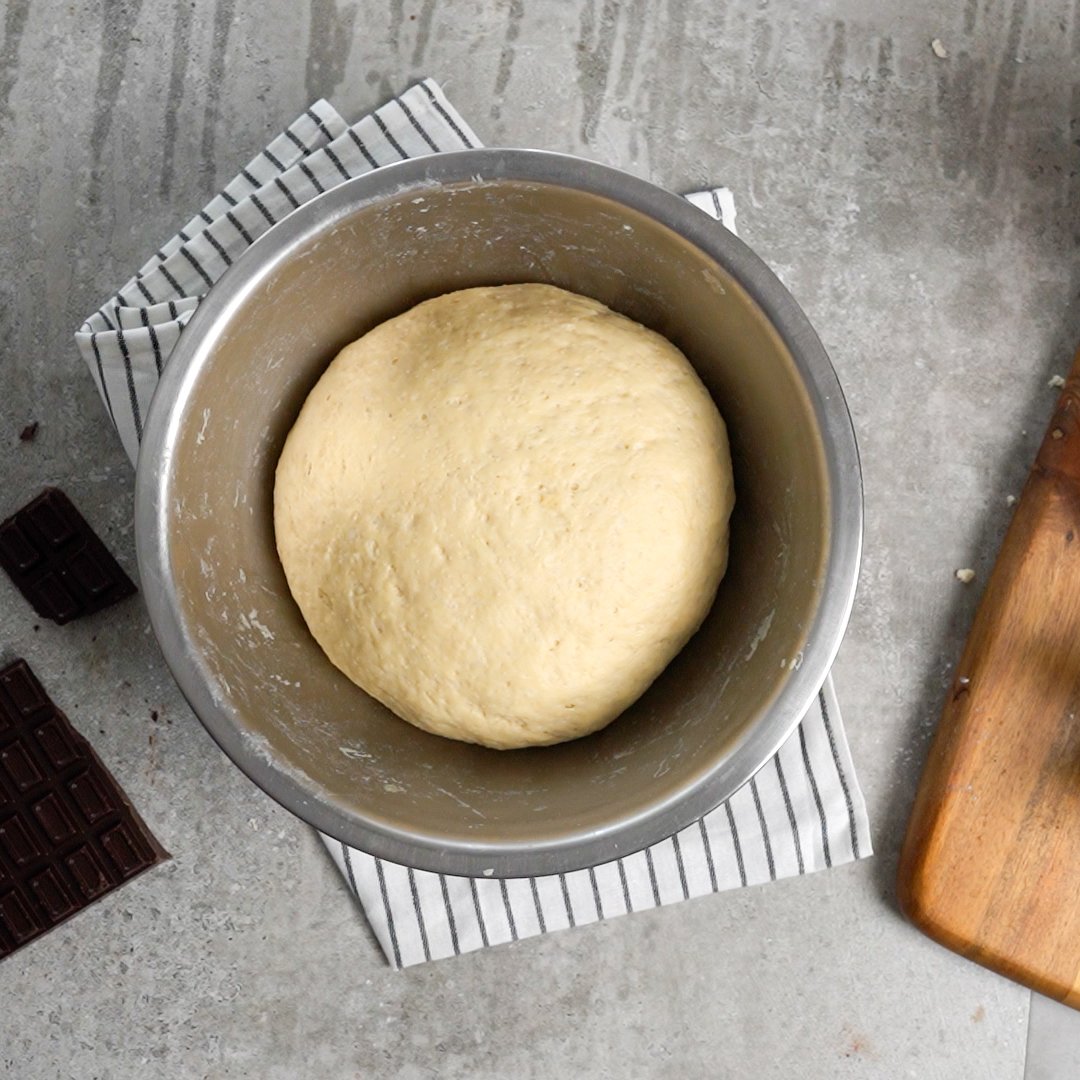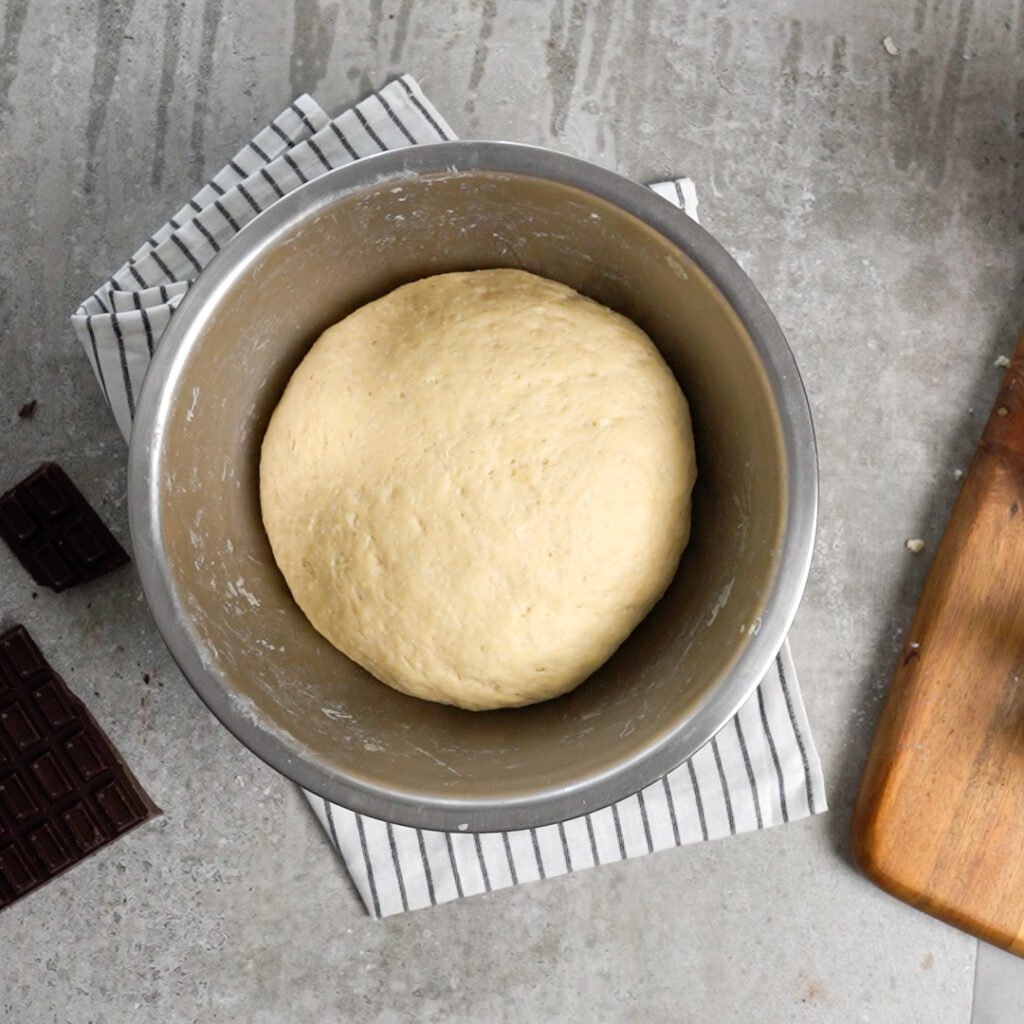 Step 3:Shaping the Bread
Divide the dough into 2 equal portions. You can make 2 babka breads with this amount.
Roll the dough on a floured surface into a large rectangle(or something resembling a rectangle).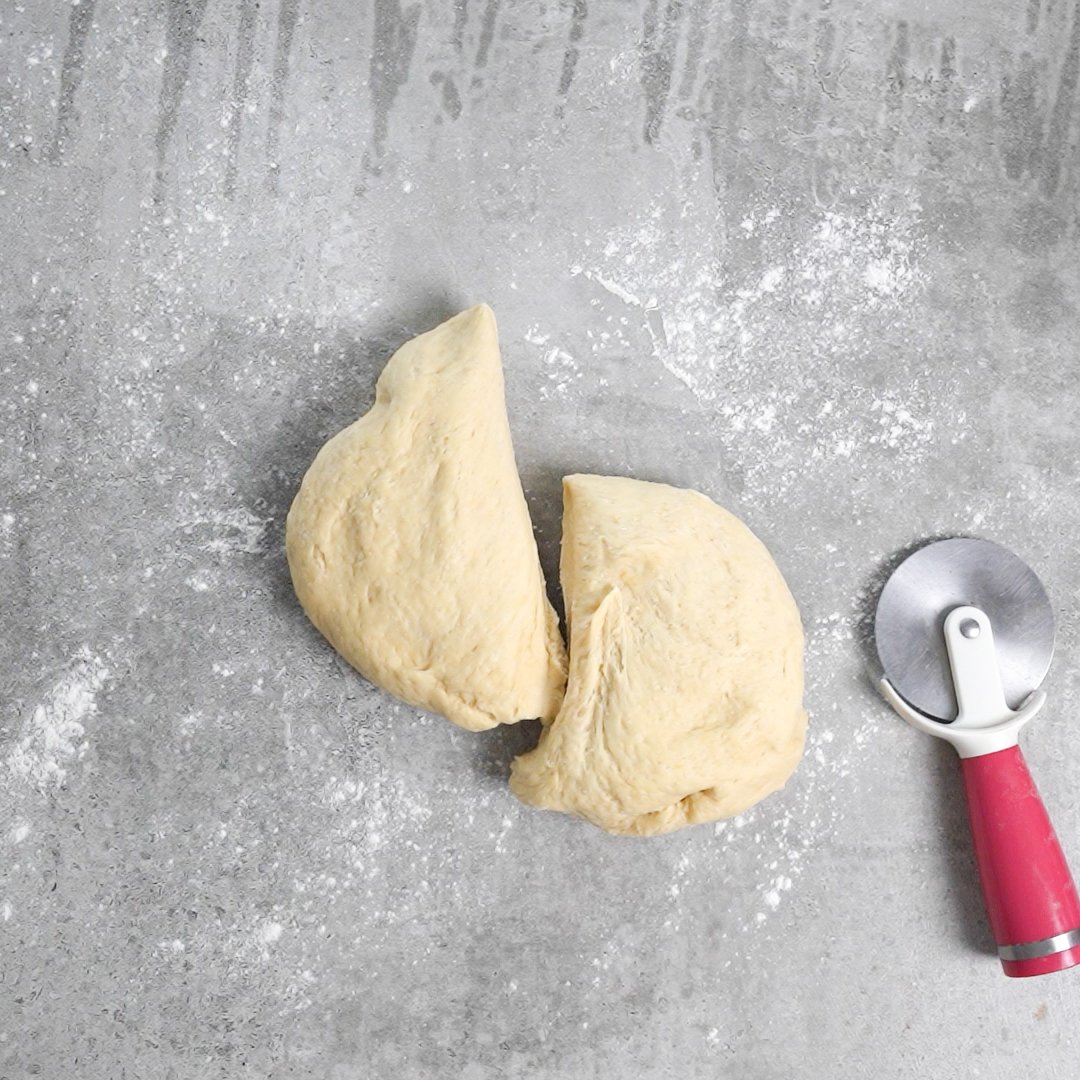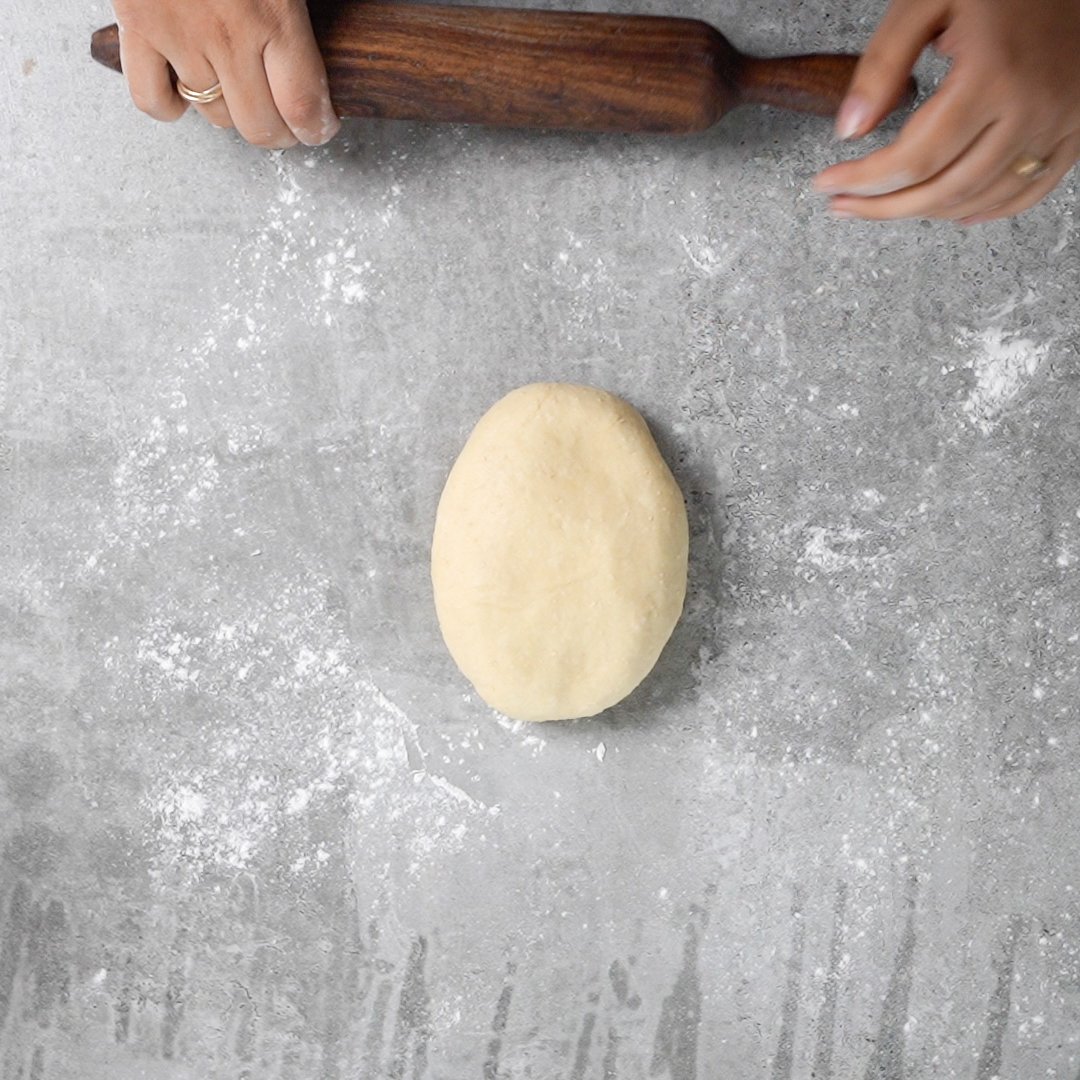 For the filling
This is simple, right out of the jar filling. Just scoop some nutella on the roleld dough and spread it with a butter knife.
You should leave about an inch space on the outside. This is done so that the seams can be sealed well.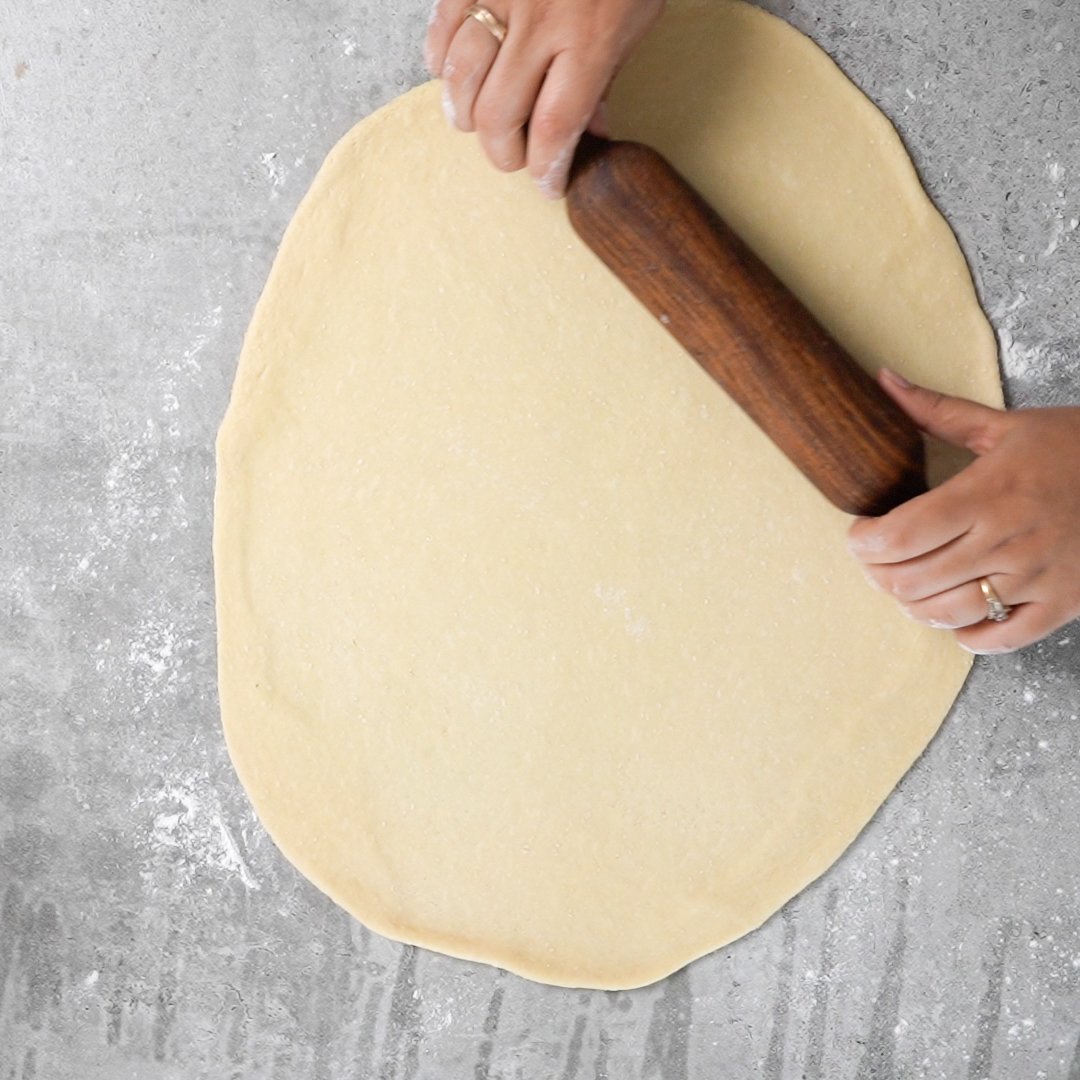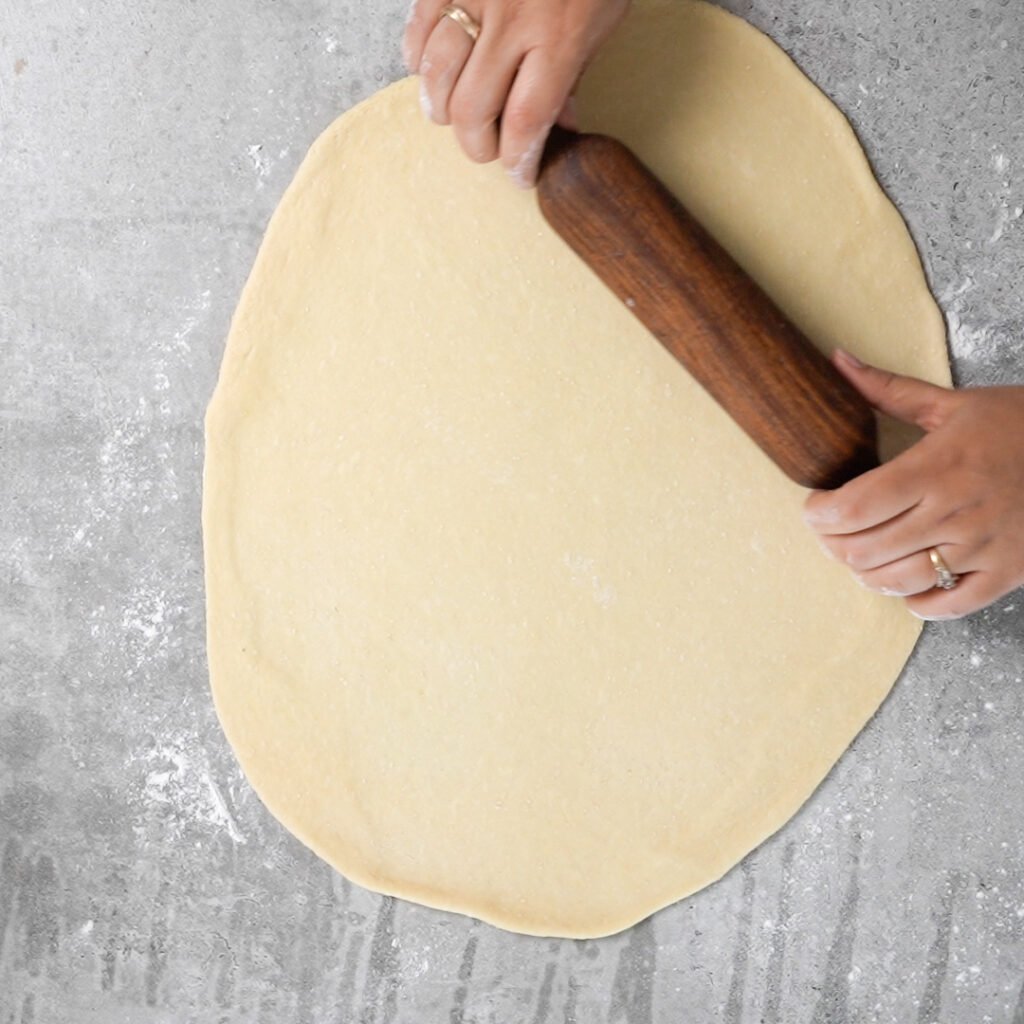 Shaping the Chocolate Brioche
2 Braided Loaves
Pick a side and gently Roll the dough into a log.
Press the seem and put the seam side down
Using a sharp knife or a pizza cutter, slice the dough along the length.
Pinch the ends together and braid it. Just go one side over the other alternatively.
Place it in the loaf pan or the cake pan you plan to use. Tuck the ends under.
Repeat for loaf 2.
Cover with cling film.
Even if it doesn't look great right now, it will look great in 1 hours time. After your second rise.I promise!
And it will look even more amazing once you bake it.
Trust me..this is a very forgiving recipe! As long as your yeast is good, you are good to go!
Step 4: Second Rise
After shaping, let the babka rise for the second time. This time it will fill up the loaf pan you have used.
Again, the amount of time it takes depends on how hot your kitchen is.I would say about 1-3 hours at 25 degrees Celsius.
If you are in a cold place, either use the instant pot or a warm bath to help rise the dough.
Preheat the oven at the end of one hour to 350 F or 180 Degree C.
Step 5:Bake
Place it in the middle rack and bake for 30-35 minutes till the tops are golden brown and a tooth pick inserted comes out clean.
Check around 20 minute mark and if you see the Nutella browning too much, cover the babka with foil and continue baking.
Step 6:
Meanwhile, add the sugar and water in a pan and heat it till the sugar dissolves and the syrup starts bubbling. This will take 10-12 minutes.
Once the babka comes out, brush with the syrup right away.Let it cool on a wire rack before cutting.
This syrup will make the babka shiny and keep it moist and also add to the taste.
How to Store & Freeze Babka
The babka will stay in the refrigerator for up to 5-7 days. I usually just leave it in the loaf pan i baked it in and cover it tightly with cling film or foil. To serve it, microwave the babka for 30 s to 1 minute.
You can also freeze the babka at various stages. You can freeze the dough if you like and use it another time.
You can also freeze the raw, shaped and fully baked babka in a tightly wrapped pan.
To bake it, just let it come to room temperature and then bake it as per the recipe instructions.
Tips & Tricks
Use the Slap and Fold Method- Flap the dough down on the counter & Fold. Do this a couple of times till the dough turns from sticky to smooth.
Sticky Dough - A sticky dough will become smoother when you knead it. Also, it will get better once you let it rise the first time.
Slow Ferment - Overnight Refrigerator Ferment will make your babka super soft. If you use this method for first rise, let the dough come to room temperature before rolling.
Cold dough will be super difficult to roll.
Switch up the filling - Add some Cinnamon and nutmeg for special holiday cheer. You can also add some sea salt, Orange or lemon zest too.
Here are some more Dessert recipes that you are going to love!

Chocolate Babka Recipe - using dark chopped chocolate
The best Chocolate Cake - perfect for birthday cakes
Japanese Cheesecake - My husbands fav! A recipe as old as our marriage!
Fresh Mango Cake
Classic Strawberry Buttercream Cake
No Bake Oreo Chocolate Tart

If you make this delicious Nutella babka recipe, do leave me a comment. I would love to hear from you!
Find us on Instagram , Pinterest & Facebook here!
If you liked my recipe, do leave a comment!
It will help others find this amazing recipe too!
---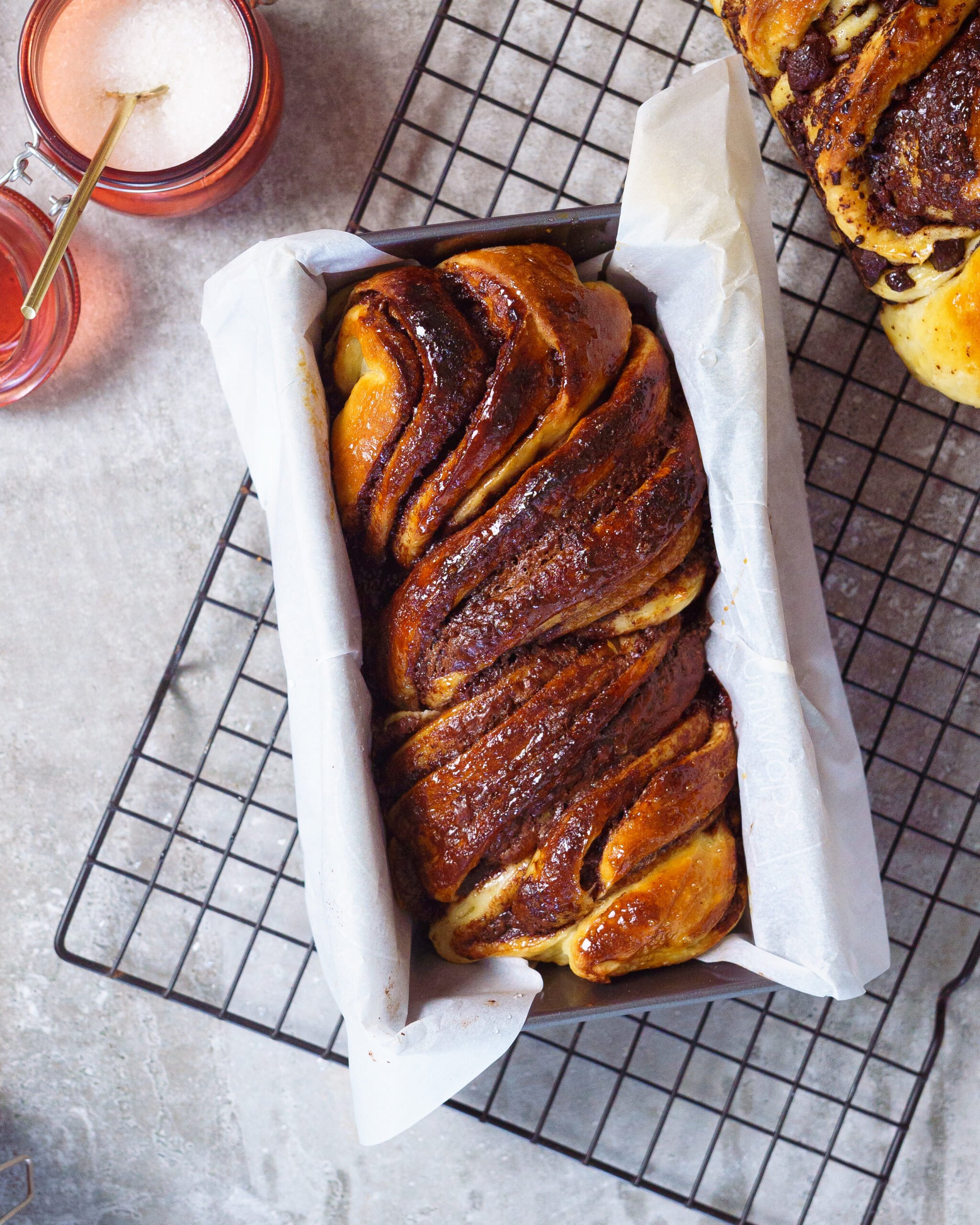 Ingredients
3 ½

Cups

All Purpose Flour

Refined White Flour or Maida(read notes)

2

teaspoon

Instant Active Yeast

2

teaspoon

Salt

Reduce if using Salted Butter

1

tablespoon

Sugar

2

tablespoon

Butter

Unsalted, Cold

2

Eggs

12

oz

Milk

1.5 cups; Lukewarm
Filling( for 2 babka loaves )
Syrup
2

oz

Water

¼ cup

2

oz

of Sugar

¼ Cup
Instructions
Kneading Using a Stand Mixer(Option 1)
Add the flour, yeast, salt, sugar and cold butter in the Stand Mixer/food processor/Aata maker

Pulse till the butter disintegrates and mixes with the flour.(but you should see the specks)

Trickle in the ¾ cup of milk . The dough should start to come together now. Process for 1 minute. If it seems to dry add 1 tablespoon of milk in increments till you get a soft dough.
Kneading with Hand(Option 2)
Mix in the flour, yeast,sugar and salt in a large sturdy bowl.Add the cold cubed butter.

Now pinch the butter with your index finger and thumb and mix it with the flour.Rub the butter in the flour till you don't have any big cubes of butter left but small clumps of it.

Add the eggs and ¾ cup milk. Start by mixing and wetting all the ingredients. Once the dough starts to come together , add more milk in 1 tablespoon increments if the dough is dry or if it's too wet add more flour.

Knead the dough well for about 10 minute. Stretch and fold..and Repeat.This is done to develop Gluten.If this step is omitted the bread will be chewy instead of pillowy.
Proofing the Bread
Use a large bowl for this step. It should be big enough to fit a triple amount of the dough.

The quick way is to keep the kneaded bread in a bowl, covered with wet kitchen towel for 2-4 hours.

The easier way is to keep the dough in a covered bowl(use cling film) in the fridge for 8-10 hours.
Rolling the Dough and last proof
If in the fridge,Take the dough out of the fridge and let it come to room temperature.

Knead the dough for 2 minutes to make it pliable.Divide it into two halves.

Make a Ball of the one halve and roll it into a rectangle.About ¼ inch thick.

Spread the Nutella in the rectangle by leaving 1 inch space. Be generous.

Optional step : Keep it in the fridge for 10 minutes to make it easier to cut.

Cut the log along it's length and then braid it. Take one over the other alternatively.

Tuck the ends under. Lift this into a prepared loaf pan lined with parchment paper. Cover again with cling film or damp kitchen towel.

Let it rise for another 30 min-1 hour.
Baking
Preheat the oven to 180 degrees Celsius or 356 F.

Bake the babka in the oven for about 35-40 minutes.

Bread is done if the skewer inserted comes in clean.Also when you knock on the back of the bread and it feels hollow.
Syrup
Make this ahead of time so that it can be brushed over the bread as soon as its out of the oven.

Heat the sugar and water in a sauce pan together till the sugar crystals dissolve and the syrup thickens.

Brush it generously over the babka for the beautiful glossy look.
Notes
All Purpose Flour-  Don't use whole wheat flour or any other substitution. The texture will not be the same.
Nutella - Feel free to use any other chocolate spread to make this babka too.
Nutrition
Serving:
1
Loaf
|
Calories:
1805
kcal
|
Carbohydrates:
280
g
|
Protein:
40
g
|
Fat:
57
g
|
Saturated Fat:
44
g
|
Trans Fat:
1
g
|
Cholesterol:
214
mg
|
Sodium:
2595
mg
|
Potassium:
1016
mg
|
Fiber:
12
g
|
Sugar:
104
g
|
Vitamin A:
866
IU
|
Calcium:
395
mg
|
Iron:
16
mg
If you liked the recipe, please leave us a rating
Follow me on Instagram
My handle is @yellowthyme