One Yogurt Dip that you need for Every party! It will go with almost any appetiser. All you need are 4 ingredients! ITS SO SO GOOD!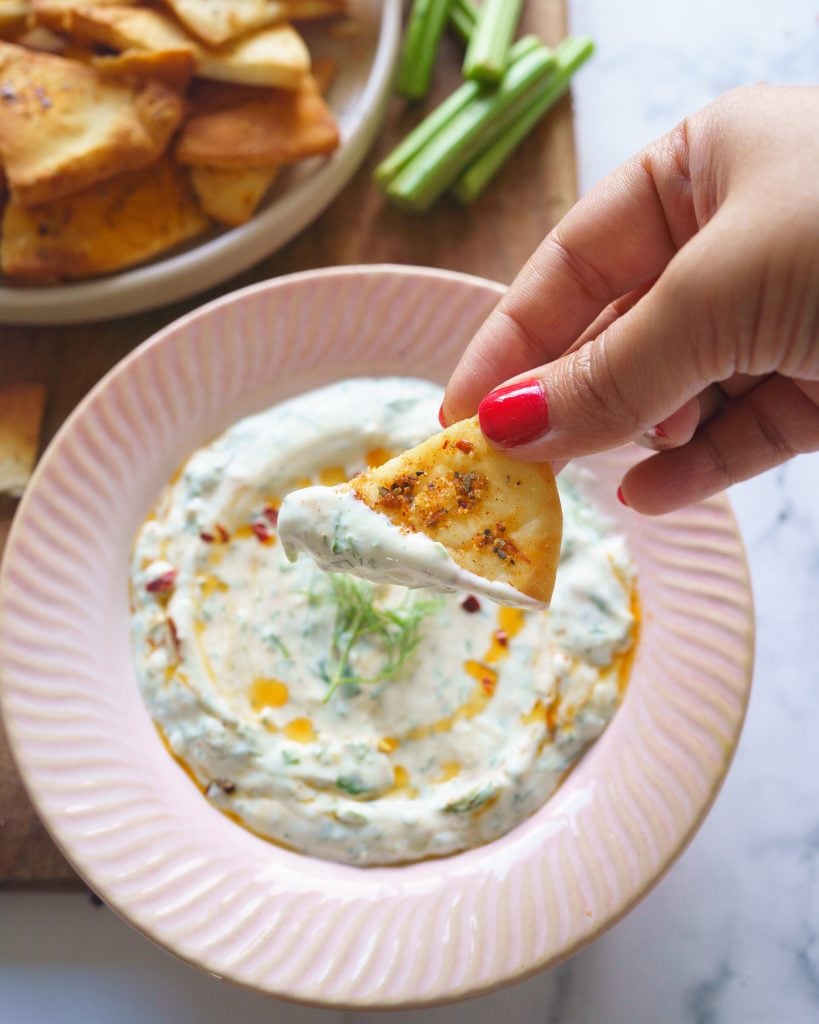 I have been making this one dip for every party for the past 11 years.
You can serve it with wings, indian appetisers,nachos, chips, carrot sticks..Really anything!
One dip for all my parties.Lately i have been serving this along with my Homemade Pita Chips. It's a great combination!
While planning my party menu, this is the first thing on my list-Every single time, and I am not exaggerating here, people have asked me for the recipe and I gladly tell them.
It's so simple that it's less of a recipe and more of an idea.You basically just chuck three things inside yogurt?
You would thinks, there is absolutely no way this works together but it just does. because it has the right balance of all things we crave- Salty,Sour,Umami with the freshness of coriander.
It gives a much needed relief and freshness to spicy appetizers and crunchy sides.
It's best to make this dip in advance.It tastes better once its been refrigerated for atleast 30 minutes.The garlic and coriander release their natural flavours into the yogurt.
You also have to try my Roasted olive loaded hummus and Red pepper Feta dip.
Ingredients
Dam da Dam..Here are my ingredients for the No secret Yogurt dipping sauce
Yogurt - Greek Yogurt or Hung Curd
Garlic - Finely Chopped
Cilantro/ Dill - one or both!
Salt
What kind of Yogurt should be used for this Yogurt Dip.
I prefer using store bought greek yogurt or the thick curd available in the market because they usually have very less water in them as compared to the homemade curd.
To use homemade curd for this dip, hang it in muslin cloth for 1-2 hours to reduce the water content, to make the dip creamy.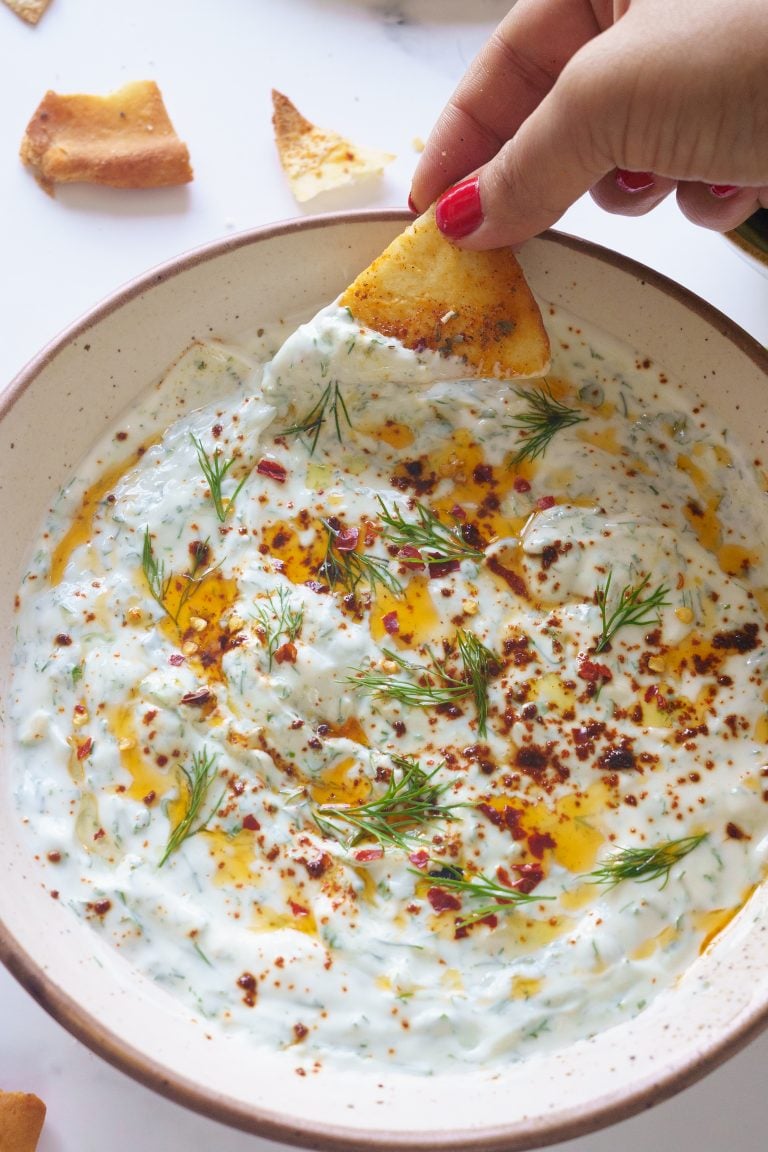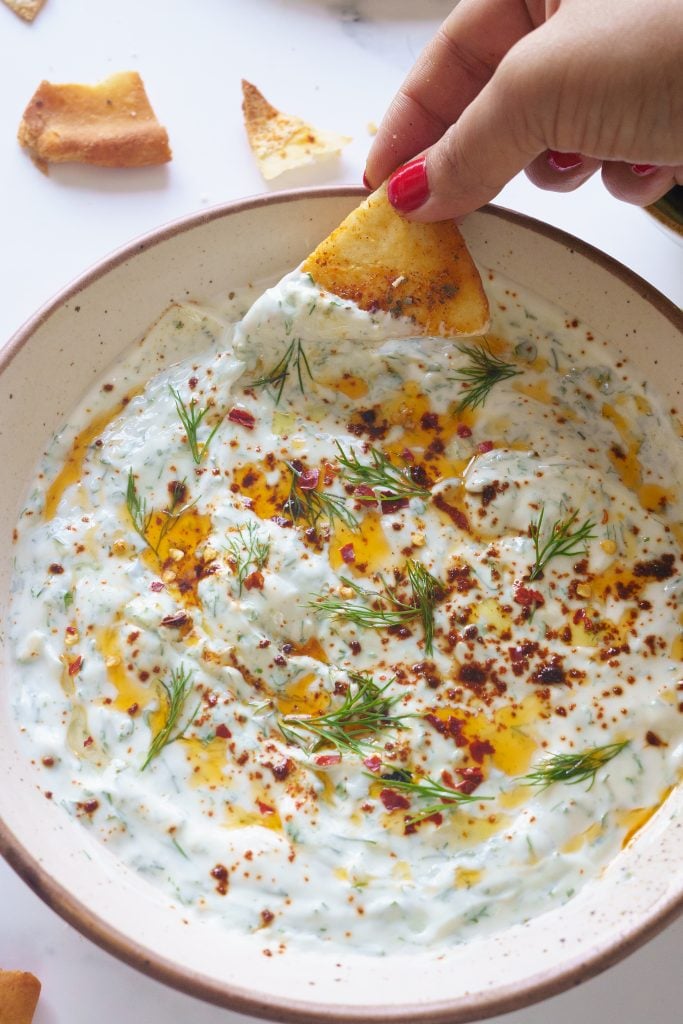 How to make Garlic Yogurt Dip
The trick here is to let the garlic steep into the yogurt.This is one dish that you should try and make in advance.Ideally, make this the day before and refrigerate.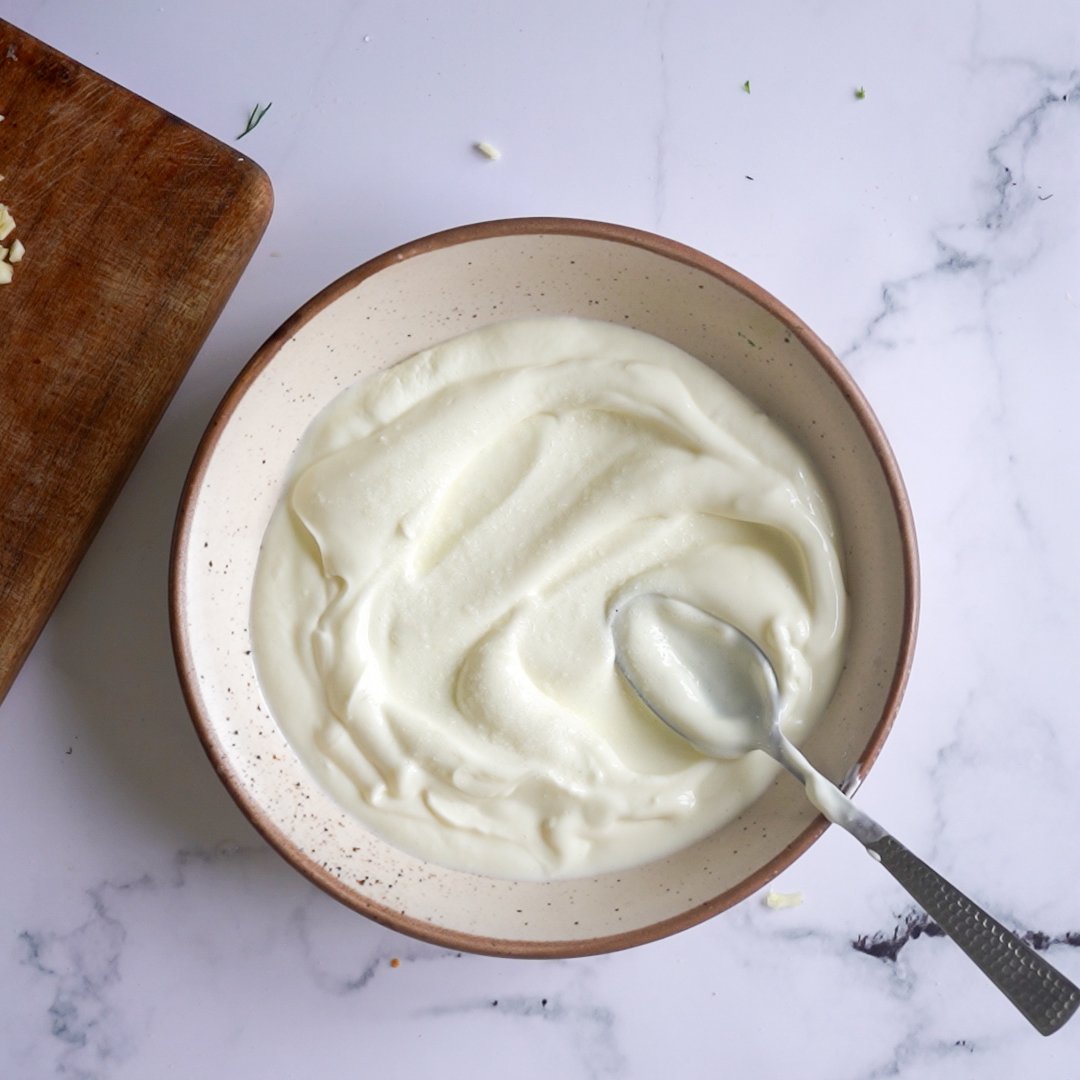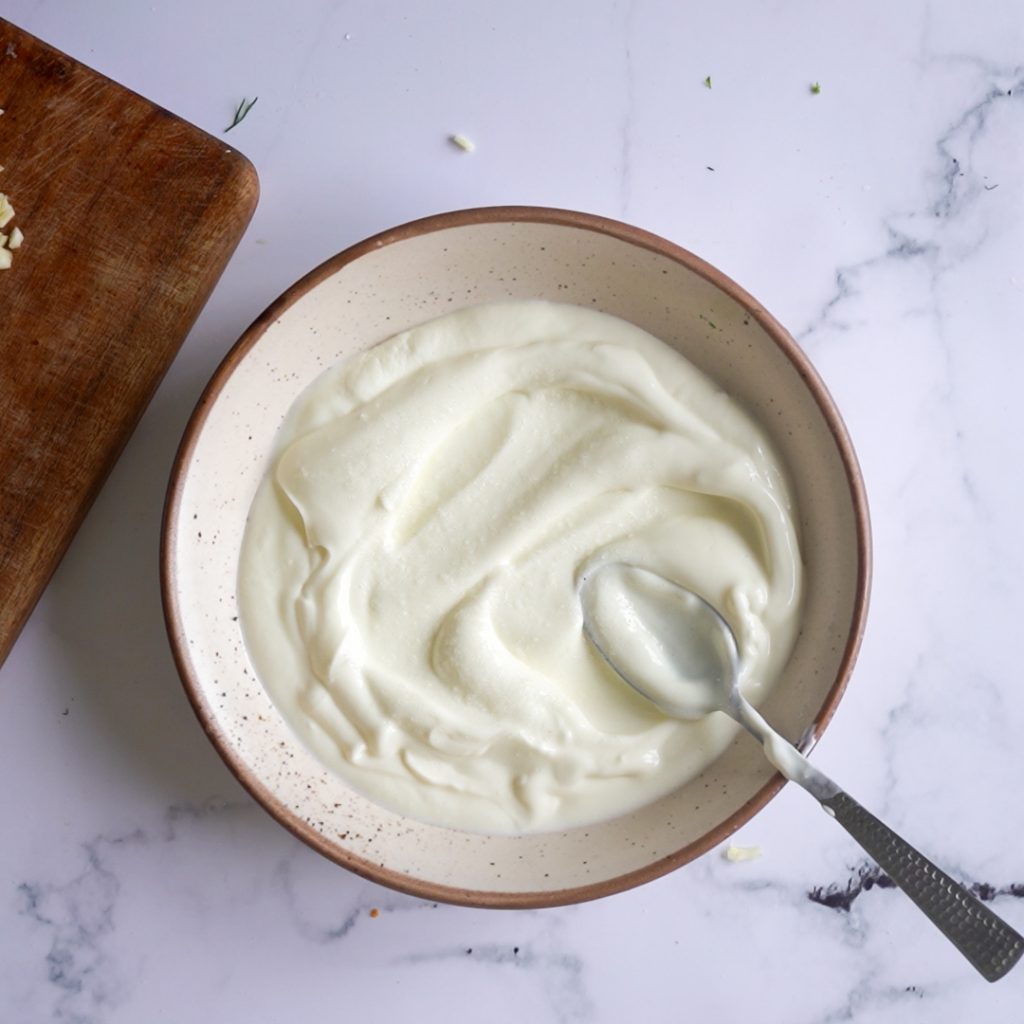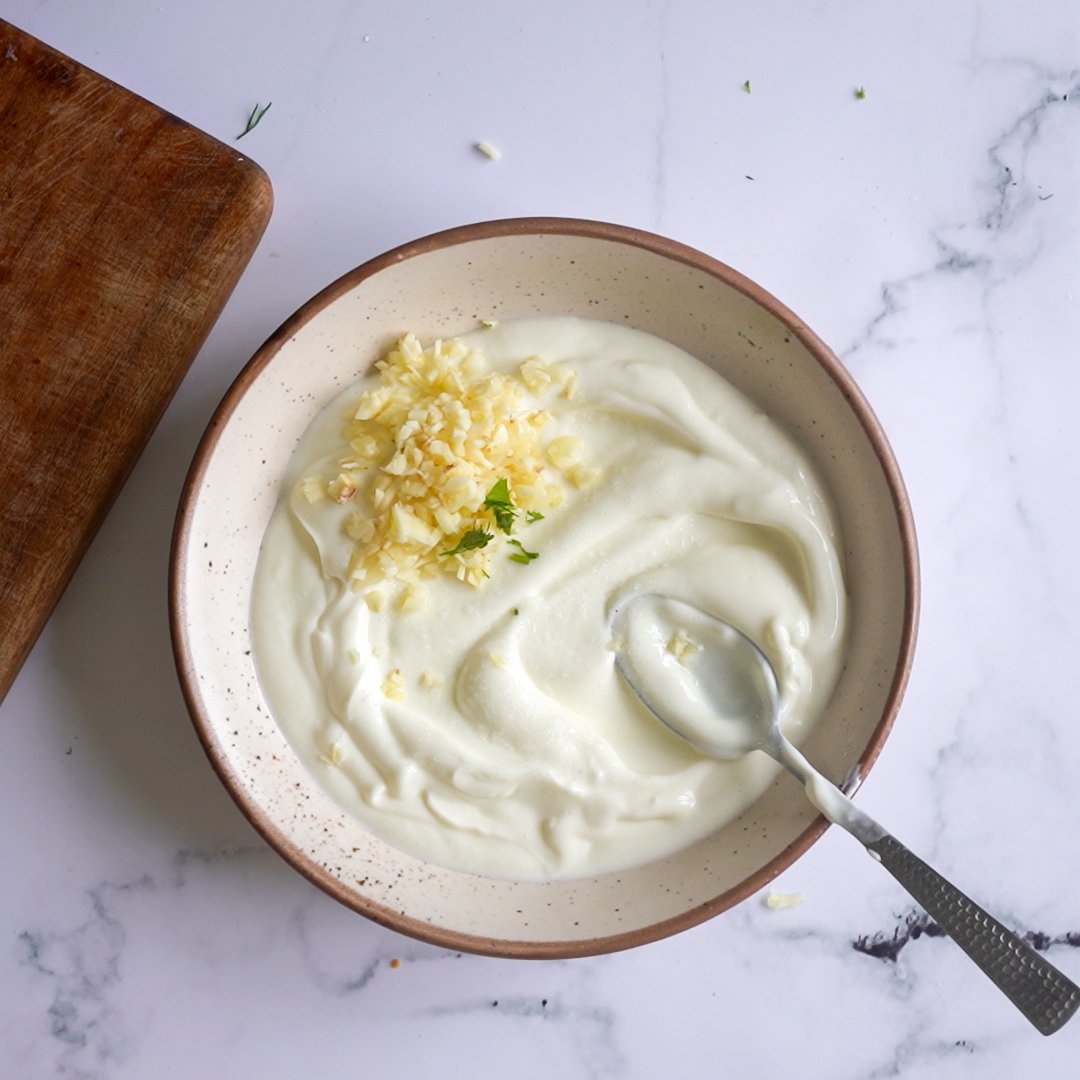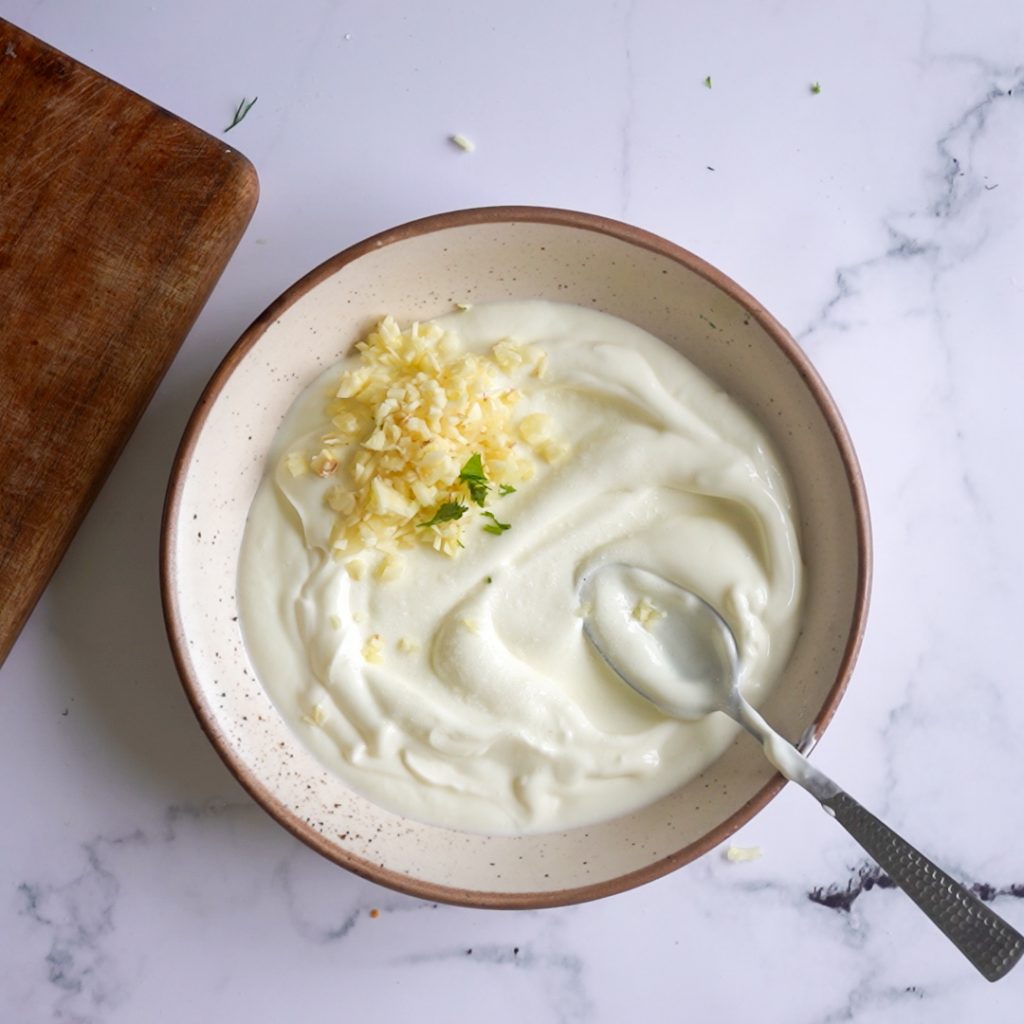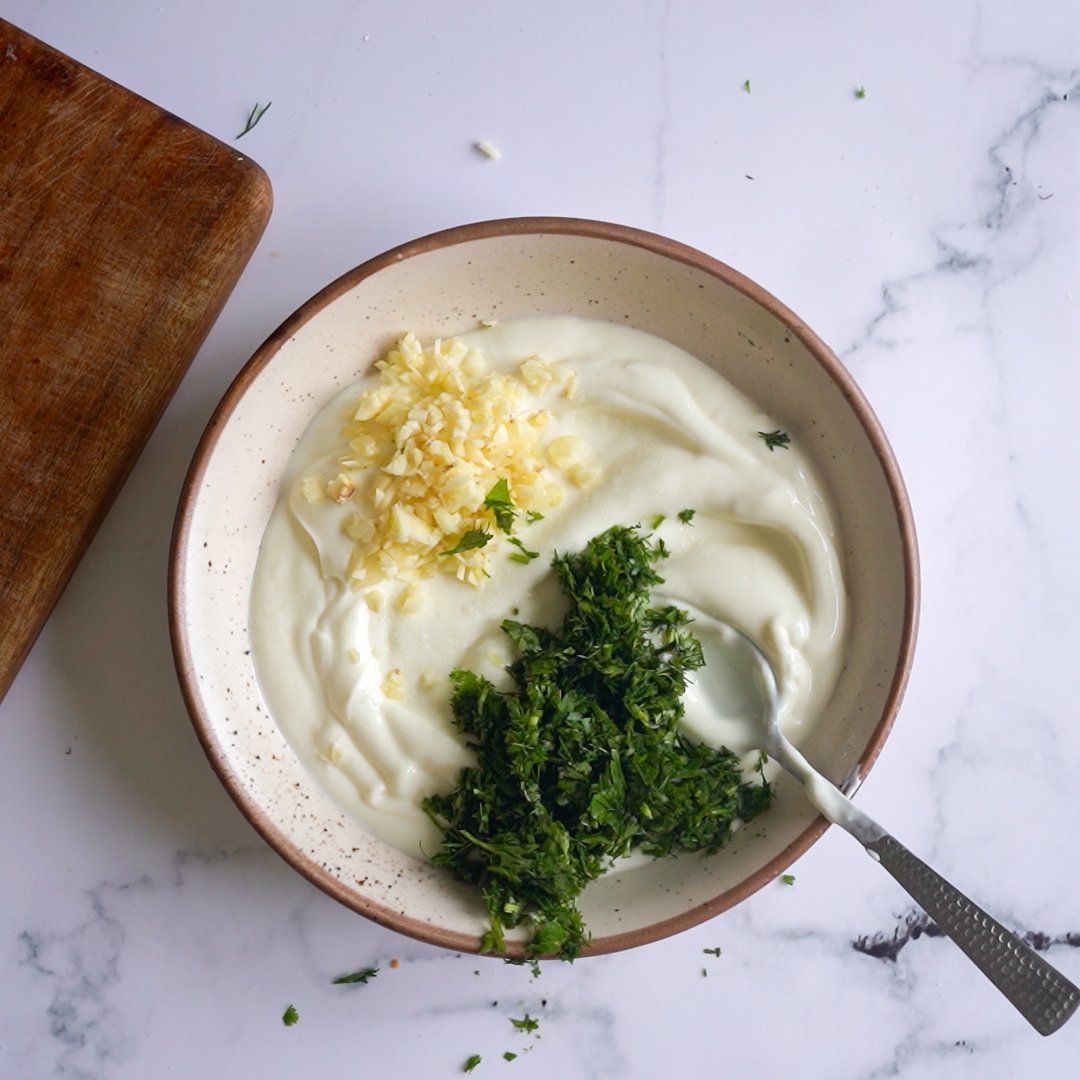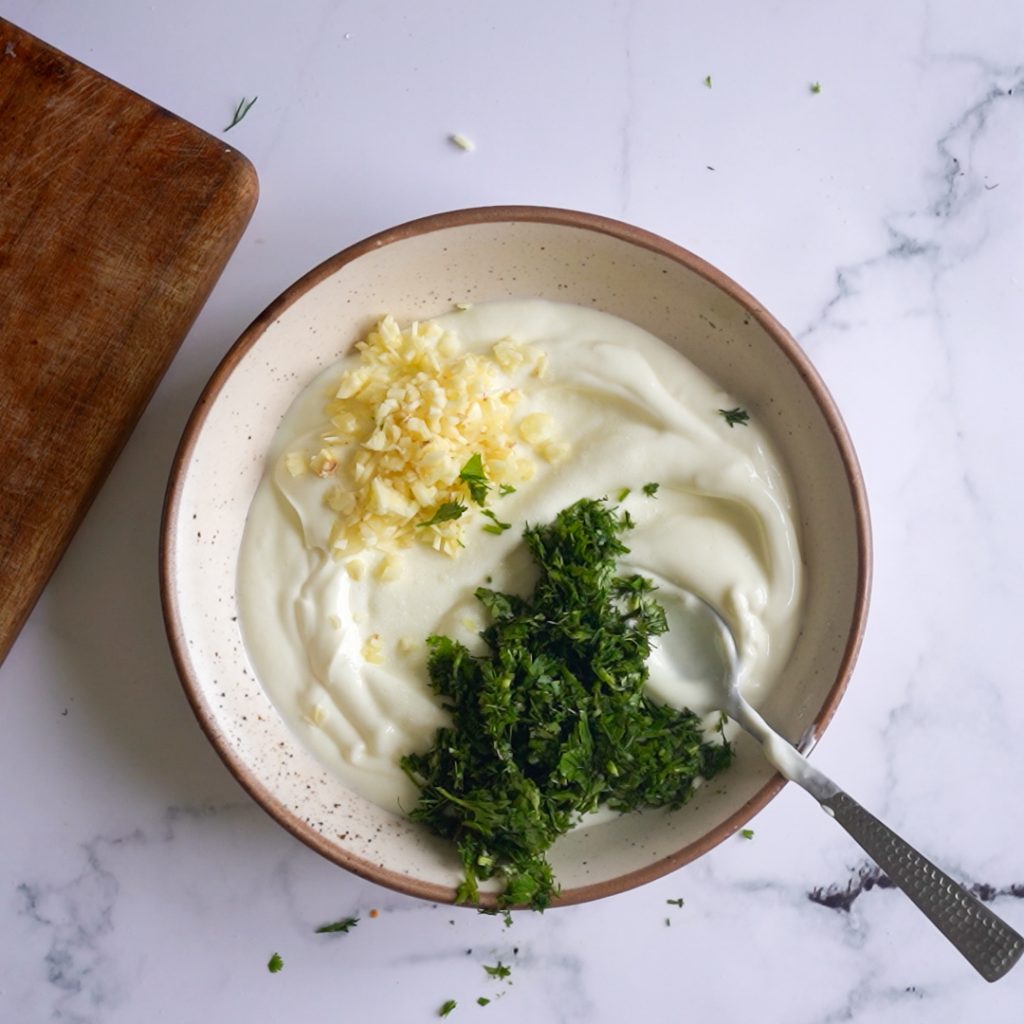 Prep
Chop up the herbs and garlic into the smallest pieces you can.Don't be tempted to use the blender.The uneveness of the herbs and garlic give it a great texture.
Mix
Add them to the yogurt and give it a mix.Season with salt.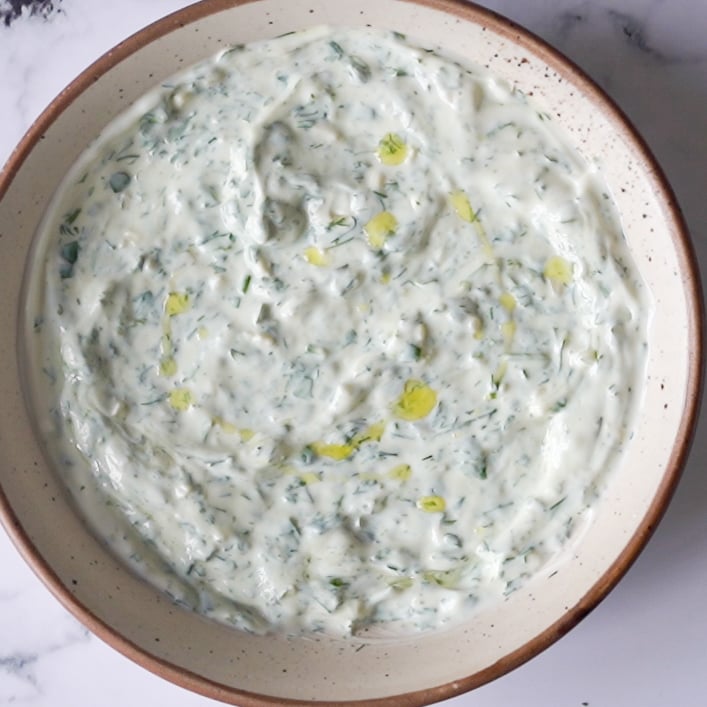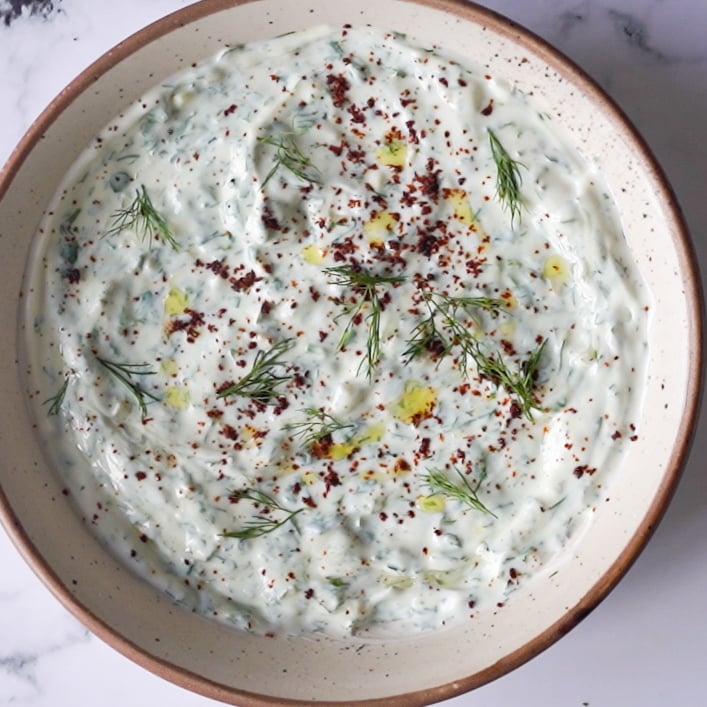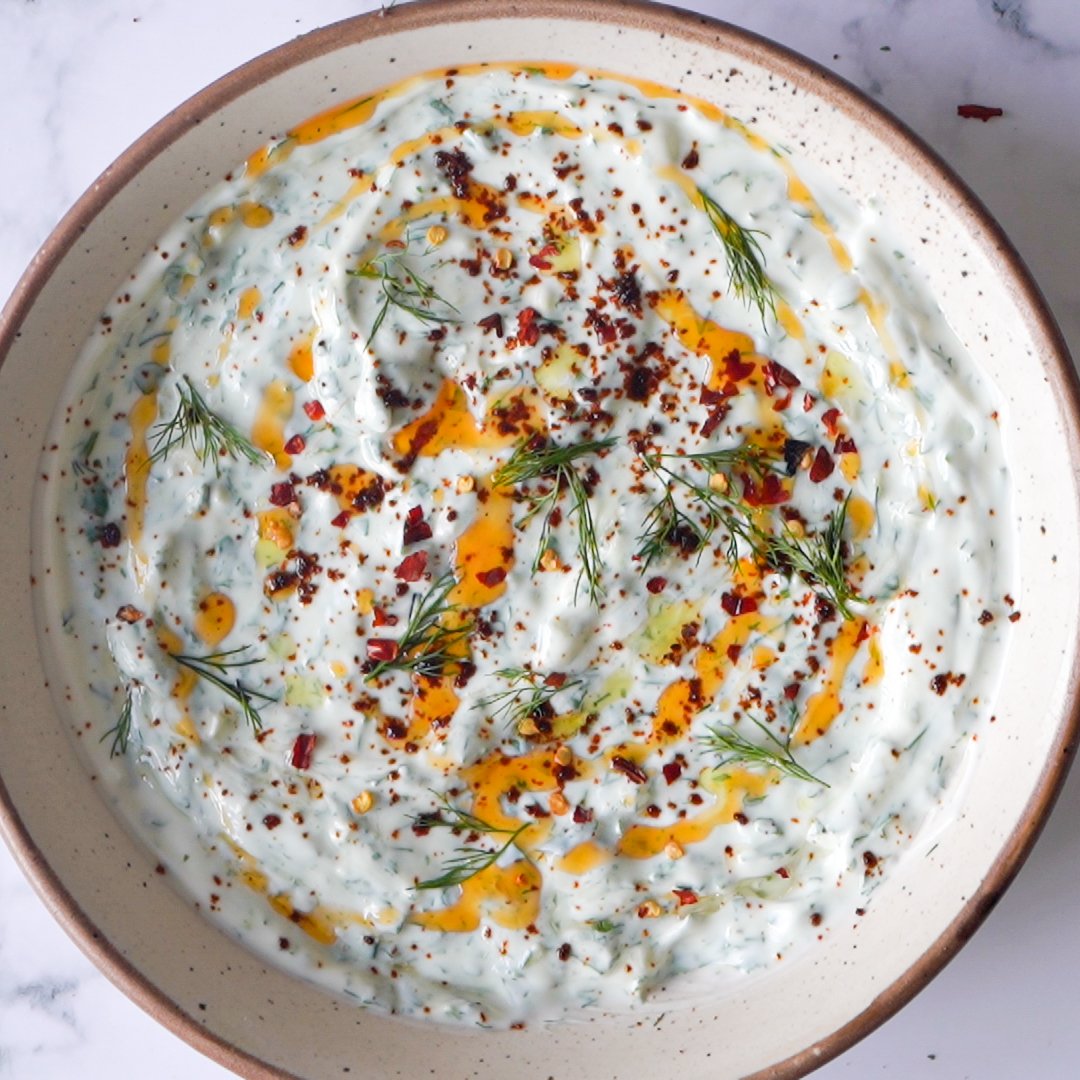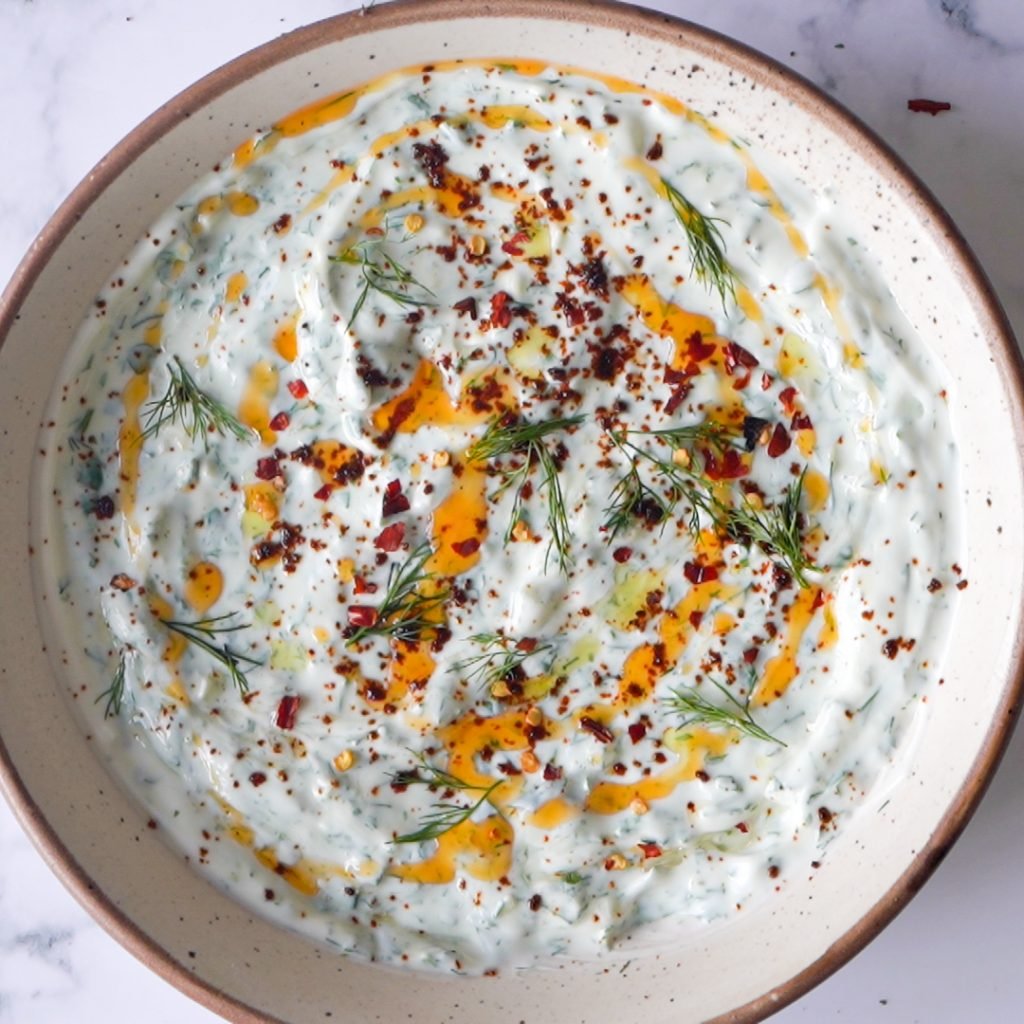 Toppings
By itself, the dip doesnt need anything to enhance it's taste.It does benefit from some toppings to make it look good.
I usually go with one or all of the following
Olive Oil
Sesame Seeds- Black
Chilli Flakes
Chilli Oil
Sliced Olives
Roasted Olives/Tomatoes /Olives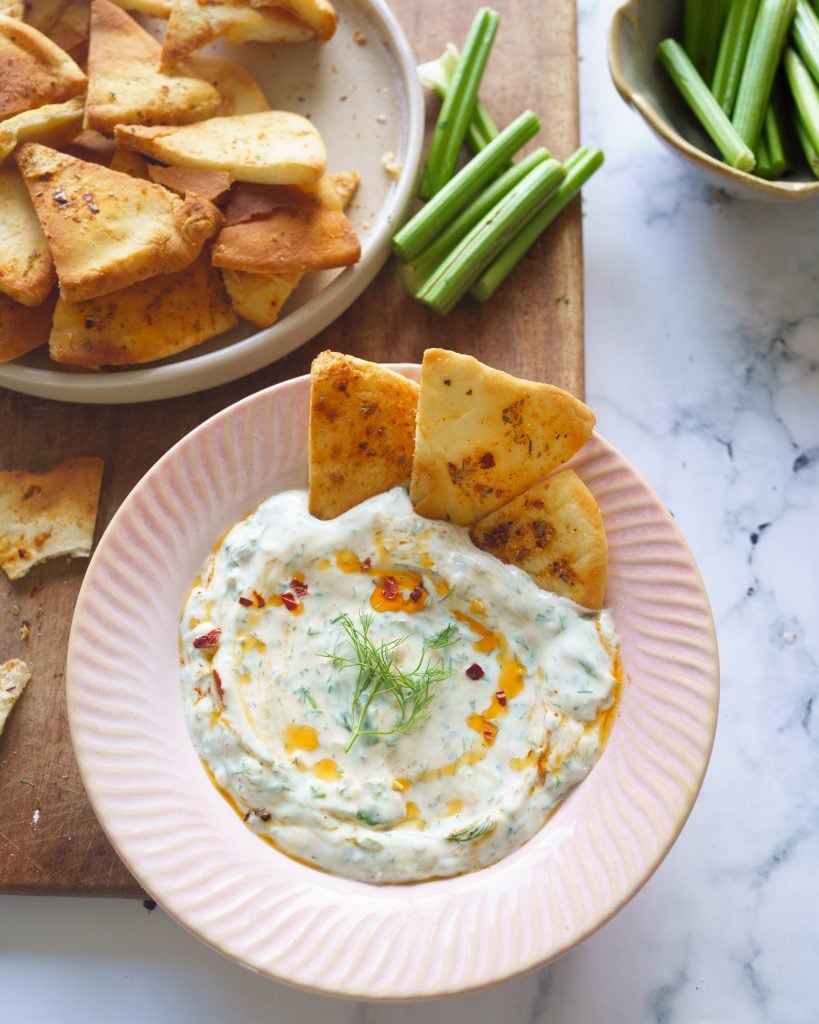 Substitutes
This dip is vegetarian and gluten free.
Vegan- To make this dip vegan, substitute greek yogurt with coconut or soy yogurt.
Paleo/Whole 30 approved - Substitute the yogurt with coconut yogurt.
Variations
Every culture has a variation of this dip to spread on their flatbreads, spoon on kebabs and tame the curries.
One of my friends ,adds Italian seasoning to this dip instead of coriander and she swears by it.
You can make your own version by adding any combination of fresh or dried herbs.
Here are some ideas that have worked for me
Dried Herbs and Italian Seasoning
Zaatar
Roasted tomatoes/Grapes
Caramalised Onions
The Greek Tzatziki & Iranian Maast O Khiaar
A very famous Greek variation of this dip is Tzatziki. You can make that version by adding grated cucumber and replacing coriander with dill.The exact same dish is called Mast O Khiaar in Iran.
The Lebanese Labneh
This is a Lebanese Cheese which is basically strained, hung yogurt.There are a lot of famous versions of this.Some of my favourite twits of labneh are-Herb Labneh with Preserved Lemons & Roasted Red Pepper Labneh.
Storage & Leftovers
You can easily prepare this dip in advance.In fact I suggest you make it atleast 2-3 hours before serving so that the garlic is infused well.And it's refrigerated.
You can store this dip in an air tight container for upto 4-5 days.Till your yogurt stays fine.
After parties, if I have some of this left, we just eat it with parathas.
Serving
I have served this dip for Thanksgiving dinners,Poker Nights,Diwali parties, Barbecue parties..You name it! Since I started making this ,there hasn't been a single gathering or a party where I have not made this
The simplest way to serve this is with storebough nachos or Pita Chips or maybe with veggies like carrots,cucumbers, celery.
I have served this dip up with breads, nachos, chips, chicken wings, french fries, indian chicken keema sliders,naans...Barbecues...you name it!
When i am entertaining, i like to mix it up with some easy healthy options. I usually make a giant platter.Here is what i include
Garlic Yogurt Dip
Carrot, cucumber and celery Sticks
Store bought chips and Nachos - Some healthy..some not.
Nuts- Peanuts and Cashews
Finger Fruits- Cut strawberries or Grapes
This makes a giant platter.It's a great filler for everyone.Including kids!
Besides the usual party dip, it can also be drizzled on falafels, eaten with parathas or rice.It can also act like a yogurt sauce or raita to indian food.
Here are some more Appetisers for you
Air Frying Peanuts
Air Fryer Buffalo Shrimp
Roasted Makhana
Air Fryer Buffalo Shrimp
Air Fryer Stuffed Peppers
Air Fryer BBQ Chicken Wings-(Extra Crispy)


Please let me know how your dip turns out in the comments! I love hearing from you.
Find us on Instagram , Pinterest & Facebook here!
If you liked my recipe, do leave a comment!
It will help others find this amazing recipe too!
---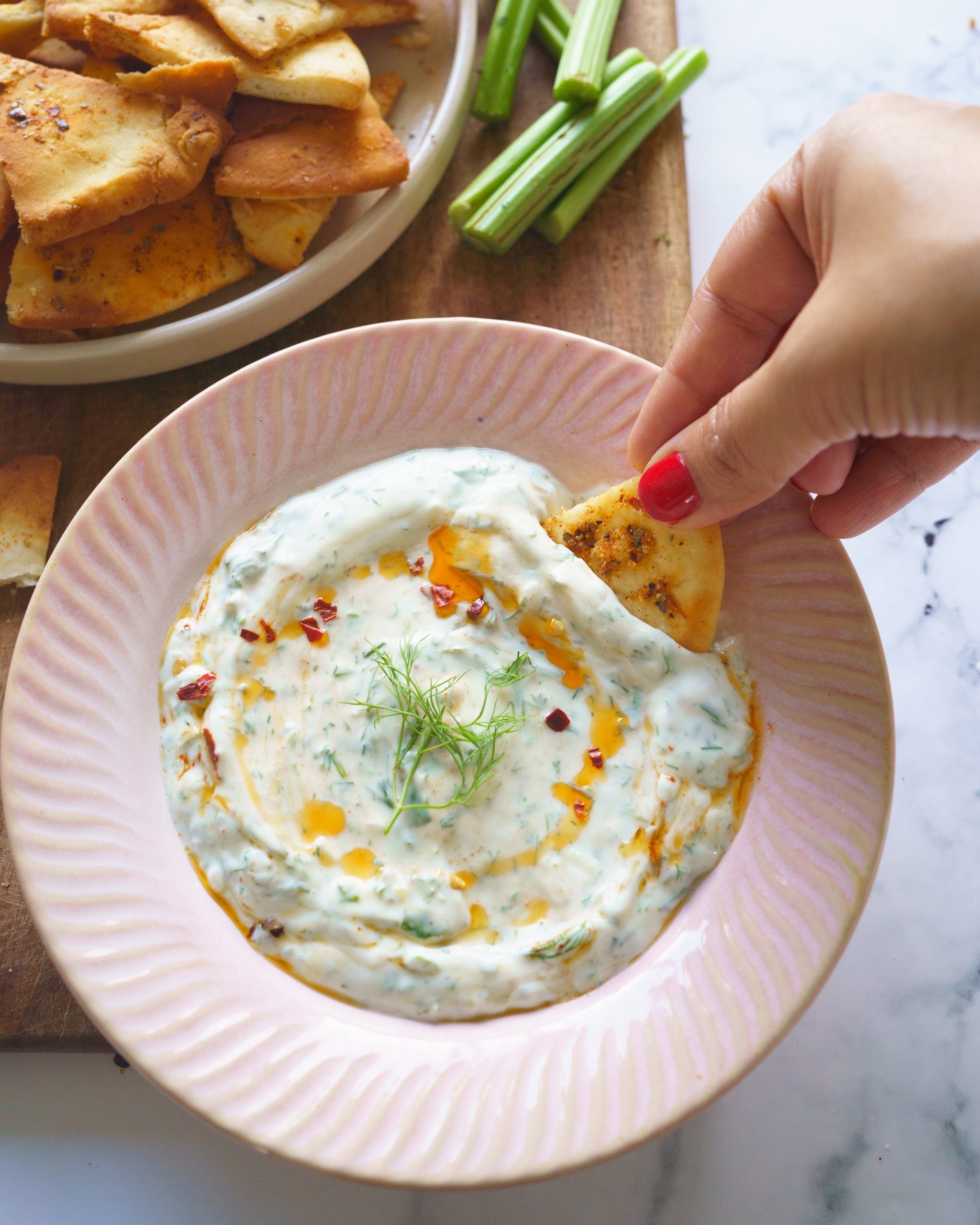 Ingredients
12

oz

Greek Yogurt

250 ml ( about 1.5 cups) ; Thick Set Yogurt

8-10

Garlic Cloves Minced

3

tablespoon

Cilantro

chopped up very fine

2

tablespoon

Dill

chopped up very fine

Salt to taste
Optional Ingredients
½

teaspoon

Olive Oil

optional

pinch

Chilli Flakes
Instructions
Remove the water from the yogurt by straining it or carefully tipping it at 120 degrees to let the water out of the yogurt tub.

Whisk the yogurt to get a creamy texture.

Add all the ingredients in the yogurt. Give it a mix.

It tastes best after 20-30 minute of Refrigeration.

Optional Step- Drizzle with olive oil and chilli flakes before serving
Notes
This dip can easily be shared with 8-10 people when served along with chips and other crisps.
It tastes best cold.
Topping Options
You can top the dip with
Extra virgin Olive Oil
Chilli Oil & Sesame Seeds
Caramelised Onions
Roasted Olives/ Peppers/Tomatoes
Nutrition
Calories:
26
kcal
|
Carbohydrates:
2
g
|
Protein:
4
g
|
Fat:
1
g
|
Saturated Fat:
1
g
|
Trans Fat:
1
g
|
Cholesterol:
2
mg
|
Sodium:
15
mg
|
Potassium:
61
mg
|
Fiber:
1
g
|
Sugar:
1
g
|
Vitamin A:
20
IU
|
Vitamin C:
1
mg
|
Calcium:
48
mg
|
Iron:
1
mg
If you liked the recipe, please leave us a rating
Follow me on Instagram
My handle is @yellowthyme
SaveSave
SaveSave
SaveSave
SaveSave
SaveSave
SaveSave
SaveSave
SaveSave
SaveSaveSaveSave
SaveSaveSaveSave
SaveSave
SaveSave
SaveSave
SaveSave
SaveSaveSaveSave
SaveSaveSaveSave