Jump to Recipe
Instant Pot Cranberry Sauce - All you need is 12 minutes to get the most perfectly balanced sweet and tangy Cranberry sauce- made in your own kitchen in the instant pot!
It's the best and the easiest thing you could make for your thanksgiving, Christmas dinner.
It will completely beat the socks out of anything that you can take out of a can. Really, don't do it. This takes all of 12 minutes out of which you work for only 1 minute.
That's literally the amount of time you would take to search for a can opener. Fine..I would take at least one minute.
Ingredients for Instant Pot Cranberry Sauce
Here are the only ingredients you would need to make a kick asss cranberry sauce!
Cranberries
Sugar
Orange Juice
Orange Peel/ Zest
Cinnamon Powder
I have used 1 Cup of White sugar here , feel free to reduce it if you like your sauce tart.
Cranberries- Use fresh or frozen.
Sugar- Instead of White sugar you can also use Honey ,Agave Nector or Maple Syrup in it.
You can also substitute white sugar with Coconut Sugar or Artificial sugar free sweetener.
Cinnamon- We love the extra flavor this pinch of goodness gives the cranberry sauce. It's the most warming spice.
How to make Cranberry Sauce in Instant Pot
Step 1: Prep - Wash and Rinse the berries.If using frozen, defrost them.
Step 2: Pressure Cook - Add cranberries, orange juice, sugar , Cinnamon,Orange Zest in that order.DO NOT stir.
Close the lid and PRESSURE COOK on high for 2 minutes.Quick Release.
Step 3: Reduce- Open the lid,Switch to SAUTE. Mash the berries with the end of your ladle or a potato masher.Let it simmer for 8-10 minutes till the sauce thickens.
The sauce will thicken considerably once it cools down.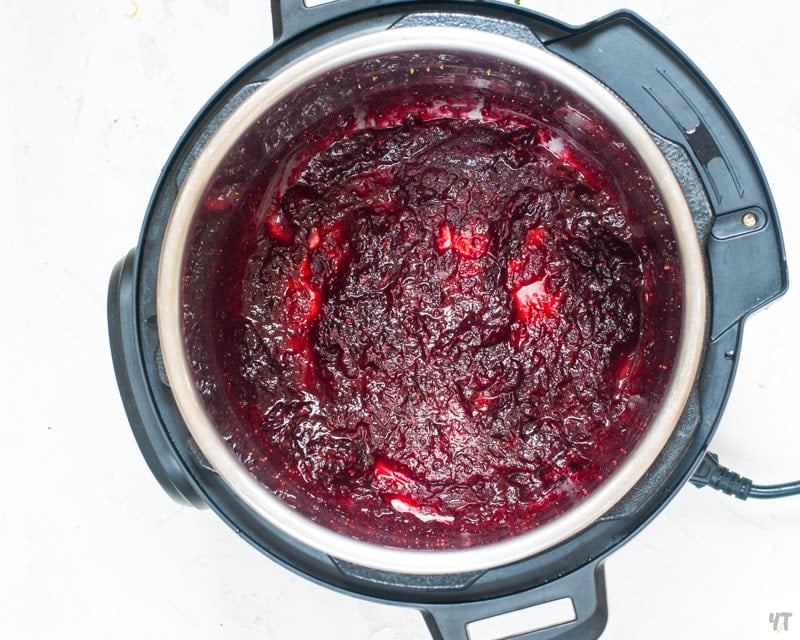 Serving & Storing
As soon as the cranberry sauce has come to room temperature, you can use it.
It keeps very well in the fridge and the freezer. So don't wait for the last day to make this. Make it couple of days before the thanksgiving or Christmas dinner and serve when its at room temperature.
Here are some Frequently asked Questions about Cranberry Sauce
Is eating cranberry sauce healthy?
Apart from the sugar, this sauce has everything good in it. Cranberries are loaded in anti oxidants. Besides, the cinnamon in the cranberry sauce is a great winter spice. It helps you keep the winter flus at bay. Here are more details on how cranberry sauce is good for you.

What is the difference between cranberry sauce and cranberry jelly?
Cranberry sauce can be served in a saucier, fluid-er version or in the jellied form.As the name suggests, the jelli-er version is solid like a jelly and can be cut into.
The sauce on the other hand is more like a condiment that you can scoop up or spread on the turkey or anything else.
How are you supposed to eat cranberry sauce?
Cranberry is a native fruit of America.The usual fare on a thanksgiving table in america is a roast turkey ,mashed potatoes, stuffing, green beans, and cranberry sauce.
Usually the turkey is kept on top of creamy mashed potatoes- made with white or sweet potatoes. A side like beans or brussel sprouts on the side.And a dollop of cranberry sauce either on the turkey or on the side as per you liking.
Instant Pot Thanksgiving Menu
Here is a quick menu that can be made entirely in the instant pot.
Instant Pot Garlic Mashed Potatoes
Instant Pot Mashed Sweet Potatoes
Instant Pot Roast Potatoes
Instant Pot Glazed Carrots
Instant Pot Apple Cider
Instant Pot Boneless Turkey Breast with Gravy - for one
Also, here is a quick dessert for you- Air Fryer Apple Turnovers
Find us on Instagram , Pinterest & Facebook here!
If you liked my recipe, do leave a comment!
It will help others find this amazing recipe too!
---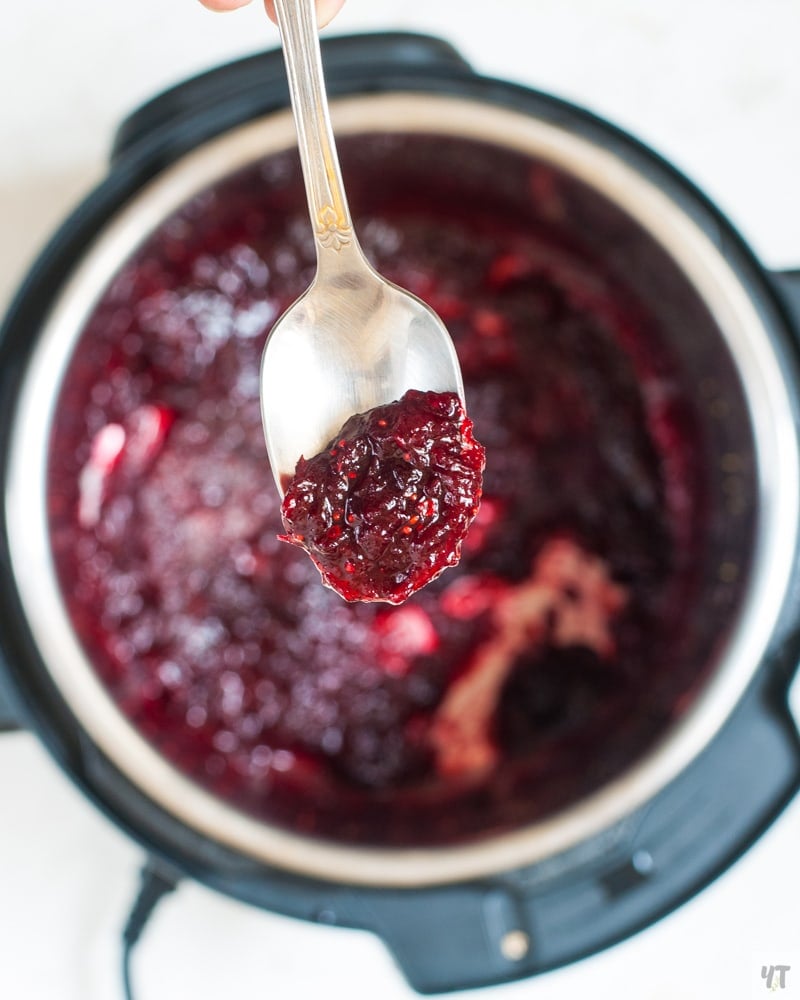 Ingredients
2

Cups

Cranberries

½

Cup

Orange Juice

½

Cup

Sugar

¼

teaspoon

Cinnamon

powdered

1

tablespoon

Orange Zest
Instructions
Add Cranberries, Orange juice, Sugar ,Cinnamon and Orange Peel - in that order.Do not stir.

Close the lid.Select PRESSURE COOK for 2 minutes.

Let the steam escape for 5 minutes, Quick release after.

Open,Mash with the end of a ladle or a spoon or a potato masher.

Saute for 10 minutes till it thickens.
Nutrition
Serving:
1
tablespoon
|
Calories:
28
kcal
|
Carbohydrates:
6.7
g
|
Potassium:
32
mg
|
Fiber:
0.4
g
|
Sugar:
5.9
g
If you liked the recipe, please leave us a rating
Follow me on Instagram
My handle is @yellowthyme