Lemon Cranberry Cake - Rich Lemon Cranberry Bundt Cake made with dried Cranberries, Lemon Zest and lemon.
This is a modified pound cake recipe. This is a newer, slightly lighter version of that recipe.
It has that gorgeous crumb that you get only when you use butter. This cranberry cake is best served at room temperature.
The lemon and lemon zest add a tangy taste that cuts the richness of the pound cake very well!
It's a cake that's meant to be enjoyed with friends and family! I could finish the whole thing..Yes all 4 pounds of it..That's why I only make it when I have people over..it's addictive..especially if you like cranberries!
From experience this cake gets better as it cools. So wait to cut into it.
If you love fruit cakes, do try my delicious French apple cake with rum and Mango Cake!
Ingredients
Cranberries
Butter
Flour
Sugar
Eggs
Sour Cream or Greek Yogurt
Lemon Juice and Zest
Baking Soda
Vanilla Essence
Here are some details on the ingredients
Cranberries -These are available all year long.They also give intense flavour without making the cake soggy.I chopped my cranberries up to make it smaller.
Toss the cranberries in 1 teaspoon of flour. This is done so that the berries don't sink to the bottom.
Flour- White/ Bleached/ Refined flour.Whole wheat wont work here.If thats what you are looking for ,here is a whole wheat cake recipe. And here is a Ragi Cake if you want to go uber healthy.
Eggs- yes 6 eggs.It's a big cake.If you are looking for an Eggless cake, Try my Eggless Cinnamon Cake.
Lemon - Lemon and lime give different tastes.Lime is more sour and lemon is sweeter.Though i have used both in similar recipes.
Sour Cream or Greek Yogurt- both work very well! You can use either.
Lemon Zest- Lemon zest is just grated lemon peel. Use a grater to grate the power house of a flavour - lemon zest. You should get about 1 tablespoon from 1 lemon.
Instructions to Bake Cranberry Pound Cake
Pre Prep & Pre Heating
Make sure you preheat! Preheating is just letting the oven be on(without food inside) for 10 minutes at 180 C or 365 F.This is the same as heating the pan before breaking the egg to make an omlette.
I have used a standard 10 inch (25 cm diameter) bundt pan.You can also use the same batter to make muffins.
Prepare the bundt pan very well!! First use butter or margarine to rub all over the pan. Then sprinkle with flour. Make sure every inch and crevace is covered or the cake wont come out!
You can also use the flour- butter(margerine) spray to coat the pan if you want.
Prep & Measurements
Measure everything.You dont have to measure to the decimal but please use standard cups and spoons.Something like this.
To measure the butter, cut it into small cubes and then stuff it inside the cup.
Mixing
Dry Mix- Mix the flour, salt and baking soda. Yes sugar is dry but that comes later.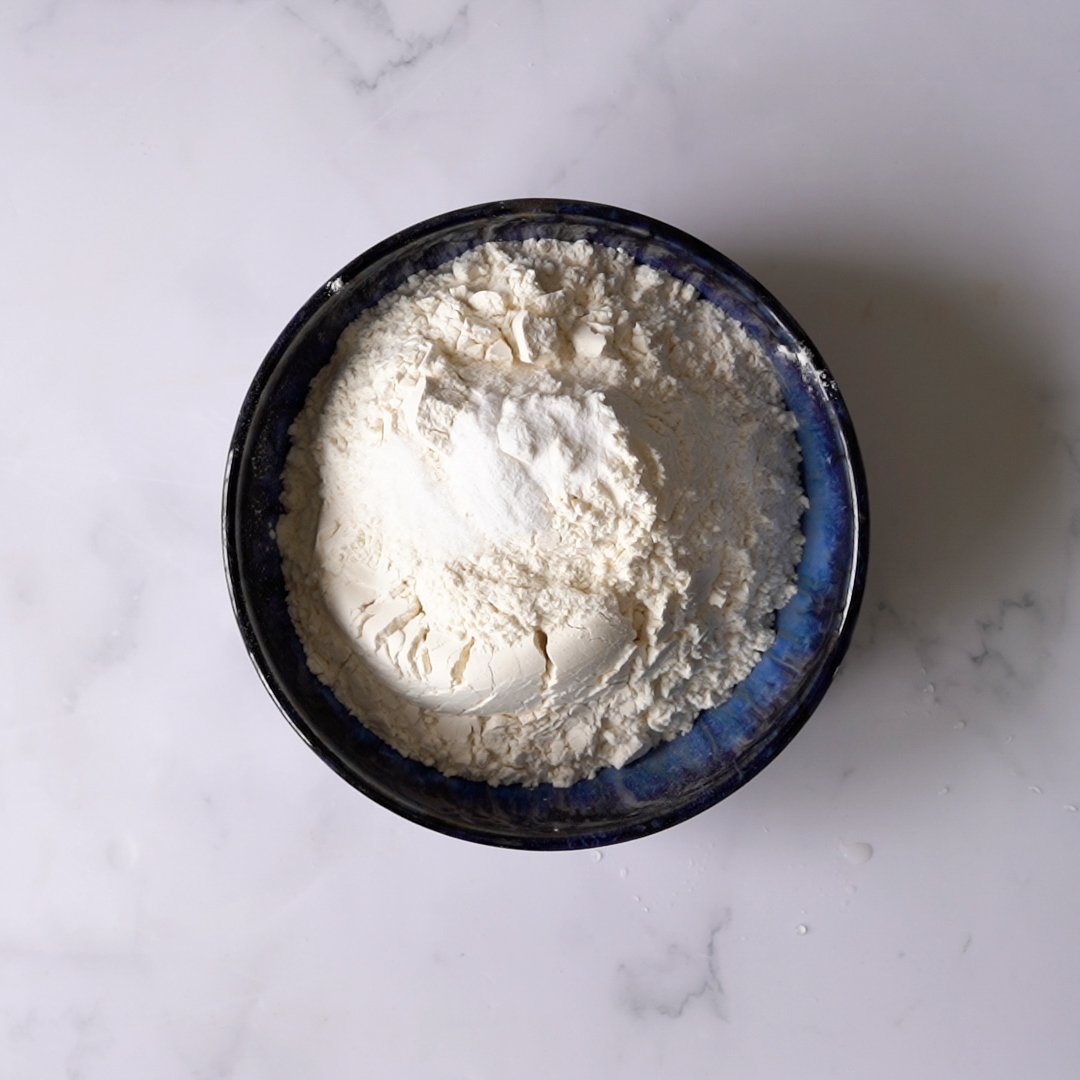 Flour,Baking Soda & Salt
6 Eggs
Wet Mix- Use a large bowl.
Add the butter and whisk it.You can use a stand mixer/ hand held mixer or a Whisk.
Add the sugar.Mix it well.This should be done for 30 s-1 minute.
To this, add the eggs.Mix this till its all creamy.Another 30s-1 minute.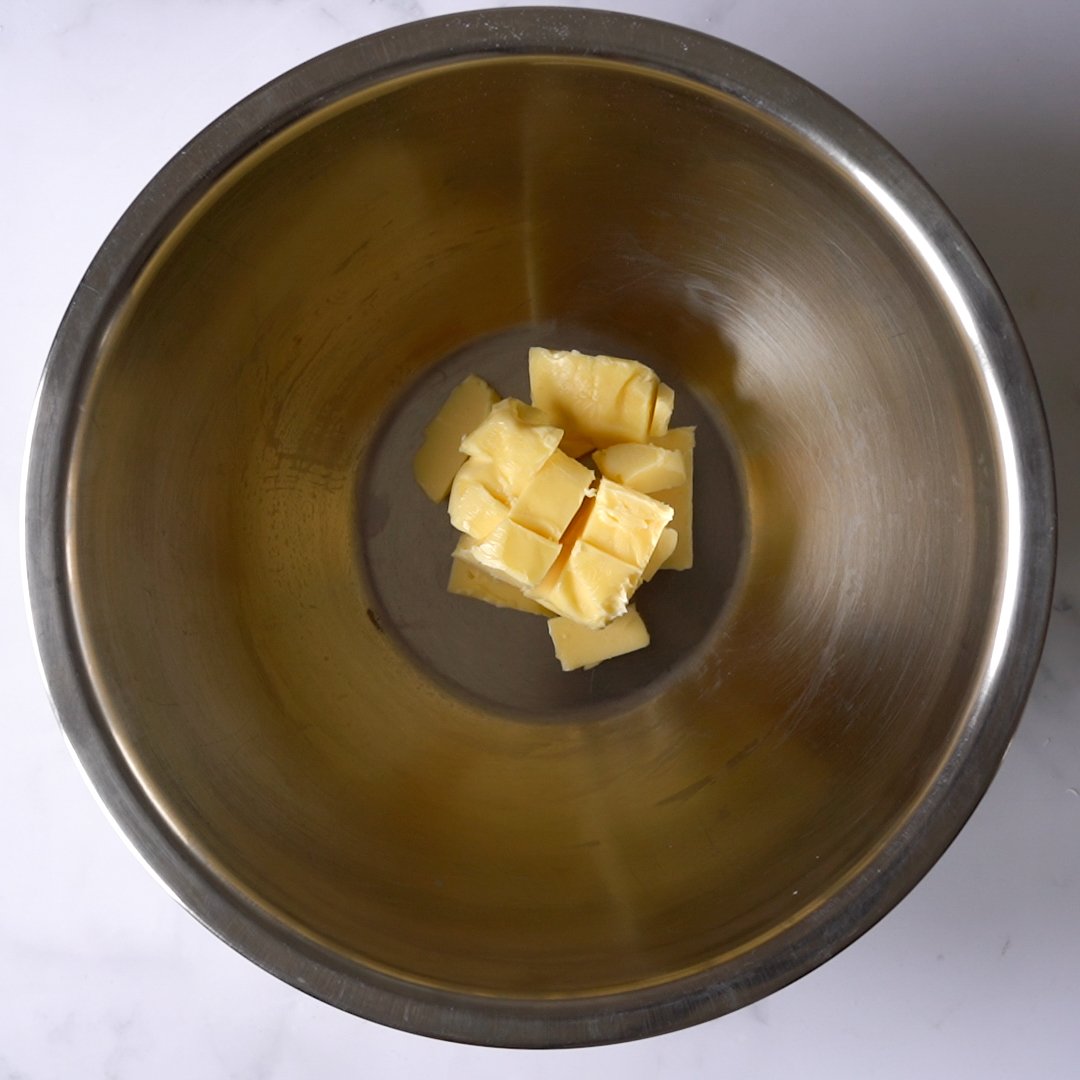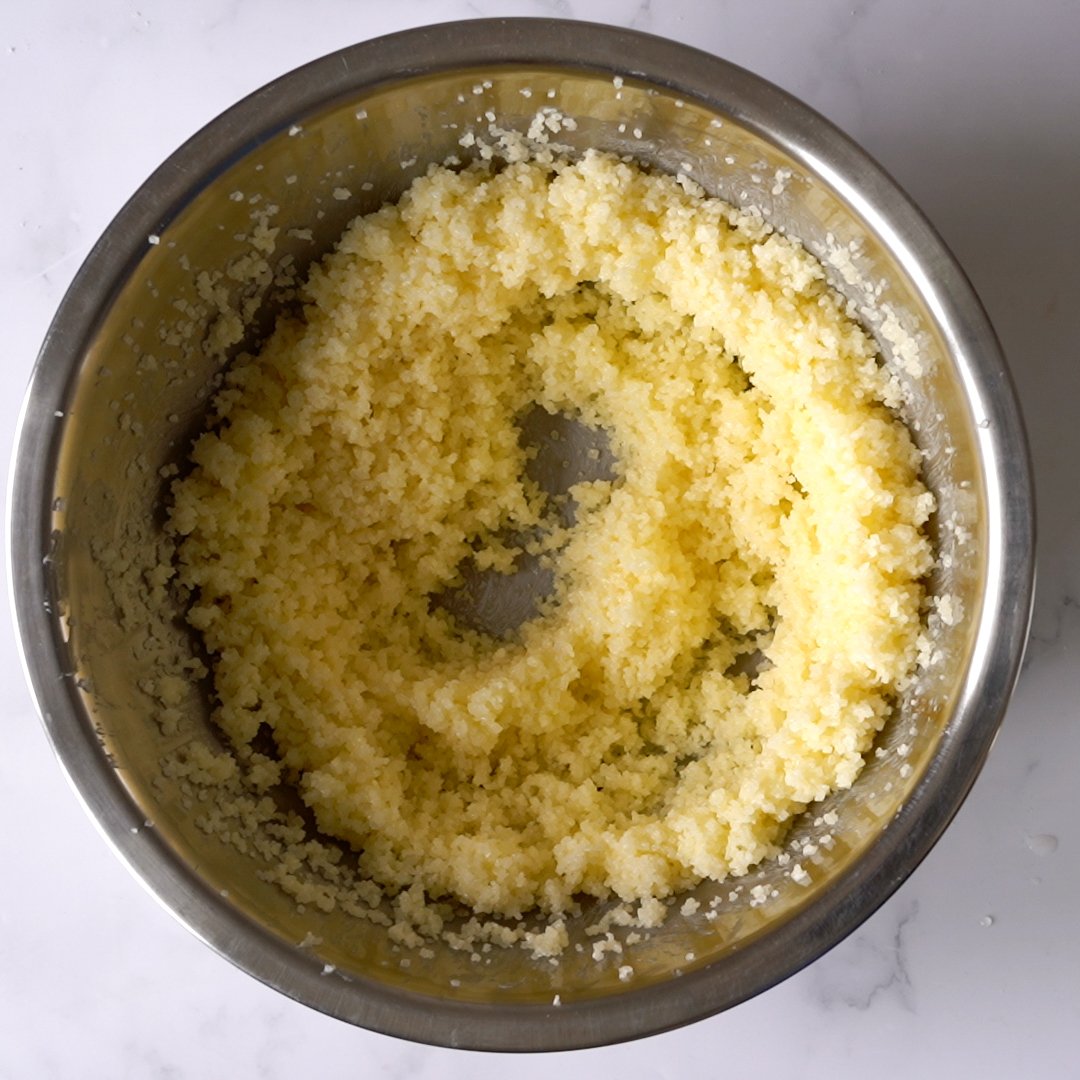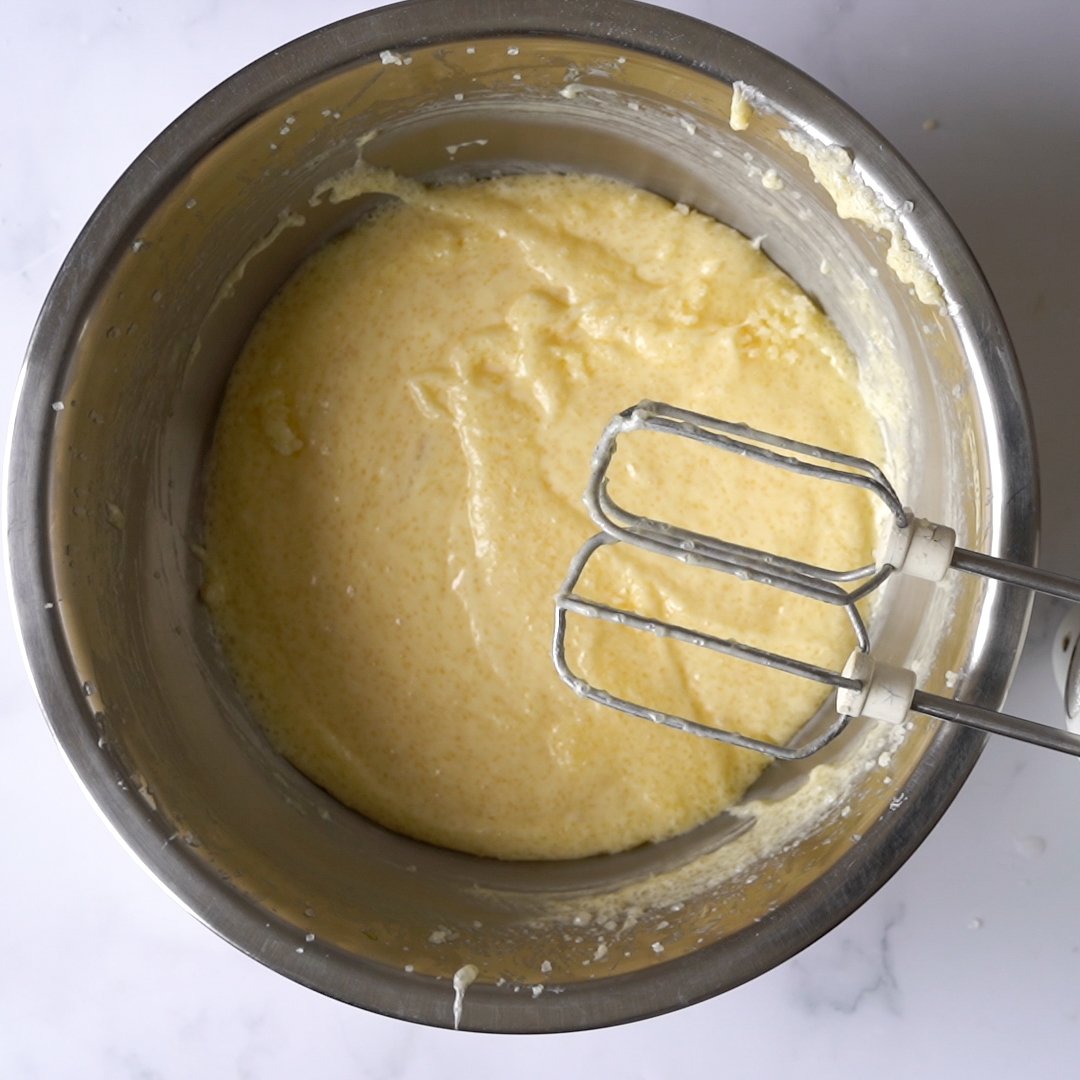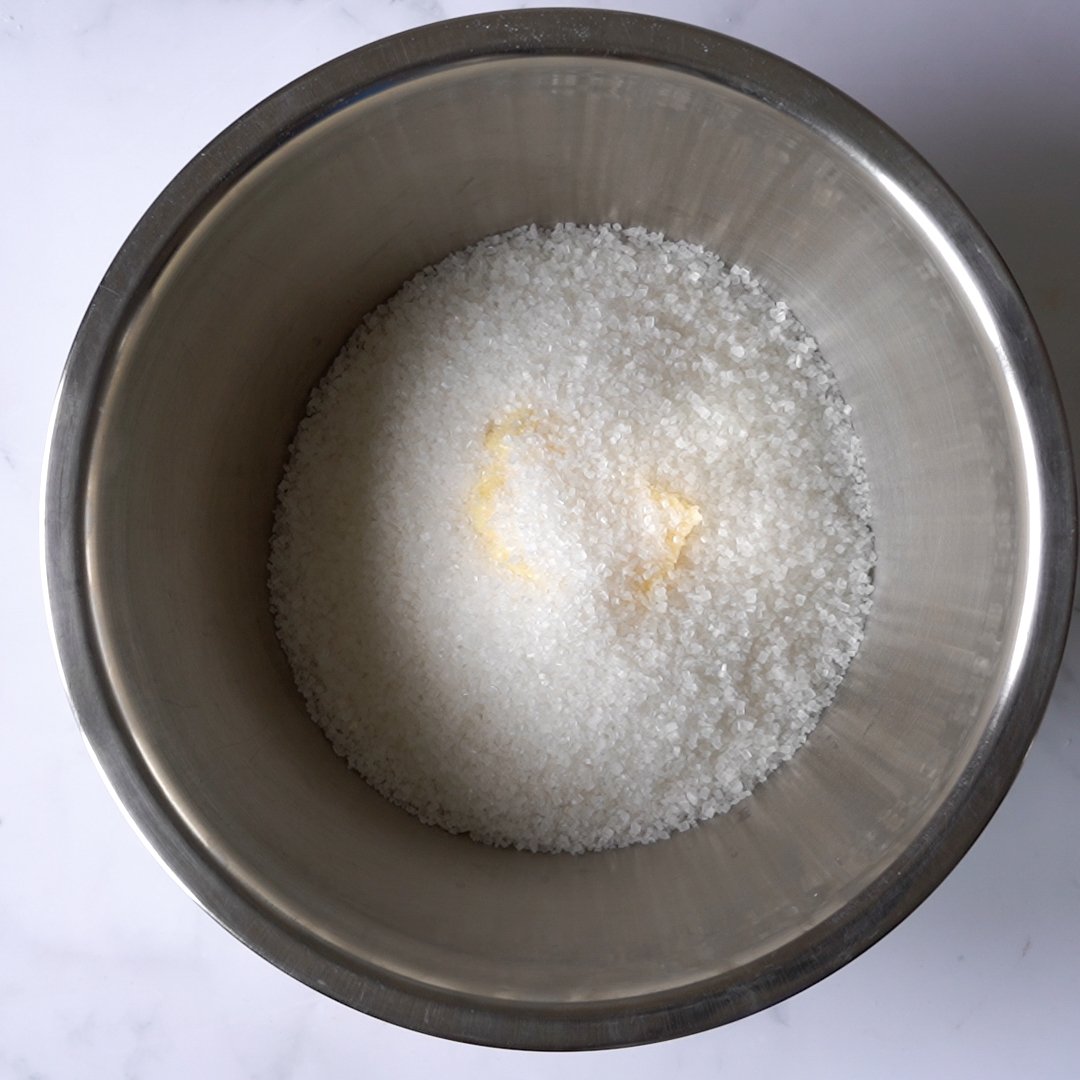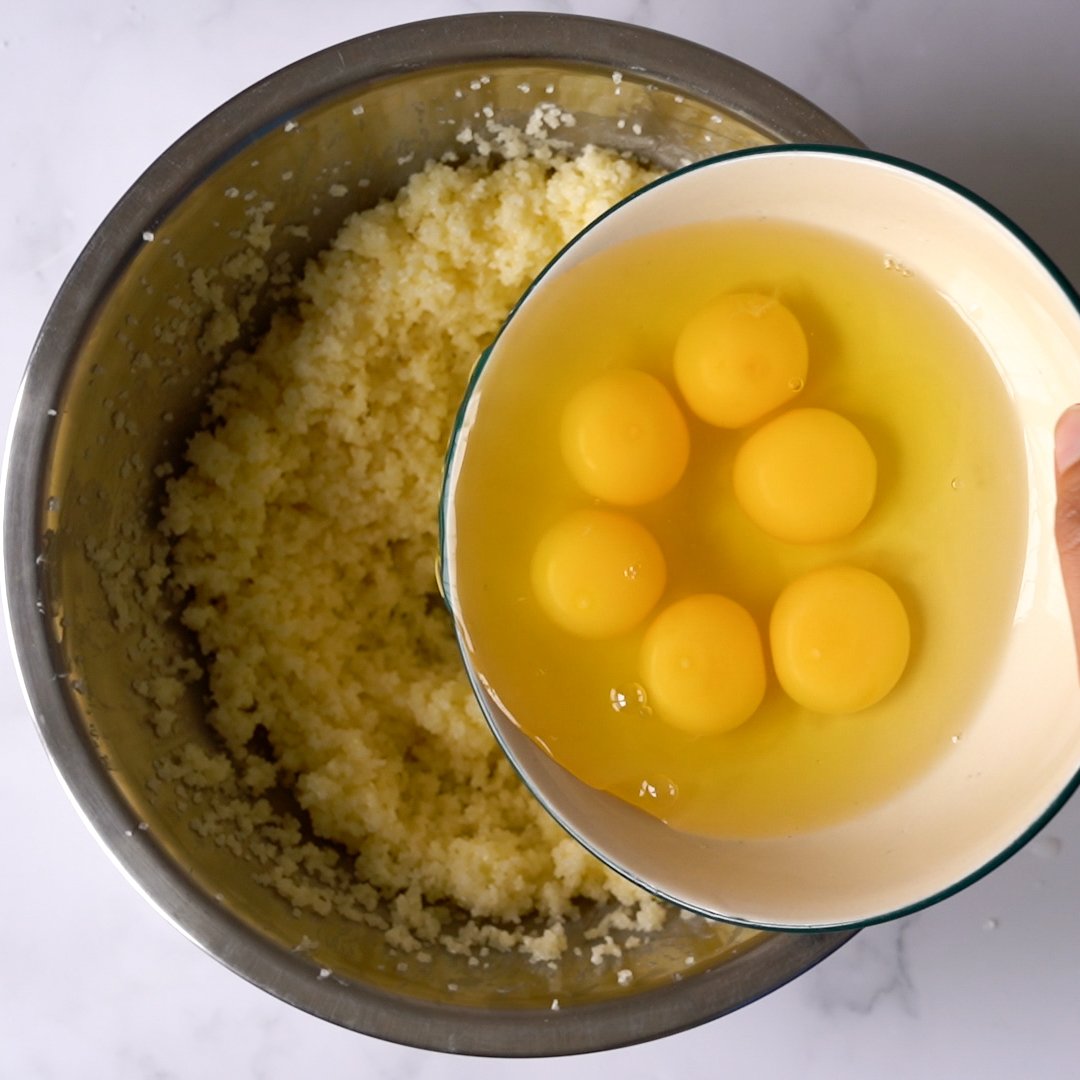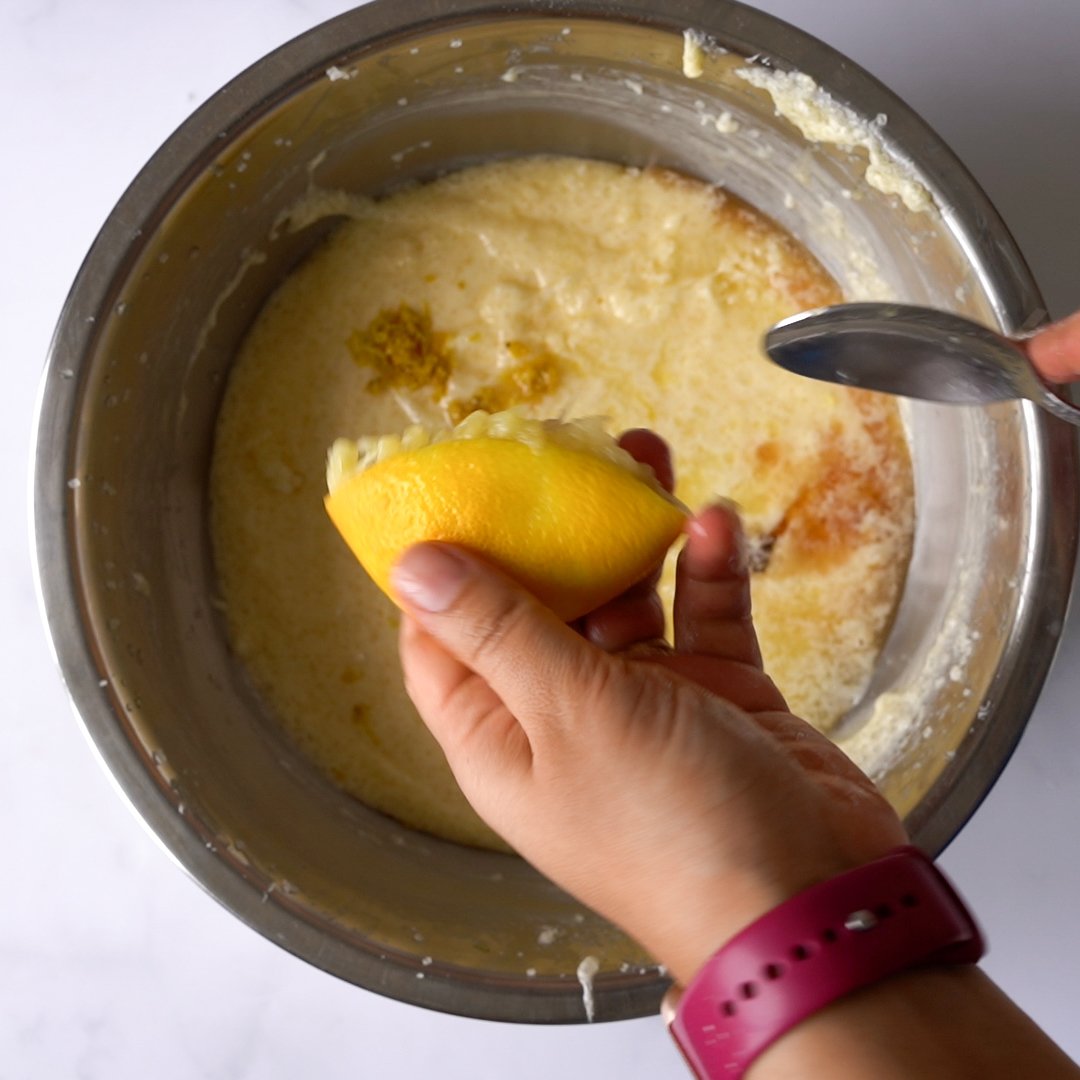 Batter - Start by adding ⅓ of the flour dry mix.Whisk it toghether till its 60% mixed.
Add half the greek yogurt.Whisk.Follow it up with ⅓ of the dry mix.
Finally add the rest of the yogurt, whisk and then lastly add the rest of the flour.
This back and forth is done so that it's easier to mix the batter.
Once everything is put in, whisk so that youd ont see any dry bits.Be cautios though, dont over do it.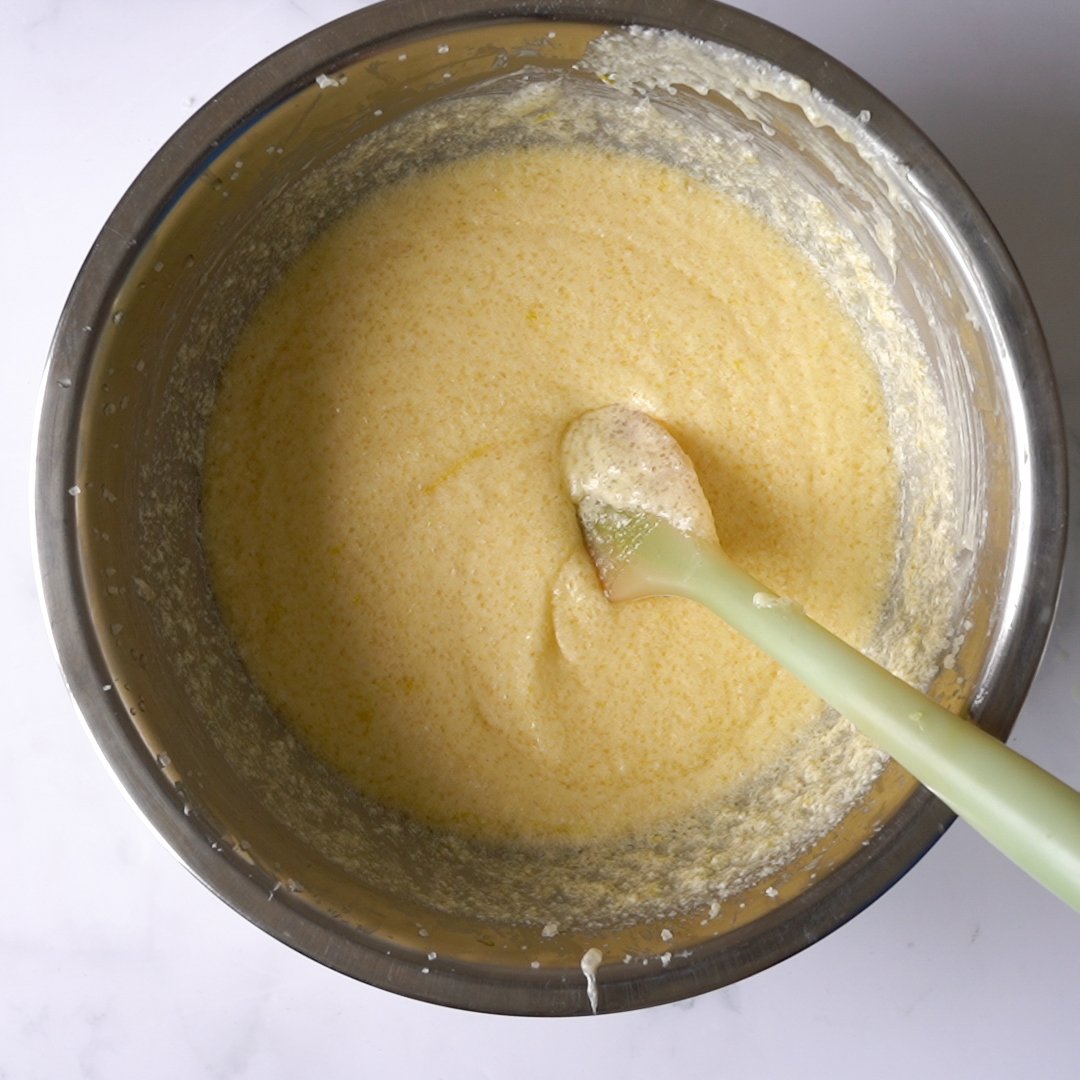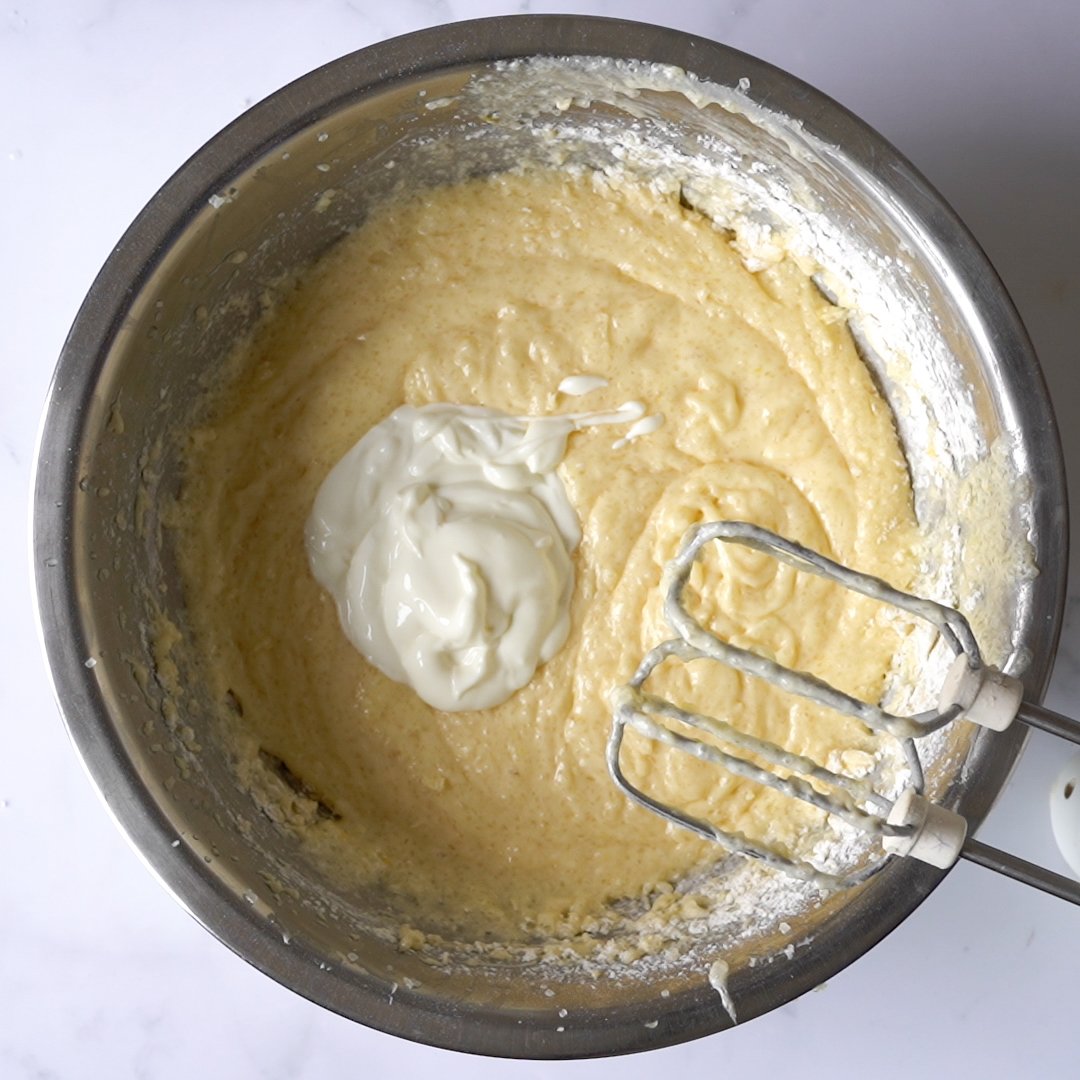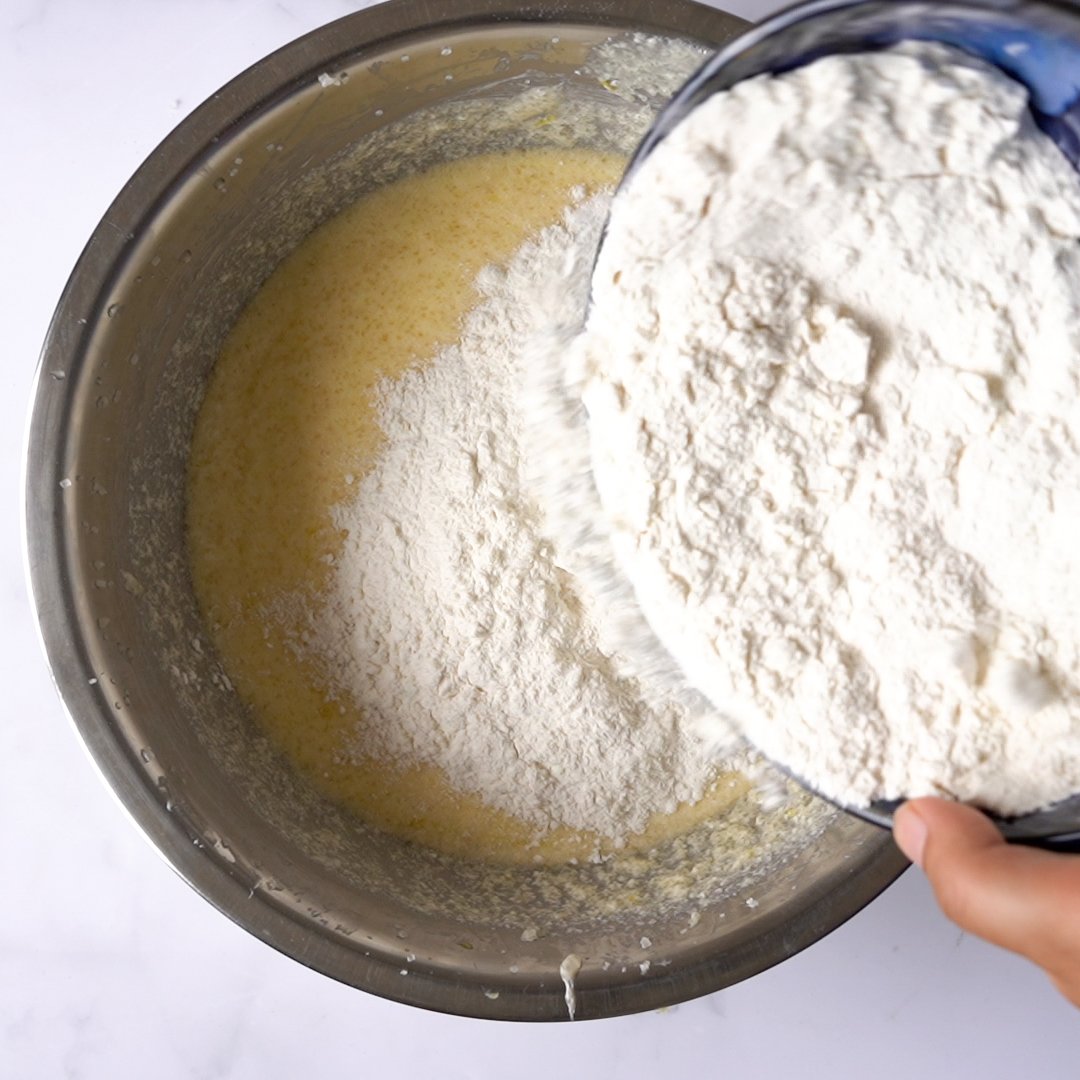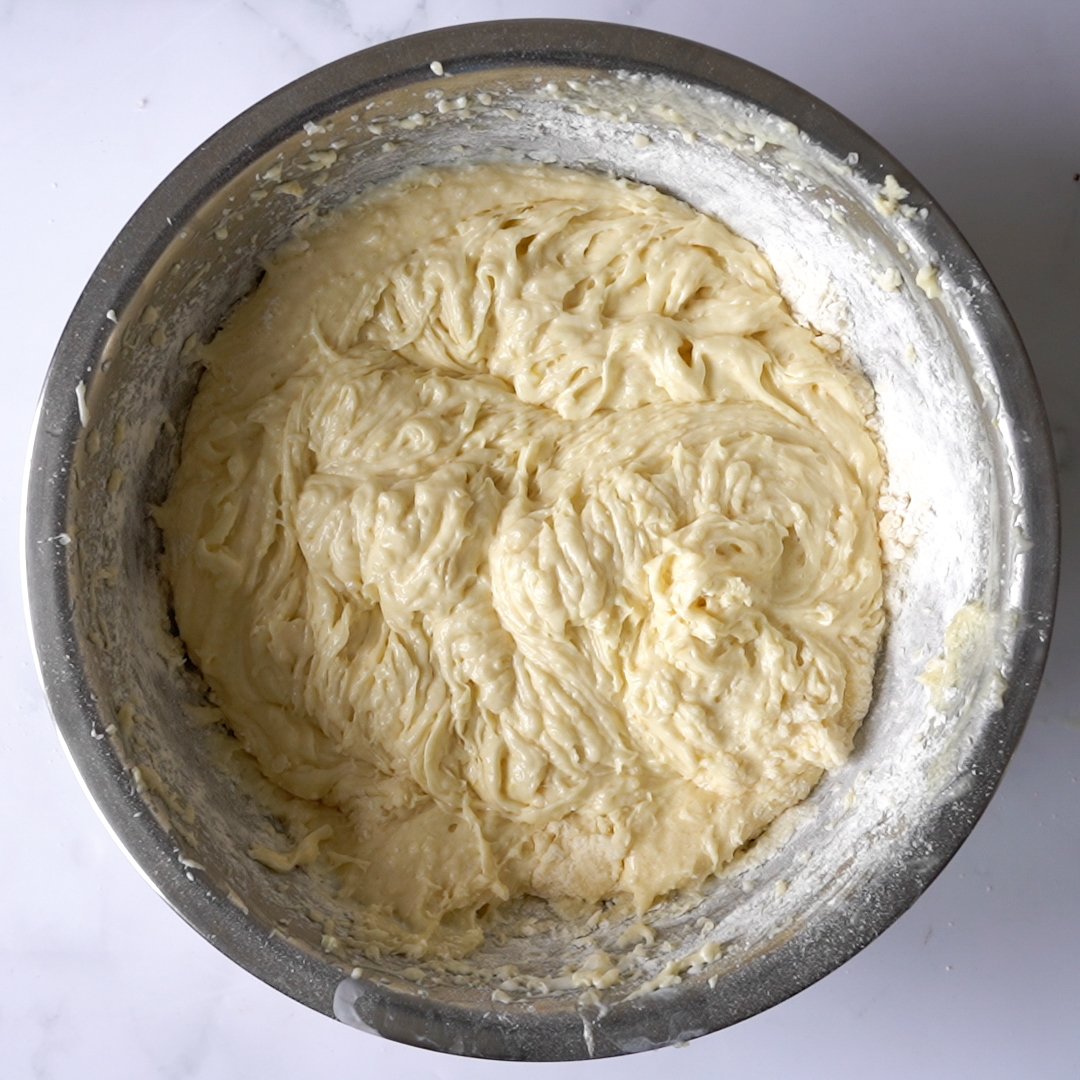 To the cranberries, add some flour.This will make sure the berries dont sink to the bottom of the cake.
Add the chopped dried cranberries and mix with a spatula.Pour the mixture into prepared cake pan.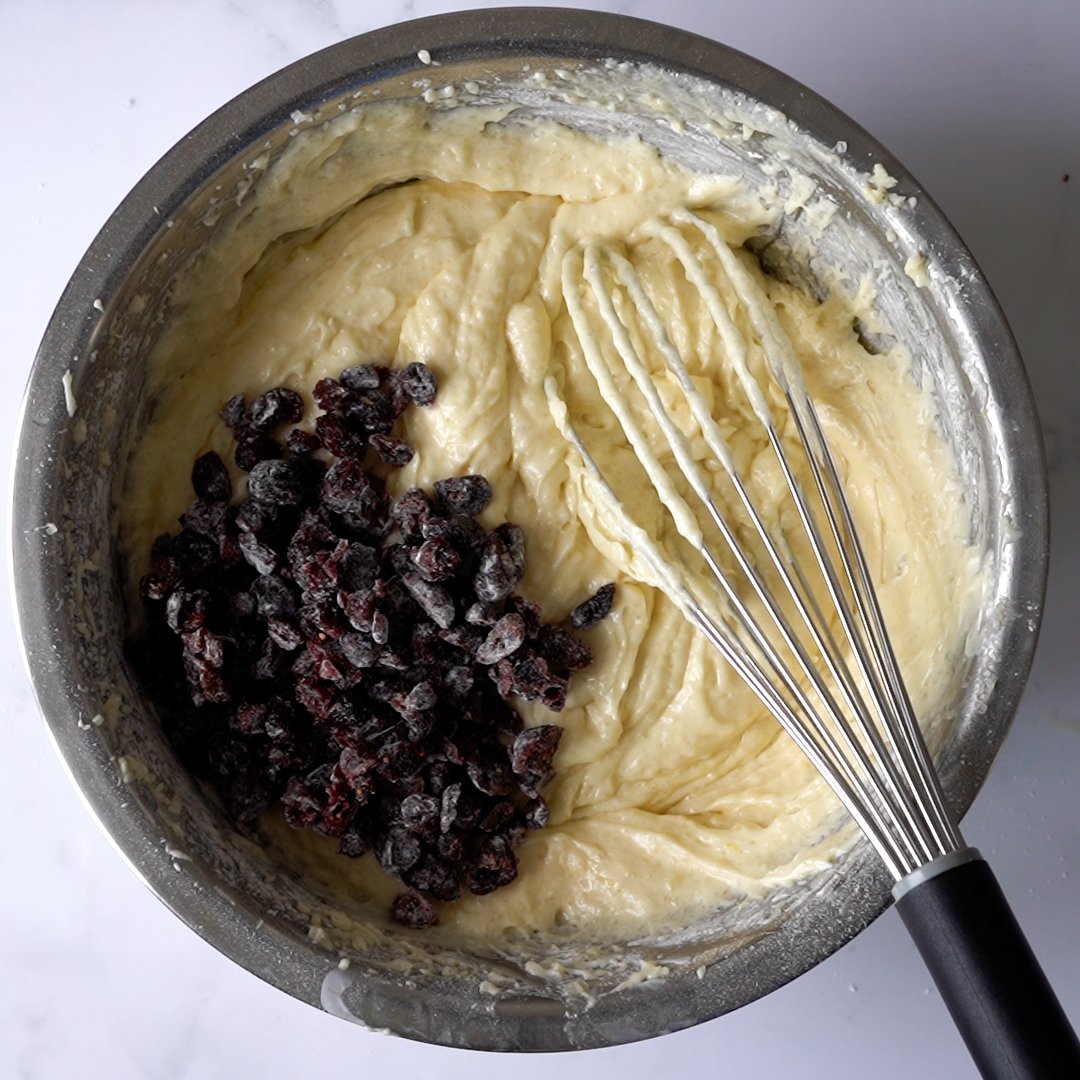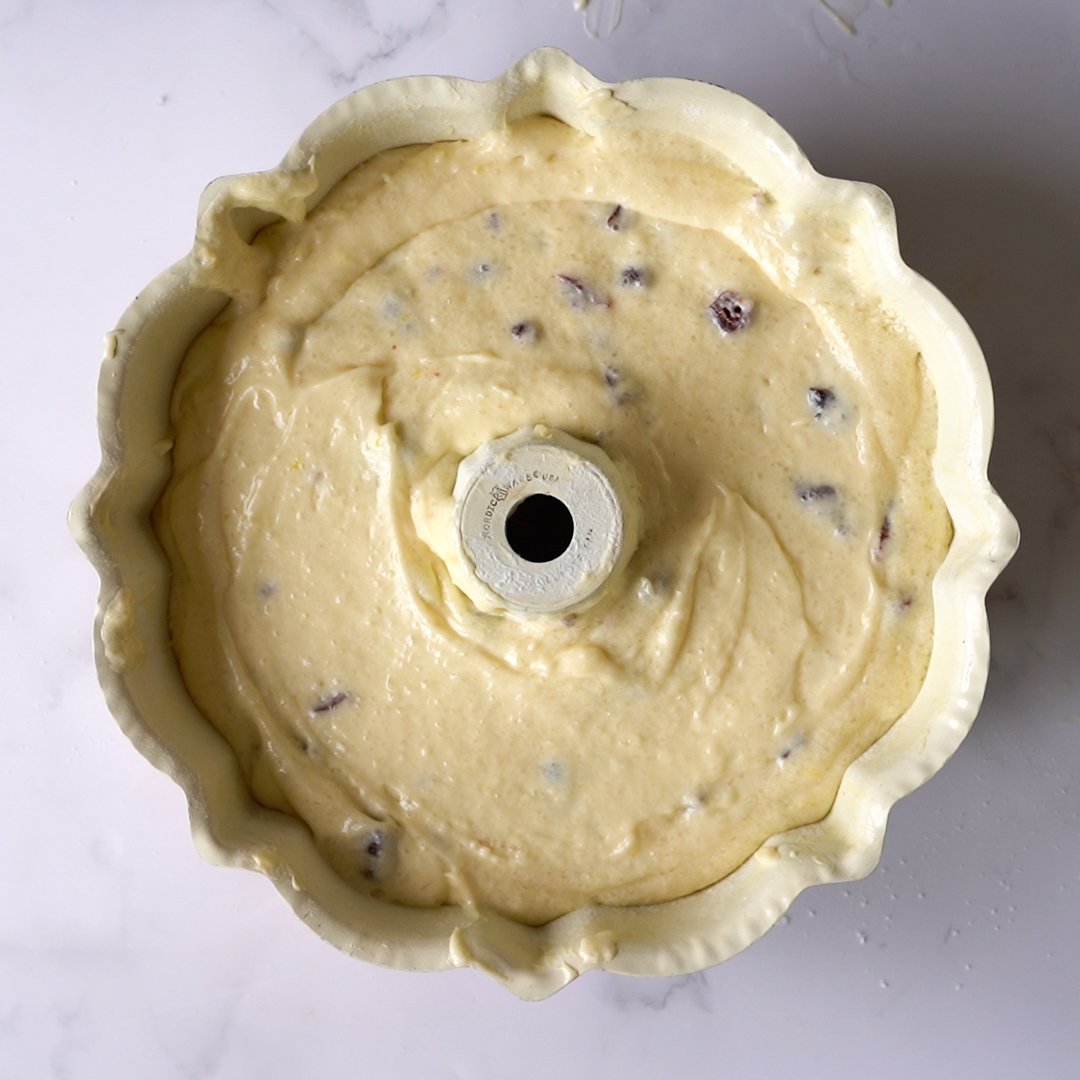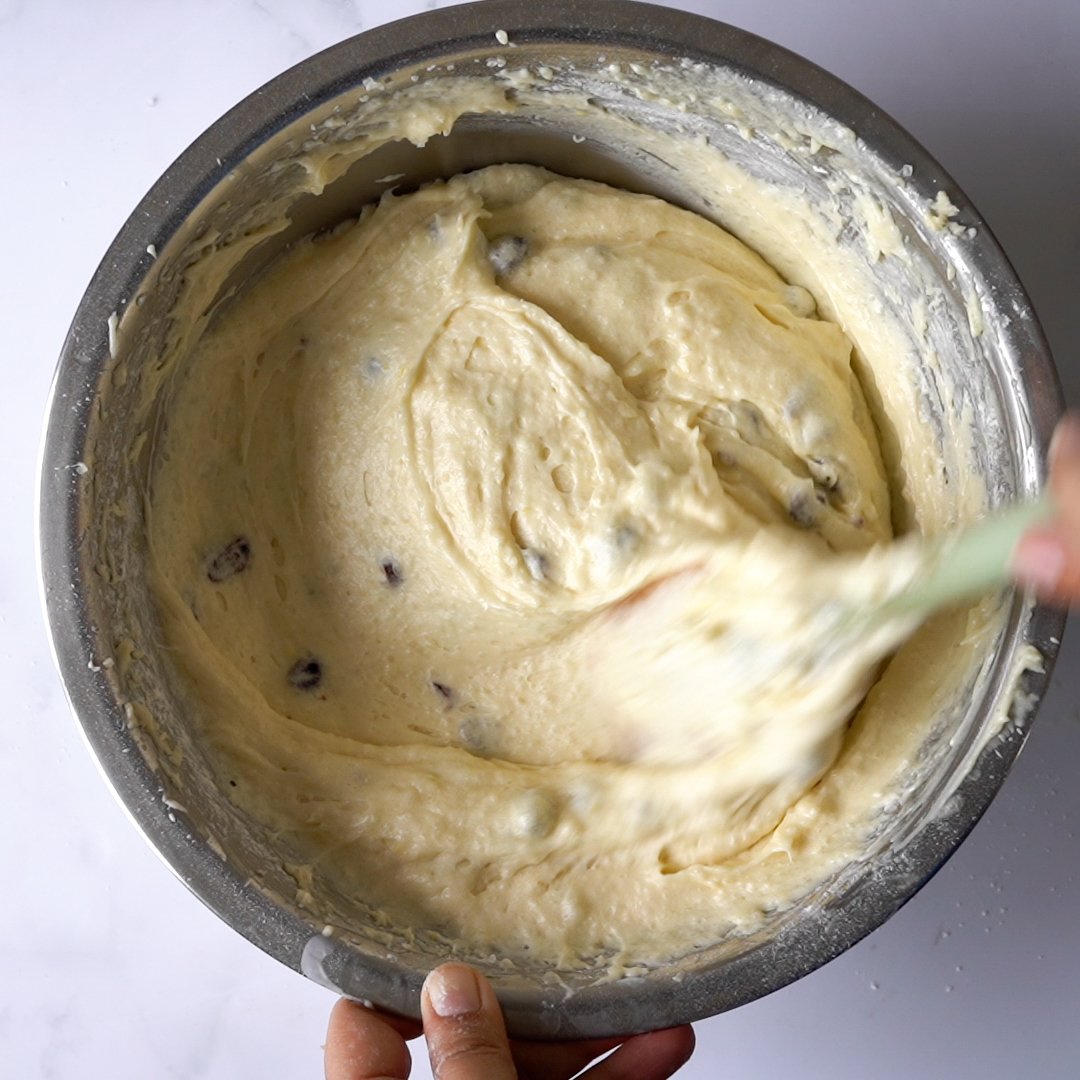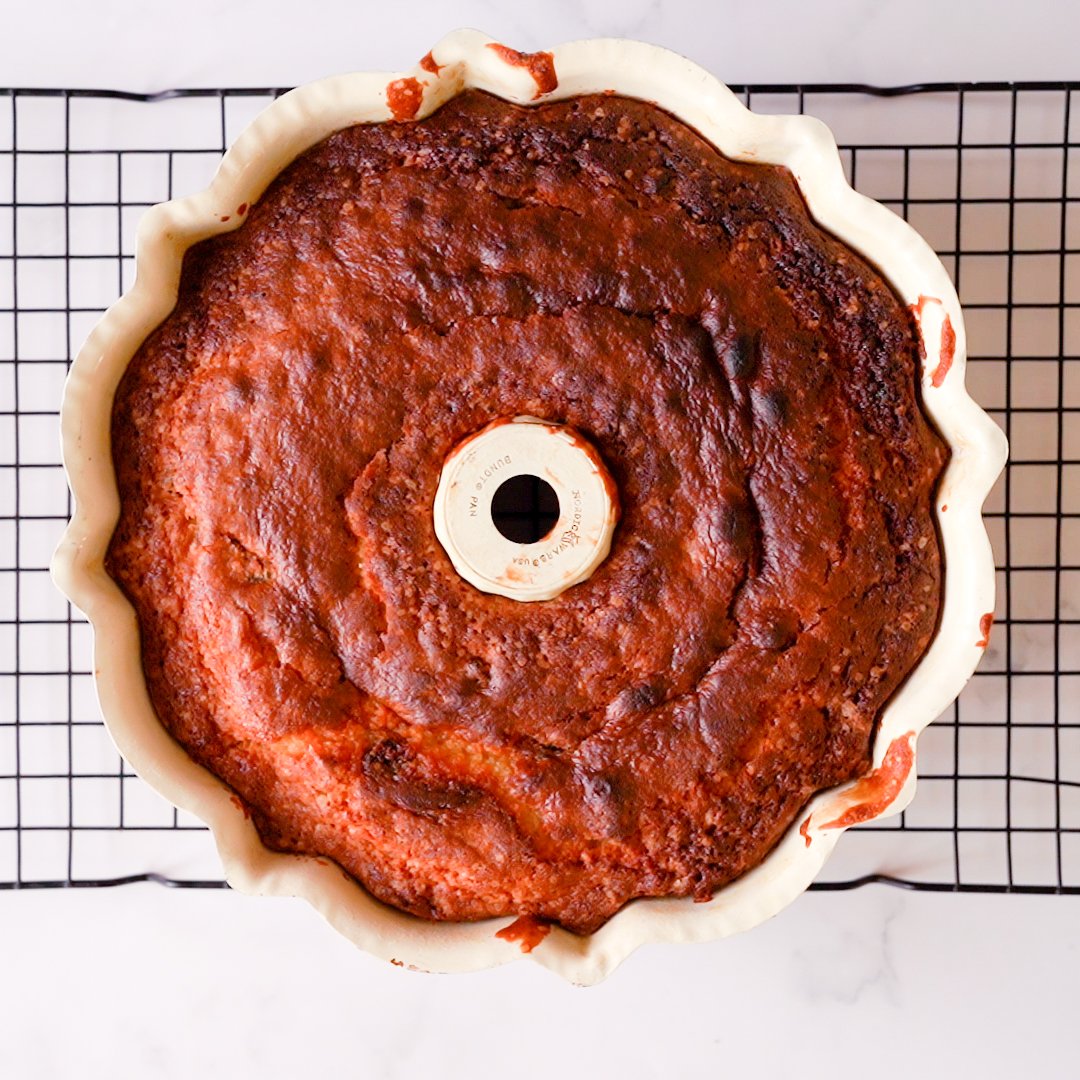 The batter is thick and not flowy
Baking Lemon Cranberry Cake
Place the cake in preheated oven at 180 C or 365 F.
In a big oven, it should take 60-80 minutes.In a smaller oven, it will take lesser time.
The cranberry lemon cake is cooked when a skewer or a knife inserted comes out clean or with small cooked grains of flour.It should'nt come out wet.
If it's wet, put it back in the oven for another 10 minutes.
PRO TIP : Rotate the cake mid way of baking to make sure its evenly browned.
Serving Cranberry Cake
This cake is best served after about 6-8 hours of baking.In fact it tastes better the next day.
It's an informal cake.Serve it with tea or coffee.It's also a great cake for thanksgiving or christmas.
It stays well on the counter for 3-4 days.
Troubleshooting
Here are some quick solutions to very regular baking issues
Cake is browning too much- This happens when the temperature is too high or its a small oven.Cover the cake with foil.This will make sure it cooks from inside instead of browning too much.
Substitutions
Cranberry- You can substitute cranberry with dried blueberries or raisins.
Sour Cream- Greek yogurt works almost as well as sour cream.Home made yogurt- the thick kinds is a good substitute.
White Sugar - Brown sugar can be used but it will change the color of the cake.
Bundt Pan - The cake can be made in normal cake pans too.This is also a great recipe to make cranberry lemon muffins.All you have to do it pour the batter into muffin leaves.
Storage
Wrap this cake in cling film and keep it in the fridge.It will last there for 6-7 days.
If you are looking for more cake recipes to share with friends and family, try the below recipes
Classic Strawberry Buttercream Cake
Find us on Instagram , Pinterest & Facebook here!
If you liked my recipe, do leave a comment!
It will help others find this amazing recipe too!
---
Equipment Needed
1 Oven

1 10 inch Bundt pan

or use Muffin Pans
Ingredients
3

Cups

All Purpose Flour

White Flour/ Maida

½

Teaspoon

Baking Soda

2 gms

½

Teaspoon

Salt

2 gms, omit if using salted butter

1

Cup

Butter

225 g, At Room Temperature softened

3

Granulated Sugar

600 gms

6

Eggs

300 g,At Room Temperature

1

Cup

Sour Cream

240 ml, or use Greek Yogurt

1 ½

Teaspoon

Vanilla Extract

6 gm

2

Cups

Dried Cranberries

200 gms

1

Tablespoon

Lemon Zest

3

Tablespoon

Lemon Juice

½ Lemon
Glaze
1 ½

Cup

Icing Sugar

3

Tablespoon

Lemon Juice

or Water
Instructions
Make Sure all the ingredients are at room temperature

This cake will fit a standard 10 inch budnt pan.

Preheat the oven at 180 degrees for 10 minutes.

In a bowl, mix together the Flour, Salt & Baking Soda.

In another large bowl, Add the Butter.To this, add the Sugar.

Beat it for another 1-2 minutes till the butter-sugar mixture is very pale.

Break your eggs in a separate bowl.Add the eggs one at a time,Whisk it well.

Add the Vanilla essence, Lemon Zest & lemon juice.

To the wet mixture, add ⅓ the dry flour mix.Whisk till its 50-60 % mixed.

To this, add half the sour cream. Mix till 50 % done.Repeat this till all flour and sour cream is mixed in.

Add the cranberries and mix.Make sure to scrape the sides of the bowl.

Pour the mixture into a prepared cake pan.

Bake the cake for 70-80 minutes at 180 C or 365 F in the preheated oven.

Check if the cake is done by piercing it with a skewer or a knife. If it comes out clean with a few crumbs, it's cooked. If it's liquid, it needs more time.

Let the cake cool for 10-15 minutes before unmoulding it.

Optional-Dust with confectioner sugar once the cake has completely cooled.
Notes
New to Baking? 
Measure everything while baking. You get standard cups and tablespoons which make measuring easy.
To make butter soft- cut it into small squares and whip it before adding sugar.
Bundt Pan

I have used a 12-cup, 10-inch/25 cm diameter bundt pan. You can also bake it into Muffins. It will take a lot less time. Somewhere between 15-20 minutes depending on the size of the muffin.
Bundt pans need to be rubbed with butter/ margarine and then sprinkled with flour.
Removing Cake
Once the baking is over, Keep the cake on a cooling rack for 10 minutes.Run the back of a spoon/ small offset spatula on the sides of the cake.Do the same in the center also.Flip the cake with a plate.Give it a few taps to encourage the cake to fall off. 
Nutrition
Serving:
20
g
|
Calories:
345
kcal
|
Carbohydrates:
55
g
|
Protein:
4
g
|
Fat:
13
g
|
Saturated Fat:
7
g
|
Trans Fat:
1
g
|
Cholesterol:
80
mg
|
Sodium:
182
mg
|
Potassium:
63
mg
|
Fiber:
1
g
|
Sugar:
39
g
|
Vitamin A:
427
IU
|
Vitamin C:
1
mg
|
Calcium:
26
mg
|
Iron:
1
mg
If you liked the recipe, please leave us a rating
Follow me on Instagram
My handle is @yellowthyme
SaveSave
SaveSaveSaveSave
SaveSaveSaveSaveSaveSave