Vanilla Panna Cotta is a dessert you want to make for your boy friend or girl friend when you don't even know the K of Cooking!(there ain't no K in cooking you dumb!)but really…All you need to do is boil some cream..That's the extent of cooking involved in this recipe.So if you can figure out how to get that stove on and empty out a carton of cream in the pan then you can make this recipe.
This is not to say it's not sophisticated.It is an extremely dreamy dessert ,served in highly priced Michelin star restaurants around the world but it is very simple to make luscious dessert that requires very little time and even lesser skill to make..it's one of those low investment,high returns kind of a deal...
Oh, by the by it's vegetarian..so for all my non egg eating friends who are forever searching for something easy but elegant to make..this is it..You may use equal amount of agar again instead of gelatine if you averse to the idea of using it..but wait up though..the accolades of this dish don't end here…It is THE most versatile recipes ever…Once you master this basic version, you can amp it up with a lot of different combinations..Off the top of my head..You can add sauces like Chocolate,Caramel,nutella to it or you could add nuts, dried roses, pistachio, ,chia seeds or just cut up some fresh fruits like mango,strawberry or jamun or even a simple topping of granola and honey.
If made right the consistency should be between that of a creamy jelly and a luscious custard.The spoon should just glide into the panna cotta but at the same time it should hold its shape.A good panna cotta should taste uber rich, silky and luxurious.
To make it right,it's essential that the ratio of the cream and the gelatine(or agar agar) is maintained.If you increase the amount of gelatine the panna cotta will set very hard and if the gelatine is less ,your panna cotta will not hold the shape and instead be a gooey mess.One way to make sure the panna cotta sets well is to use measuring cups and fresh gelatine.In india,we usually get gelatine as a powder in boxes of 100 grams but once the box is opened its better to consume it within a couple of month, otherwise you might end up with a gooey puddle of a dessert instead.
A panna cotta can be served in any number of ways..You can put it in moulds and unmould it before serving..or you can serve it in glasses with heaps of jam or sauce over it..I prefer the latter,cause its less work and hassle for me..It also gives me a higher leeway for error.
While making a simple vanilla panna cotta,its essential you use good quality vanilla extract or vanilla pods but if you are going to pair it with some other fruit or sauce you can use the everyday the not so great vanilla extract too.
The recipe is adapted from the dessert guru David Lebovitz.I have tried a number of other recipes from his website too which have been very loved in my house-Buckwheat cookies.I gave away these cookies at my sons first birthday as return gifts.
Vanilla Panna Cotta Variations
Once you master the basic recipe, you can pair it with any number of jams and sauces.The cream can be flavoured with cardamom, roses, jasmine tea,orange blossoms, coffee, pepper mint etc.
The strawberries can be replaced with any other soft fruit like plums, raspberries and blueberries.A beautiful pear poached in red wine or any other aromatics will also make a great topping for the panna cotta.
---
Stay in touch with me on Instagram and Facebook
---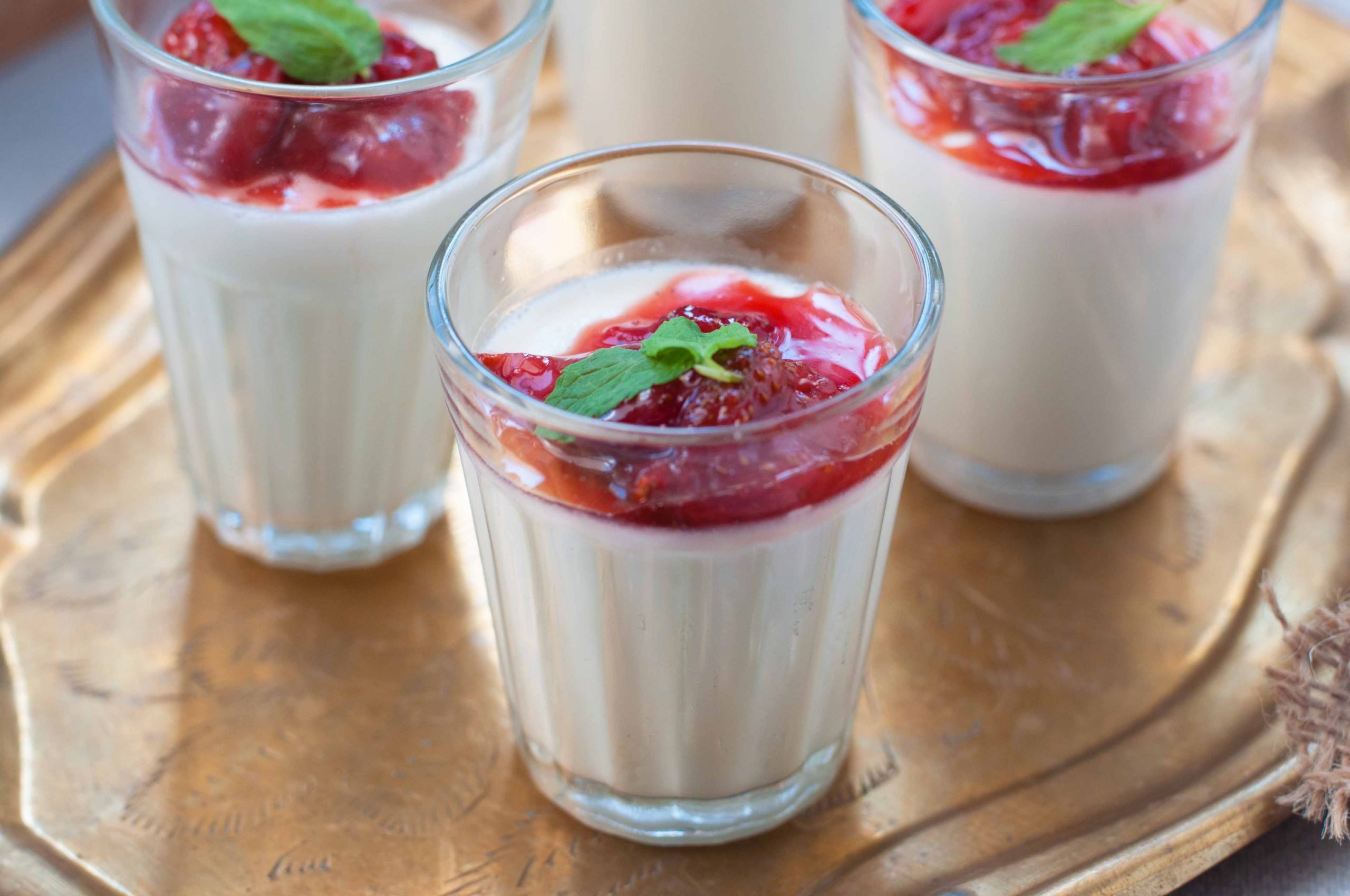 Ingredients
4

cups

Cream

I used Amul Fresh Cream(1 litre)

½

cup/100g White sugar

2

teaspoon

of vanilla extract

4

teaspoon

powdered unflavored gelatin

6

tbsp/90ml cold water
Instructions
Add the 6 tablespoon water in a cup.Sprinkle the gelatine on top and let it stand for about 10 minutes.After 10 minutes you should see the gelatine convert into a translucent mass.

Heat the cream in a heavy bottomed pan.Add the Sugar.Add the vanilla extract.

Let it come to boil.Once it has boiled switch off the heat.

Add the gelatine.Pour it in prepared cups.

Let it stay in the fridge for 2-4 hours.

Just before serving top with your choice of topping-fresh fruits, strawberry compote.
If you liked the recipe, please leave us a rating
Follow me on Instagram
My handle is @yellowthyme
Strawberry Compote
I love pairing the panna cotta with strawberry compote , cause of the tartness the strawberries lend to this dish. I especially love serving this with a mix of fresh strawberries and a sweet strawberry compote for that multidimensional textural effect. The recipe below is pretty forgiving so you can play around with the amount of sugar in it, experiment with herbs such as rosemary and parsley, or try jaggery instead of white sugar.
---
Stay in touch with me on Instagram and Facebook
---
Ingredients
250

gms Strawberries sliced

frozen or fresh

2

tablespoon

Sugar

2

tablespoon

Water

1

teaspoon

Balsamic Vinegar/Lemon Juice

1

teaspoon

Butter
Instructions
Cut the strawberries into wedges.

Heat the butter in a pan.

Add the strawberries in the pan.Let them cook for 1 minute on medium flame till they leave their water.

Add Sugar,water and balsamic vinegar and cook till the sauce thickens and water is reduced.
If you liked the recipe, please leave us a rating
Follow me on Instagram
My handle is @yellowthyme
If you love pudding I have a few more recipes here-the chocolate pudding is a somewhere between a panna cotta and a mousse and this self saucing pudding is made with whole grains and oats.Do give them a try.
SaveSave
SaveSave
SaveSave