Instant Pot Lo Mein- Asian Style Vegan Instant Pot Noodles made with simple pantry ingredients in the pressure cooker.
These Noodles are perrrfect!Slippery,Umami Noodles with oodles of vegetables! My kind of dinner!
In this recipe, you pressure cook the noodles & vegetables along with the sauce.This way you skip the boiling of the noodles, straining and stir frying.
Ingredients for Instant Pot Lo Mein
Super simple pantry ingredients
Noodles
Water or Vegetable Broth
Vegetables- Read the note below on the kind of vegetables
Soy Sauce
Rice Vinegar
Sriracha
Sesame Oil
Brown Sugar
Garlic
Chilli Paste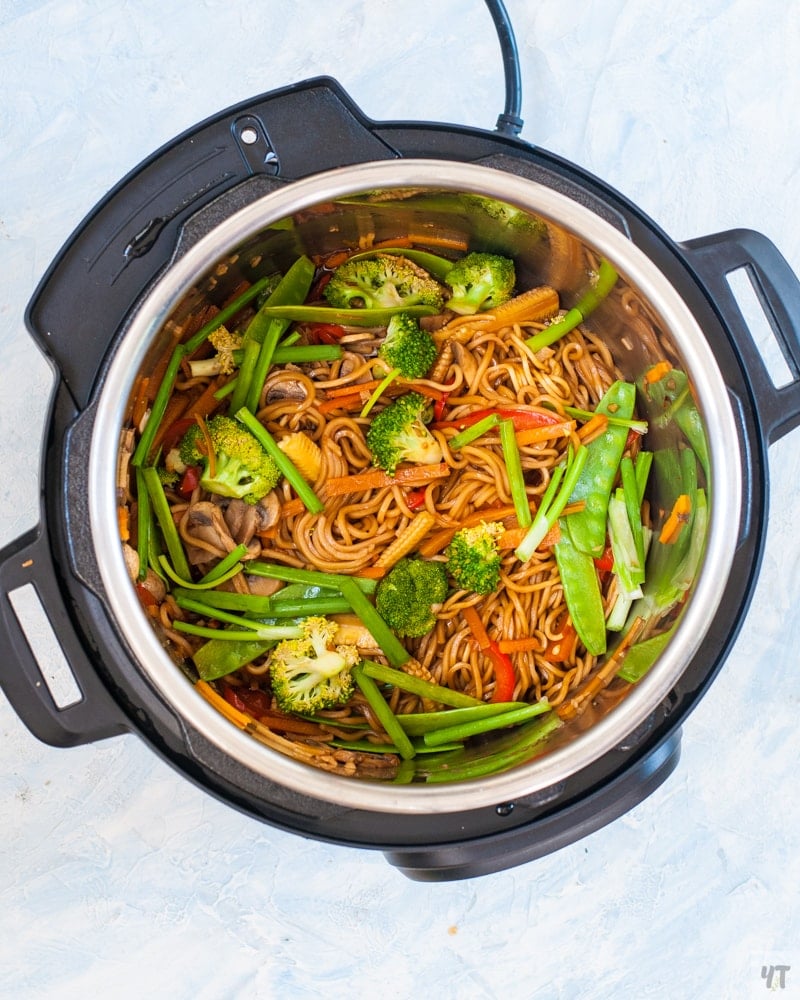 Vegetables
You can use any vegetables you like here- Fresh or Frozen
When you read the recipe below, you will find that there are two cooking times- One is the pressure cooking and the other is a couple of minutes of gentle steaming.
The vegetables that need more cooking like carrots & mushrooms should be pressure cooked.Also, frozen (unthawed) vegetables need to be pressure cooked too.
Vegetables like Brocolli, Snap peas,Spinach etc should be steamed at the end gently.
Instant Pot lo mein with frozen vegetables
This Lo mein can be made with precut frozen veggies too.
Though keep in mind that frozen vegetables could be a tad more soggy than fresh vegetables.
Noodles
This recipe would work when using any of the below types of noodles
Hakka Noodles
Egg Noodles
Spaghetti
Soba Noodles
Do not use instant noodles, as they will get over cooked on pressure cooking for sure.
How to make Lo Mein in Instant Pot
The cooking can be broken into 3 steps
Prep- Cut the vegetables,Make the sauce and get all the ingredients toghether.
Pressure Cooking- Layer the ingredients in the pressure cooker and cook for just 4 minutes.Quick release.
Gentle Steaming- This is the last step, where you add vegetables that can be eaten raw and Let the noodles sit in the instant pot in "Keep Warm" mode for 2-3 minutes.
To double the recipe- simply double the ingredients, keeping the cooking time same.
How to make Lo mein on the stove Top
The same recipe can be converted to a stove top recipe with a few tweeks.Boil the noodles el dente.
Make the sauce with just ¼ Cup of water(instead of 1.5 cups).Stir Fry the vegetables using a wok in 1tsp of oil.Add the sauce and the cooked noodles.
Toss well in the sauce,Garnish with Green onions and serve hot.
More Instant Pot Dinner Recipes
Here are some more instant pot recipes that you will love!
Instant Pot Tuscan Chicken Pasta
Instant Pot Parmesan Chicken Pasta
Instant Pot Mexican rice
Instant Pot Mushroom Rice
Find us on Instagram , Pinterest & Facebook here!
If you liked my recipe, do leave a comment!
It will help others find this amazing recipe too!
---
Ingredients
8

oz

Noodles*

1.5

Cup

Water or Broth
Sauce
2

tablespoon

Soy Sauce

Equal Parts Dark and Light Soy Sauce

1

tablespoon

Rice Vinegar

or any other vinegar

½

teaspoon

Sriracha

1

tablespoon

Sesame Oil

2

teaspoon

Brown Sugar

2-3

Cloves

Garlic

Minced

½

teaspoon

Chilli Flakes

or Chilli paste
Vegetables***
1

Red Bell Pepper

julienned

4-5

Mushrooms

Sliced

1

Carrot

julienned

½

Cup

Snow Peas

trimmed

½

Cup

Brocolli

Cut into smalll florets

¼

cup

Scallions

or green onions
Instructions
High 4 minutes;QR;Mix & add veggies; cover and keep for 3 min

Mix the ingredients listed under sauce in a bowl- Soy sauce, Vinegar, Sugar,Oil and Sriracha.Taste and adjust.

Place the Noodles in the instant pot.Pour the Sauce over the noodles along with the 1.5 Cups of water.

Add the vegetables that need cooking - Carrots,Red Bell Peppers,Mushroom,Baby Corn on top.DO NOT MIX.

Close the lid,Select PRESSURE COOK for 4 minutes on HIGH.

QUICK Release after 4 minutes are over and the instant pot beeps.

Open the lid and Add rest of the vegetables.Give is a good mix.Close the lid back and let it sit for 3 minutes.

Open the lid, Garnish with scallions or green onions and serve hot.
Notes
Noodles*- You can use Egg Noodles,Spaghetti or Hakka Noodles.Do not use instant noodles.
Chilli Paste**- You can omit this, if serving children or just averse to spice.You can use Chilli oil,Chilli paste,Sambel Olek or plain old chilli flakes for this.
Vegetables***- Add the vegetables that you want to cook before you pressure cook.Any vegetable which takes very little time to cook or you like with crunch should be added after the pressure cooking step is over.
Pressure Cook- Carrots, Beans,Mushroom,Baby Corn or if using Frozen vegetables.
Lightly Steam- Vegetables like Snap Peas, Spinach, Broccoli
To double the recipe- Simply double the ingredients, keeping the pressure cook and rest time same. 
Nutrition
Calories:
268
kcal
|
Carbohydrates:
46.1
g
|
Protein:
10.6
g
|
Fat:
5
g
|
Saturated Fat:
0.8
g
|
Cholesterol:
33
mg
|
Sodium:
973
mg
|
Fiber:
5.6
g
|
Sugar:
9.3
g
|
Calcium:
86
mg
|
Iron:
4
mg
If you liked the recipe, please leave us a rating
Follow me on Instagram
My handle is @yellowthyme