Creamy Garlic Mushroom Chicken - Chicken in a rich cream based Garlicy mushroom sauce.
To have this creamy, mushroomy Chicken on some herb butter rice after a tiring day will really take away all the gloom from life!
I can eat this everyday with just a bowl of rice! Ah..This and probably my Parmesan Chicken.
What do you need to make Creamy Garlic Mushroom Chicken
Ingredients for this amazing creamy chicken recipe are simple.
Chicken Breasts
Mushrooms
Garlic
Cream
Oil
Butter
Fresh or dried herbs
Chicken stock/broth or water
How to make Creamy Garlic Mushroom Chicken
I will be frank guys - to make this dish you don't need to be a cook.Really! You just need all the ingredients and a pan.
I have used boneless chicken breast for this dish simply because the sauce doesn't need to be simmered for long for flavour.
The cut of chicken you use will determine how long it takes to cook the dish.I use Chicken breast which takes only 6-7 minute of cooking.If you use chicken thigh, it will take slightly longer to cook- about 15-17 minutes.
Now about the mushrooms-Browning the  Mushrooms is what makes this dish flavoursome.Off course, it's the chicken and the herbs too but this takes it from a plain dish to a spectacular, restaurant level dish.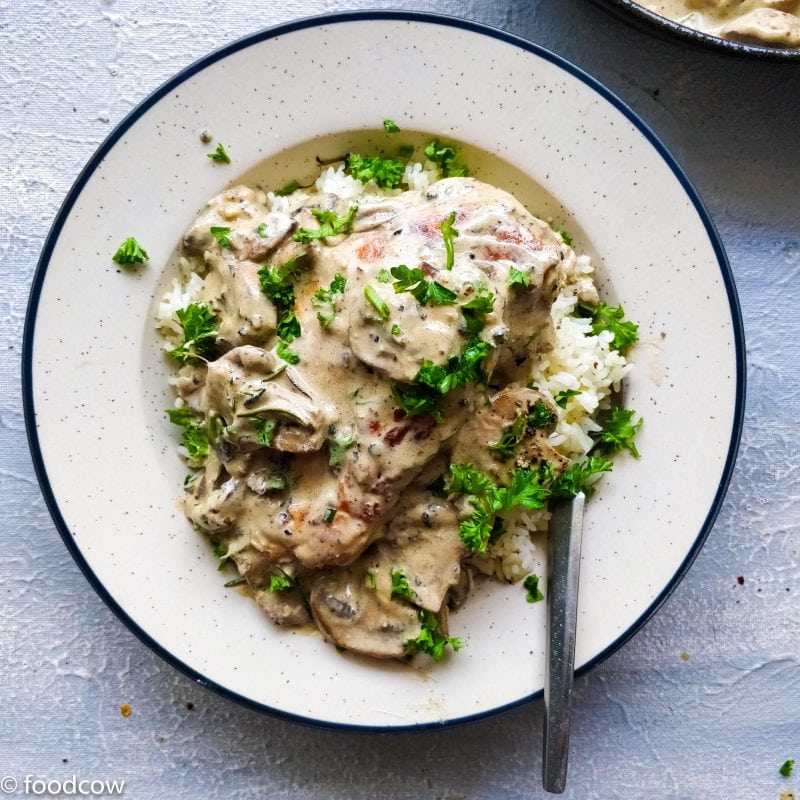 Alternatives and Tips to make Creamy Garlic Mushroom Chicken
Vegan Version - Even though this dish has chicken and cream, it can easily be made Vegan by using tofu or other vegetables instead of Chicken and vegan cream made with cashew or almond instead of dairy cream.
Dairy Free Version -Replace the cream with cashew cream or thick Almond Milk(recipe here)
Replace Chicken with Vegan/Vegetarian protein - Tofu ,Tempeh or Paneer.
Low Carb Version- ditch the cream and use evaporated milk instead for similar but low carb version of Creamy Garlic Mushroom Chicken.
For Maximum Flavour punch- Make sure to brown your mushrooms well.
Here are some more Chicken dishes for you
Chicken Cacciatore
Parmesan chicken
Tuscan Chicken
Indian Creamy Chicken
Buttermilk Roast chicken
Adobo Chicken
Ingredients
1

tablespoon

oil

1

teaspoon

Butter

2

chicken breasts

1

tablespoon

minced garlic

2

cups

mushroom

1

cup

cream

½

tablespoon

freshly ground pepper

1

cup

chicken broth/stock/water</span>

1

tablespoon

Dried herbs/ Fresh herbs- preferred Rosemary and Thyme

Salt to taste
Instructions
Heat the pan on high heat.

Add the oil, once hot place the chicken breasts gently.Do not move and brown it for 2 minutes.Flip and brown this side for another 2 minutes.

Lower the heat, cover the pan and let it cook for 2 more minutes.

Remove the chicken breast from the pan.Add the butter.

Once the butter has melted, add the garlic and mushrooms.Sauce on high for 1-2 minute till the mushrooms start to brown.

Sprinkle in the herbs.

Add the cream and the chicken broth, along with the pepper and salt.

Bring to boil.Place the chicken breast in the sauce and simmer for 1 minute.

Remove,garnish with fresh parsley and serve with rice or bread.
If you liked the recipe, please leave us a rating
Follow me on Instagram
My handle is @yellowthyme