Halloween Pretzel Treats - Easy Sweet & Salty Crunchy Treats using pretzels, candy melt or chocolate and colorful M&Ms.
They are super easy to make.Just melt candy melt, dip and add some M&Ms as eyes.Thats it! It's childs play!
They are also a lot easier to make than our other favorite Halloween treat- the monster oreos which might take a tad bit more skill. And that's why this is a great Halloween "project" to do with your kids!
These Halloween treats are loved by children and adults. They have the right mix of sweet and salty.
I am forever on a lookout of easy dyi halloween treats. And dipping pretzels in candy melt is the easiest of all halloween recipes! You have to try making these spooky ghost pretzels too! They are delish!
We love making Halloween treats using pretzels. You can make them a week or more in advance and store in a air tight bag or container. They last for a loong time!
These cute little aliens are small enough to be popped in the mouth in one bite.They aren't overly sweet and have the right balance of salt and sugar.
These also look great on a Halloween themed Charcuterie board.
Ingredients Alien Pretzels
Here is what you will need to make these Easy Halloween Pretzel Treats
Pretzels - Mini
Candy Melts - Green
M&Ms or skittles or any other round colored candy.
Tips & Tricks
Here are some of my secrets to make these spooky Sweet & Salty Halloween Treats
Use a small but deep bowl to melt the candy melts.This will make sure you use less candy melt.
Microwave in 30s bursts.Do not just set the time to 2 minutes and walk away. You need to mix it in between the 30s bursts. The chocolate might still look solid but it can actually be soft inside.Thats why you need to keep checking.
If you need to send these for a class room party for kids, just use a square wrapping paper or sheet.Get the ends toghether and tie it with a ribbon.Like a pouch! It makes for a great halloween treat bag.You can also give these to the trick or treators!
How to make Halloween Pretzels
Step 1: Melt the Candy melts
Add the candy melts in a microwave safe bowl. Microwave for 30 seconds. Take it out and stir it with a spoon. Repeat till the candy melts are loose and floowy.
Sometimes that can take up-to 2 minutes based on the amount of the candy melts.
In case the melts are melting to a thin enough consistency, add ¼ teaspoon of coconut oil. Do not go overboard with the coconut oil, otherwise the candy will not stay hard at room temperature.
In case you do not have candy melts, you can use white chocolate and a tiny bit of green color. Or you could just make this with regular white or brown chocolate.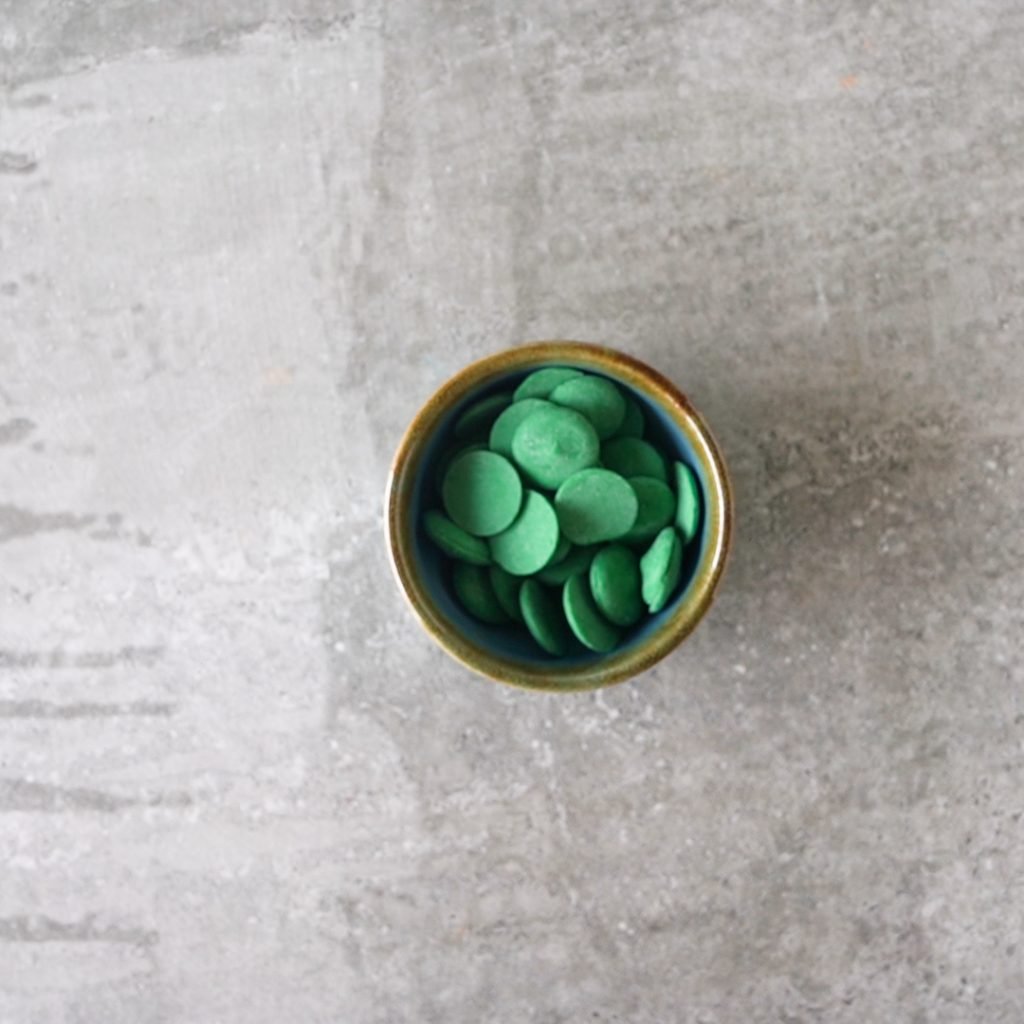 Step 2: Dip the Pretzels
Prepare the surface where you will keep the dipped pretzels on. I prefer just a sheet of parchment paper on a try.
Add the pretzel to the melted candy melt. Remove using a fork. This works great in getting rid of excess candy melt too.
Keep it gently on the parchment paper.Repeat the process for all the pretzels. You can add a couple of pretzels at the same time too.
Keep the green dipper pretzel flat on a tray.
Step 3: Eyes
For the eyes, we will use same color M&Ms or skittles or gems.
Before the green candy melt on pretzels set, add the eyes on the top. Just drop them on the still wet alien pretzel faces.
Step 4: Refrigerate
Once you are done decorating all the pretzels with M&M eyes, keep them in the fridge for 20 minutes or the freezer for a quick 5 minutes.
This will help the candy melt become solid.
Do remove the alien pretzels from the refrigerator once they are set. You can keep it out at room temperature once the candy has set.
If you want to go the extra mile and you have a edible marker, you can add little dot to the m&ms to make the eyes even more spooky!
Serving & Storing
These pretzel Halloween treats can last outside for 1-2 Weeks. The pretzel can become soggy if you live in a humid place. In that case, keep them in a zip lock bag or a air tight box till you need to serve.
More Halloween Treats
Halloween Oreo Monster Treats
Rice Cake Halloween Treats- Gluten Free & Vegan
FAQs
If you still have questions, see the answers to some commonly asked questions on chocolate covered pretzels.
How Long Will dipped Pretzel Treats stay fresh?
2-3 weeks in a air tight container.
How many days before an event can you make chocolate covered pretzels?
You can easily make these a week before if you need to.Just make sure to store it in an airtight container.
Can you leave chocolate covered pretzels out overnight?
They can last outside for 6-7 hours.But if you live in a humid place, the pretzels can become soggy.
My suggestion is to keep them in a zip lock bag or a air tight container if you are not serving them.
Can I store chocolate covered pretzels in Ziploc bag?
That's my preferred way of storing the pretzels. You can store them either in a sealed ziplock bag or a air tight container like tupperware
What is a substitute for Candy Melts
If you cant get candy melts, you can use either white chocolate mixed with green candy color. Or you could use regular Dark or Milk chocolate too.
Why is my Chocolate or Candy Melt Hard?
If you heat the chocolate for more time than it needs, it can skip the soft melty stage and go straight to hard stage.
White chocolate can burn and become brown too.
That's why you need to heat the candy melts or chocolate in bursts of 30 seconds and stir in the middle.
If you make these funky little Vegan Halloween Pretzels, Drop me a comment! I would love to know how yours turned out.
Find us on Instagram , Pinterest & Facebook here!
If you liked my recipe, do leave a comment!
It will help others find this amazing recipe too!
---
Ingredients
1-2

Cups

Pretzels

about 20 pieces

½

Cup

Candy Melt

Green Color.

½

teaspoon

Coconut Oil

Optional.

40

M&Ms
Instructions
Microwave the candy melt in a bowl for 30 seconds. Remove, stir and repeat till the candy melt is silky and melted. Takes about 1-2 minutes

Add the pretzel in the melted candy. Using a fork, shake off the excess candy melt. Place it on a parchment paper.

Before the candy melt is solid, Add same color eyes on the two cavities of the pretzel.

Place it in the refrigerator for 15 minutes or in the freezer for 5 minutes to set the candy melt.

Serve or store in a air tight bag or box for up to 2 weeks.
Notes
Serving & Nutritional Value
I am assuming one serving = 2 chocolate covered pretzels.
the nutritional value has been divided as per that value.
Leftover Candy Melt
Nutrition
Calories:
173
kcal
|
Carbohydrates:
30
g
|
Protein:
1
g
|
Fat:
6
g
|
Saturated Fat:
4
g
|
Trans Fat:
1
g
|
Cholesterol:
2
mg
|
Sodium:
383
mg
|
Fiber:
1
g
|
Sugar:
10
g
|
Vitamin A:
23
IU
|
Vitamin C:
1
mg
|
Calcium:
12
mg
|
Iron:
1
mg
If you liked the recipe, please leave us a rating
Follow me on Instagram
My handle is @yellowthyme